You know that I love to set up tablescapes for different seasons and for a special occasion. And I think that Memorial Day and Independence Day deserve their own patriotic tablescape, don't you?! That's why I am sharing some dinnerware options that are perfect for a patriotic tablescape today!
And the best part is, it's my usual dinnerware that I use every single day too. I just dress it up with a few different pieces here and there to create a more patriotic look to them! I use the same exact ironstone dinner plates that you have probably seen a thousand times before on here.
But the key is to make it more red, white, and blue by adding different elements to the tablescape. Keep on reading to see just how I did it. Hopefully it will give you some ideas as well on how to create your own patriotic tablescape for the holidays too!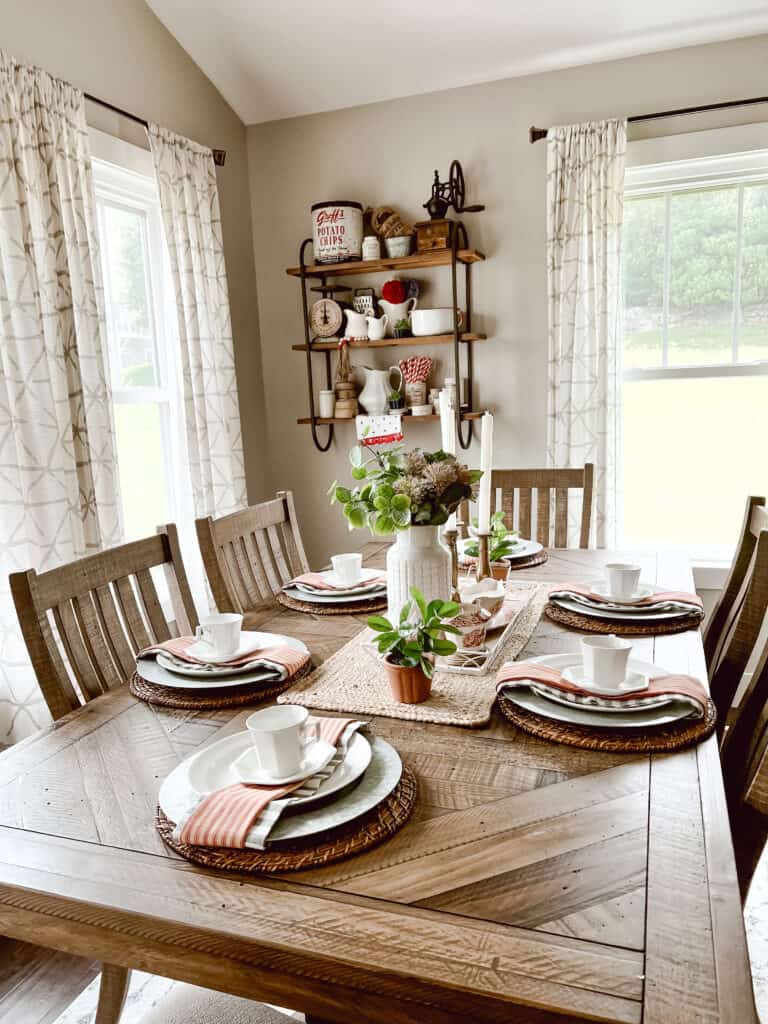 This post contains affiliate links. Click here to read my privacy policy.
This post is a part of our Cozy Creative Collaborative for the month of June. If you are coming here from Heidi's post, thank you so much! Aren't her Fourth of July Rice Krispies so cute?! And, then be sure to check out Kelly's post next too! Her mod podge sea shells are adorable too!
More Patriotic Ideas With the Cozy Creative Collaborative
How to Modge Podge Seashells for Decor | Kelly of The Tattered Pew
Fireworks Ice Cream Brownie Sundae | Nicolle of Our Tiny Nest Blog
Dinnerware That's Perfect for a Patriotic Tablescape | Charity of Mornings on Macedonia
Star Shaped 4th of July Rice Krispie Treat Recipe | Heidi of Eleanor Rose Home
Last Minute Simple Patriotic Ideas for the 4th of July | Donna of An Organized Season
What Dinnerware Should I Use For A Patriotic Tablescape?
Well, really that depends on where you want to have dinner at and what type of plate you want to use. If you want to do outdoor dining, I would definitely recommend some patriotic paper dinnerware instead of real dishes. There's plenty of beautiful paper tableware pieces and party cups available at an ultimate party super store or anywhere similar to that.
Plus, who doesn't love the ease of cleaning up paper plates after dinner!? Just toss them in the trash! I also love to use some melamine dinnerware pieces when we are eating outside. Both are great options for when it comes to a delicious outdoor Fourth of July barbecue!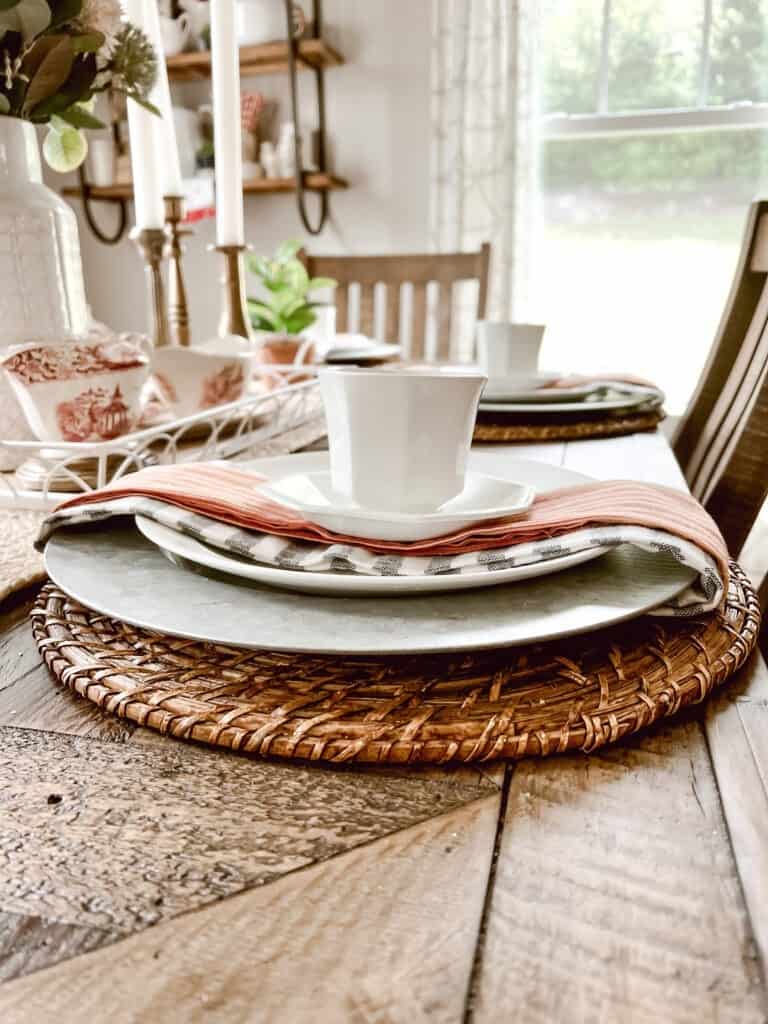 But, I wanted to create a different eyecatching design for an inside patriotic tablescape. Something more elegant and classy. And the good news is I could easily achieve that with the dinnerware and serveware pieces I already had on hand!
I love my white ironstone dishes since they are so versatile and handy. And they can easily be paired with any color since they are a classic neutral white! So by just adding in a few different elements, I can create a perfect patriotic tablescape using the dinnerware I already have!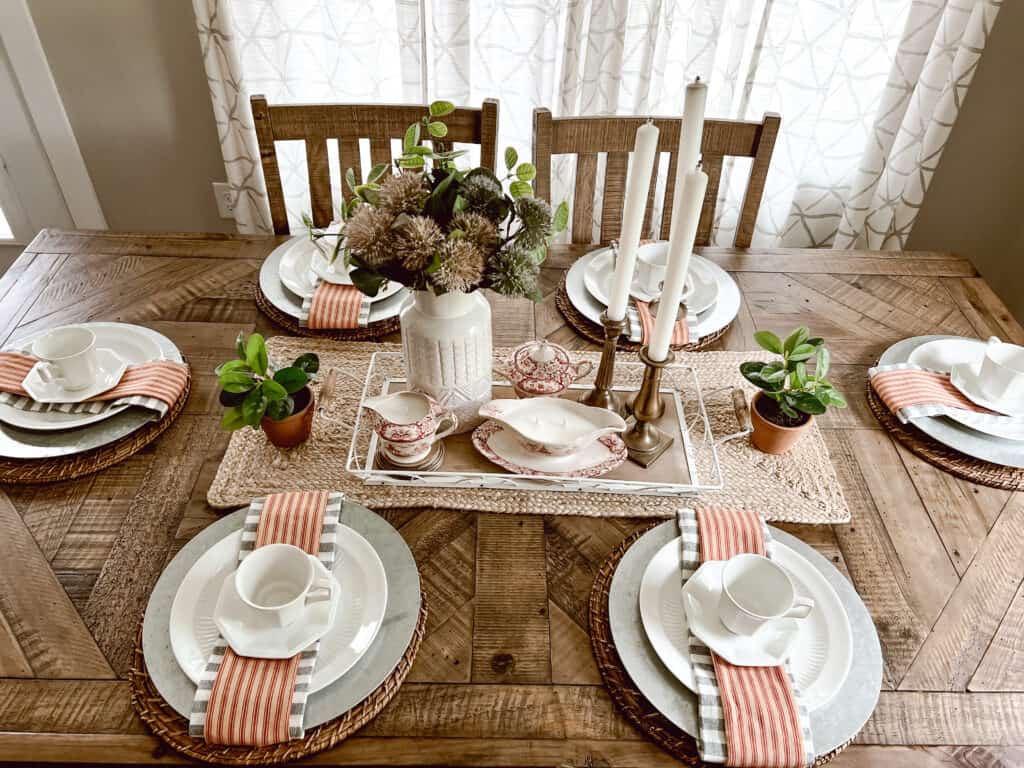 ​Patriotic Napkins
I think the key focal point to this patriotic tablescape are my napkins I used. I actually doubled up on napkins to create this look. And again, these were all napkins that I already had on hand too, so I didn't have to purchase anything new. Which is a win win in my opinion.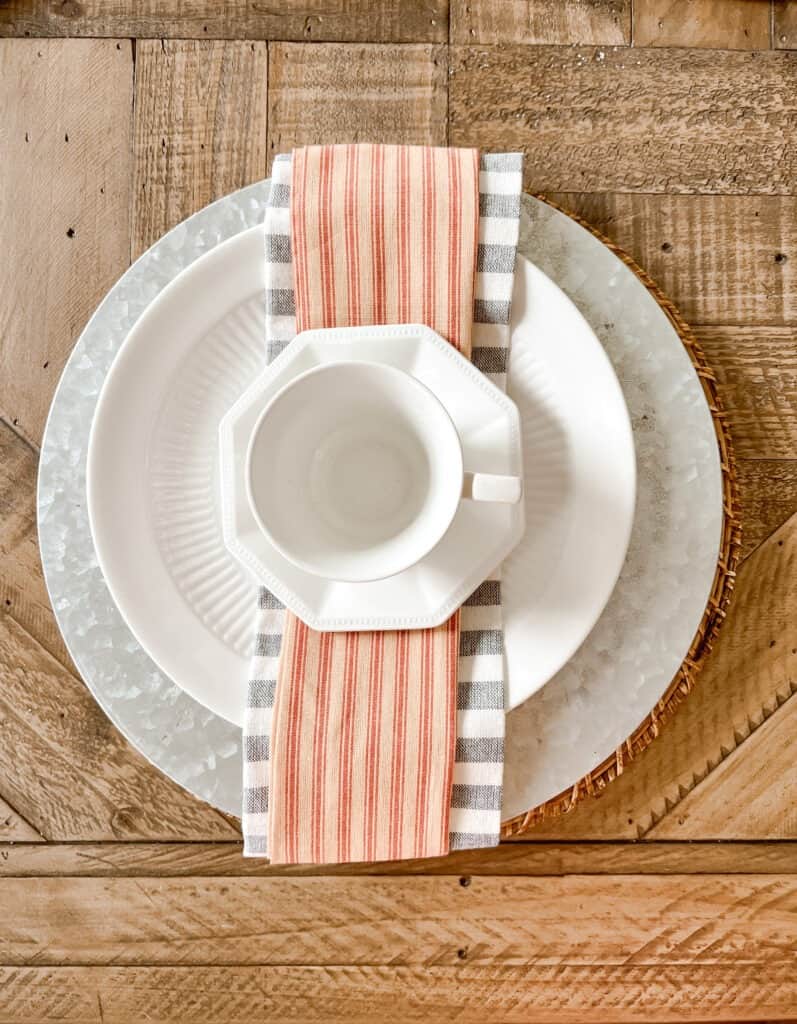 I used my vintage red stripes napkins that I had for my Christmas tablescape and layered them with my blue and white stripped napkins that I've used in the past for my Easter tablescapes before. I love the layered look to them and they both compliment each other very well.
And since my ironstone dishes are already white, I easily have the whole red, white, and blue theme going on here. Perfect for the Fourth of July!
Patriotic Centerpiece
Another way I added in some red, white, and blue to my tablescape is through my centerpiece. Which again, I kept it very similar to my tablecapes in the past. I still have my white vase with faux flowers inside. And my vintage brass candlesticks on my tray.
But, I decided to add in something a little different to the center of the tray. You may remember me sharing about my patriotic kitchen decor ideas a few weeks ago. And in that post I shared all about some beautiful patriotic candles I came across.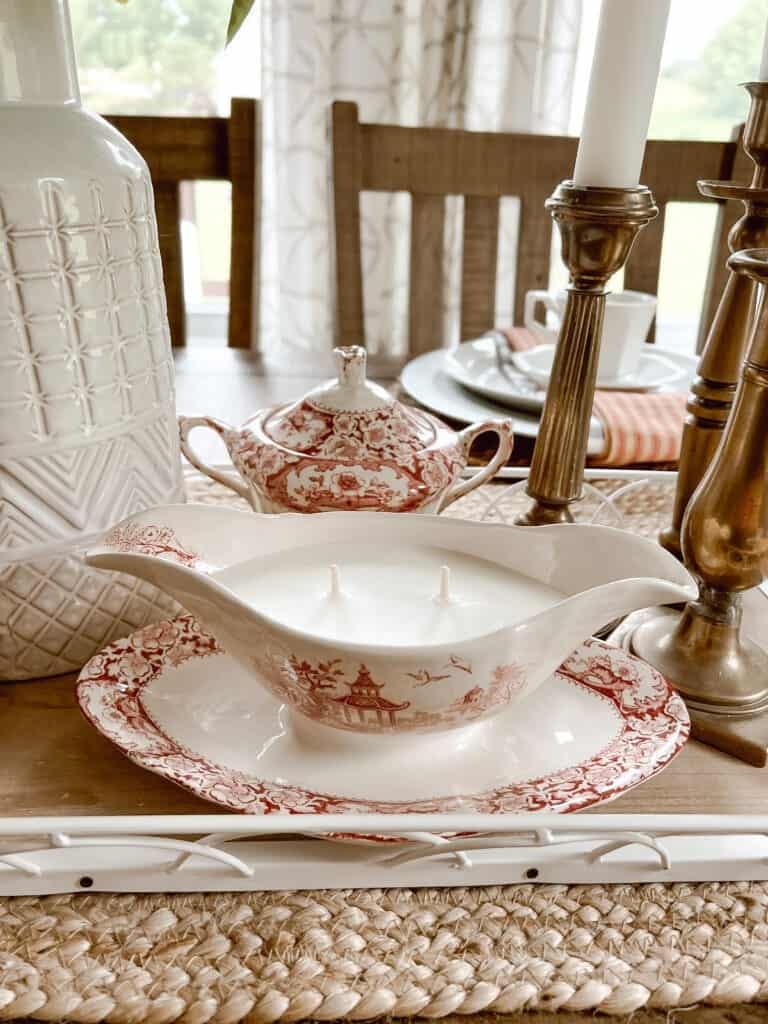 Now, they aren't really marketed as "patriotic" per se, but I specifically looked for candles that were filled in antique vessels with red, white, and blue elements from Antique Candle Co. If you haven't heard of them before, they hand pour candles into old and vintage pieces!
So not only do you get a beautiful candle, but you can re-use the vintage vessel when you're done burning the candle too. How cool is that?! And you can use my coupon code "MACEDONIA10" to get 10% off anything on their site too!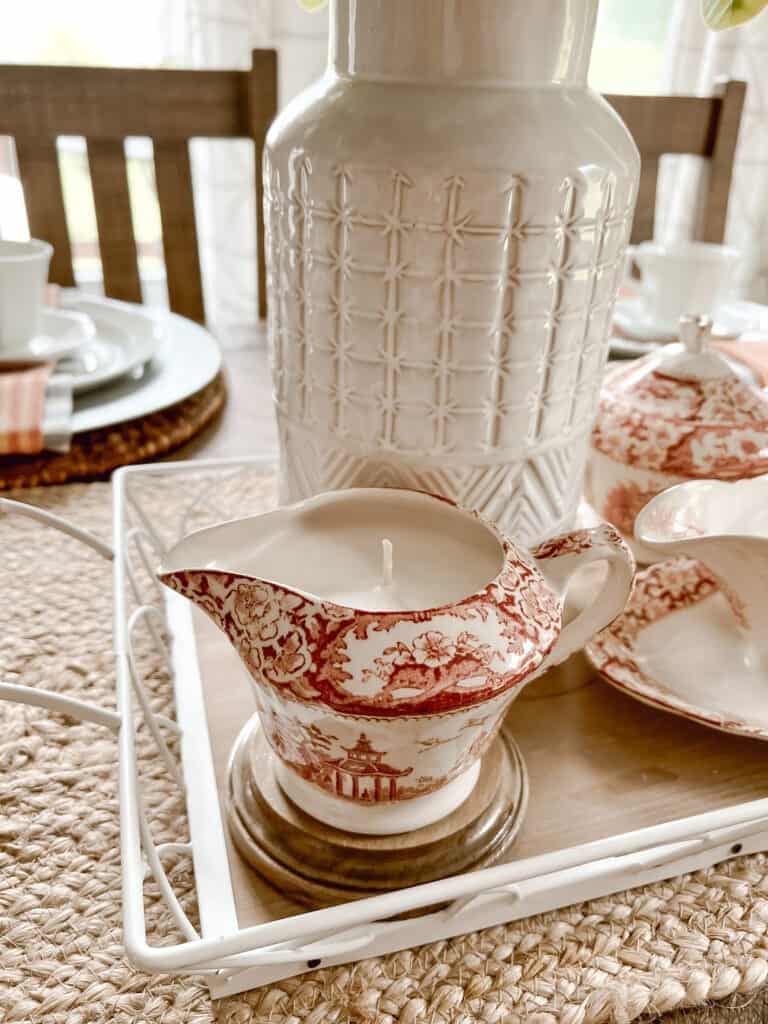 But anyway, back to the candles, I got some beautiful candles that were poured in a red and white ironstone dish. I also got a sugar and creamer set too. So I placed these 3 beauties in the middle of my tray to create a patriotic centerpiece.
And I love the fact that I can reuse these pieces in the future for my Christmas tablescape too. Since they all have red in them, they will be perfect for that! Can you tell I love to re-use my decor pieces as often as I can in different seasons and holidays?!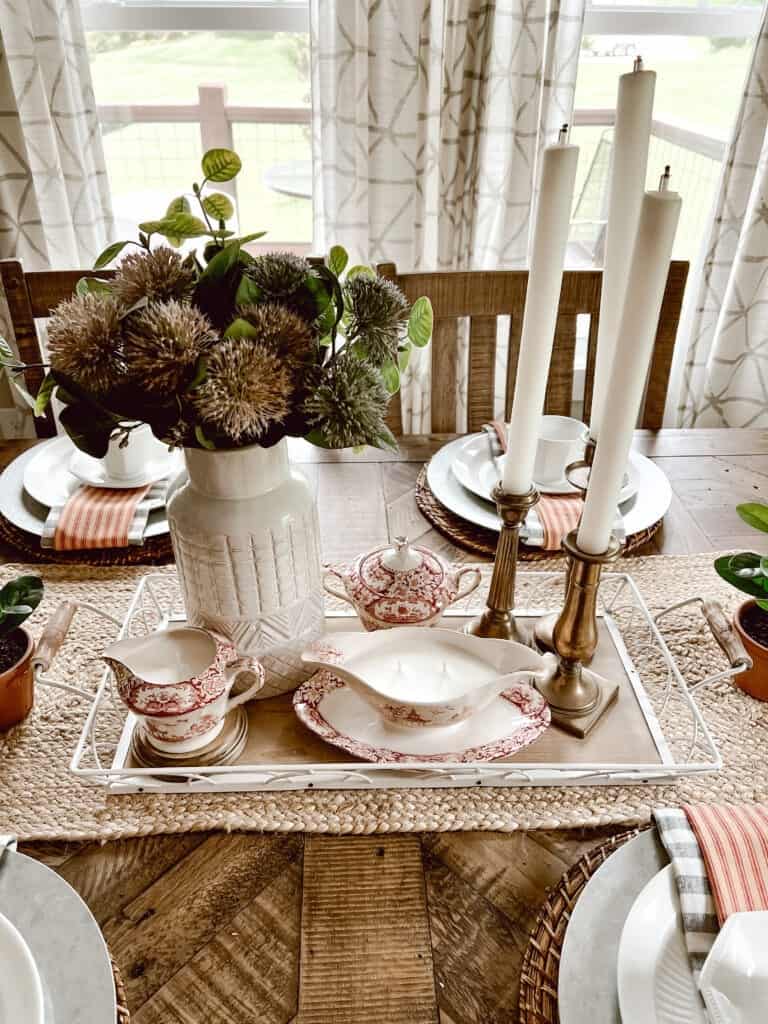 Enjoy Your Patriotic Tablescape
Well, as you can see, creating a beautiful patriotic tablescape really is so easy and simple to do! And I think patriotic decor is perfect to leave up all summer long, even into Labor Day! These red, white, and blue pieces I've shared give a complete look of patriotism and really would look great on any kind of table!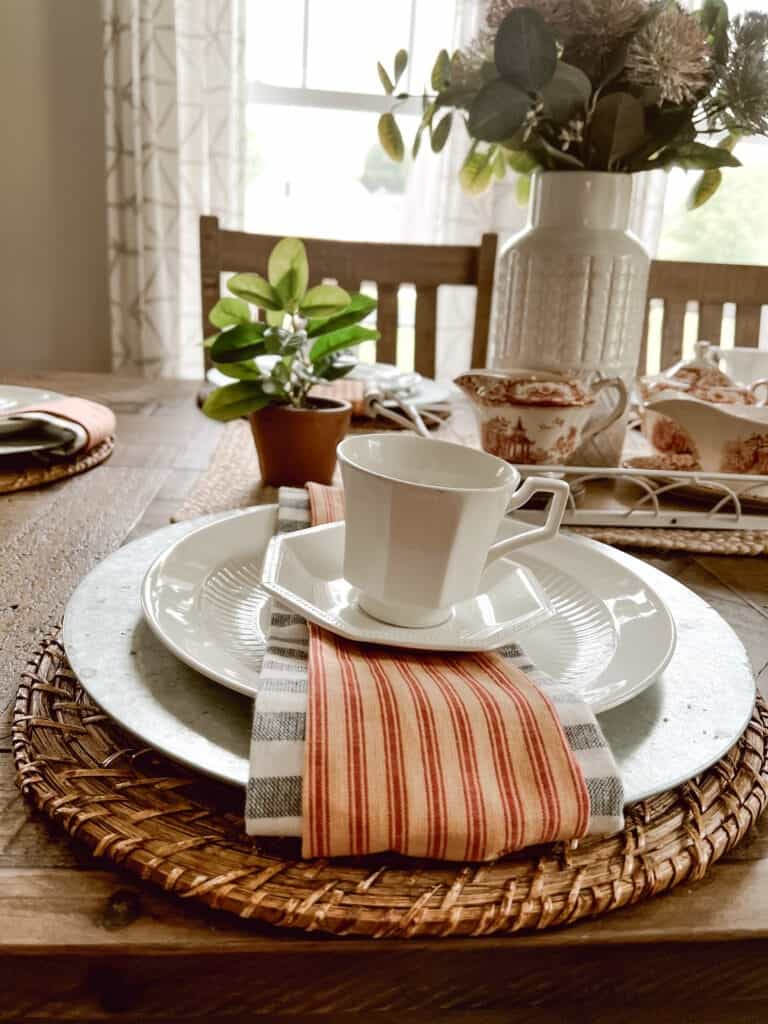 Do you decorate for Memorial Day or Fourth of July in your home too?! If so, you should check out my other patriotic home decor ideas here as well! Have a happy Fourth of July holiday my friends!