If y'all have been around here long enough, then you know I decorate for pretty much every holiday, no matter how big or small. I even did a few little things here and there for Valentine's Day as well! But since the Fourth of July is coming up, I wanted to share a few patriotic decor ideas with you all in case you were looking for some inspiration too!
I don't do anything too crazy for the Fourth, but I did want to incorporate a few pieces of red, white & blue. I tried just to add in easy and simple touches that can be easily taken down after the Fourth is over as well.
All this decor is perfect for any of the patriotic holidays and not just Independence Day! So if you're looking to be inspired, come check all my patriotic home decor ideas here! All of them are super simple and easy to do too!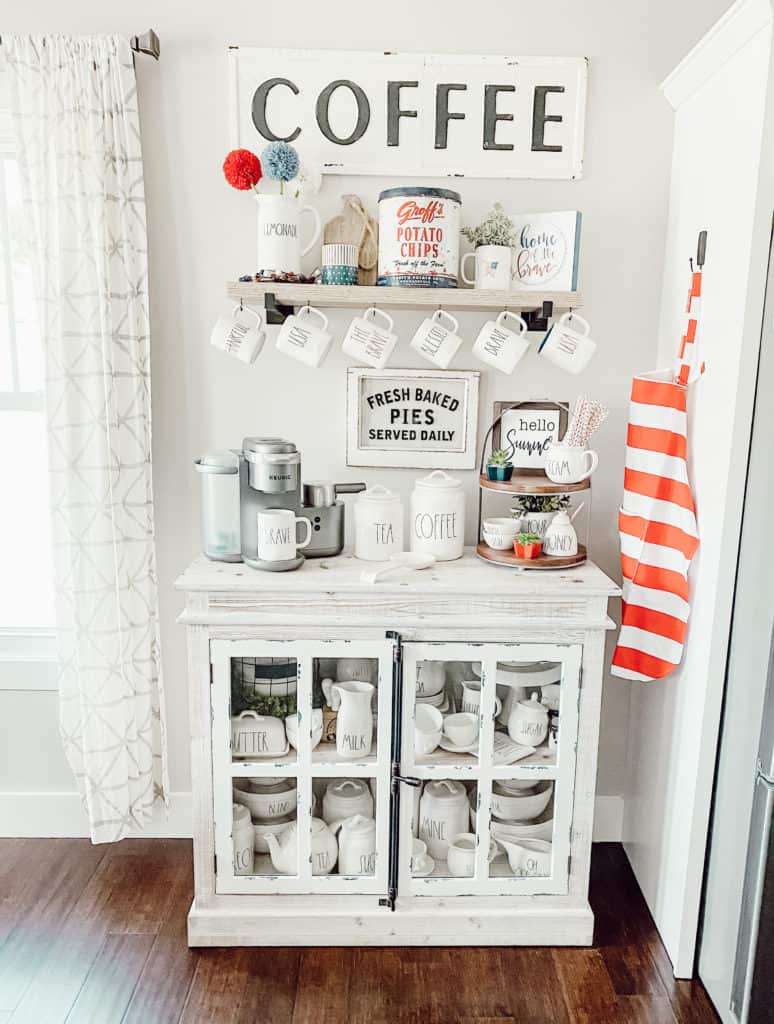 This post contains affiliate links. Click here to read my privacy policy.
Coffee Bar
One of my favorite things to redecorate and restyle every season is my coffee bar. I love to add in a little patriotic flair on here to give it a pop of red, white & blue.
I keep a majority of my home decor very neutral, that way it is easier for me to add in a few pops of color here and there without it being too overwhelming.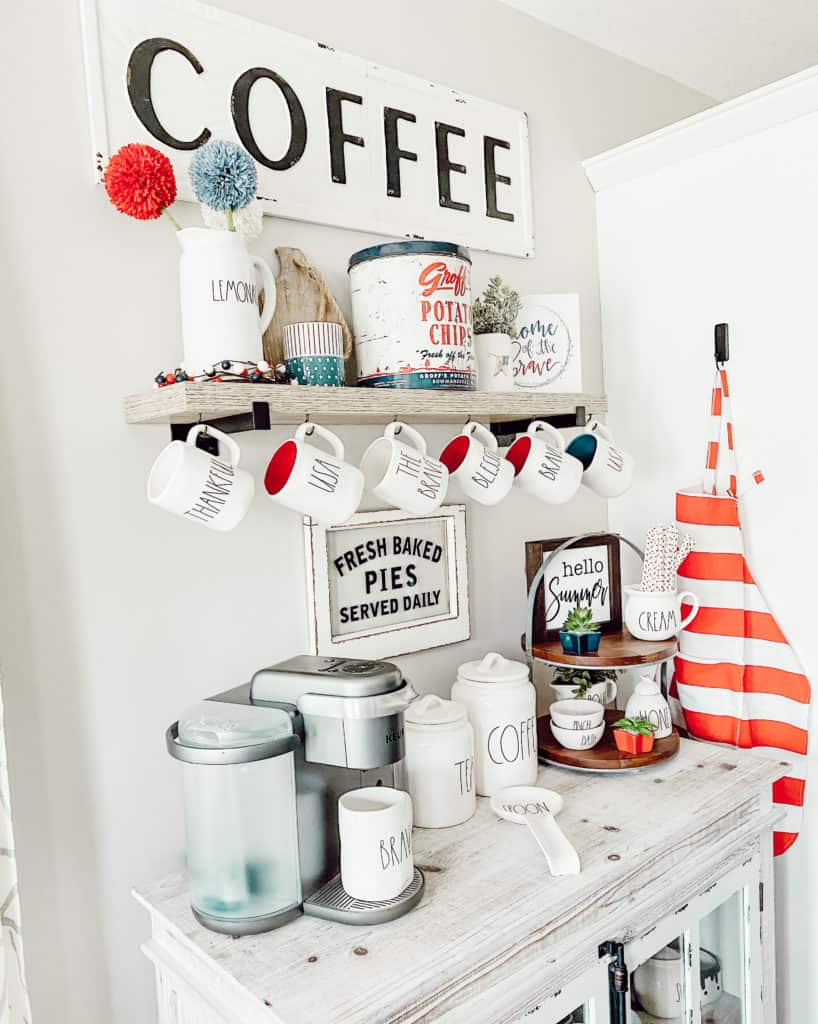 I love to mainly use seasonal mugs for my coffee bar based on every holiday. And of course, I still have some patriotic Rae Dunn pieces that are just perfect for the Fourth!
I also added in this colorful apron that goes along with the season too. I like how it is just red and white, that way I can use it for Christmas too!
And of course, any vintage pieces that are red, white, and blue are perfect for my open shelf above my coffee bar too. Like that beautiful old potato chip can you see up there now! I love looking for vintage pieces that have a little red or blue colors to them. That way they make the perfect, vintage decorative accents to the holiday!
And even better if they just have a little red to them because I can reuse those pieces perfectly for Christmas decor too! Eventually, I would like to try to find more vintage pieces for this holiday, but I think I have a pretty good start on it so far.
Tiered Trays
I also love to style tiered trays for every season because they are so fun and easy to do. I keep one on my coffee bar and one on my little side table as well.
You can usually find cheap, seasonal pieces from the dollar spot at Target and I love to fill my trays up with them!
I went into more detail about styling tiered trays in one of my older blog posts, so be sure to check that out as well if you're looking for tips on how to style yours too!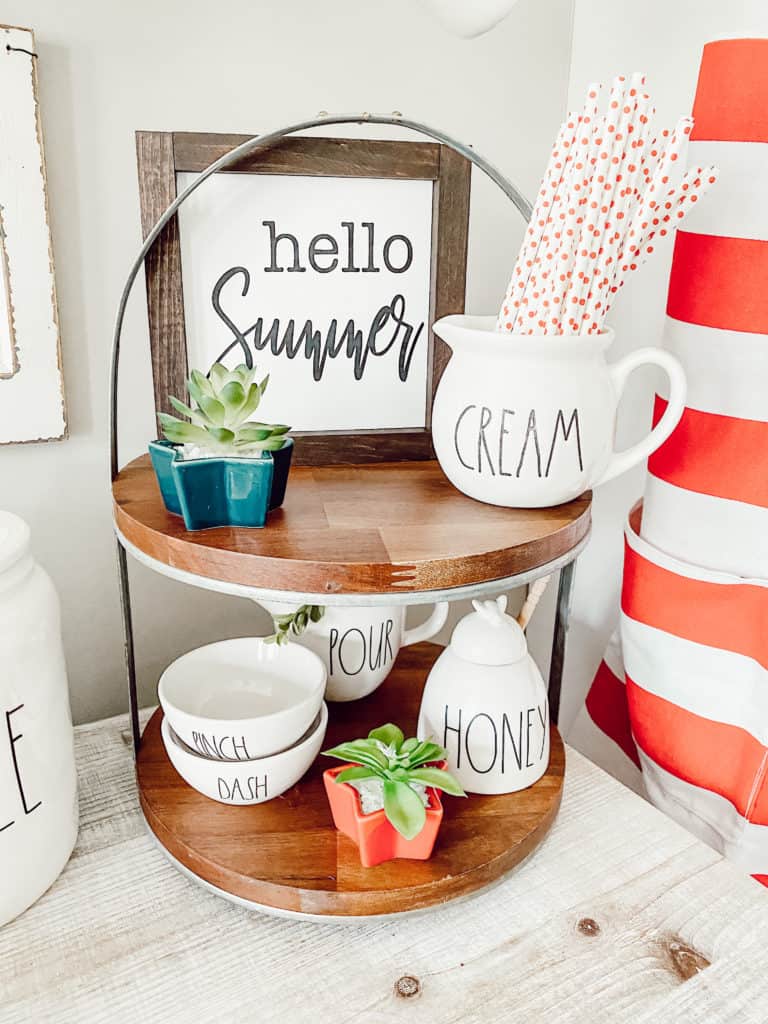 I like to add small little signs on tiered trays too. I love this Summer one above because not only can you use it all summer long, but it also perfectly incorporates into patriotic decor as well.
Another thing that is super easy to do is to throw in some cheap American Flags in your tiered tray too. I put mine in the bottles I have on my top shelf of my tiered tray below: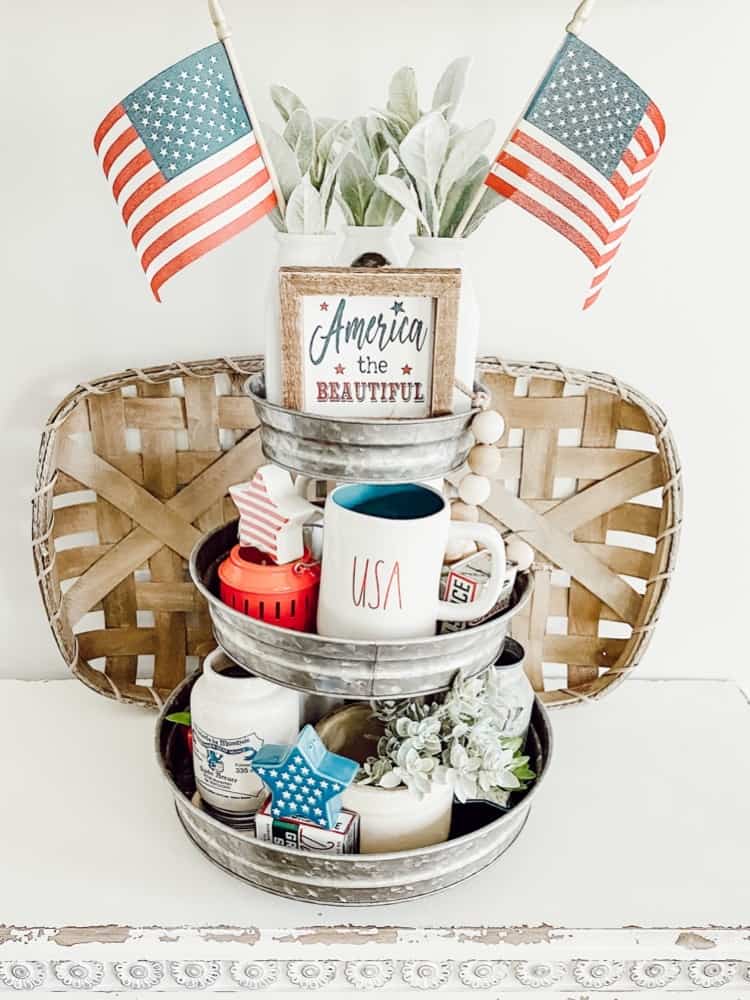 If you're looking for some more patriotic tiered tray ideas, be sure to check out my easy kitchen patriotic decor ideas blog post too. It's chock full of more simple and easy ways to add in some patriotic decor, but specially geared more towards your kitchen space. 
And speaking of the kitchen, I have a couple of great patriotic recipes for you try out too! Whether you're looking for a quick, no-bake breakfast or snack; or a delicious fruit pizza, you don't want to miss out on these tasty recipes!
Open Shelves
Styling open shelving is my jam and I always love when I can style them for a particular season or holiday. For the Fourth of July, I wanted to add in just a few pops of color here and there.
I did so by adding in some patriotic tea towels on my ladder up top, as well as adding in my little vintage Coca Cola tray on the bottom.
Another thing I did was to put in a vintage blue tin and some cute red and white paper straws in my vintage Dundee jar as well. I think it's just enough touches without overdoing it! Plus, you can always reuse these pieces year after year too which is another added bonus!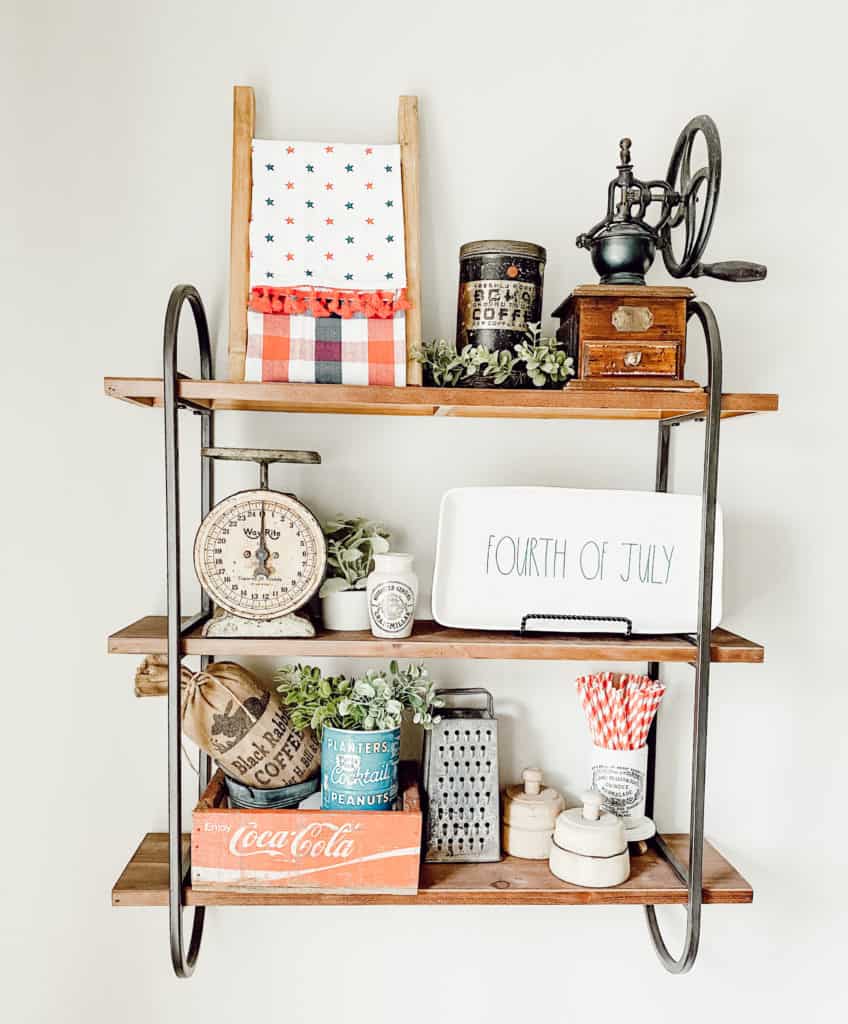 Patriotic Front Porch
I try to keep my front porch beaming with American pride year round! We have a wooden American flag hanging next to our front door at all times and I just love the rustic look to it.
It's not only perfect for July 4th, but Memorial Day, Labor Day, or any other day as well!
I like to give my porch some star-spangled style year round! I would also love to include some patriotic bunting on the porch eventually as well.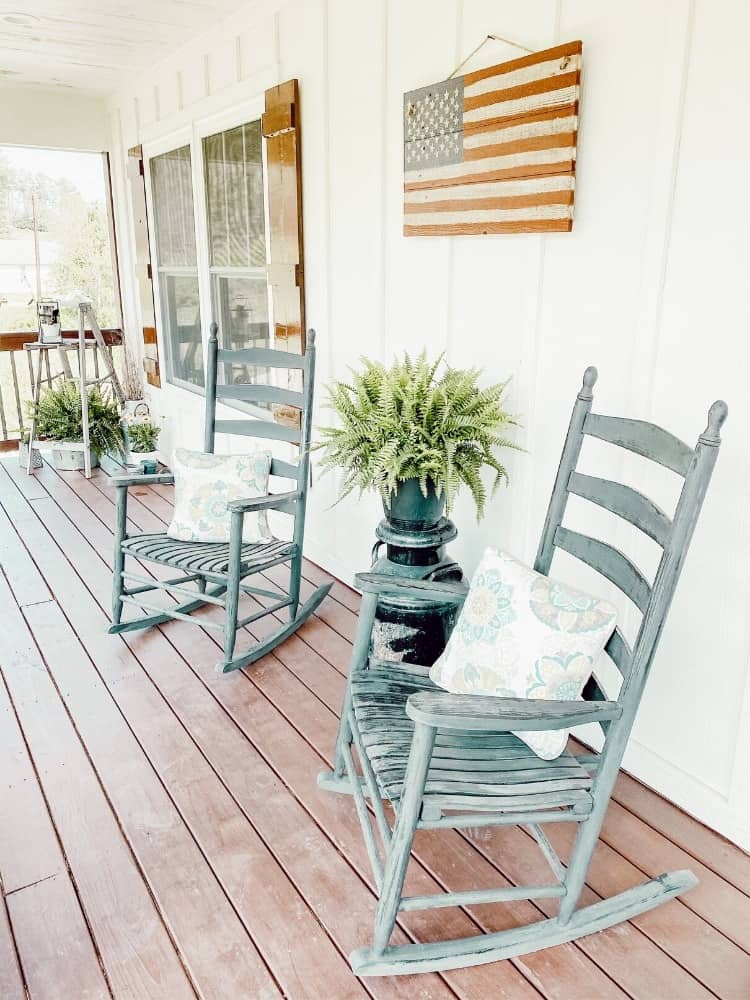 One year I even had potted flowers that were red, white, and blue. I bought them from Lowe's that way. So they were the perfect addition to keeping up with the patriotic theme on my front porch.
And super easy too since I just bought them that way! And I didn't have to search for all the different flowers and plant them myself. So that's another great option when looking for patriotic decor for your front porch as well!
Tablescape
I kept my tablescape so super simple for this year. I literally kept all my place settings the same. But, just added in some glass jars on either side of my centerpiece and placed two flags in each jar.
How crazy simple and easy is that?!  I kept my same napkins that have the blue stripes on them from my spring decor. That way I could reuse them for this patriotic table. A blue table runner or any other blue items would look perfect on here as well to go with the napkins.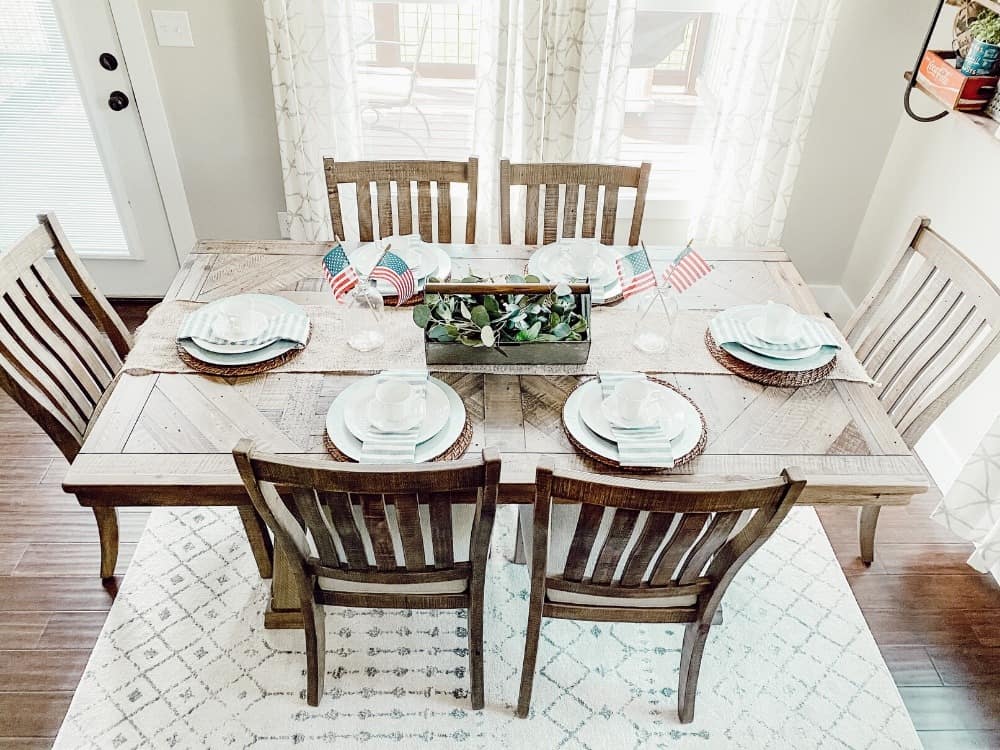 I didn't want to have to take down a lot of patriotic decor, so I tried to keep my kitchen table as simple and easy as I could this year.
Especially since I didn't start decorating until a few days ago. So I won't be leaving this up for too long.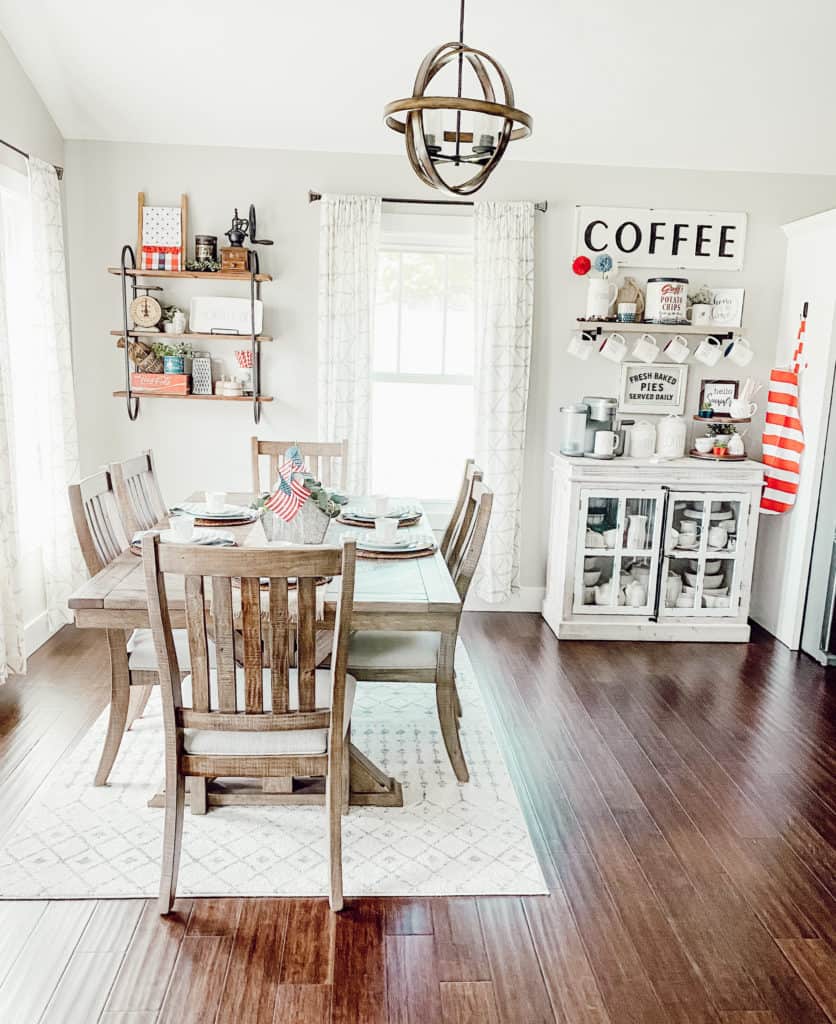 Here is a quick view of some more patriotic decor touches that I have added throughout the house as well: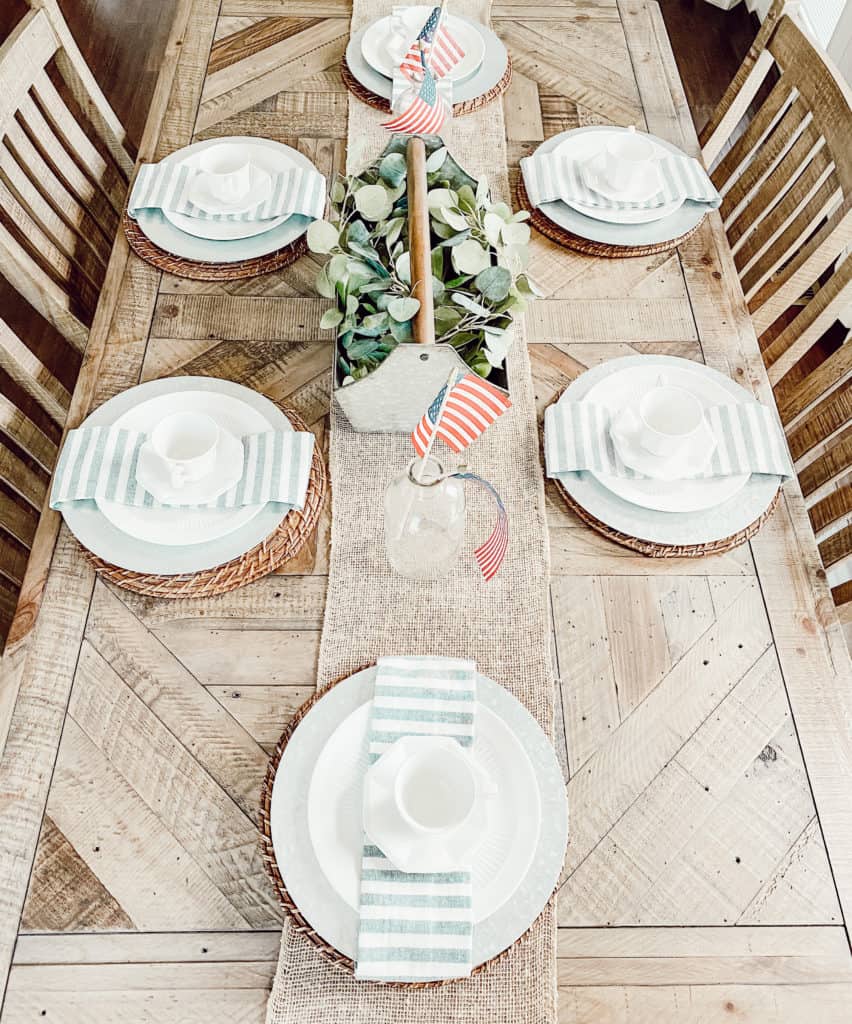 Well, I hope from looking through this blog post, I have inspired you to put out a little patriotic home décor in your home too this year. Do you guys usually decorate for the Fourth of July or Memorial Day?
You could easily add in a few touches here and there. Like a simple banner hanging off your fireplace mantel if you have one!
Or some kitchen towels that have the red white & blue color theme going on. And you could easily replace some existing wall art you already have with something more patriotic for the season too.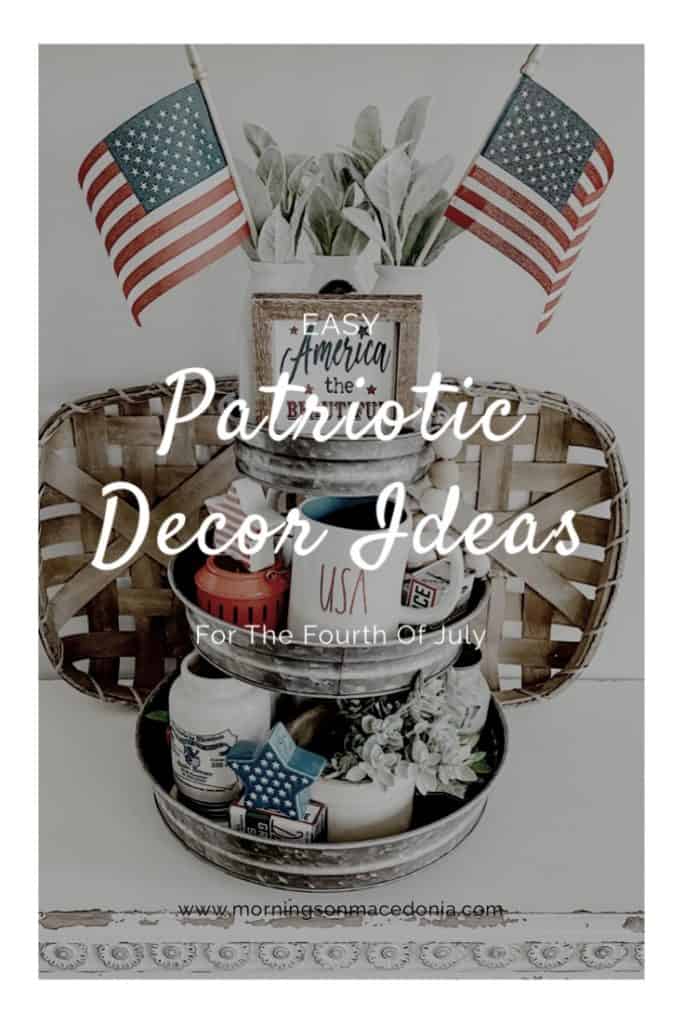 If you decorate, what do you like to do? I hope this post inspired you to put up a few touches here and there, even if you don't usually decorate for the holiday! But, let me know what you do below and have a great day my friends!