If you're like me, you always struggle this time of the year with home decor. I have come up with a few tips and tricks on how to decorate your home for summer.
It doesn't have to be complicated, and you don't have to go all out. I always love to have patriotic decor out during the summer, but after July 4th hits, I feel like it's time for it to come down.
And it's definitely too early to bring out the pumpkins (or is it?? LOL). So how do you determine what is summer home decor exactly? I think it varies from home to home and it just is what works best for you and your house.
Check out all my ideas on summer home decor here if you're struggling with coming up with some ideas for it too.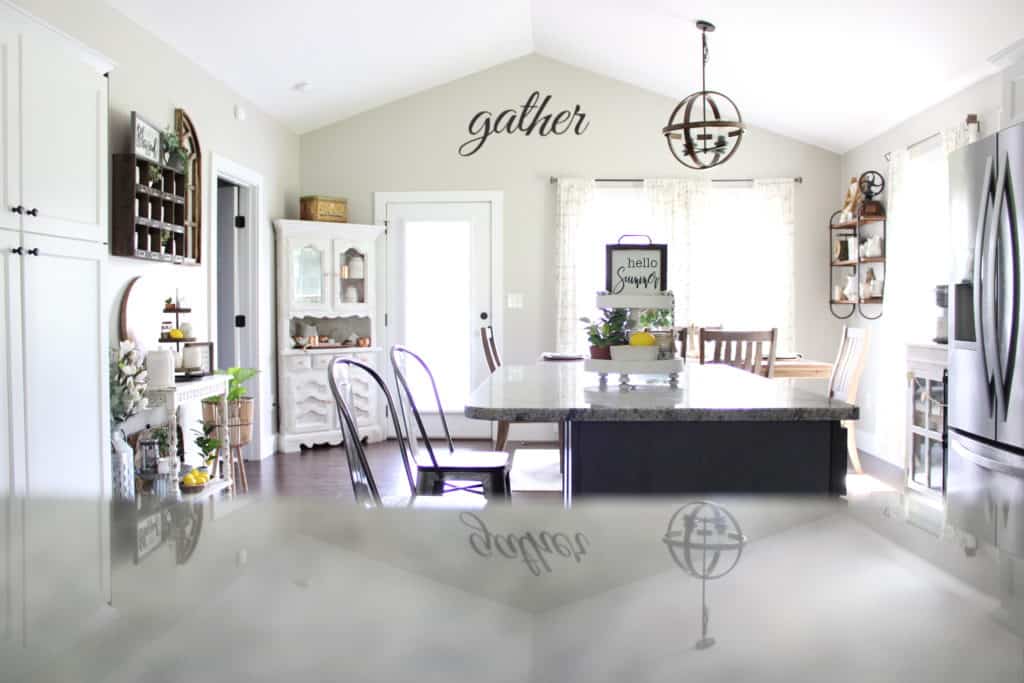 Styling a Summer Coffee Bar
If you've been around here awhile then you know that I am coffee bar obsessed. And I love to switch it out for every season.
So after all the red, white, and blue decor comes down, I'm stuck with a brand new canvas to work with.
My go-to for my summer coffee bar is lemons. I think they are fun and definitely summery without being too much.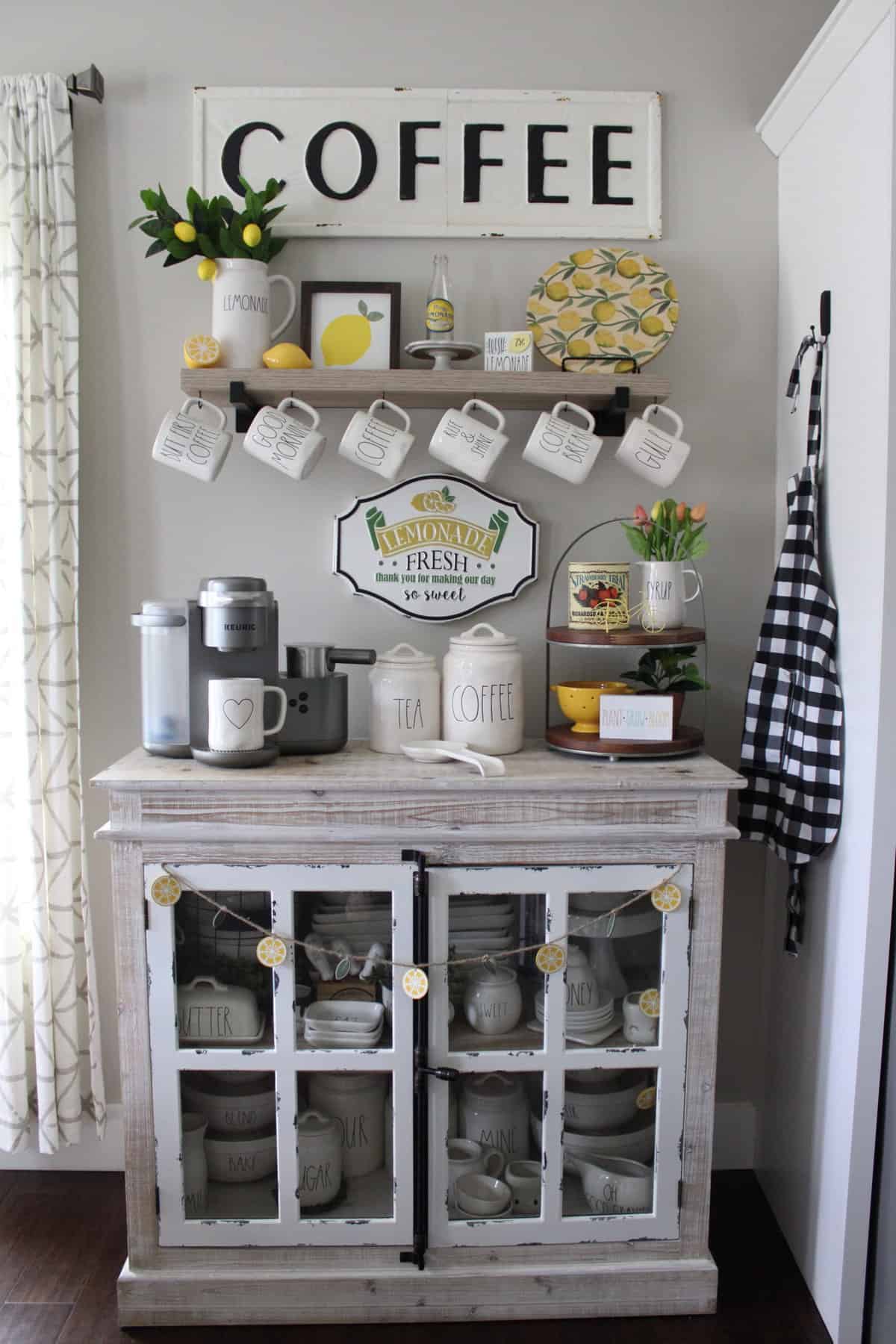 I love the pop of yellow the lemons give to the space. It makes it more fun and bright, which is perfect for summer. I carried this theme onto the other side of my coffee bar as well.
On this side, I have all my coffee syrups available as well as another themed tiered tray.
You can easily keep up the lemon theme over here by placing some faux lemons into a small dough bowl. You can see mine pictured on the bottom shelf of the table.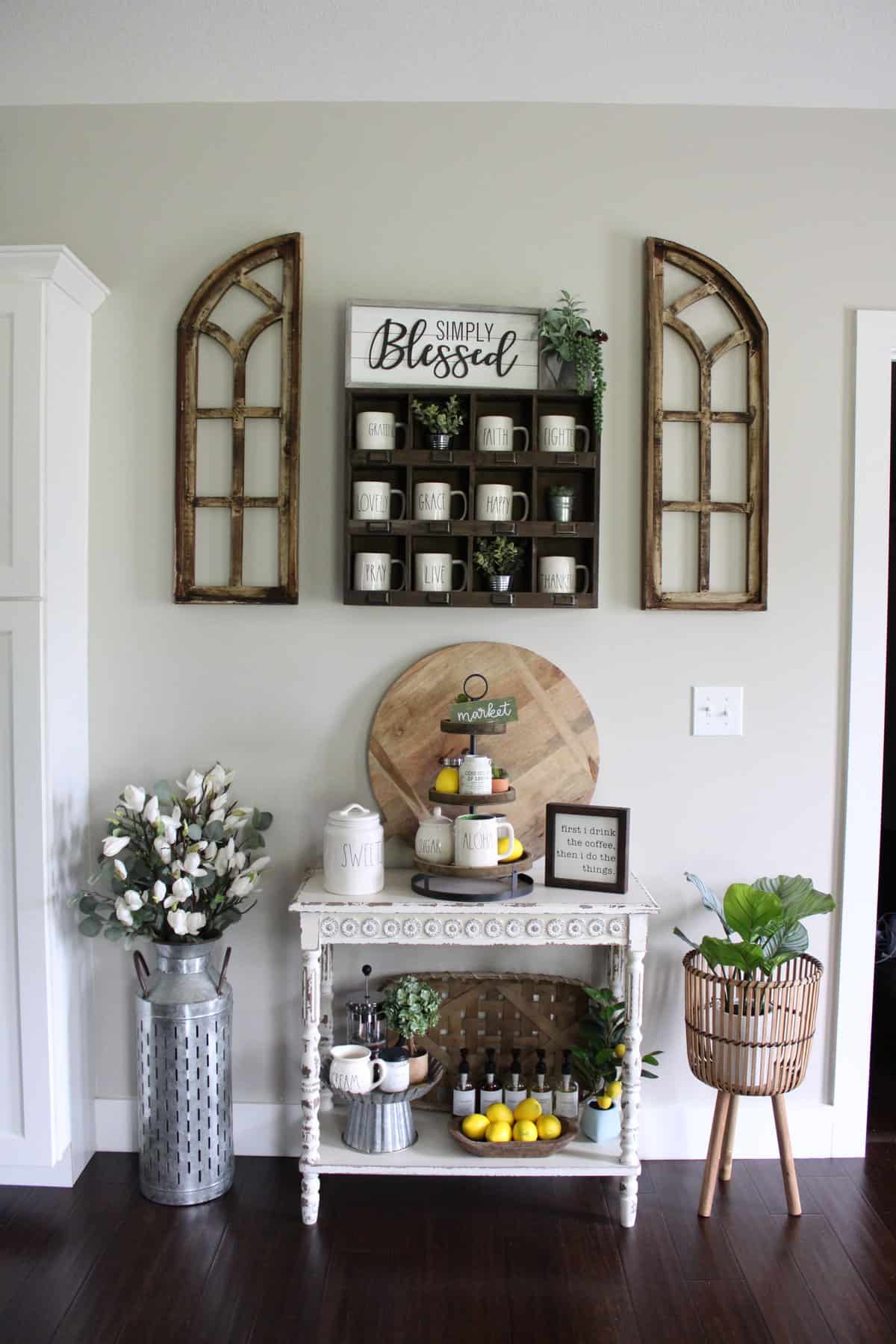 Summer Dining Area
My coffee bar is right next to my dining room. So it made sense to carry the lemon theme over there. I didn't too much on my dining room tablescape.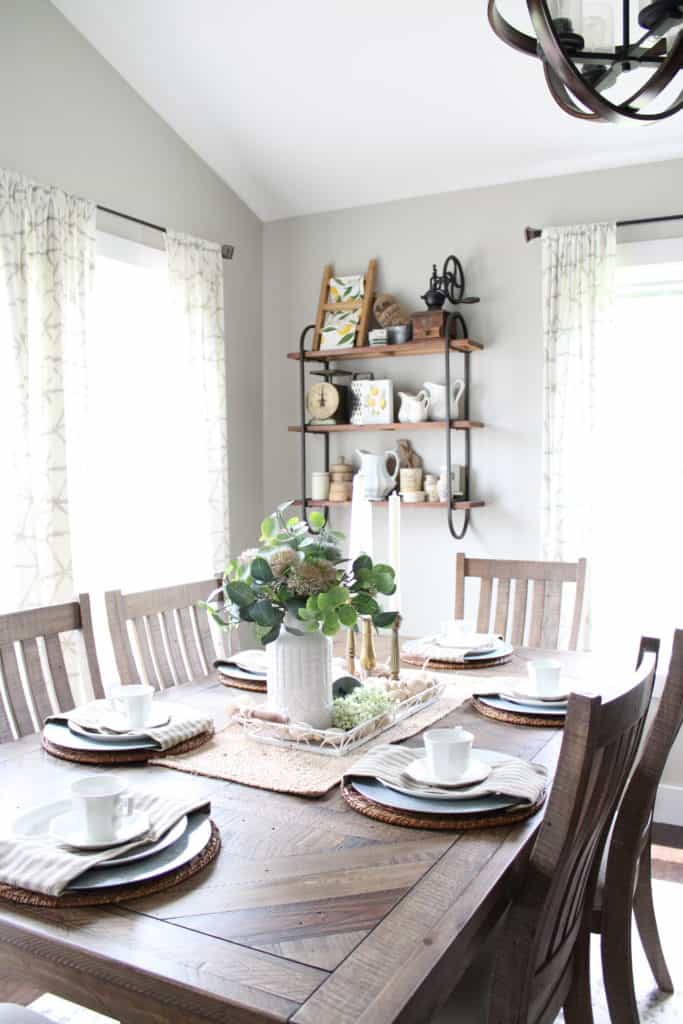 I kept that super simple and neutral. But I did add in a few lemon touches on my open shelving in my dining room as well.
I had a small lemon sign and a little lemon tea towel that I just placed on one of my tea towel ladders.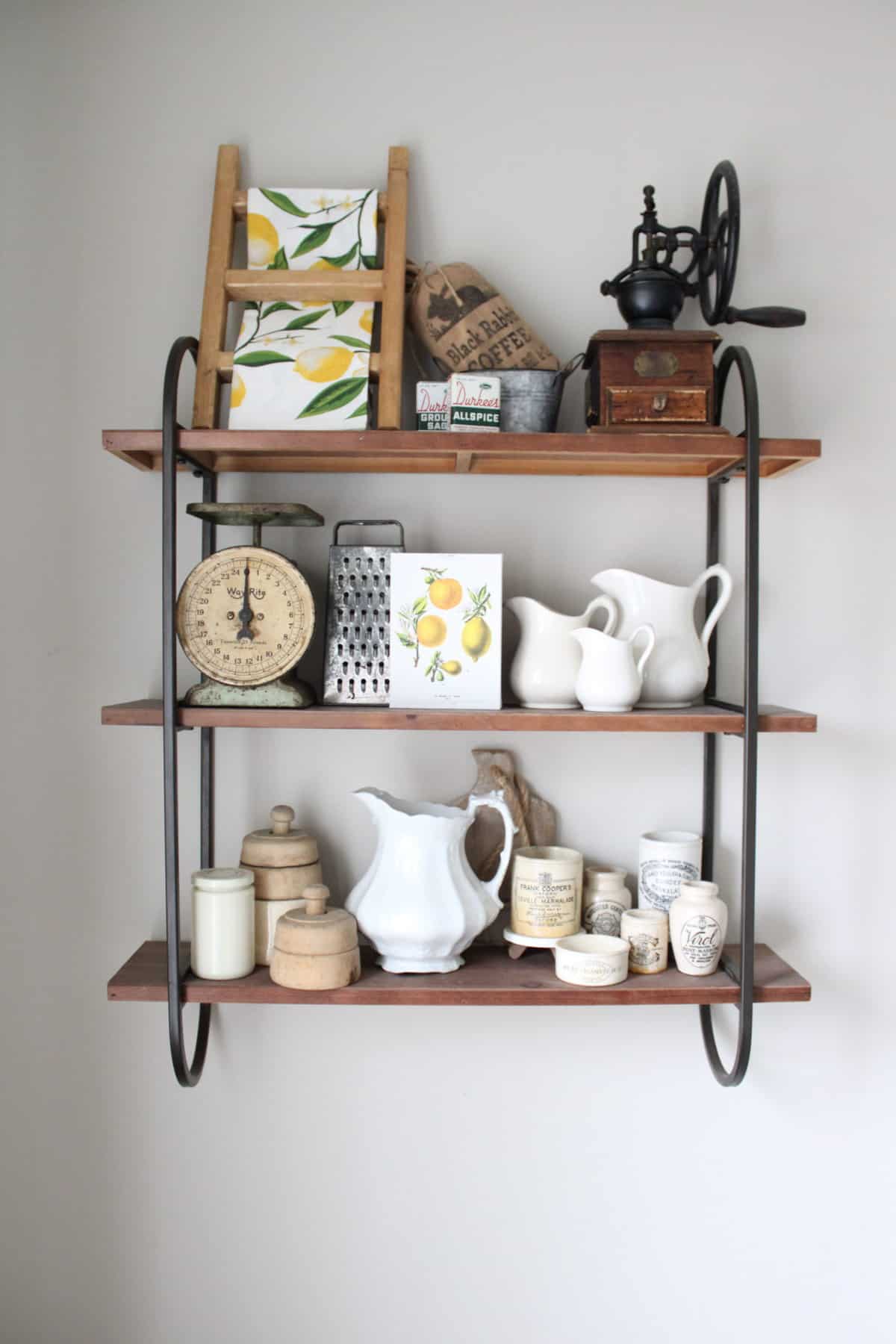 I usually keep the placement of everything on the shelves the same and just add in a few seasonal touches.
For example, I have lemons now for summer home decor. Next, I will have pumpkins out for fall decor. I can easily place a few pumpkins on the shelves. Then, Christmas greenery at Christmastime can be easily added into my ironstone pitchers. And so on and so on, you get the idea.
This makes it much more easier to switch things up from season to season. Instead of having to pack everything up and start completely over each season.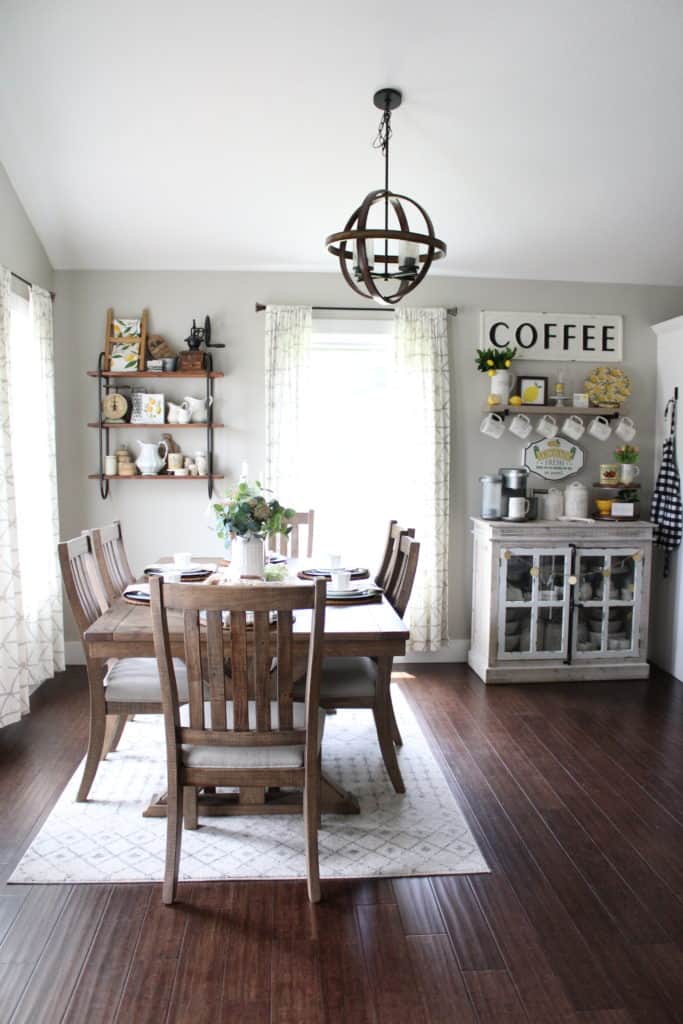 How to Style a Summer Living Room
Now for the living room area, I don't really carry in the lemon theme. I keep it neutral and simple by having greenery everywhere.
I like to use eucalyptus mainly because that seems more like summer to me for some reason. It's bright and airy and looks great everywhere.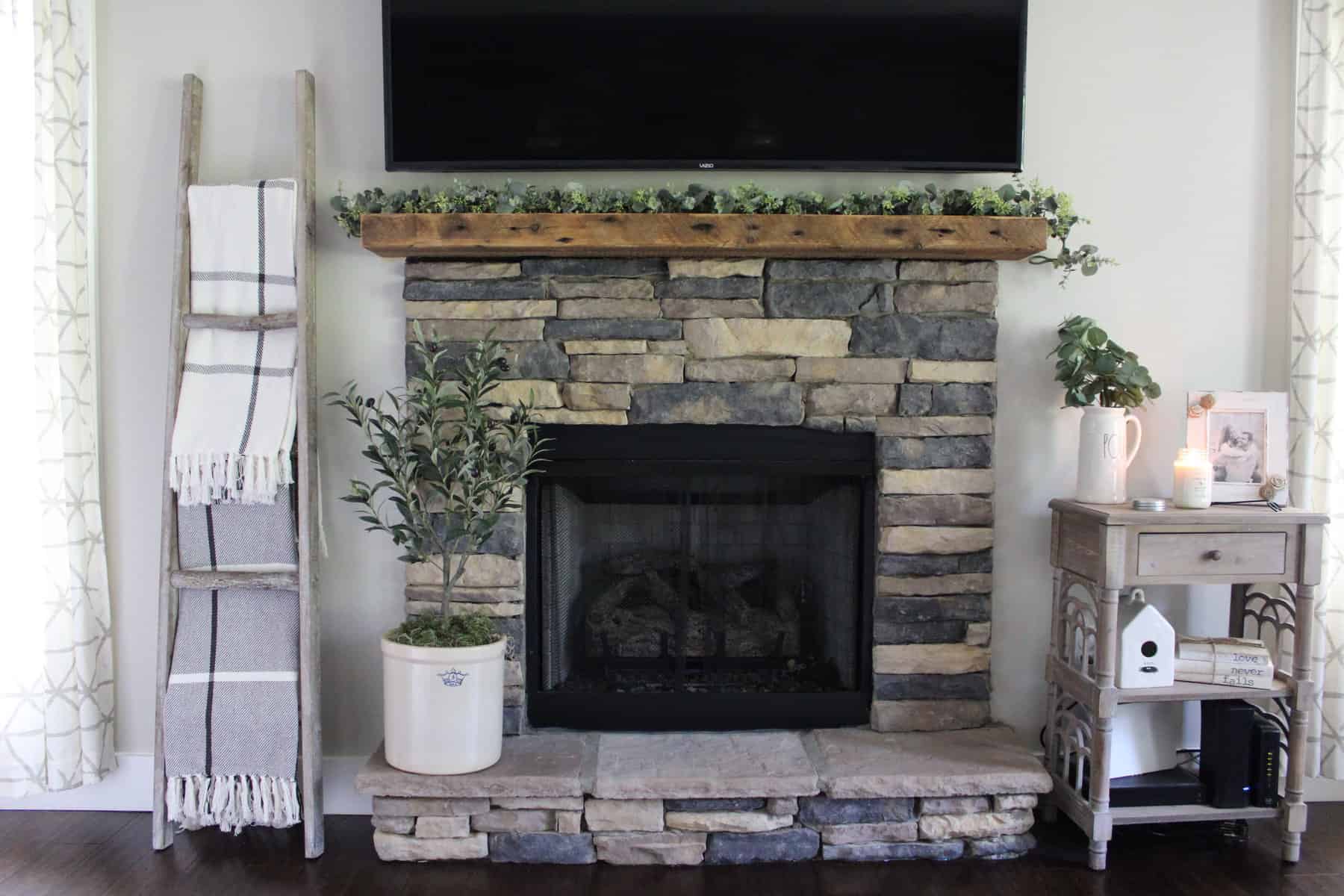 I have a eucalyptus garland on my mantel in my living room. You may remember us installing that back around Christmastime.
A garland is a perfect home decor accent there since I don't have much room in between that and the TV there.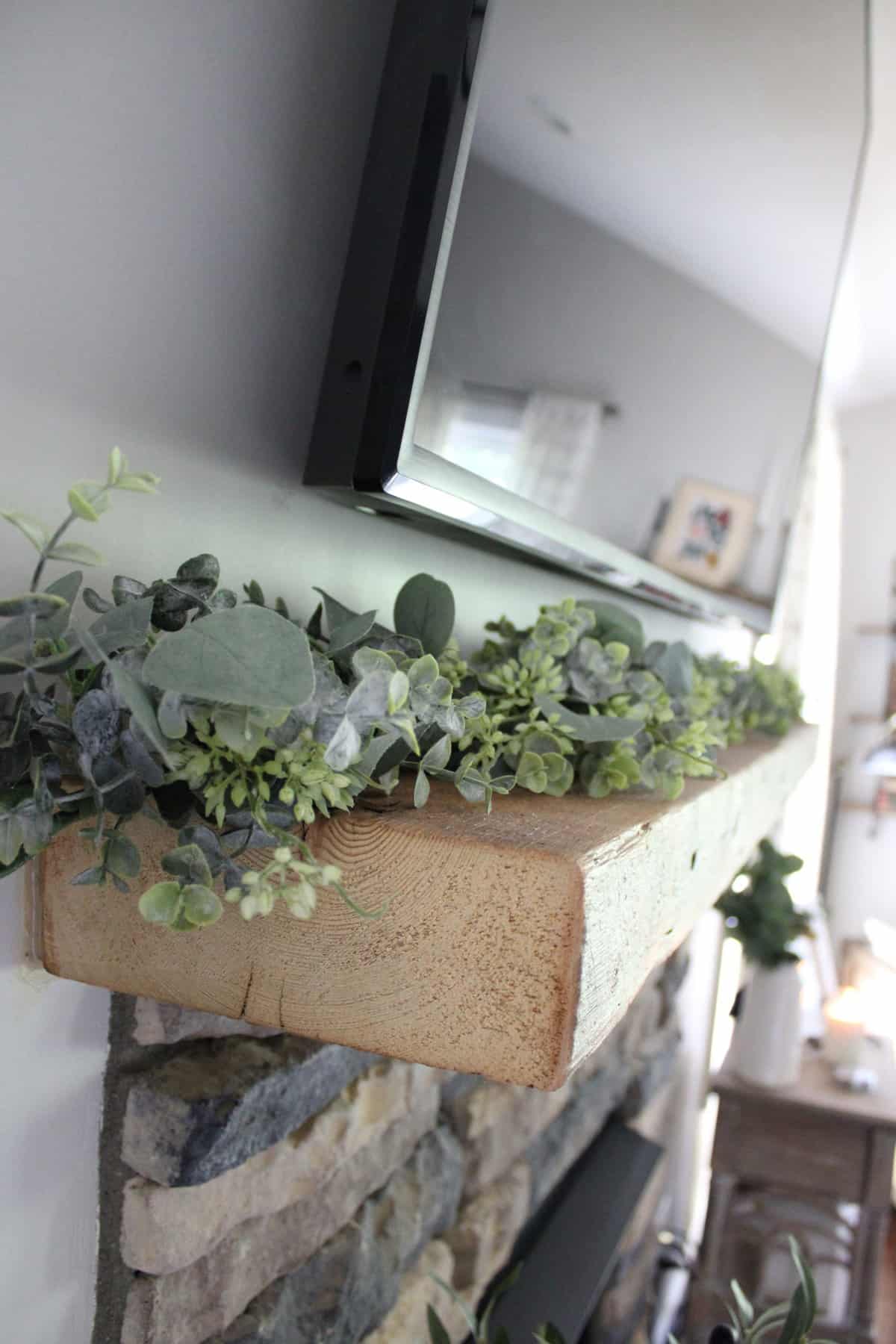 I also have my faux olive tree styled next to the fireplace in the living room as well. The olive tree with the faux moss around it definitely adds in a lot of greenery to the space.
I also try to keep things cozy by having throws and pillows available to all guests who come by. Just because it is summer, doesn't mean you can't keep things cozy inside.
I love to have lightweight throws available on my blanket ladder as well as in baskets in my entryway table.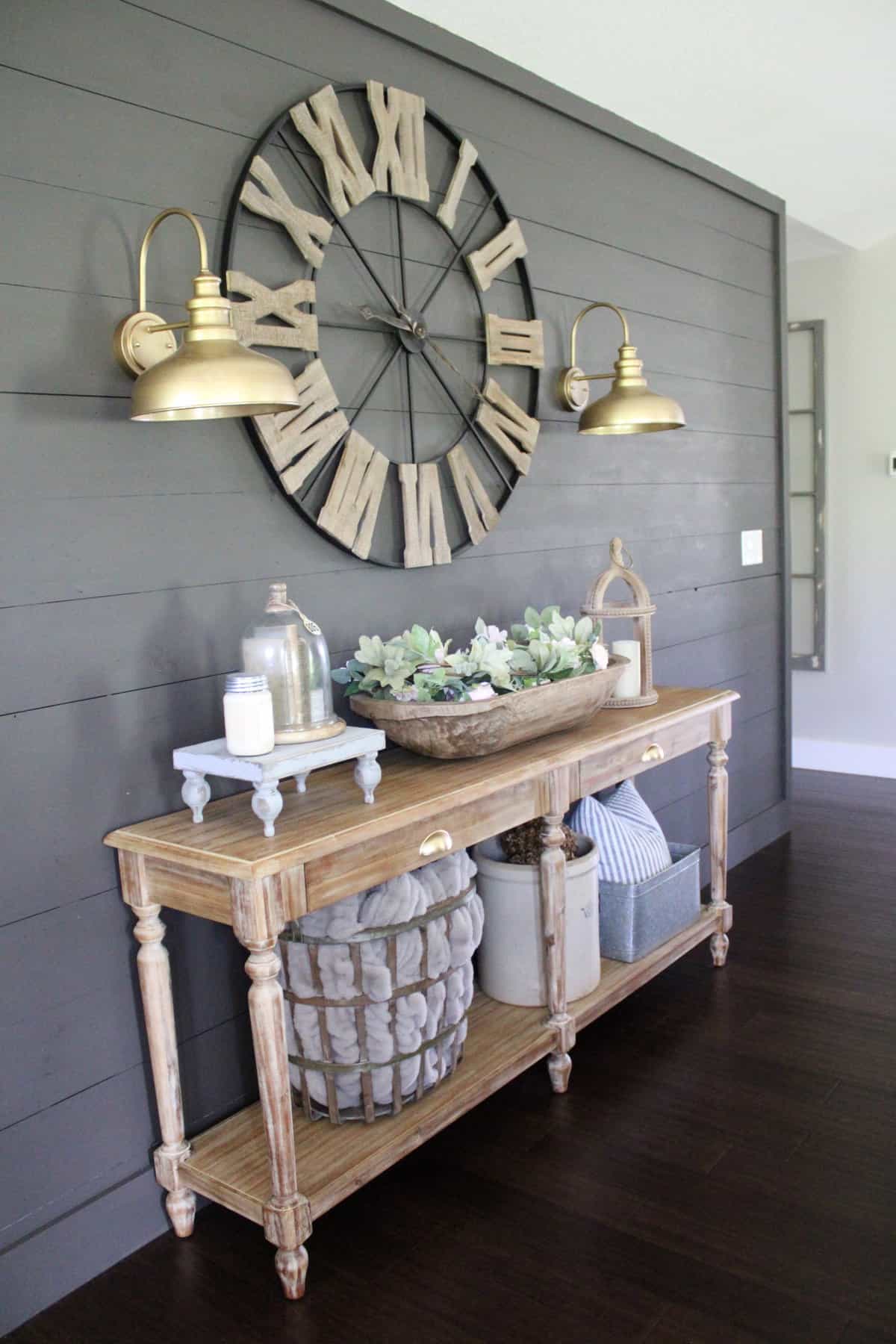 Another tip in how to decorate your home for summer is to have a summer scented candle burning. Y'all know I love me some Antique Candle Co. candles and they have plenty of summer related fragrances.
Some of my favorites are Coastal Linen and Pineapple Coconut. Those both are the perfect way to get your home smelling just like summer in my opinion!
Reading Nook
Another area to my summer living room is our little reading nook space. Sometimes it's nice to beat the heat outside and stay inside for a bit with a good book.
So I like to have an easily accessible area to do so. I am an avid reader and I love reading nooks. I even have another set up in my home office.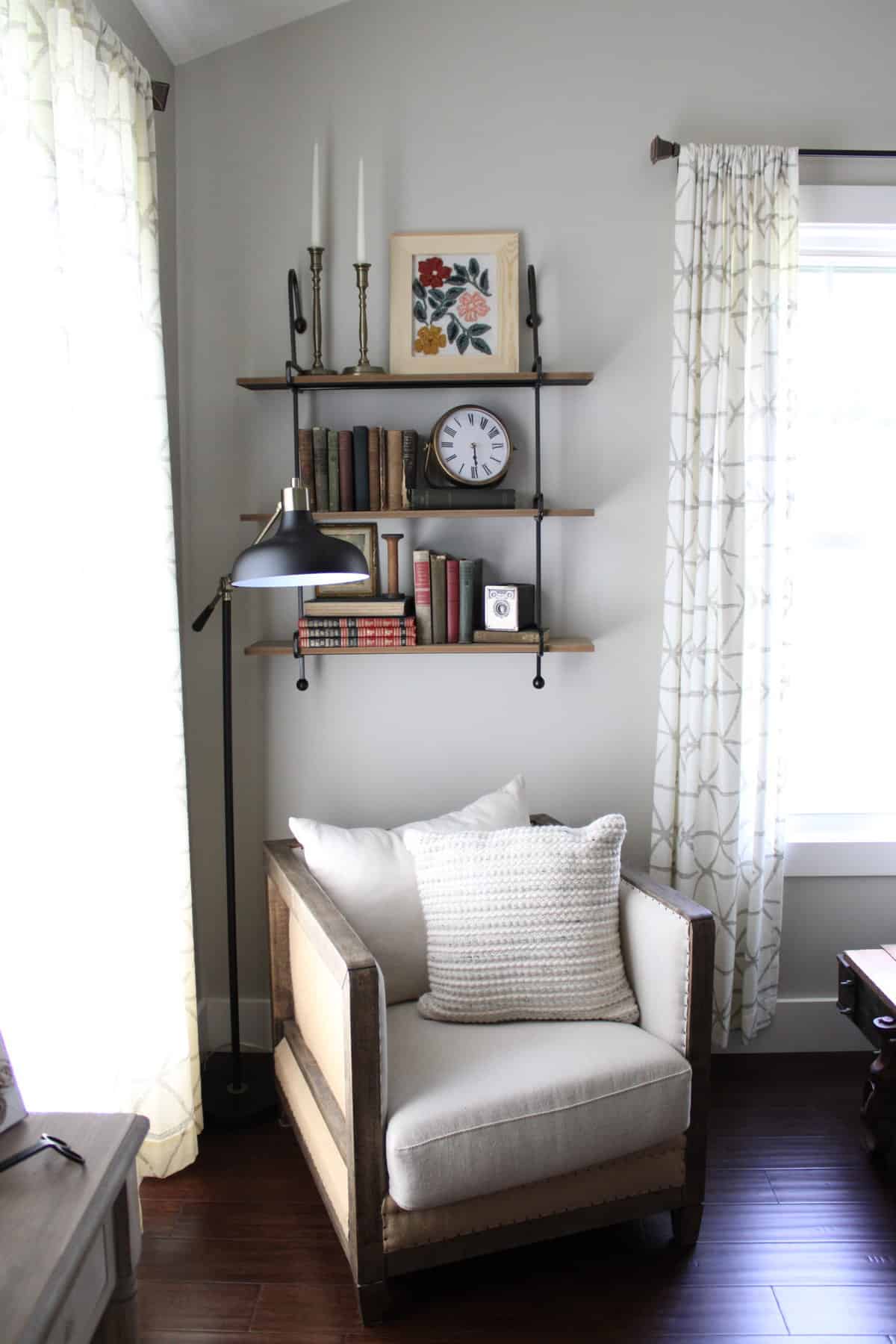 We also have an old railroad factory cart that we use as a coffee table to the side of the nook as well. There, I like to display current summer magazines that you can easily grab and look through as well!
I also have vases set up with appropriate greenery. I always switch those out from season to season as well. And the candles are battery operated and offer the perfect amount of mood lighting for the space during the evening time.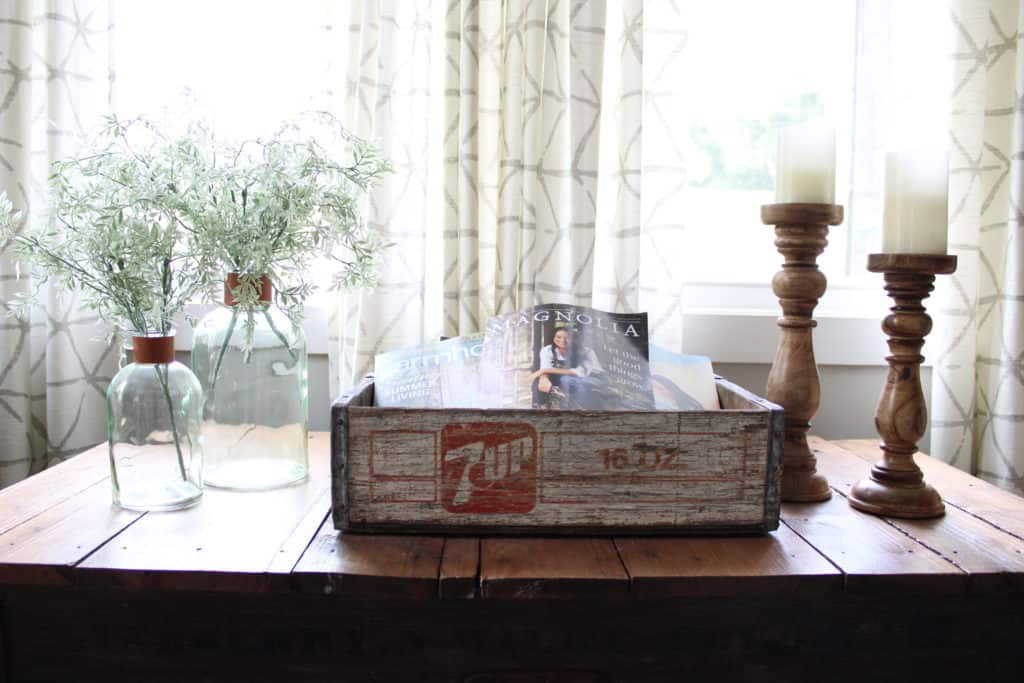 Summer Decorating Ideas for Your Kitchen
Again, for my kitchen I keep it pretty simple for summer. I have a tiered tray display on my kitchen island where I keep a few summer related things.
Such as this "Hello Summer" sign and a few extra faux lemons. Keeping on trend for my lemon theme going on.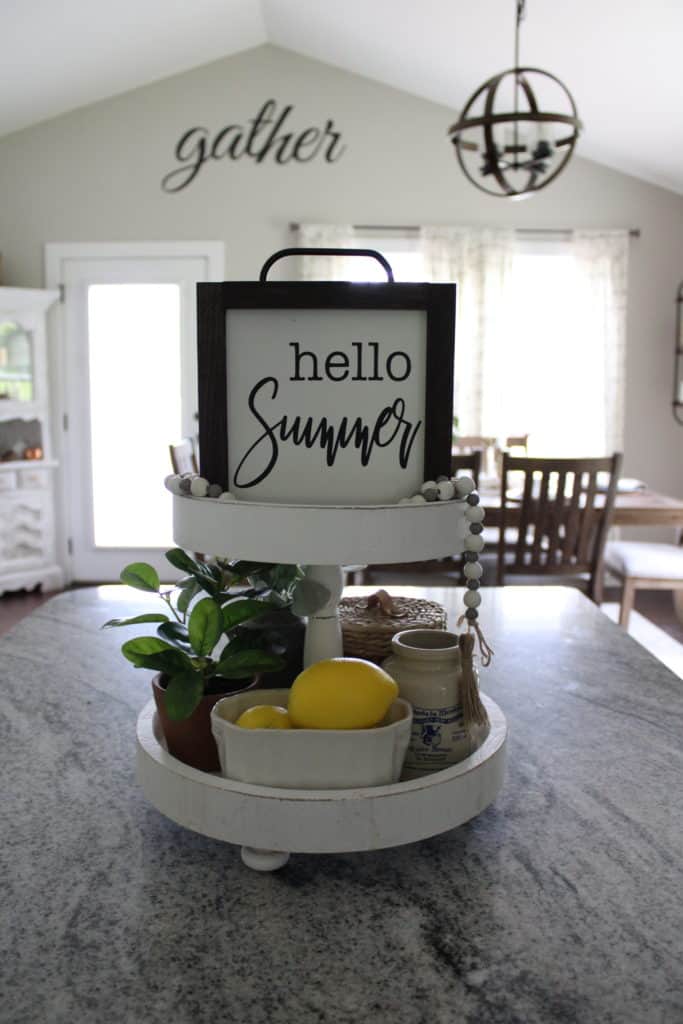 I also love to collect old and vintage tins. I keep those above my kitchen cabinets year round.
Sometimes, I will take a few down and swap them out depending on what season it is. For example, I will take down all the red, white, and blue ones for patriotic decor. And then for Christmas, anything with some red in it, I will pull down to create a display.
It serves as two purposes. Both as decor and storage. It looks good up there, but I can always take them down and rearrange them if needed.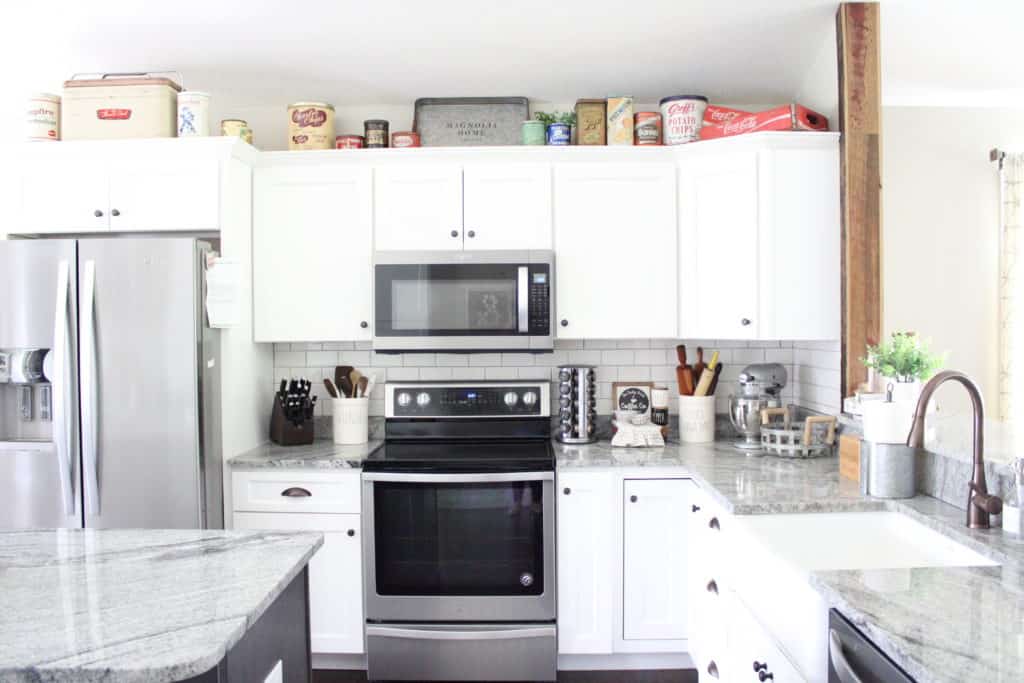 Another great tip on how to decorate your home for summer is to look for items you already have in the same color scheme. As I mentioned above with the vintage tins.
I have a sweet yellow handled rolling pin (pictured below) in my antique rolling pin collection that goes perfect with my lemon theme. This was actually my sweet Meme's rolling pin that she gifted to me. I always love to have it on display for that reason alone!
So it's not overly screaming summer kitchen decor, but it's the perfect color scheme for it. And I didn't have to add anything to this countertop vignette to make it specifically "for summer" which is always a plus!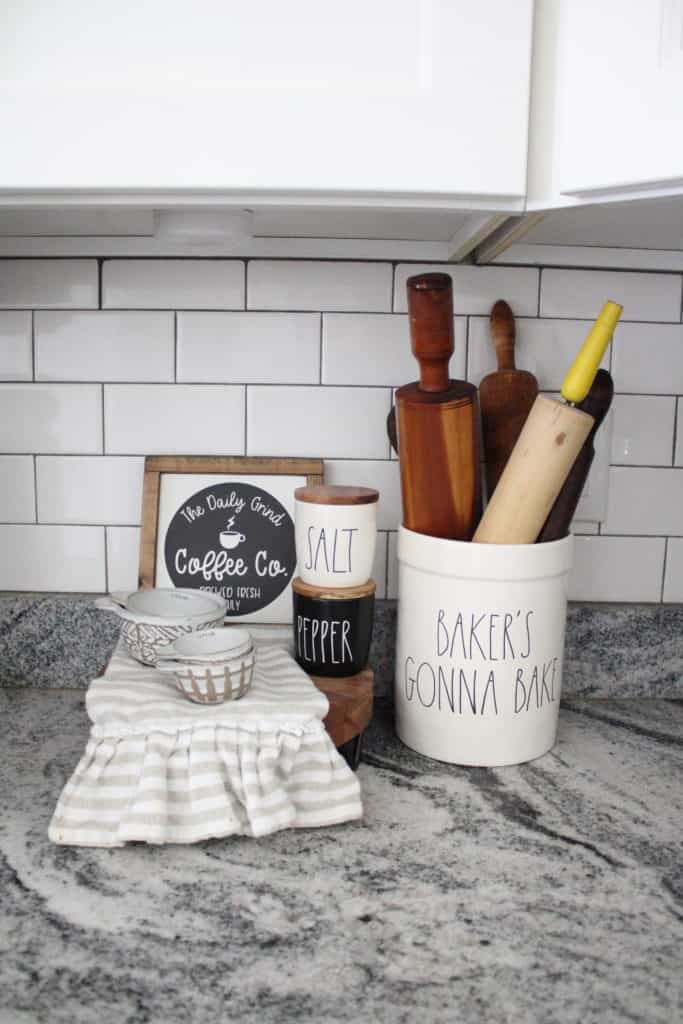 Summer Touches for The Guest Bedroom
I always like to have my guest bedroom available and ready for anyone who may need it. So I am including it on my list of how to decorate your home for summer too.
I don't do anything too crazy here- I like to keep all the bedding neutral, that way I can easily add in some pops of color. Or seasonal elements as well.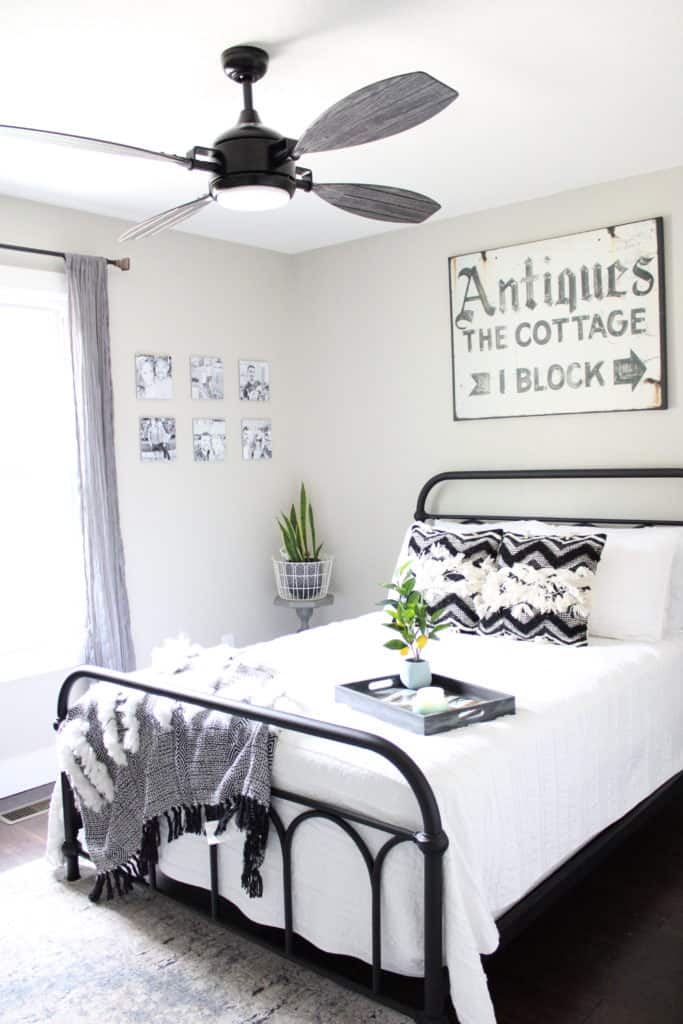 I like to keep a little styled tray on the bed. And I will include a relevant seasonal magazine as well as a seasonal appropriate candle.
You can also see I have a small faux lemon tree on there too. That again ties in with my whole lemon theme as well.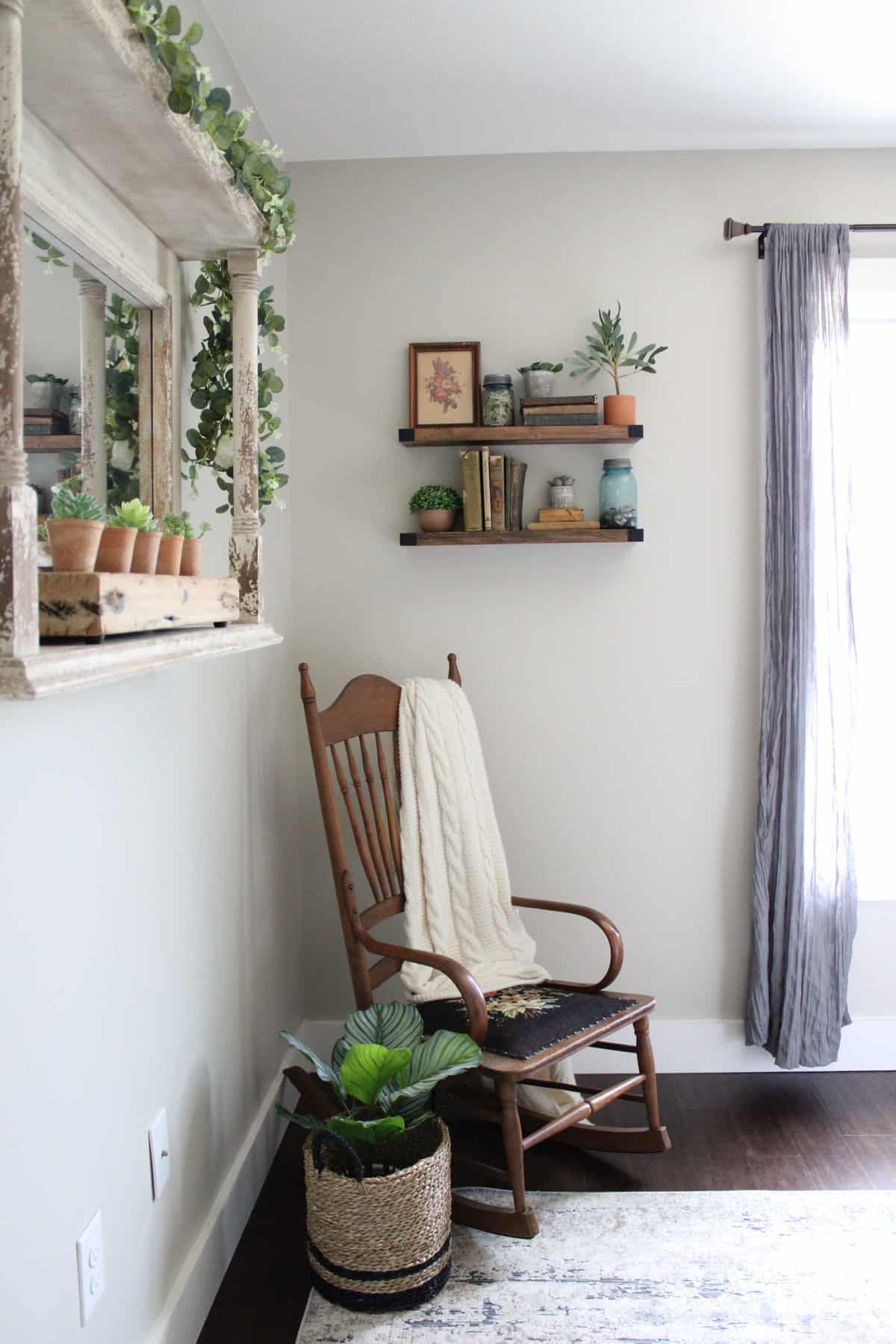 And again, just like in the living room, I have a reading nook in the guest bedroom as well! That way, guests can comfortable relax and read a good book.
I also have the open shelves completely decked out with vintage books too. That's one of my favorite ways to style open shelves.
You can usually find them for a great price, and I just love the old texture it brings to the space!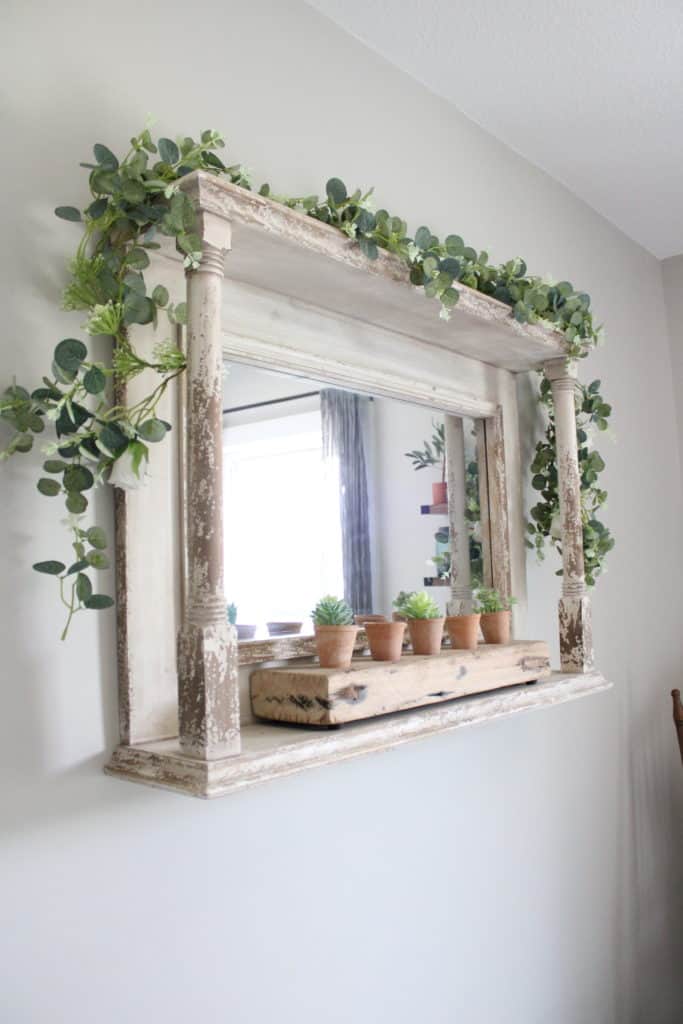 And of course, no summer home is complete with a little cat keeping you company! Am I right or am I right?! Toby here loves to take naps in the guest bedroom when it isn't in use!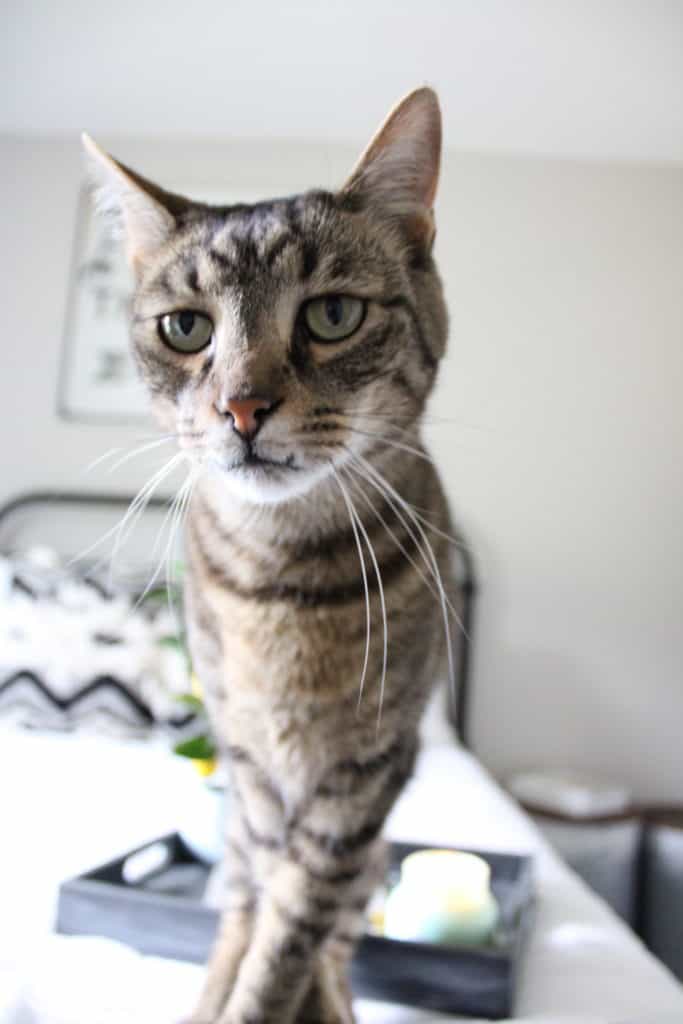 Final Thoughts on Summer Home Decor
Well, I hope this post has given you some ideas on how to decorate your home for summer. I don't do anything too crazy or specific.
I just do what works for us and go from there. You should too! Do as much or as little as you want to and call it a day!
Honestly, I am just over here waiting for when it is socially acceptable to bring out the pumpkins! So for now, this will all do for me!
Do you try to decorate for summer in your home too?? If so, let me know your thoughts below!