So I know I have been sharing a lot of recipes with you guys here lately (like my delicious pecan pie bars I shared earlier), but I just can't help myself because it is Thanksgiving week! And I love to bake, cook, and host so this is all right up my alley! So today I thought I would share with y'all my easy homemade cranberry sauce that I make all the time.
The best part is, I don't just make this recipe at Thanksgiving only, I make it year round. It is the perfect side dish to a delicious comfort meal like chicken pot pie too!
Keep on reading to see just how easy it is to make below!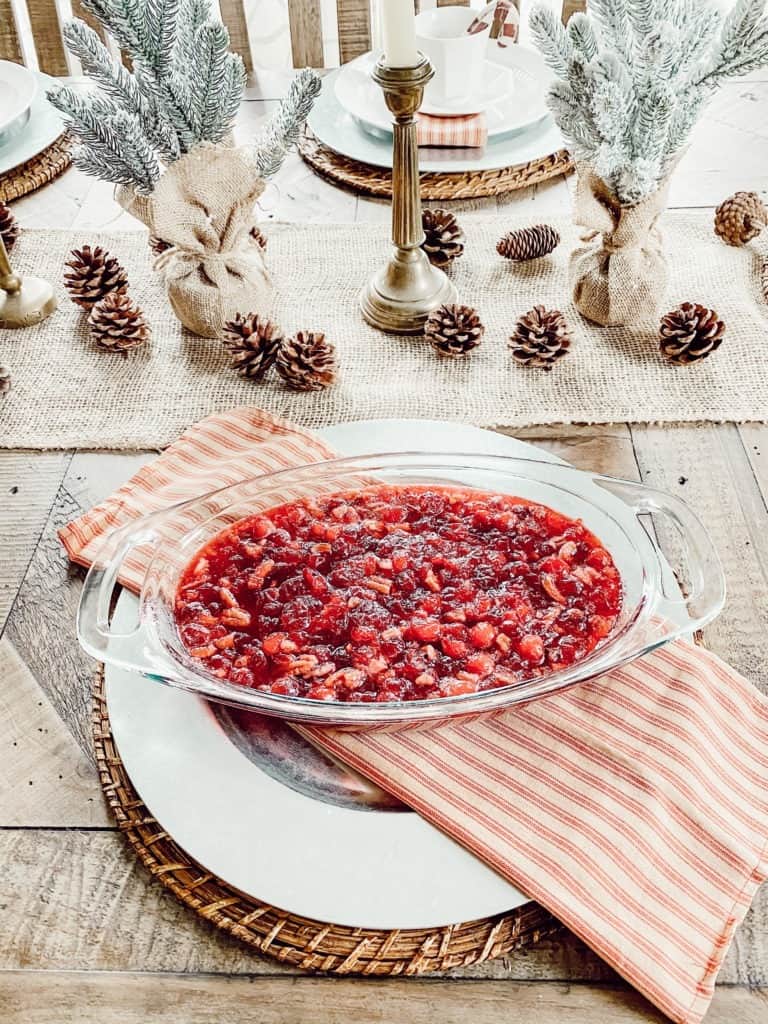 This post contains affiliate links. Click here to read my disclosure policy.
Recipe Notes:
The hardest part about this recipe is just that it has to chill overnight. That's it! The rest of it is super simple.
When I first made this, I was so worried because it was so runny and it did not set up like I thought it would.
But after learning, it just takes time for it to set up. It gets thicker as it cools, so don't worry if it looks a little runny right after you cook it!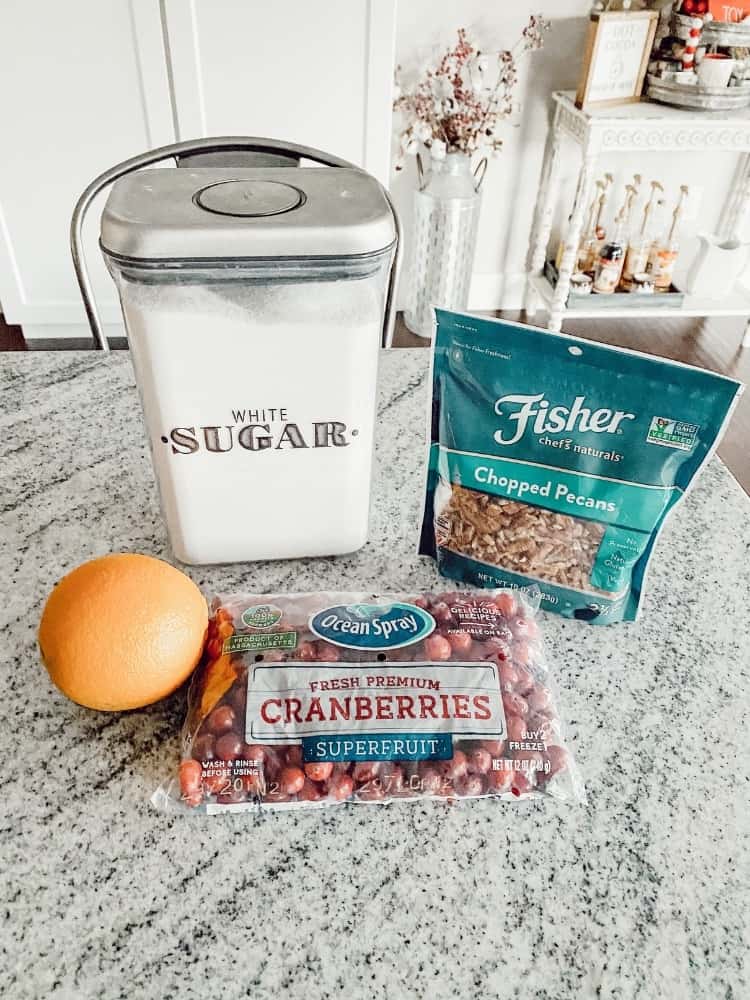 I also like to use fresh cranberries when they are in season, but like I said above, I make this dish year round so sometimes fresh cranberries are hard to find. I
f that's the case, you could totally use frozen cranberries instead. I just let them thaw out in a colander under cool running water before dumping them into the boiling water.
I used to always just use the cranberry sauce in a can because I thought making it from scratch would be too much work. But I was definitely wrong!
After making this recipe, I will never go back to jellied cranberry sauce in a can. This makes your meal feel more special and like you put in the extra effort for it, even though it's really not that much work!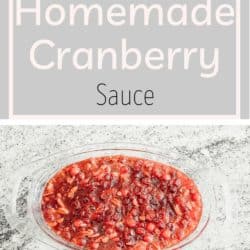 Easy Homemade Cranberry Sauce
Delicious and easy homemade cranberry sauce, perfect side dish for Thanksgiving.
Ingredients
1

cup

granulated sugar

1

cup

water

12

oz

fresh cranberries

You can use frozen cranberries too if they are not currently in season where you are located.

1

orange

Used for the zest.

1/2

cup

pecans
Instructions
Rinse cranberries throughly and set aside.

Combine the one cup of sugar and the one cup of water in a saucepan over medium high heat.

Bring to a boil and stir to make sure all sugar is disolved.

Once sugar is disolved, add cranberries and cook until they burst. This usually takes about 10-15 minutes.

Stir in your orange zest and pecans.

Remove saucepan from heat and let cool.

Pour mixture into a container and let it sit until it reaches room temperature.

Place container in fridge overnight to let it set and thicken up.
End Notes:
You definitely don't have to add in the orange zest or pecans if you don't want to. I just find that it gives it a nice, festive touch.
I typically will add them in especially around the holidays, but sometimes I don't throughout the rest of the year. It's totally up to you!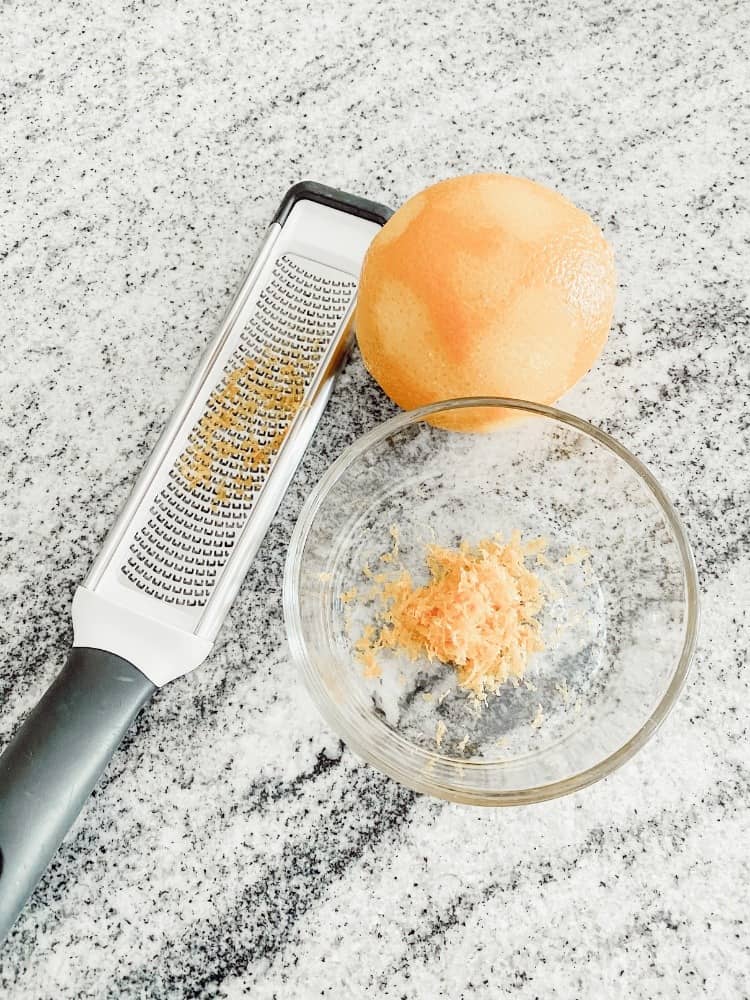 Let me know if y'all try this recipe out and what you think about it! I promise it really is the easiest homemade cranberry sauce ever!
You will make it again and again because it is just so dang tasty!