Jump to Recipe
With Thanksgiving coming up right around the corner, I thought I would share with you all the easiest (and tastiest) pecan pie bars. This recipe has been my go to recipe for a few years now and it has always been a hit when I make them for Thanksgiving dessert.
I always have love pecan pie itself, but I hate how much work it takes to prepare and how little servings you get for all your efforts.
With these bars, they are so rich and indulgent, you can slice them up smaller and get more servings out of them this way. Plus, I think it's much easier to make than regular pecan pie.
Mine always tend to be too runny when I make it and this recipe seems to be tried and true and comes out perfectly every time I make it!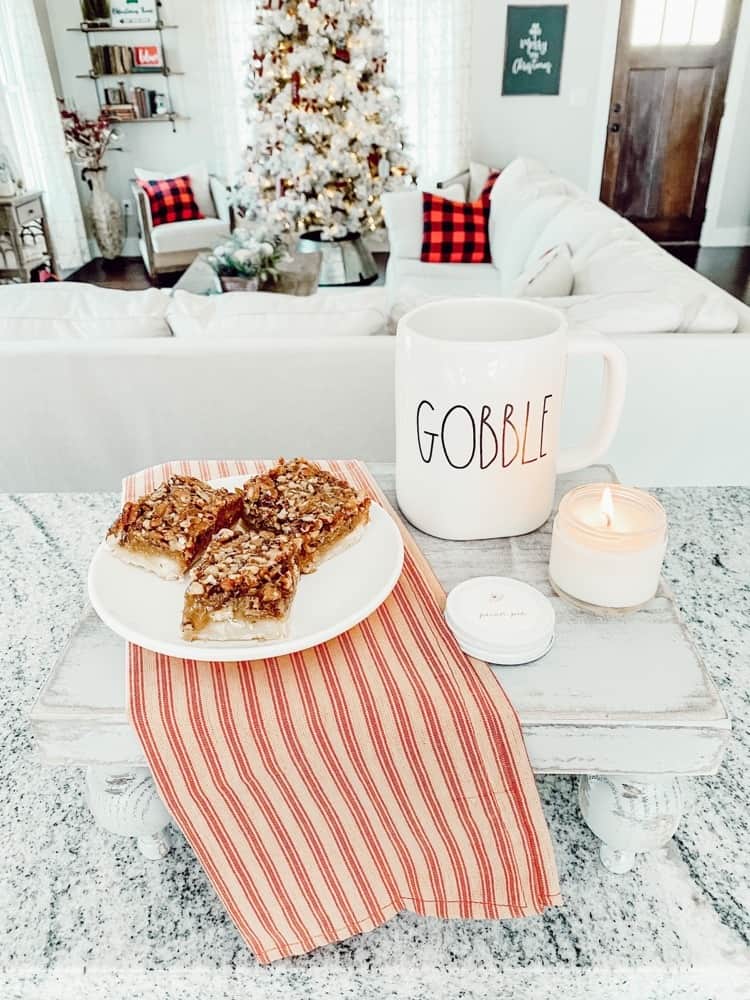 This post contains affiliate links. Click here to read my disclosure policy.
Recipe Notes:
I got the original recipe from Rock Recipes, but I have tweaked a few things from it over the years. Feel free to check out the original recipe too if you have any other questions or concerns on how to make these.
But I promise, these pecan pie bars are super easy and don't require too much time or effort!
It's also important to note here that it does call for a food processor to combine the flour, butter, and sugar together to make the shortbread crust.
I don't have one but I did use my handy dandy Ninja blender since it has a pulse option to it. And guess what!?
It turned out just fine! I'll link a similar one to mine here below in case you don't have a food processor either.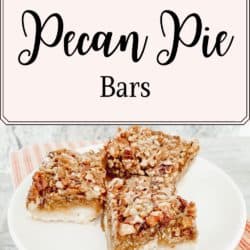 Pecan Pie Bars
These bars have a buttery shortbread crust and a gooey pecan topping. It's just like cookie bars meets pecan pie!
Ingredients
For The Shortbread Crust:
1 3/4

cups

all purpose flour

1/2

cup

sugar

3/4

cup

cold butter
For The Pecan Pie Filling:
2/3

cup

packed brown sugar

1/3

cup

all purpose flour

also add 1 tablespoon of all purpose flour to this mixture too.

4

large eggs

1

tbsp

vanilla extract

1/2

tsp

salt

1 1/2

cups

corn syrup

dark corn syrup is the best.

2 1/2

cups

chopped pecans

originally recipe only calls for 2 cups, but I like to have mine with extra pecans so I add in an extra half cup here.
Instructions
For The Shortbread Crust:
Preheat oven to 325 degrees if you are using a glass baking pan (or preheat to 350 degrees if you are using a different pan).

Spray cooking pan with cooking spray throughly. Then place a sheet of parchment paper large enough to cover the whole pan on top of the sprayed cooking pan. This will make it much easier to remove the baked pecan pie bars later.

Mix together the 1 and 3/4 cup of flour and 1/2 cup of sugar completely. Then, add in the cool 3/4 cup of butter. It is best to use a food processor for this part because you want the mixture to resemble very fine crumbs.

Press the crumb mixture into the bottom of the prepared pan and try to make it as even as you can.

Place into preheated oven and bake for about 25 minutes or until it is a nice golden brown color. The original recipe calls for just 20 minutes, but I find that it is not done enough after just 20 minutes for my oven. I did it for just 20 minutes one time and the crust came out a little doughy on the bottom so it just depends on your preference and your oven for how long you bake it here.
For The Pecan Pie Layer:
While the shortbread is baking you can now make the top pecan pie layer to these bars. Mix together 1/3 cup plus 1 tablespoon of flour and 2/3 cups of brown sugar throughly to prevent any lumps.

Then whisk in the 4 eggs, 1 tablespoon of vanilla, 1/2 teaspoon salt, and 1 1/2 cups dark corn syrup until completely combined.

Let this mixture sit for about 15 minutes while the crust bakes and stir it occasionally.

Add the pecans to the mixture and stir to combine.

Pour topping all over the still hot shortbread crust and place it back in the oven for 50 minutes. Again, the original recipe called for about 40 minutes but I found that wasn't enough time for them to be completely done. You want it to have a little wiggle when you pull it out of the oven but not so much that when you cut into it, it will be runny.

Cool the bars in the pan to room temperature and then place in fridge for several hours or even overnight.

Once they are completely cool, pull the bars out of the pan with the extra parchment paper and then place on cutting board. Use a serrated knife and saw through the bars, cutting them to your desired size and enjoy!
Freezing the Pecan Pie Bars
If you don't want to enjoy these right away, you can easily freeze them for later. That's why I love making them ahead of time for Thanksgiving or Christmas or any other holiday party!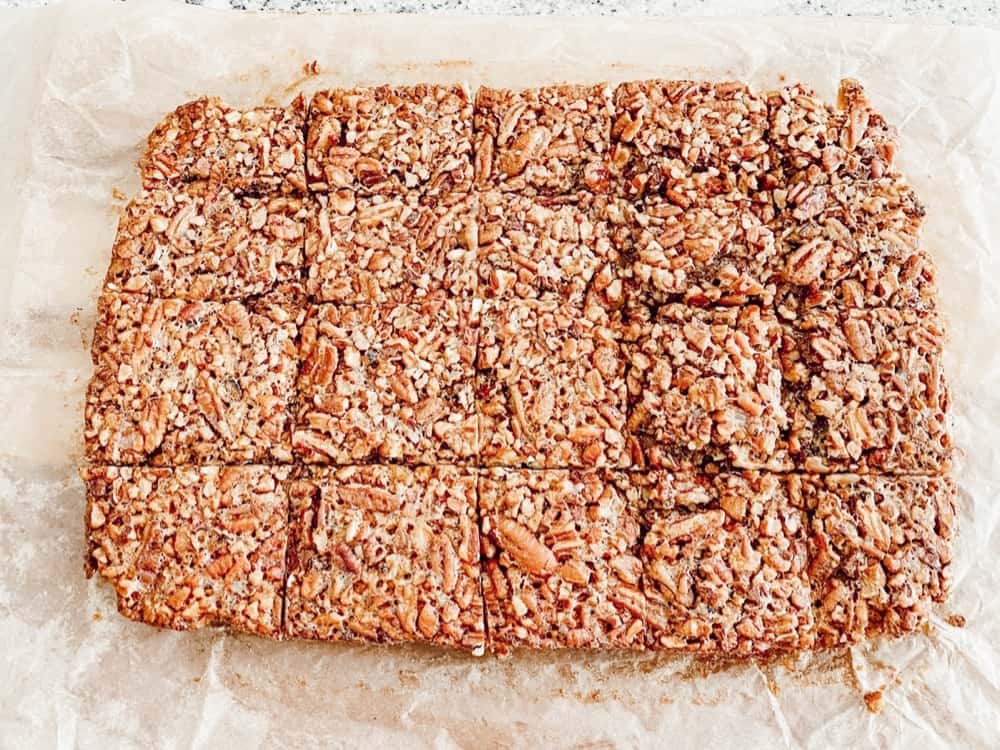 After the pecan pie bars have cooled completely, cut them up into little (or big) squares. Then, simply wrap each piece in cling wrap or Press-N-Seal wrap and wrapped place bars into freezer bag.
Then you can freeze them for up to 3 months and just take them out of the freezer the night before your event so they can thaw properly in the fridge.
And since they are individually wrapped, you can just take one or two out at a time!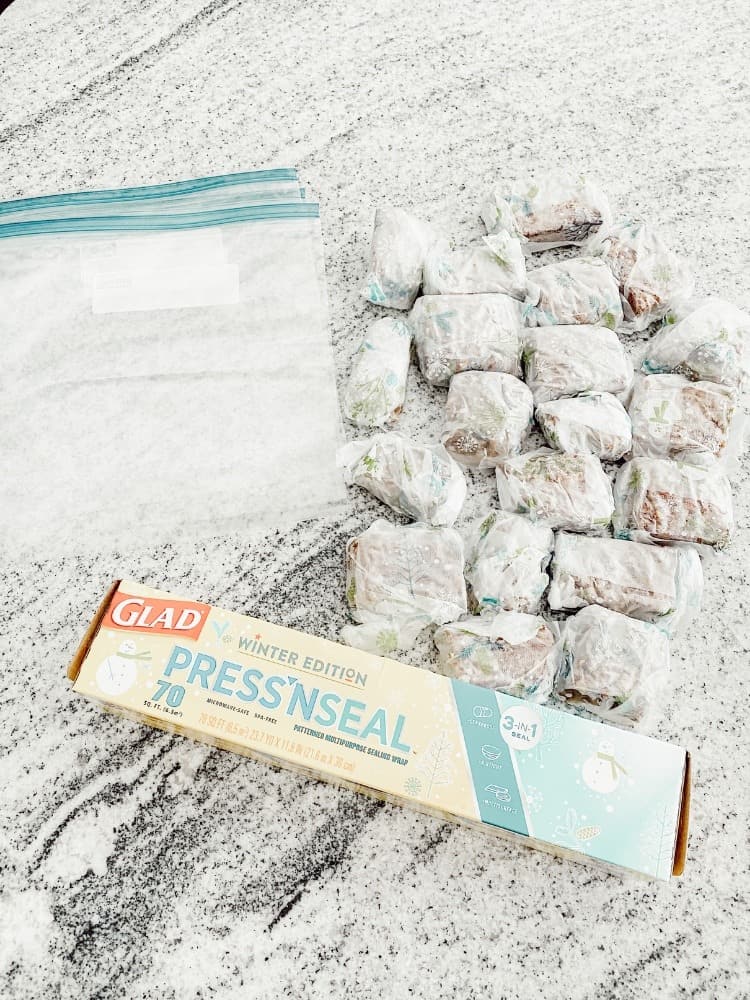 End Notes
Let me know if you guys make this for Thanksgiving too! You will not be disappointed if you do! And if you're looking for more Thanksgiving recipes, then check out my Homemade Broccoli Casserole or Sweet Potato Casserole recipe as well!
Also, let me know what some of your favorite recipes are for Thanksgiving too. I'm also curious to see if you prefer more of pecan, pumpkin, or apple pie this time of the year?!