Well friends, I am here to tell you all about the brand new Solo Stove product I was gifted today. And you may be a little confused based on the title and asking is Solo Stove making a pizza oven? I thought they were only fire pit products? And the answer is yes! They have made one and I'm here to answer the question, is the Solo Stove pi pizza oven worth it?
Me and my hubs tested the product out for y'all real good and now it's time to share our honest review. We will be going over how to make the best pizza in the oven and our tips and tricks after using it for awhile. I'm even going to be sharing the pizza recipe we used below so you can make one too!
I hope you enjoy this Solo Stove pi pizza oven review and I hope it answers all the lingering questions you may have about the new product!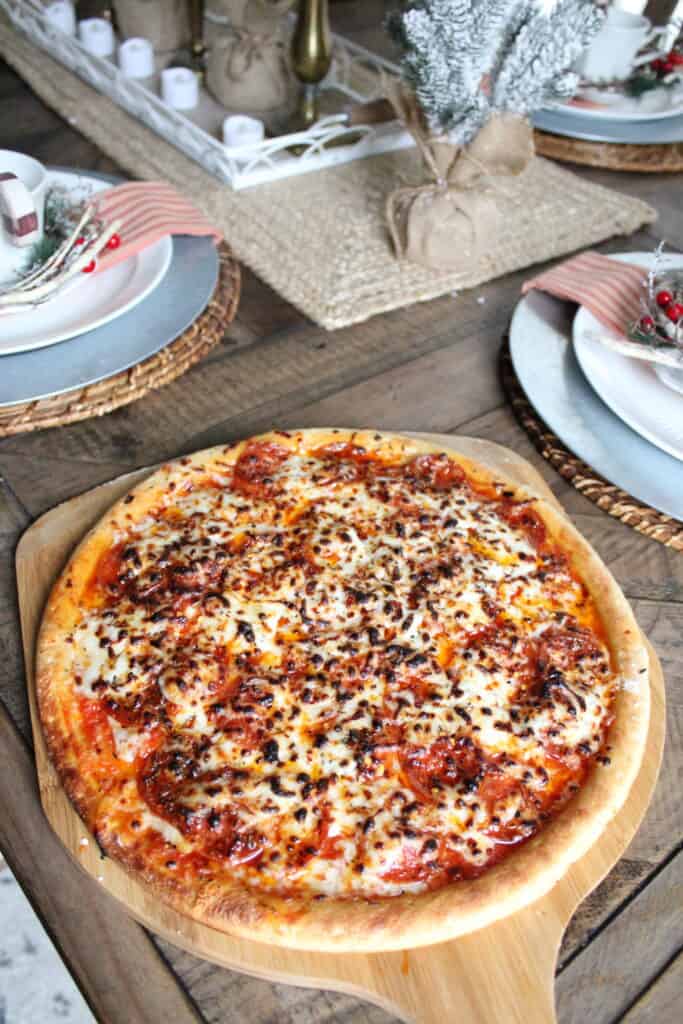 This post contains affiliate links. Click here to read my privacy policy.
About the New Solo Stove Pi Pizza Oven
So here's a little background info on the product in case you haven't heard of it before. You can make restaurant quality pies with the gas or wood feature. Make wood-fired pizzas with kiln-dried cuts easily! And to bake them, you can use propane by adding on the gas burner attachment.
This oven has the signature Solo Stove design and is the perfect accessory for the modern backyard. It even recently made Oprah's Favorite Things List of 2022! The pi pizza oven comes with a cordierite pizza stone which is both durable and reversible. Leaving you with several years of baking pizzas!
It's easy and simple to use and whether you're a beginner pizza baker or an expert, anyone can benefit from this oven. It's designed for optimized heat distribution and minimal heat loss, creating the perfect pizza in just a matter of minutes.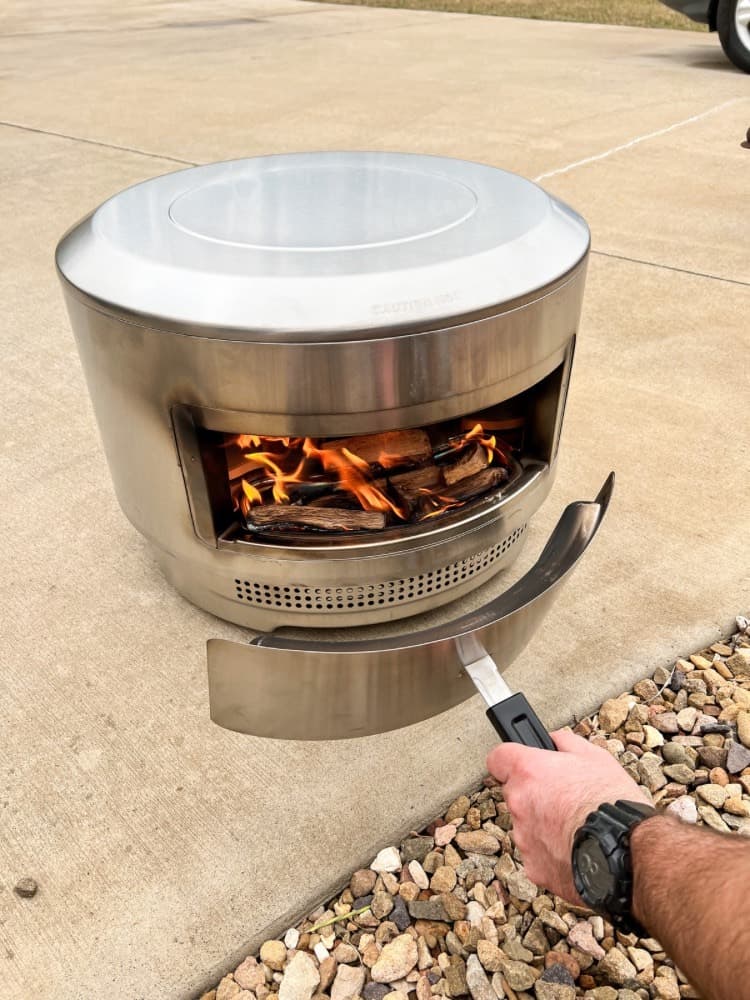 How Hot Does the Solo Stove Pi Pizza Oven Get?
The pizza oven can reach up to 900 degrees Fahrenheit, depending on which method you are using to cook with. Using wood fire, the stone can get up to 750 degrees, with the ambient air getting up to 850 degrees.
If you are using gas, the stone can get up to 800 degrees, whereas the ambient air can reach the 900 degrees. Cooking with the gas is a great option if you need to make multiple pizzas in a row.
Especially if you have friends and family over. That way, you can focus on them and not trying to keep up the temperature with the wood fire.
You can buy the Solo Stove Pi Pizza Oven bundle where it comes with the propane burner, or you can purchase it separately. I would definitely recommend going ahead and grabbing one, that way you can cook the pizzas both ways whenever you want!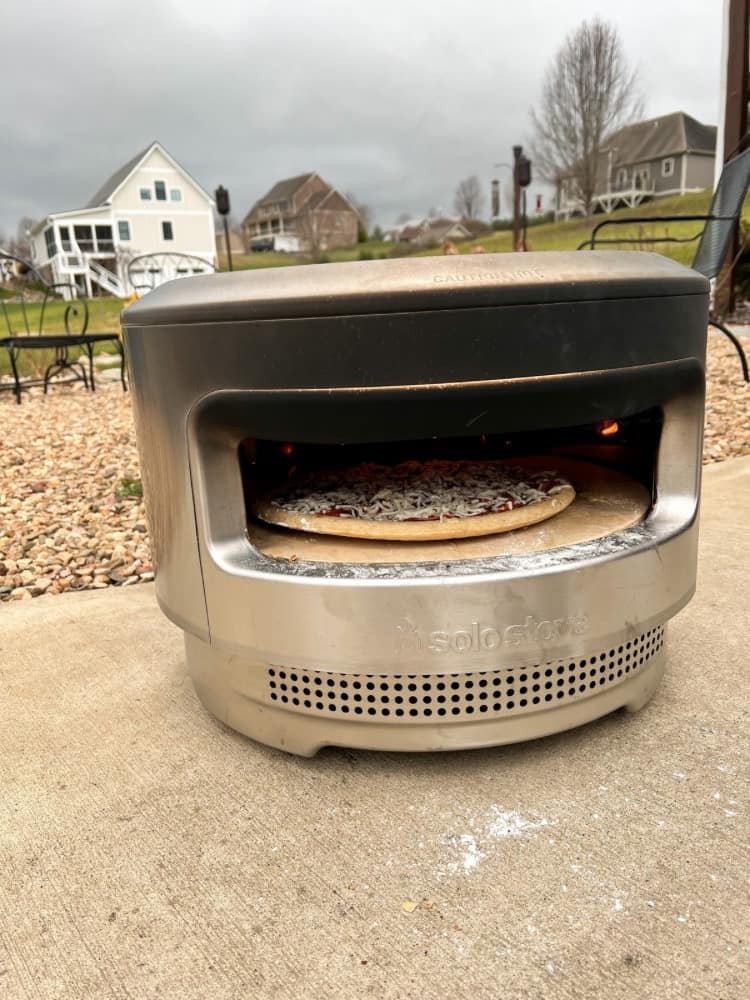 Cooking With Wood
You may be a little intimidated to cook a pizza with wood fire if you haven't before. But, I am here to tell you, it is surprisingly easy! All you need to do is put a natural fire starter in the ash tray, which is in the back of the pi pizza oven.
Then, place the hardwood in the wood tray too. Light the fire starter and put the wood tray inside the ash tray. Replace the fire door and close it.
It is recommended to use kiln dried hardwood that is 1 inch by 5 inches long. You want this size because you can put them in 2 by 2 wide and 2 by 2 length wise – even 2 deep.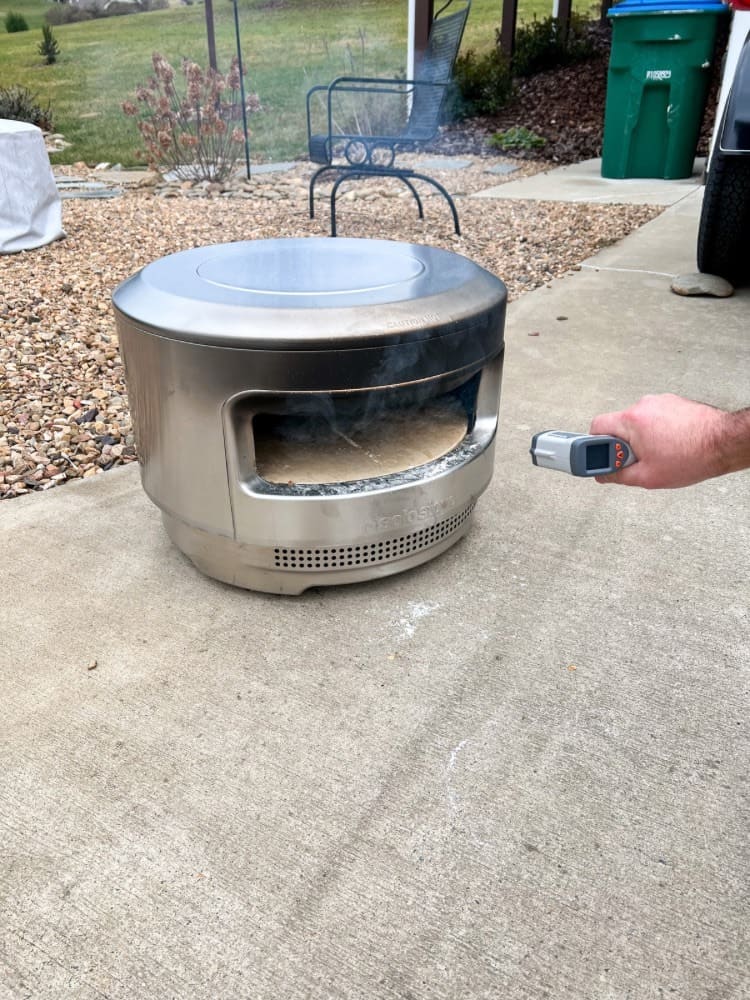 You also want to add one piece of wood every 5-10 minutes during the heating process as well. If you add more than one, it will slow down the heating time.
Once the temperature reaches 600 degrees, you can place the pizza inside. I recommend getting the infrared thermometer too so you can easily check the temperature. I will link the one we have below:

And, be sure to not add any more wood once you place the pizza in the oven. Ash is not a great pizza topping!
How Long Does It Take To Cook Pizza In A Solo Stove Pi Oven?
If you let the temperature heat up correctly, and then add the pizza in, it will literally cook it in just a matter of minutes. The key is to be patient and let it rise to the correct temperature.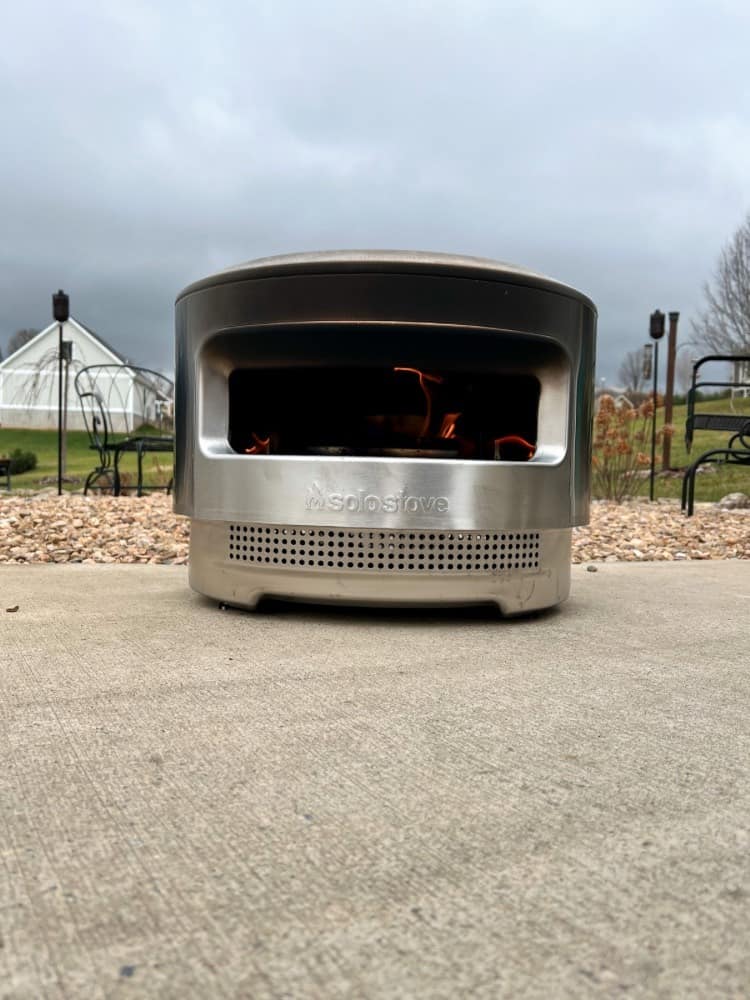 The first time we cooked a pizza in the oven, we did not wait long enough for the oven to become hot. And it ended up being an absolute mess!
The stone wasn't hot enough to cook the pizza dough, which made it stick and ultimately did not cook the dough well enough.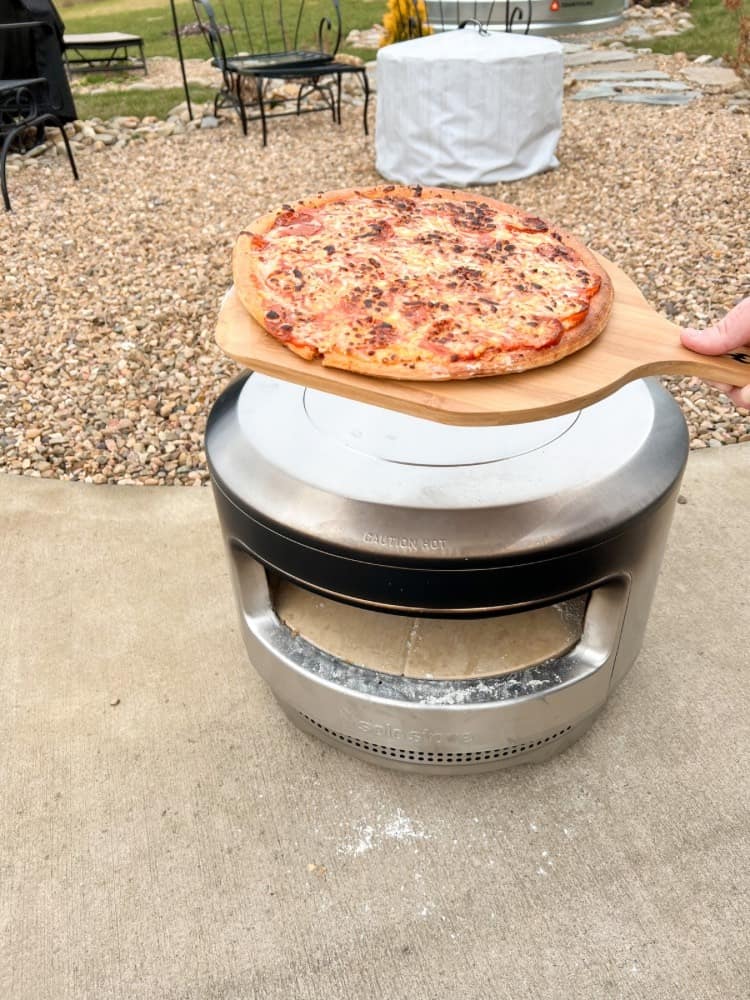 It burned the top, and left the bottom undone. So, learn from our mistake and be patient. Once it's hot enough, it will cook it within 3-4 minutes!
Solo Stove Pizza Oven Price
If you're interested in buying the best outdoor pizza oven, then I am sure you're curious as to what the price is. The good news is that they have several bundles and options to fit your budget. And, they were nice enough to give me a coupon code! Just use "Charity10" to get 10% off your order!

For the wood fire pi pizza oven only, it retails for $399.99, and for the wood and gas bundle, it retails for $574.99. But again use my code and it can save you anywhere from $39.99-$57.49!
Solo Stove Pizza Oven Attachments
And of course, you may need a few attachments and accessories to go along with your pi pizza oven. I already recommended the infrared thermometer above, but you may also want to get a few other things.
Such as the Stainless Pi Pizza Turner:

Stainless Peel (We used this to place the pizza on while assembling all the toppings):

Bamboo Peel (We used this one to put the finished pizza on and to slice it for serving):

Your Basic Pizza Cutter:

Mini Oak Firewood:

Propane Attachment for Cooking with Gas:

Solo Stove Pizza Oven Recipe
Now that you have a little background on the Solo Stove Pi Pizza Oven, let me share with you our recipe we used for it! We kept it pretty simple with using just a few ingredients for it.
That's another tip I have for you, keep your first pizza recipe simple!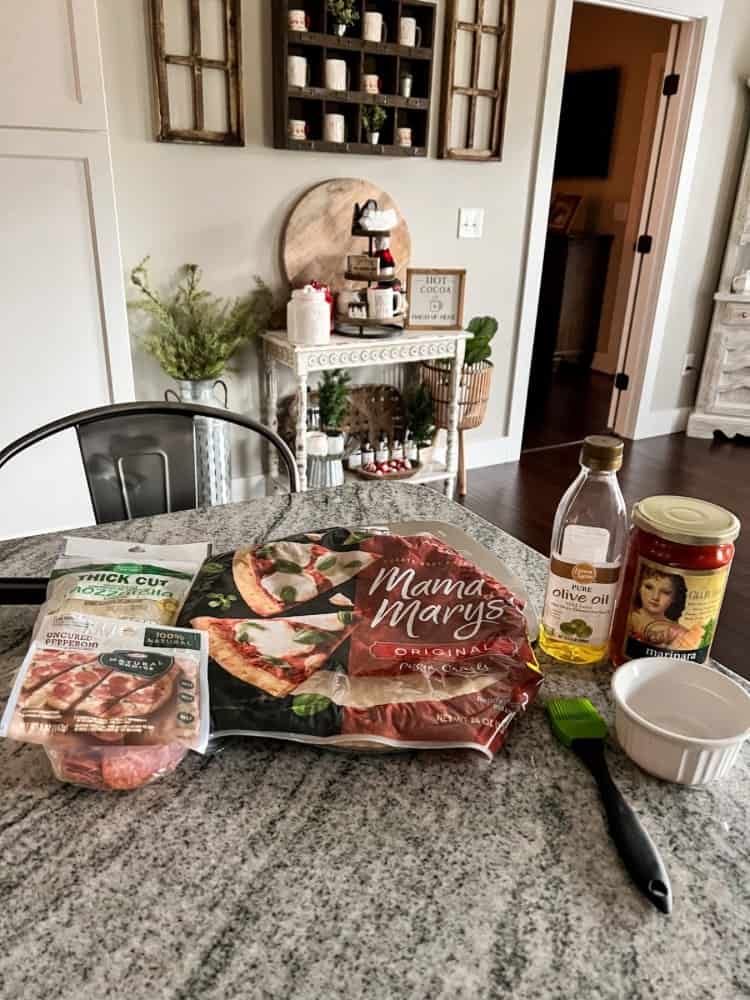 Again, I didn't do that for the first recipe we tried that didn't turn out well. I even made my own pizza dough and created a delicious BBQ sauce.
So it was going to be a BBQ chicken pizza. But, like I mentioned above, we didn't let the oven heat up long enough so ultimately it did not turn out.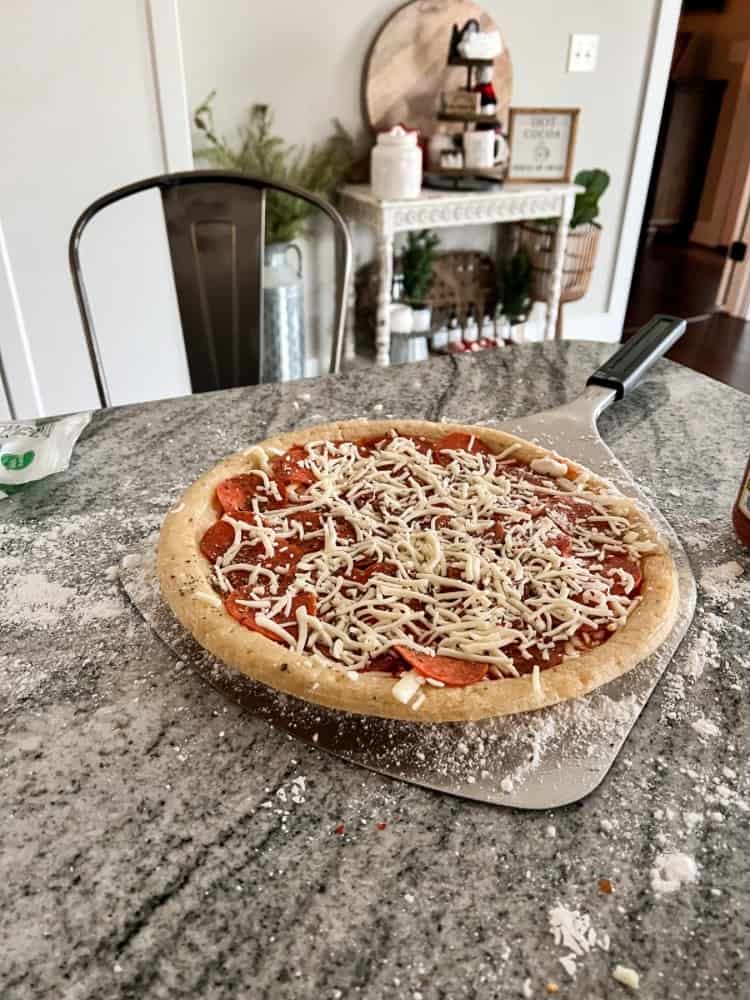 Which sucked because that was a ton of work for nothing! So, for your first pizza I would suggest using a store-bought pizza crust and creating a classic pepperoni pizza. That way you can get your feet wet and get the hang of it.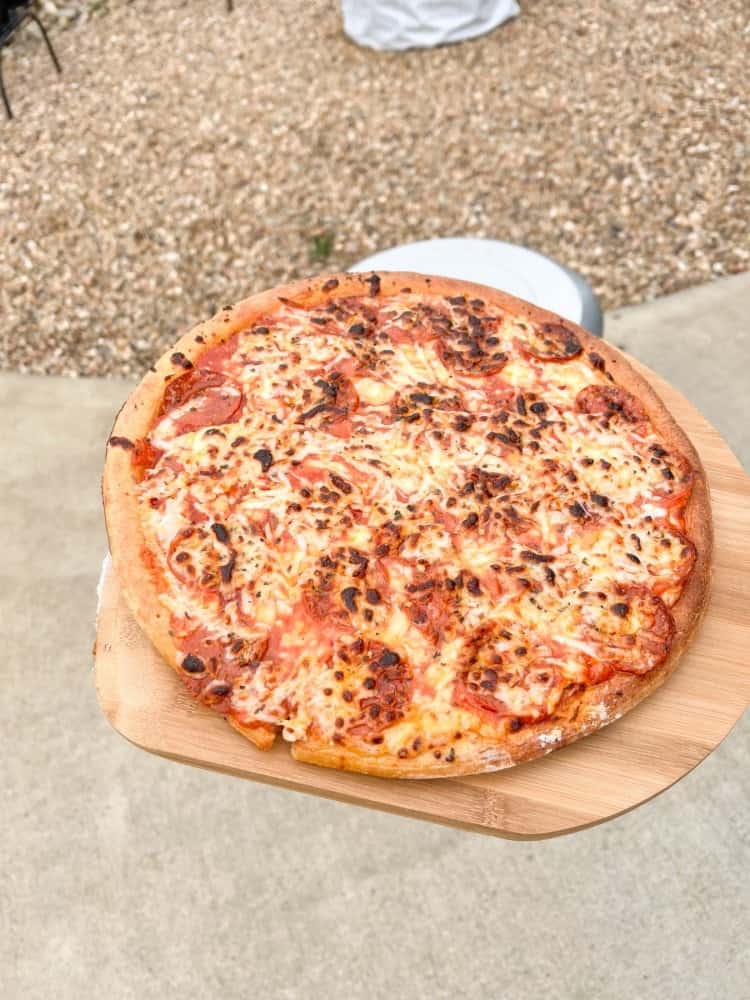 Here is the pizza oven recipe we used below: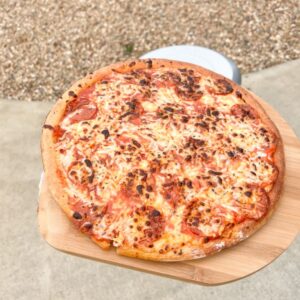 Solo Stove Pizza Oven Recipe
Ingredients
1

store-bought pizza crust

1

tbsp

olive oil

1

jar

marinara sauce

you don't need to use the whole jar, you will have leftover

1

cup

shredded mozzarella cheese

1/2

cup

pepperoni

1

tsp

pizza seasoning

1

tsp

red pepper flakes

1

tbsp

grated parmesan cheese

for serving
Instructions
Preheat the Solo Stove Pi Pizza Oven to 600 degrees.

Brush your store-bought crust all over with olive oil.

Spread marinara sauce on top of crust. You will not need the whole jar of it, just enough to cover the pizza crust.

Sprinkle the cheese on top of the sauce and add in pepperoni.

Sprinkle with more cheese on top of the pepperoni, if desired, and top with pizza seasoning and red pepper flakes.

Bake in wood fired pi pizza oven for 3-5 minutes. Ours took about 3 minutes total.

Remove from pizza oven, sprinkle with grated parmesan, slice and serve!
So Is the Pi Pizza Oven Worth It?
In my opinion, yes, the Solo Stove Pi Pizza Oven is definitely worth it. Especially if you love the taste of wood fired pizzas. And now, you can enjoy them from the comfort of your own home and not have to go out!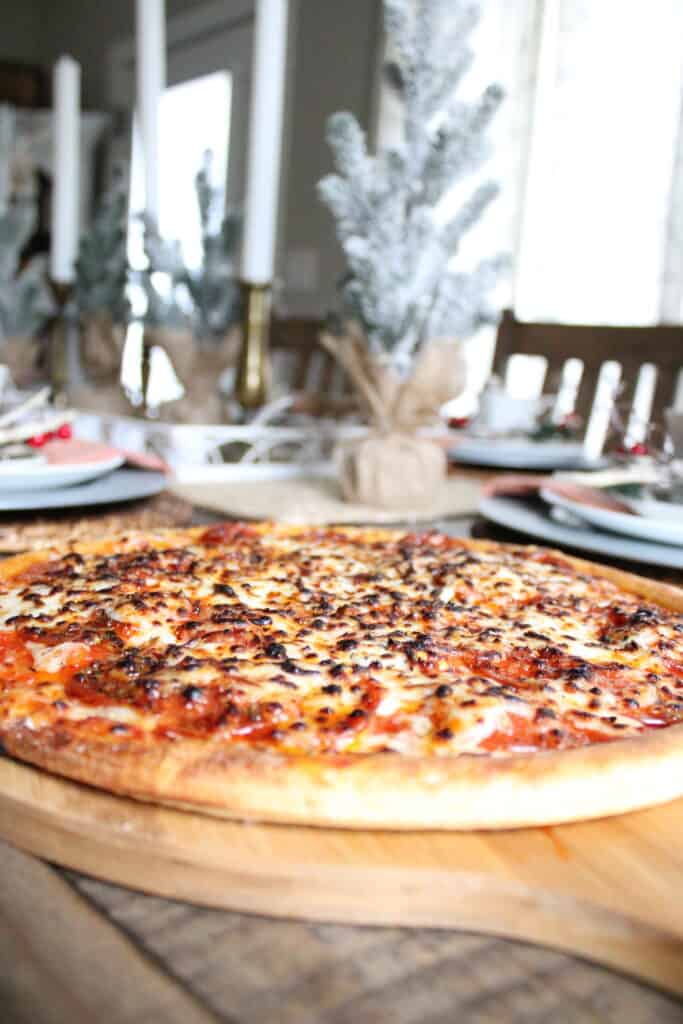 This would make an incredible Christmas gift, birthday gift, or special occasion gift for someone you love. And, it makes for great date nights at home! Just make your favorite pizza together and enjoy it!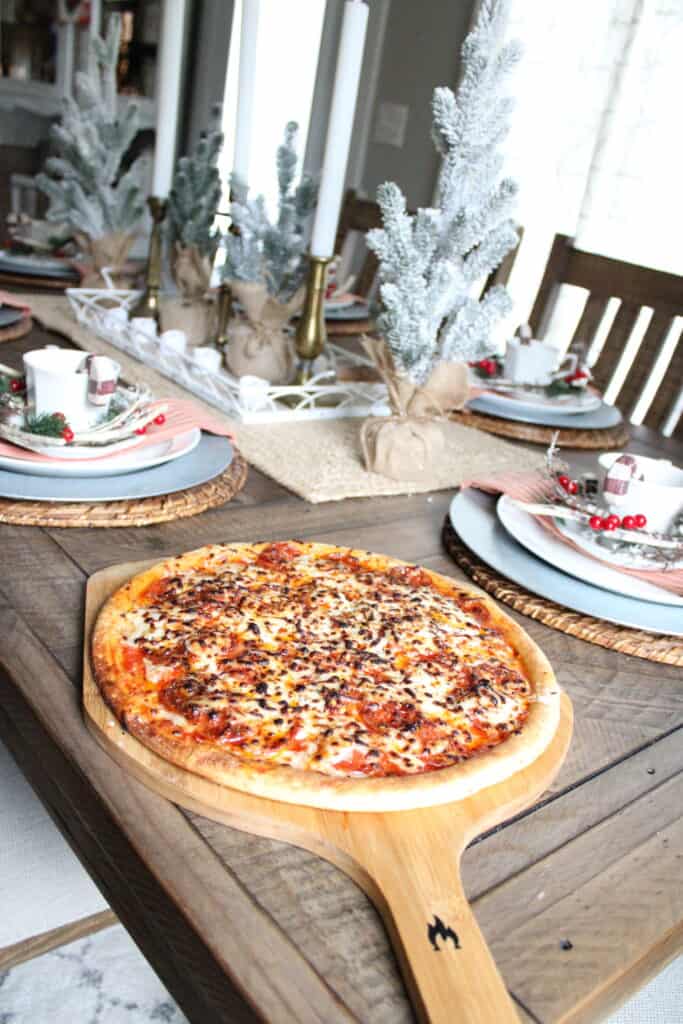 Or, have friends and family over for a fun pizza night. You could definitely impress them all with your pizza making skills! Do you have a pizza oven too? If not, I hope my review here will help sway you into the direction of getting one! Trust me, the pizzas are to die for!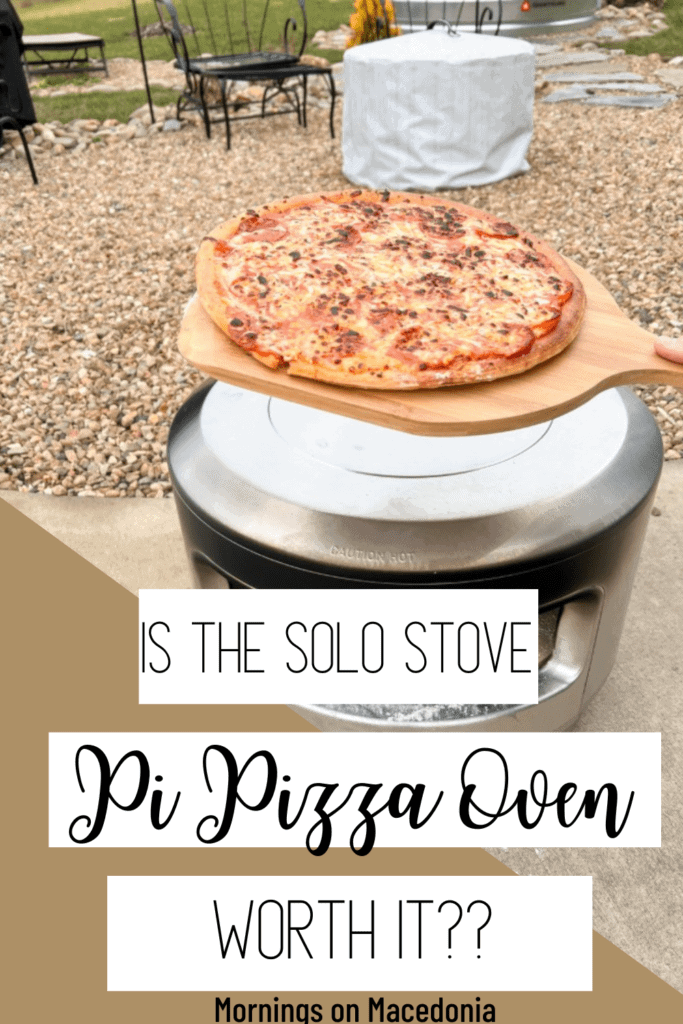 Be sure to check out more ideas on what to cook here too!