I figured since y'all loved my DIY coffee bar I did in my camper, I would show you a step by step process of how to style an Easter coffee bar as well.
This coffee bar is my big one I have at home and you know I love to style it for different seasons. So I thought it would be fun to go into more depth and explain my process behind styling the coffee bar.
And since Easter is coming up soon, it is the perfect time to redecorate and show y'all!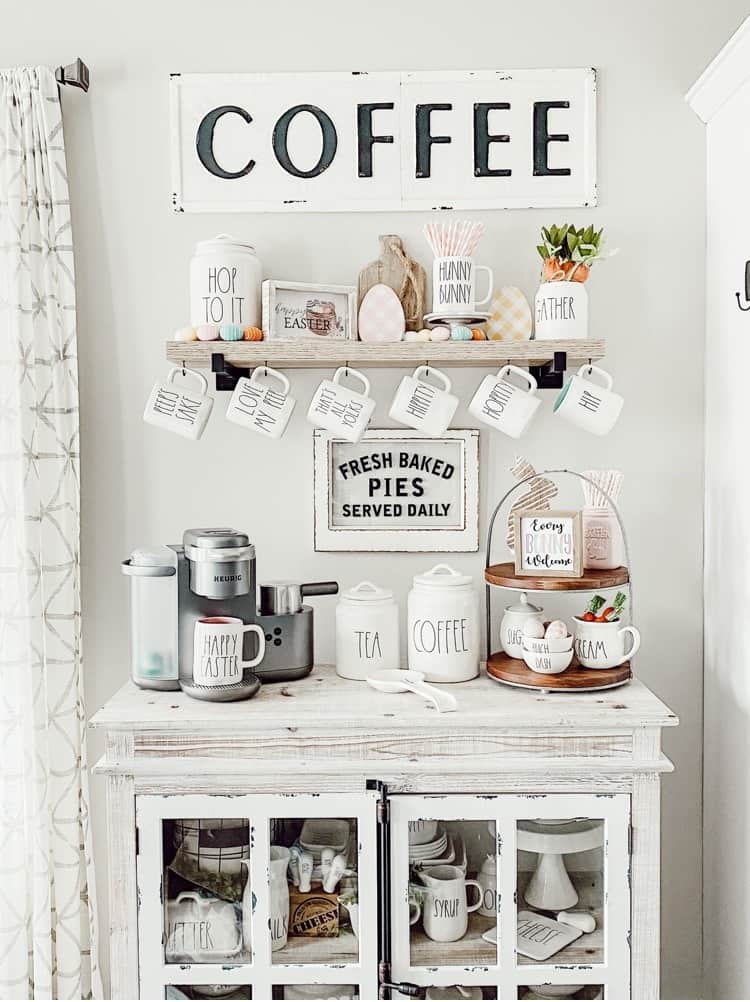 This post contains affiliate links. Click here to read my disclosure policy.
Start With The Basics
When I restyle my coffee bar, I like to remove all the pieces I had on it for the previous season. I had it decorated for Valentine's Day and I wanted to start fresh.
This also helps me get everything organized to pack away for next year's decoration as well. After removing all the seasonal decor, I am left with the basic pieces I keep on the bar year round.
Such as my Keurig, tiered tray, and my coffee and tea canisters.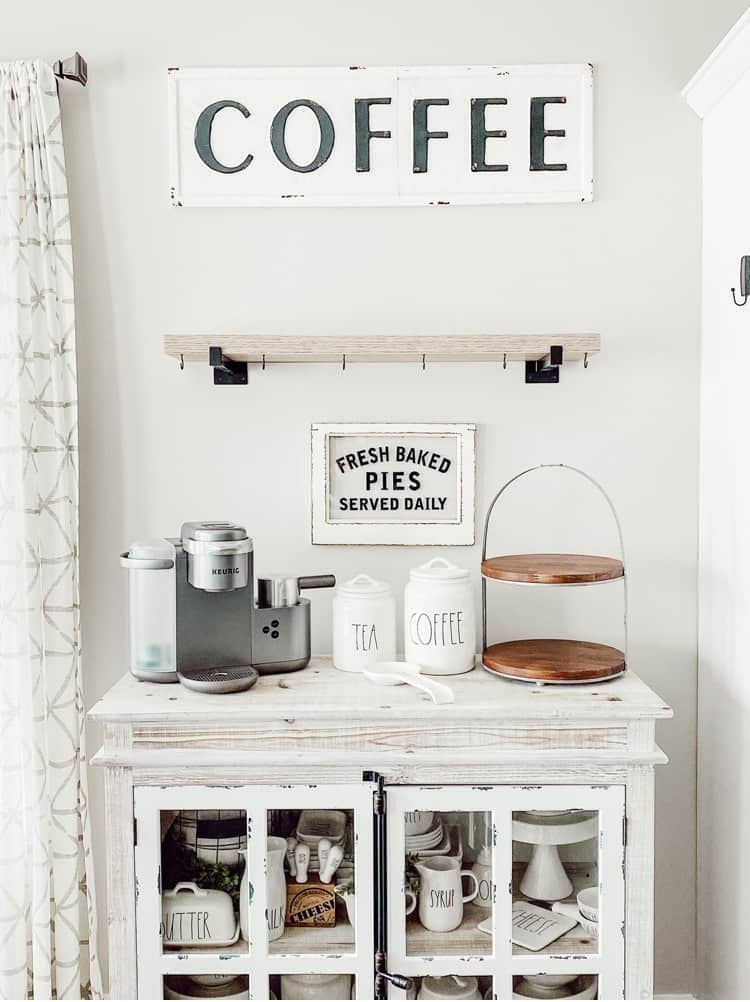 I don't really go back and look at my previous years past on how I styled it then. My decor is always revolving and changing.
I do usually keep the same pieces, but mix it up when styling them. For example, I always reuse my Rae Dunn Easter pieces but change up where I place them each year.
Add In Some Seasonal Mugs
I always start with adding in my seasonal mugs to my coffee bar. My sweet hubby drilled 6 hooks underneath the shelf for me to hang my mugs on.
We basically did the same thing here as we did at the camper too. That way, you can easily see my Easter mugs hanging there. If you don't have any seasonal mugs, no worries.
I think a basic white mug or any kind of mug would do just fine. You don't always have to create a coffee bar for every season if you don't want to.
I just enjoy it so much and look forward to the next season when I can redecorate it. It's good for my creative soul!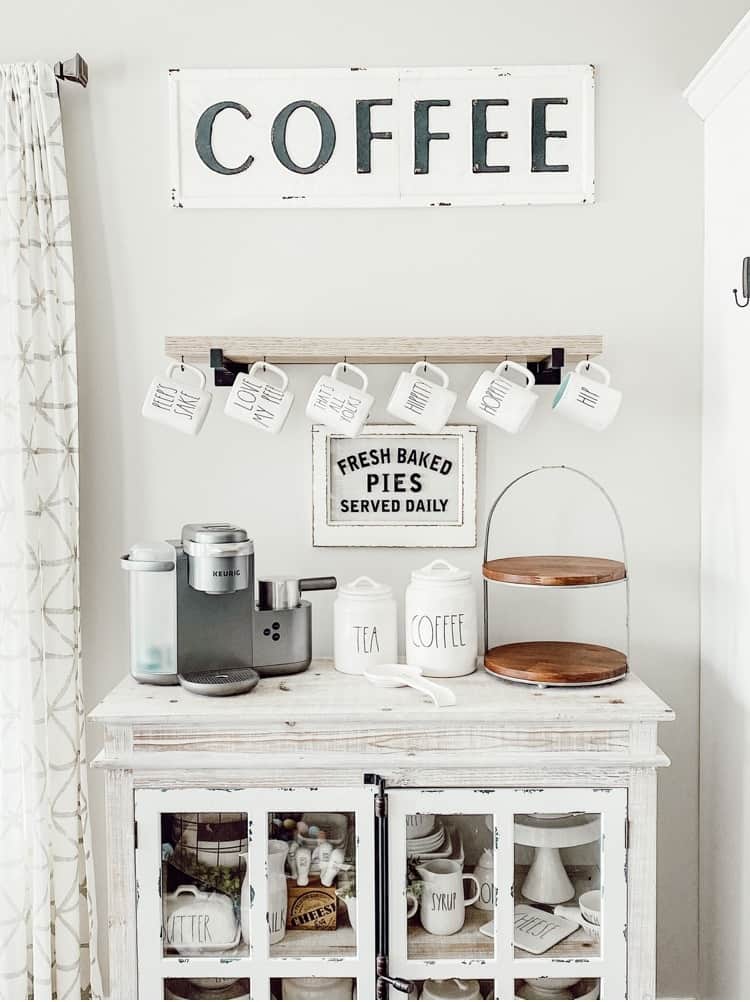 Style The Shelf
Once I have placed all my mugs on the hooks, I start to style the shelf.
I always like to start with one big piece as my anchor first. I chose to put a big canister on the top left corner and start there.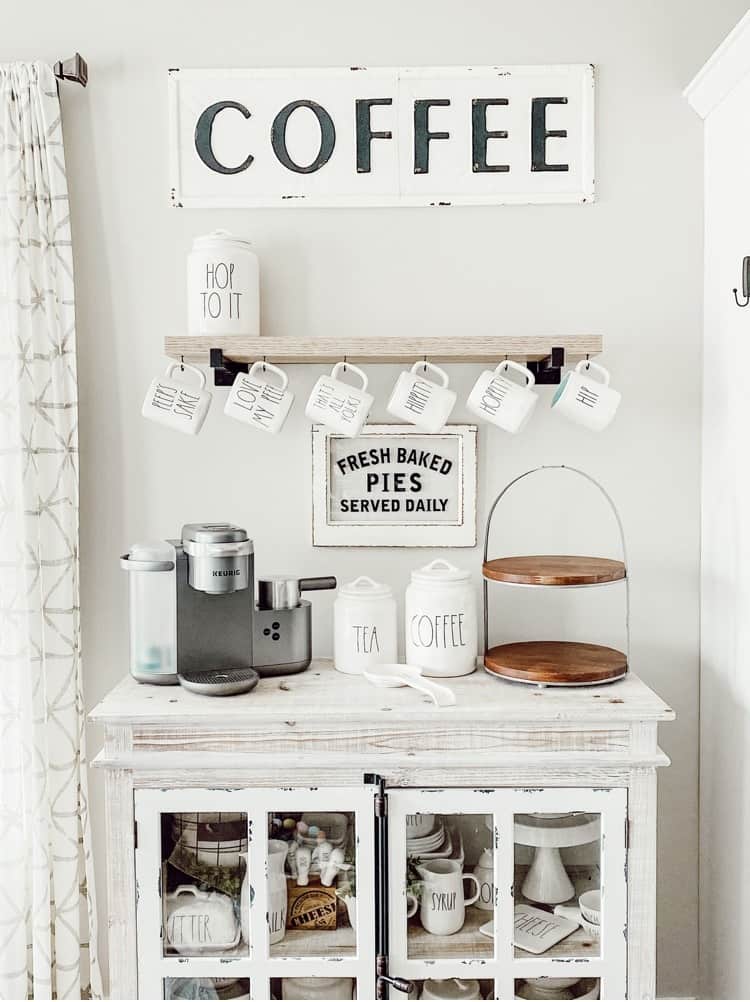 Then I like to add in a seasonal sign, such as this cute one from Rodworks in Asheville. I like little signs like the one below because it doesn't take away from my big coffee bar sign above.
I want everything to look nice and neat and not have to fight against each other for attention.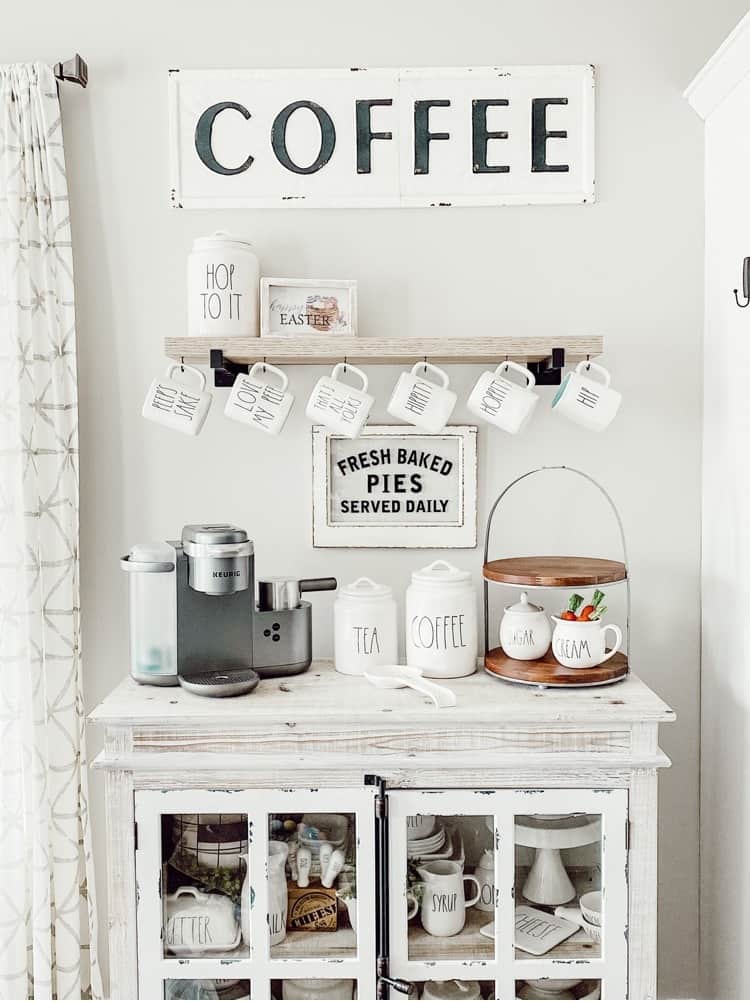 Then, I like to add in a few more fun details. Such as another seasonal mug with some fun paper straws in it. I love using colored and patterned paper straws like this.
You can usually find them at Michael's or any other craft store for that matter. I have many different colors already and they are easy to switch out from season to season.
The pink color is so versatile because not only can I use it for my Easter coffee bar, but also Spring decor as well. And I even used it already for Valentine's Day decor too!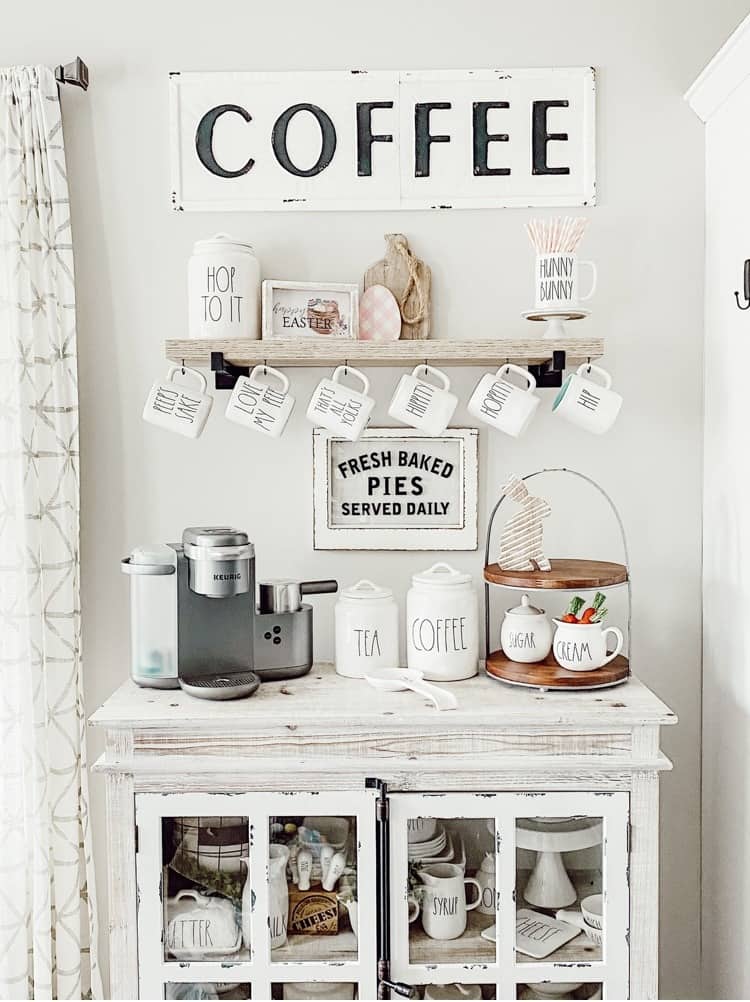 Fill in The Gaps
I'm not a professional decorator and I just like to play around with things until they look good to my eye. The best advice I can give you when styling an open shelf is to step back and take a picture.
If things look off in the picture, then start rearranging them! Also, don't be afraid to just take a break if you start feeling overwhelmed when styling.
I have to be in the mood to style and decorate and if I try to force it, it just doesn't work for me.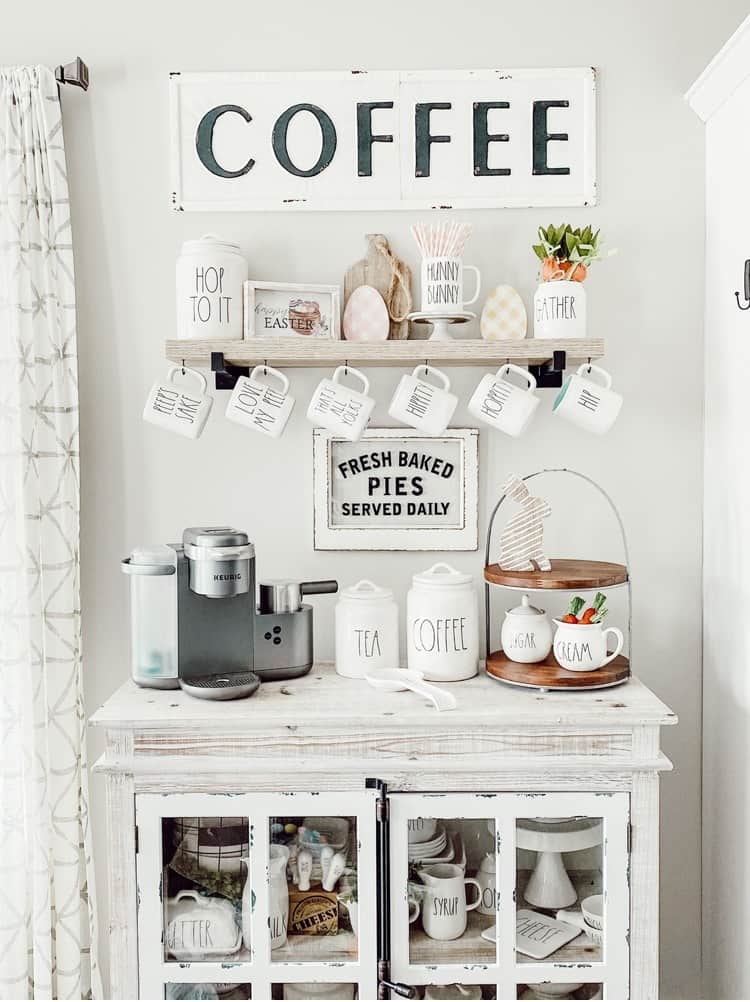 Another thing I like to do to fill in some space is to add in a fun garland.
I have this cute Easter egg one that I found at Hobby Lobby several years ago. It is perfect for my Easter coffee bar!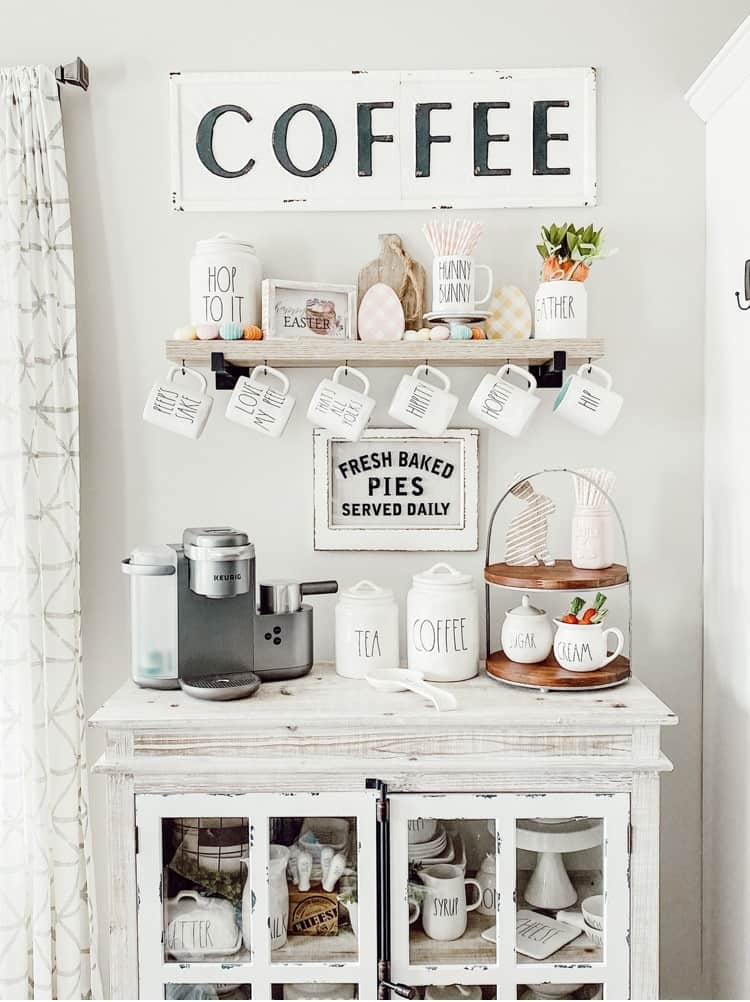 Style an Easter Tiered Tray
I always have a tiered tray to go along with my coffee bar decor. So I of course like to style that for Easter as well. I just add in simple little touches to things I already have on the tray.
Such as little carrots in my creamer pitcher. Or little Easter eggs in my stackable bowls. I also add in small, tabletop signs and some more of my favorite paper straws again.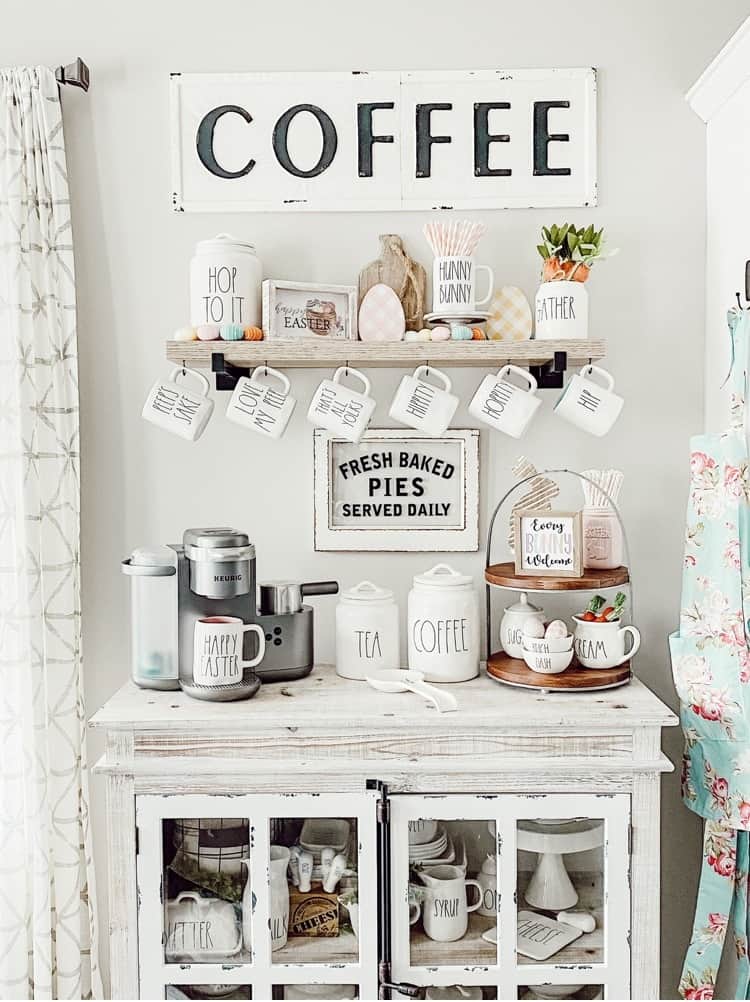 Another final thing I like to do is add in a seasonal apron. I attached a command hook to the side of our cabinetry next to the coffee bar.
And I like to switch out fun aprons with pretty patterns from season to season as well.

Conclusion
Well, I hope this gave you some inspiration on how to style your own Easter coffee bar. I also hope it gave you some insight into how my thought process works when I am styling a space.
Again, you don't have to go all out every season like I do, but I think adding in little seasonal touches here and there is so much fun.
Plus, having reusable pieces that you can incorporate into different seasons is key too! So tell me, do you decorate for Easter too?! Let me know below!