Y'all know I love coming down to our camper and I love to decorate it just like our home as well. So obviously I needed to have a coffee bar here since I have one at home too. My sweet hubby made this DIY coffee bar dream of mine come true!
And it was so easy to create! We only needed a few things in order to make this coffee bar a reality. And even though it is a small space, we still made it work!
So that means no matter how small or tight your space is, you can totally create this DIY coffee bar too!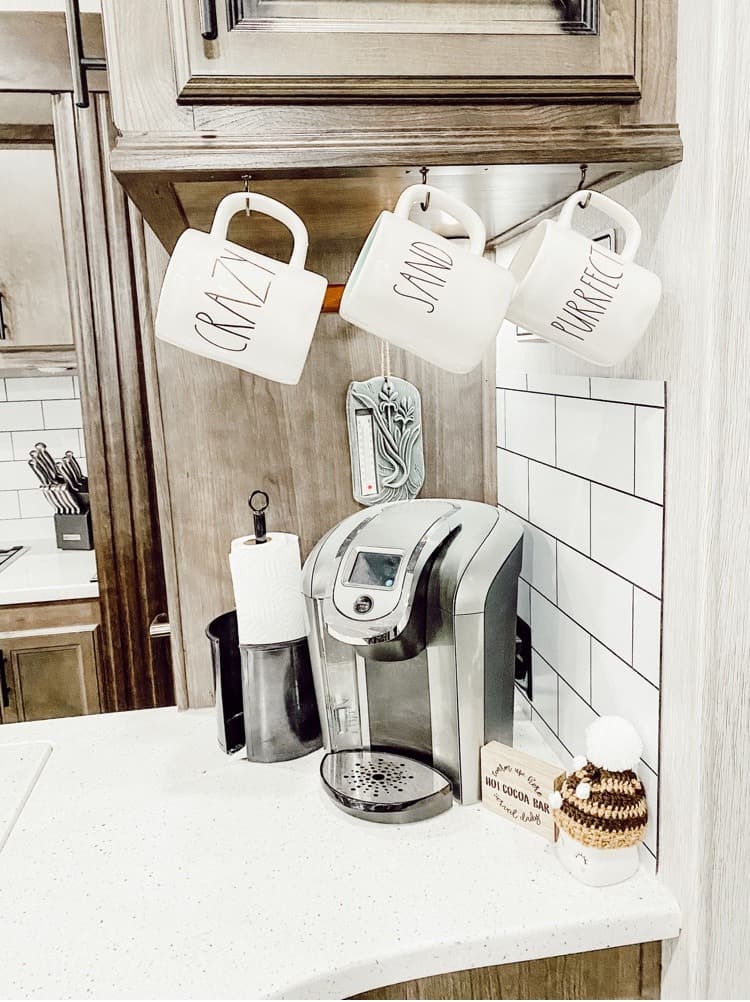 This post contains affiliate links. Click here to read my disclosure policy.
Items Needed for Coffee Bar: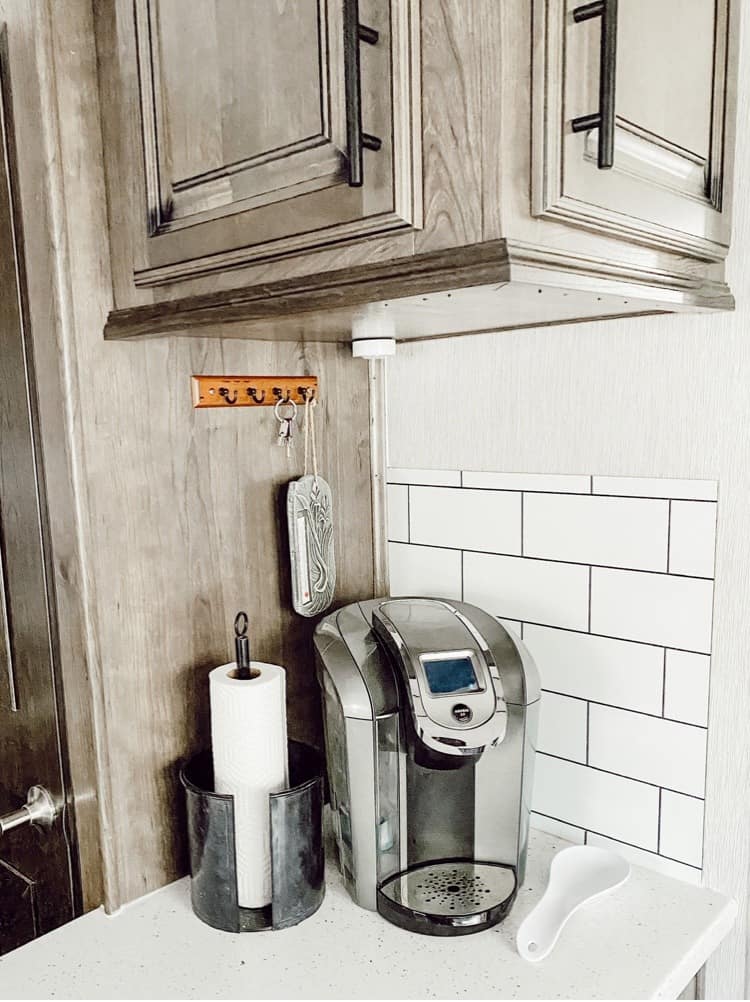 Add the Screw Hooks
We already had a coffee maker set up in this space so we just needed to add in a few more touches to make it more coffee bar like.
The first thing we did was to add in the screw hooks underneath the cabinet above the coffee maker. My original thought was to add 3 hooks on one side and 3 hooks on the other side.
But, when we went shopping for supplies, they literally only had 3 hooks left. I figured we would just go back and get more hooks later, but I actually like how it turned out with just having the mugs hanging on one side.
I feel like if we did both sides, it would be too much. Plus, you couldn't really see the coffee bar sign hanging up if we placed mugs in front of it too.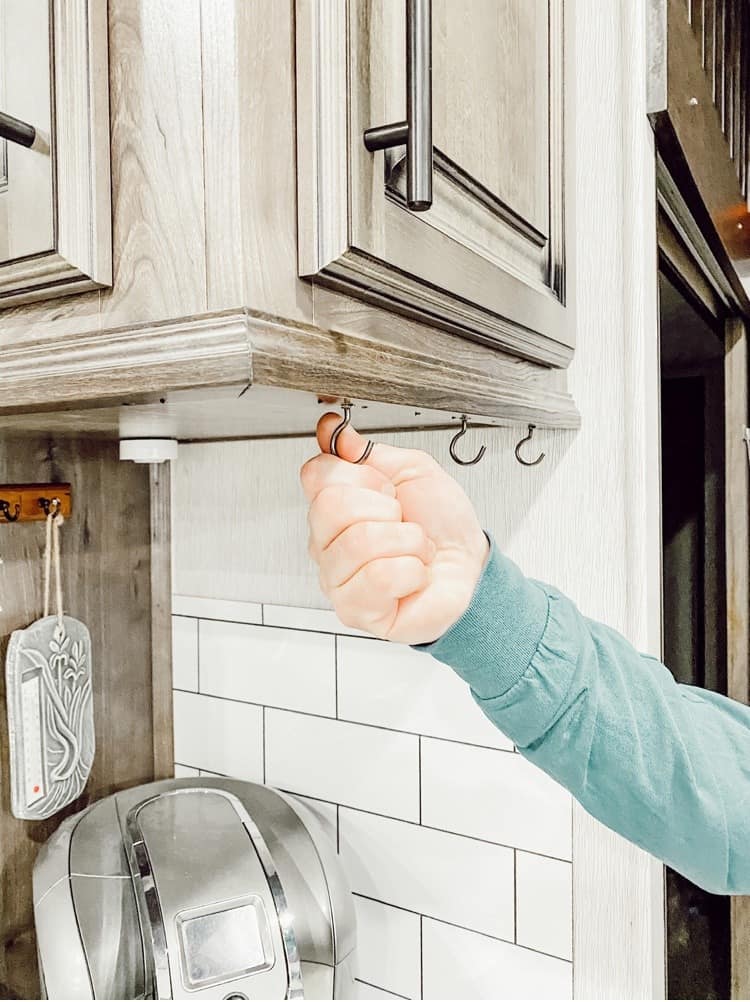 These hooks were really easy to install as well. All we had to do was just screw them into the cabinet above, with no other tools required!
They are also pretty cheap so that is my kind of DIY project!
Hang Up a Cute Coffee Bar Sign
After we decided where we wanted to hang up the mugs, we then hung up my cute little coffee bar sign. You can find small cute ones like this on Etsy or Amazon and they are just perfect for a tiny space.
To hang up the sign, we just applied a few command strips to the back of it and placed it right on the wall! So super simple and easy!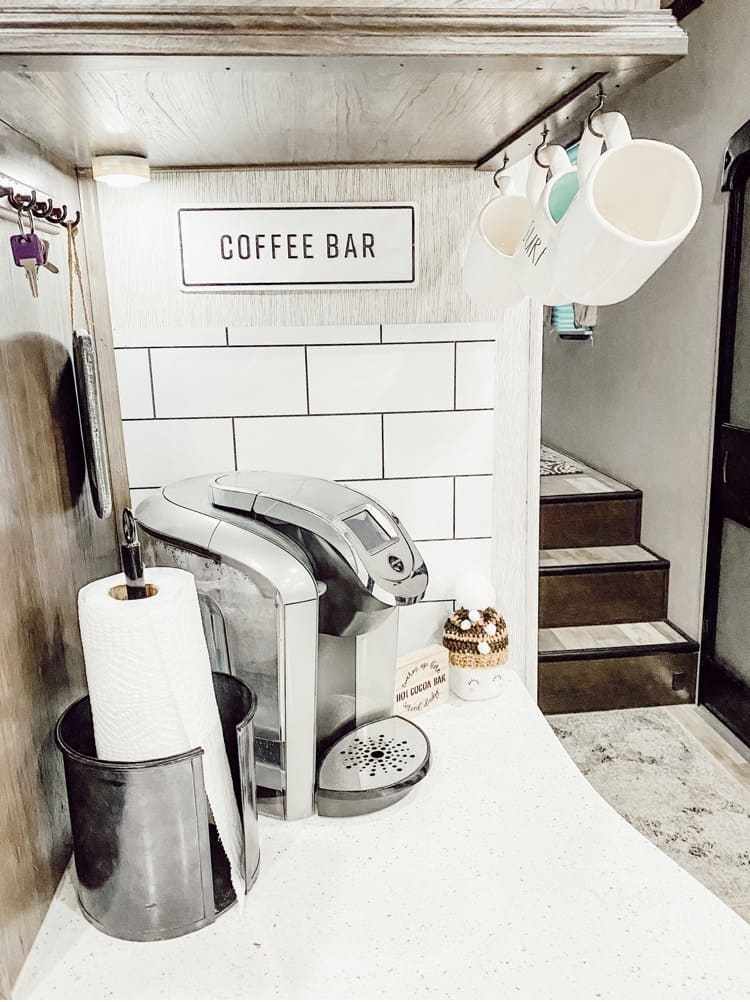 I added in a few other little touches such as a cute little hot cocoa bar sign and a cute marshmallow mug to the side of the coffee maker as well.
I am pretty happy with how this easy DIY coffee bar space turned out and even more happy that it didn't cost an arm and a leg to create!

Conclusion
If you have always wanted to have a coffee bar in your home, but have been worried about the space, then this should prove to you that you can still create one!
We obviously don't have much space here in the camper, but we made it work and I think it adds so much charm and character to the space. It definitely makes it feel more homey and inviting.
You can also watch a cute Instagram reel I made about this space here if you want to see more details!