If you've been around here long enough, then you know I go all out during the holiday season. I try to deck every room out that I can with Christmas decorations. Not just your typical living room, but even the bedrooms! So I thought it would be fun today to share my ideas on how to decorate a bedroom for Christmas this year.
Not only do I decorate our master bedroom, but also, the guest bedroom too! My brother comes to stay with us a lot during the this time of year so I like to have the room all full of holiday cheer for him.
And, I love having our master bedroom all decorated to make it more of a winter wonderland in there! There is nothing like watching a Christmas movie in your festive Christmas bedding against the glow of a Christmas tree! It's my absolute favorite thing!
So keep on reading to see all my Christmas bedroom ideas, as I like to switch things up every couple years. It's fun to make changes and add things to your decor, but also keep it the same some years as well!
This post also contains affiliate links, which means I make a small commission off anything you purchase through here, at no additional cost to you. Please read my full disclosure policy for more details.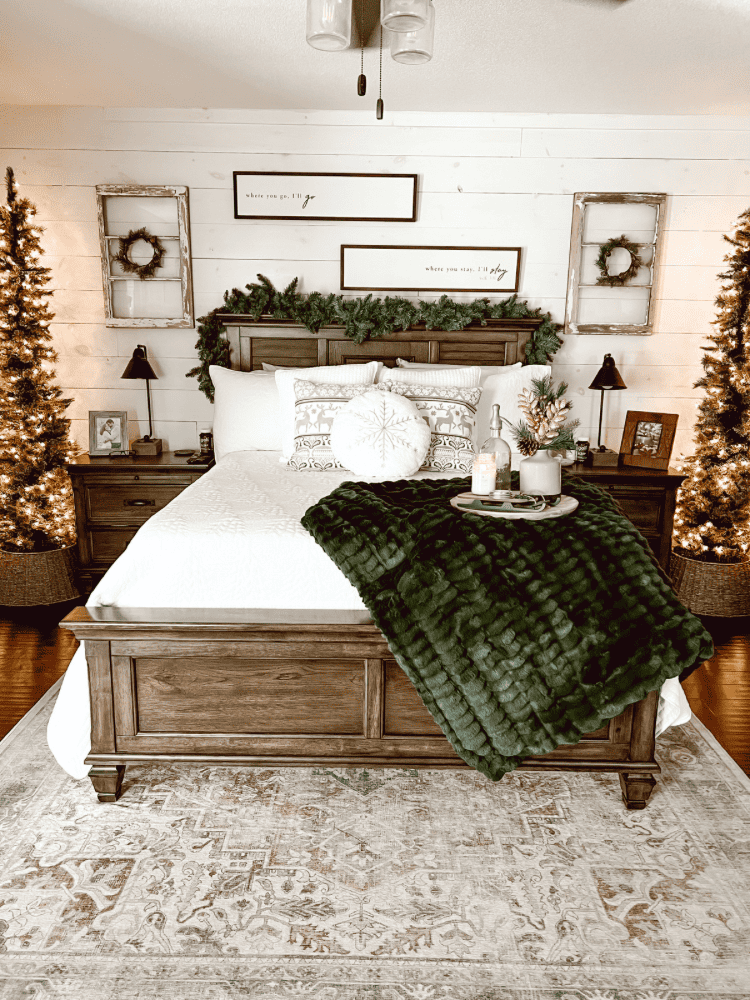 Christmas Bedding
I think the main thing you need to decorate a Christmas bedroom is some Christmas bedding! And luckily, I found Levtex Home a few years ago, and I completely fell in love with their Christmas bedding! They also have regular everyday bedding too if you're looking for that as well.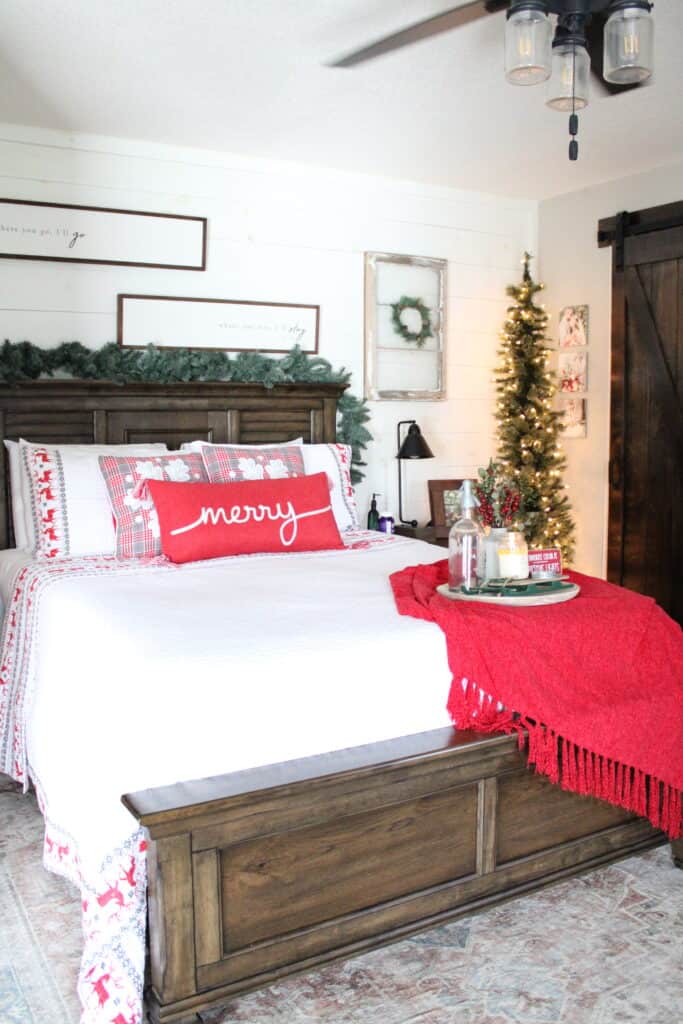 But, in the Christmas spirit, I just can't pass up a good holiday bed set! Last year, my theme was more red, so I had a beautiful (and reversible!) red and white bedding set! The cool thing was a that you could keep it a little more tame with the white side, as it only had a reindeer pattern on the edge of the quilt.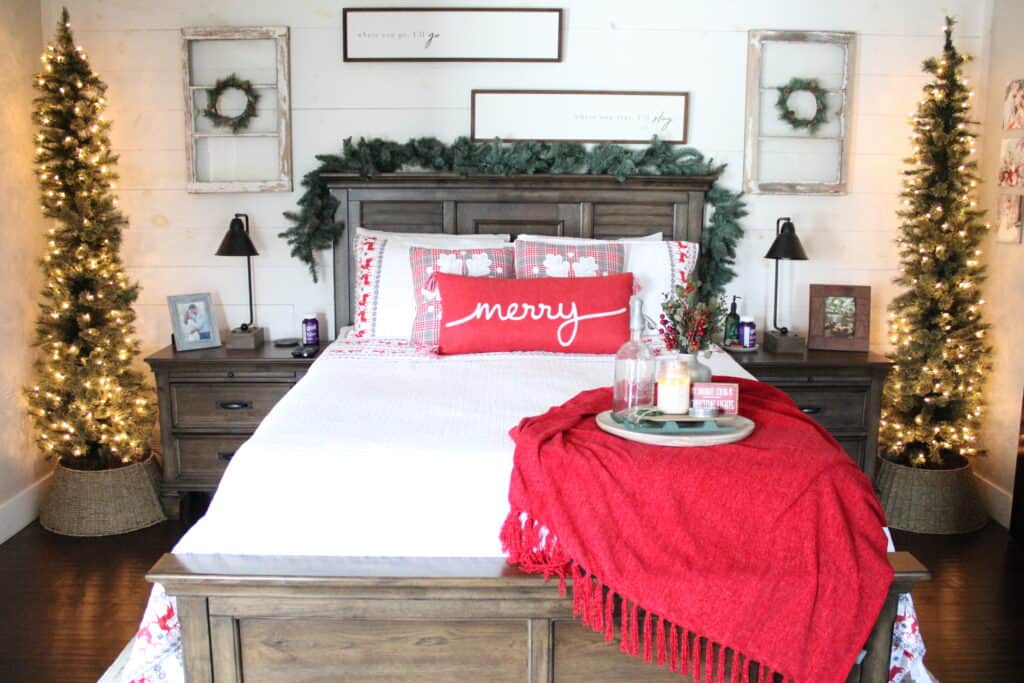 Or you could go all out and flip it over and the other side had the whole red reindeer pattern all over it! Talk about festive cheer! This bedding would also be so fun in kids' bedrooms too!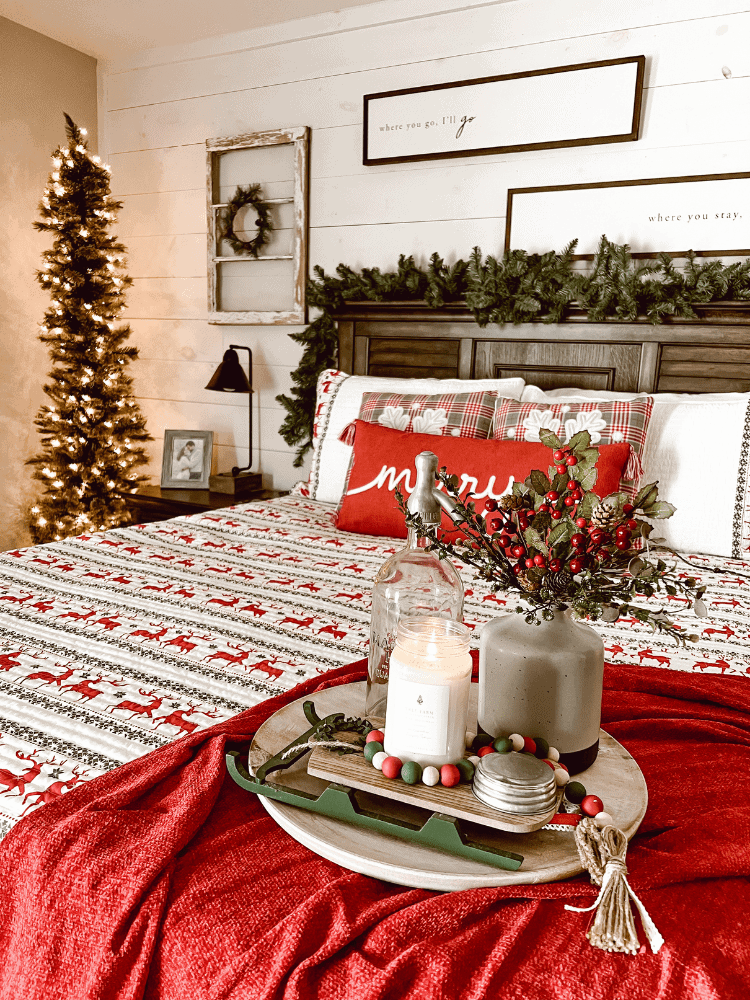 This year, I decided to keep it a little more of a neutral bedroom. Especially since I changed our whole Christmas theme from red to more antique gold. I got a beautiful white bedding set with Christmas trees quilted in.
They aren't overly noticeable so it is the perfect hint of Christmas in an otherwise white bedroom. So if you don't want to be too over the top, this set would be perfect for you! I think the focal point to this bedding set are the beautiful throw pillows. Which feature a silver and gold pattern of reindeer!
And like I mentioned above, you can't leave out the guest room! Again, I have a really fun and cute set from Levtex here. And since it's not in the primary bedrooms, I thought it would be more fun to add in more pops of color and patterns here.
So if this "Meowy Christmas" set doesn't get you in the holiday spirit, I don't know what will! Y'all know I am a huge cat lover, so when I saw this pattern, I just couldn't pass it up! It's just so much fun and perfect for a cat lover like myself! The pillow shams are absolutely adorable full of cute little cat faces!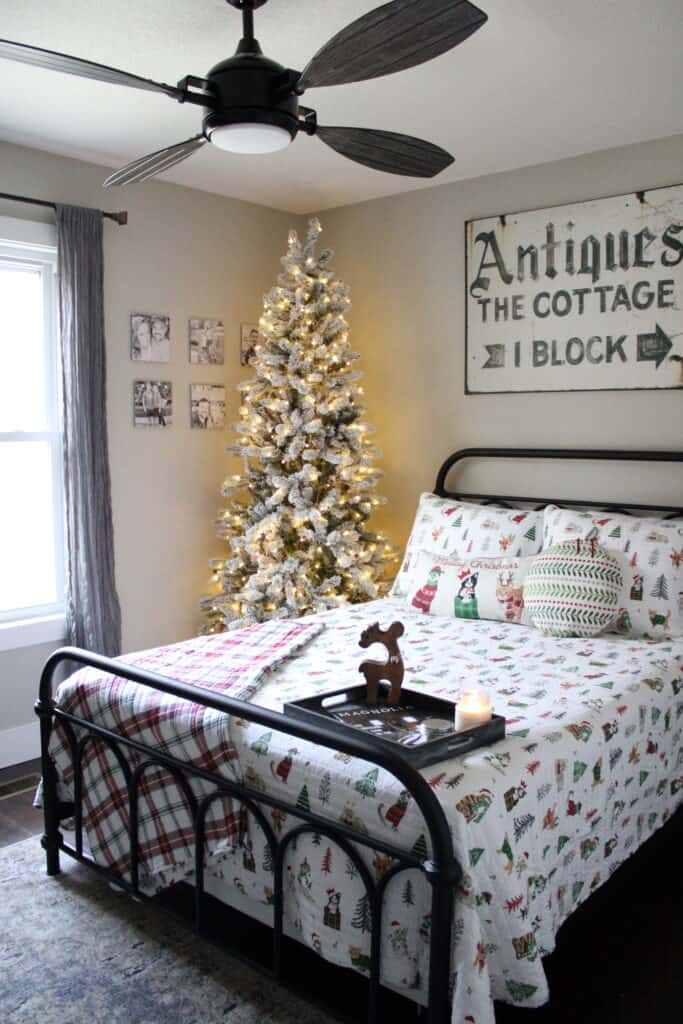 As you can see, there are plenty of fun Christmas bedding ideas that you can do this Christmas season. I think it is a super easy way to add in a little festive touch to your bedroom. Even if you don't have room for a small tree in your rooms too.
Christmas Bedding Accessories
Another thing I love to add in my Christmas bedding is a good ol throw blanket. And let me tell you, Minky Couture has the best blankets ever! They are so soft and cozy, plus you can use my code "CHARITY45" to get 45% off any blanket there as well. I am loving this dark forest green blanket I threw on the end of the bed! Usually, I don't use much green as an accent color for Christmas, but this year I am loving it!
Also, I always have to have a candle lit in the bedroom too. Again, of you've been with me a few Christmas seasons now, then you probably know what my absolute favorite candle is to light- Tree Farm by Antique Candle Co! If you don't have a real tree in your home and miss the smell of fresh pine, this is a perfect replacement for it! It smells just like a real tree and makes my home so cozy and fresh!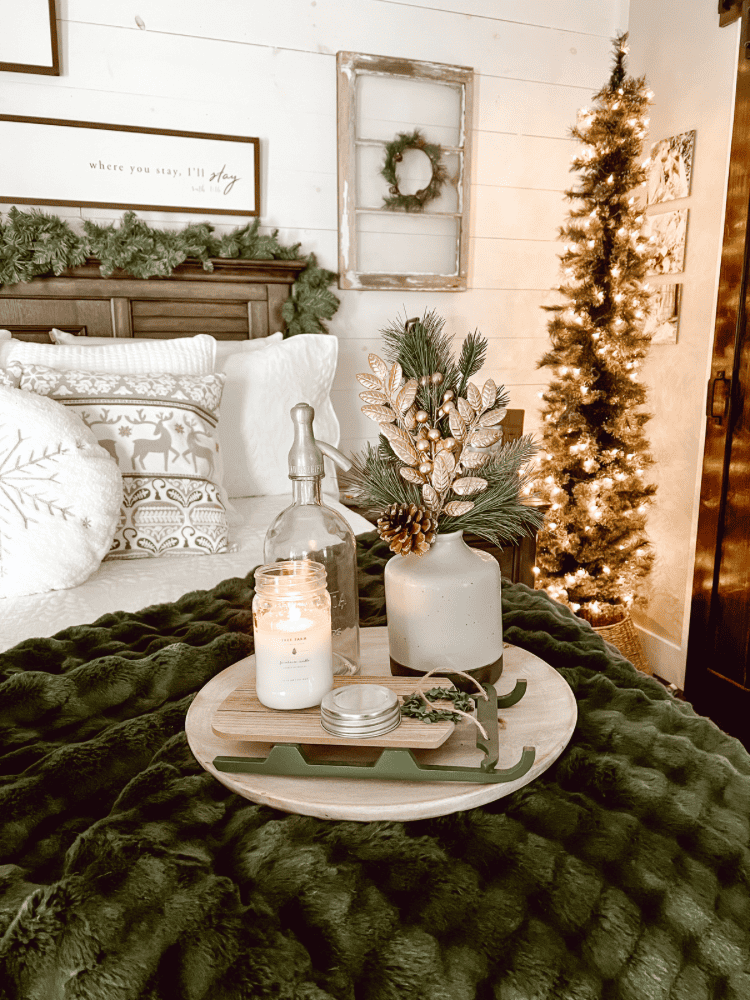 Also, I have a coupon code for you to use with them as well! Just use "MACEDONIA20" to get 20% off Tree Farm or any other candle from them too! You can't go wrong with any of their Christmas scents really. They are all amazing!
Christmas Trees
So since I am completely extra, I also have to add in some Christmas trees in our bedroom too. We don't have a ton of room for a Christmas tree, but we do have enough for 2 slim pencil trees on either side of our nightstands and I absolutely love having the cozy feel of a Christmas tree in our bedroom!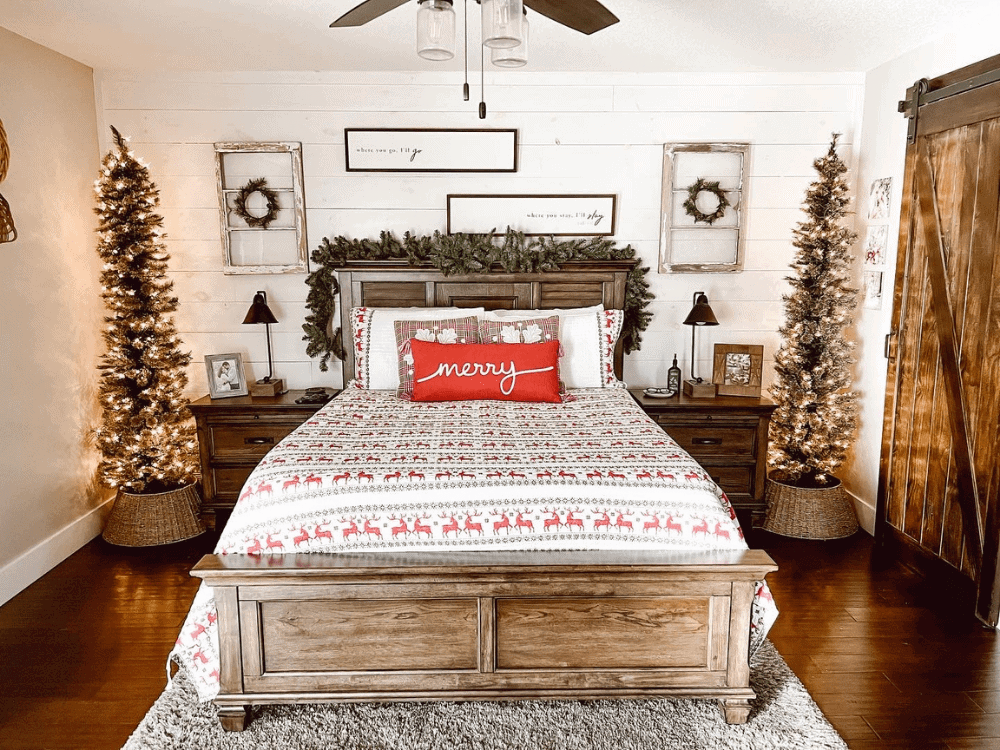 If you don't have room for trees in your bedroom, you could easily put a mini Christmas tree on a bedside table or have some bottle brush trees displayed on a shelf or tray! Another thing I like to do when styling a Christmas bedroom is drape an evergreen garland over the bed frame.
This beautiful garland is from King of Christmas and their quality does not disappoint! They make the best trees and garlands. I have several pieces from them and continue to purchase from them year after year!
The Christmas tree I have in the guest room is from them as well. And I love it because you can easily turn it on and off with a remote control. So that's perfect for guests. That way they don't have to look around and see where to plug it up at!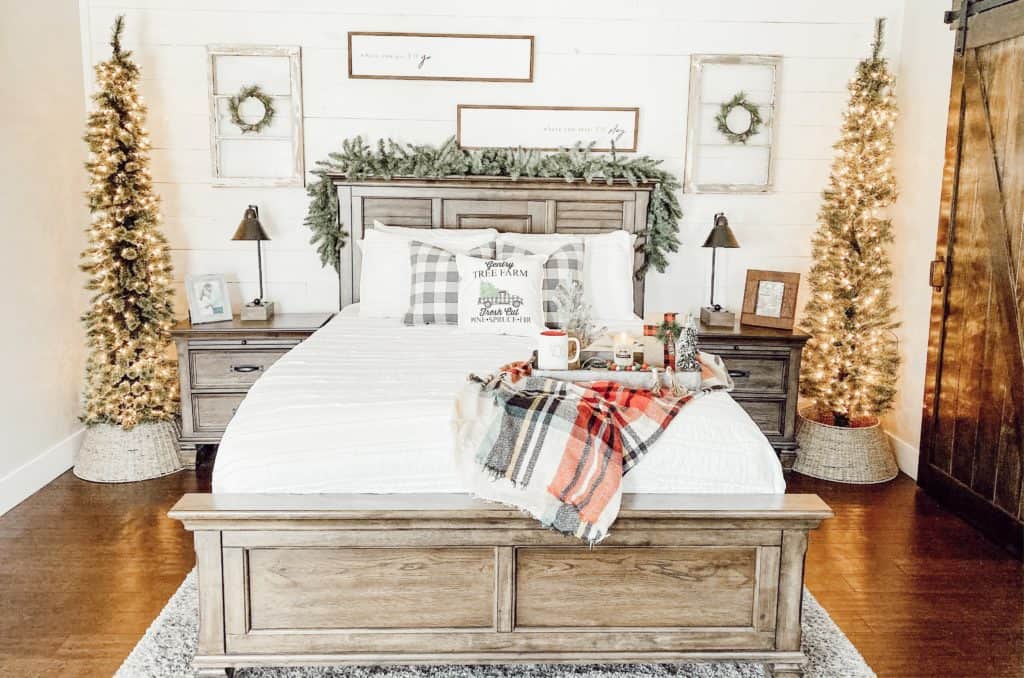 ​This garland doesn't have any lights on it, but if you wanted lights, you could easily wrap some fairy lights around it for a cozy little glow! Also, we have our old 1920s farmhouse windows hanging on our shiplap wall in our bedroom that need some festive touches to them too! So I like to add a little wreath on each one and it is the perfect touch of Christmas!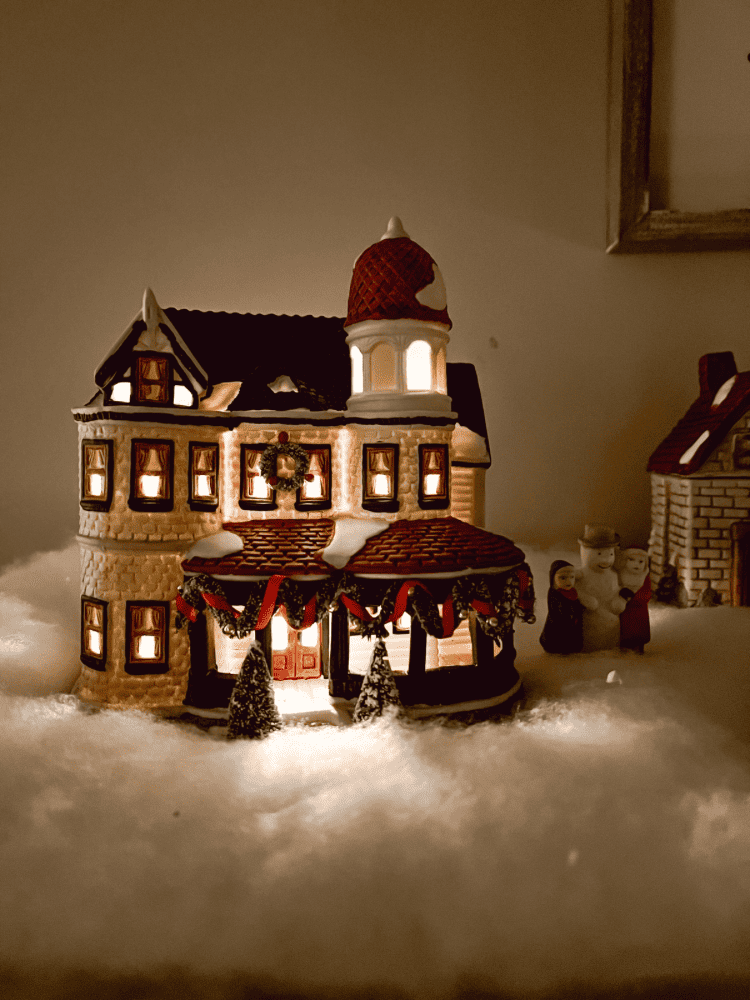 Another way I add in some warm white lights without a Christmas tree, is displaying my Mimi's old Christmas village on top of our dresser in our bedroom.
She gave me all her pieces to her Christmas village as she doesn't decorate much anymore, and it is such a treasured piece for me! I decided to put it on top of the dresser, that way our cats couldn't mess with it, because I am sure they would love to knock all the village people over!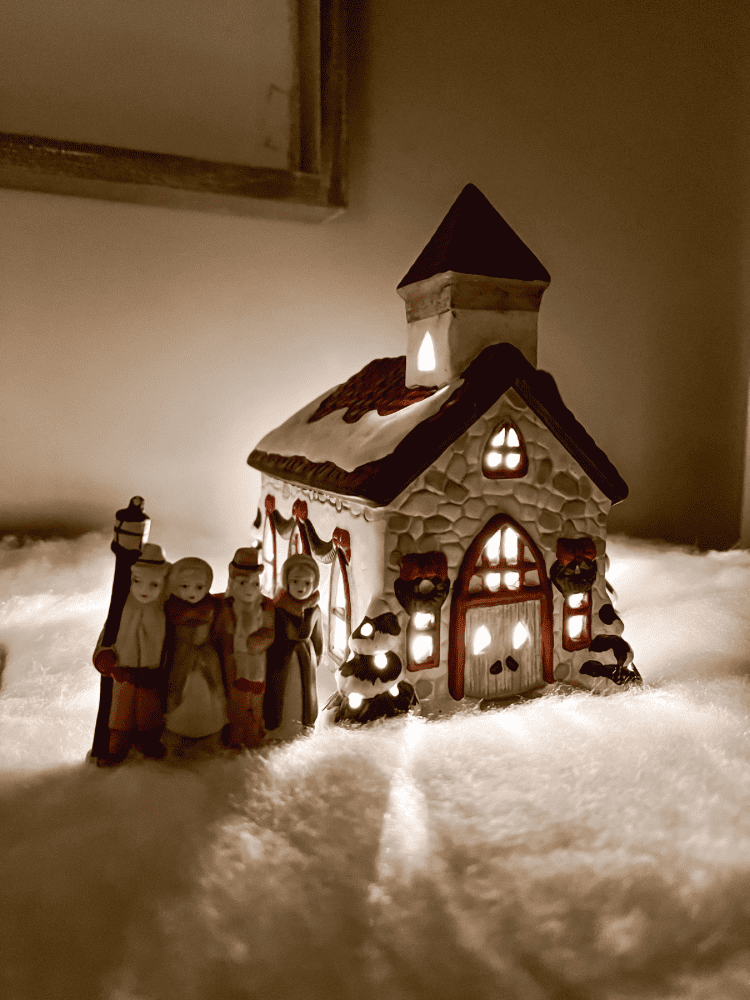 ​Enjoy Your Christmas Bedroom
Well, I hope you enjoyed all these simple Christmas bedroom decor ideas and can use something from this post! You don't have to go all out like I do, you can decorate your bedroom in a really simple way instead.
Just add in a small Christmas wreath, or some string lights for a little Christmas cheer! It doesn't have to be fancy, just a little something special!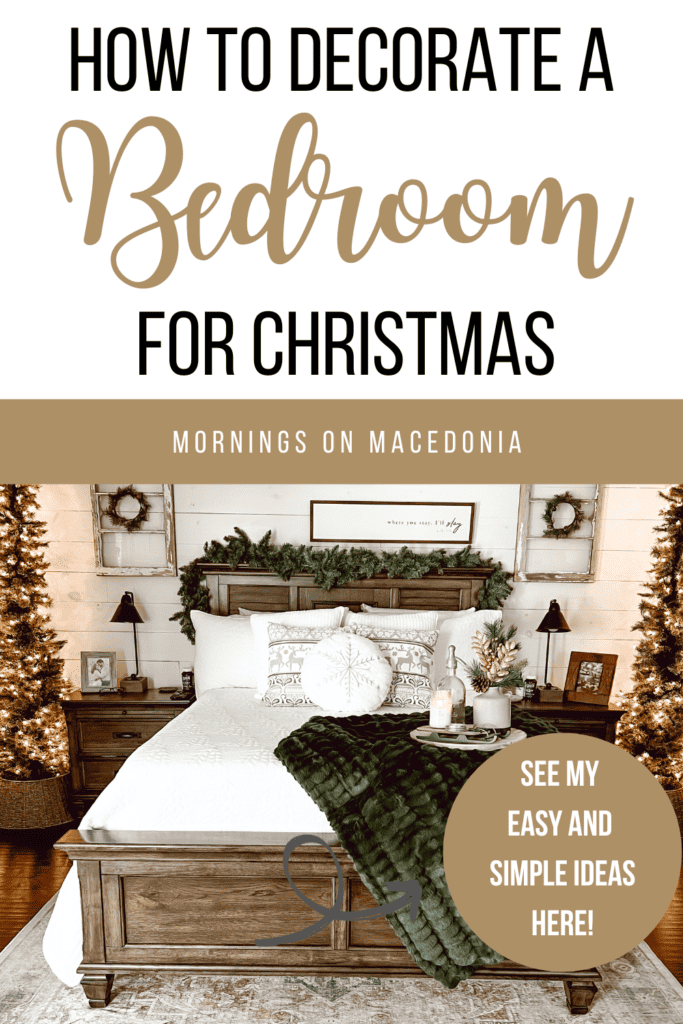 ​I absolutely loved sharing my Christmas bedroom decorations with y'all and I hope you enjoyed it too. Even though it's a room in your house that most guests don't see much of, it's worth decorating just for you! To give you some joy and peace when retreating into your bed after a long day!
I love walking into my Christmas wonderland bedroom to relax and sleep after a long work week and I know y'all will too! You can't be stressed under the glow of cozy Christmas lights! Also, I hope you all have a very merry Christmas this year too!