Here within the past couple of years, I have been on a kraft paper wrapping kick. I am not really sure why, because honestly that stuff is hard to wrap with! But it definitely has the whole farmhouse style gift wrapping vibe going on.
I miss having the little grid lines on the back of regular wrapping paper, but I just think the plain brown look to it just gives it a more homemade and rustic touch! Plus, I always start singing the phrase "brown paper packages tied up with string…" and it just makes me happy!
I love all the possibilities you can create with just the plain ol kraft paper too. So I thought I would share with you all my way of doing farmhouse style gift wrapping today.
You can incorporate whatever color scheme you are using for your tree easily just by tying on some matching twine or ribbon.
And it's so easy to add an additional little piece to your package like an ornament or a candy cane or another small gift.
I spent hours on Pinterest and Instagram browsing through for some good ideas on how I should wrap my gifts this year and I finally came up with something a little more create and different than anything else I have ever done in the past! Keep on reading to see what I came up with!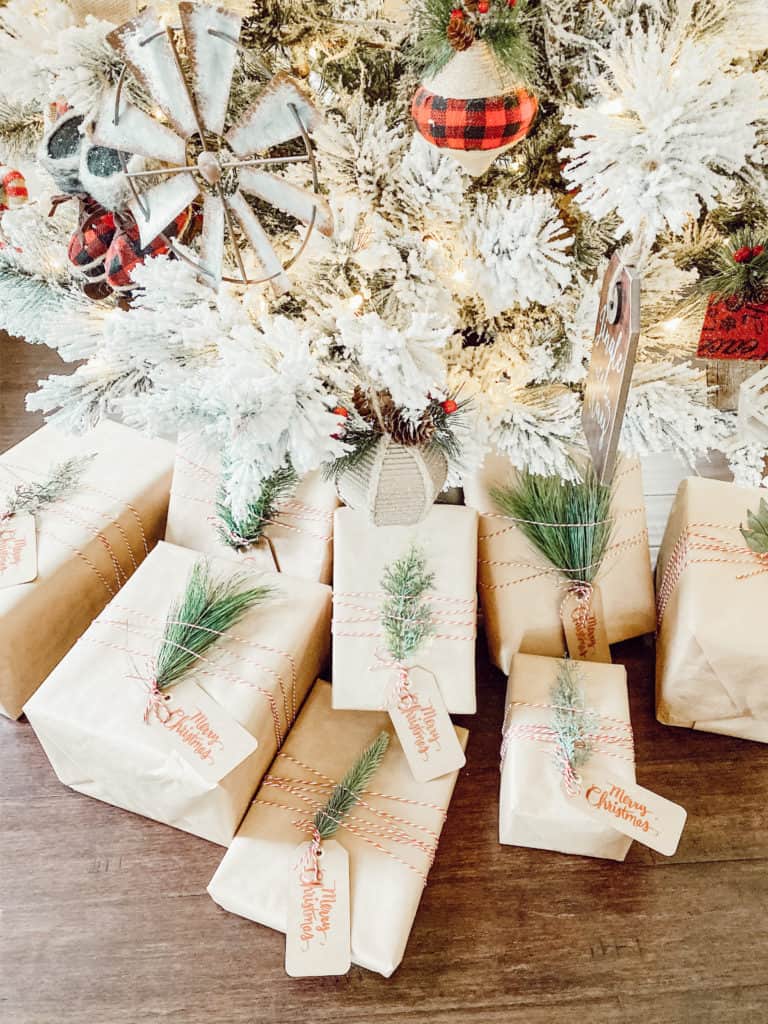 Start With Making Your Gift Tags
So before I even decided on how I was going to wrap my gifts, I knew I wanted to make homemade gift tags this year. Which goes perfectly with the whole farmhouse style gift wrapping theme.
I have never done that before and I was inspired by many beautiful accounts on Instagram making their own tags too. It seemed simple enough and I figured it wouldn't hurt for me to try to make my own either.
And I've got to say, I am so happy with how they turned out! I think I like how my gift tags look better than the actual package altogether! So here is everything you need to make a gift tag similar to mine:
Christmas themed stamp
Stamp pad with whatever color of ink you choose
Twine or ribbon to tie the tags to your gifts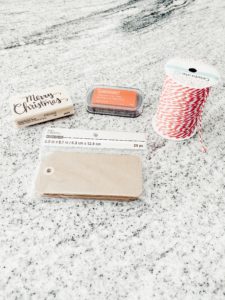 So after you've gathered all your supplies, all you need to do is stamp each gift tag and let it dry completely before you start writing on them and attaching them to your gifts.
I let my dry overnight before I started messing with them. It only took me a few minutes to stamp all the tags and I think it gives each package a nice handmade touch to it!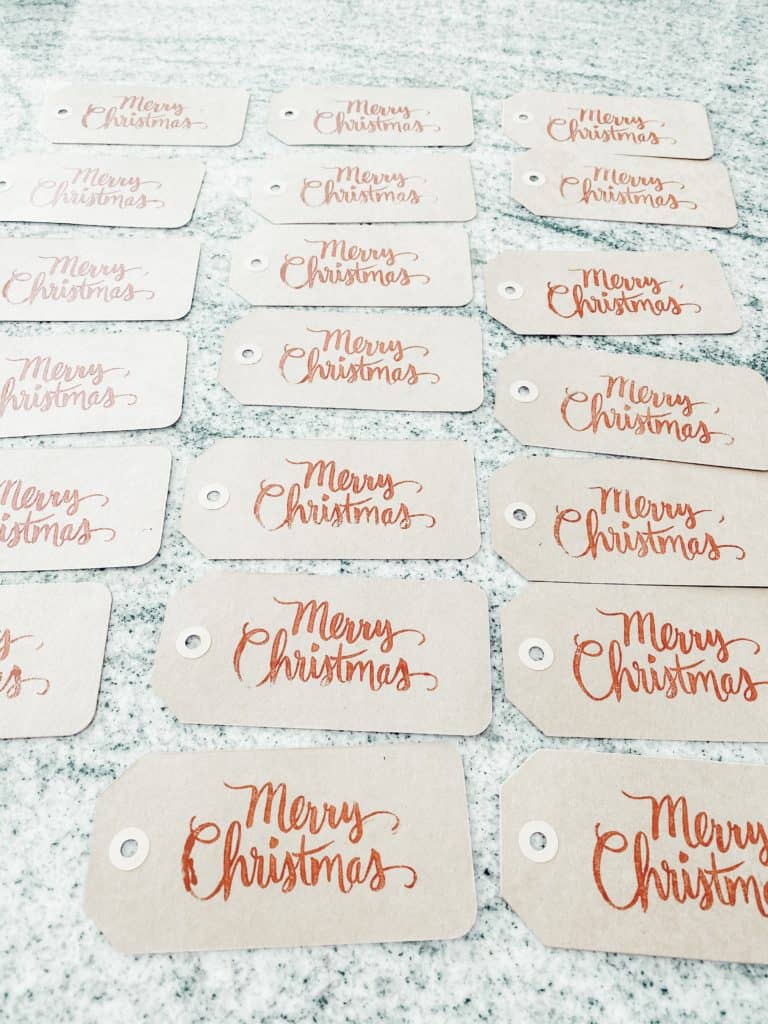 Now Time to Wrap Your Gifts
After you've made your gift tags, now you can decide what kind of wrapping paper you want to use. As I mentioned above, I decided on kraft paper again this year.
So I wanted to add pops of color with the twine I chose to use to accent the paper with. I actually used the same twine that I tied around all my Rae Dunn canister in the kitchen (see Adding Easy, Christmas Touches to Your Everyday Rae Dunn Pieces).
Thankfully, I had plenty of that leftover so I didn't need to buy anything else. Another touch I decided to add to each package was a little bit of greenery as well.
So I found a bag of wreath picks from Target for just $5 and it comes with 20 pieces in the bag! I thought that was a great deal.
And if you remember from my Vintage Christmas Bar Tablescape, I also found some in the Target Dollar Spot as well so you could use that packet too if you just want a few pieces of greenery. The one in the dollar spot came in a pack of four for just $1!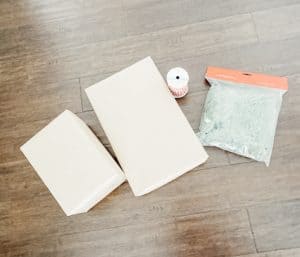 Finishing Gift Wrapping Touches
After I wrapped everything in the kraft paper, I just cut off a huge piece of twine and then I started wrapping it all around the package.
Criss-cross, sideways, you name it! I didn't really have a particular method to it, I just wanted it to be wrapped around enough times to see it from the sides as well.
And then after I wrapped the twine all around, I added a piece of greenery to it. I weaved it in and out from the twine tied around the package.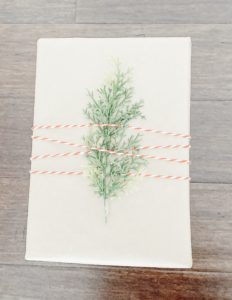 After I added the sprigs of greenery to each package, I then attached the handmade gift tags to the bottom part of the stem. I just used a little more twine to secure it into place.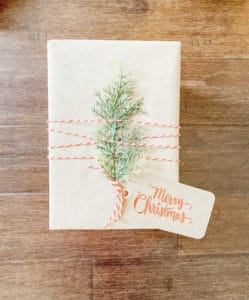 And that's how I wrapped each package for Christmas this year! It was a little time consuming, but I always love coming up with different ways to wrap gifts each year.
Another way I like to wrap gifts is by making them all wrapped up in vintage lace. Check out my vintage gift style wrapping here too.
And I also think it's more special if you put a little thought into how you wrap each present as well. But if you're on a time crunch, then totally just go for the gift bag!
Do what is easy and fun for you to help make the holidays more fun and less stressful! Do you guys like to wrap your gifts differently every year too? Or do you go for the gift bags? Let me know what works for y'all!