I just love the glow of Christmas lights so if I can add them to every room, I definitely will! My motto is you can never have too many trees. So I got the idea to add not just one, but two pencil trees in our bedroom for an extra, special glow! It definitely feels like a perfect Christmas bedroom with the addition of Christmas lights!
I am loving the way it turned out and it just feels so cozy and magical to me! I honestly love spending a lazy Saturday right here curled up with a fuzzy throw binge watching the Hallmark channel.
Does that sound heavenly to anyone else, or is it just me?! Keep reading to find out more details on how I styled our bedroom into a Christmas wonderland this year. I have linked all my sources for you to make it even easier as well!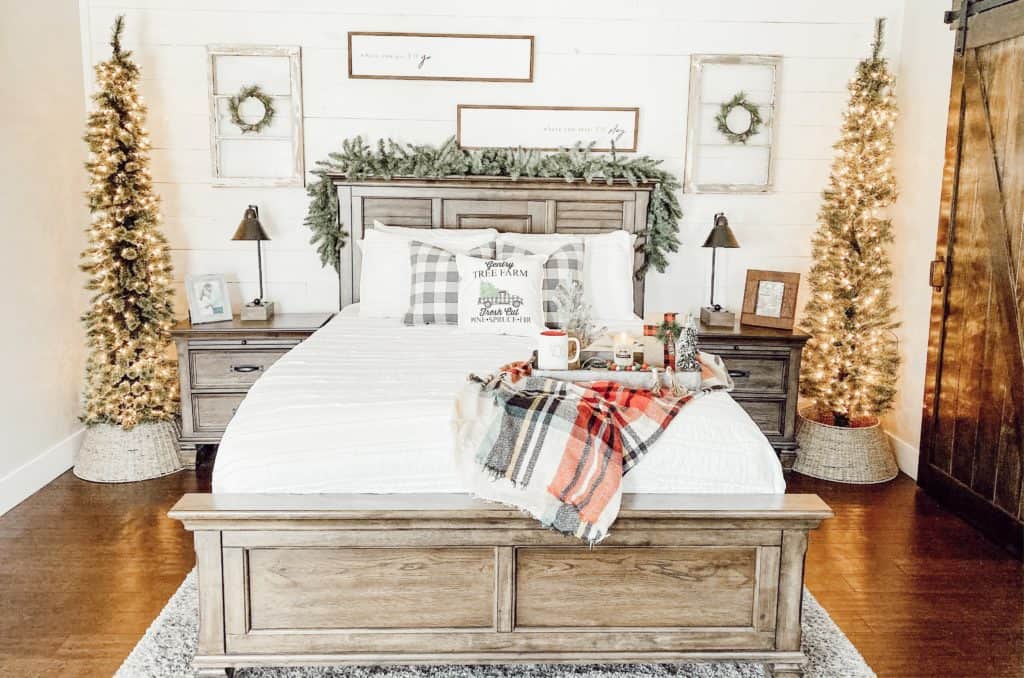 This post contains affiliate links. Click Here to read my disclosure policy.
Pencil Trees for a Christmas Bedroom
Like I stated above, I knew I wanted to have two pencil trees, one in each corner of our Christmas bedroom. Last year we just had one and it was pretty, but I knew adding another one would add to the drama of a Christmas wonderland feel.
So I searched online endlessly trying to find a pencil tree that would match the one we had.
We had bought that one from K-Mart a few years ago and it was the Jaclyn Smith brand. It wouldn't have been hard to find a duplicate, except for the fact that every K-Mart around us had closed down!
And I was having a hard time finding one online too. But, I stumbled across K-Mart online and found a few Jaclyn Smith Pencil Trees left!
I knew the one we had was a cashmere pencil tree so when I saw that online too, I knew it would work out perfectly.
However, I was a tad bit wrong. I forgot one detail when typing it in to search for our pencil tree. The one we had was a Virginia Pine Cashmere Pencil Tree, not just a Cashmere Pencil tree!
So imagine my disappointment opening the box and seeing that they didn't match perfectly! I am OCD about these things and I like for things to match.
The one we already had is much fuller compared to the one we just bought. But oh well, I guess you can't really tell from far away. And if you can tell, don't tell me because I keep trying to convince myself it's not that noticeable!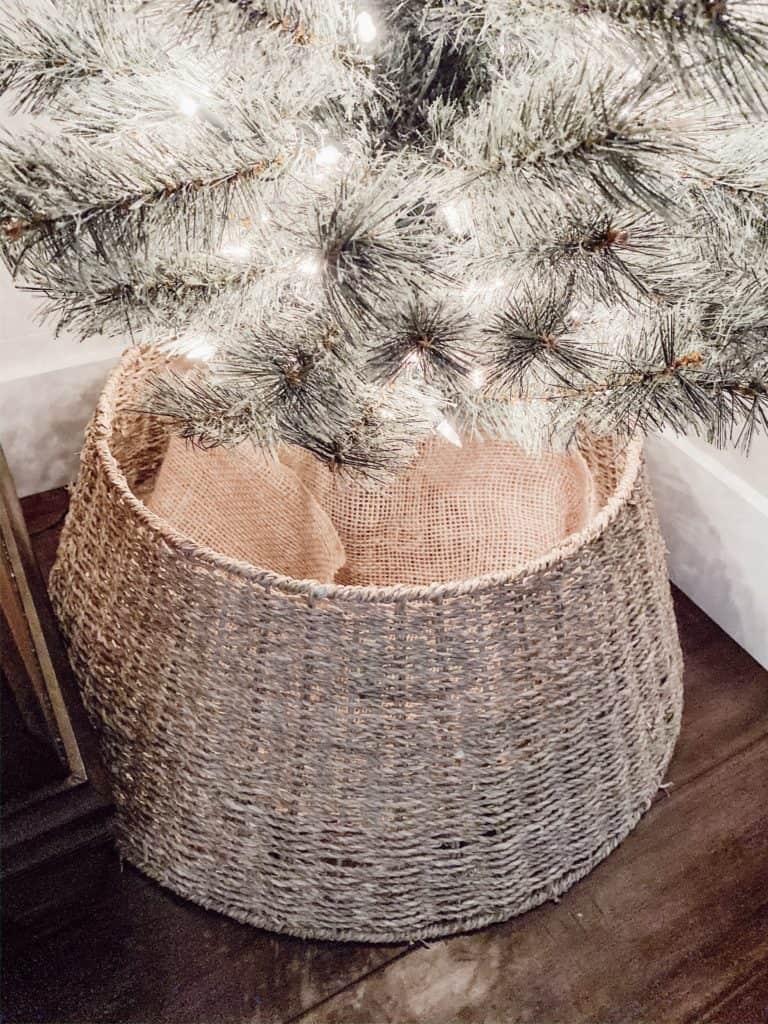 Christmas Tree Collars
Since the new tree wasn't as full on the bottom like our old tree, it looked a little weird in the collar. So my simple fix was to just add a little burlap and wrap around the base of the tree to make the collar look more full.
And I think it worked just fine since the burlap is the same color as the tree collar. I also got a great deal on these collars.
I had been looking for a long time for two matching collars for these trees and I was having a hard time finding something that was affordable.
Most collars I saw were $40 and up and I didn't want to pay $80 for two tree collars! So luckily, I found these beautiful ones at Michael's and they were only $20 a piece! Such a great deal and they are definitely made with great quality too!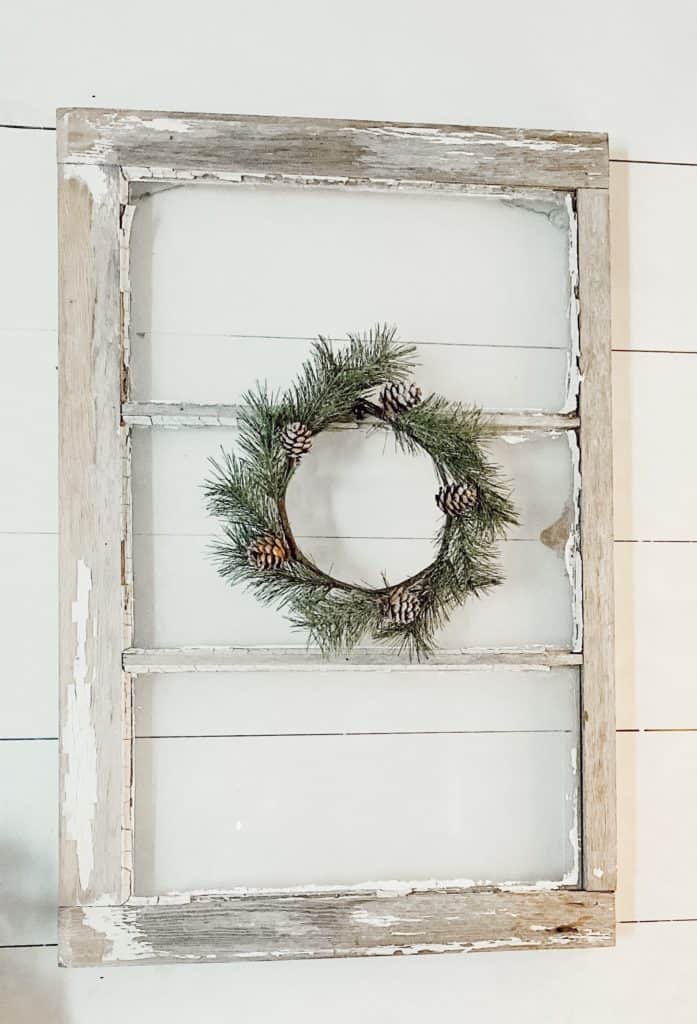 Christmas Wreath
Another super easy thing I did to transform our bedroom into more of a Christmas bedroom, was add in a wreath on our 1920 farmhouse windows we have hanging on either side of our shiplap wall.
And of course I got them from the Target Dollar Spot! They were only $3 a piece so not bad at all! And it's definitely a cheap and easy way to add a little bit of Christmas flair to the window!
Garland
I also added that beautiful garland above our bed too. I love how full this garland was and how easy it was to fluff and style! I almost got the one with lights on it too but I was afraid that would be too many lights and I was trying to save a little money since the one with lights was a little more pricey.
However, now I think I regret not getting a lit one because I don't think you can ever have too many Christmas lights!
Maybe next year I will order one with lights and use this one somewhere else. But regardless of it being lit or not, it definitely is one quality garland! I ordered it from King of Christmas and it's definitely the perfect touch to our Christmas bedroom!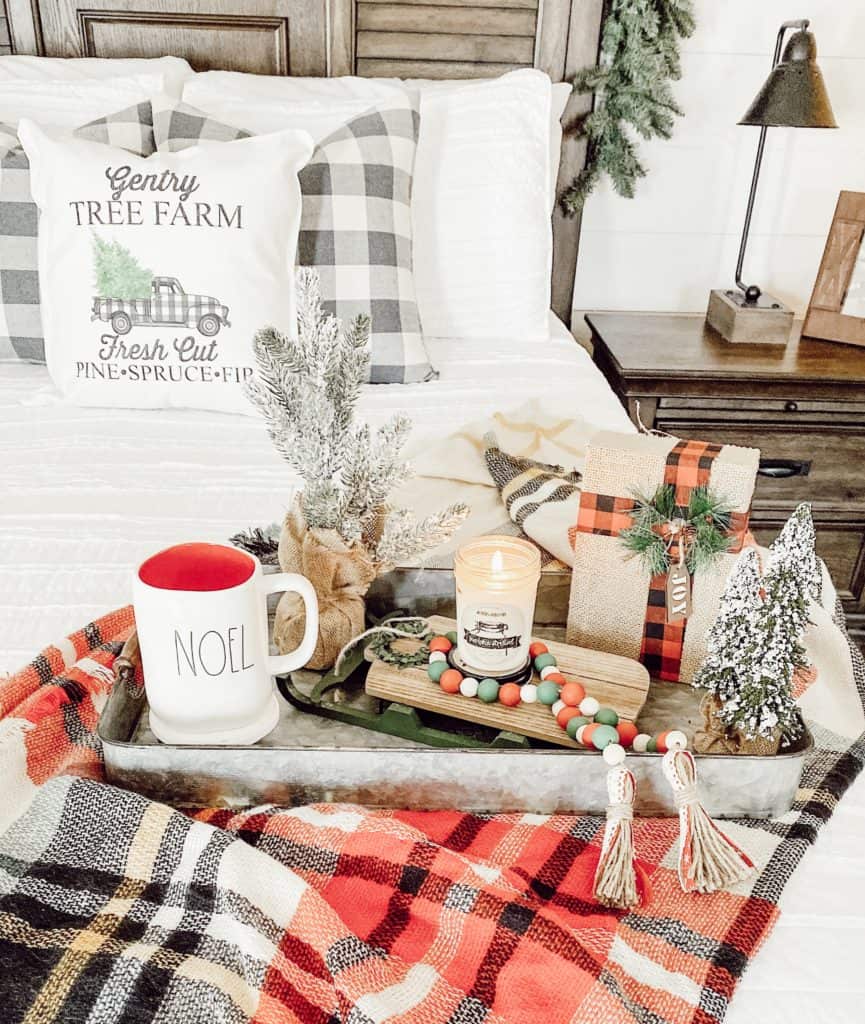 Christmas Tray
Above are some other little touches I added to make our bedroom more cozy and festive. I didn't have a pretty blanket with Christmas colors, so I just used this blanket scarf I had and draped it over the bed for a pop of color.
I also added my Magnolia home tray styled with some goodies such as my yummy Modern Forestry candle, some Target Dollar Spot and Hobby Lobby goodies, and you know I always have to have a Christmas Rae Dunn mug thrown on there too!
I also ordered that adorable custom accent pillow cover above to go on our bed this year. I love how it has our last name on it. So cute and special!
As you can see, it really didn't take me much to turn our bedroom into a cozy, Christmas wonderland retreat. And you can do the same to yours just by adding in a few pieces here and there that you love and are cozy to you!
Christmas Bedding
And, if you want to be super extra and festive this year with your Christmas bedroom when decorating, don't forget the Christmas bedding! I found this amazing REVERSIBLE Christmas quilt off of Amazon this year.
So no matter whether you prefer a more neutral look, or a more festive look, this piece would be for you!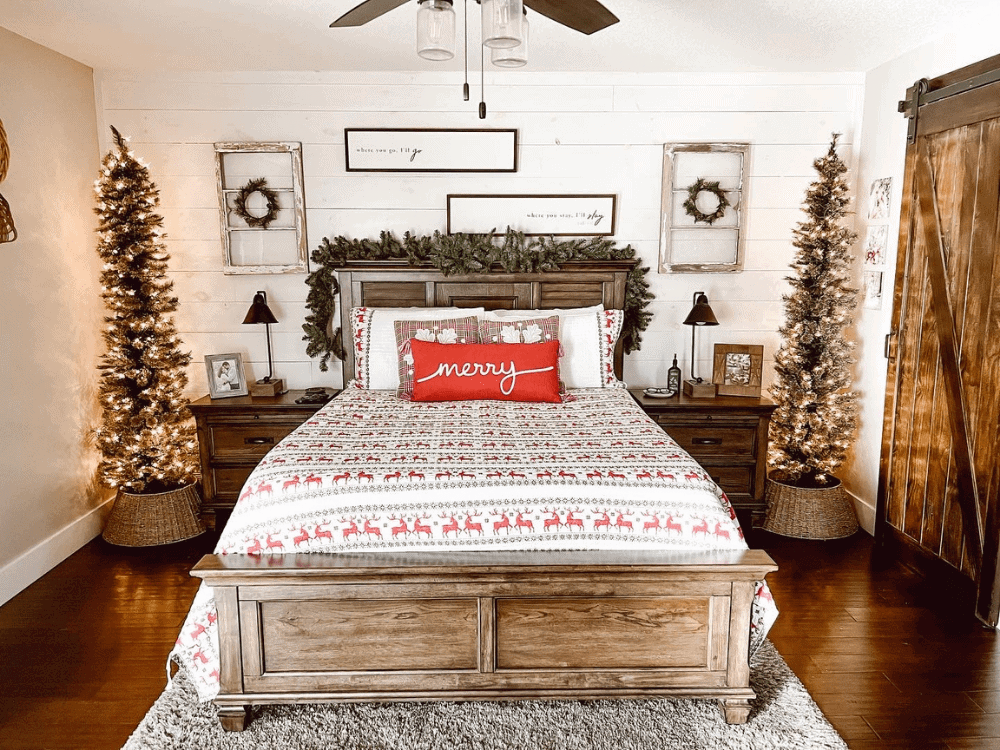 I hope all these ideas have given you a little inspiration on how you can style your own Christmas bedroom this year too.
I would love to hear about what you guys do to make your bedrooms more Christmas like as well! Let me know below what you like to do!