If you're like me and strive to find unique gifts for family members and loved ones, then you are definitely in the right place! Today, I am going to show you how to create these adorable vintage Christmas spice tins. They would definitely be a perfect gift for a vintage lover like myself!
There's just something about combining homemade gifts and vintage items together. I dare say it is the perfect combination! And, even better, it literally only took me a few minutes to create. Plus, it only required a small handful of materials too.
So if you're in the market for some vintage Christmas gifts too, be sure to keep on reading to see just how to create them.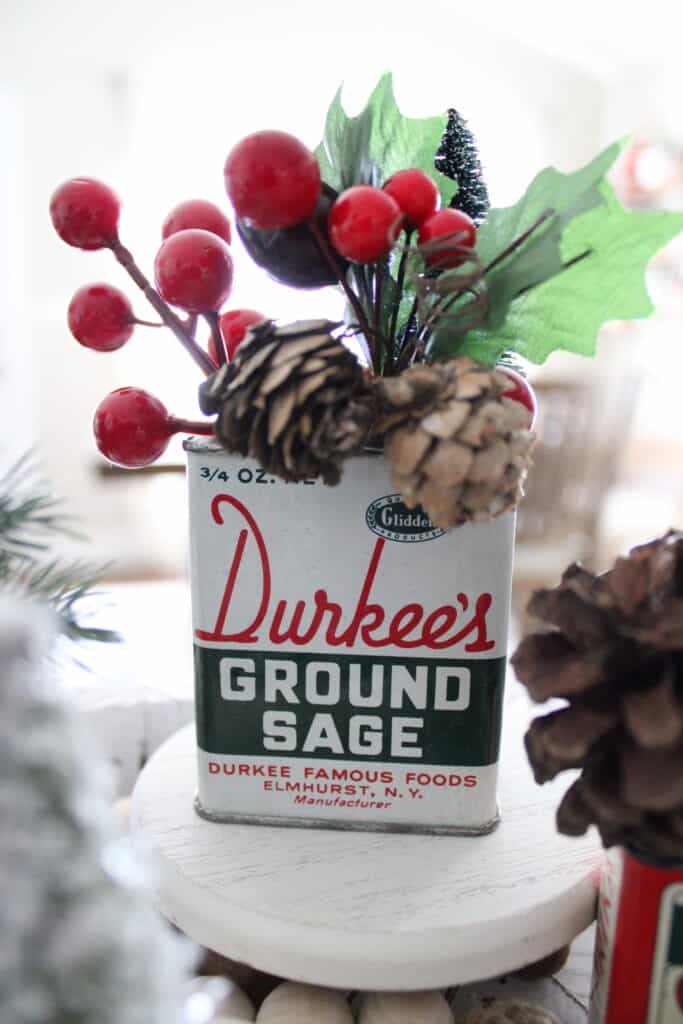 This post contains affiliate links. Click here to read my privacy policy.
Materials Needed for Vintage Christmas Spice Tin:
As you can see from the list above, you really don't need to many materials to create these DIY Christmas gifts.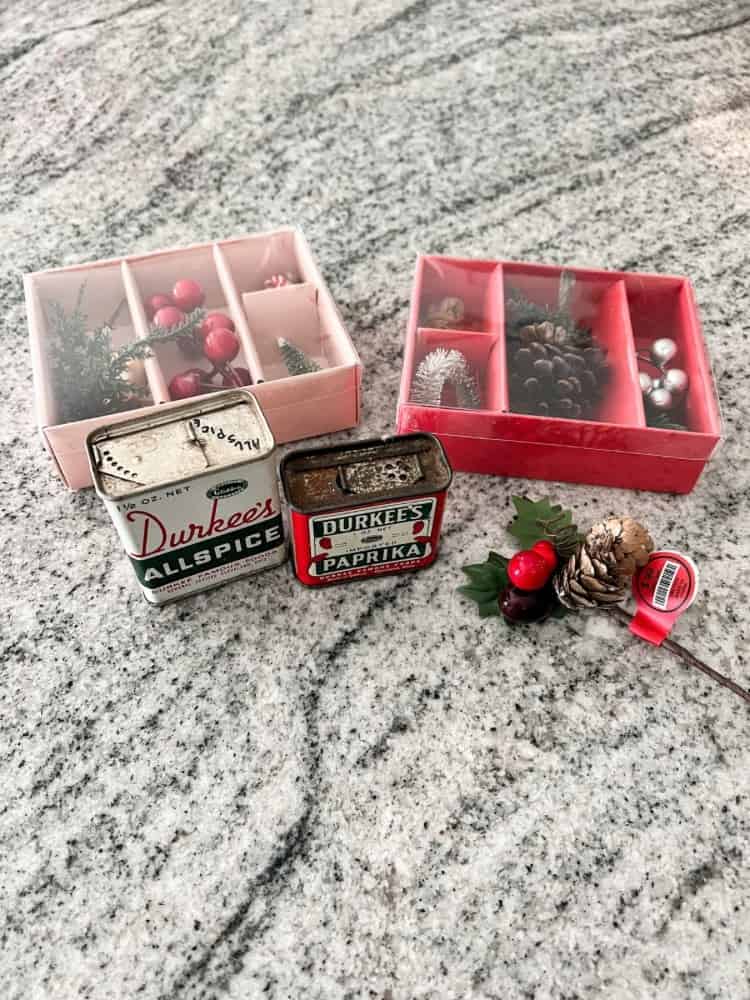 Where Can You Find Antique Spice Tins?
Fear not, if you're worried you can't find a vintage spice tin, it's really not too complicated. A majority of vintage or antique stores sell them. And usually for pretty cheap too! Plus, you can shop around for more retro gifts while you are there too. So it is a win win!
It's always fun to take a walk down memory lane and see all the great vintage gift ideas that antique stores have to offer. Whether you buy them as is, or create a little something extra to them, like we are doing here. I just love looking at all the vintage decorations during the holiday season too.
I already had a few vintage spice tins on hand so I didn't really have to go shopping for new ones for this project. The ones I had were ground allspice, sage, and paprika. And the best part is that they were already covered in red and green packaging. So it really made this whole vintage Christmas spice tin better.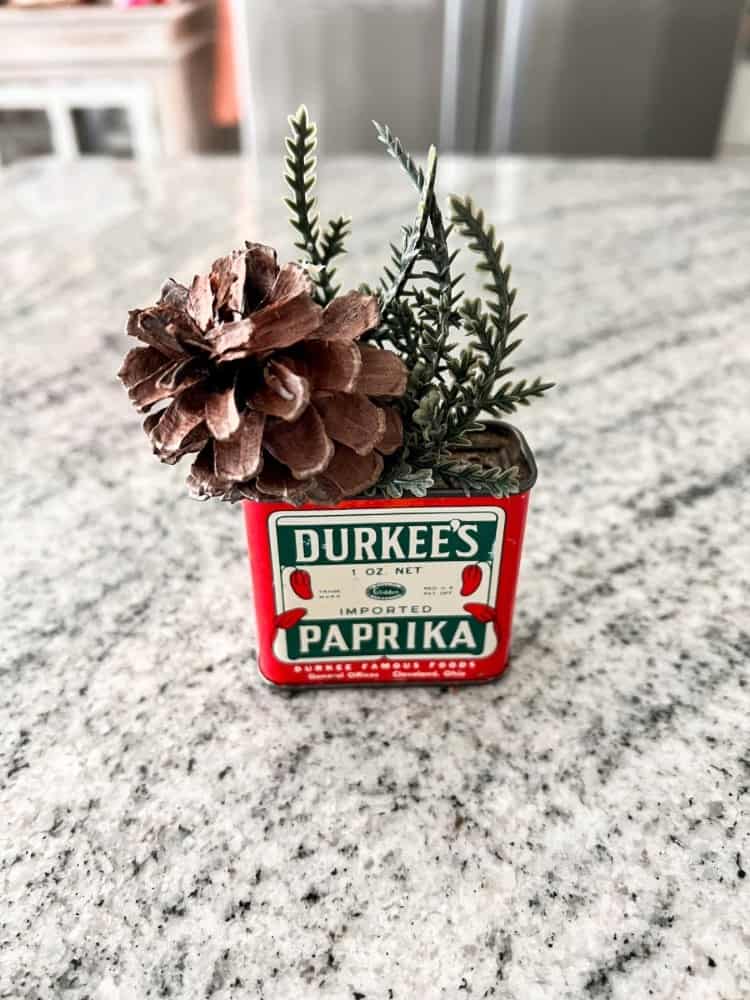 I would recommend searching for those kind of spice tins for this project. The Durkee's brand is usually always in red and green writing so that one would be perfect to search for!
And, if you can't find any at your local antique or thrift store, be sure to check out places like Etsy online. They usually have a few available there too. Sometimes, they have already completed vintage Christmas spice tins available too. So if you're not a crafty person or don't feel like making this, look around to see if you can buy one pre-made!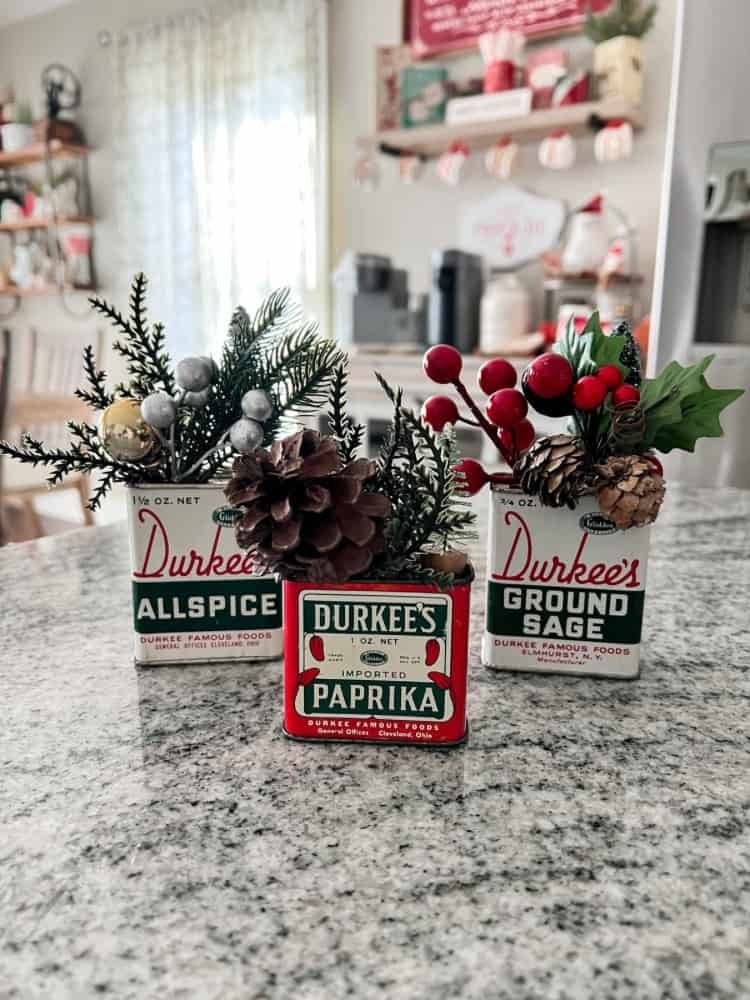 How to Create Vintage Christmas Spice Tins
My first original thought was to take the lids off of the spice tins and then place floral foam in the bottom of them. That way, I could easily stick Christmas floral picks into it and create a fun arrangement.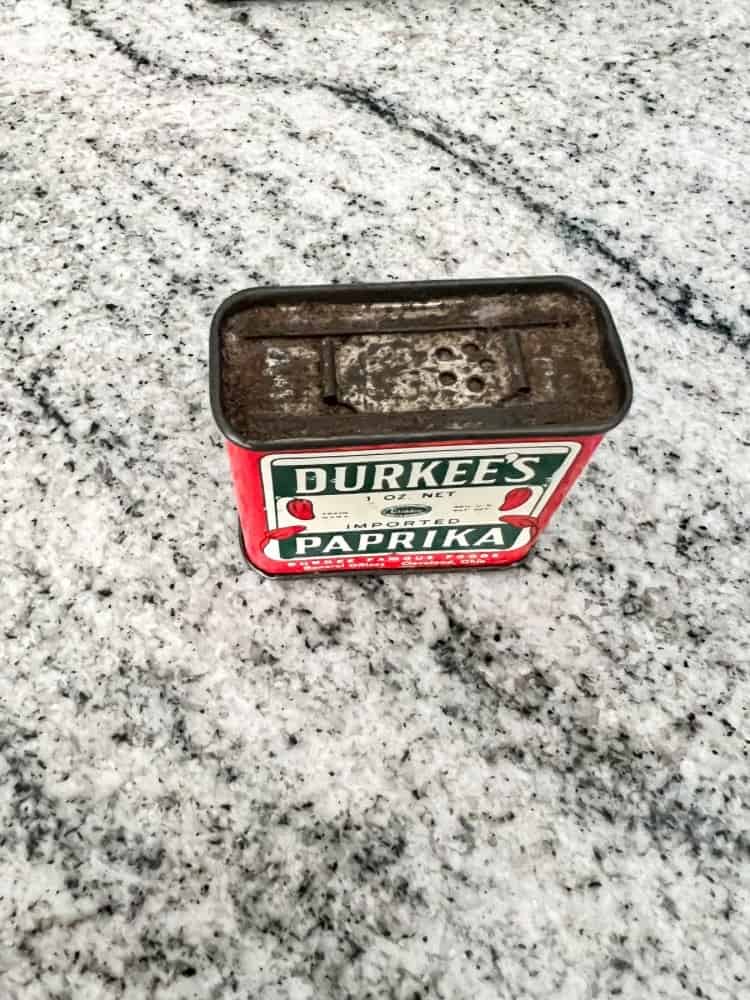 However, the lids to mine were extremely old and rusty so I couldn't really get them off easily without cutting them. So instead, I just opened the slider top to them and stuck some Christmas sprigs down in there. I used a few at a time and made sure the opening was full of picks, that way they wouldn't slide around and move.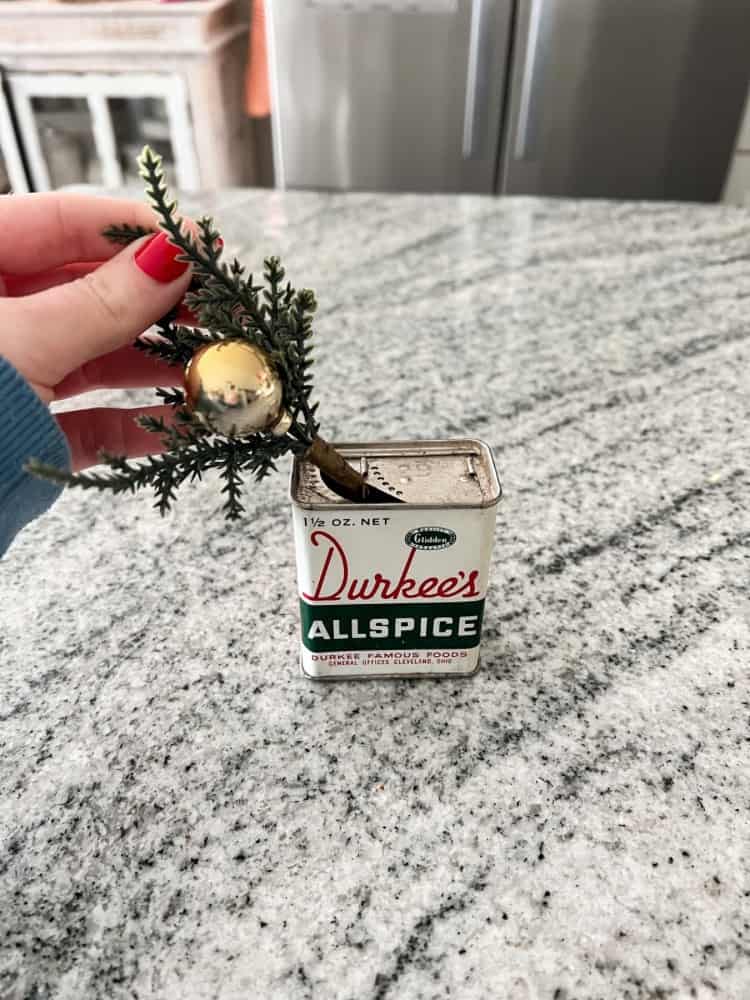 I also used a hot glue gun to glue down some additional pieces to the top. Like bottle brush trees and Christmas berries. I found a pack of little Christmas knick knacks at the Target Dollar Spot this year that was the perfect touch of Christmas filler for this project.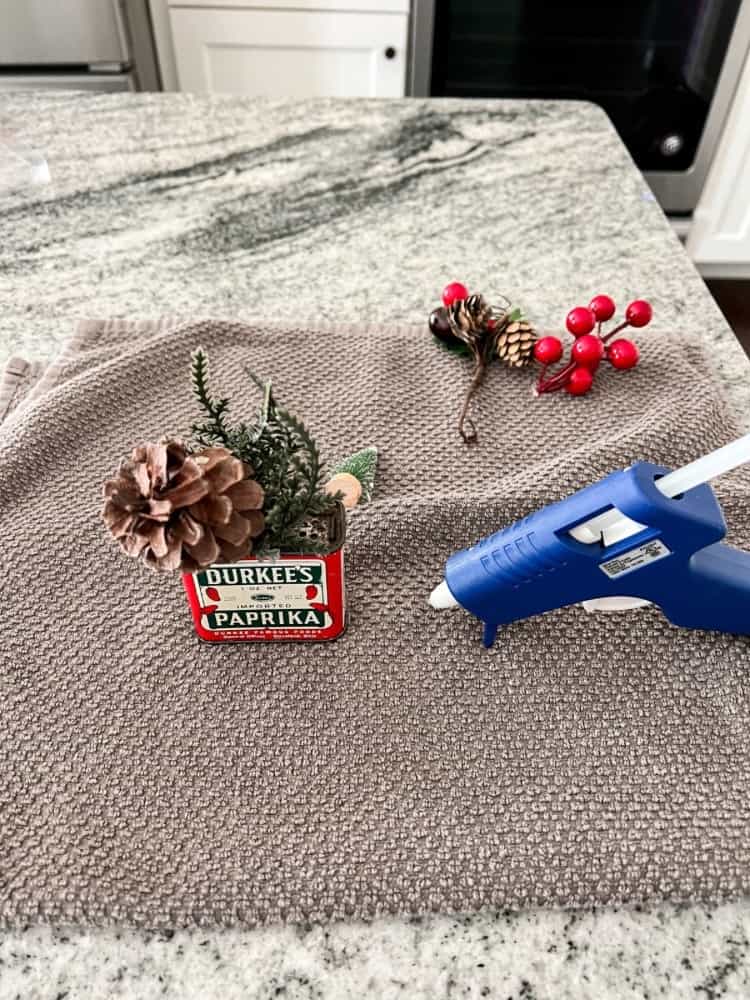 You could also use faux snow to top the spice tin off with as well for an extra festive touch too. Basically, you just want to find a bunch of mini items to create a cute Christmas arrangement on top of the spice tin. A little Christmas tree works perfectly and you can also cut up the sprigs you have too. I did that for the red berry one I had and used the extra berries around the lid as well.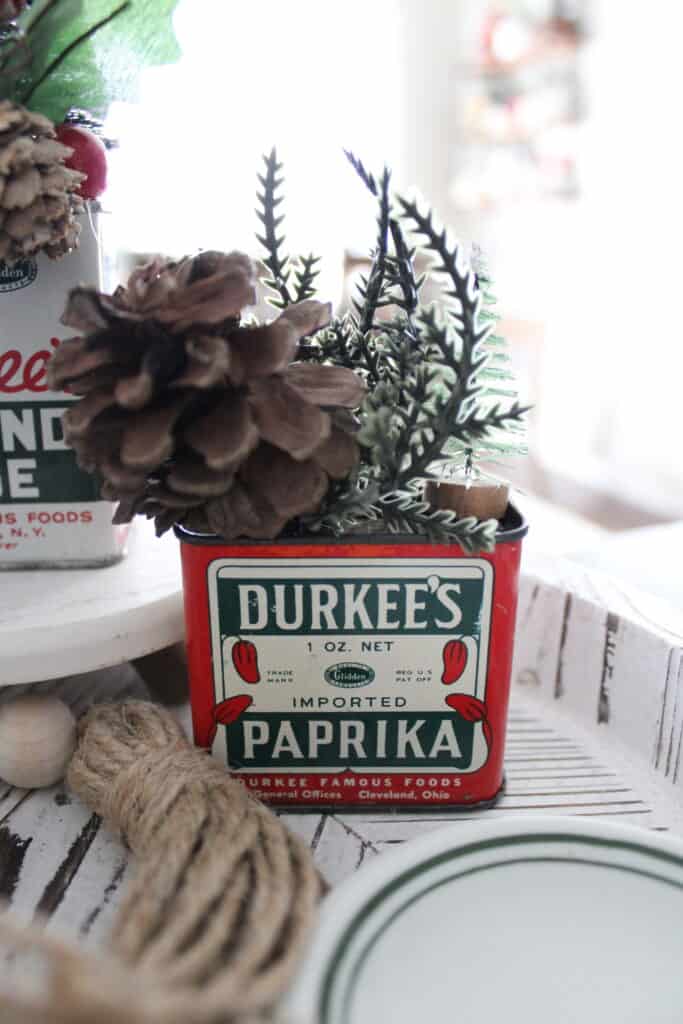 And that's it! There's really not much to making these vintage Christmas spice tins at all! It's a perfect, handmade gift for an old soul!
Other Great Vintage Gifts
If you're looking for more antique gifts, then the possibilities are really endless. As you can see below, I love my vintage Santa Claus mugs! I've been collecting them for a few years now and they go perfectly with the vintage Christmas spice tins too!
I also love to add in a little bottle brush tree in the Santa mug too. I try to look for ones that are in good vintage condition at a great price too. Again, if you can't find any locally, you could also look online for them. I've ordered a few off of Etsy myself.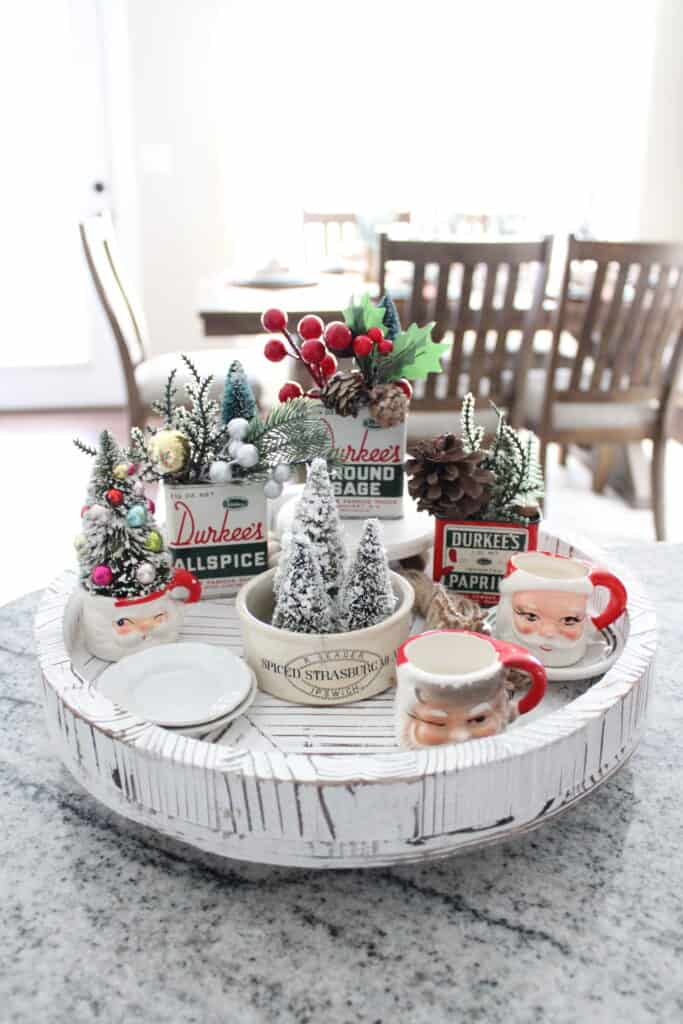 Vintage board games would also be another great way to celebrate Christmas with a family member too. I would just look to make sure it had all the pieces to it. And then you could have a fun, retro game night for Christmas!
I also love using vintage postcards and Christmas cards in my Christmas decor too. If you remember, I created a whole garland out of vintage Christmas cards last year too. And to wrap all of these lovely items up, be sure to use some vintage Christmas gift tags with brown paper packages! You can see how I wrapped my presents with a vintage style last year too.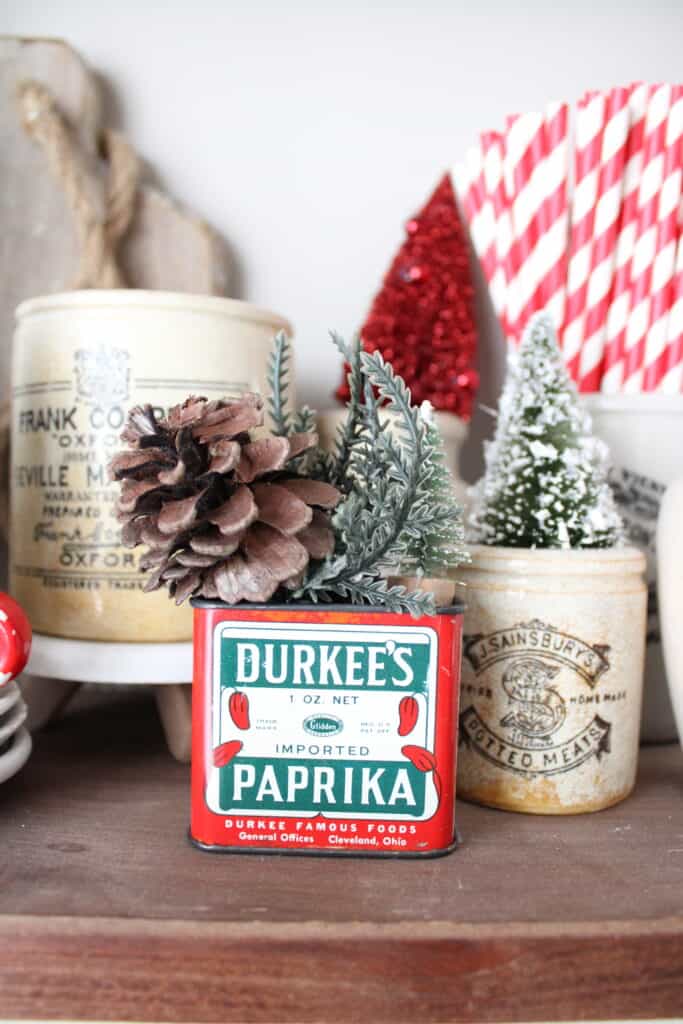 Handmade Christmas Gifts
And if you're looking for more handmade Christmas gift ideas, be sure to check out my mason jar Christmas cookies as well. Or my homemade elderberry syrup and homemade vanilla extract too! These would all make such a great gift for a loved one. And I hope you enjoyed this list of retro gift ideas as well as my tutorial on how to make these vintage Christmas spice tins!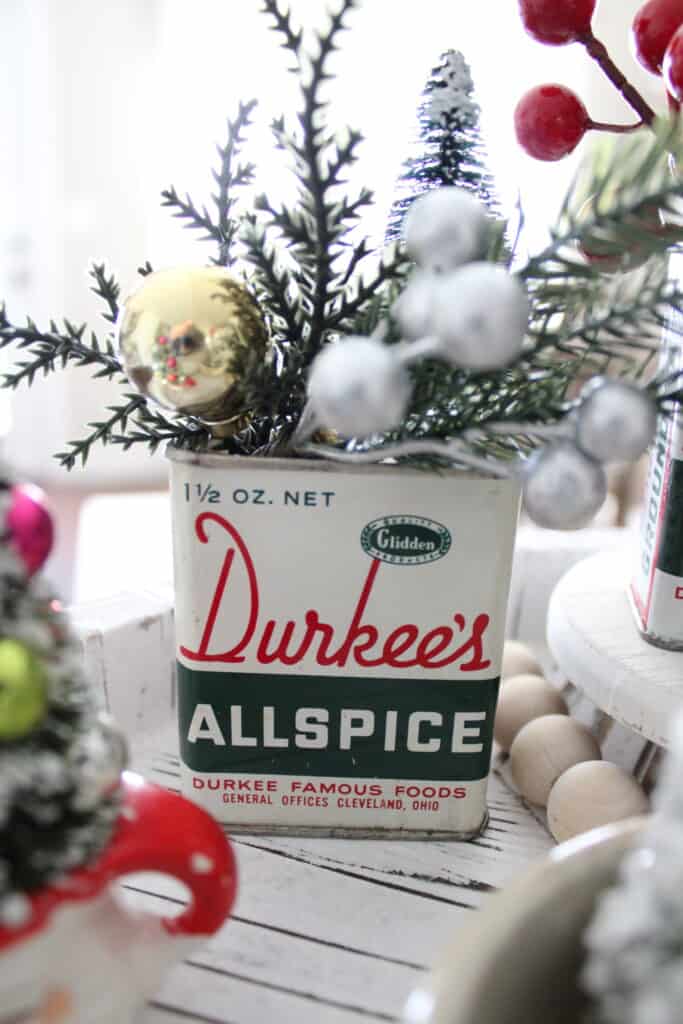 I absolutely love how they turned out and they just look perfect sitting with all my other vintage Christmas pretties on my open shelves. Let me know if you make these too and how they turned out for you. And of course, I hope you all have a very Merry Christmas my friends!