I am a huge self tanner person. I love being able to look like I have a great summer glow year round. But it can be kinda tricky to master. Especially if you're new to self tanners. So I thought I would create a comprehensive blog post on how to perfect your self tan at home.
I'll go through all the steps I take exactly and what my end results are.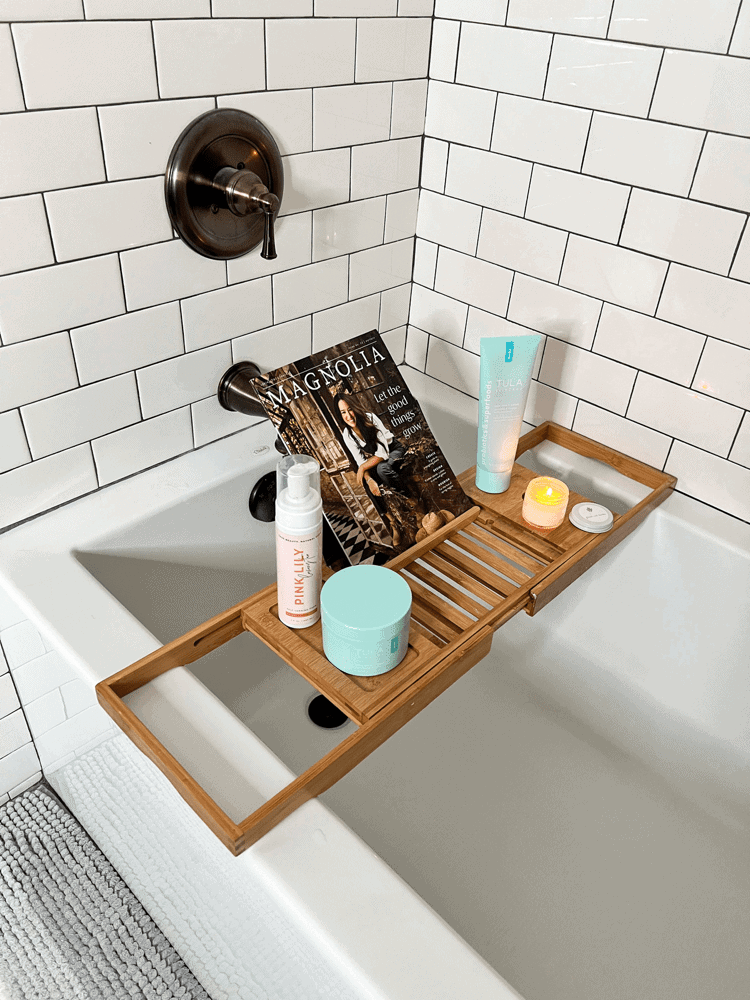 This post contains affiliate links. Click here to read my disclosure policy.

Exfoliate
The first step into perfecting your self tan at home is to of course exfoliate. Exfoliating helps get rid of any dead skin and will help the self tanner adhere better.
So skipping this step is not an option if you want a perfect tan!
I like to use TULA Skincare's body exfoliator. It not only improves the look of skin texture and tone, but also helps the skin appear brighter as well.
This exfoliator has a great scent and is a skin cleanser too! So it's a perfect 2-in-1 product to keep in your daily skincare lineup. Plus, you can use my code "15CHARITY" to get 15% off too!

Shave
After exfoliating, now's the time to shave! Be sure not to shave first and then exfoliate, because that would be quite painful if you mix up the order!
I like to use a shaving cream or gel to get a nice clean shave on my legs before applying the self tanner.
Apply the Self Tanner
Now's your time to shine! After shaving and exfoliating, you can now apply the self tanner. I like to use Pink Lily's Luxury Tan Self Tanner. I use the medium shade during the winter and then the dark shade during the summer.
It is Enriched with hydrating jojoba, macadamia, and coconut oil that will keep your skin hydrated and your tan glowing for days!
The best part about this self tanner is that it is also made with 100% natural DHA, vegan, cruelty free, certified organic, and paraben free as well!
The shade continues to develop over 14 hours and has a nice, light coconut fragrance. Some self tanners I have used in the past have way too much of a chemical scent to them so this one is really refreshing.
To apply the self tanner evenly, you definitely need a tanning mitt. I skimped on this for awhile and I wish I jumped on the tanning mitt wagon sooner!
It definitely helps you apply the self tanner and helps it spread much more evenly than just using your hands alone.
Another great option for a self tanner is Coco & Eve.
I have also used this brand for several years as well and I love them just as much!

How to Tan Hands and Feet
If you're wondering how to perfect your self tan at home, you are probably questioning how to do your hands and feet too.
If you have any experience self tanning in the past, then you know that sometimes you can get too much on your feet/hands and end up with a much darker shade there than you anticipated.
In order to prevent this, use a foundation brush! Just dap a little self tanner out on a paper towel and then dip the foundation brush into it.
Then, gently apply to your hands and feet using the brush instead of the tanning mitt!
Moisturize
The key to keeping your self tan looking glowy and perfect is to moisturize. Self tanners can be a little on the drying side so if you don't moisturize frequently, you will notice your skin starting to get a little flaky.
This can easily be avoided by using your favorite moisturizer. I like to use TULA's Advanced Hydration Body Moisturizer.

This buttery cream instantly hydrates skin, leaving a natural, luminous glow that feels soft & supple—never greasy or sticky. It also has Vitamin C and Yuzu in it which help to improve the look of tone and texture.
And the hyaluronic acid & ceramides deeply moisturize and help improve skin softness as well.
It even has a nice and subtle vanilla coconut scent which goes along great with the self tanner scent as well. Again, you can use my coupon code "15CHARITY" to get 15% off of this moisturizer as well.
They even have a great bundle option too where you can get both the exfoliator and the body moisturizer together and save a little money that way as well!

Enjoy your Tan!
Well, that's it! 4 easy steps on how to perfect your self tan at home!
I hope you enjoyed this post and I hope it gave you the confidence to try out self tanner at home for yourself.
Do you currently use one or have a favorite? I would love to know below!