Today I thought it would be fun to share with you all some easy spring fashion ideas. We are planning on vacationing to Charleston later in March, so I wanted to show you some pieces I am planning on bringing.
As well as some other casual fashion ideas for the spring too. We all know that spring in the south can be somewhat hard to predict.
Some days can be super warm and some of course can be freezing. With a lot of in between. Which means I will be sharing a variety of clothing ideas that would be perfect for both those warm and colder days.
I hope you enjoy and sharing all these outfit ideas has got me dying for some warmer spring weather!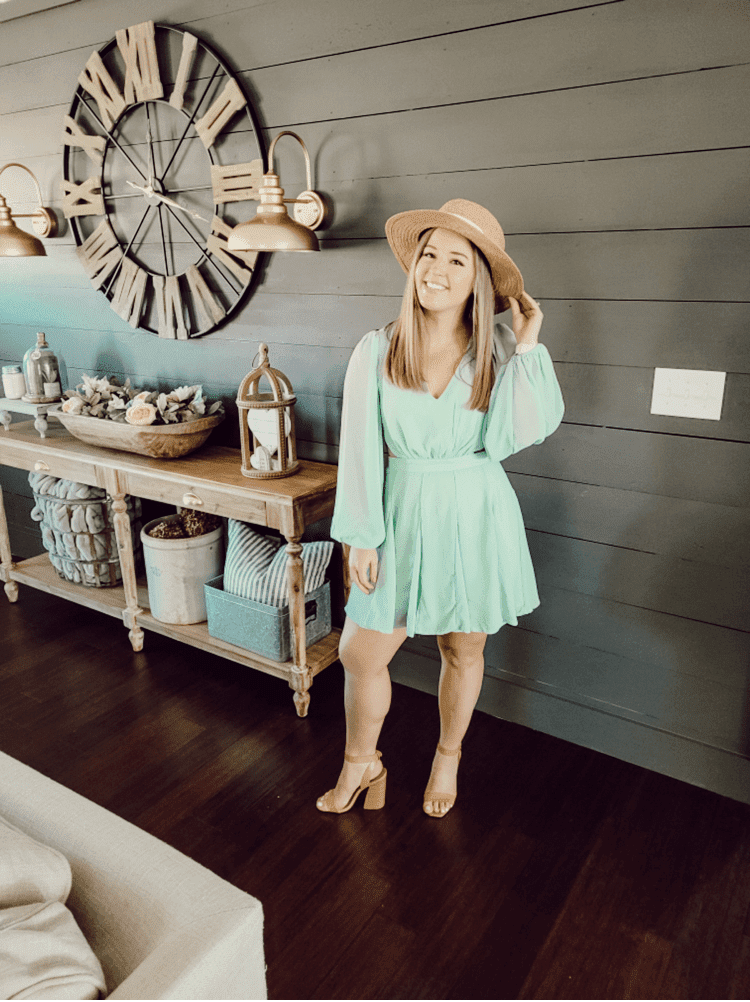 This post contains affiliate links. Click here to read my disclosure policy.
Spring Dresses
I think my favorite thing about warmer weather, is finally being able to wear pretty dresses again. Not saying you can't wear a pretty dress during the winter too, but I always freeze trying to wear a dress when it's cold.
So as soon as it starts to warm up, I am dying to put on a fun and flirty dress.
And I have just the perfect spring dress option to show you! I am loving this beautiful sage green dress. It does have some cutouts on the side of it, which I think makes it a perfect option for a date night.
I wouldn't necessarily wear it to church like that because I would prefer to wear a jacket with it instead. Just so I would feel more comfortable and not have a ton of skin showing.
But, if you have a night out on the town or out for vacation, this is the perfect dress.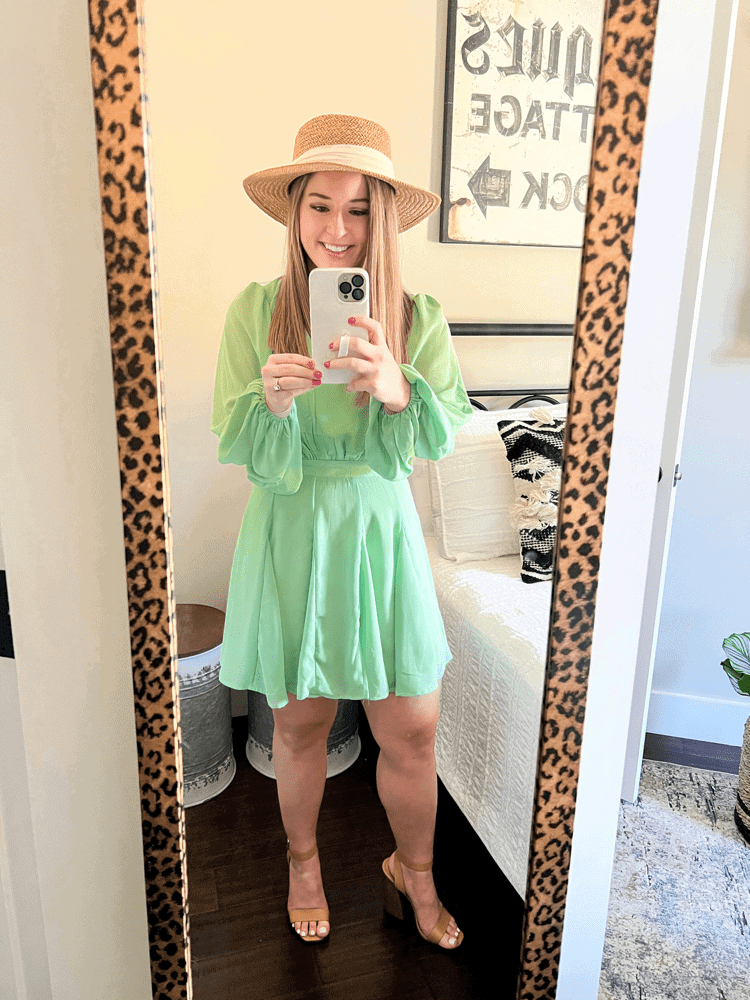 And I like the fact that it has long sleeves too which makes it perfect for spring. Since it can be a little chilly still sometimes. This dress is definitely flattering and true to size.
I normally wear a Small in dresses and that's what I ordered. It fits me very well and in fact my hubby loved it so much, he ordered me another dress!
I got the same dress, but in a really fun tropical print pattern. Talk about a perfect vacation dress! I also paired it with one of my favorite camel colored fedoras as well.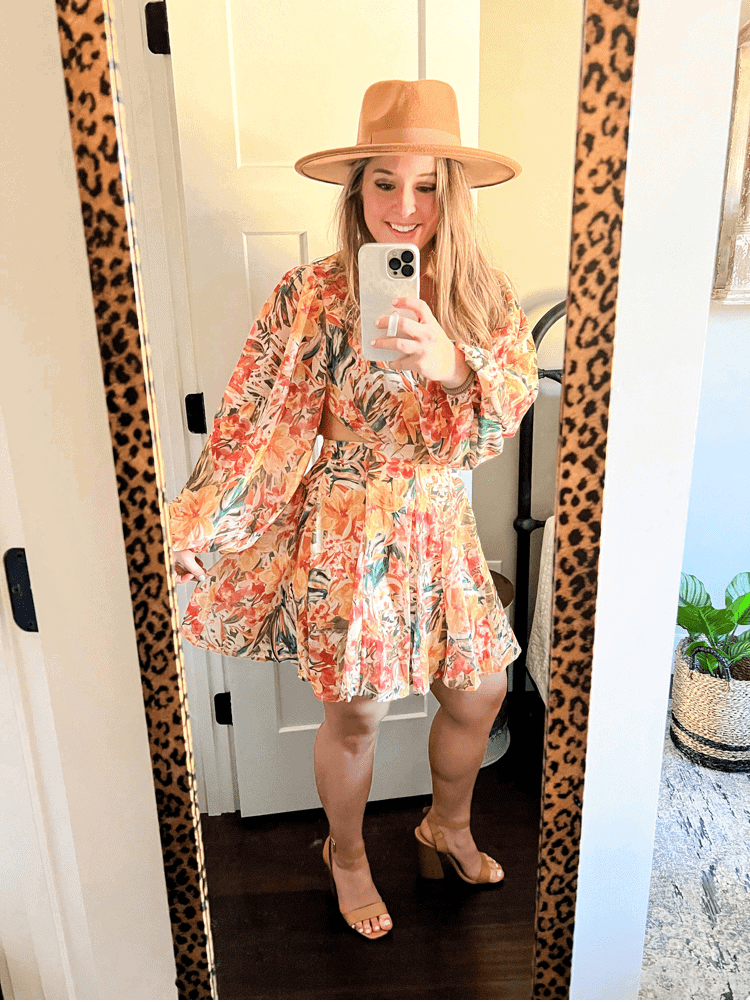 I am loving the heels too! They are very flattering and I love the neutral color to them. They will definitely go with any spring dress and they are also true to size.
I normally wear a shoe size 7 and that's what I got. I am pretty petite, only 5'1″, so I love having a comfortable heel to wear to give me some height too!
Easter Dress Idea
Also, if you're looking for a good Easter dress, this one pictured above would be perfect! I am wearing the same heels as before (talk about a good shoe investment!) and it works great since this dress is a maxi dress.
However, I will say the fit to this dress is a little more tricky than the other dresses I shared. I got an Extra Small in this one since it was a maxi.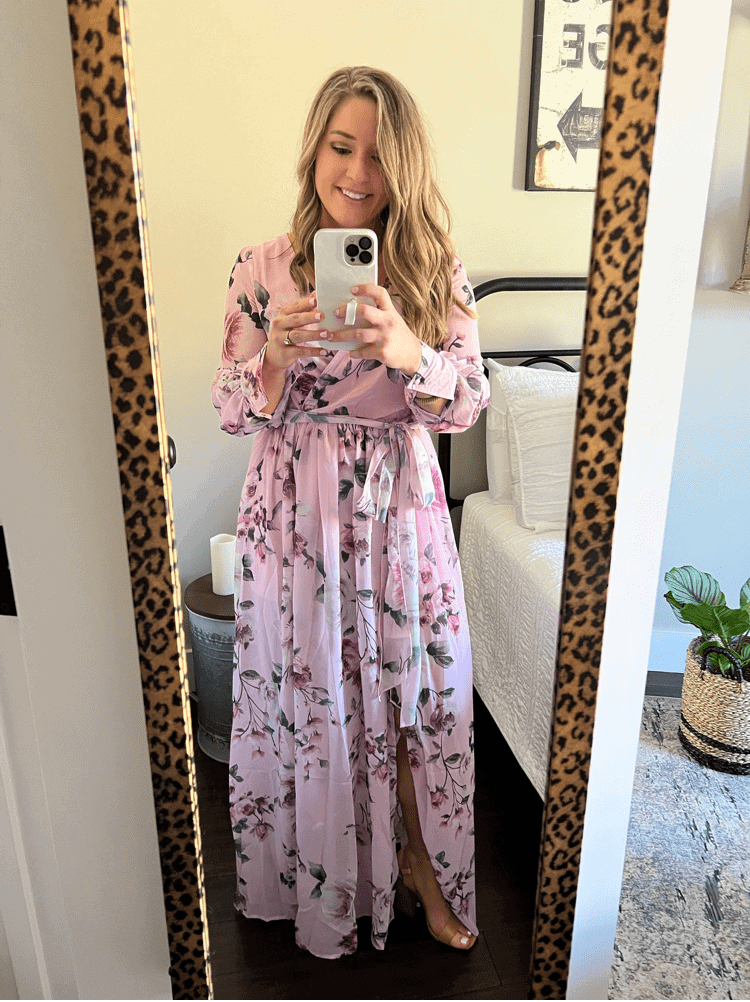 But, the sleeves to it are a little tight. It fits me perfectly everywhere else though. I didn't want to size up to a Small though in this one either.
The bust area to it is a little on the big side too so if I went up a size, it would probably be way too big there.
Considering I am very petite though, I was happy the maxi dress actually worked out on me with some heels! I thought it would still be too long on me so I was happy to see that it wasn't.
Casual Spring Looks
Now that I shared all my dressed up looks for spring, I thought I could share some casual spring fashion ideas as well. I love to dress up when going out, but also still love to be comfortable.
And this beautiful sage green tee is the perfect way to do both! Below, I kind of dressed it up a little with a cardigan and some cute neutral booties and an adorable hat as well.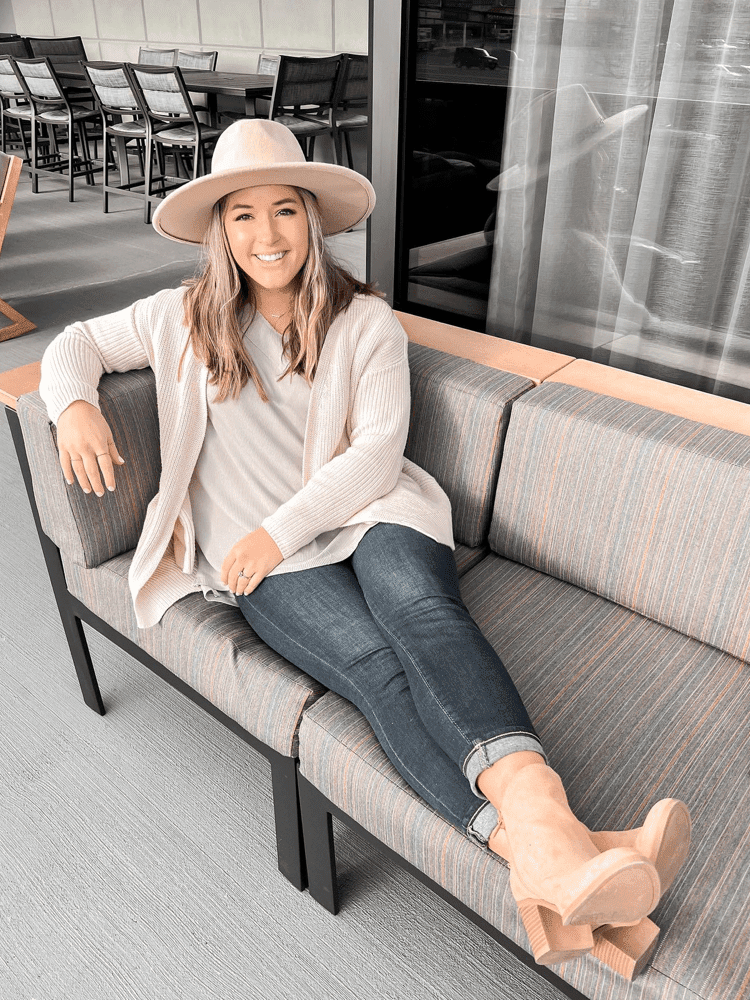 But, you could totally dress the tee down even more for a more casual look as well. Like for example, how I styled it below was with a pair of distressed jean shorts.
I always love a set of good denim shorts and these are just it! I will say though, I had to size down because they run a little big. Typically, I wear a medium, but I actually had to return them for a small.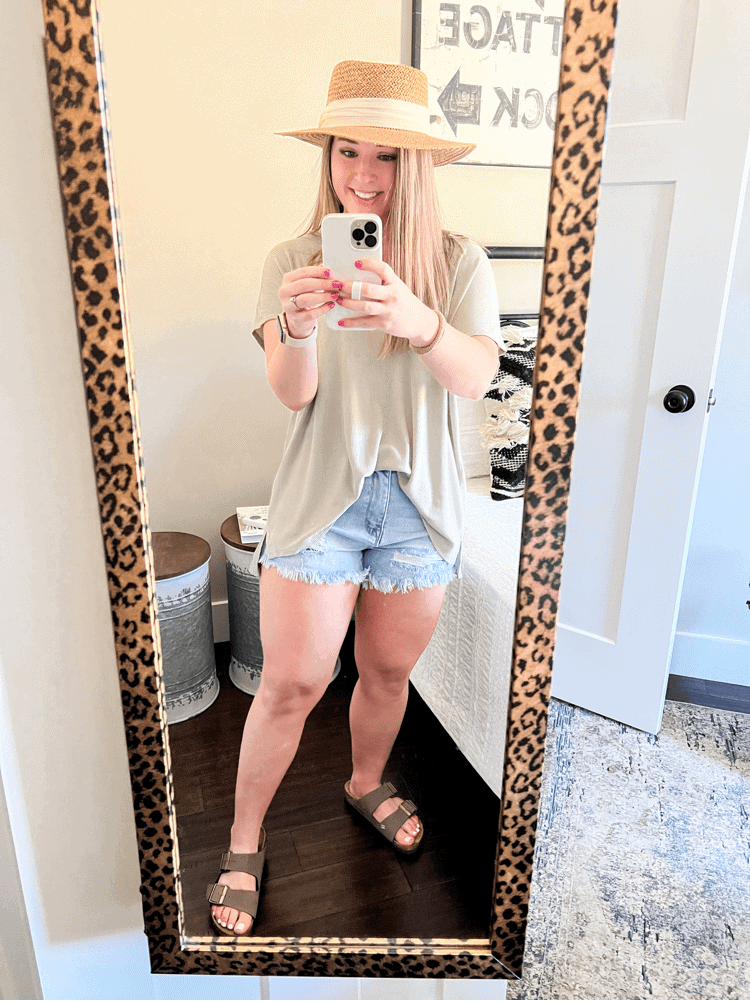 Spring Pants
I am not one to pull off wide legged pants because I am so short, but I figured I would at least try some on and see what I think.
The color of these beach pants are so pretty and I think they would be super flattering on someone if they were just a tad bit taller than me!
I decided to return these ultimately, but again, I am only 5'1″ and if I ended up keeping them, I would have had to have them hemmed.
And I don't have time to find a tailor or go back and forth dropping them off and picking them back up again! So that was my deciding factor for me. I was also wearing some super cute wedges, with a super high heel and they were still a little long on me.
But, if you're a little taller, then you should definitely go for this look!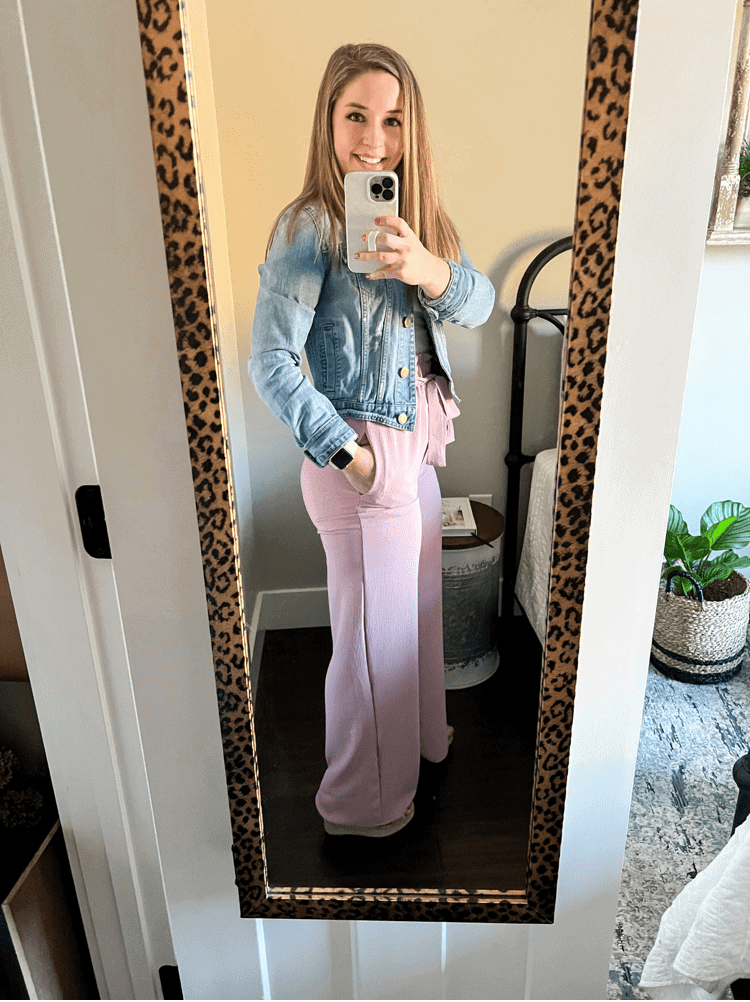 I am more comfortable with skinny jeans personally because I can roll them up if they are a tad bit long on me. I love these black skinny jeans pictured below and I paired it with a cute blush colored button up shirt.
The trend now for button up shirts like this is to apparently tuck in one side of the shirt and leave one side of it out. And I've gotta say, it does give you a flattering look!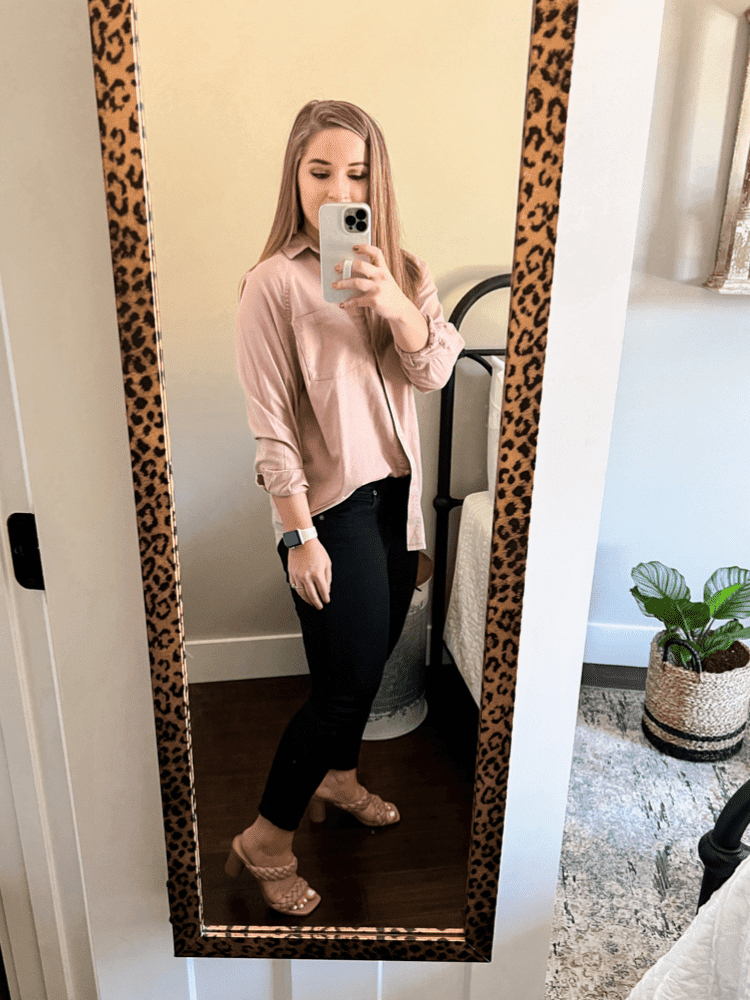 I'm also loving these Dolce Vita heel dupes from Target this year! They come in several colors and are only $34.99 compared to a hefty price tag of over $130!
I can't hardly tell a difference between them and they are super comfy as well. The nude color is perfect since it will go with so many different outfits too!
Spring Romper
Another spring fashion trend that is new-to-me is a romper. I have of course always seen them advertised but I have never actually tried one out for myself.
So when I saw this cute long-sleeved romper in a fun floral pattern, I thought it would be perfect to try out for spring!
It's nice that it does have long sleeves, that way if it is a little cold, you are still covered! This romper comes in several colors too so you can take your pick as too which one is your favorite.
And again, I paired the romper with those cute Target dupe heels too!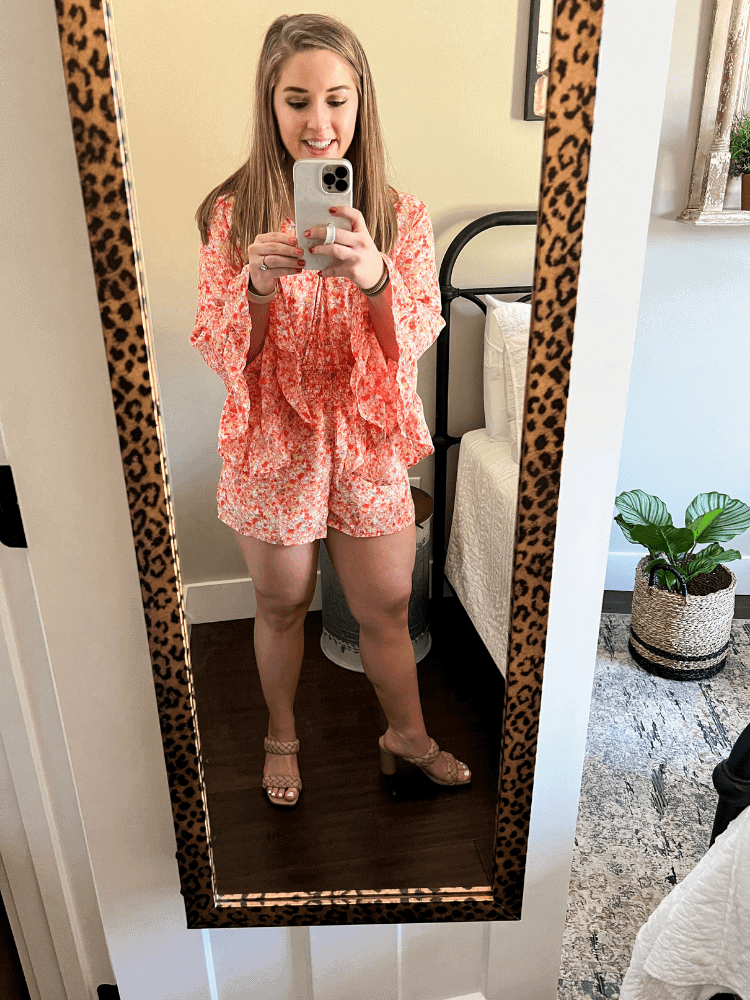 Well, I am no fashion blogger by any means, but I do enjoy getting dressed up and going out for a fun date night on the town! And I can't wait to wear these pieces around Charleston for our upcoming vacation!
So I hope you enjoyed this post and it gave you some spring fashion ideas for when you do the same too! What are some of your go-to spring fashion trends?! Let me know below!