I recently purchased a Honeywell Evaporative Air Cooler and I thought it would be fun to share with you guys all about it. If you're like me, then you have no idea what an evaporative air cooler is.
I definitely didn't know until I was sent this to try out. And let me tell y'all, it is amazing! I was totally missing out not having an evaporative air cooler in my life before.
We used to not be able to sit outside because it was so hot and miserable. And that didn't make it ideal for hosting company outside either.
Now we can thanks to this amazing product! Keep on reading to see just what it is and all the amazing features it provides!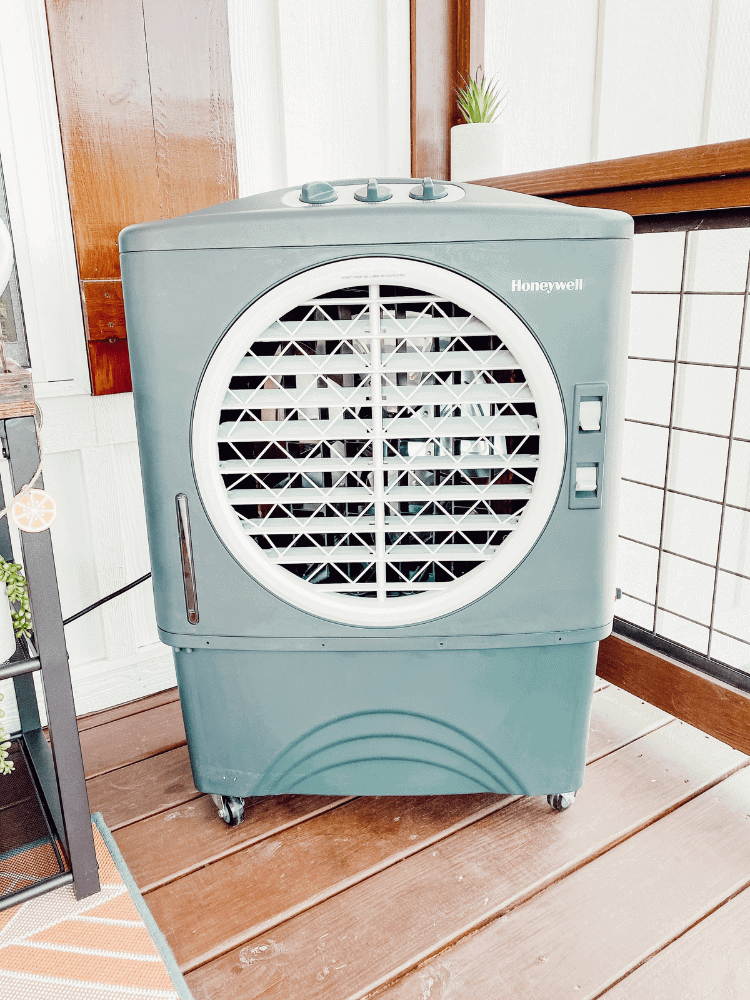 This post also contains affiliate links. Click here to read my disclosure policy.
What Exactly Is An Evaporative Air Cooler?
This product is designed to keep you cool and comfortable in a hot & dry climate. They work best with the humidity levels are less than 60% in an area.
And it isn't just a fan. This is designed reduce temperature through water evaporation. It also provides you with a moist and cool breeze to keep you cool on a hot day.
But it doesn't spray or damage any furniture you may have around it. How awesome is that?!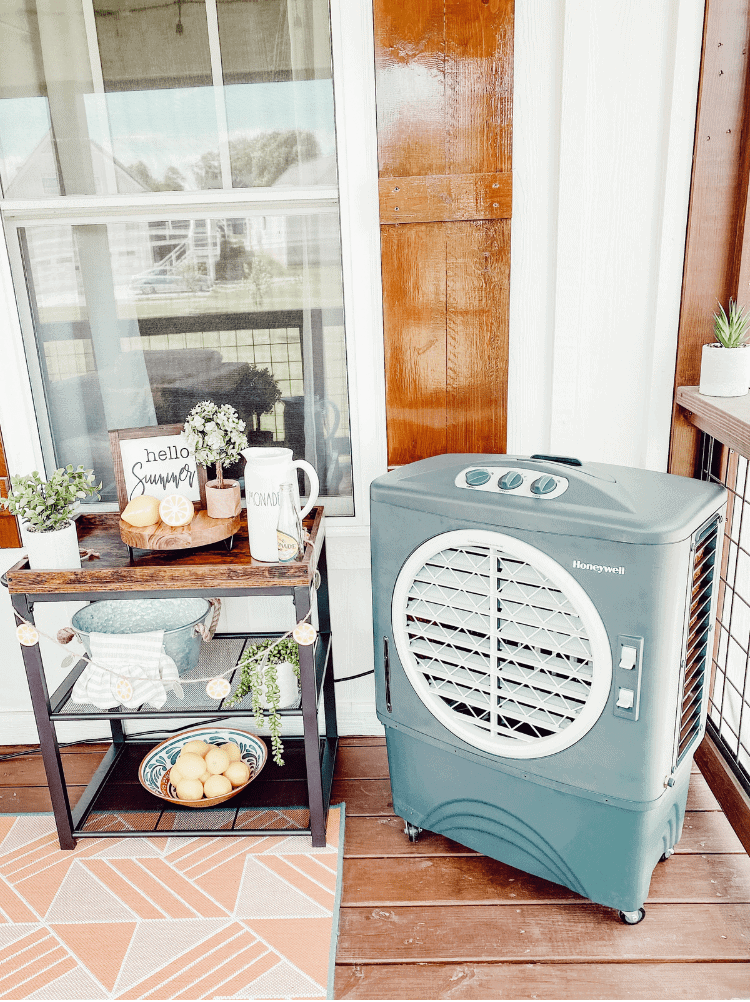 It also uses a low power consumption by providing a continuous water supply connection that will last all day long. It's basically a 3-in-1 product: cooling, humidification, and fan.
All of these features make it ideal for outdoor use and it's easy to move around as well. The smooth rolling wheels makes it portable and easy to move to different outdoor areas around your home!
How Does The Product Actually Work?
This evaporative air cooler is also environmentally and cost friendly. So who doesn't love that?! It gives you a nice cool breeze through the natural process of evaporation.
This means when warm air is drawn into the Honeywell Evaporative Cooler, it is filtered through a wet honeycomb cooling medium.
This in turn absorbs heat and naturally cools and humidifies the air. Then, the powerful fan pushes the cool air out of the front of the unit into the surrounding area.
Such as your outdoor deck/patio, garage, warehouse, and so much more! This no-compressor system cools inexpensively, efficiently and naturally.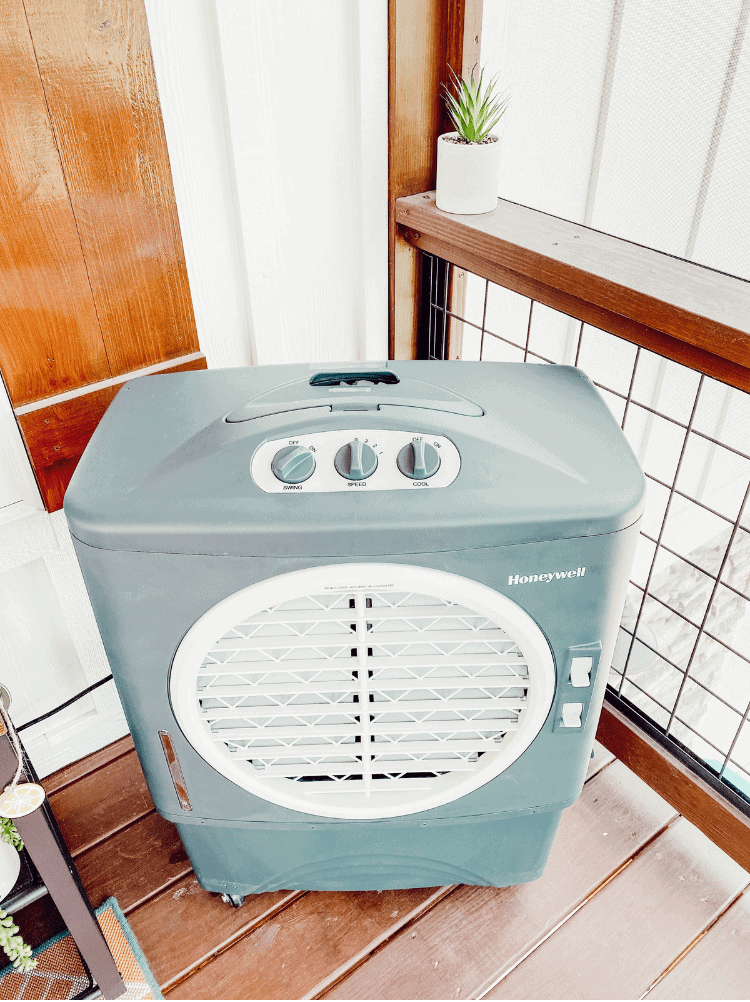 You may also be wondering what is the difference between an air cooler and an air conditioner. An air conditioner uses a chemical cooling refrigerant.
It also has to use a compressor to transform the hot air into cool air. This process in turn is very energy consuming. And since they use so much more electricity, that makes them much more expensive than this air cooler.
So as you can see, this is a much better option for your budget to keep you cool this summer!
Why Do You Need A Honeywell Evaporative Air Cooler This Summer?
Do you plan on enjoying some outdoor BBQs on your patio and/or deck space? Or do you plan on sitting outside and soaking up the sunshine this summer?
Well then, you definitely need this Honeywell Evaporative Air Cooler to keep you cool and and comfortable during the summer heat!
This product makes you feel like you are sitting out by lake with the fresh and powerful breeze it provides. So even if you aren't near a body of water, you can feel like you are with this amazing invention.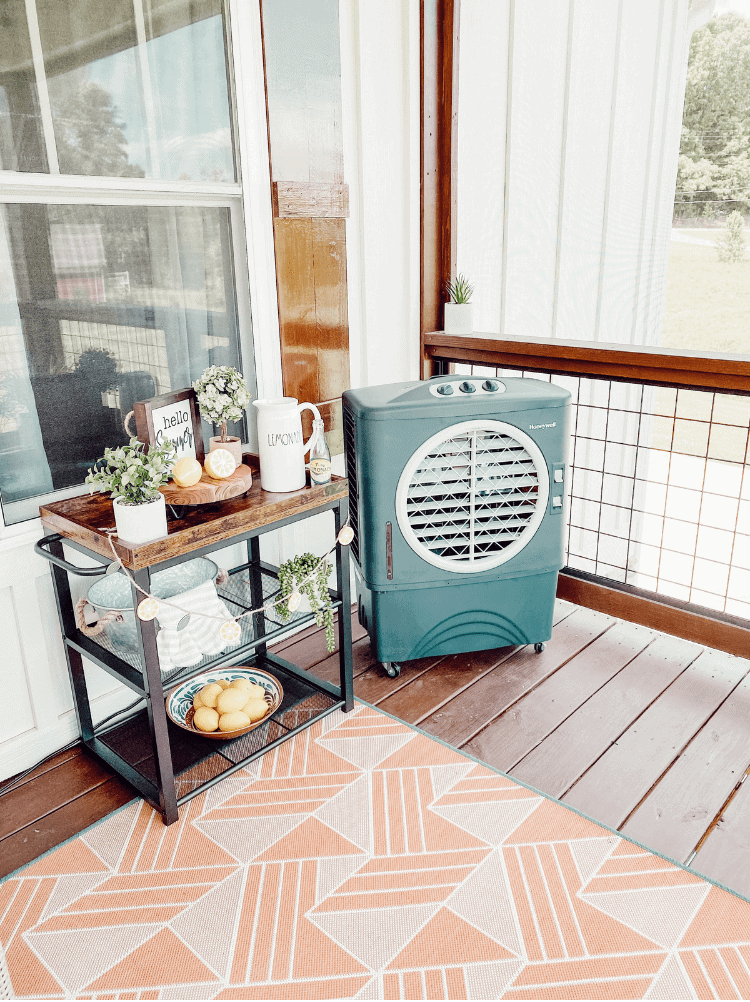 I have personally been loving my air cooler and I have been very impressed with it. We love to use it as we are sitting outside in our screened in porch watching tv and relaxing.
We also love to use it on our deck when we are enjoying a nice outdoor meal. Another way we enjoy it, is when we are relaxing in our rocking chairs on the front porch as well.
We have plenty of outdoor areas that we like to enjoy during the summer. But, we also live in the south and if you are from here too, then you know that it sure gets hot and humid!
Thankfully, this has helped us stay cool and comfortable during the warmer weather.
Conclusion
So if you are all interested in this product, I highly recommend that you check it out for yourself! You will not regret it!
Plus, Honeywell is a great brand. All of their products are made with the upmost quality and last for a long time.
So if you like mine, but you want a different style, you could totally do that too. You can also use my code "CHARITY" to get 5% off your order as well!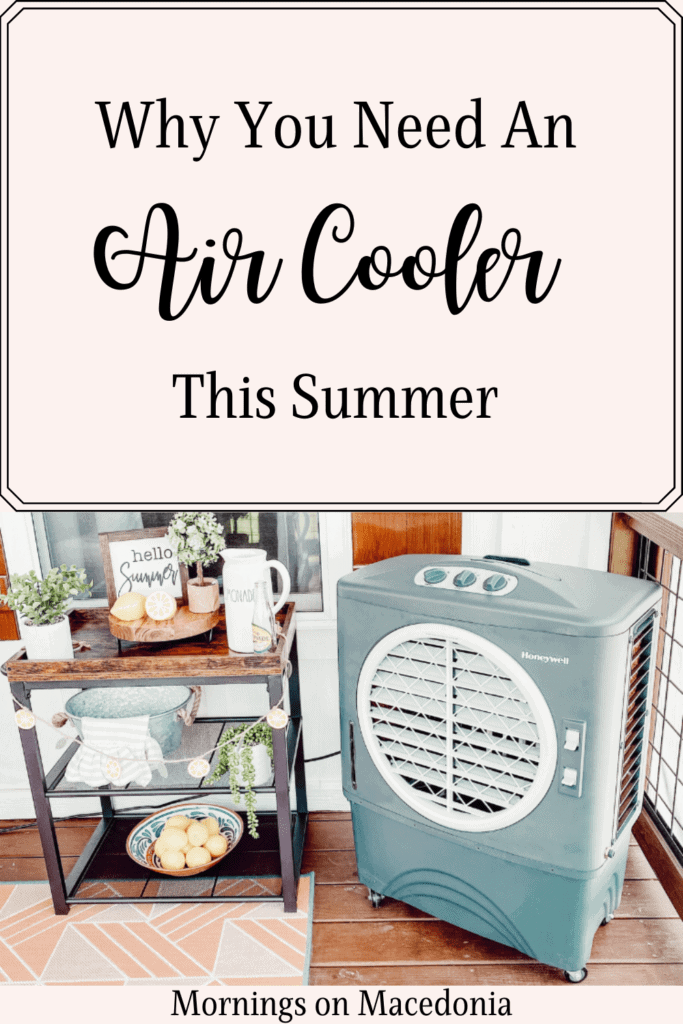 Have you ever used an evaporative air cooler before in your home? If so, I would love to hear about your experience too! Let me know in the comments below!