I've shared a lot of tablescapes in the past, but I think my Thanksgiving tablescape this year is one of my very favorites! I wanted to change it up a tad from my fall tablescape that I shared a little bit ago. I wanted something a little more elevated and fancy for our Thanksgiving table.
And I think I nailed it! I found most pieces from Belk and they all just came together so perfectly!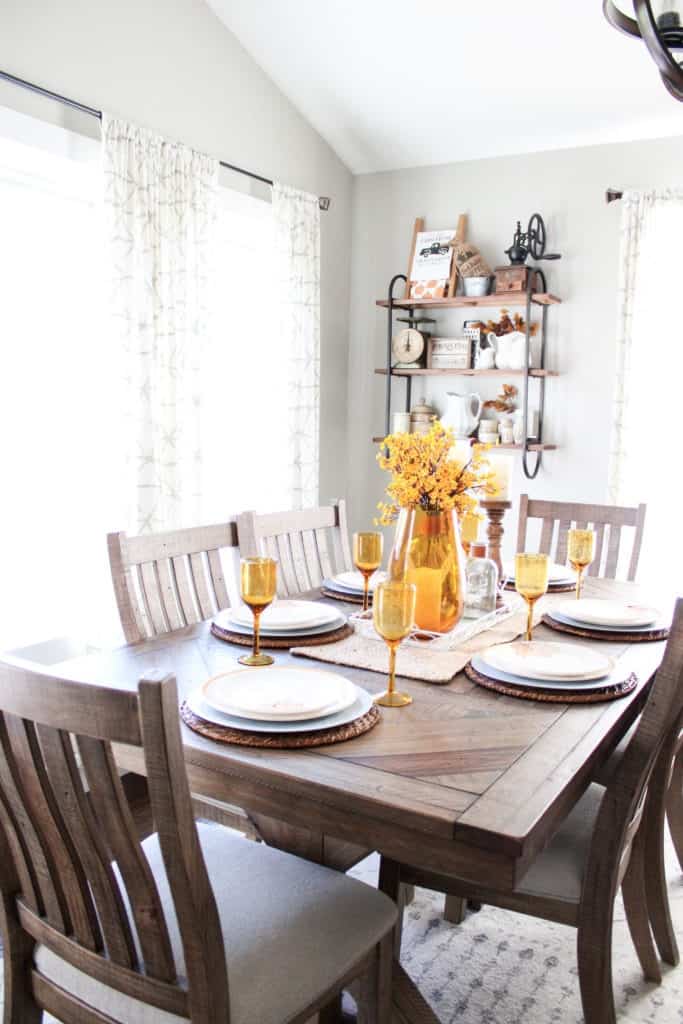 This post contains affiliate links. Click here to read my disclosure policy.
The Before
I started off with a blank slate. Just my usual placemats and galvanized metal chargers that I use. Then my white tray that I use as a centerpiece.
I emptied everything off of it first to get ready to style my Thanksgiving tablescape!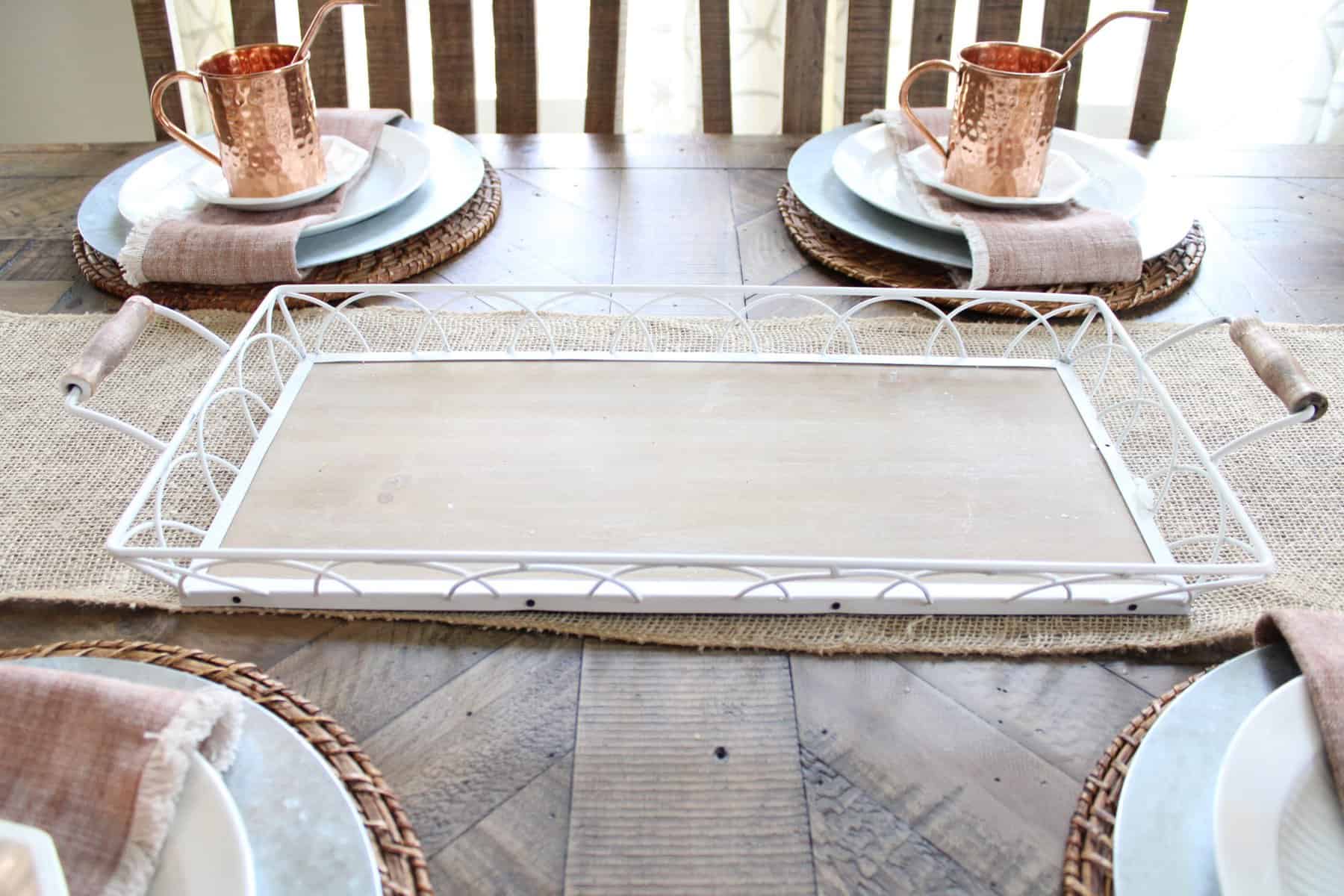 Amber Goblets
The very first thing I saw while shopping at Belk were these beautiful amber goblets. This is definitely what inspired my Thanksgiving tablescape to begin with. I just love the bubbly glass texture to them.
They almost look vintage and I think that is why I was so drawn to them. If you know me, then you know I am a sucker for anything vintage!

I think these amber goblets alone make the entire table feel more fancy. Don't you just love fancy and festive glassware?! It's not everyday that you can drink out of something so pretty!
That's why I wanted something a little more sophisticated than my copper mugs I had on my fall tablescape.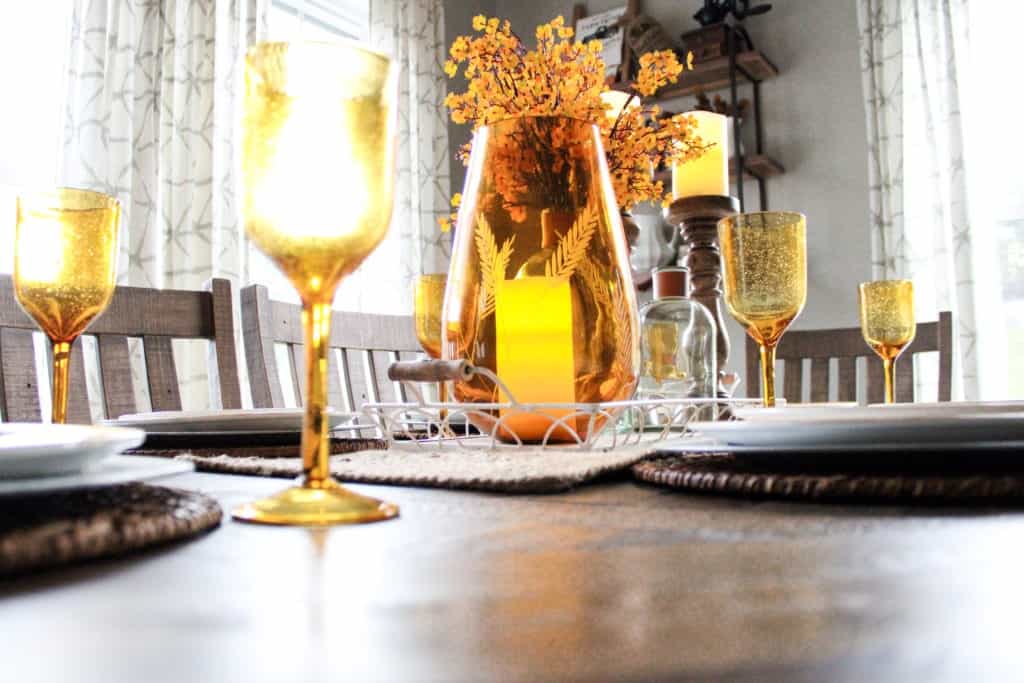 Amber Vase
To go along with the amber goblets, I saw a matching amber vase that I thought would be perfect in my centerpiece tray. They had two different sizes to choose from and I hesitated at first about which one to get.
I was originally thinking that the smaller one would look better, but at the end I changed my mind and grabbed the larger one.
And I am so glad I did because it is the perfect size!

Battery Operated Candles
Who doesn't love a cozy Thanksgiving Tablescape?! That's why I thought it would be fun to add in some battery operated candles.
You don't have to worry about the mess of wax melting from candlesticks onto your table with these beauties!

I found some beautiful mango wood candlesticks too and thought these candles would work perfectly on them. I got a small and a large one and I love the varying heights it creates.
I had one candle leftover after placing them on the candlesticks and I thought why not add it inside the vase?!

This created a cozy, ambient glow, especially at night. And I love how having the candle inside the amber vase really highlights the amber colors.
Which, as you can see, that was my main goal in creating in this Thanksgiving tablescape. I also love how these candles come with a remote control so you can easily turn them off and on.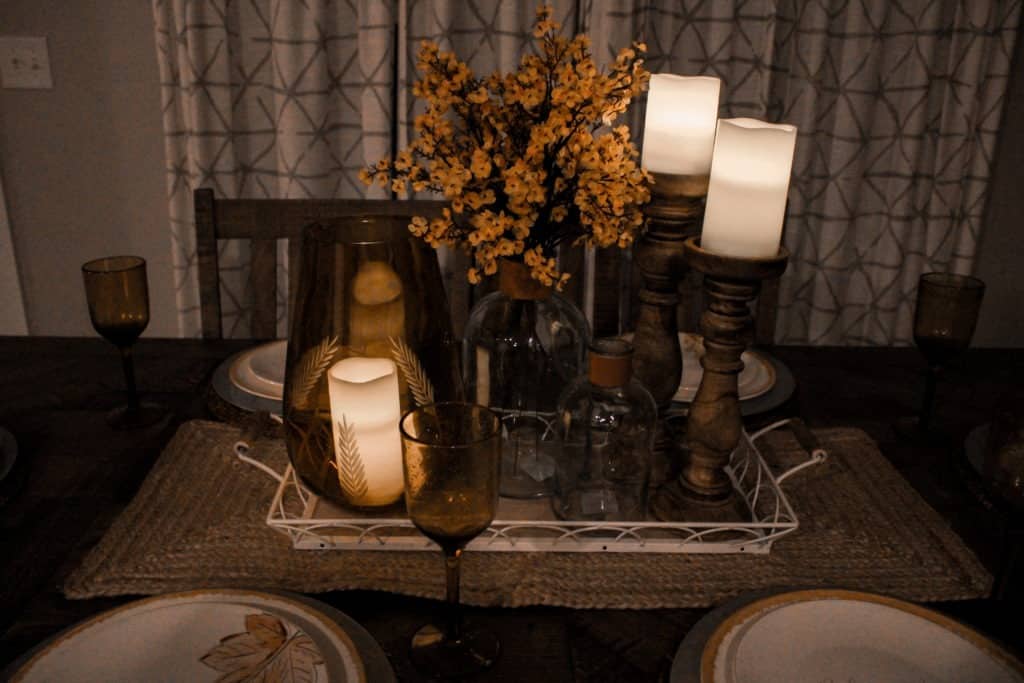 Festive Thanksgiving Plates
The next part of my Thanksgiving tablescape are these festive plates. I got a gold-rimmed dinner plate which I love because it's not too over the top.
The gold can be carried into Christmas and even New Years as well. You know I love to get pieces that can easily be transitioned into other seasons and/or holidays.

My salad/dessert plates are a tad bit more Thanksgiving related. As they all say "Blessed, Thankful, Grateful, and Gather".
But they also have a gold rim around them and beautiful gold leaf detailing as well. You could also break these out early and use them during the fall too if you wanted to get more life out of them this season.

Other Details
Another fun detail I added in is this beautiful jute table runner. This definitely can be used over and over again as it is a great neutral piece.
And it is the perfect length to lay under my tray that I always use for a centerpiece as well.

You may also remember these beautiful florals I used from my fall table this year as well. I decided to bring them on into my Thanksgiving tablescape too since they were the perfect color scheme.

Well, this is everything that I did for my Thanksgiving tablescape this year. I hope you enjoyed it and were inspired a little bit from it as well.
Are you hosting Thanksgiving this year? And if so, are you planning on doing a tablescape too?? I would love to hear all your ideas below!