If you have been around here for awhile, then you know I love to style my dining table for every season I can. I think it's a fun and creative way to add in some seasonal pieces. So I thought I would share with you all today some tips and tricks for styling a fall table.
I am no expert by any means, but after playing around with tablescapes for several years, I have picked up a thing or two! And since I shared all about styling my entryway table for fall last week, I figured I better show y'all how to style your dining room table too!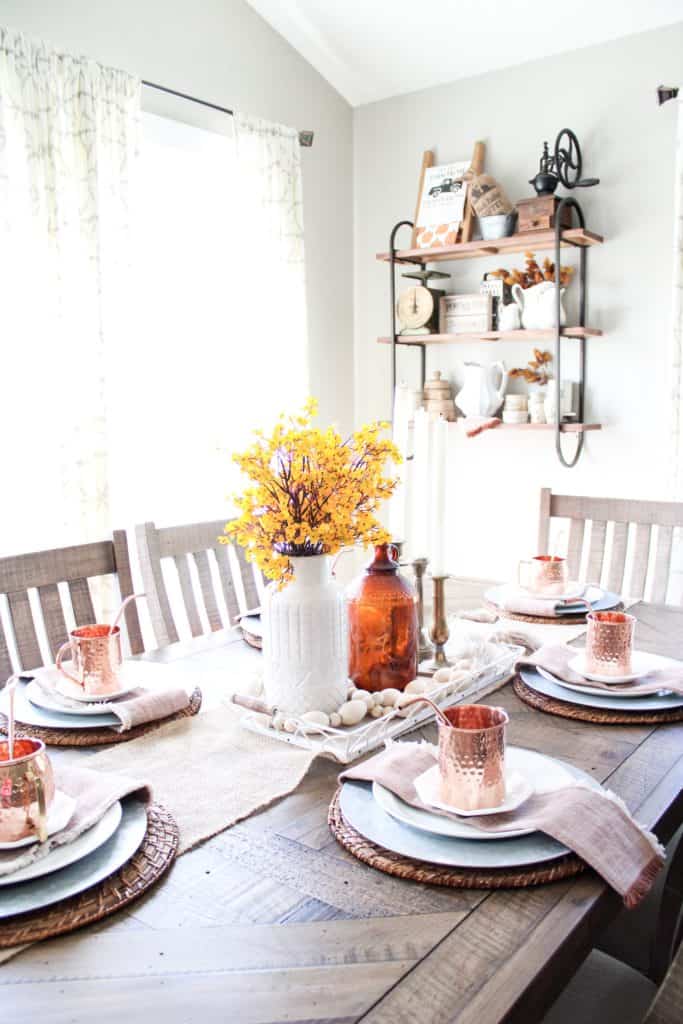 This post contains affiliate links. Click here to read my disclosure policy.
Use Cozy, Darker Color Tones
I think the biggest tip I have for styling a fall table, is to just use some darker color tones. This instantly makes everything feel cozy. And with the colder weather coming on, I want my home to feel as cozy as possible.
Some ways I add in darker colors is by simply changing out my napkins for the fall. I found these napkins below from the Hearth and Hand line at Target and I instantly fell in love with the rich brown color.
I believe the color is officially called pumpkin brown and it is just perfect for my fall table.

Another way I added in some darker colors is by using my copper mugs instead of my ironstone mugs. I usually always have my ironstone pieces out of my tablescapes.
And I still am using the plates this time, but I just took away the mugs and replaced them with my copper ones instead.

I have a mixture of two different sets. They each have four mugs in them and I have six place settings total on my dining table. So obviously, I couldn't use the same for the entire fall table.
I ended up using all four of the above mugs, and then two of the ones below. I placed those on the end table spots. It made it look a little bit of a mix and match style which I love!

Add in a Centerpiece
To style a fall table easily, you should start with a centerpiece. I use a beautiful tray that I got from my friend Jackie's store, Rodworks of Asheville.
The vase and chunky, beaded garland is also from her shop as well. These are all pieces that I use year round and just switch a few things out seasonally. I also love to add in vintage amber jars for a deep, rich color as well. They are perfect for fall decor all over the house too, not just the table!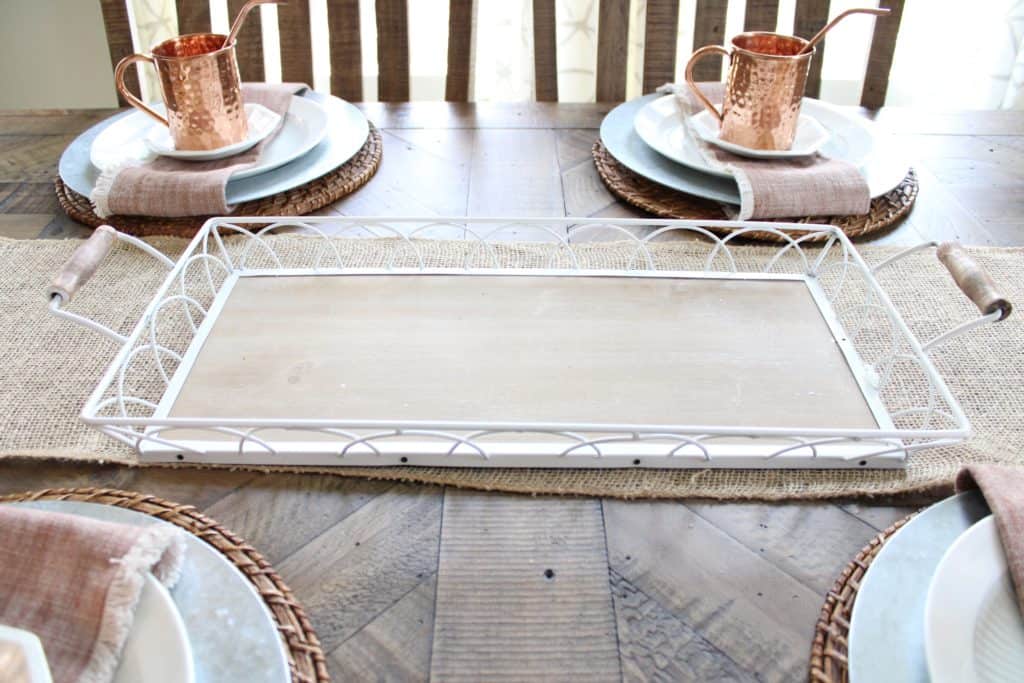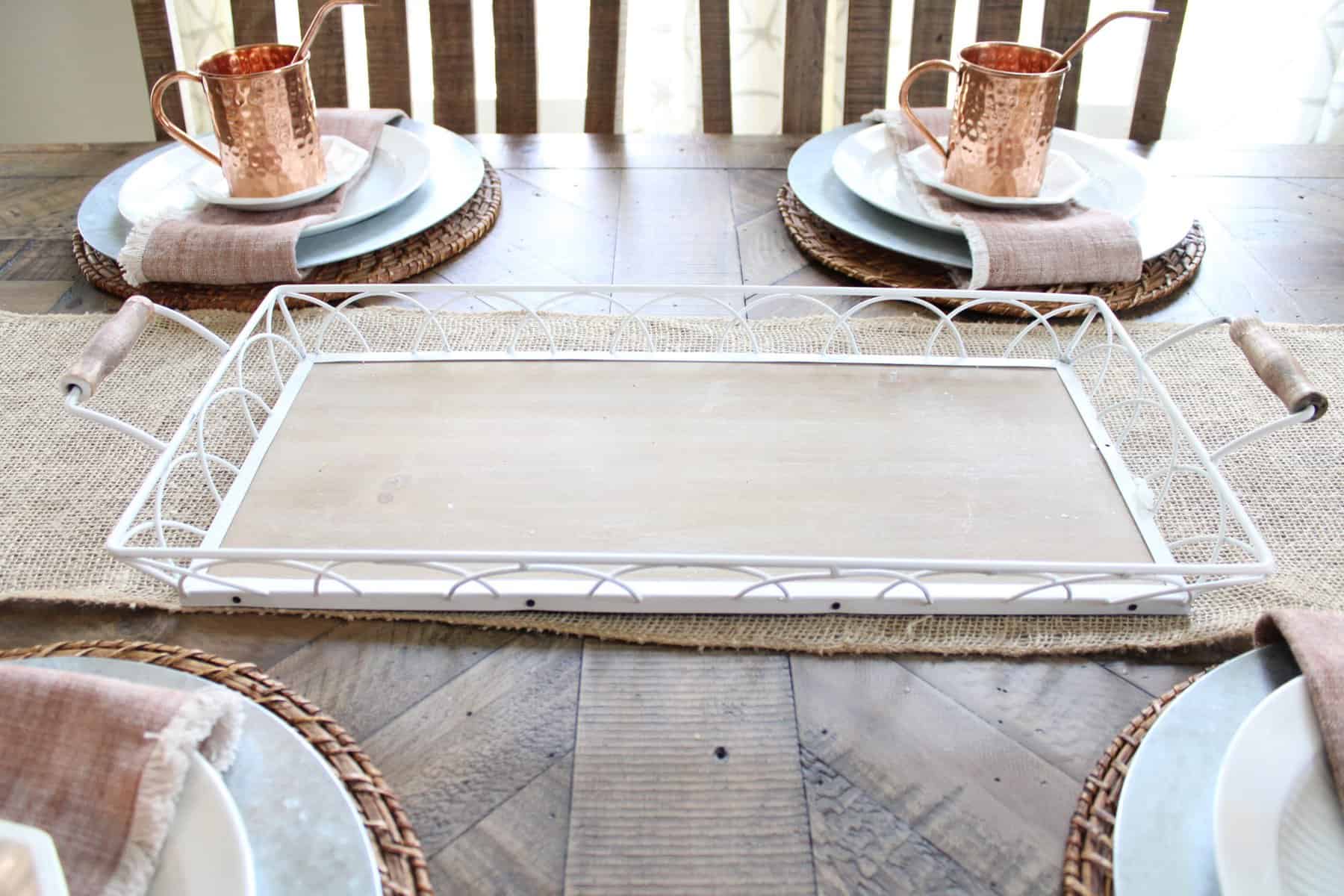 I like to keep everything pretty neutral on my centerpiece, but I add in a pop of color with my florals. I ordered these off of Amazon and they had several different colors to choose from.
This one is the "orange" color. However, I would say it is more of a yellow-orange because it is very light. But I do love the pop of color it brings to the centerpiece. I also kept my vintage brass candlesticks as well. They usually always stay on my centerpieces throughout the seasons too.

Style Your Place Settings
Another tip I have for your fall table, is to style each individual place setting as well. I start off by using my round wicker placemats and placing a galvanized metal charger on top.
Then, I use my vintage ironstone plates that I normally use for every single tablescape I do on top. The napkins I mentioned before are placed on top of the dinner plate and then I use the dessert plate on top of the said napkin.
You'll notice I only tucked the upper side under the plate. I left the lower side out because I loved the dark brown color of the fraying end. It goes really well with the amber jar in the centerpiece.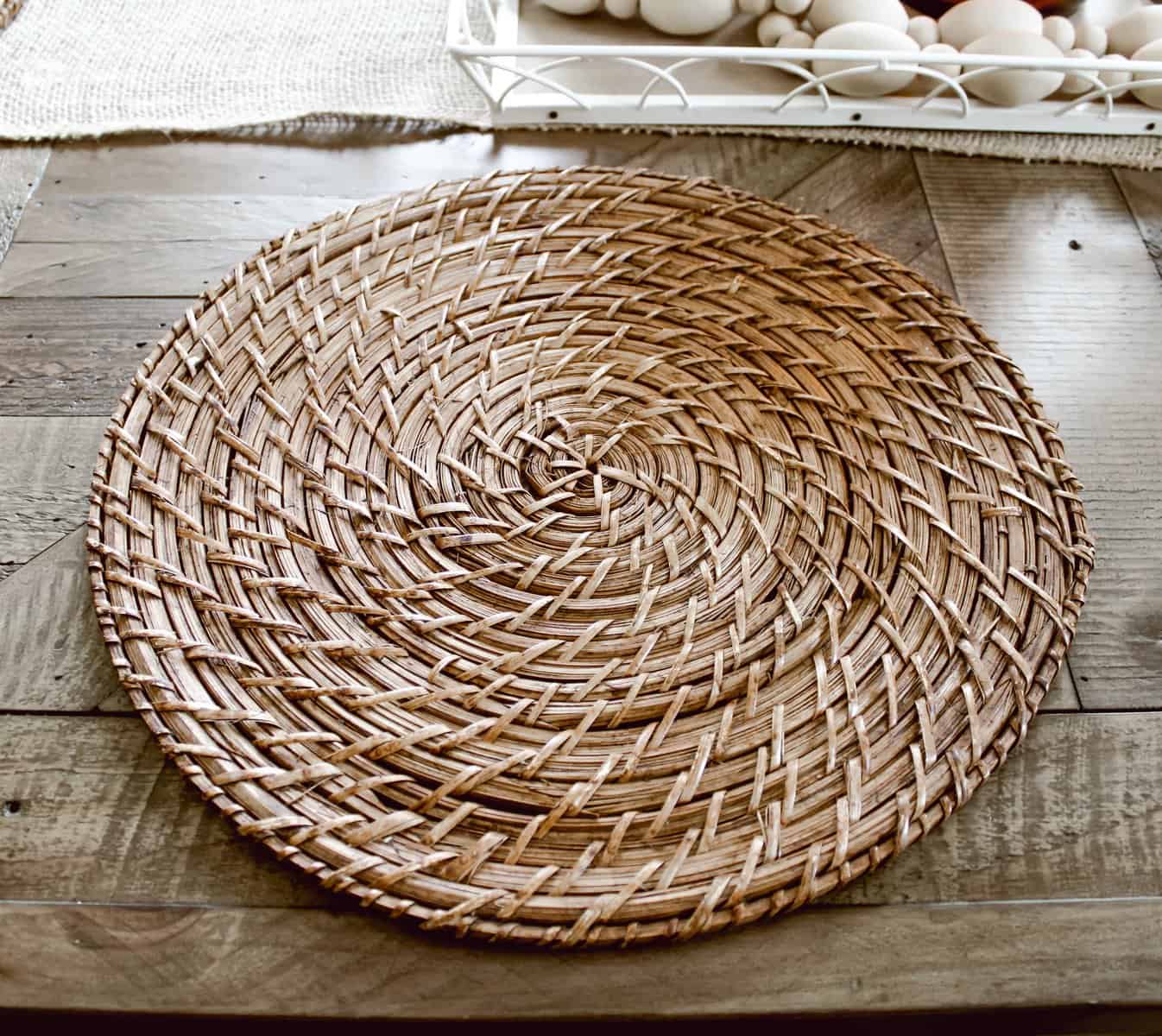 Keep It Simple
Well, there you have it! That's all there is to my fall table this year. I try to keep it as simple as possible and not spend too much money.
The only new things I got this year were the napkins and the florals in the vase. Everything else I already had so it did not end up costing me much money at all. When you keep it simple, you don't stress out as much.
Just use what you have and order a few new things here and there if you want to. But no need to stress out and make an over the top elegant tablescape. Do what works for you and your family the best!
I hope you enjoyed these tips and tricks for styling a fall table! Maybe you can implement some of them into your dining room table as well. Let me know if you do!