How many of you all had a New Years Resolution to eat healthier for 2020?! I know I did and it is so hard to keep it up. But, my friends over at Nature's Garden sent me over their brand new Keto snack mix and I am hooked! I just got it the other day and I can't stop eating it! I'm literally snacking on some right now while typing this.
Y'all know I don't promote products unless I really love them and I am here to tell you that this really is an amazing snack mix. It is full of pepitas, almonds, macadamias, pecans, and probiotic cheese balls to keep you full and energized for hours. And I'm not even on a strict Keto diet, but I love it! Keep on reading for some more information and a coupon code just for you!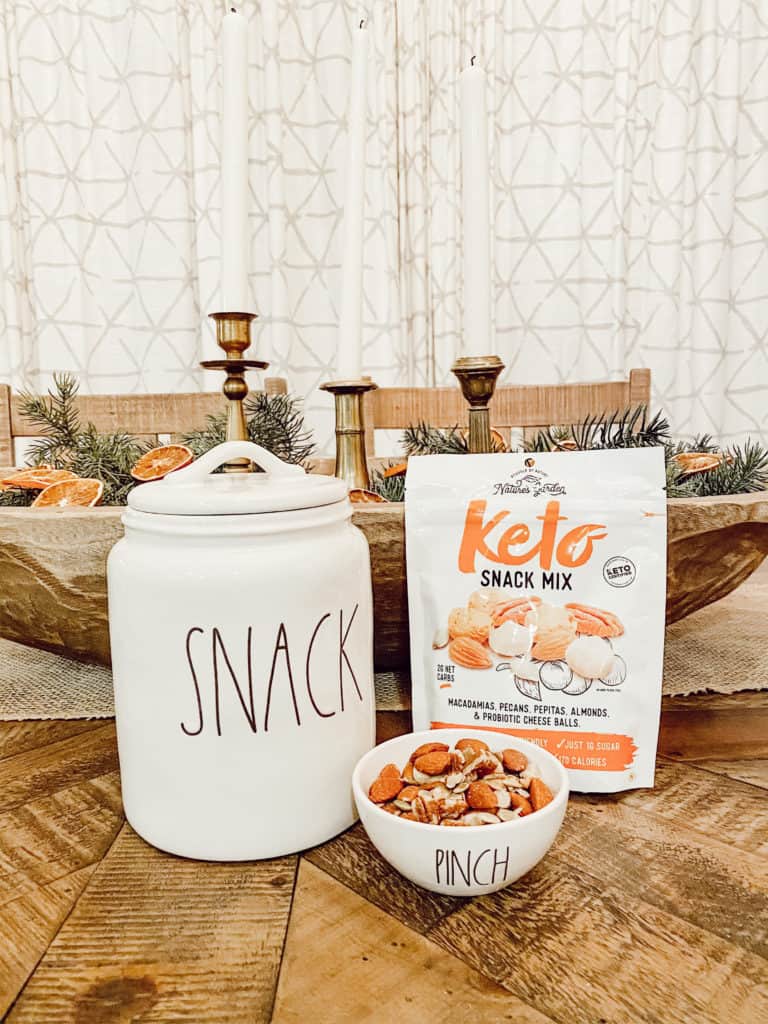 Benefits of the Keto Snack Mix
So first of all, this is the only snack mix of its kind that is officially Keto certified. So if you are on the Keto diet, you definitely need to have this as a staple in your pantry. I will also list some other benefits of this amazing snack mix per serving as well below:
7G of protein
15G of fat
170 calories per serving
2G net carbs
Just 1G of sugar
Probiotic
This snack mix is full of natural and delicious ingredients to help you become happy and fit. Each serving of this snack mix provides 5 billion cfu probiotic Howaru Shape B Lactis B420. In clinical studies, consuming 10 billion of this probiotic per day helps the beneficial bacteria in your gut and helps contribute to body weight decrease as well.
Ingredients
Almonds
Pepitas
Dried Cheddar Cheese (Pasteurized milk, cheese culture, salt, annatto- vegetable color, Bifidobacterium Lactis B420)
Pecans
Macadamia Nuts
Sunflower Oil
How to Order
So if reading all that piques your interest in ordering a Nature's Garden Keto snack mix of your own, I have all the information for you here. Be sure to use the code KETOSNACK15 in order to get 15% off your total order too! And also, if you're interested in entering a giveaway for free product, be sure to give them a follow on Instagram (click here to do so) and like their "product giveaway" photo for a chance to be entered! You definitely want to try this snack mix out for your own and see how much you like it- I know you will!