If you've hung around here long enough, then you know I love simple DIYs and easy ways to change out my decor from season to season. So today I wanted to share all about my Winter tablescape I have created and mainly all about my centerpiece.
I didn't change too much after Christmas and the total cost for this project was under $25 for me to create so it was very reasonable.
It also did not take me very long to style and I was able to do one of my favorite things- go thrifting to find all the pieces I needed! Keep on reading to see just how I styled everything and see where I bought everything that I needed for this project as well.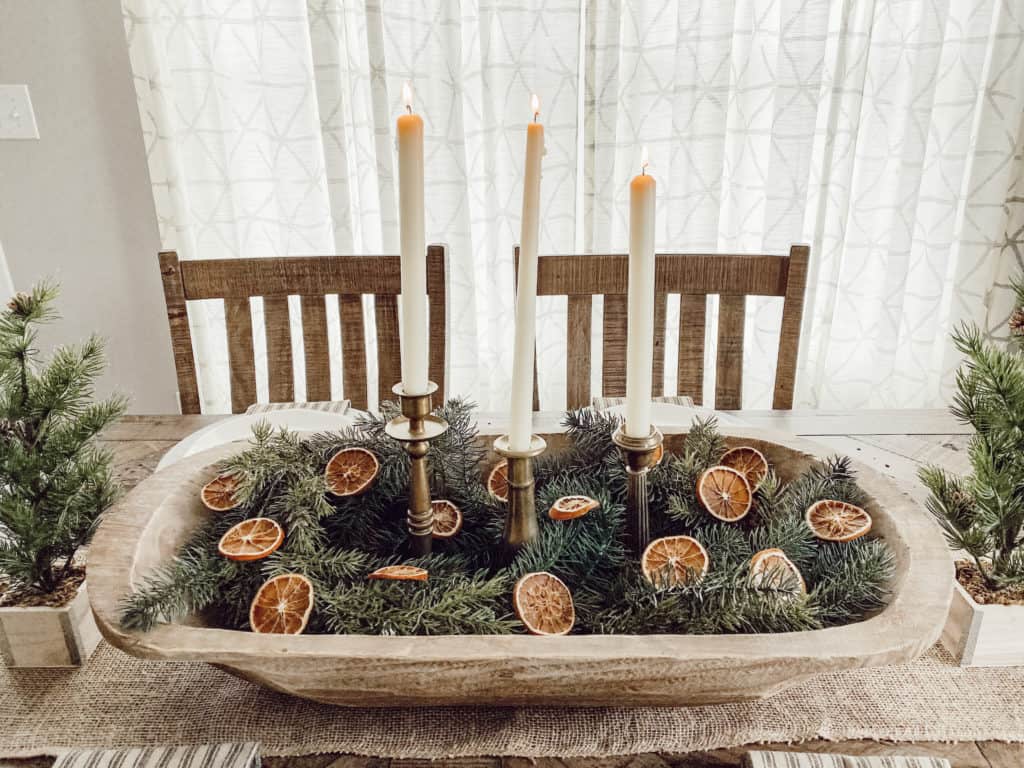 Brass Candlesticks
So I think the real showstopper here is the antique brass candlesticks I found while out thrifting after Christmas. I found one and was inspired to find a few more. After the first one, I was hooked.
I only put a total of three in my dough bowl because that was really all that I could fit at the bottom part before it started to curve upward.
And plus, grouping things in threes is always preferred in interior design anyway so it worked out perfectly. I got these pretty little things for $6 and under a piece so that was really my only cost to this project besides getting the candles to go in them as well. I got the candles from Michaels and they were under $2 a piece as well so it was very cheap!
I found the candlesticks from the Antique Tobacco Barn. It's a local antique store near me and it was even feature in The Magnolia Journal before! So it's kinda a big deal!
It's in an old barn and there are over 75 antique dealers there to shop from. I do love going there often to browse around, but I will say their prices most of the time are on the higher end so I don't purchase too many pieces from there.
I have better luck in Tennessee, as you probably remember from my last blog post (click here in case you missed it). But every now and then I will find a great deal (like these candlesticks) and I just can't resist!
If you're ever in the Asheville area, then I do recommend that you go and check them out since you never know what you can find! I will put all their information below for you just in case you're interested in taking a trip there sometime:
Antique Tobacco Barn 
75 Swannanoa River Rd
Asheville, NC 28805
(828) 252-7291
Website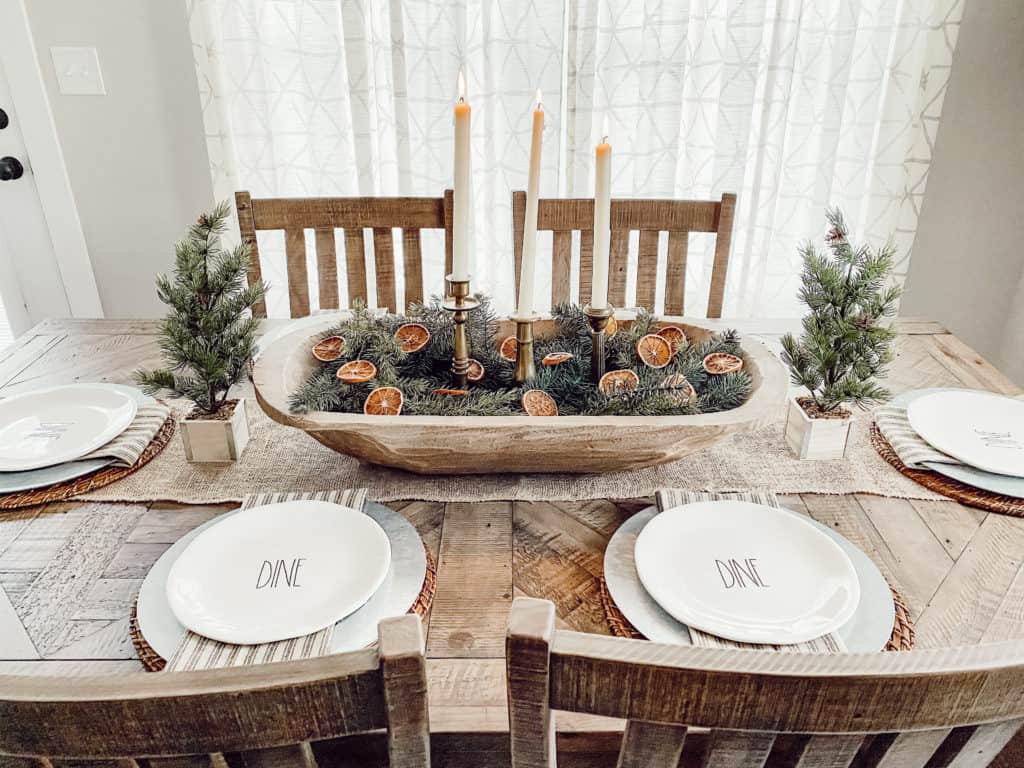 Garland and Trees
Another main thing I kept in my centerpiece was the garland I used at Christmastime. It isn't very Christmasey at all and it doesn't have any red to it, so I figured I could leave it out for winter. Plus, it has cute little pinecones on it too so it is definitely perfect for winter.
I also took apart my dried orange garland and laid the slices on top of the garland for more texture and warmth. Another thing I did was I left out those two little tabletop trees that I got from the Target Dollar Spot a few years ago.
They just have pinecones on them as well so I felt as though I could get by a little longer with those displayed. Both the trees and garland transition perfectly into winter after Christmas.
New Napkins
The last thing I added to this Romantic Winter Centerpiece of mine were new napkins. But I didn't spend a dime on them because I won a giveaway on Instagram! Yay me, that really never happens!
But I got a set of six rustic looking napkins from Piper Classics. They have the cutest farmhouse and primitive style decor so if you haven't heard of them before, you should definitely go check them out. You can find the napkins I used for this tablescape here if you're interested.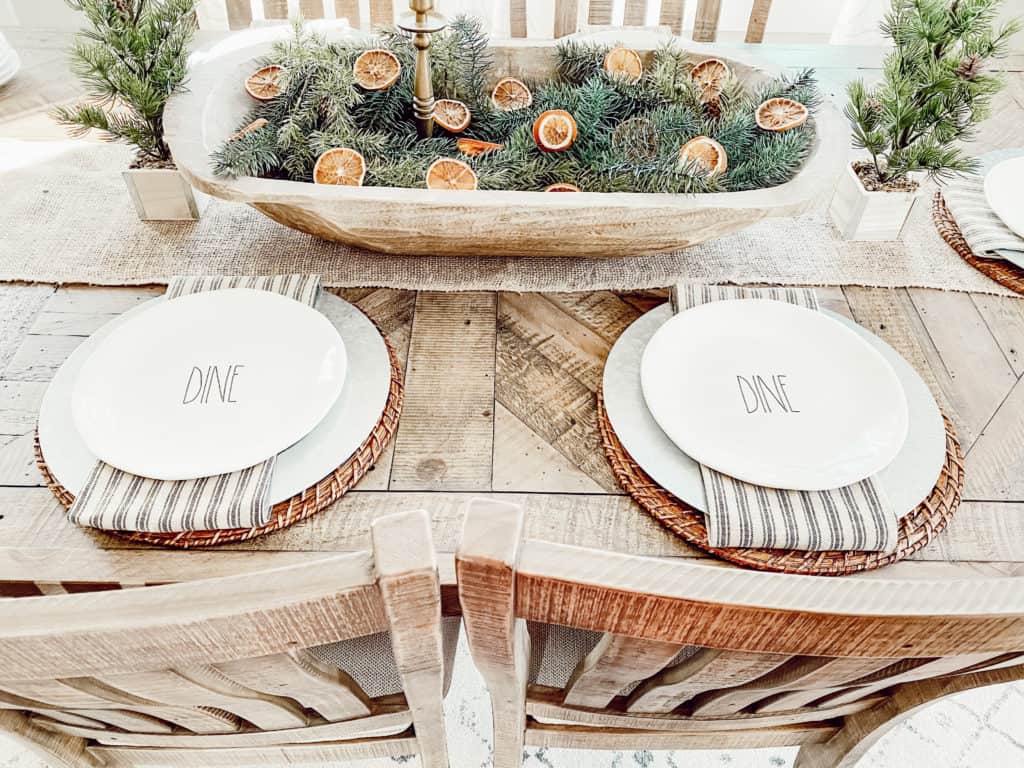 Well, that's everything that I did in order to create my romantic looking winter centerpiece. I am very happy with how it turned out and I will be enjoying it all winter long. What do you guys think?? Let me know below and thanks so much for stopping by!