Whether you are hosting Thanksgiving dinner, or just enjoy having a beautifully decorated table, I am going to show you my Thanksgiving tablescape and hopefully you will get a few ideas from it as well!
In my last blog post, I shared all about my DIY painted pumpkins. In this post, I am going to show you how I put it all together to make a pretty fall table!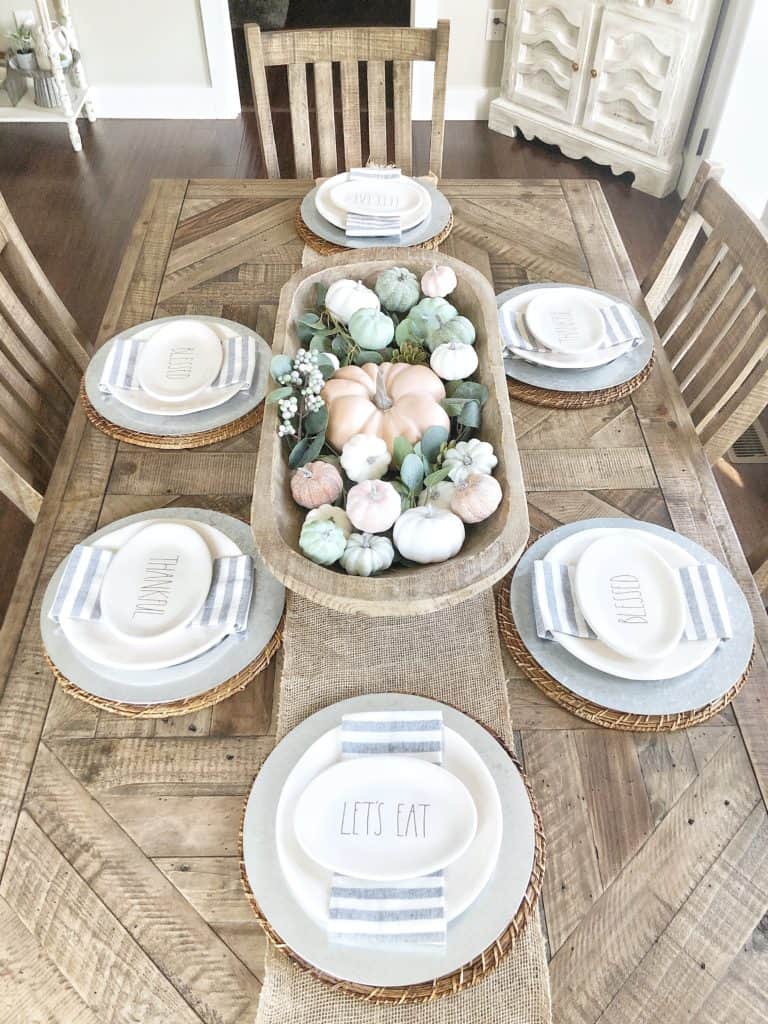 This post contains affiliate links. Click here to read my disclosure policy.
Dough Bowl
So my main focal point is obviously the dough bowl. Which I scored on mega clearance from Hobby Lobby this year. It was an incredible deal and it was 75% off! If you're looking for a large dough bowl, they can be a little pricey so I recommend waiting and then running to your local stores when they have great deal like that! Don't buy it when it is full price!
Like I stated in my last post, I found that large peachy pumpkin from Marshall's and placed it in the very center of my dough bowl. Then I placed all the smaller DIY pumpkins I made around it.
I realized very quickly that this dough bowl was deeper and wider than I thought so I definitely needed more pumpkins to fill it. I luckily found a pack of filler and smaller pumpkins back at Hobby Lobby that had the same color scheme as the ones I painted already.
So adding them helped to fill in the space and I also added a eucalyptus garland for some greenery. And in case you don't know this, Hobby Lobby garlands are 50% off every other week so if you go and they aren't on sale, wait until the next week to get them!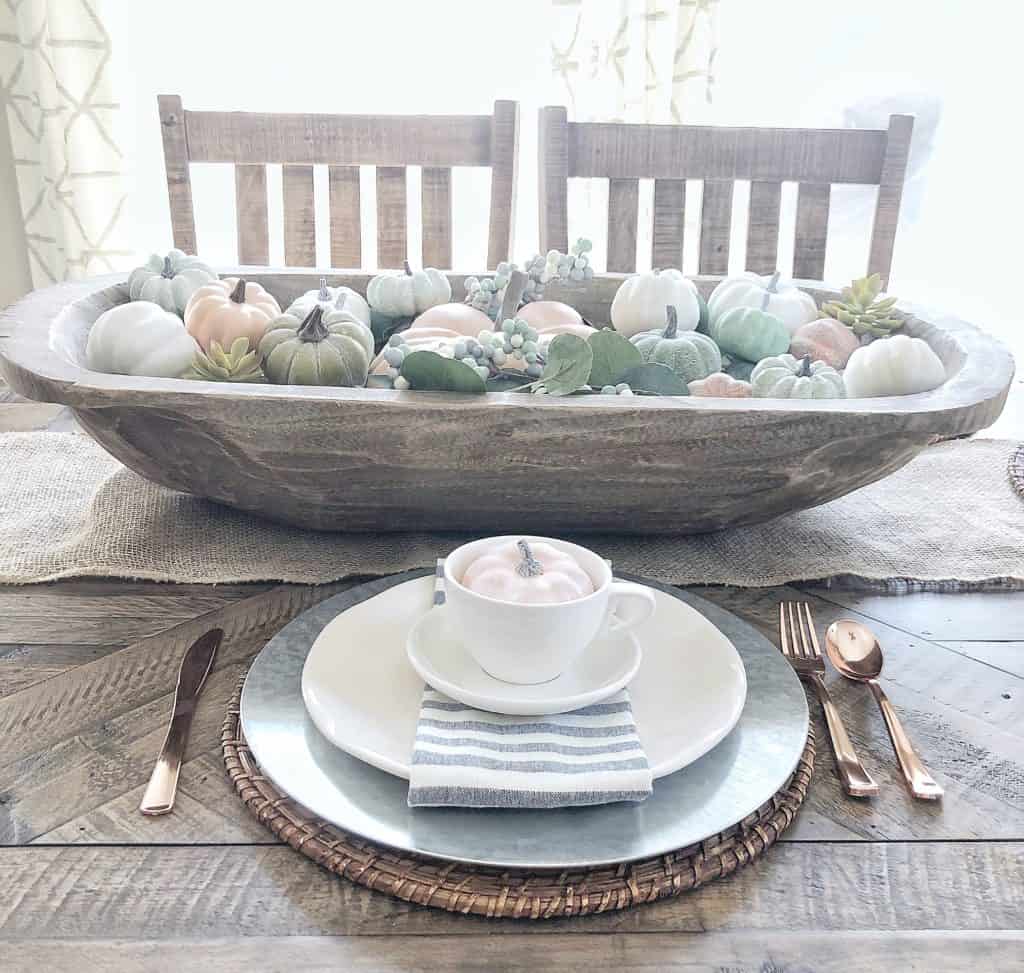 Dishes For Thanksgiving Tablescape
Next up is placing all the dishes around the table. I like to use my Rae Dunn dining plates on top of my chargers and then add a colorful napkin and top it with a Rae Dunn oval. Luckily, I found a few last year that said "thankful" and "blessed" which are perfect for this season.
But obviously whatever dishes you have will work just fine! I found the cloth napkins at TJ Maxx and I love looking there for reasonably priced napkins. Normally they have a great selection to choose from.
The chargers are from Hobby Lobby and the place settings are from Old Time Pottery. I love keeping the base neutral so then I can just add pops of color from the napkins for each different season. It makes it very easy to change out.
I also recently discovered a great company that makes quality, disposable cutlery which I have been incorporating into my tablescapes often as well. They come in a variety of colors such as rose gold, gold, and silver.
It definitely looks fancy, but it makes your cleanup time much faster after hosting a meal! So they would really be perfect for Thanksgiving. If you want to add some to your tablescape too, you can find them here.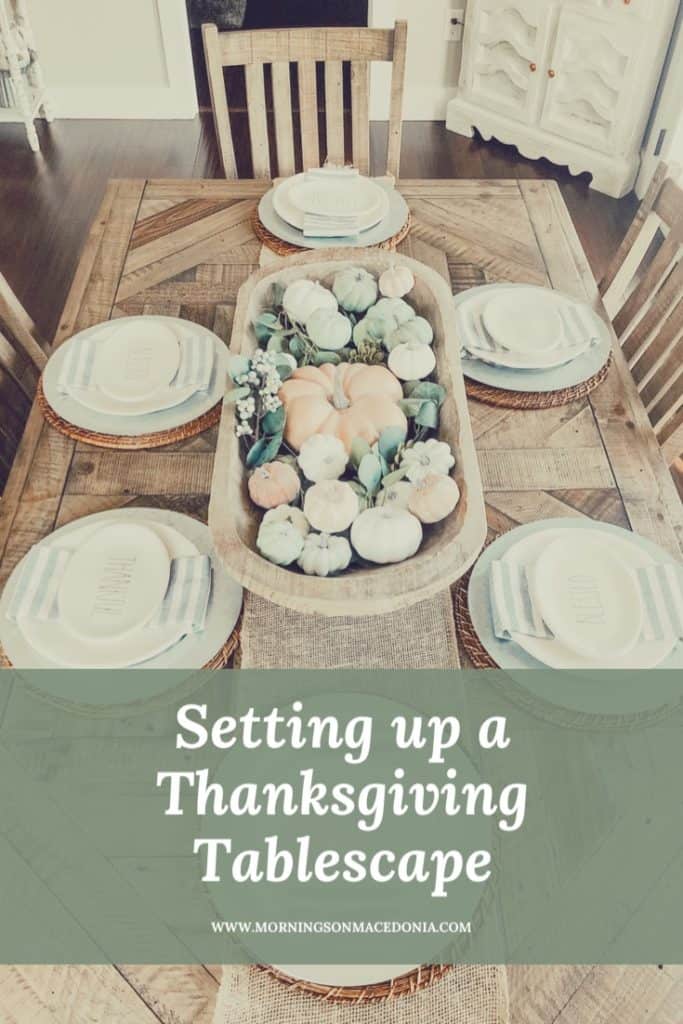 Table Runner
I also forgot to mention that the burlap table runner I have is actually leftover decorations from our wedding a few years ago. So not only is it perfect for fall, but very special as well!
I hope this post inspired you all to create a beautiful, simple fall or Thanksgiving themed tablescape too. There's a lot of other great ideas out there too, just spend a few minutes browsing Pinterest or Instagram and see what speaks to you!
Can't wait to see what y'all come up with!