If you're southern like me, then you may have heard of this recipe before. But, if not, I am here to give the perfect southern egg custard pie recipe. Growing up, we always had this pie for Thanksgiving dinner and Christmas too. However, I haven't made it in several years.
So I got a craving for it the other day and decided to try it out for myself again. And I am so glad I did! It tastes just like I remembered! The best part is, the recipe is pretty easy to make too. Especially if you use a store-bought crust too!
If you're ready to make this delicious dessert too, then follow along with my easy recipe below! It's a simple dessert with a light texture and nice finish. Plus, who doesn't love an easy pie recipe?! I know I sure do. Gimme all the homemade desserts without much work! Don't you agree?!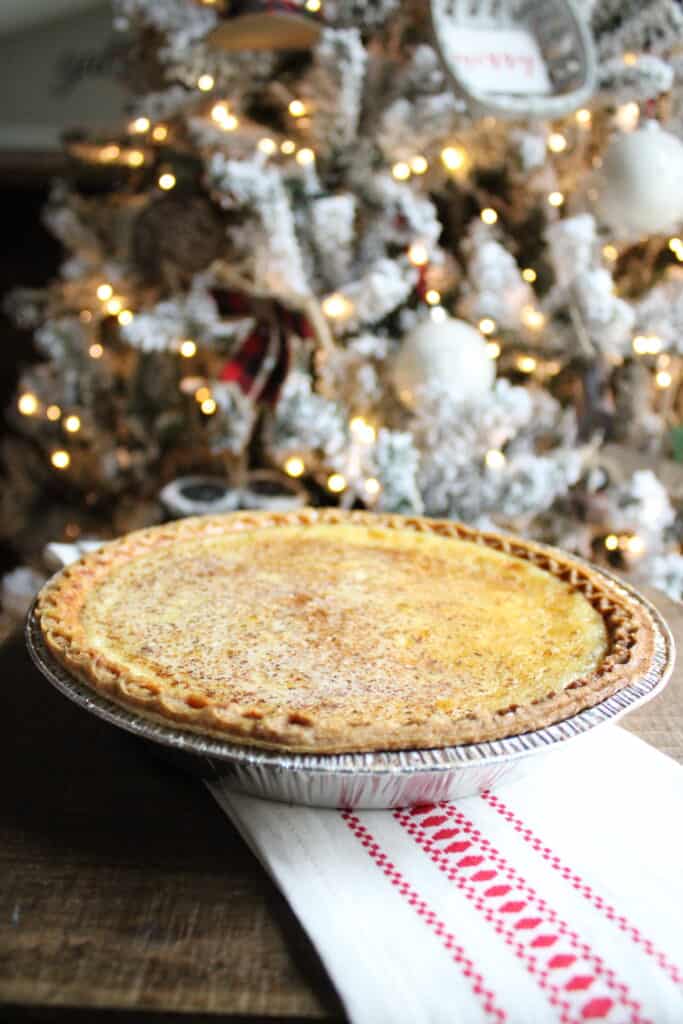 This post contains affiliate links. Click here to read my privacy policy.
Basic Ingredients Needed for Old Fashioned Custard Pie:
1 (9 inch) unbaked pie crust
4 large eggs
3/4 cup of sugar
1/4 teaspoon of salt
1 teaspoon of vanilla extract (see my homemade vanilla extract recipe)
1 1/2 cups of whole milk (you can use regular milk too if you don't have whole milk on hand)
1 cup of heavy cream
1/4 teaspoon of ground nutmeg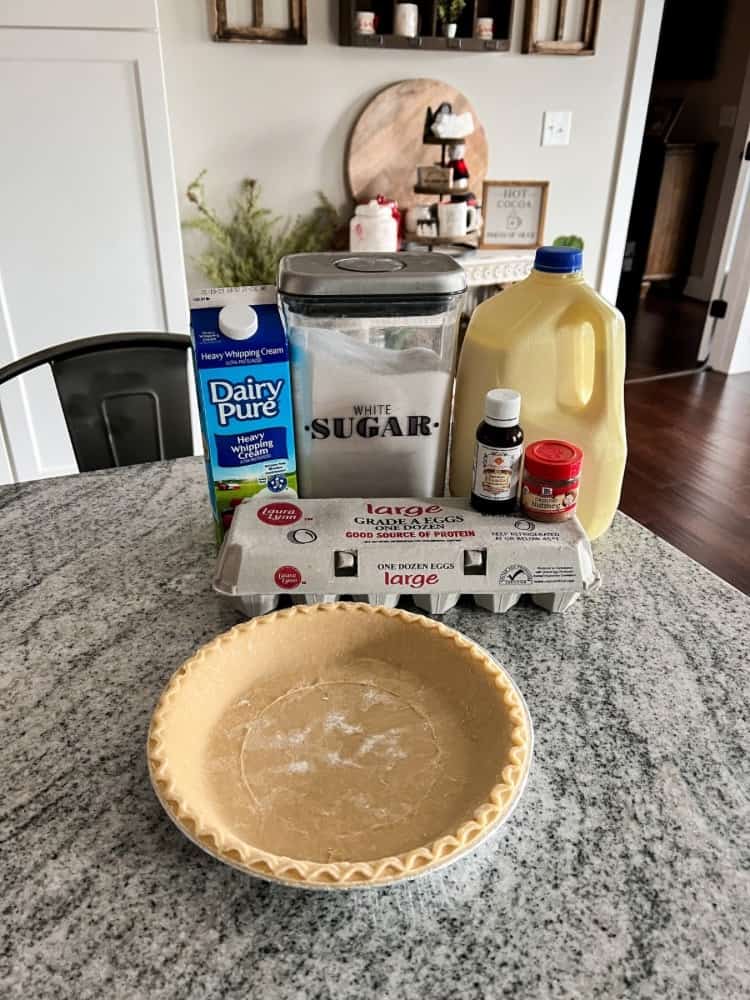 As you can see above, this pie is full of basic, simple ingredients that I am sure you already have!
Store-Bought Crust Versus Homemade:
Like I mentioned above, you could use store-bought crust, or if you have a favorite pie crust recipe, you could make it from scratch too. I do think a homemade pie crust yields the best results when it comes to an old-fashioned custard pie.
There's nothing better than flaky pie crust! Whenever I make a homemade pie dough, I use this recipe here. I usually make it for my homemade chicken pot pies too.
But to make it more of a simple pie, we are just going to use a store-bought crust. I used Mrs. Smith's brand and I got a pack of two. Because, yes, we did make two pies instead of one. Since the first pie didn't last us very long! And even though it was store-bought, it still gave me a nice buttery crust texture when it was finished baking!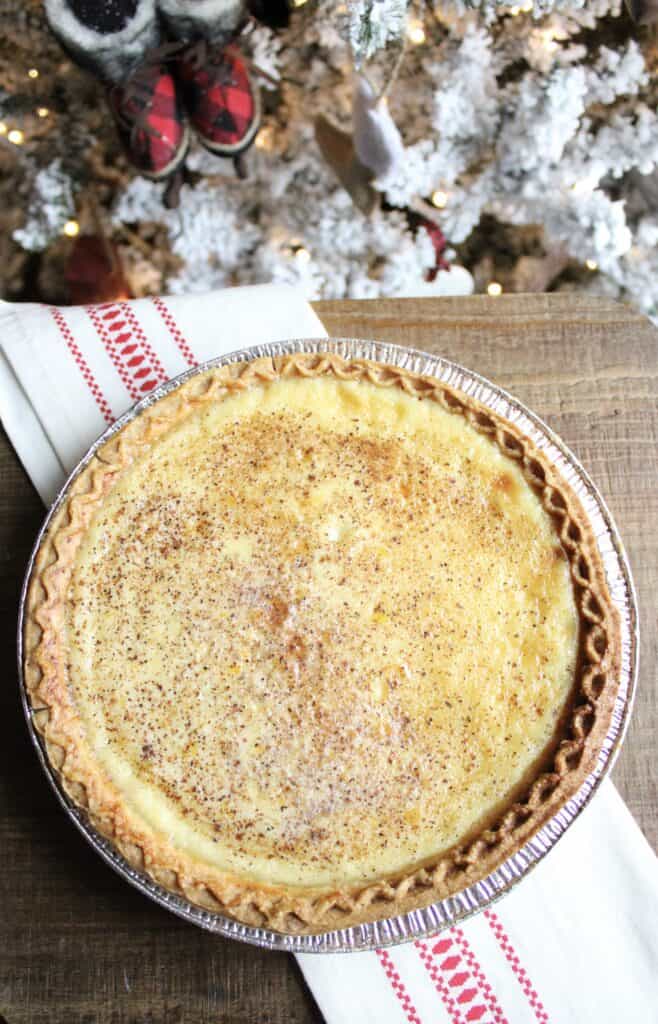 Instructions:
Preheat your oven temperature to 375 degrees.
Separate one egg white from one egg yolk, saving both in a medium bowl.
Brush your pie crust with the beaten egg white. Be sure to get the edges of the pie well. And bake for 7-8 minutes (I did 7 minutes). Let cool for a total of 10 minutes before pouring egg mixture on top of pie shell.
To make the creamy egg custard filling, whisk together 3 eggs, plus the reserved egg yolk and whatever is left from the egg white in a large bowl. Add in sugar, salt, vanilla extract, heavy cream, and milk.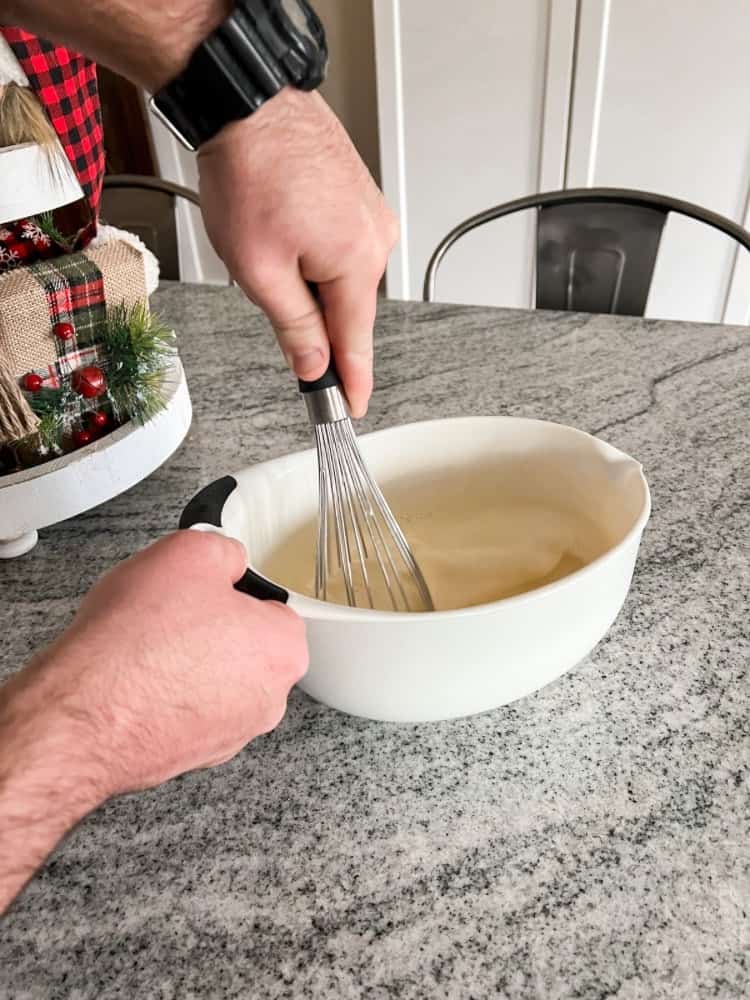 Pour custard filling into pre-baked pie crust and sprinkle with nutmeg.
Bake 35-45 minutes on the center oven rack or until a knife inserted in the center of the pie comes out clean. Mine took the full 45 minutes to bake.
The edges of the crust will be a nice golden brown color. And the top of the pie may jiggle a little bit when you take it out. That's normal. You want it to be that way so it has a creamy texture when done.
Let pie cool on wire rack to room temperature.
To store homemade pies, wrap pie in plastic wrap or aluminum foil after reaching room temperature. Or store in an airtight container if you have one large enough.
Then, store in fridge for up to 3 days. But, trust me, it won't take you that long to finish them! This recipe makes one heck of a delicious pie for sure!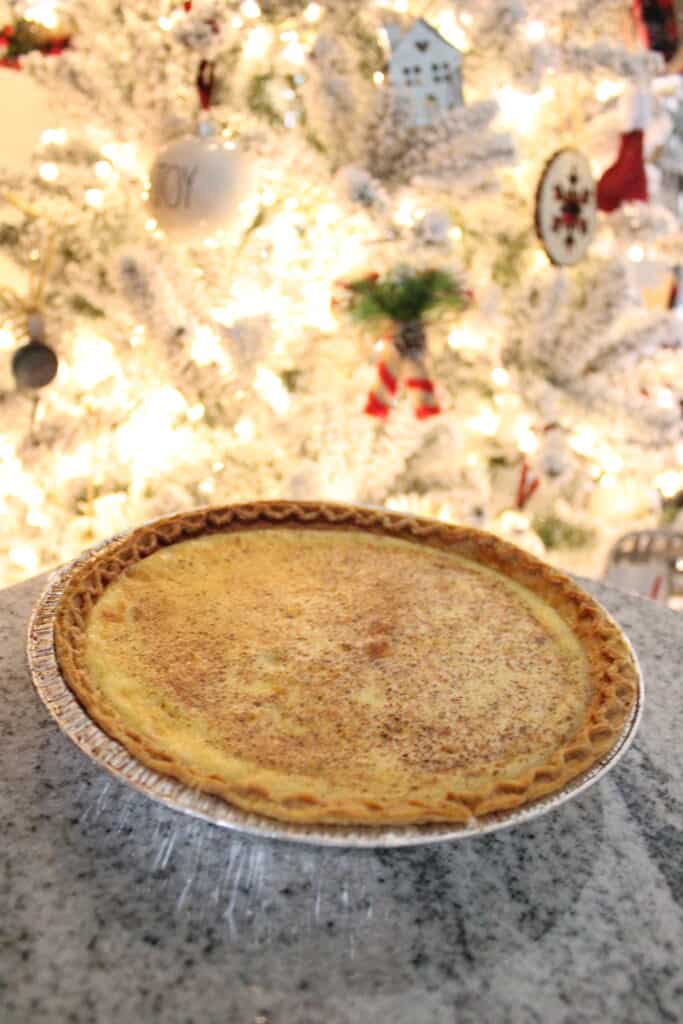 Recipe Notes:
This recipe not only created a creamy custard pie, but enough leftover egg mixture for me to make mini egg custard pies as well! I used a mini muffin pan and sprayed about 10 slots with nonstick spray.
I then made a graham cracker crust to place on the bottom. I used about a cup of graham cracker crumbs and 2 tablespoons of butter to make it.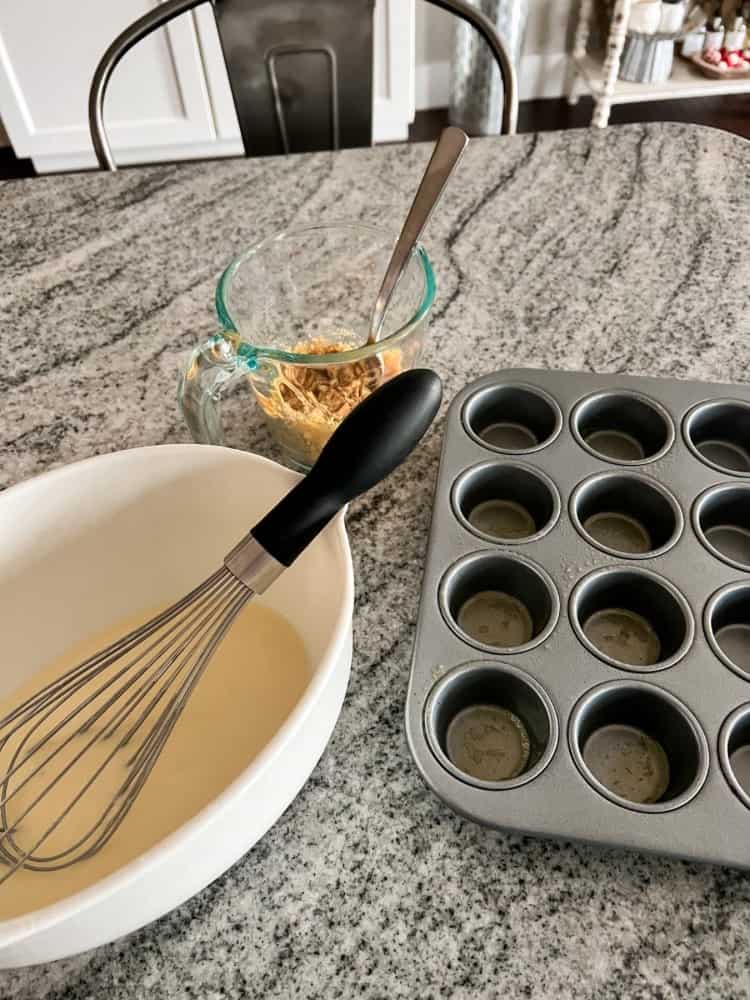 If you have leftover pie crust, I think that would be better, but since I used store-bought crust, I didn't have any on hand. So I improvised and used what I did have instead.
I also found that my ground nutmeg spice container was the perfect size to press down the graham cracker mixture into the pan.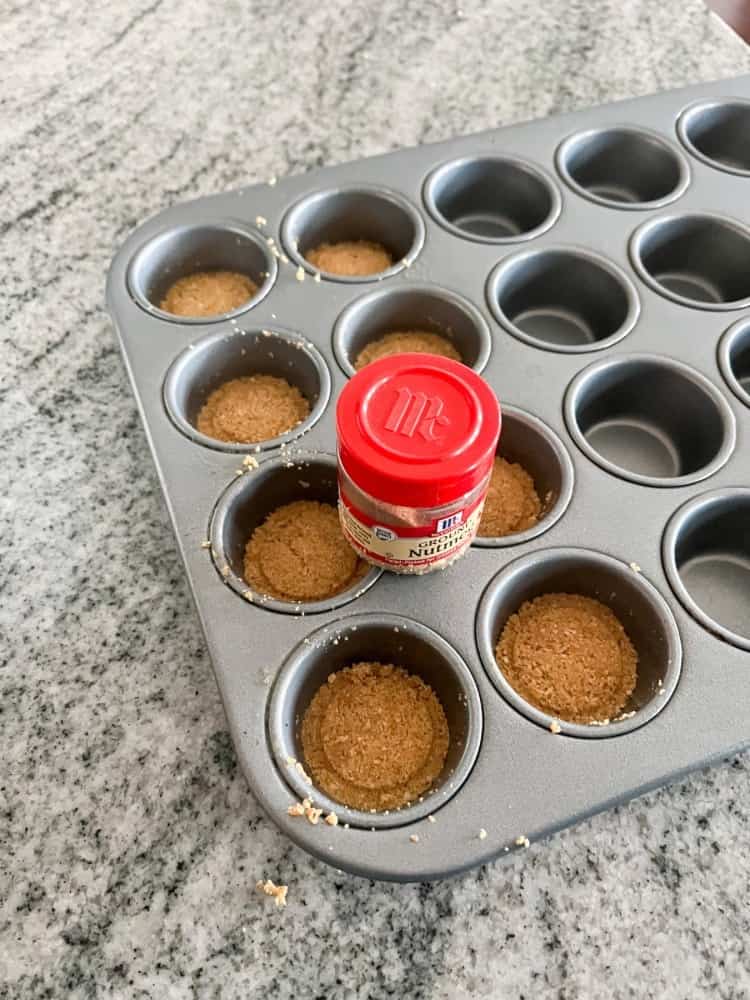 After that, I poured the egg mixture on top of the graham cracker crust. And I baked these for only 10 minutes. Since they are the mini size, they didn't take long at all. And that's it!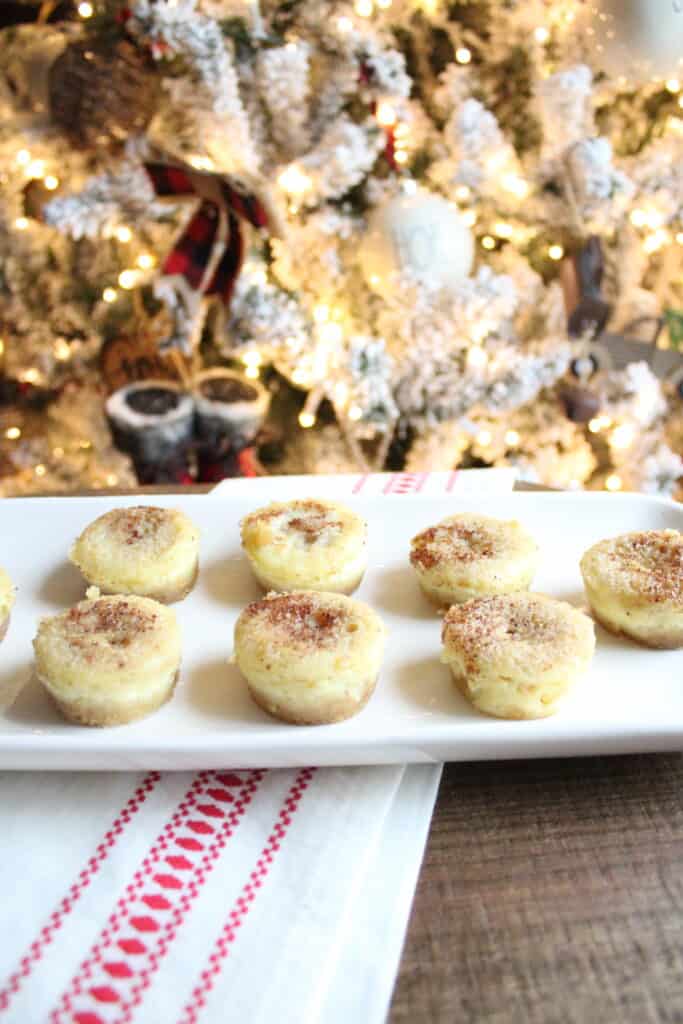 If you have leftover egg custard mixture leftover, I encourage you to make these mini egg custard pies too! They would be perfect for a Christmas party too!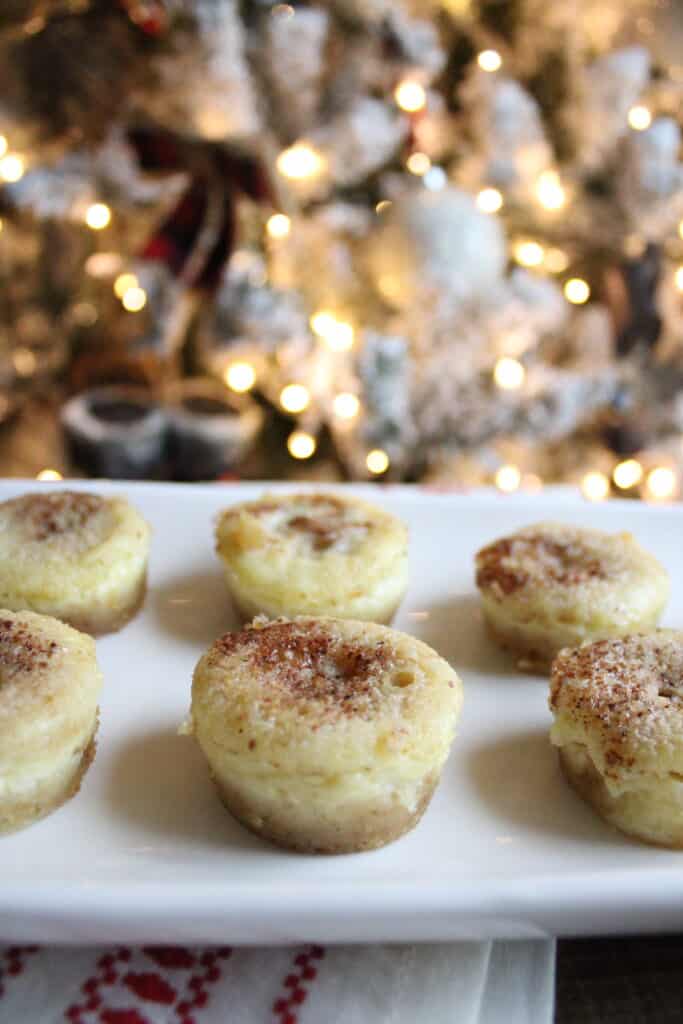 Another tip I have for you is to place your pie on a cookie sheet when baking. Sometimes the egg mixture can seep out and no one wants to clean out dried egg custard off the floor of their oven!
Enjoy Your Egg Custard Pie
Well, I hope you all enjoyed this classic egg custard pie recipe. It really is a popular dessert recipe here in the south and if you haven't tried it before, you definitely should! It's totally worth it and as you can see it's not too hard to make.
You can also enjoy this classic custard pie with a scoop of vanilla ice cream on top. Or a dollop of whipped cream. That's how my hubby loves it. You could even top it with fresh berries too if you had any on hand.
After you have a slice of pie, I have a feeling you will thank me for this old-fashioned egg custard pie recipe! And if you have any more questions on how to make it, I would be happy to help! Just let me know!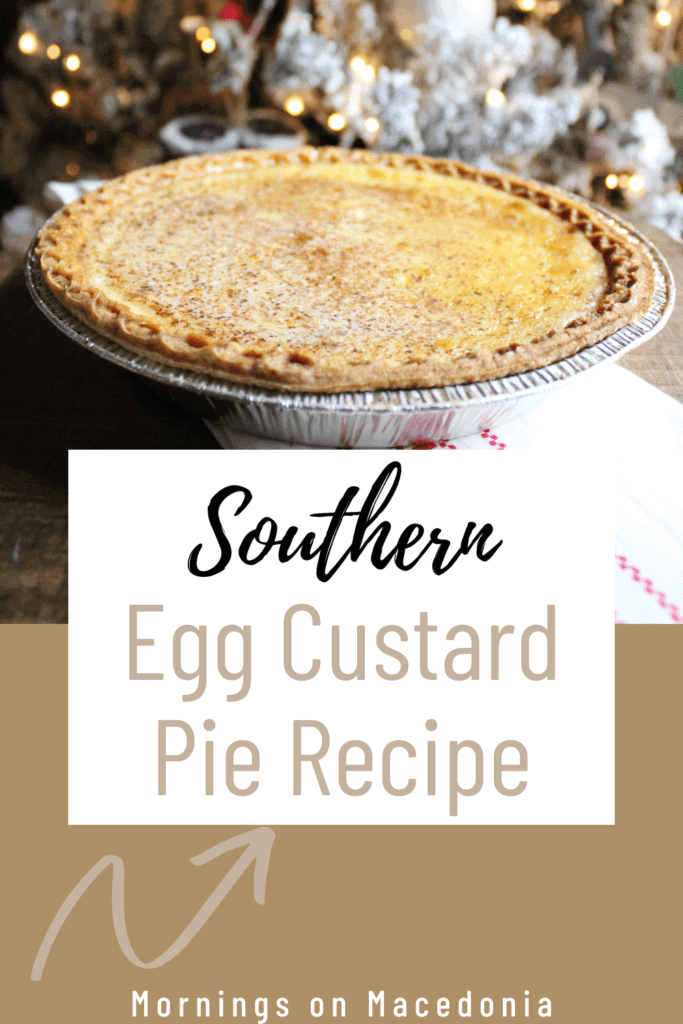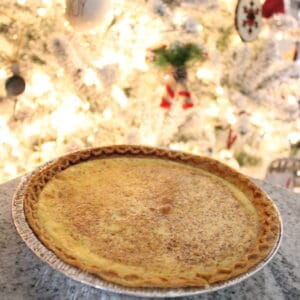 Southern Egg Custard Pie
Ingredients
1

(9 inch) unbaked pie crust

4

large eggs

3/4

cup

sugar

1/4

tsp

salt

1

tsp

vanilla

1

cup

heavy cream

1 1/2

cups

milk

1/4

tsp

ground nutmeg
Instructions
Preheat oven to 375 degrees.

In a bowl, separate one egg white from egg yolk, but be sure to reserve both.

Beat your egg white and then brush crust with it. Pre-bake the crust for 7-8 minutes (I did 7 minutes).  Let cool for 10 minutes.

In a large mixing bowl, whisk together 3 eggs plus the one spare yolk and whatever is left from the beaten egg white from the crust. Then add in sugar, salt, vanilla, cream and milk as well.

Pour egg mixture into piecrust and sprinkle with nutmeg.

Bake for 35-45 minutes or until knife inserted in center comes out clean. Mine took the full 45 minutes. Cool on a wire rack.  Store in the fridge. 
Be sure to check out more ideas on what to cook here too!