If you've been around here long enough, then you know I am obsessed with our stock tank pool! I literally stay out here all summer long enjoying the sunshine and warm weather. But, it has also came a long way since the very first time I shared it on here. We have done a lot more pool landscaping around it, so I thought it would be fun to share all about the best plants for around an above ground pool, such as a stock tank, today!
Most of the plants here require full sun, so keep that in mind when you are thinking about landscaping around an above ground pool. But, if your pool is in a more shady place, the best plants for you may differ from the ones I share here. So just keep that in mind when you are planning out your backyard pool plants! You want to make sure you are getting the right plants for your outdoor space. 
I would ultimately love a ton of tropical plants and palm trees out here to make me feel like I am at the beach all the time! But sadly, that just can't happen with our climate here. However, I do think we have accomplished a very vacation like feel to our outdoor living space here!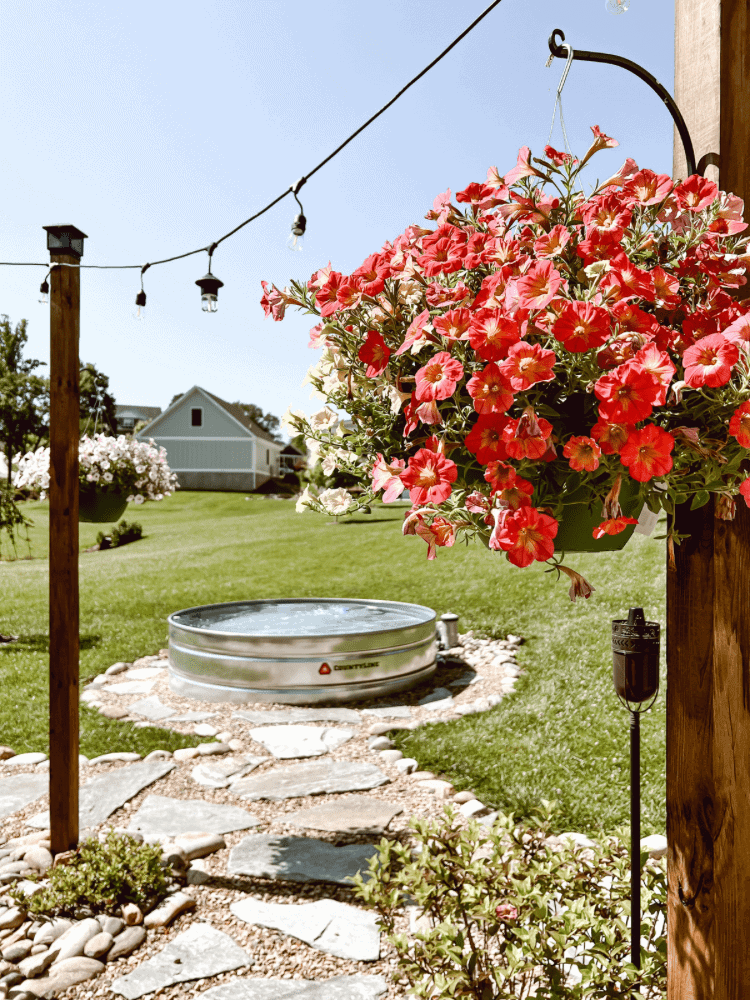 This post contains affiliate links. Click here to see my privacy policy.
What Plants Work Best Around An Above-Ground Pool?
Ornamental grasses are an excellent choice for around an above-ground pool area. They require little water and they are great low-maintenance plants. They also hold up during strong winds and provide lush greenery around your pool area too.
​Another great option we have near our pool is a hydrangea bush. I love having this plant here because mid to late summer, the blooms start turning a pretty pink. So they provide a pop of color, even in the later summer months.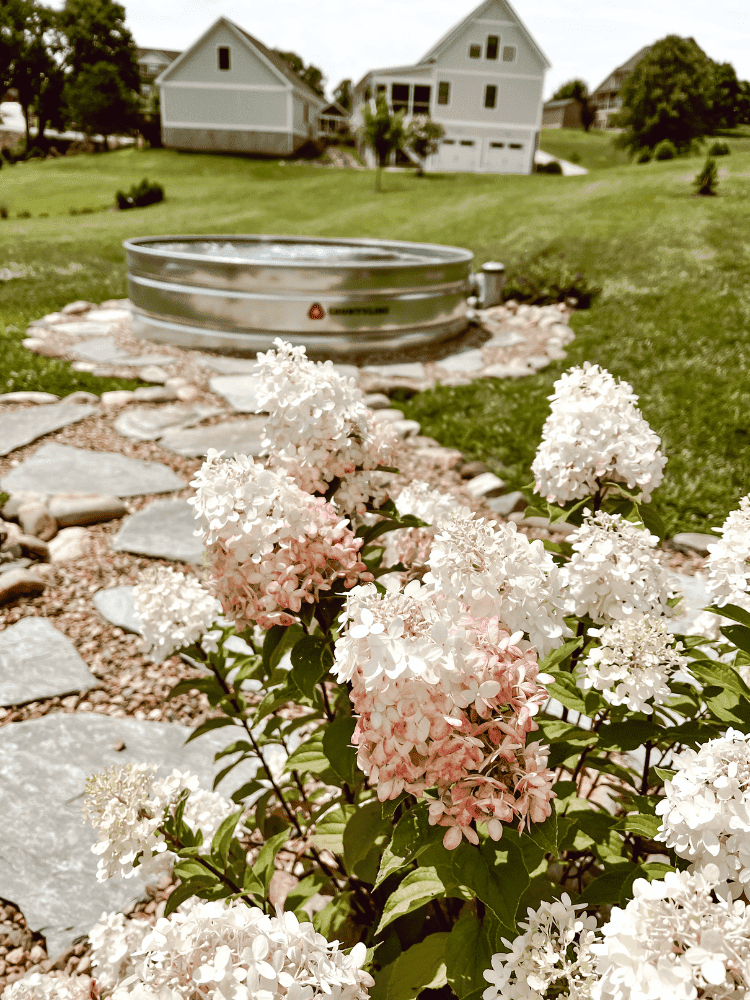 The day lilies we have planted here are also a good choice for color too. They bloom in vibrant colors of deep orange and red throughout the summer. We also have them planted all along the exterior of our house as well. So they blend in quite nicely in the pool area. I love how these colors give the space a tropical feel too.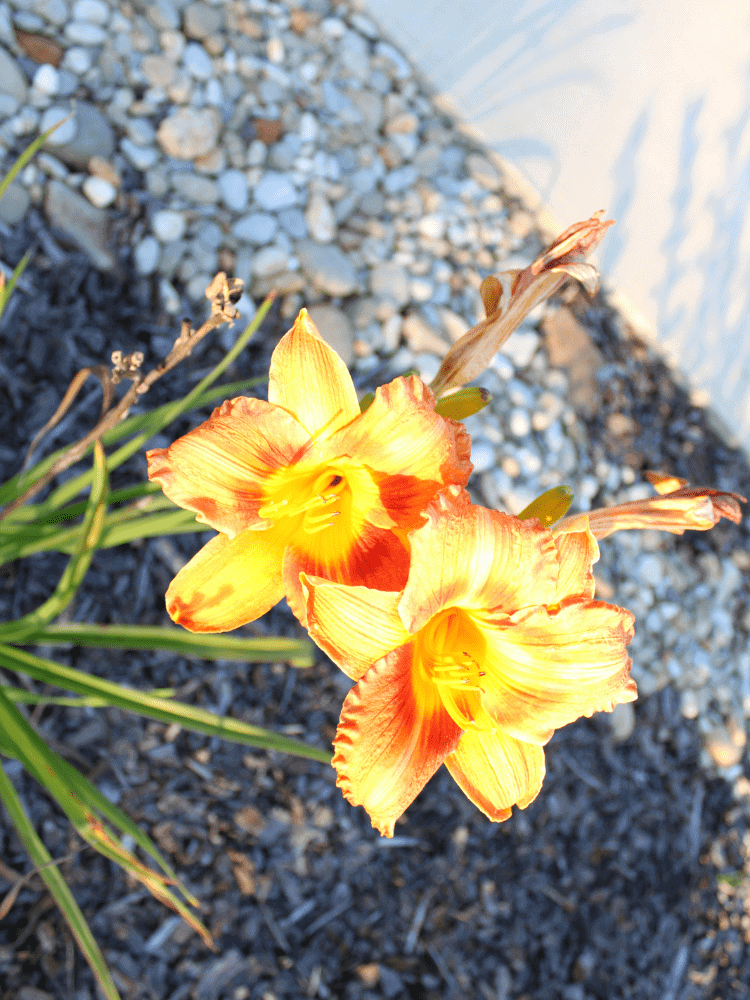 What Plants Do Well With Chlorine?
​We don't have too many plants right next to our stock tank pool, since we basically have a rock garden around it instead. If you want to see more of how we did our poolside landscaping in the first place, be sure to go back and check that post out too.
But, we do have a beautiful butterfly bush planted next to our pool pump and it does just fine there. Even though it does get splashes of chlorinated water on it from time to time. It also blooms a pretty deep purple color in the summer as well.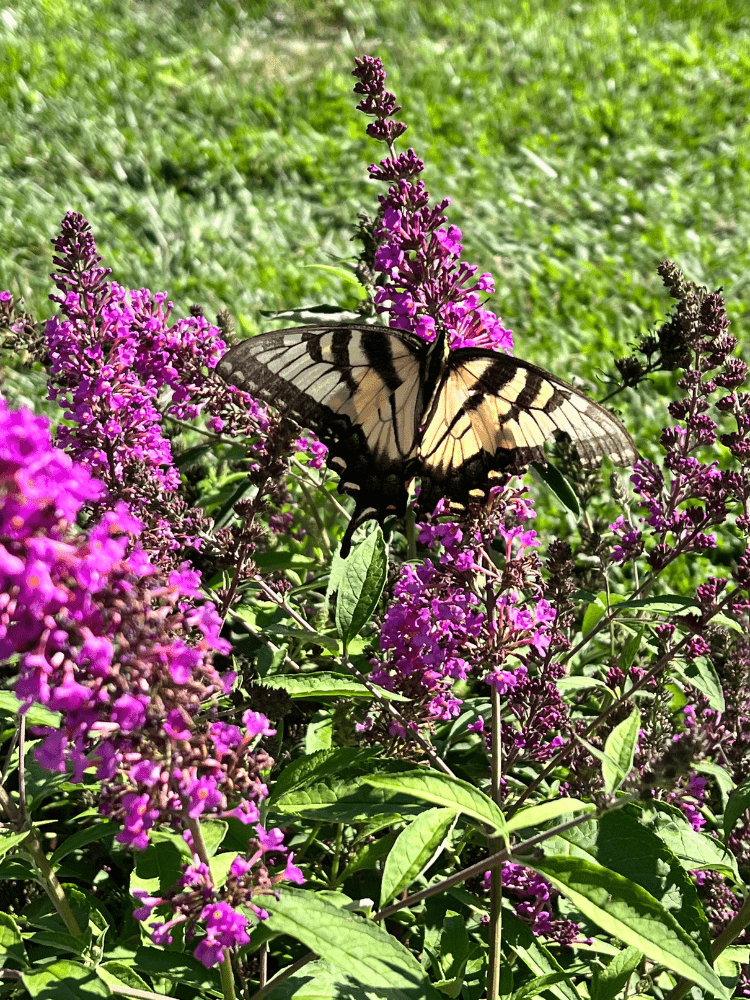 An added benefit to the butterfly bush being planted next to the pool is that I get to see beautiful butterflies stop by all the time! I love being able to float around the pool and see a pretty butterfly flying overhead! So this makes for a perfect plant for around an above ground pool in my opinion!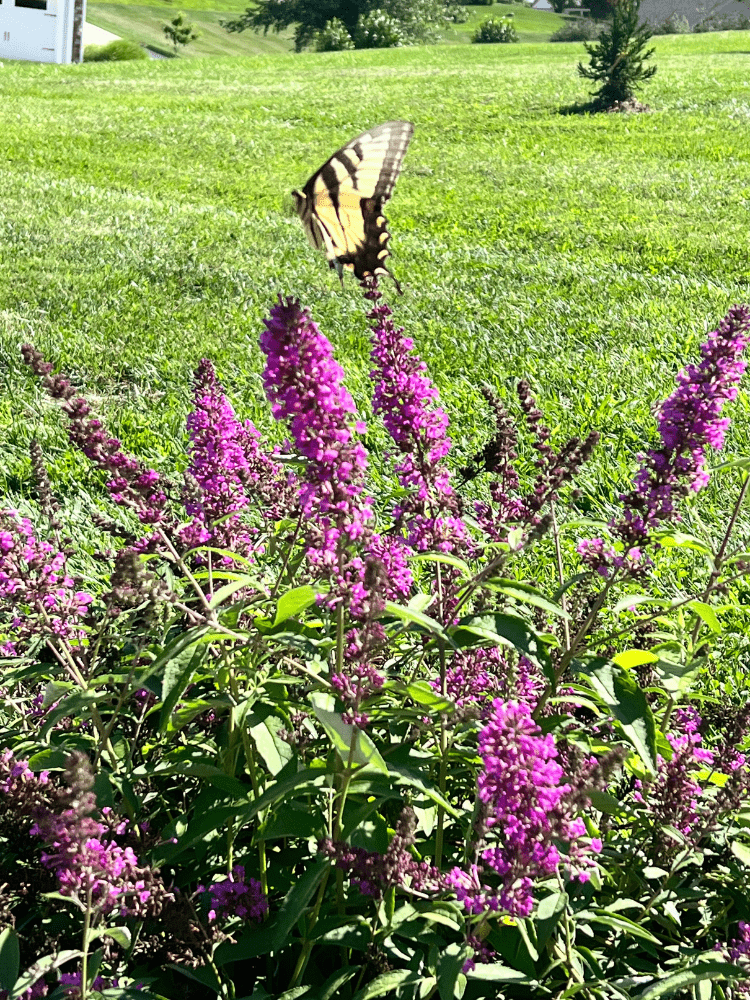 Why Put Rocks Around An Above Ground Pool?
A little side note since I mentioned this above as to why we decided to put rocks around our above ground pool. Rocks help dissipate the water and dry quicker rather than just having dirt or mulch around the pool.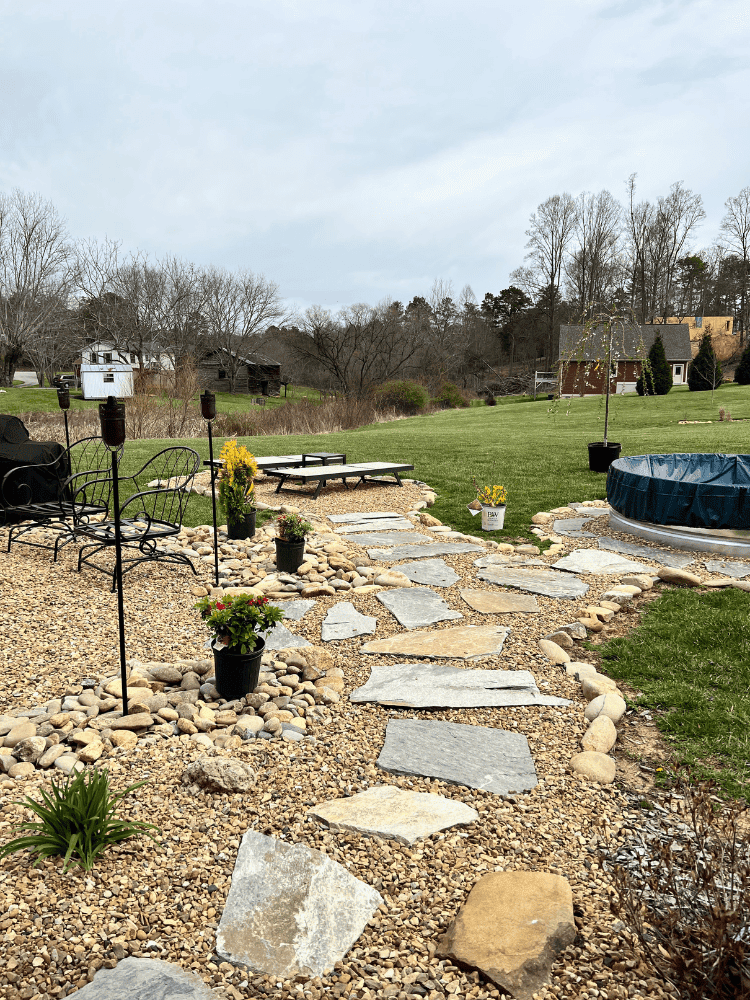 Plus, it is much cleaner too. Inevitably, if you put mulch around your pool instead of rock, the mulch will get all in the water. And no one wants to spend all their time skimming mulch out of the pool!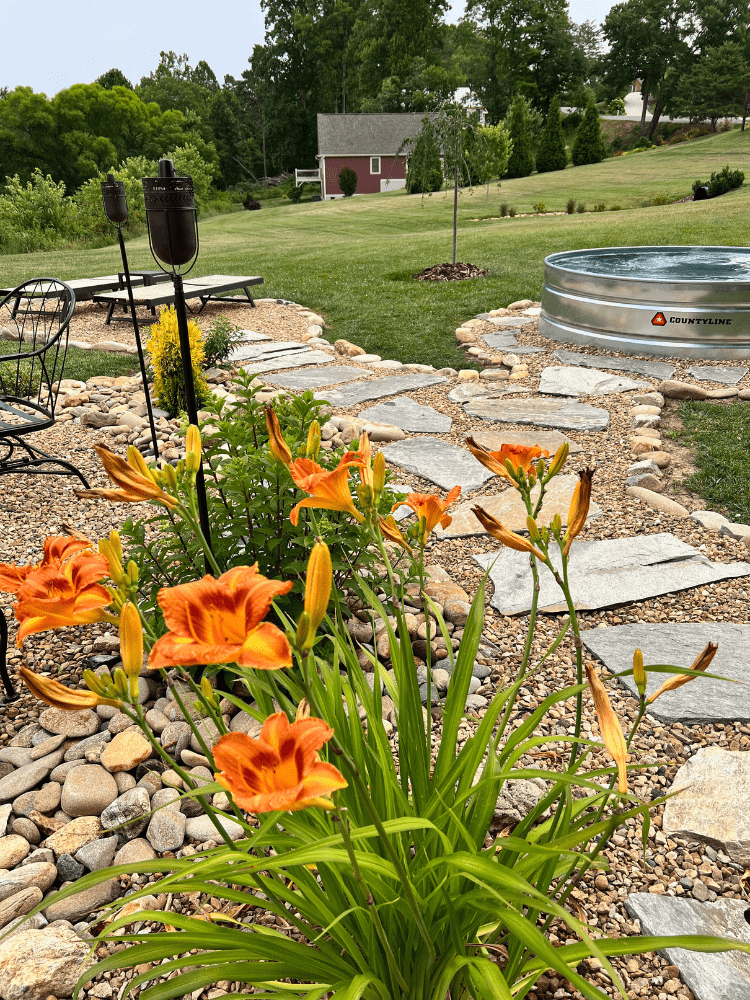 We hardly ever get rocks or gravel in our pool and even if we do, we can easily pick it out of the pool. So I highly recommend rocks and gravel when it comes to the right landscaping for around an above ground pool.
Can You Plant Flowers Around Above-Ground Pool?
Y'all know I love me some pretty flowers during the summer months. Especially since I just completed our beautiful flower window box a few months ago too. So of course I wanted to have some ways to enjoy some beautiful and colorful blooms out here too!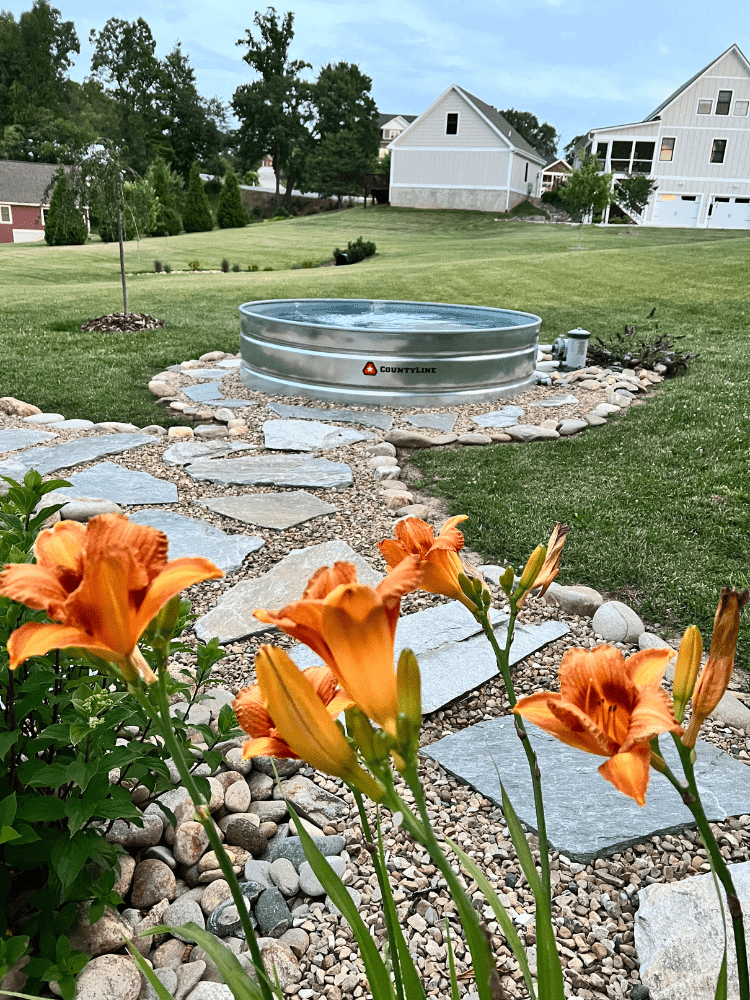 You can do this by adding in some flower beds near your pool or do what we did and have several container plants around filled with pretty flowers! We even have our raised garden beds near our pool too.
We have the container gardens filled with blueberries, strawberries, and some gorgeous knockout roses as well! This makes for some dreamy poolside gardens! Not only do you have pretty blooms to look at, but some fresh fruit to snack on as well!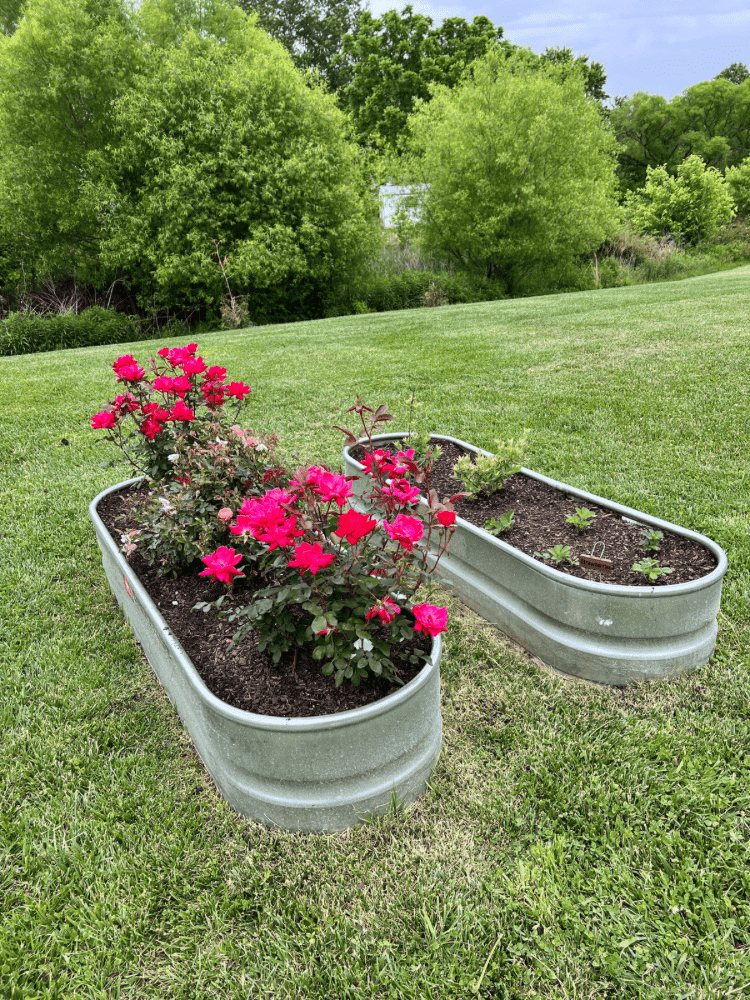 You also may remember how we added in some string lights to our outdoor patio area a few weeks ago too. We used wooden posts to do this and thought that we should add in a hook on each post for a hanging basket to go on.
And I am so glad we did because the color palette on these hanging baskets are absolutely stunning! They definitely make for a beautiful focal point when looking at our backyard oasis! It makes it look like a colorful garden with the addition of an above ground pool down here too!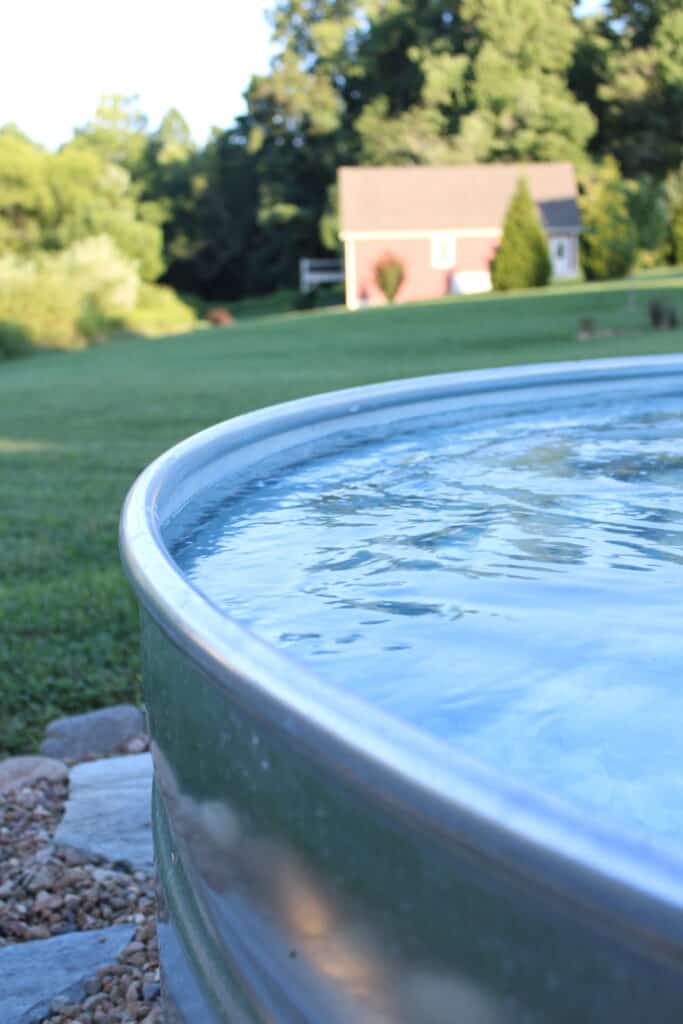 For some more potted plants, we used our planter bench we have out here as well. We have some vibrant red flowers mixed with Creeping Jenny which flows down from the side of the bench! It's both beautiful and functional for our space.
Other Pool Plant Ideas
​We do have a little area where we can plant some plants that require partial shade as well. This spot is underneath our screened in porch and it is right by the stock tank pool. In this area, we planted some gorgeous azalea bushes.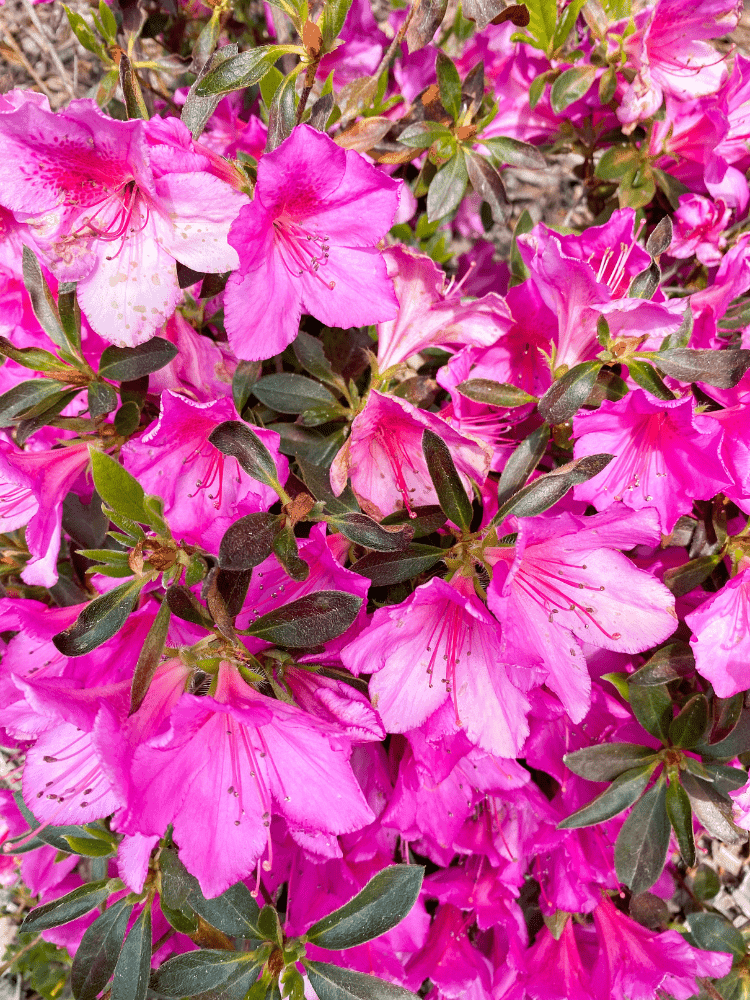 And in the spring and summer they bloom a nice hot pink color! I absolutely love seeing their pretty flower petals come out every year. We also planted some of my favorite, Lamb's Ear, in this area too.
Lamb's Ear makes me think of our old beloved camper we had a few years back. Because the previous owner planted a ton of Lamb's Ear out there on the lot and it looked incredible. So I wanted to mimic that look as well.
They also had beautiful and huge Elephant Ear plants there too. Which I am happy to say we planted some Elephant Ear near our pool this year too! It just hasn't came up yet, so I can't wait for when it does. I will of course have to update y'all and let you know. But Elephant Ears are a good option to create a tropical look around your pool!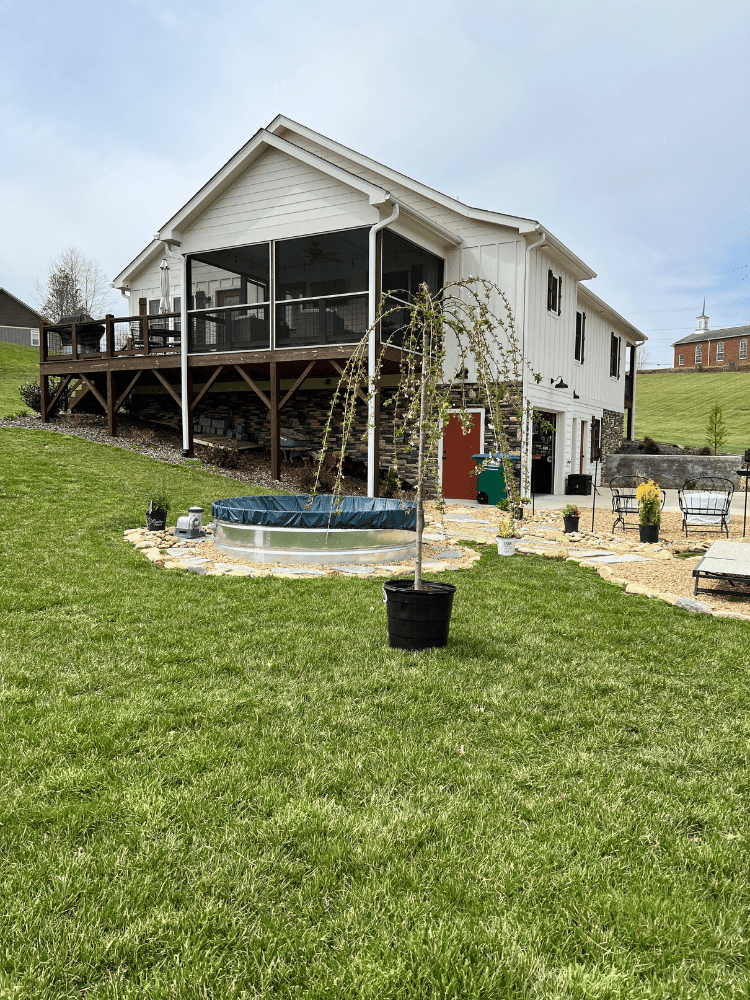 And lastly, we have planted a beautiful weeping cherry tree near our pool too. But, not close enough to where the leaves will fall in! Because again, who wants to spend all day skimming the pool?! However, it blooms so pretty in the spring too. And all the birds love to get on top of it and sing for me while I am laying out by the pool too! Which is another added bonus in my opinion.
​Enjoy Your Above Ground Pool Plants!
I've got to say I am so happy with how our pool design has came along these past few years. If you go back and look at my very first post of when we installed the stock tank pool, you would be amazed at the difference!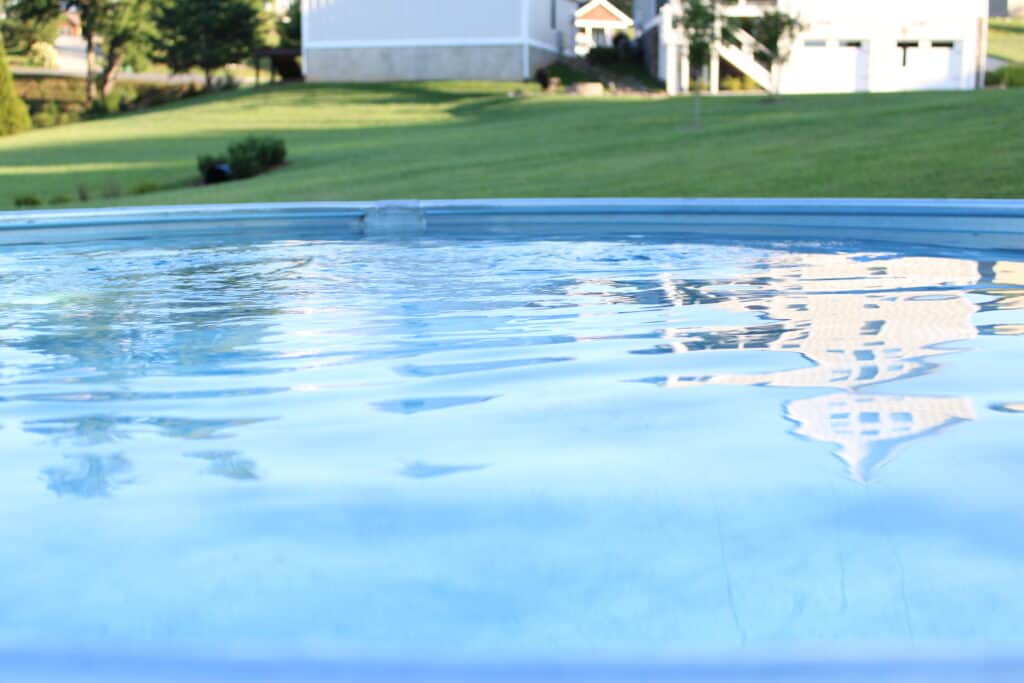 All of these beautiful plants require low maintenance, but pack a visual punch when it comes to our set up here. I hope all these different plants I shared give you some inspiration and ideas when it comes to planting around an above ground pool too!
As you can see, you really can't go wrong with these poolside plants and they would look great in any backyard space! I absolutely love spending all my hot summers out here and enjoying all the hard work we did bringing this space life! If you need me this summer, I will definitely be outside floating my worries away!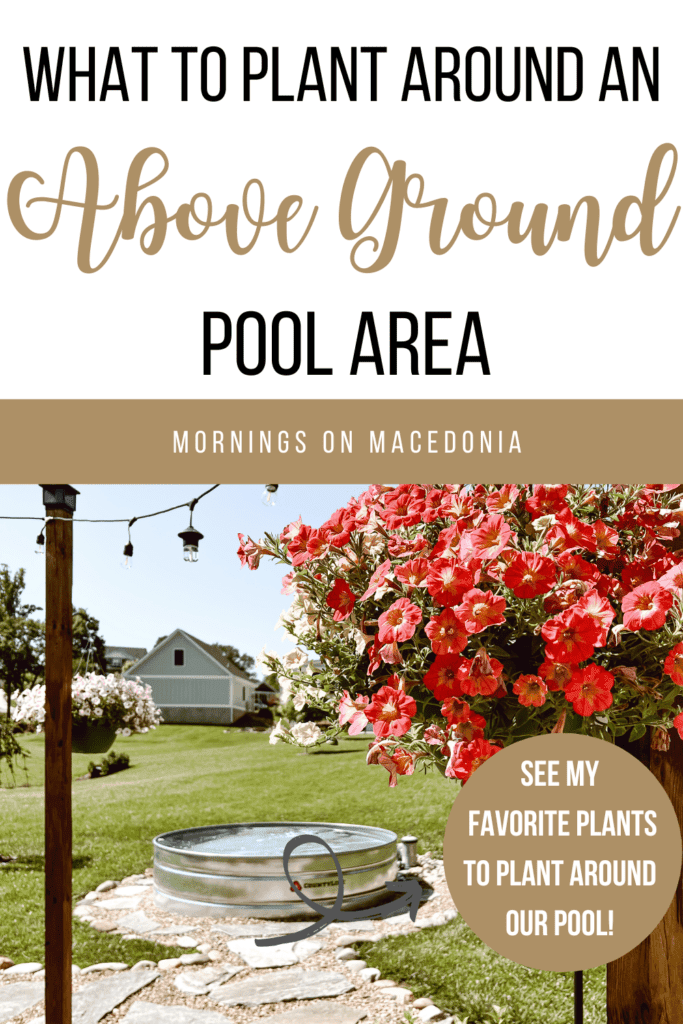 Do you have an above ground pool too?? And if so, what plants do you like to plant around it? Let me know below! I would love to know if you have planted anything similar!