My sweet in-laws recently gifted me a nice, wooden dining set that they no longer wanted. I was so excited because my first thought was to immediately put it out on our screened in porch. We don't have a good area to eat out there, so this would be perfect. However, I wasn't a fan of the wooden tone. It was a little too orangey for me. So I decided I should sand it down and then paint it of course! And while I was at it, I took a few pictures along the way. That way I can show you just how to refinish a dining set.
This was a lot easier said than done, unfortunately. It took a lot of sweat and grit to get it done! But, I am so happy with how it turned out!
Keep on reading to see just how I transformed this beautiful set!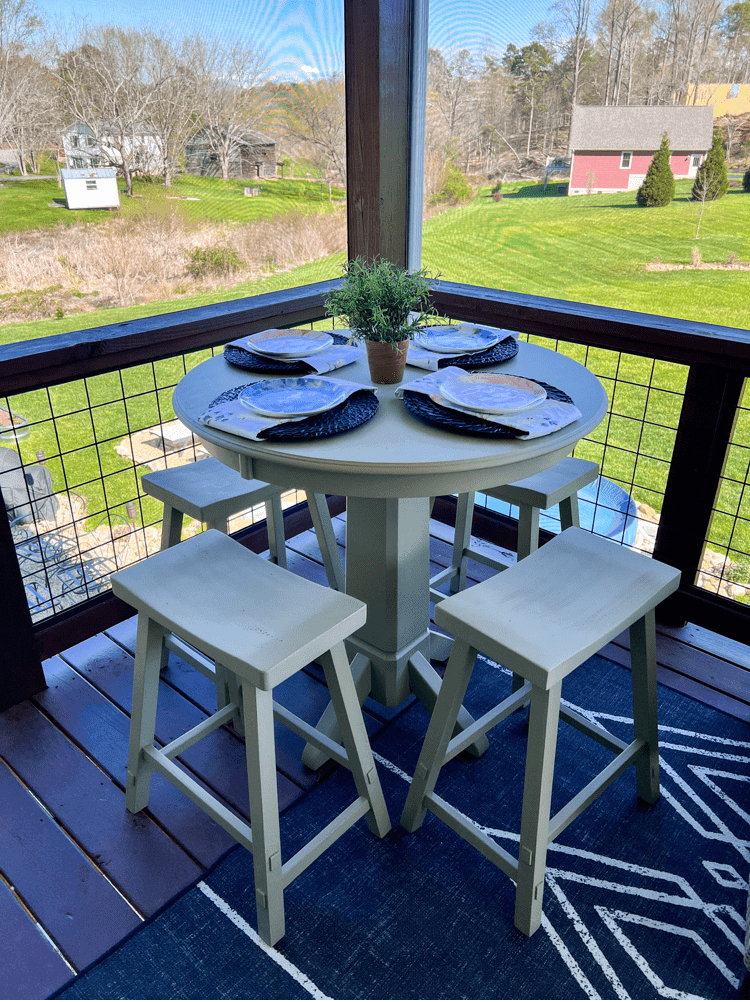 This post contains affiliate links. Click here to read my disclosure policy.
Sand The Dining Set Down
In order to refinish the dining set, you need to first sand it down. And this was where a majority of the work was. To get rid of that orangey color in the wood, I needed A LOT of sandpaper.
I used an electric sander. Which worked for the most part. But these pieces had a lot of spaces that I couldn't get the sander down into well.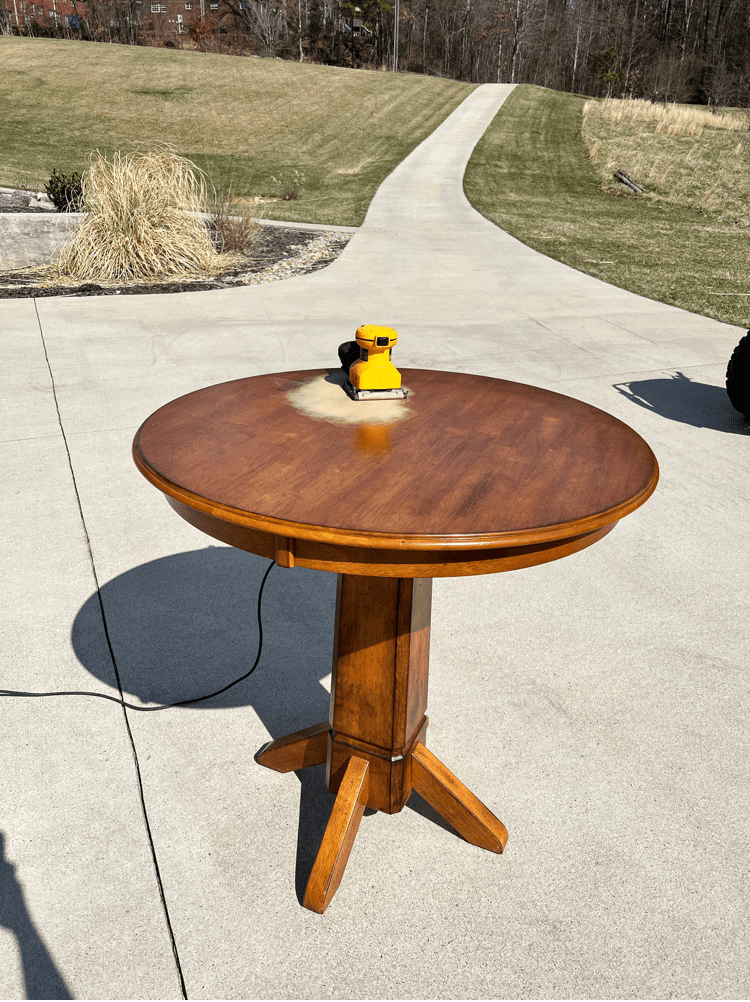 It worked great for the tops of the stools and table. But at the bottom of the legs, it was more challenging.
I tried to use the electric sander as much as I could though to spare me on manually labor. However, it was inevitable that I would also have to go back and use manual sandpaper.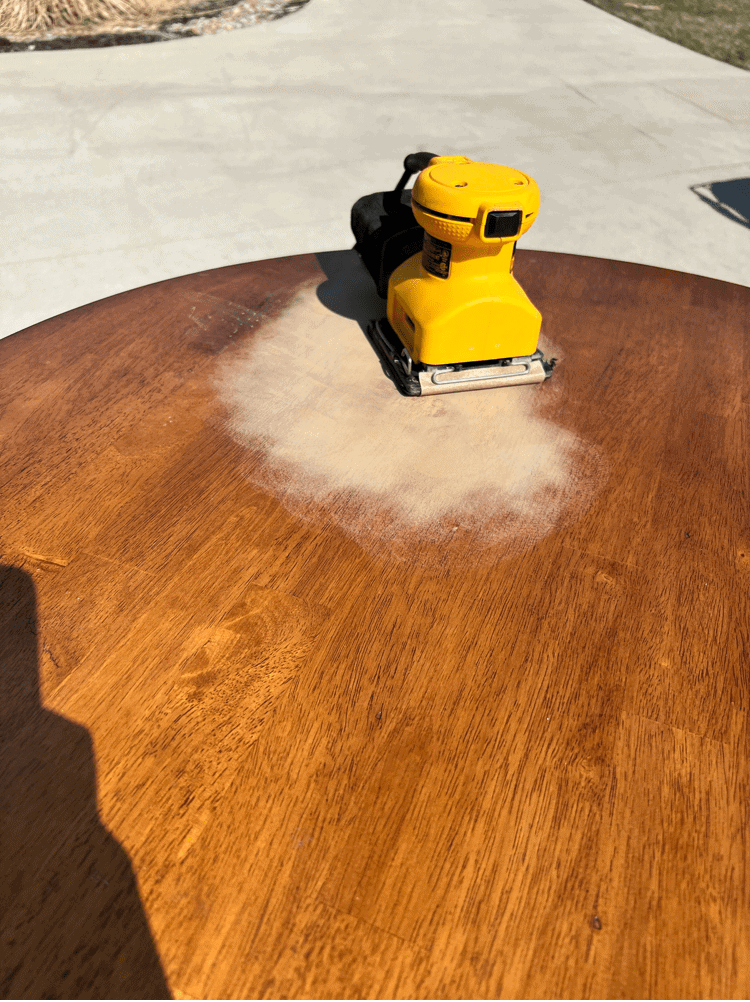 I used some sandpaper sponges. Which were a lot easier to grip than just a traditional piece of sandpaper. But I did have to scrub very hard to get it right.
I wasn't too worried about removing all of the previous stain on the wood, since I was planning on painting it anyway.
I just needed to get enough of it off the surface so that the paint would actually adhere to the wood.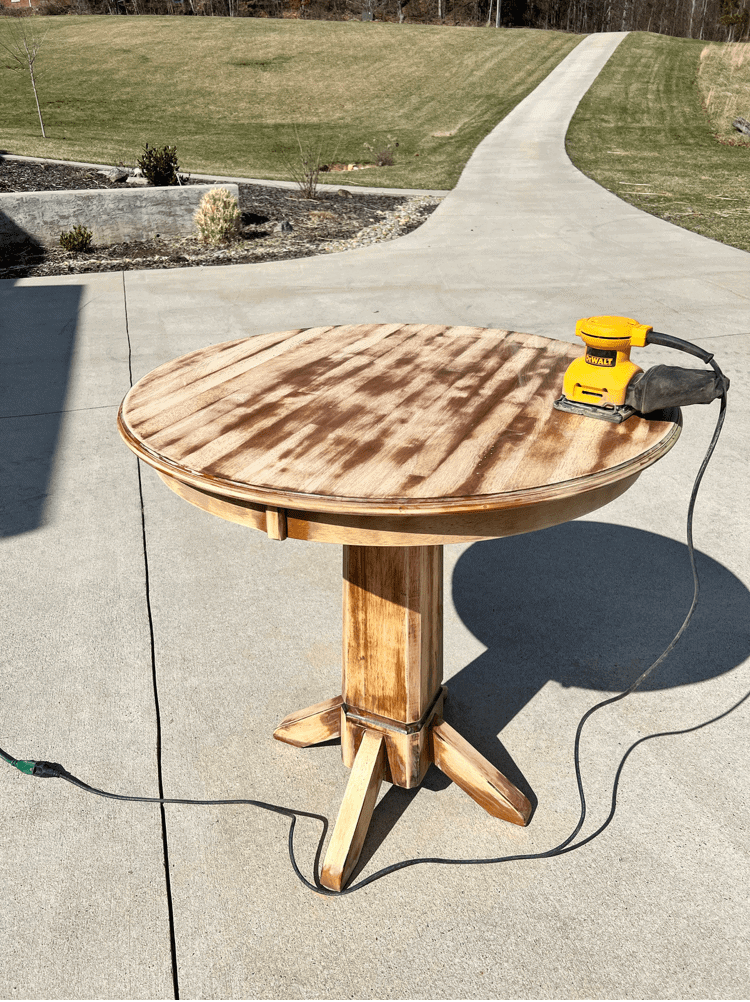 So you will notice in these pictures that there are some darker spots still visible on the pieces. I would have tried to get them all off if I was going for that natural wood tone look.
Which is super pretty too, but it would have made this project much more challenging as well to try to get rid of it all.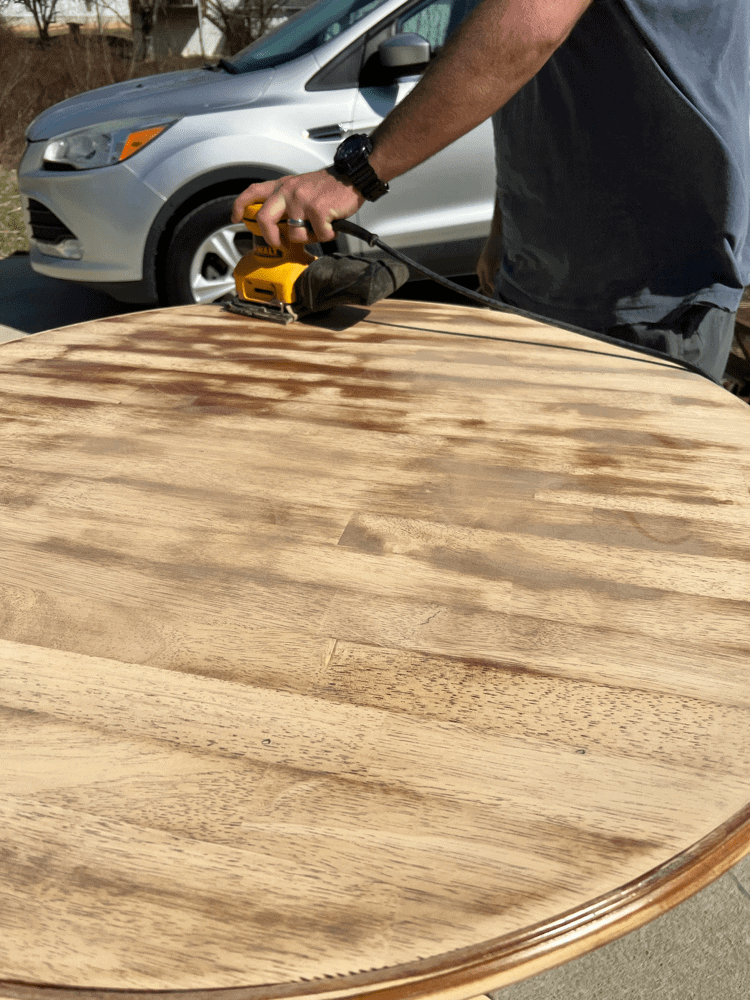 Easy Off Oven Cleaner Furniture Hack
I was intrigued to try the Easy Off oven cleaner furniture hack from Vintage Porch on these pieces as well. Basically, she sprays this Easy Off onto a wooden piece and lets it sit for 20 minutes.
And then she wipes it away with a brush and a little bit of water and dish soap. I will say that it did work, but it would need A LOT more oven cleaner to complete the whole piece.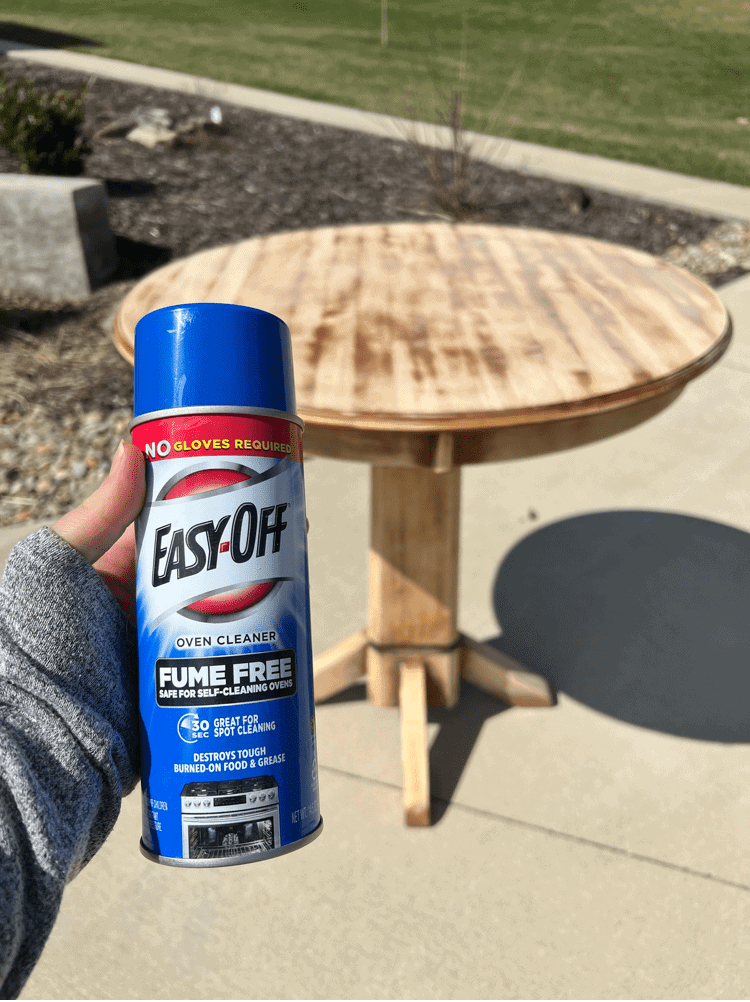 In her experiment, she did it on a smaller wooden mirror. So I think it is perfect for something like that. But on a big dining set like this, you would probably go through 5-10 cans alone on it.
Which makes me unsure if it is worth doing or not. Not sure if it would be any easier than just manually sanding the whole thing down.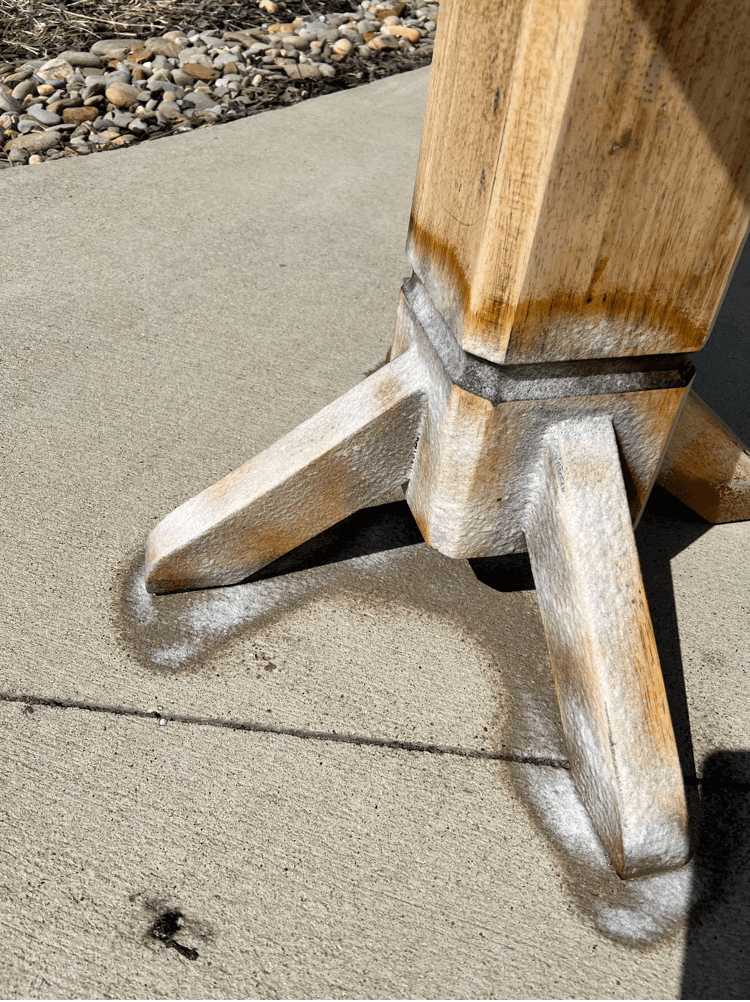 Painting the Furniture Set
Now, here is my favorite part! Painting the furniture set! I much prefer painting over sanding any day! I decided to go with Lichen by Fusion Mineral Paint for this set.
It is a beautiful neutral sage green color with light gray undertones.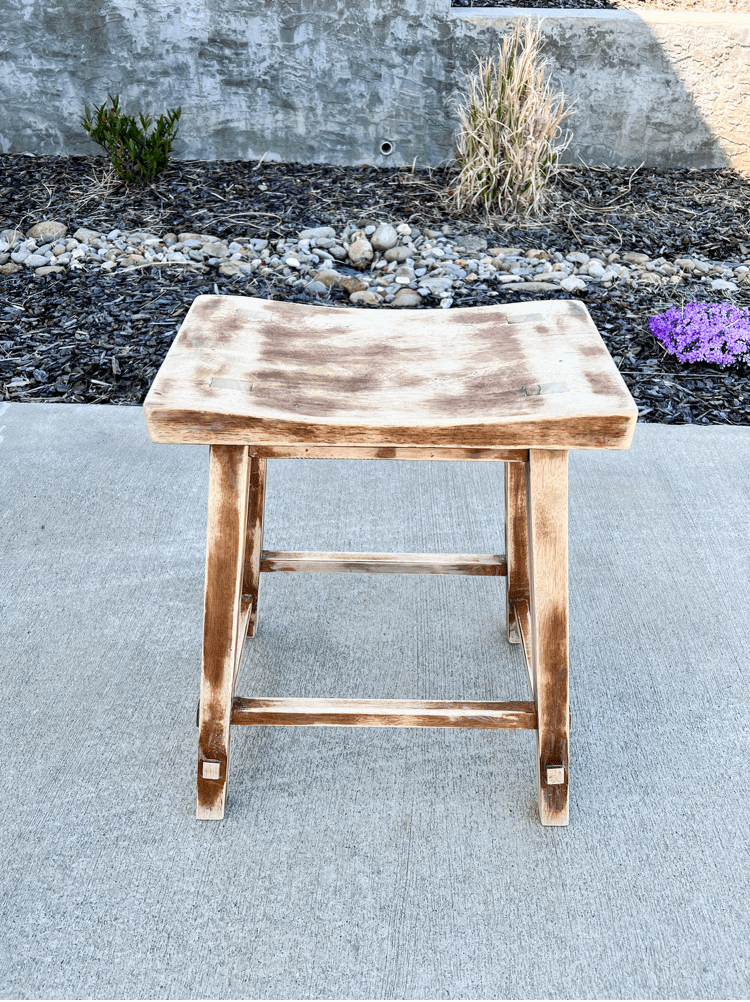 And if you have never heard of Fusion Mineral Paint before, I shared a whole review about the paint here. Basically, it's hands down my favorite paint.
I have used it in many home projects before (such as when I painted and distressed an antique mirror frame and even for Toby's Cat Room).
But, I am always amazed with how smooth and even the coverage is. I honestly didn't have to sand down this furniture set as much as I did because the paint covered so much of it already.
And I only used one bottle to do the whole set, and still had some leftover!
Finishing Up The Dining Set
The last step in learning how to refinish a dining set, is to get it all ready to enjoy for dinners on the porch!
After letting the pieces dry overnight, which honestly it doesn't take the paint that long to dry, we moved them up to the back screened in porch.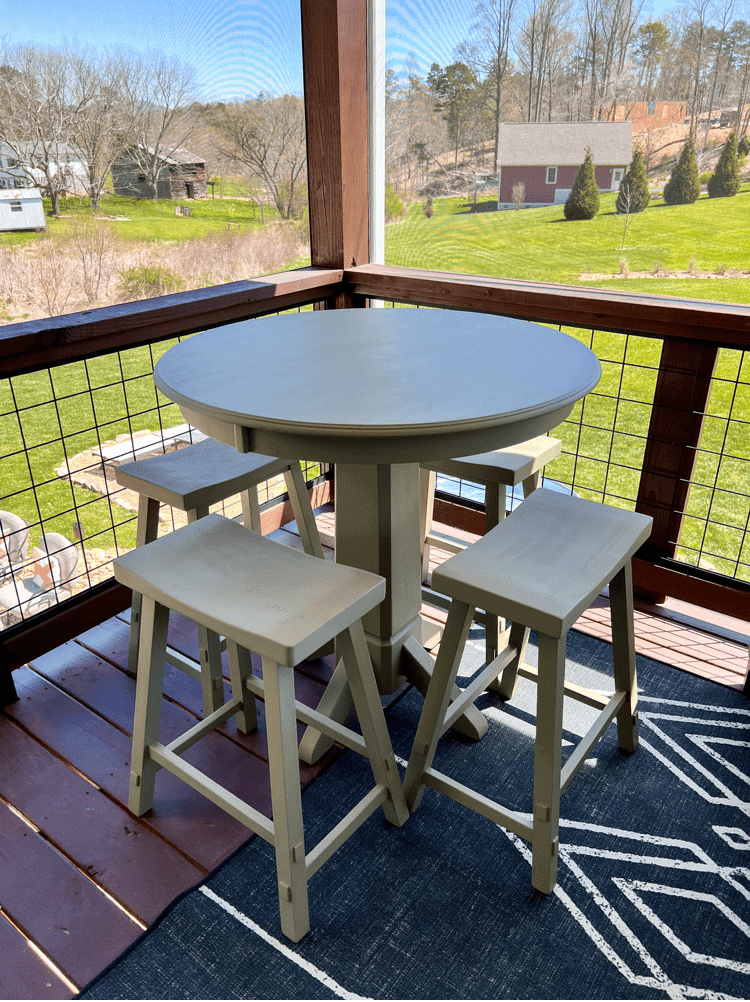 Then, with me being extra, I had to style up a quick little place setting on the table! I just used some extra plates and chargers I had leftover from when I styled our old camper with them.
It's so nice to be able to just shop your home and not have to buy anything new!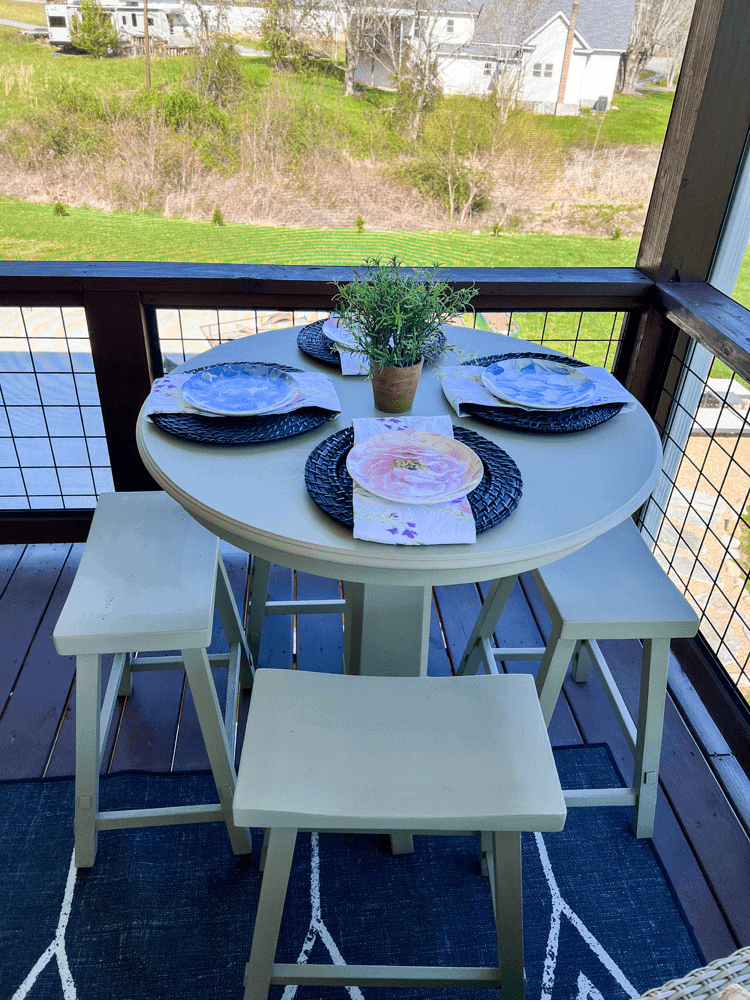 I did end up adding a tough coat on top of the dining set eventually too. That way, it will help prevent it from future wear and tear as well since it is outside.
Well, I hope you enjoyed this little tutorial of how I refinished a dining set. I think it turned out much better than before, don't you?!
We have already been loving eating out here so much. And I can't wait to continue it into the summer months as well!