Y'all know all about how we created a DIY Stock Tank Pool this summer. It honestly has been our favorite DIY project to date. I didn't think it would be possible to make it any better, but my hubby outdid himself again! To improve it, he decided to do a little stock tank pool landscaping.
And let me tell you, it turned out incredible! Even though we are towards the end of summer now, we are still soaking it up and enjoying every minute of it!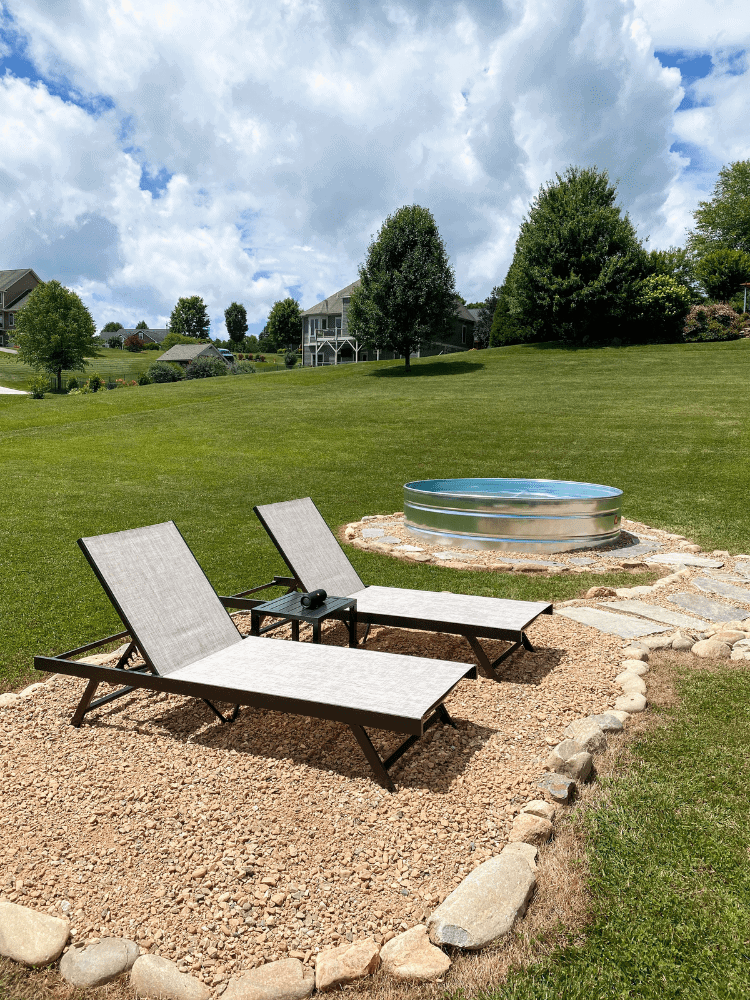 This post contains affiliate links. Click here to read my disclosure policy.
Removing the Paver Stones from the Fire Pit Area
The first thing we had to do for our stock tank pool landscaping was to remove the large paver stones in our fire pit. If you remember, a long time ago, I shared all about our fire pit area.
We had a bunch of pea gravel down and large paver stones on top of the space. We decided to take the large paver stones out of the fire pit area and use them for the walkway to the pool instead.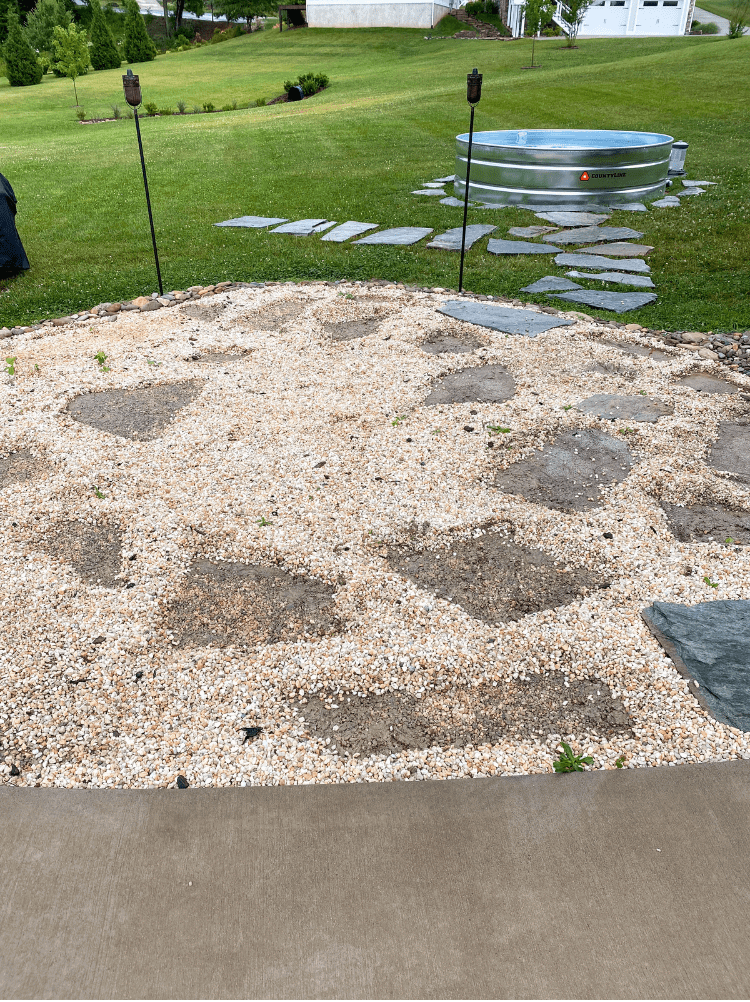 My husband then ordered more pea gravel to fill the void spaces after the large paver stones were removed. We also got more river rock, which is slightly larger than the pea gravel.
We wanted to use this kind of stone to outline the walkway. Then the plan was to fill in between the paver stones and river rock with the smaller pea gravel.
This would give it almost a concrete look without the expensive price tag of concrete!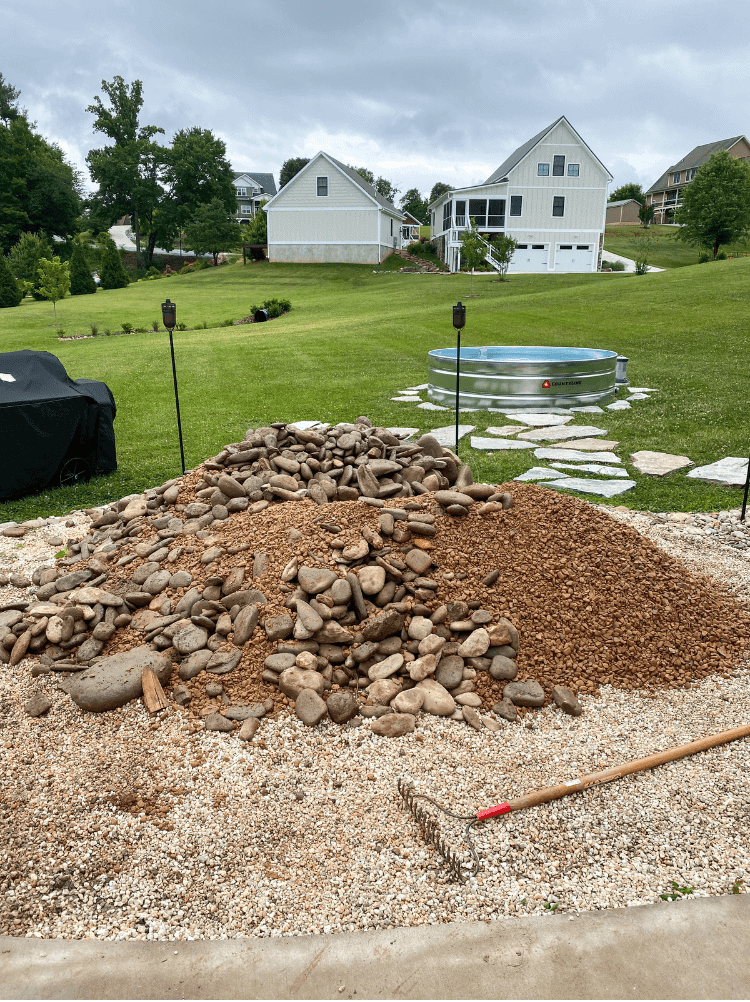 Planning the Landscaping
My husband always likes to use a little white spray paint whenever he is planning on landscaping something. It's easy and cost effective to do.
And that way you can actually visualize it better. Even if you end up not liking it, no worries because the spray paint will eventually wash off of the grass.
So after placing and playing around with the paver stones, he then outlined the walkway area with the spray paint.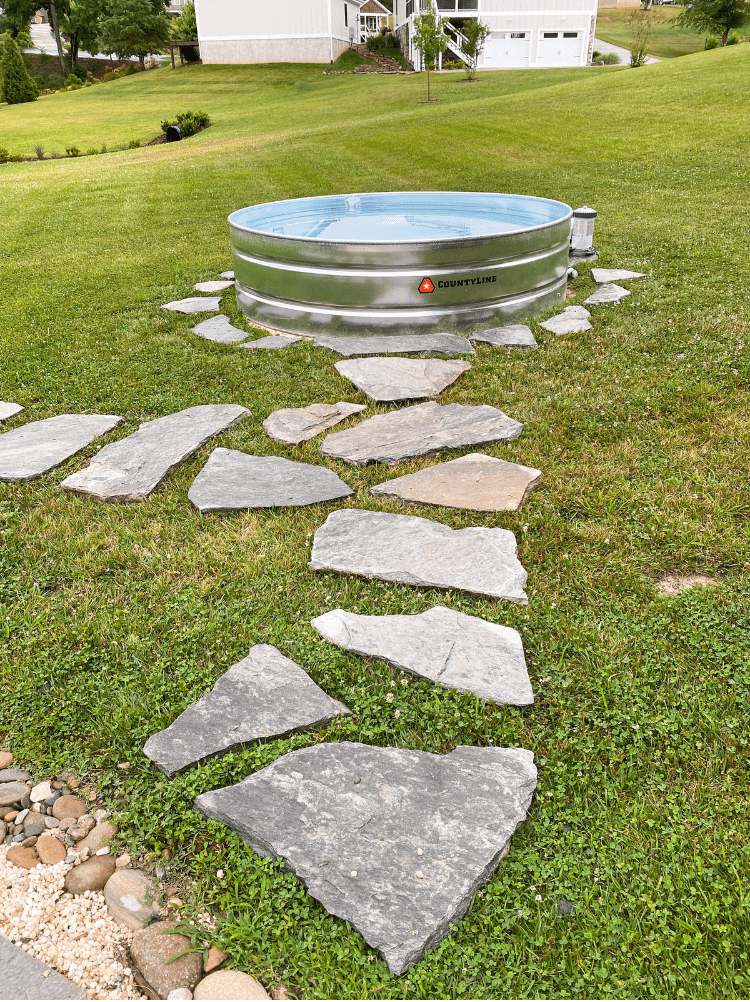 After spray painting around the rock, we took a step back to make sure it looked good. Determining that it was perfect, my husband then sprayed grass killer all inside the outlines of the spray paint.
We wanted the grass to die completely before adding pea gravel on top of it. This took about a week to finally die off.
Which was fine because we ended up needing more rock so that gave us time to get the rock delivered in between.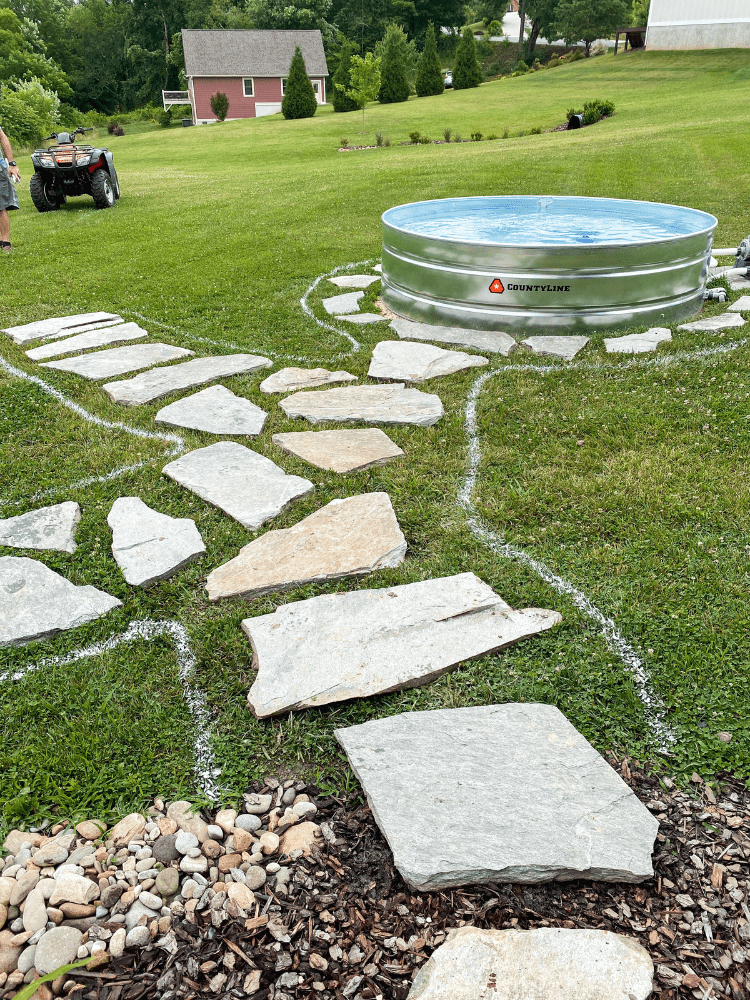 You'll notice there's a path veering off to the left side of the pool as well. I wanted to have a little lounge area here where I could put out some pool chairs and enjoy the sun.
So coming from the fire pit area, you can either go directly to the stock tank pool or to the lounge area.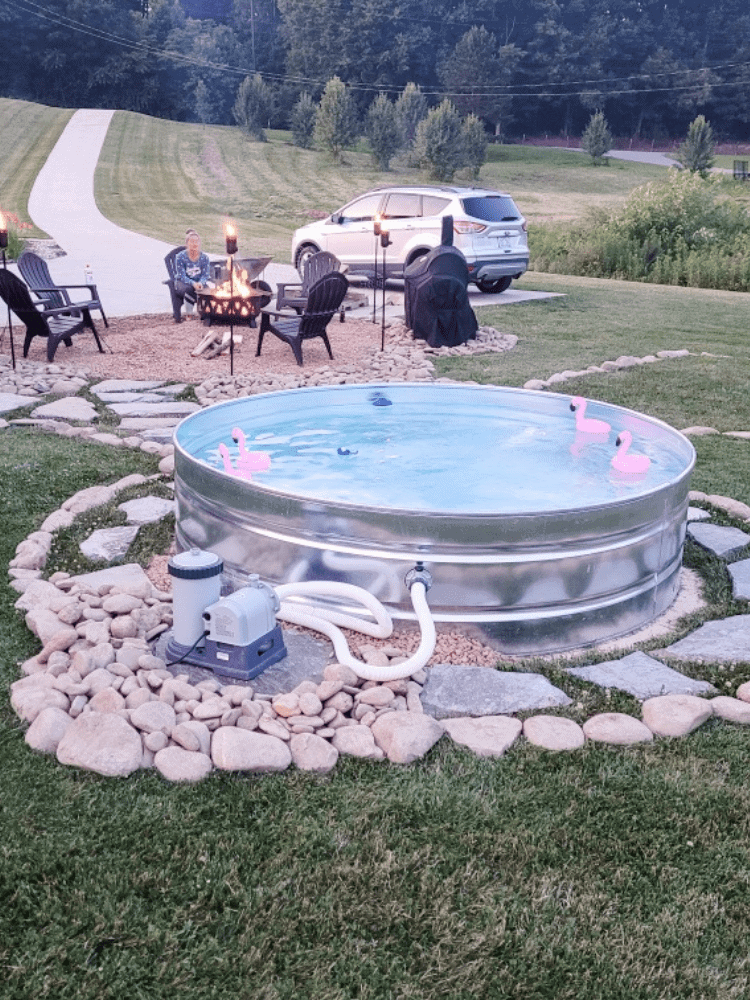 Completing the Stock Tank Pool Landscaping
The last thing we did was create a lounge space for our pool chairs to go. Again, this veers off to the side of the pool.
This was very important to me because I absolutely love laying out and reading a good book during the summer.
So we simply just killed the grass in this area too and added the pea gravel on top. Then we just used the river rock again to outline the space.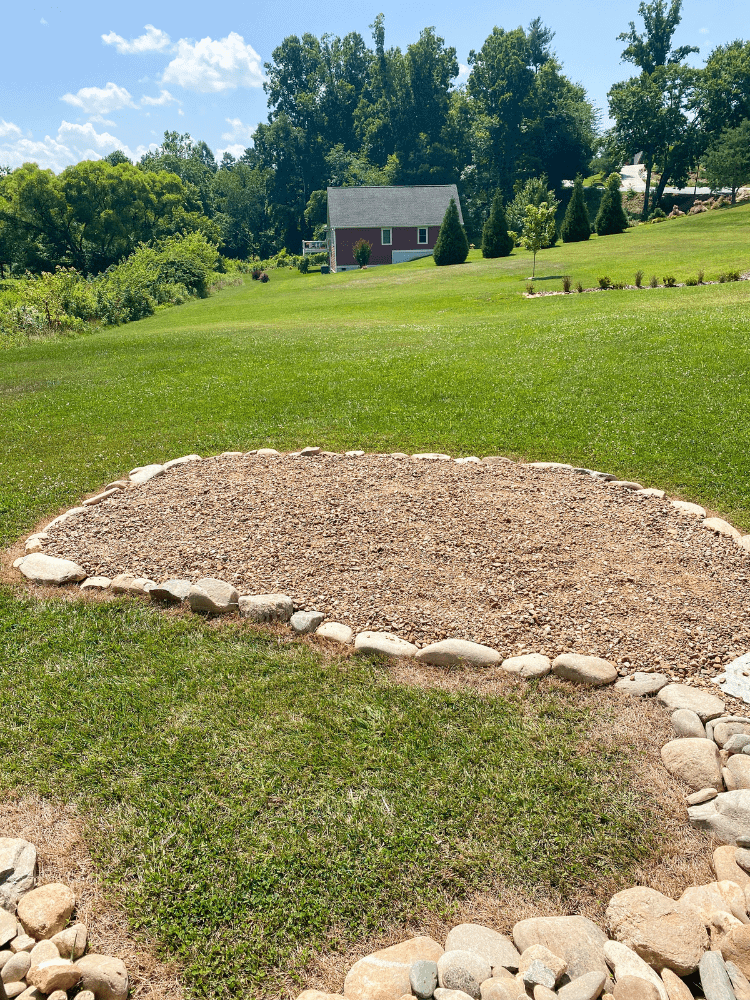 To do this, we just killed the grass in this area too and added the pea gravel on top. Then we just used the river rock again to outline the space. It was so simple and easy to do and I love how it turned out.
And, I absolutely love our pool chairs. I will link them below in case you're looking for some too. They are cute, sturdy, and comfortable and they even come with a little side table that matches too!

Well, I hope you enjoyed this little explanation of how we did our stock tank pool landscaping. What do you think of how it turned out?!
I wanted to do a little more down here, like add in some tropical looking plants and build a little deck around the pool.
But, this summer completely flew by and I can't believe it's almost fall now. We will spend the fall and winter coming up daydreaming about some more improvements we can make to this space come next summer! Any thoughts or ideas about that as well?! Let me know below!