I am super jealous of everyone who has a large, farmhouse-style, walk-in pantry with plenty of room and shelves for storage. And bonus points if you have an antique door for your pantry too! Ideally, that's what I wanted when we were building our house too, but unfortunately we just didn't have the space for it. Because of that I always make excuses for why my small pantry is a mess. But today, I thought I would share with you all my tips on how to organize your pantry!
I see all these large, open pantries on Instagram and Pinterest and I think to myself, oh well it's because they have so much room and so much extra storage, that's why they can keep their pantry so nice and organized.
And I think since mine is so small, I just have to stuff things in there and hope for the best. But not anymore! With the New Year approaching, I have decided to have no more excuses and that it is time to get organized! Regardless of size, I can have a nice and neat pantry too!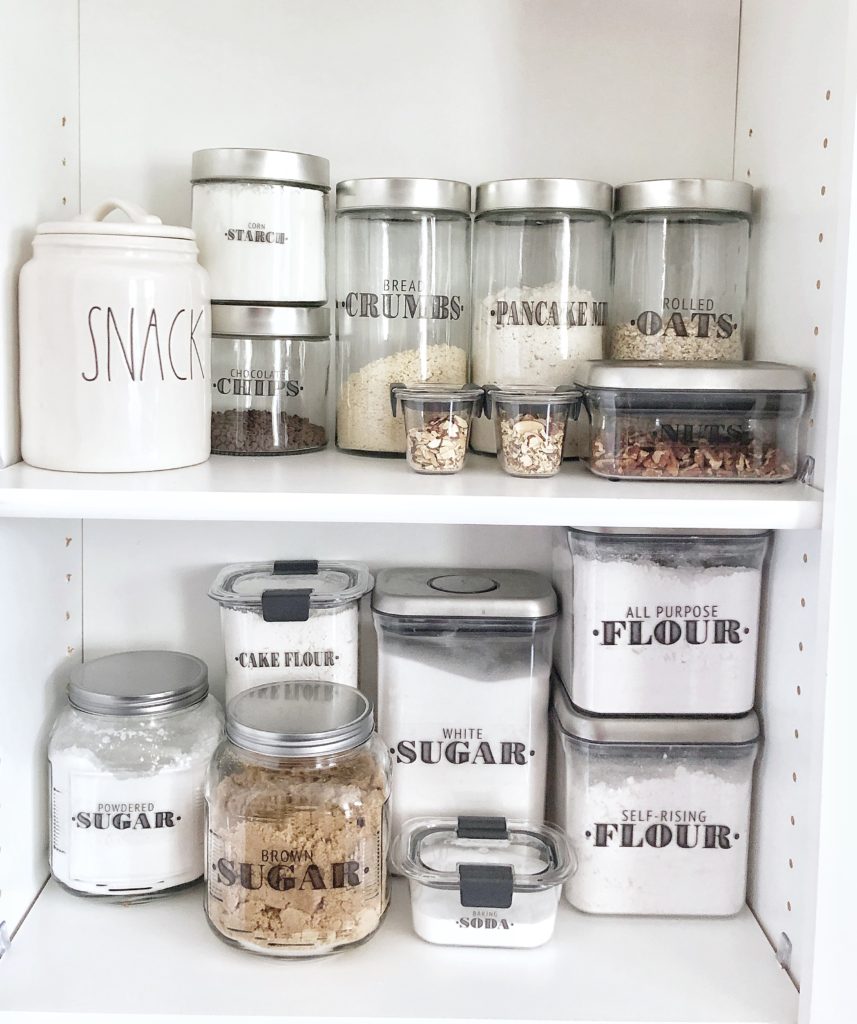 This post contains affiliate links. Click here to read my disclosure policy.

Pantry Labels are a Lifesaver
I couldn't get very far with my pantry organization without some pretty labels to stick on all of my containers. I got these from the Talented Kitchen and I am so impressed with their selection of labels.
You can get so many different styles and fonts and you can even choose between black and white colors, so no matter what containers you are using, you can find the perfect labels for them.
You can Click here to view the exact labels I used for my pantry organization project. This is probably my best tip on how to organize your pantry.
Definitely get you some good quality labels! They will help you out a lot!
Choose Good Quality Containers
You also can't get very far with a pantry organization project without having some good quality containers.
Now, that doesn't mean you have to spend a ton of money on containers either. I recommend shopping around for the best prices before purchasing a set.
I already had a few clear container sets, but I needed more for this project and I ended up ordering a Rubbermaid set off of Amazon, and I am very happy with the quality of them.
Click here if you want to view them too. I also found a few glass containers from TJ Maxx as well and they were very affordable too.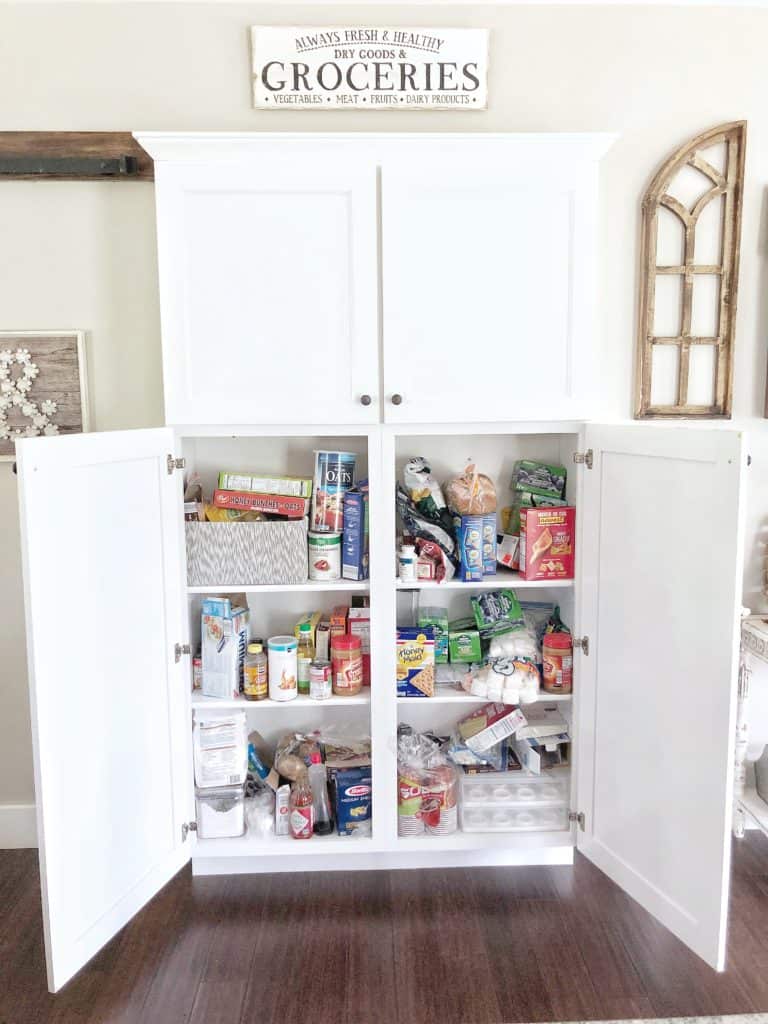 Use What You Already Have
Don't be afraid to use items you already have to get organized as well. I ended up using a few of my Rae Dunn canisters.
They are perfect for storing quick, grab and go snacks such as granola bars. I like how I can store them and not have a bulky box in the way, taking up a lot of my storage space.
I also had an extra little storage bin and I ended up sticking more snacks and things in that as well to make it look even more organized too. Using what you have is a great trick on how to keep your pantry organized as well.
Throw Out Anything You Don't Use Often
This should be obvious, but I felt like it needed to be said because it definitely applies to me as well. I always end up being afraid to throw something away because I think, well I may use this later for something.
But 99% of the time I don't and it just sits there in my pantry for months taking up space. If you aren't using it often, then throw it out!
Keep your pantry full of useful, everyday groceries and supplies that make your life easier, not harder.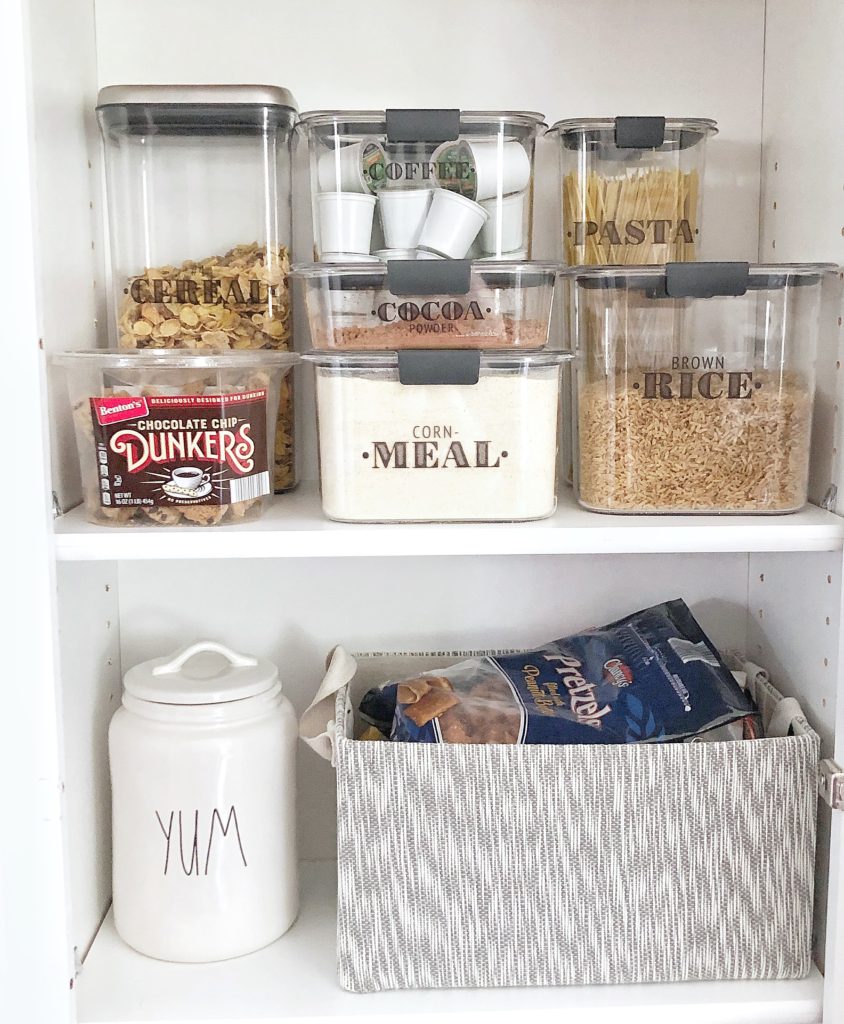 Hopefully these tips show you everything you need to know on how to organize your pantry too. I would love to hear if you guys order you some of these amazing labels too.
And, you can even get other labels such as bathroom, playroom, and office labels as well. Click here to view all the options.
And stay tuned in the next couple of weeks because I believe I am going to tackle our messy, master bathroom next and try to get it more organized using these labels too!