If you saw my post about our DIY Fireplace a few weeks ago, then you know that I was so thrilled to finally have a mantel to decorate for Christmas with! I have never had a mantel before. But that never stopped me from decorating with stockings.
Several years ago I shared all about how to decorate without a mantel for stockings. So even if you don't have a mantel in your living room, don't let that stop you from decorating! But this year, I am so excited we decided to upgrade our living room fireplace.
And we added in a mantel! I thought it would be fun to share with you all the process of adding a mantel to a fireplace. It was actually super easy and not that difficult to do.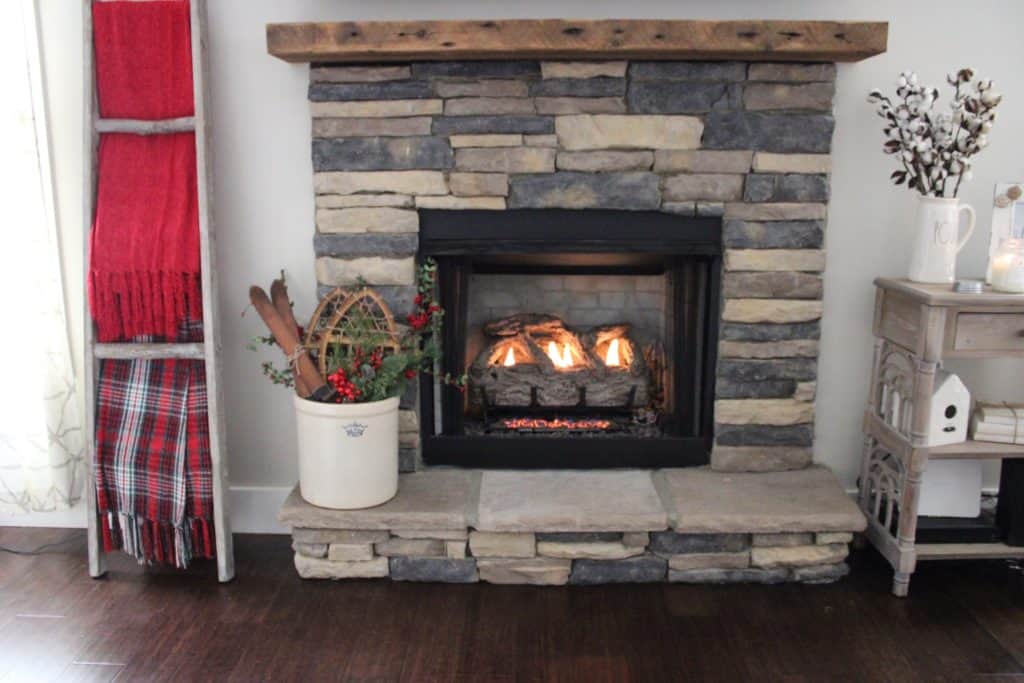 This post contains affiliate links. Click here to read my disclosure policy.
Prepping to Install the Mantel
We got this mantel again from Modern Timber Craft. And if you remember, it was the same company that we used for our downstairs DIY Fireplace too.
The nice thing about ordering from them is that they include all the hardware you need to hang your mantel with in your order.
And it can be completely custom ordered. Just measure out how wide, long, and tall you want your mantel to be and send it over to them. Easy peasy!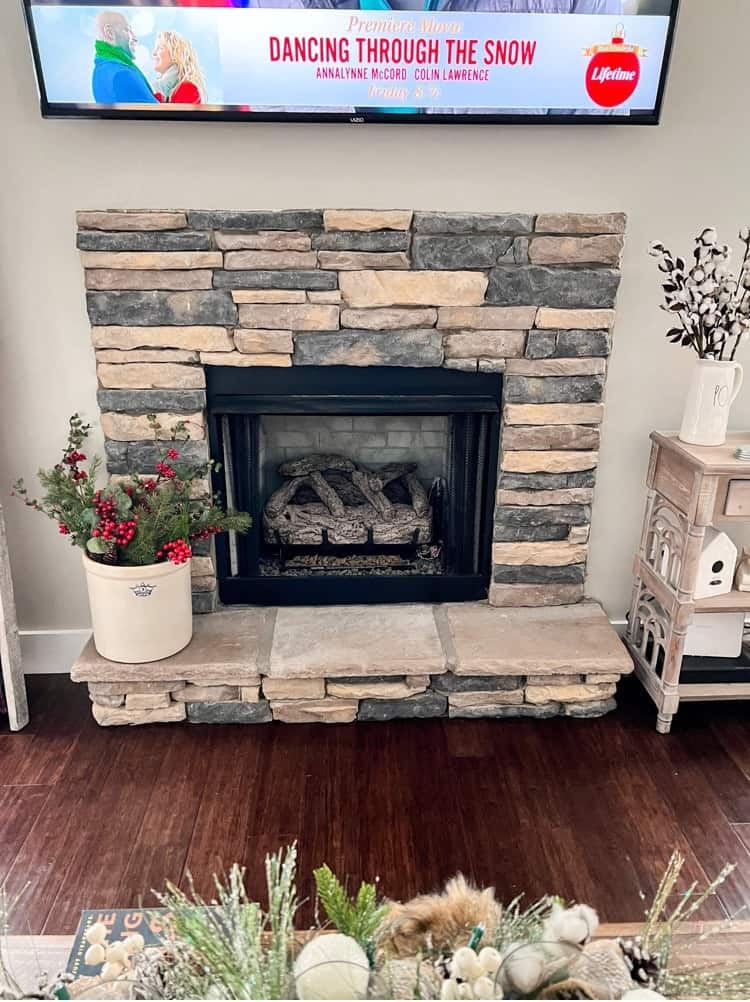 On our fireplace downstairs, we just used some wood glue to attach the mantel since it was a built-out fireplace.
Since the one in our living room is not, we had to attach it using the hardware they provided. It is similar to just installing a floating shelf if you have ever done that before as well.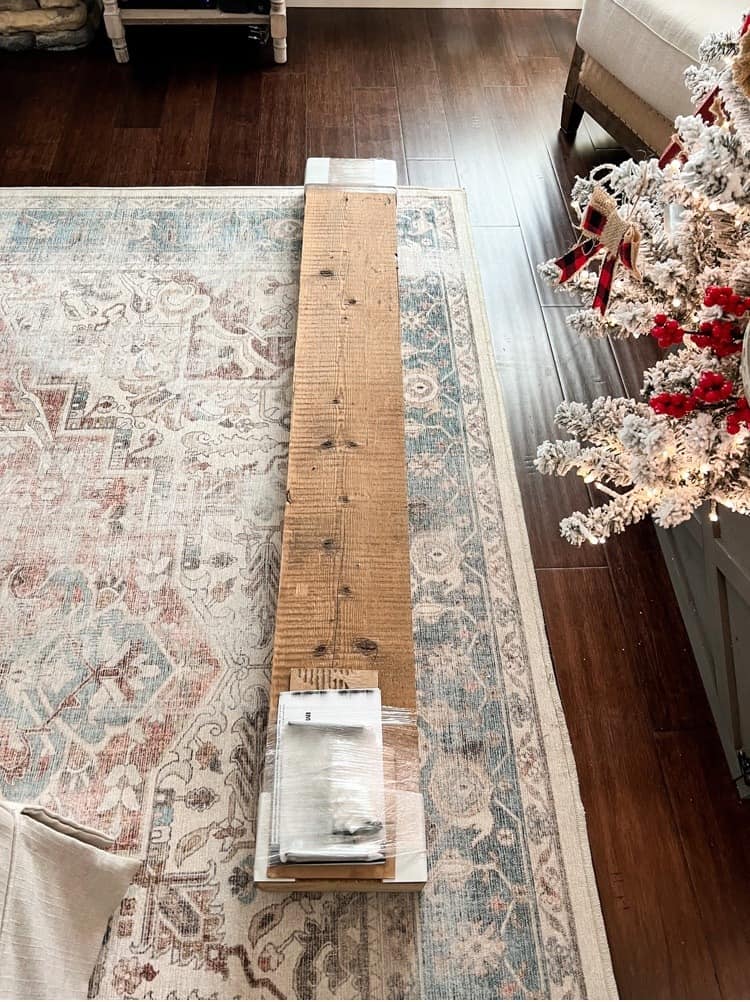 You simply just find the studs in the wall and then nail the brackets provided into place. It came with two so we did it on each side of the fireplace.
We also measured it to make sure it would be centered.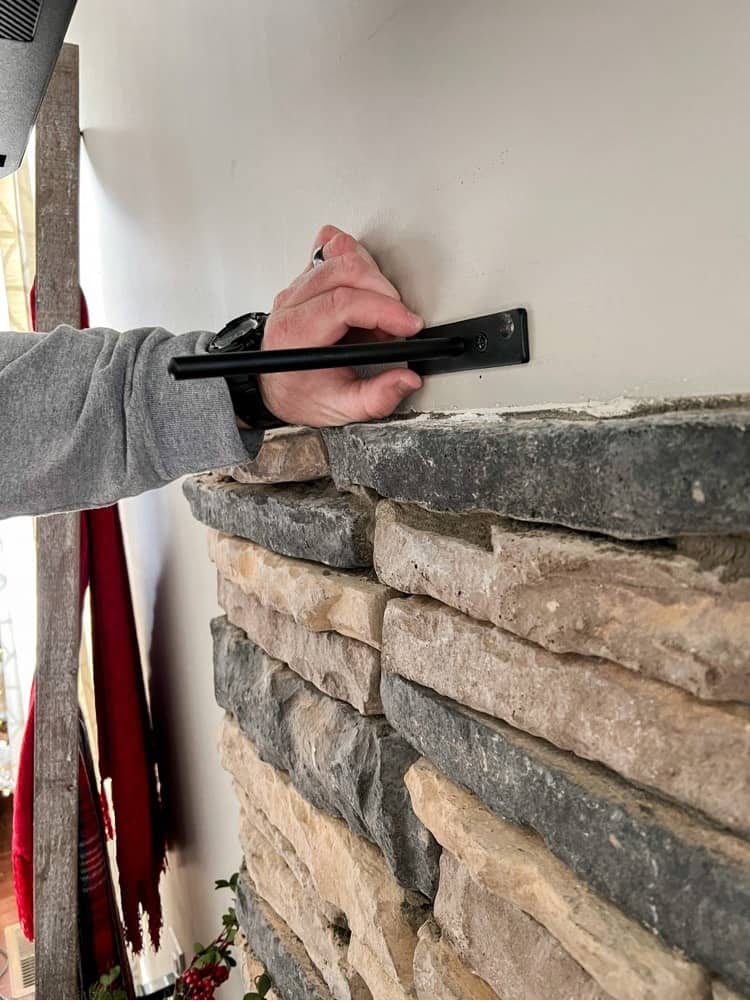 Installing the Mantel
After we got the brackets into place, it was time to attach the mantel to it! My husband measured out where the brackets would be, and then started drilling into the mantel!
He had to do this a couple of times because at first it wasn't deep enough. And then the mantel would stick out a little bit from the wall.
So he kept trying until it was completely flush against the wall. Other than a few tweaks here and there, it was super easy to install.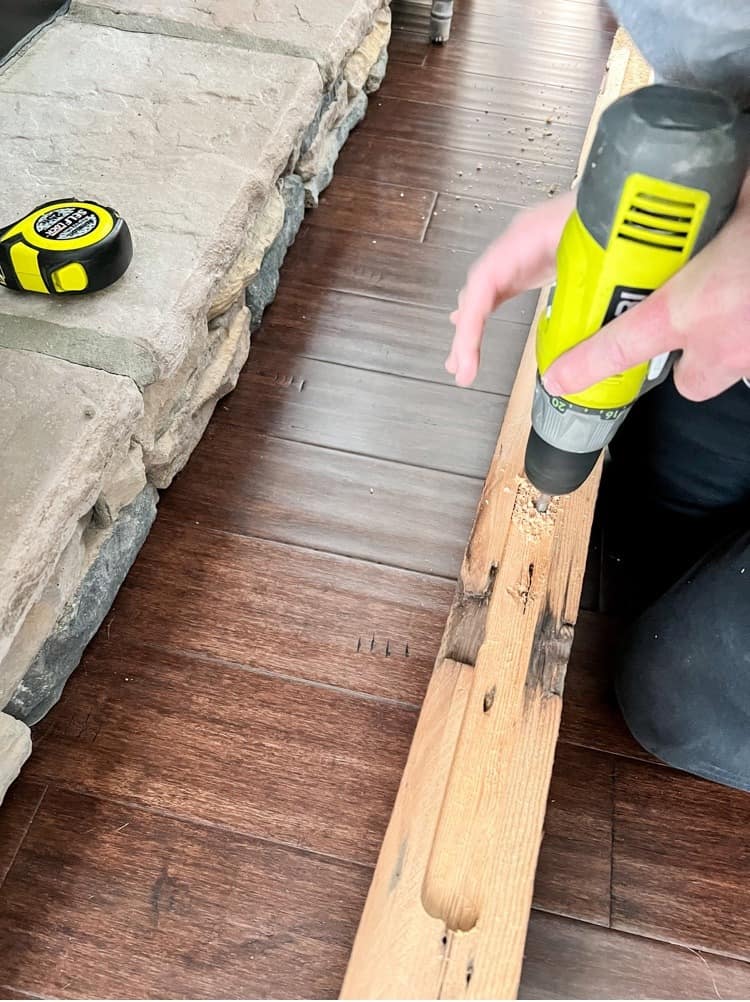 Once we got it attached to the brackets and installed fully into the wall, we simply let it rest for awhile.
My husband used some leftover wood from another project and placed it underneath the mantel to make sure it stayed upright and didn't lean after installing it.
He didn't want me to decorate it just yet. He wanted us to wait and make sure that the mantel could handle the weight and was securely attached to the wall as well.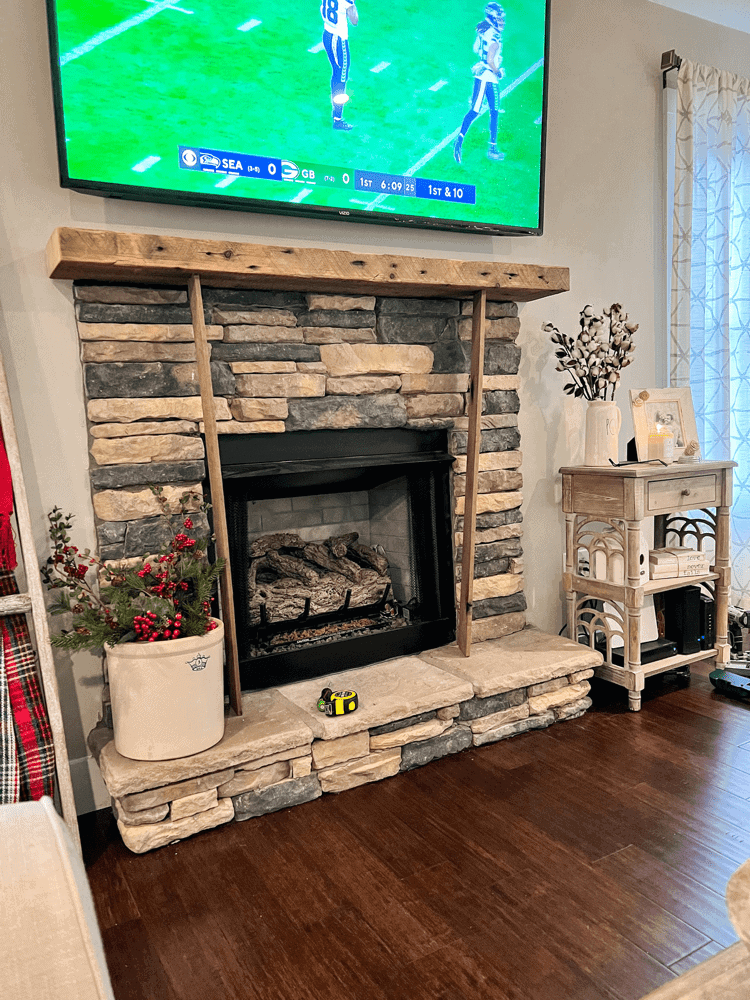 Finishing Touches
My husband then decided it would look best if we also sealed the mantel to give it a nice, semi-glossy finish. And it does look really great after adding that on!
The company that we ordered the mantel from gives you the option of getting your mantel finished or unfinished.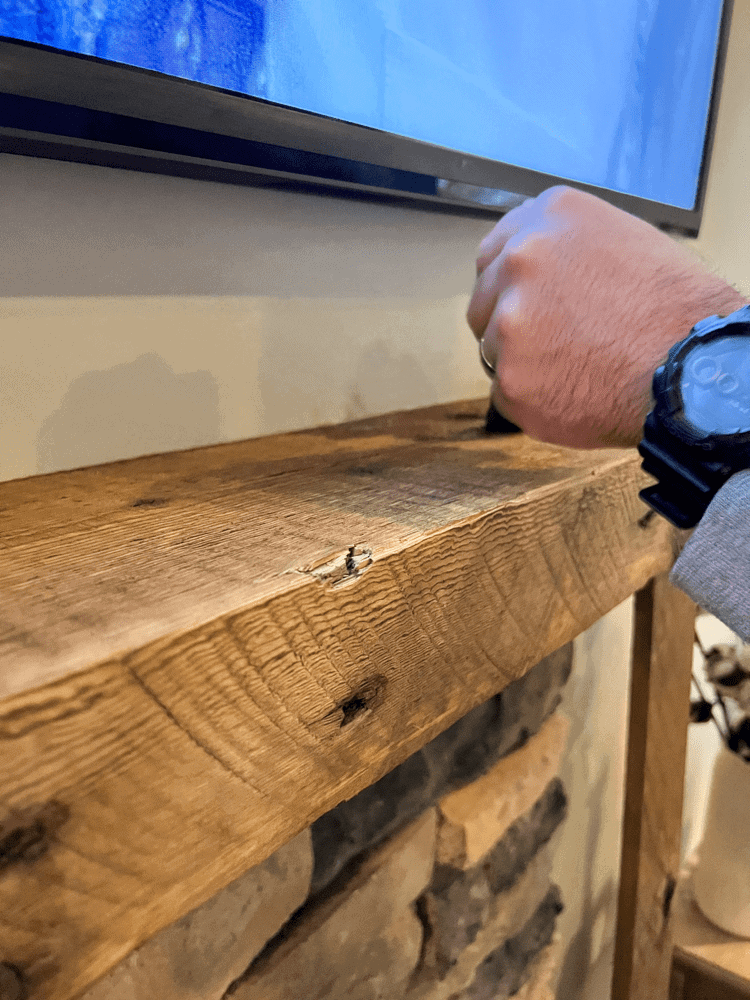 We chose the unfinished option just like our downstairs one too. But, adding in this little sealer gives it a little pop and switches it up from being the exact same as our one downstairs too.
I like how you can also just order one from them completely finished too so you don't even have to worry about sealing it or staining it if you don't want to.
I love how rustic the reclaimed barn wood looks too. It really suits our house and our vibe well!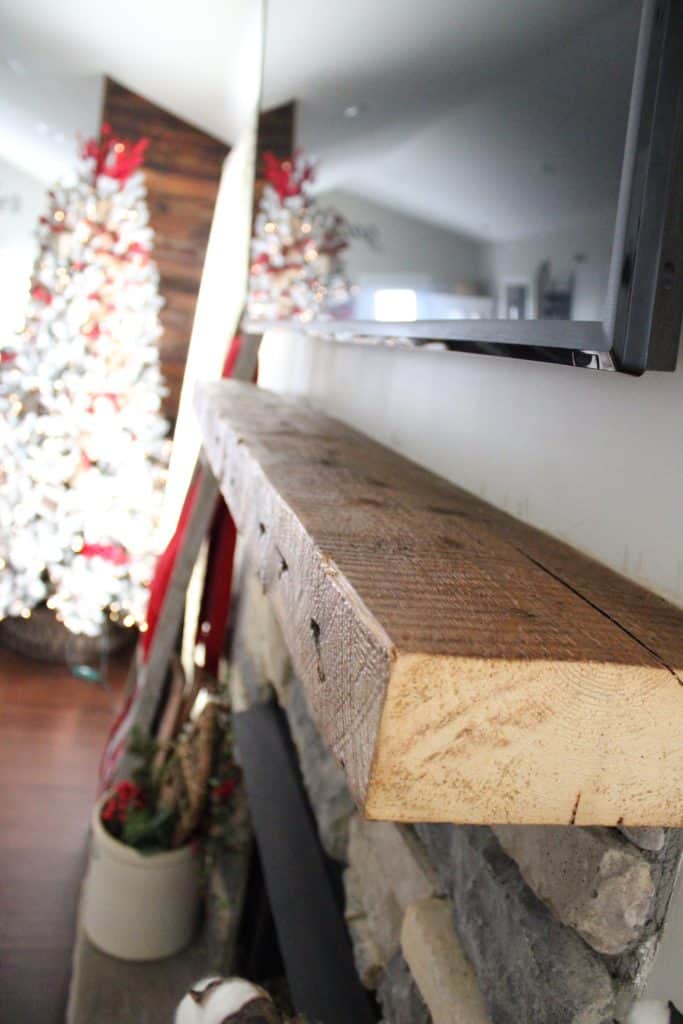 Just this simple little addition made all the difference in the world when it came to our fireplace! If you've been a little hesitant about adding a mantel to a fireplace, don't be!
As you can see here, it really took shape and makes our fireplace and living room area look even better than before!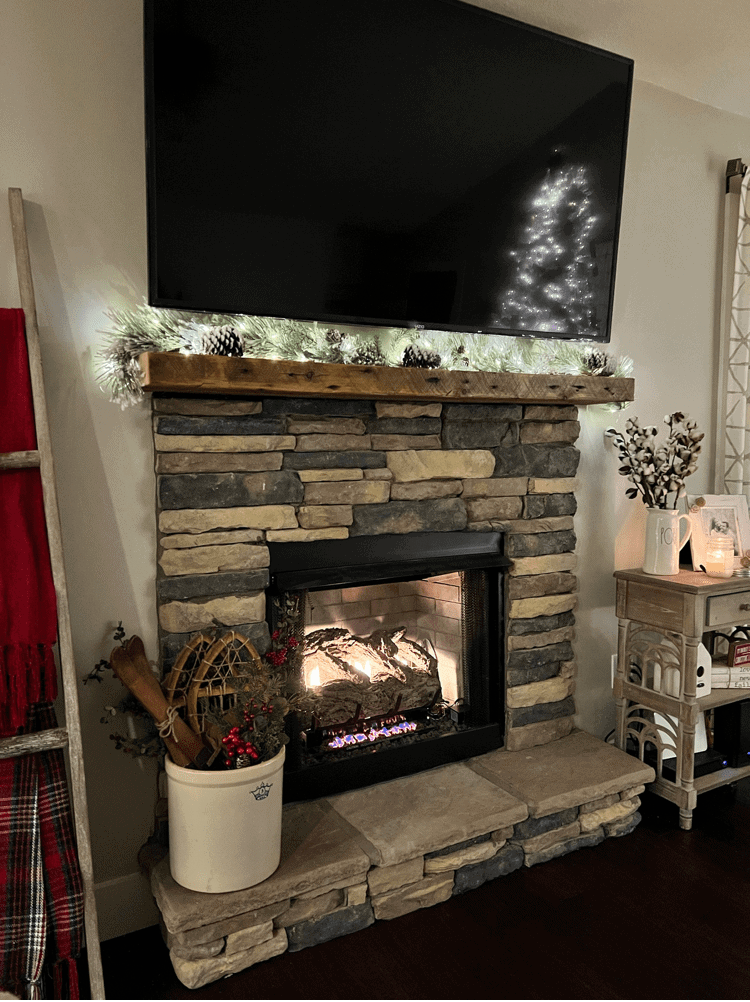 As you can see above, I added in a garland on the mantel for some Christmas cheer. It didn't come with lights, so I used a couple of packs of battery operated string lights.
I strung them around the garland to give it even more of a cozy glow! What do you think of how it turned out!? I am in love with it!
I went from having no mantels to decorate for Christmas, to having two all in the same year! What about y'all?? Do you have a mantel you can decorate with for Christmas as well?
Let me know below!