This post contains affiliate links. Click here to read my disclosure policy.
I always love seeing everyone's beautiful Christmas stocking display hanging on their mantel. But we don't have a mantel above our fireplace so I've always wondered how to hang stockings without a mantel?
And I am sure I am not alone on this problem. I would love to have a mantel, but until we do, I have came up with a different and creative way to display my stockings. And as a bonus, it's right next to my fireplace too!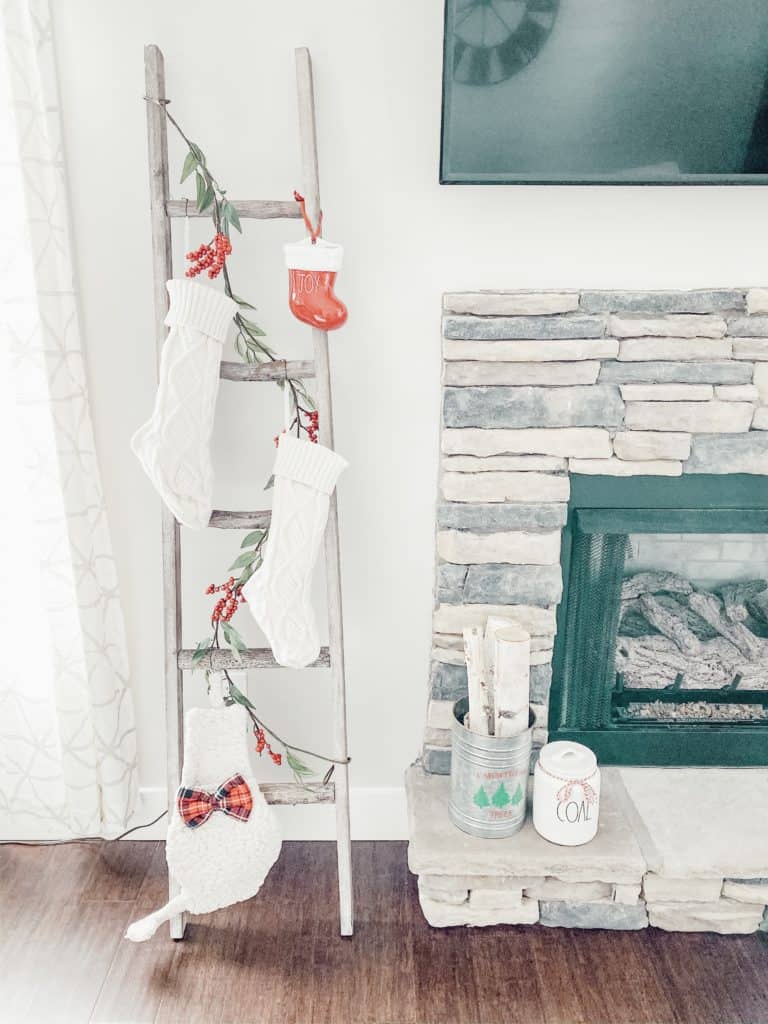 Use a Blanket Ladder to Hang Christmas Stockings
So first of all that beautiful ladder is from Kirkland's and I got it when it was on clearance so it was a great deal! But, you could use any blanket ladder you have laying around your house as well.
I usually just have some neutral throws draped over it and I thought about getting some Christmas throws to display on it this season.
But then I decided to display my stockings on it instead and I am so glad I thought to do that. It was a great solution on how to hang stockings without a mantel. I love the way it turned out and I think it's the next best thing to having them displayed on a mantel!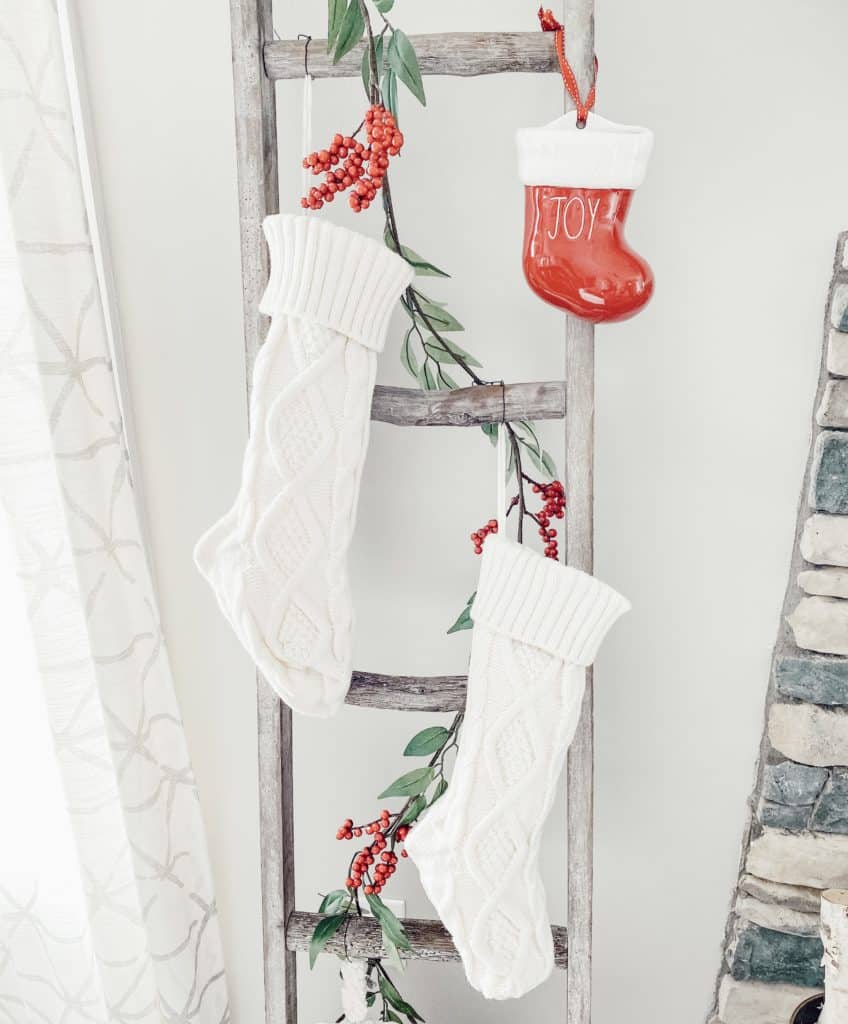 Cable Knit Stockings
So for my main stockings for me and my hubby, I found these beautiful cable knit stockings from Amazon. They come in a pack of two and they are only $13.90 which I thought was an incredible deal.
I was looking all over for some neutral sweater-like stockings and the other ones I found were much more pricey and it was just for one.
This definitely seemed to be the best deal and the quality on them is amazing. I also included that cute little ceramic Rae Dunn stocking on the top of my ladder for a pop of color as well.
And the berry garland you see strung along the ladder is from the Target Dollar Spot and it was only $5! Super cheap and it was long enough to drape across the whole ladder so it was the perfect length.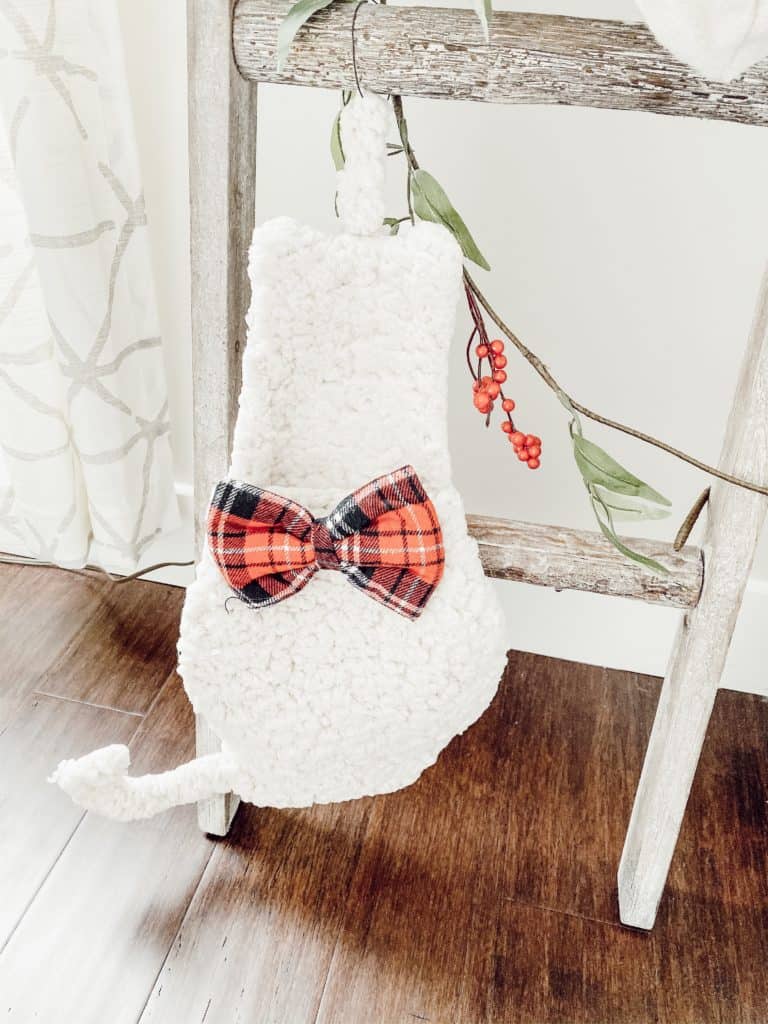 Cat Christmas Stocking
If you know me, then you know that I'm a huge cat lover. And that my Toby is my sweet fur baby, so I obviously couldn't leave him without his very own stocking!
And when I saw this stocking advertised on Kirkland's, I immediately fell in love and knew this would be perfect for him! I also love how it's white just like our stockings above so it all goes together well.
If you are also a fellow cat lover then you need this stocking just as much as I did! It will definitely be full of treats and toys for him on Christmas morning!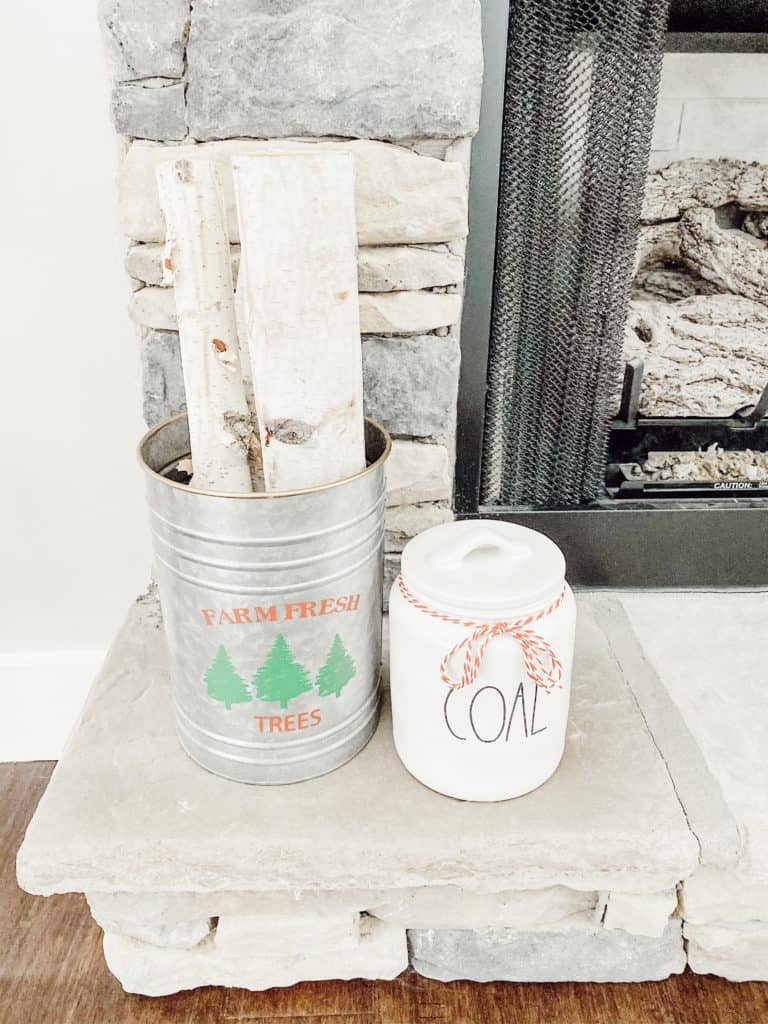 Other Stocking Accessories
Some other stocking accessories I have is my Rae Dunn coal canister. Although, we're all on the nice list here and no one is getting coal in their stocking this year!
But nonetheless, it's still super cute and I thought it would look better here than somewhere in the kitchen or dining room. It just makes more sense to place it here in my opinion!
And I found that cute little galvanized bucket from Michael's for half off. They had two different sizes and this is the smaller one. I tried to find the link for it online, but I believe they are sold out.
They may still have them in store though. It fits my birch wood bundle from Target just perfectly. Target had some great options, but ultimately that one above was my favorite. They just go so well together!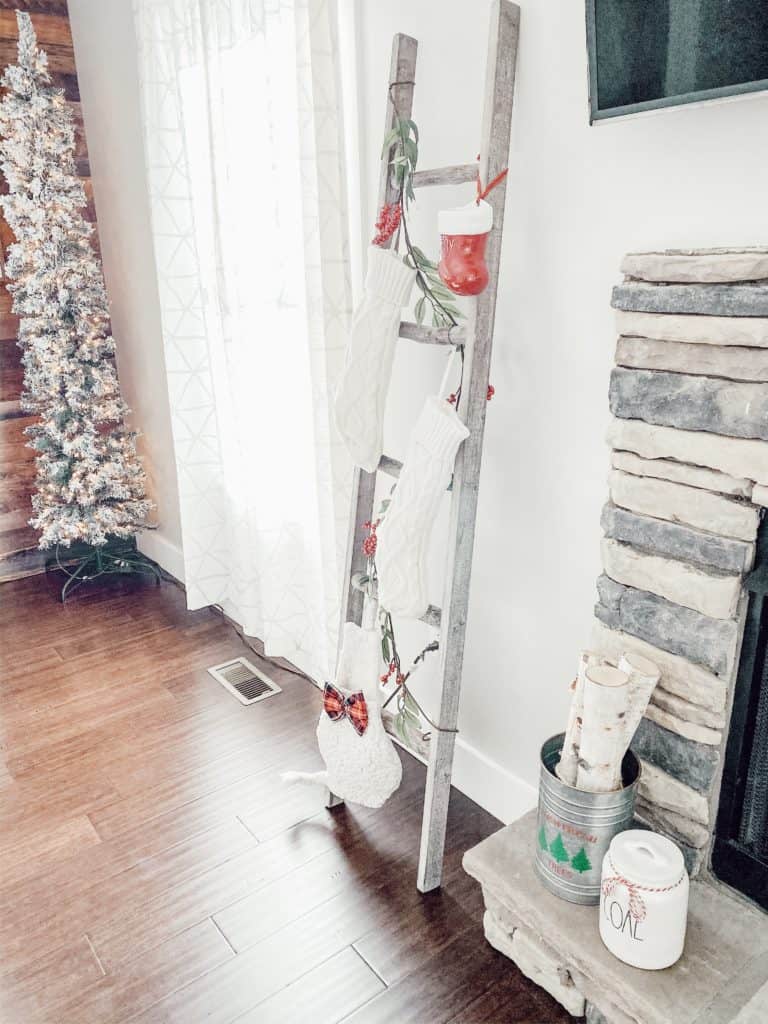 How to Hang the Stockings Without a Mantel
I attached the stockings to the ladder with some floral wire and it was super easy to get them hung. I also stuffed them with some paper towels to make them appear full even though I don't actually have any gifts in them yet!
That's a great, cheap way to make them look like they are completed even though they aren't yet! I am very happy with my stocking display and I am glad I have a way to display them, regardless of not having a mantel.
Do you guys have a mantel for your stockings? Or do you have another creative way to display yours? I would love to hear your ideas!