Today I am going to share with y'all one of my very favorite Christmas recipes. These easy peanut butter balls are sure to be a big hit at your next holiday party!
They make a ton so it's perfect to bring along as a dessert or snack for a big group of people!
I've always been a huge peanut butter lover, so if you are too then these are definitely perfect for you.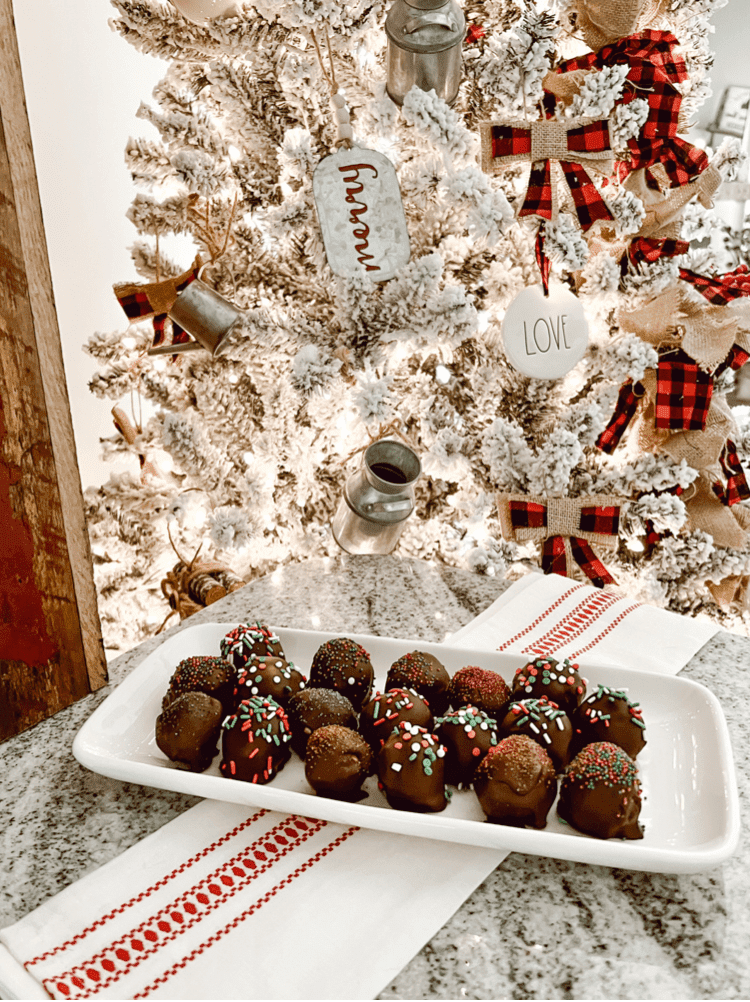 This post contains affiliate links. Click here to read my disclosure policy.
Tips and Tricks for Making Peanut Butter Balls
If you've never made peanut butter balls before, no worries! This is a super simple and easy recipe to follow.
I was always intimidated to make them before I realize just how easy they are actually. It's basically like playing with play-doh!
But after making them for several years in a row now, I have came up with a few tips and tricks to make them much easier for you!
Getting the Right Consistency for the Mixture
One of the biggest tips I have for making them is to get the consistency right when mixing all the ingredients. You may need more or less of my measurements depending on how it looks.
If the mixture is too dry, add in more peanut butter! And if it's too runny, add in more powdered sugar!
There really isn't a "perfect" set in stone measurement for these. Start with the recipe below as a baseline and go from there!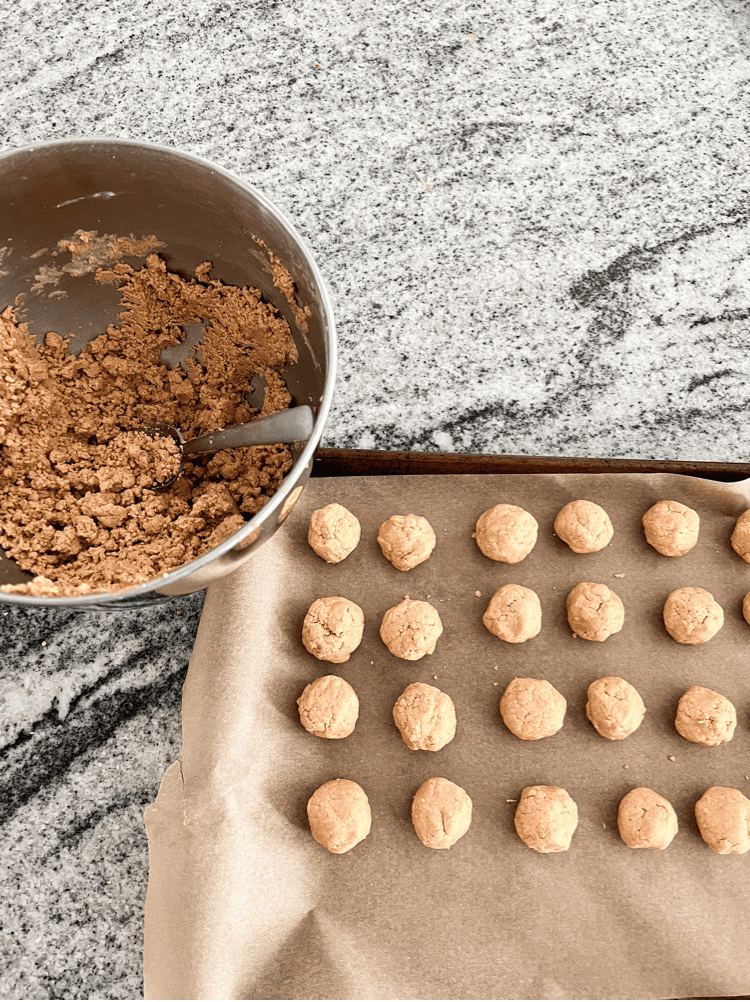 Refrigerating the Balls Before Dipping
If you do anything, you MUST refrigerate the balls before dipping them into the chocolate. If you don't, you will have a big old mess on your hands.
They will break apart and leave a peanut butter mess in your melted chocolate and you don't want that! I chilled mine for 30 minutes but you can do even longer if you want to be sure.
30 minutes seemed to be plenty of enough time.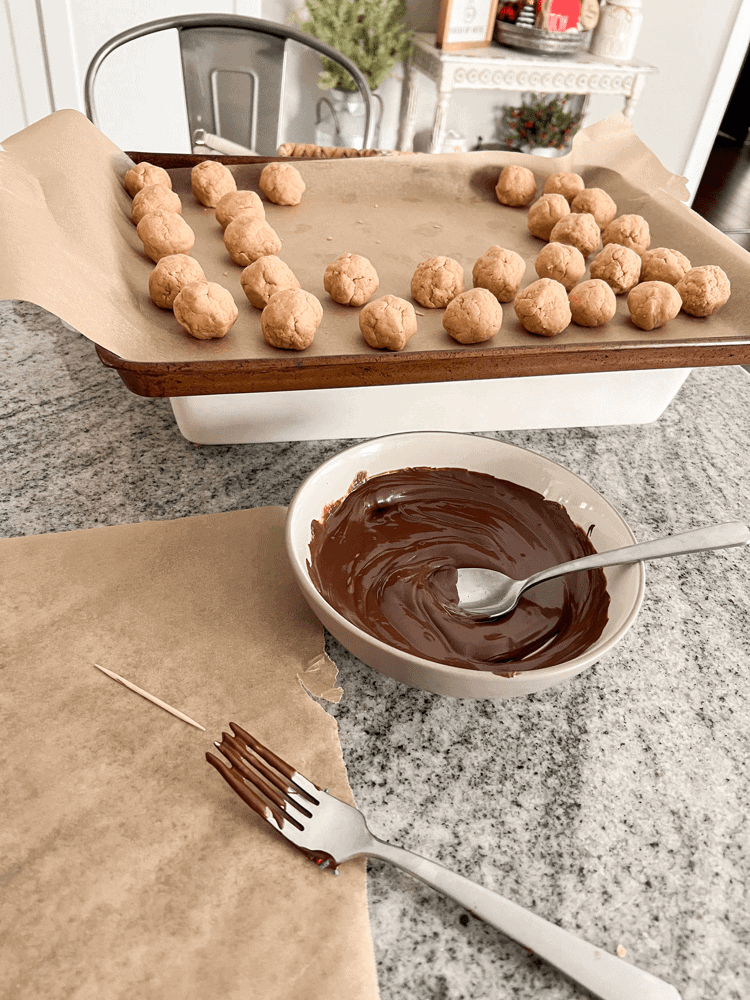 Choosing the Right Kind of Chocolate
Another tip I have for you to make these peanut butter balls, is to choose the right kind of chocolate. I have found that melting regular old chocolate chips in the microwave is usually not the best option to coat these with.
That typically doesn't melt very smooth and it is hard to coat the balls completely with. I tried something new this year and used Skinnydipped Baking Bits and melted those instead.
And I was honestly shocked by the results. They melted perfectly smooth and looked nice and shiny when hardened. Just what I wanted!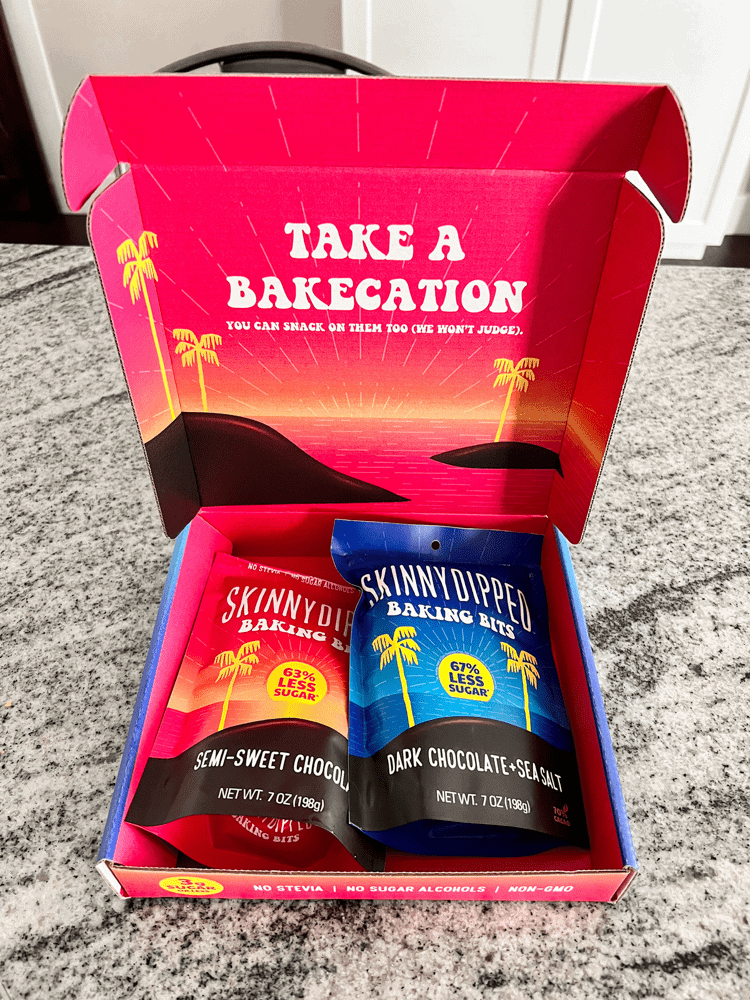 If you can't find those, I have used almond bark before and I have found that works just as well too.
I've used both the chocolate and vanilla before and it turned out great. Or any chocolate candy coating pieces like that will be just fine too.

Lay Out Parchment Paper Everywhere
Like I said above, making these peanut butter balls is very easy. But it is also very messy. I lay out enough parchment paper to cover my island or my space that I am working on.
Because there's nothing worse than scraping off hardened chocolate off of your countertops! And another tip I have when dipping your balls into the chocolate, us a spoon to cover it completely.
Then, use a fork to pick it up from the bottom and let the excess drain back into the bowl. Then, carefully slide it off onto the parchment paper.
Sometimes, if it's stuck on the fork, I will use a toothpick to slide it off as well. That has been the easiest way for me to coat them completely and have them look pretty decent afterwards!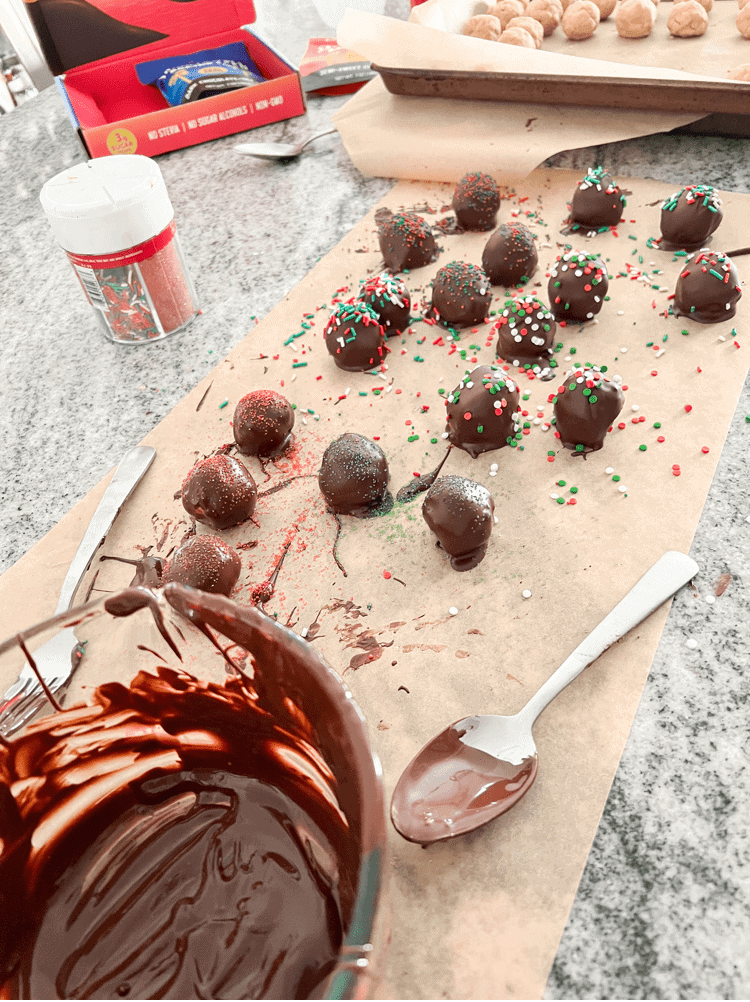 Storing the Peanut Butter Balls
What I love about this recipe is that they keep very well in the fridge for up to two weeks. Or you can even freeze them for up to 2 months as well.
I like to make them in advance of Christmas parties and then freeze them so they are easily ready to go. Then, the night before, I will just lay them out in the fridge to thaw out.
There may be some condensation you need to wipe off from them. But other than that, they are good to go! How easy is that?!
If you're looking for some more Christmas dessert ideas too, then be sure to check out my top five favorite Christmas cookies that I make every year!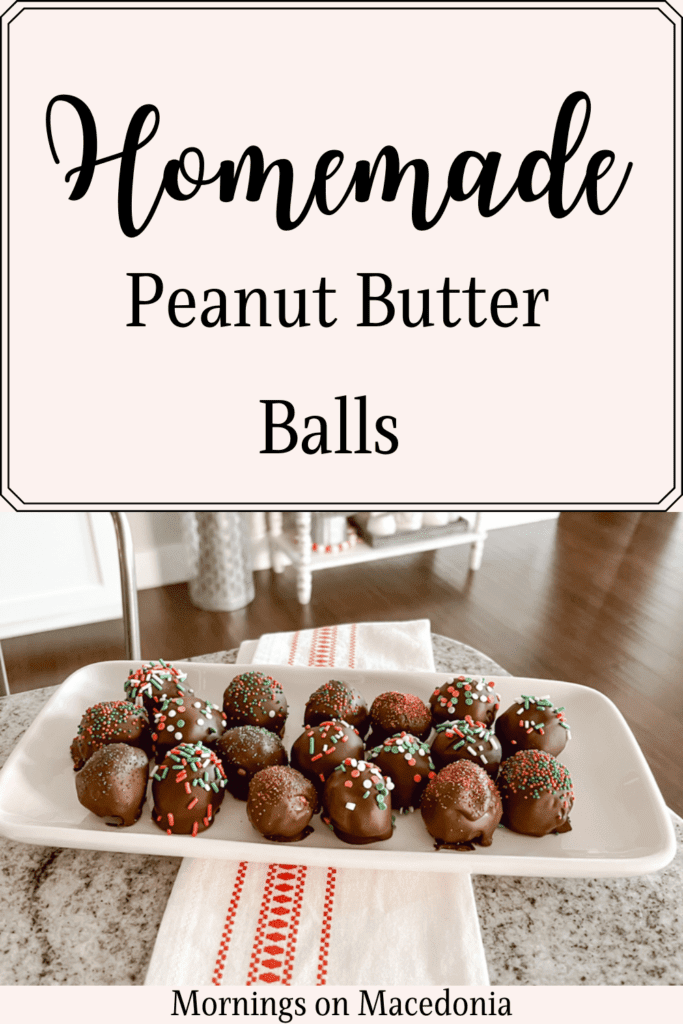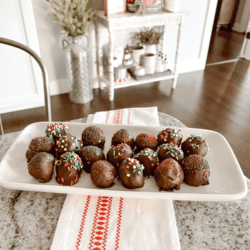 Peanut Butter Balls
Ingredients
2

cups

peanut butter

4

cups

confectioners sugar

1

tsp

vanilla extract

1/4

cup

butter

1

tsp

maple extract

2

bags

chocolate candy coating or chocolate chips

sprinkles

optional
Instructions
Mix all of the above ingredients in a stand mixer until fully combined.

Knead the dough together to create small 1 inch balls.

Place peanut butter balls onto a baking sheet lined with parchment paper and let chill in the fridge for 30 minutes to one hour.

Melt chocolate candy coating in the microwave per bag's instructions.

Dip each peanut butter ball into chocolate and let harden on parchment paper.

If desired, top with some sprinkles on the peanut butter ball before it hardens completely.

Store in the fridge for a couple of weeks or freeze them up to 2 months!