I've recently become addicted to a new brand called Caraway Home for cookware. I always love to be in the kitchen cooking or baking. So I was very excited to try this set out and see what I thought about it.
This certain brand believes in creating non-toxic surfaces and thoughtful designs to lead to more cleaner cooking in the home.
After using a few pieces for the past couple of months, I am here to tell you just why I think Caraway Home is hands down the best cookware for your kitchen!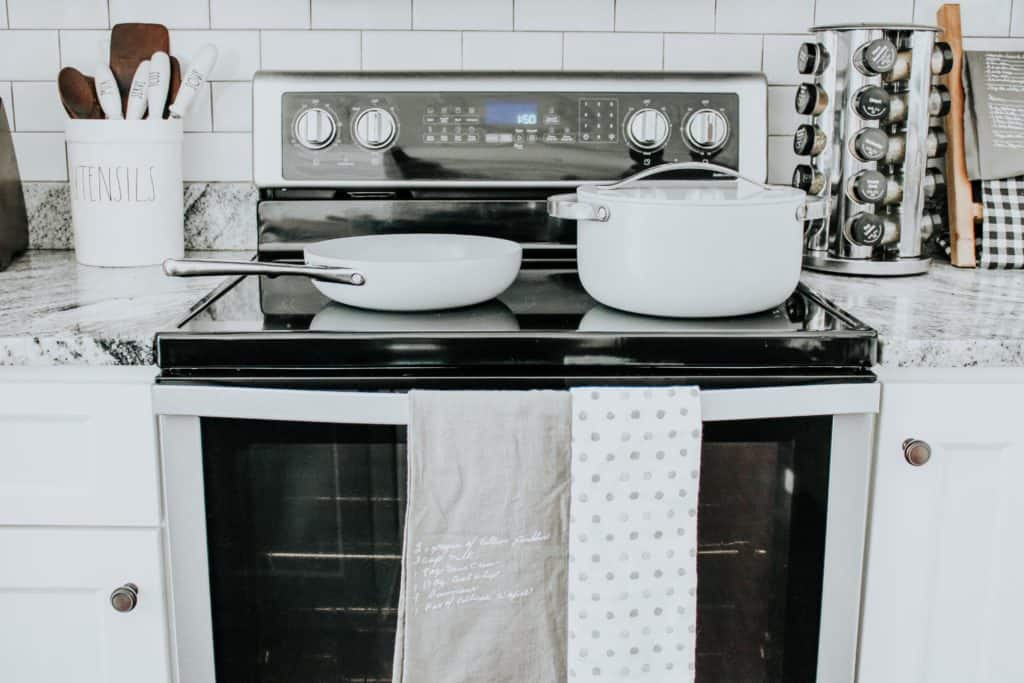 This post contains affiliate links. Click here to read my disclosure policy.
What Makes This Cookware Different
Did you know that 95% of non-stick pans (including Teflon®) contain Polytetrafluoroethylene?? And that this "forever chemical" can take decades or longer to leave the body?!
They also never break down in the environment either. It only takes 2.5 minutes for a traditional non-stick pan on high heat to start releasing this chemical.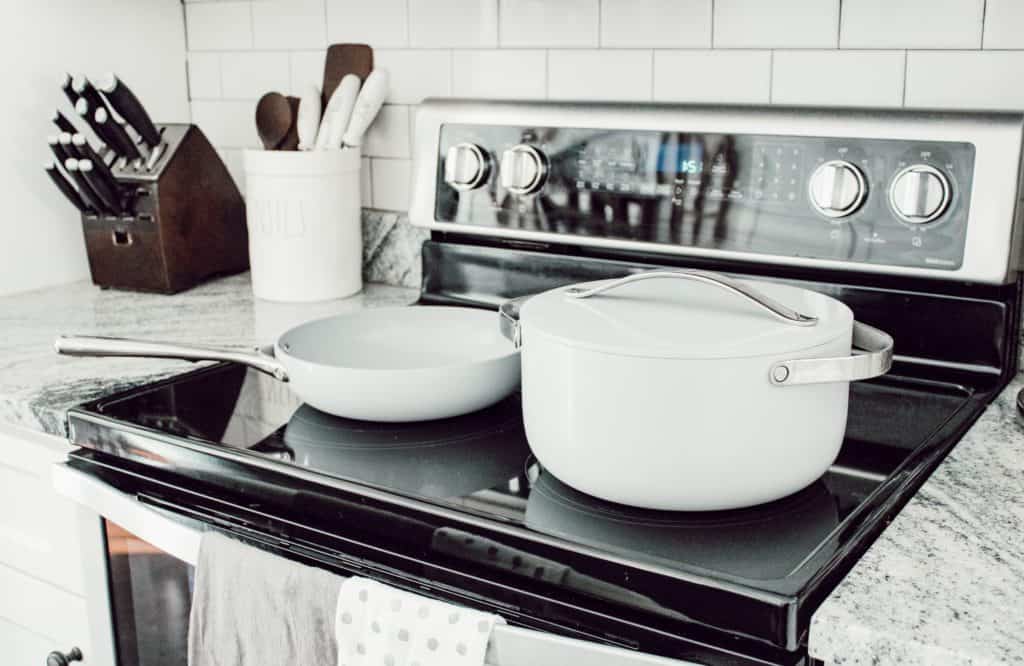 Caraway Home has introduced a new way to cook with their ceramic non-stick cookware. This mineral-based coating is non-toxic and eco-friendly as well.
It releases up to 60% less CO2 compared to other non-stick pans. Also, since these pans are so slick, they require less butter and/or oil to cook with.
Which therefore reduces the amount of scrubbing required to clean them.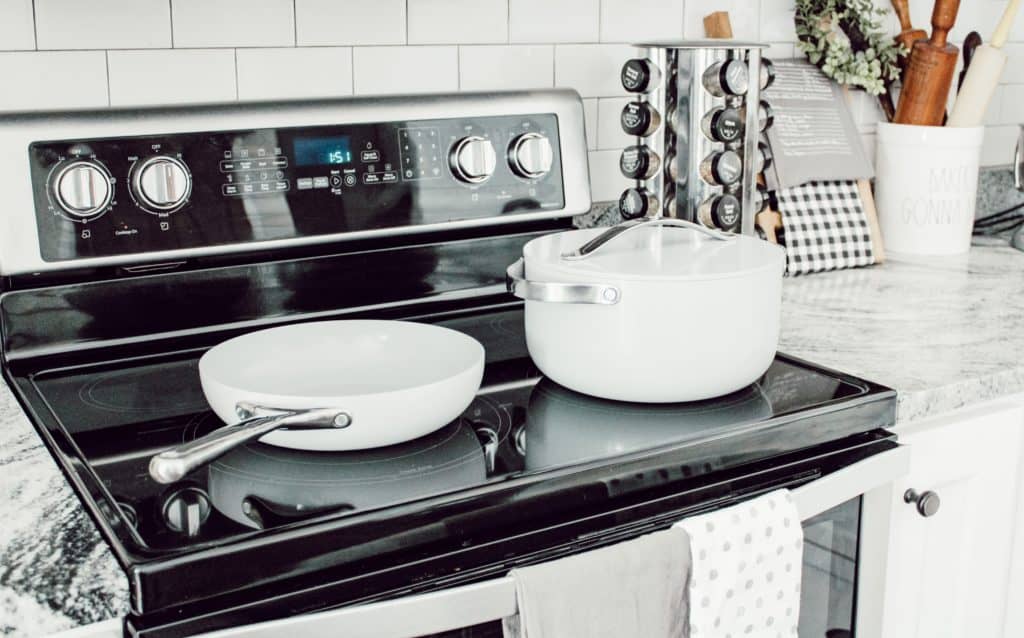 They are also very conscious of ethical manufacturing and support BSCI and SMETA partners. They make sure their employees are paid fairly with benefits, safe, and working regulated hours.
Their packaging also contains zero plastic bags and low impact print dyes. The cork trivets that are included with your purchase are also 100% biodegradable.
Cookware Options
Now that you know a little more about the company and their mission, I figured I would share with you all everything you can get from them.
You can order a whole cookware set, which includes everything listed below. Or you could order each item individually if you would rather do that instead.
I personally have the Fry Pan and Dutch Oven. And I am dying to order the other two pieces to complete the set!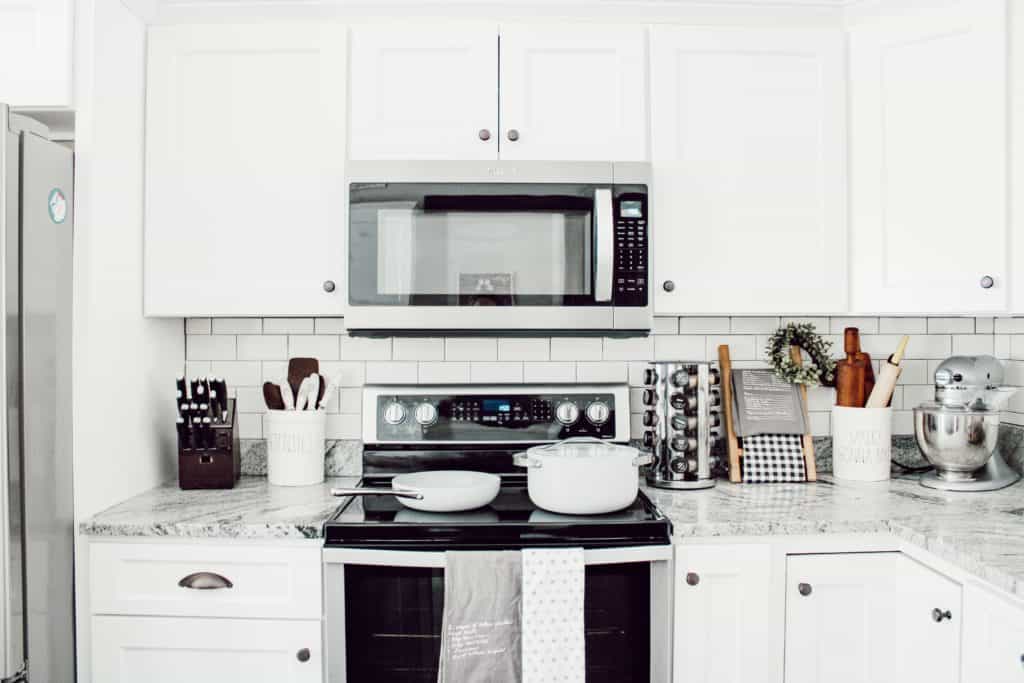 Fry Pan

Diameter: 10.5 in
Great for pancakes, sautéing veggies, and eggs

Sauce Pan

Volume: 3 quarts
Ideal for mac and cheese, risottos, and sauces

Saute Pan

Volume: 4.5 quarts
Perfect for stir fry and other dishes with stock

Dutch Oven

Volume: 6.5 quarts
Made for stews, pastas, boils, and roasts
If you do end up ordering the full set, it also includes storage. Such as a magnetic pan rack and a canvas lid holder which is so convenient!
Cookware Accessories
Another fun thing about this best set of cookware is the fact that they come in many fun colors. As you can see in my photos, I chose to keep it neutral and get the gray color.
But they also come in a fun coral, sage, navy, and cream color too. So you can definitely use them as a fun pop of color in your kitchen too.
And Caraway Home doesn't just sell cookware either. They also sell:
Pot Holders
Tea Towels
Market Totes
Oven Mitts
Aprons

Offers for This Cookware
If I haven't convinced you already that you need this cookware set, then I'm just going to sweeten the deal a little more. Caraway Home offers free shipping on orders of $90 or more and free returns too.
Plus, they give you a 30 day trial too. If you aren't totally satisfied, you can always send it back no questions asked.
Be sure to check out Caraway's amazing sale going on right now! They are offering a HUGE holiday sale with up to 20% off their prices! So don't miss out!
I really and truly love this company and their products. You know I wouldn't share anything with y'all that I don't actually use and enjoy myself.
Before trying Caraway, I used the Caphalon brand religiously, which doesn't even come close to the quality of this set now.