Y'all know how much I love easy recipes! And I love some good finger foods too. So this easy 3 ingredient sausage balls recipe falls in both categories! You guys will love them and make them every single holiday season once you try them.
I usually make them for Christmas and again as a yummy New Year's Eve snack, but this year I have surpassed myself. I have already made 3 batches of them and will probably make another round before the end of the year!
That's why I had to share this delicious recipe with y'all! It's perfect for holiday parties, or just to munch on when you're craving a snack!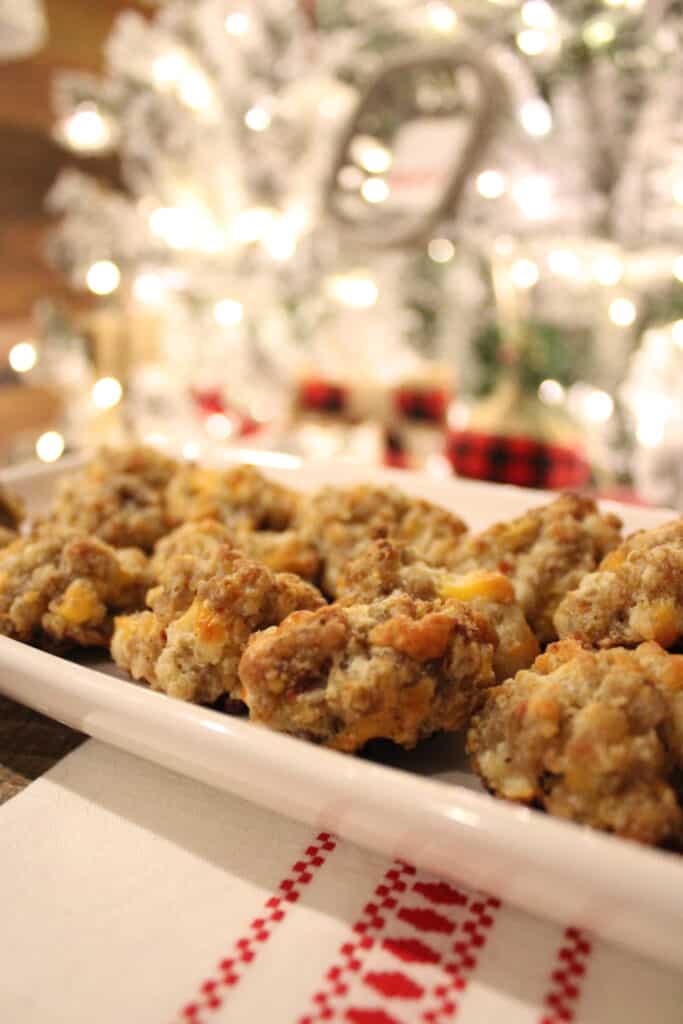 This post contains affiliate links. Click here to read my privacy policy.
Ingredients Needed for Sausage Balls:
1 lb hot breakfast sausage
1 1/4 cups of Bisquick mix
1 cup shredded sharp cheddar cheese
1 8 oz package of cream cheese, softened to room temperature- optional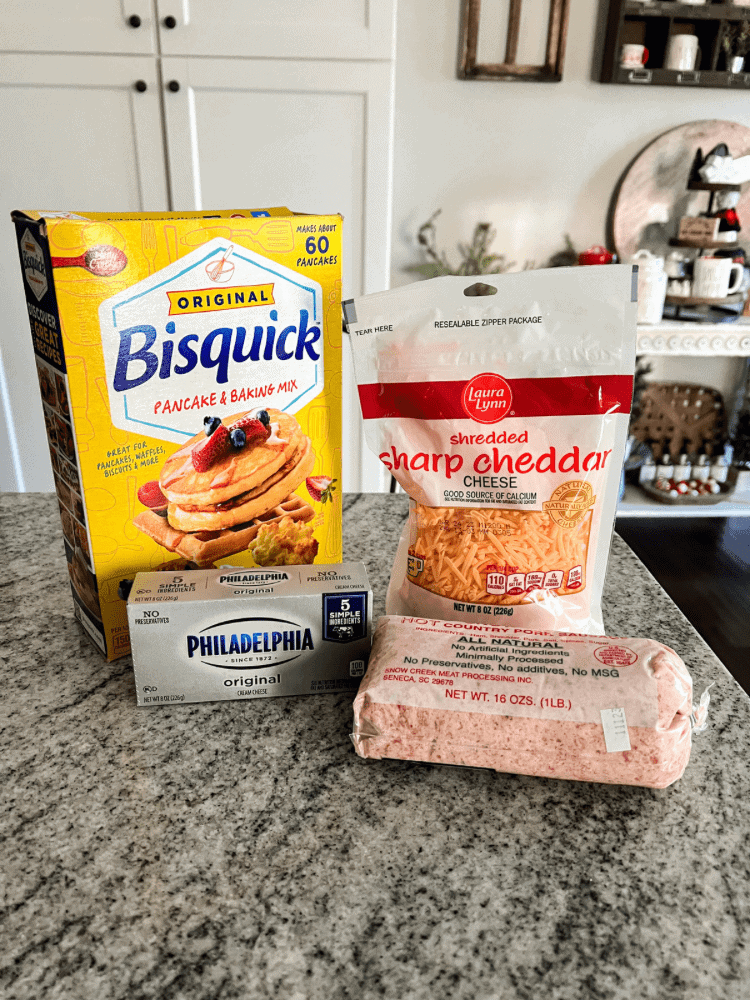 You will notice that I have listed a total of 4 ingredients above, even though the recipe is for 3 ingredient sausage balls. It is entirely possible to use the first 3 simple ingredients to create these yummy sausage balls.
However, I have found that the addition of cream cheese to the recipe is a game changer! So now, I add that to the mix as well. And technically it can still be considered a 3 ingredient recipe, if you group the cream cheese and cheddar cheese together too! I mean they are both technically in the cheese category, right?!
Another note, I love to use hot sausage for this recipe, but you can substitute to whatever you like better. You can even use turkey sausage or chicken sausage too if you wanted.
How to Make Sausage Balls:
Preheat your oven to 400 degrees. Combine all the ingredients together in a large mixing bowl of a stand mixer using the dough hook attachment.
You could mix them by hand, but it is a lot more work. That's why I recommend the KitchenAid dough hook attachment for this process. Then, roll the dough together into 1-inch balls.
You can use a cookie scoop if you have one too. That way you can create them into a more uniformed size. I place them on a cookie sheet (I love to use my Caraway Home baking sheets) covered in parchment paper or aluminum foil.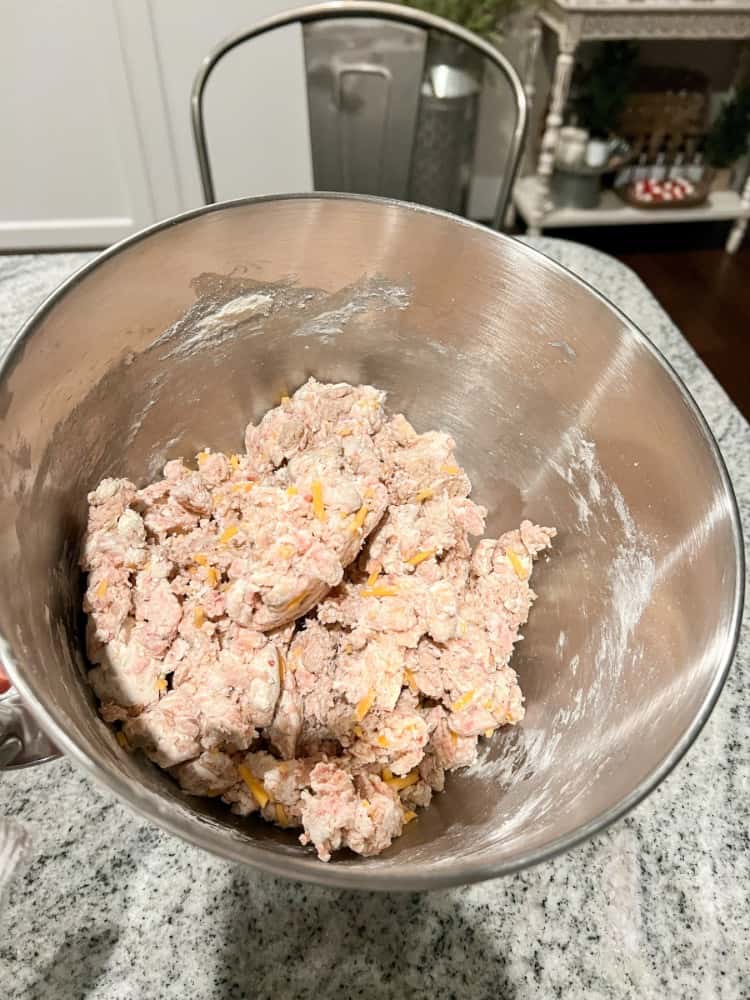 If using foil, I also spray a little cooking spray on top to ensure the bottom of the sausage balls don't stick.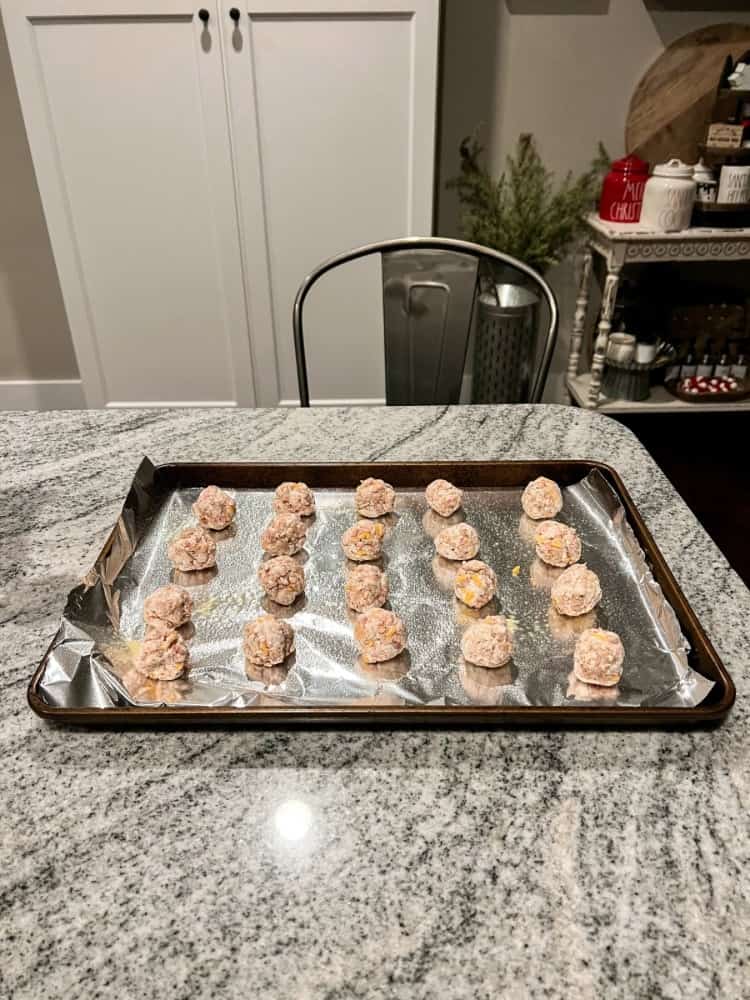 Then, bake them for 18-22 minutes in the oven or until a golden brown color. I baked mine the total 22 minutes.
Then, store them in airtight container once cooled and place them in the fridge if you have any leftovers!
And that's it! See how simple they are to make?! They really are the perfect appetizer and you can serve them with your favorite dipping sauce too. Such as honey mustard, homemade ranch dressing, bbq sauce, etc.
My hubby likes to sprinkle a little hot sauce on his too. But honestly, they are so good by themselves you probably don't need any!
Can You Freeze Sausage Balls?
The answer is yes! If you want to do a little prep work and store them in the freezer before cooking them, feel free to do so! Just combine all the ingredients above in a large bowl and then roll the raw sausage into the palms of your hands to create a ball shape. Place them on a cookie sheet lined with parchment paper.
Then place them in the freezer until solid (2-3 hours or so). Once frozen, remove, and store uncooked sausage balls into a freezer bag. For best results, freeze for up to 3-4 months.
And now you have frozen sausage balls stored in the freezer that you can pop out and cook whenever you feel like it! Just cook them with the same temperature and instructions mentioned above (just add a few extra minutes to baking time) when you are ready to eat them!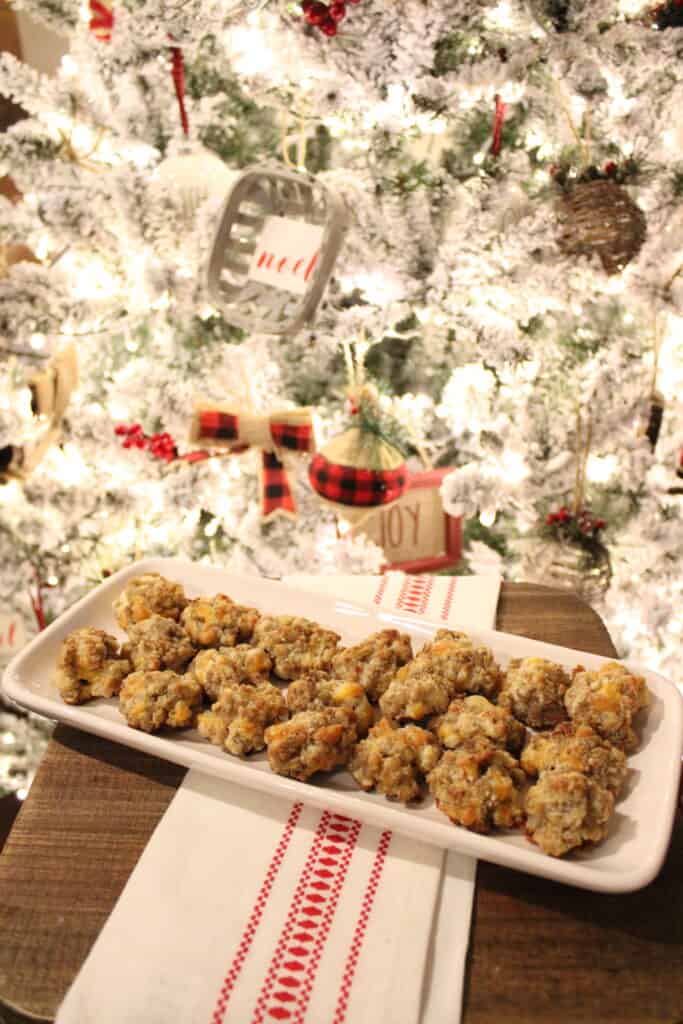 Enjoy Your Sausage Balls
Well, I hope you loved this little 3 ingredient Bisquick sausage balls recipe! It definitely is such an easy appetizer for this time of the year and is perfect for any family gatherings you may have. I honestly don't know why I don't make them more throughout the year too.
I guess I just associate sausage balls with Christmas and New Years mainly. But these would also be a great option for a game day recipe too! Or even a wedding shower. It's the perfect finger food or side dish to bring!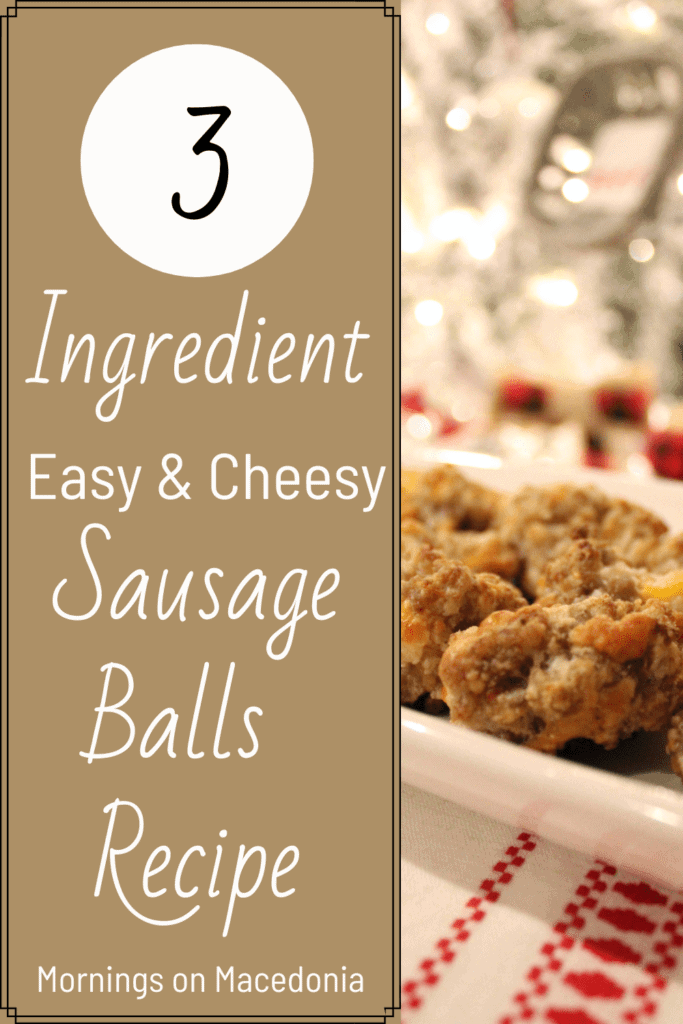 Let me know if you try out these delicious sausage balls and how they turned out for you! I am sure you will love them just as much as we do!
And be sure to try out my easy peanut butter balls recipe too for a sweet accompaniment to this appetizer!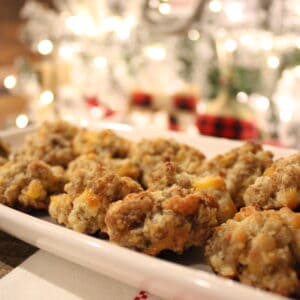 Sausage Balls
Ingredients
1

lb

hot sausage

1 1/4

cups

Bisquick Mix

1

cup

Shredded Cheddar Cheese

1

8 oz

Package of Cream Cheese
Instructions
Mix all ingredients listed above until well combined. It's easier to use the dough hook attachment on a KitchenAid Mixer if you have one.

Roll into 1-inch balls and place on a parchment paper lined baking sheet. You could also use aluminum foil too, just spray it with cooking spray before placing uncooked sausage balls on. That way, they don't stick as easily when baking.

Bake for 18 – 22 minutes, or until golden brown. Mine took the full 22 minutes. And enjoy!