I decided to try something a little different and make a German Apple Pie this season! And while I was worried about how it would turn out, I am very pleased that I tried something new and out of my baking comfort zone!
Because it turned out amazing and delicious! A German Apple Pie is definitely a little different than our traditional American apple pie and I will be explaining all the differences and similarities below.
I will also share the yummy recipe I used so you can try your hand at making one of these delicious apple pies too! This is such a simple recipe and it's perfect to throw together if you have some leftover apples laying around!
And it may not be your grandma's style apple pie, it's totally different- but in a good way! I've never served an apple pie cold before, but it definitely works with this recipe. Especially because of the heavy cream! It's the easiest and creamiest apple pie recipe I have ever made!
With minimal prep time and ingredients, you will have a delicious German Apple Pie to serve in no time!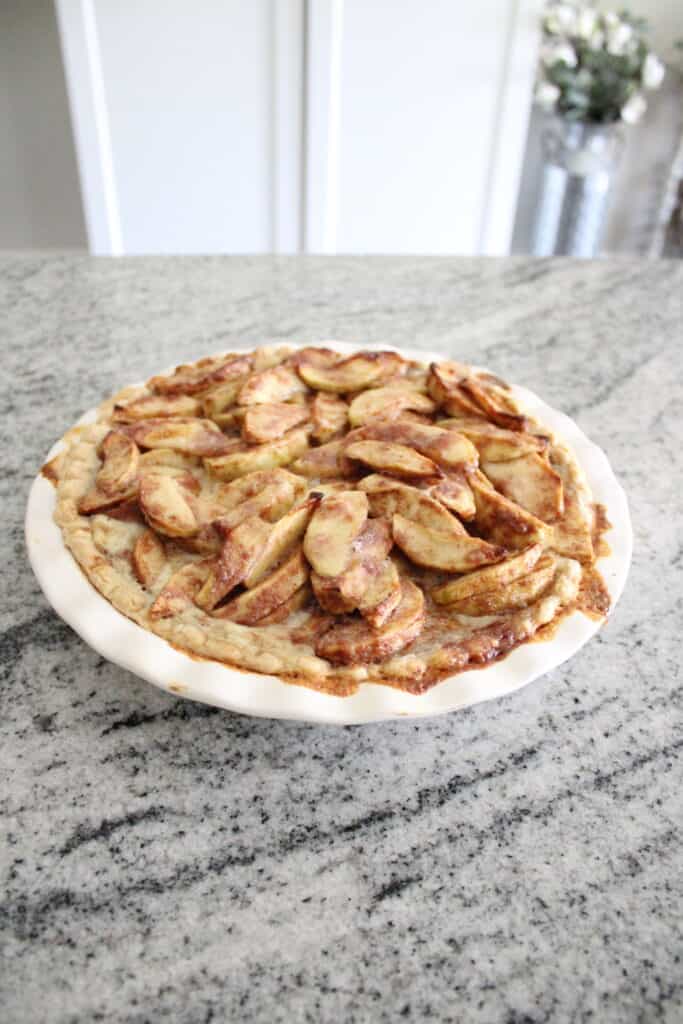 What's The Difference Between German Apple Pie and American Apple Pie?
German apple pie and regular apple pie share some similarities but also have distinct differences in terms of ingredients, preparation methods, and presentation. Here's a breakdown of the key differences: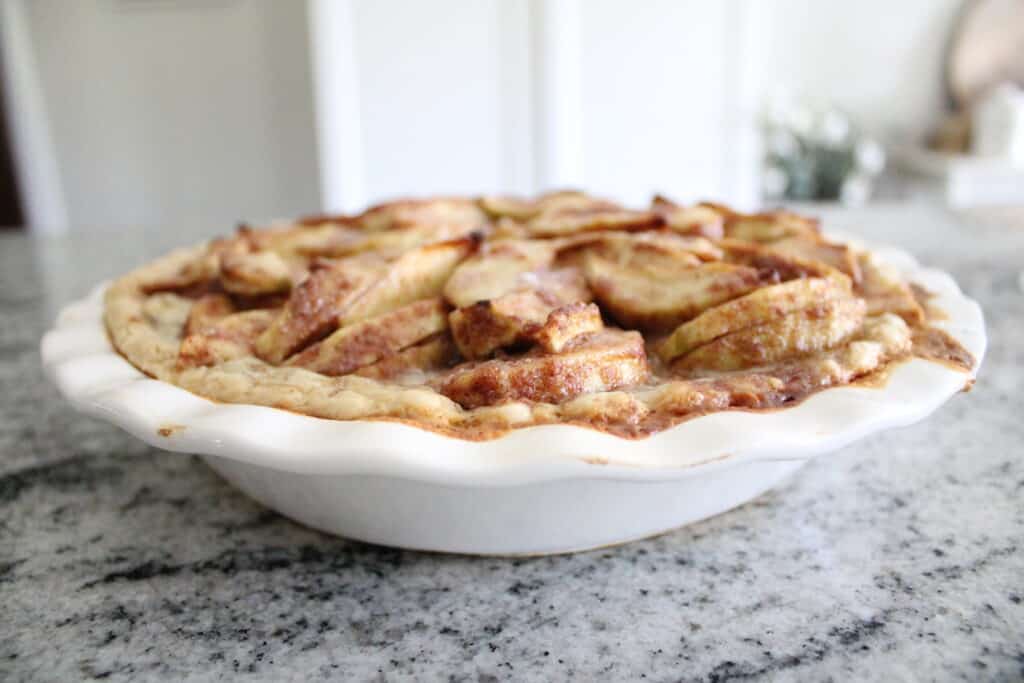 Crust:

Regular Apple Pie: The crust of a regular apple pie is typically made from a combination of flour, butter or shortening, water, and sometimes a bit of sugar and salt. It can be a single-crust pie with a pastry top or a double-crust pie with pastry both on the top and bottom.
German Apple Pie: German apple pie often features a streusel topping rather than a traditional pie crust. The streusel is a crumbly mixture made from butter, flour, and sugar. The streusel adds a crunchy texture to the pie.

Topping:

Regular Apple Pie: The top crust of a regular apple pie can be left plain, have decorative vents, or be woven into lattice patterns. The crust remains relatively soft after baking.
German Apple Pie: The streusel topping on a German apple pie becomes crispy and golden brown when baked. It adds a sweet and crumbly layer on top of the apple filling.

Filling:

Regular Apple Pie: The filling for a regular apple pie typically consists of sliced or diced apples mixed with sugar, cinnamon, and sometimes other spices. Some recipes might include a bit of flour or cornstarch to thicken the filling.
German Apple Pie: The filling in German apple pie is often similar to that of a regular apple pie, with sliced or diced apples mixed with sugar and spices. However, German apple pies may also incorporate raisins, nuts, or even a layer of custard beneath the apples for added flavor and texture.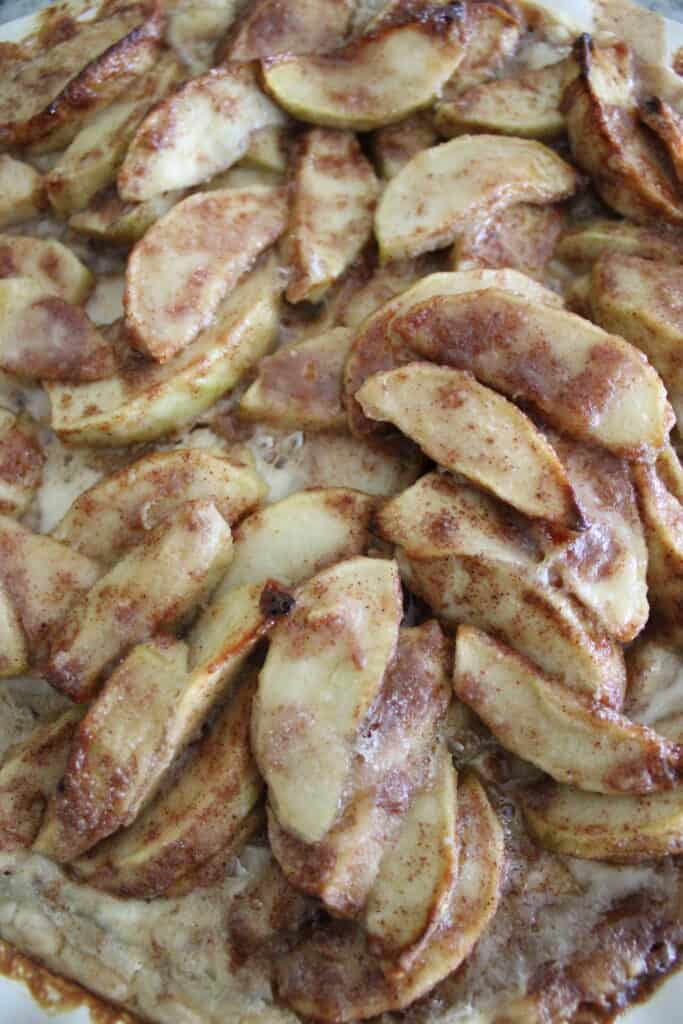 Other Differences Between Pies
Flavor Profile:

Regular Apple Pie: The focus of a regular apple pie is on the interplay between the sweet and tart flavors of the apples, enhanced by the warmth of spices like cinnamon.
German Apple Pie: In addition to the apple's natural sweetness and the warmth of spices, the streusel topping in German apple pie adds a layer of sweetness and crunch, creating a more varied texture and flavor profile.

Origin and Tradition:

Regular Apple Pie: The classic apple pie is a staple of American cuisine and has become an iconic dessert in the United States.
German Apple Pie: The term "German apple pie" likely comes from the use of streusel, a traditional German topping, in the pie. However, the pie itself may not have deep historical roots in Germany. The name might vary depending on the region.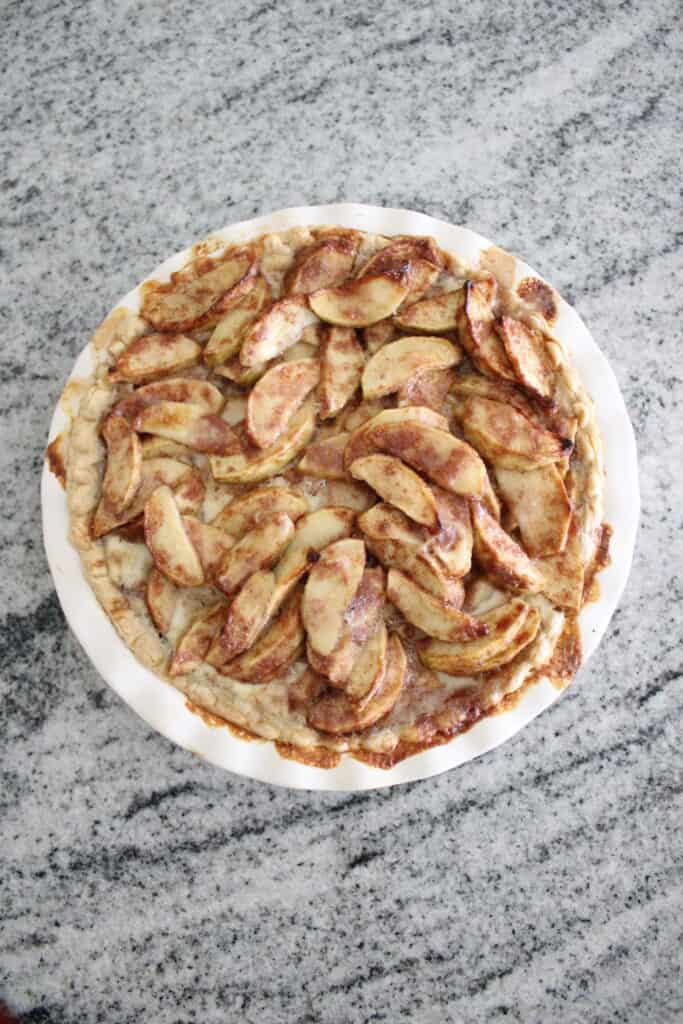 In summary, the main differences between German apple pie and regular apple pie lie in the crust (streusel vs. traditional pie crust), topping (crispy streusel vs. soft pie crust), and potential variations in the filling. Both pies showcase the delicious combination of apples and spices. But the choice between them often comes down to personal preference for texture and flavor.
Ingredients Needed for German Apple Pie
1 prepared pie crust (store bought or homemade)
​Juice of 1 small lemon
3 lbs (around 7 cups) tart apples such as Granny Smith Apples
1 cup sugar plus 2 tablespoons of sugar, divided
1/4 cup all purpose flour
2 teaspoons ground cinnamon
1/2 teaspoon ground cloves
3/4 teaspoon salt
1 cup heavy cream
1 tablespoon pure vanilla extract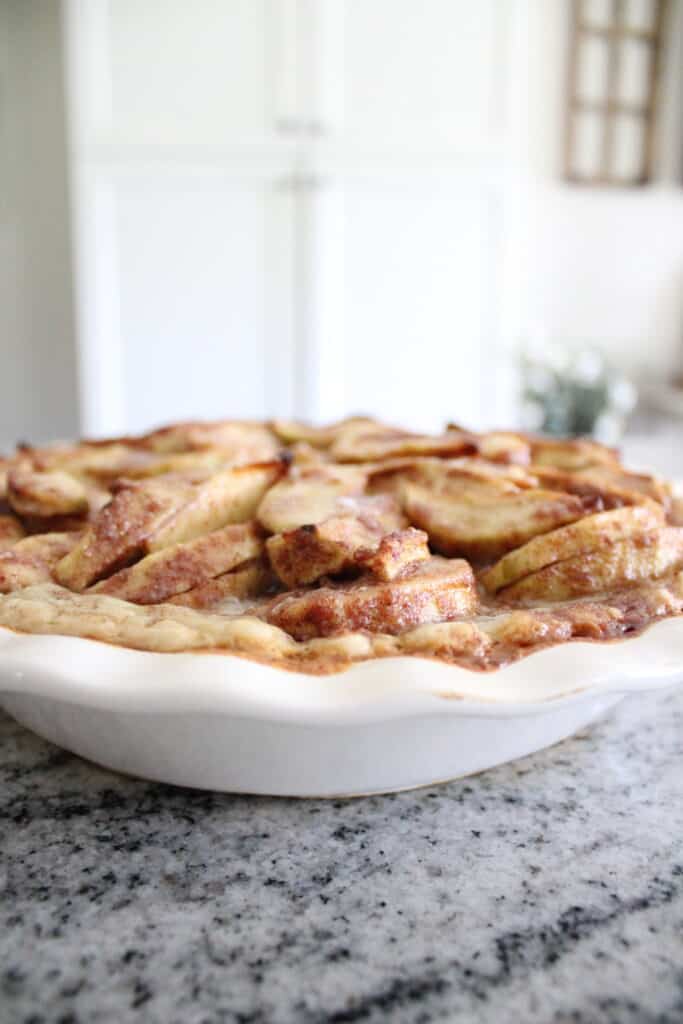 How to Make a Traditional German Apple Pie
This recipe is actually very easy to make and doesn't require much time at all. The hardest part is just peeling and chopping up the apples. Otherwise, it is fairly simple and doesn't require much effort!
I used granny smith apples for this pie because you want more tart apples. Not a sweet apples for this recipe. After all, you are going to be adding a ton of sugar and spices to them to make it sweeter.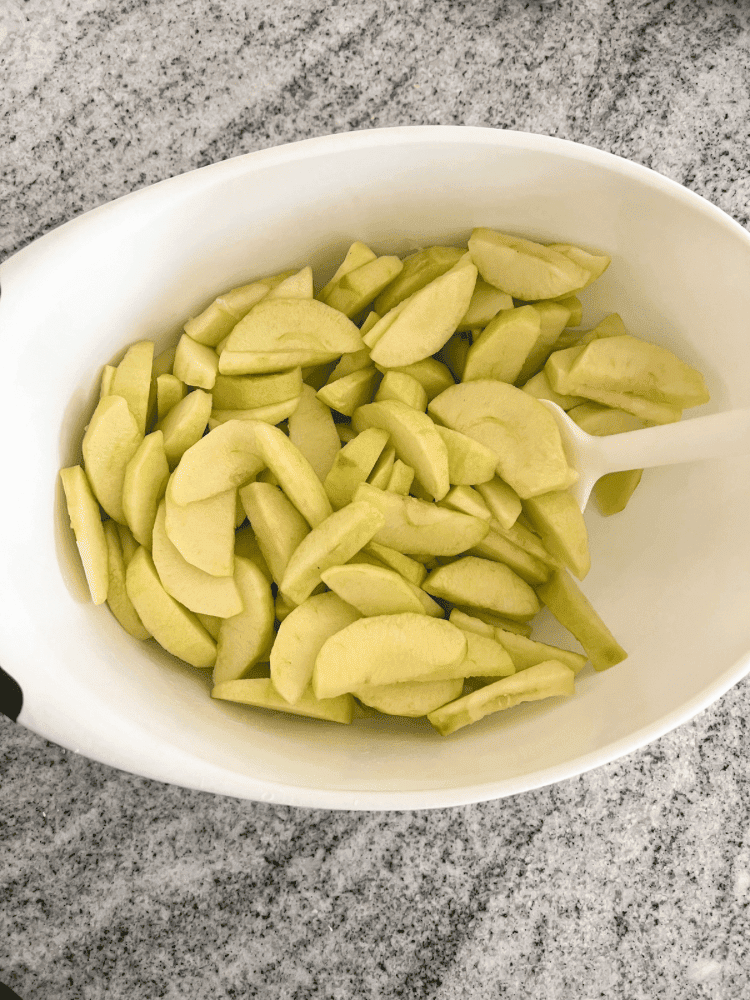 To start making the pie, you will need to peel and slice around 3 pounds of apples. Add the juice of a small lemon to a large bowl (lemon juice will help prevent your apples from turning brown). Then, add in your apple slices. In a small bowl, combine flour, sugar and spices. Whisk together well and then add all the spices to the sliced apples.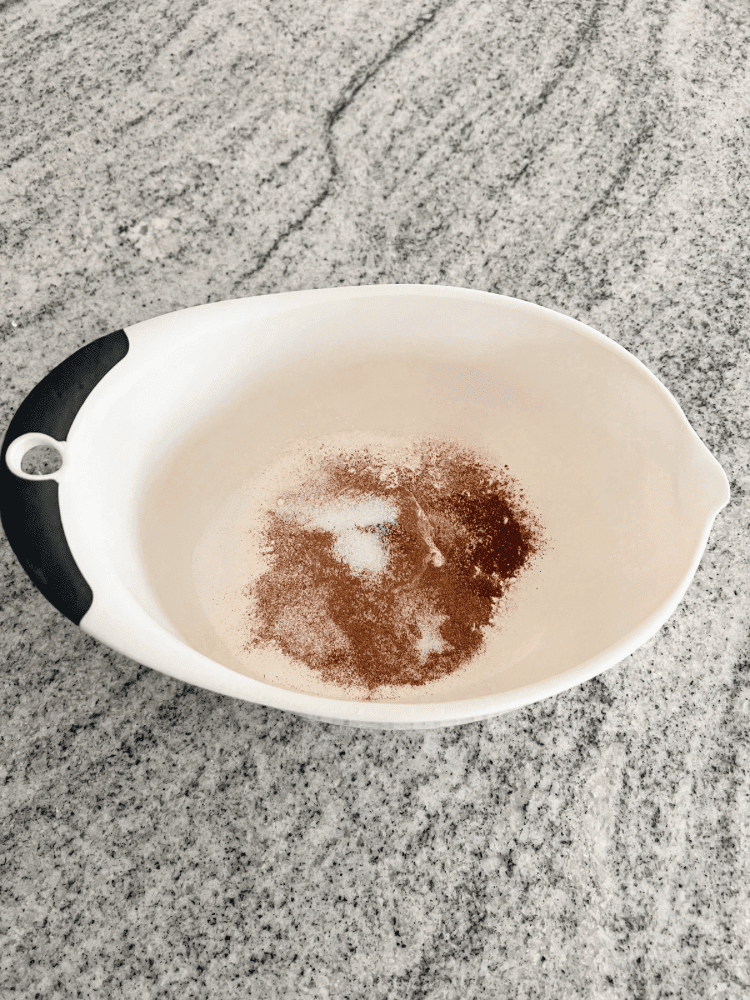 Now, I did cheat a little bit for this recipe and I did not make my own pie crust. I was worried that if I put in all that time and effort, the pie wouldn't turn out right. Especially since I have never made a German Apple Pie before.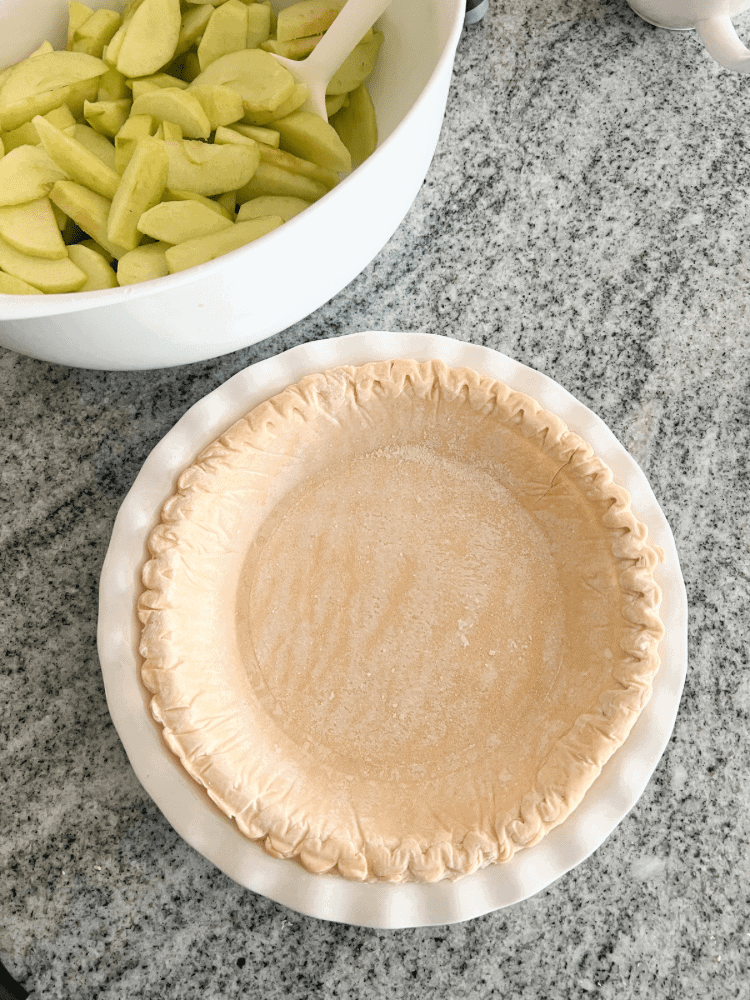 So I did use a store bought pie crust, and just placed it into a 9-inch pie plate. And, it turned out just fine! No rolling pin required! I started to then pour about half of the apples into the pie pan; being sure to press them down into the pie crust as I go. Slowly, add the rest of the apples and then continue to slightly push them down into the crust.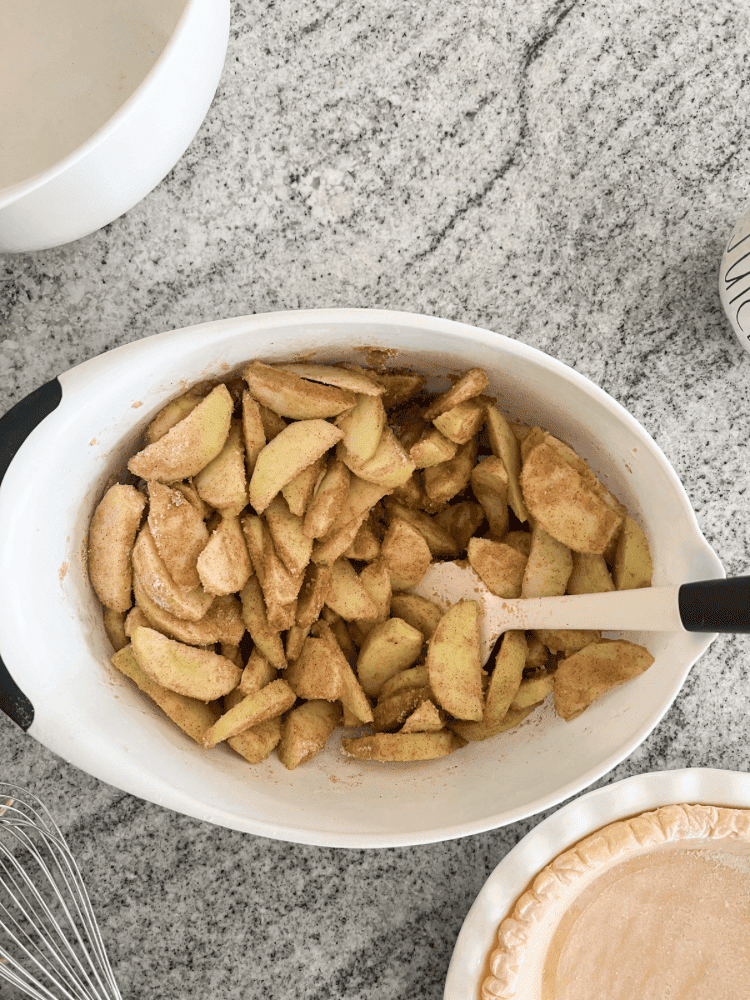 Now, you're going to combine a tablespoon of vanilla extract (I used my delicious homemade vanilla extract for this) and a cup of heavy cream. Whisk that together and then slowly pour cream mixture all over the top of the apples in the pie dish.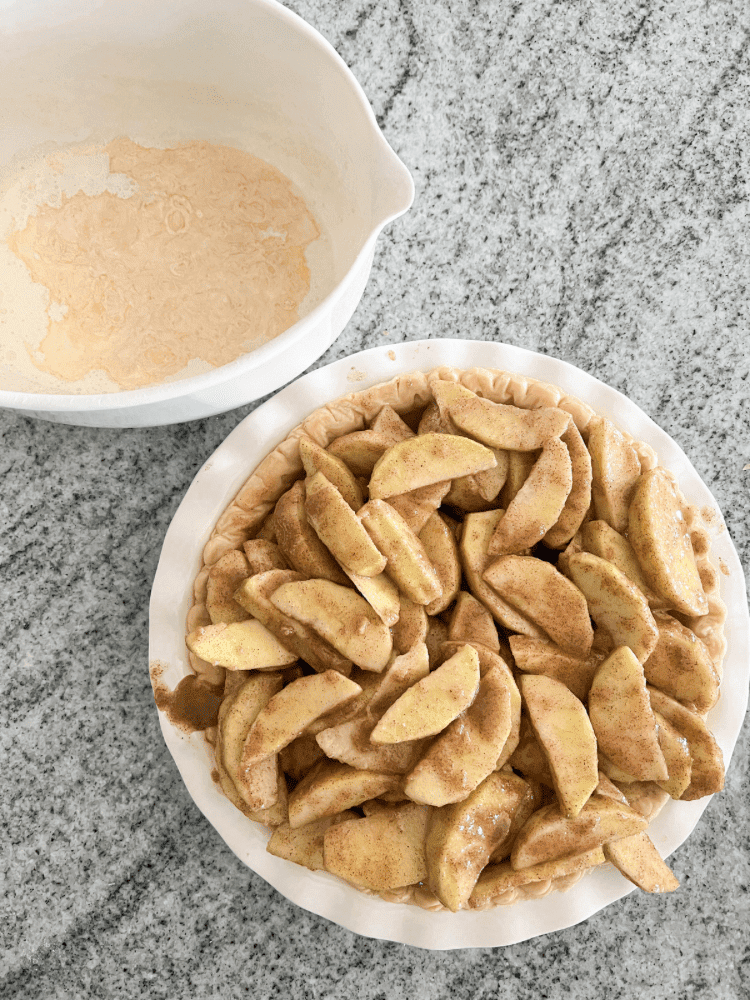 Then, you're going to take half of the remaining sugar mixture and sprinkle it on top. I just did about 2 tablespoons of regular sugar for this part. To bake the German Apple Pie, first place the pie in a preheated oven at 450 degrees for 15 minutes. The last step is to reduce temperature to 350 degrees and continue baking for 55-65 minutes.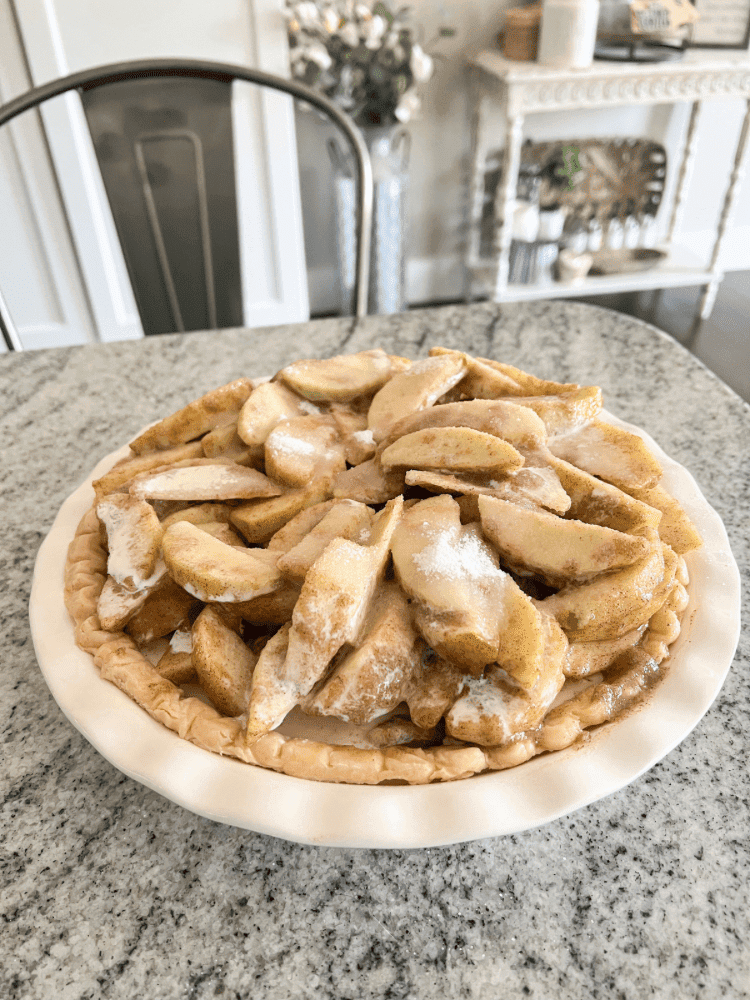 ​You want the pie a little jiggly when you take it out, but not sloshing around. So be patient with your cooking time. Mine took just 55 minutes after the first initial 15 minutes. But, everyone's baking time could be a little different for this. So be sure to just experiment with the cooking process here in order to create the perfect result!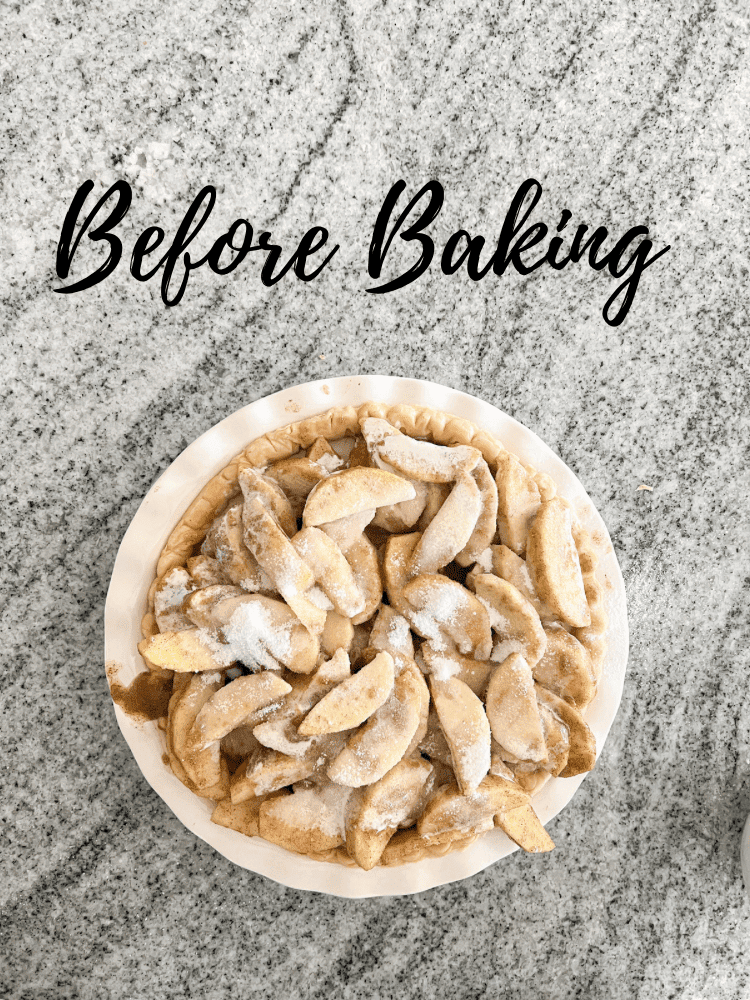 Recipe Notes
I will say that fresh apples from the orchard would probably be best for this recipe. I absolutely love going to apple orchards in the fall and picking my own! However, it is still a little early in the apple season so I just used some apples from the grocery store. But, there really isn't anything like orchard apples! So if you have the opportunity, I would highly suggest getting those instead.
Be sure to put your pie on a baking sheet lined with parchment paper or aluminum foil before placing it in the oven. That way, it catches any of the syrupy mess before going into the inside of your oven!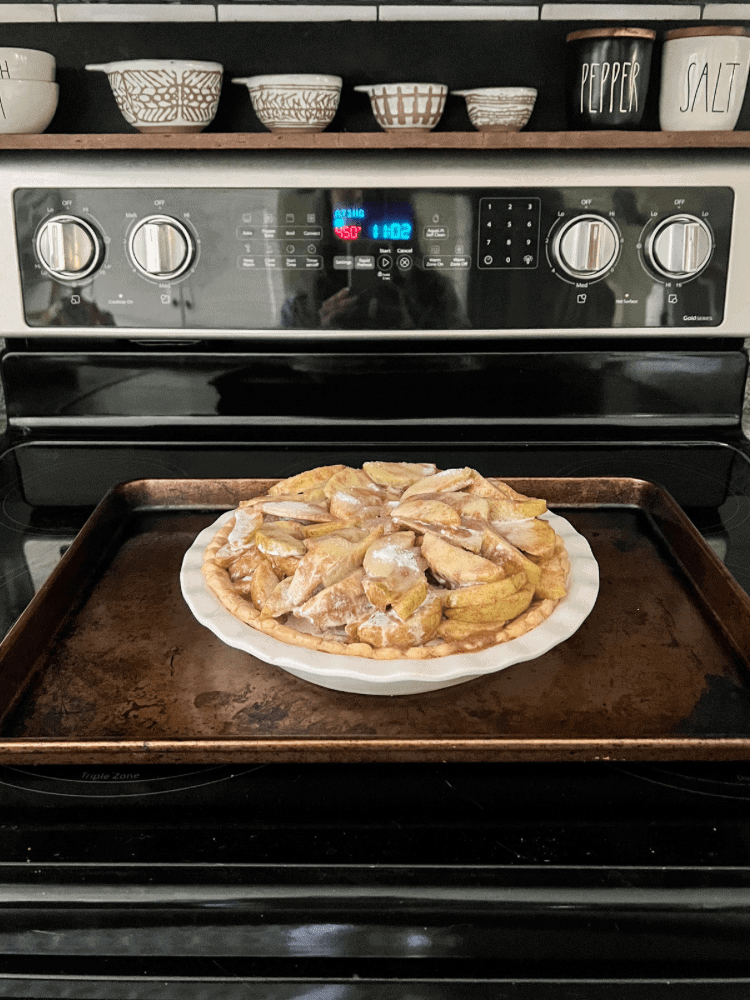 Also, once the pie is done baking, let it cool to room temperature on a wire rack before placing it in the fridge. You want to serve this pie cold. So make sure it stays in the refrigerator at least 6 hours before serving. Also, serve with a scoop of vanilla ice cream for best results too!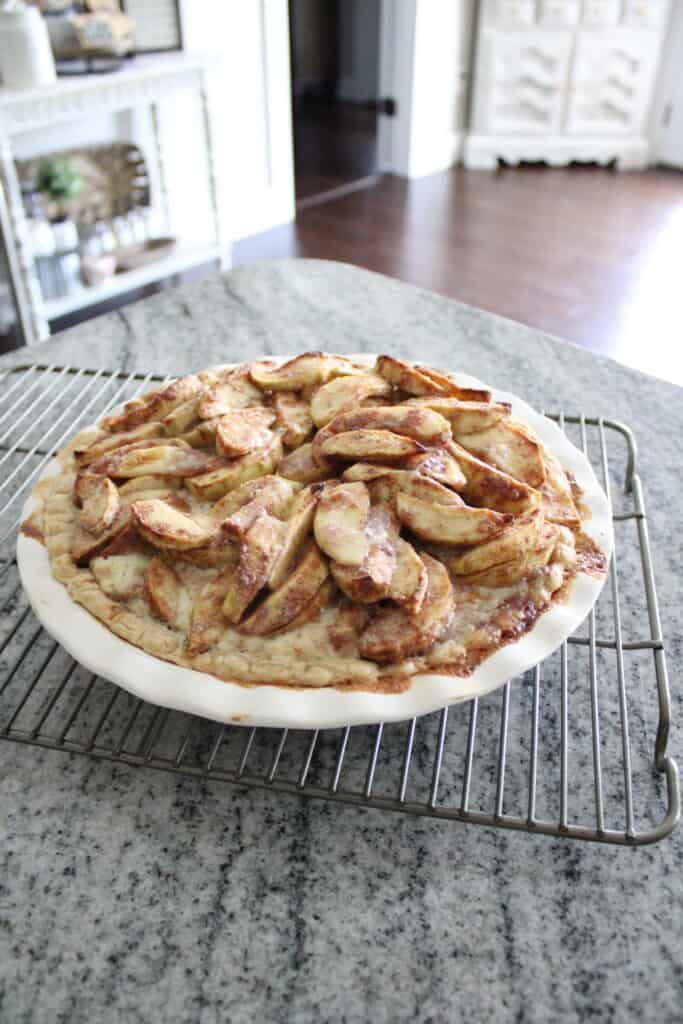 You'll also notice when I was discussing the differences between the two pies above, there was a streusel topping mentioned for the German Apple Pie. The original recipe I used didn't call for that, but you could easily add that in if you wanted to. I just sprinkled two tablespoons of sugar as a topping, but if you wanted to add a streusel topping, I would just recommend adding it after the pie has baked halfway. I think if you added it at the beginning, the pie topping would burn easily.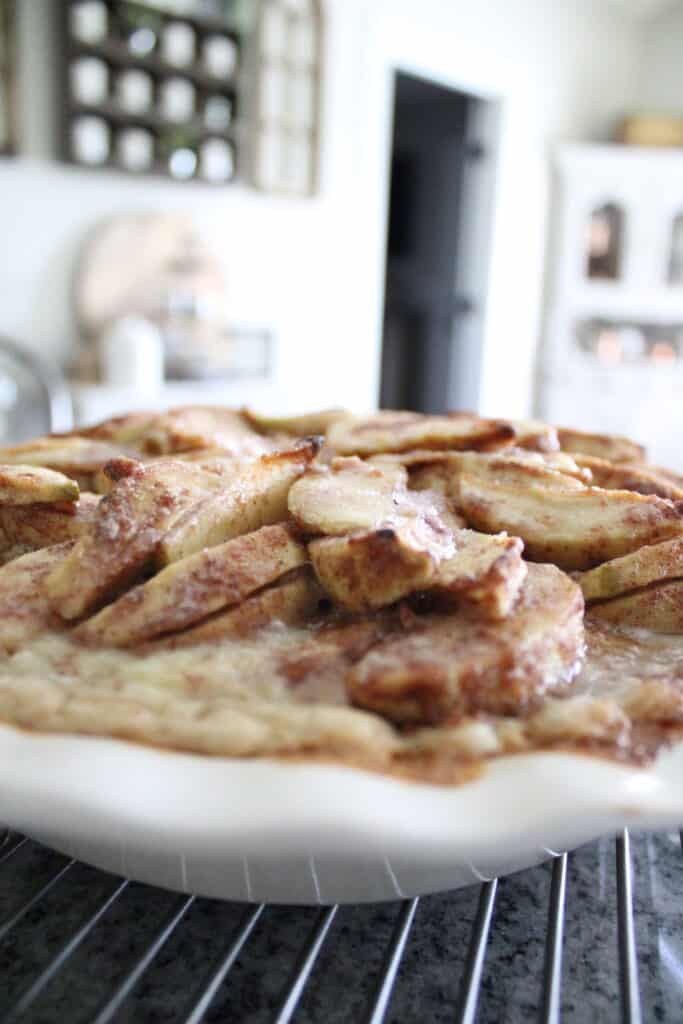 But, I was trying to make this as one of the easiest apple pie recipes you could make, so leaving out the streusel option and using a store bought pie crust, helped me to achieve that. You could easily make your own high quality dough for this recipe too if you wanted to step things up a little!
To store leftover pie, place in an airtight container in the fridge for up to 3 days as well. This pie does not freeze well since it does have heavy cream in it, so be sure to take note of that when fixing it!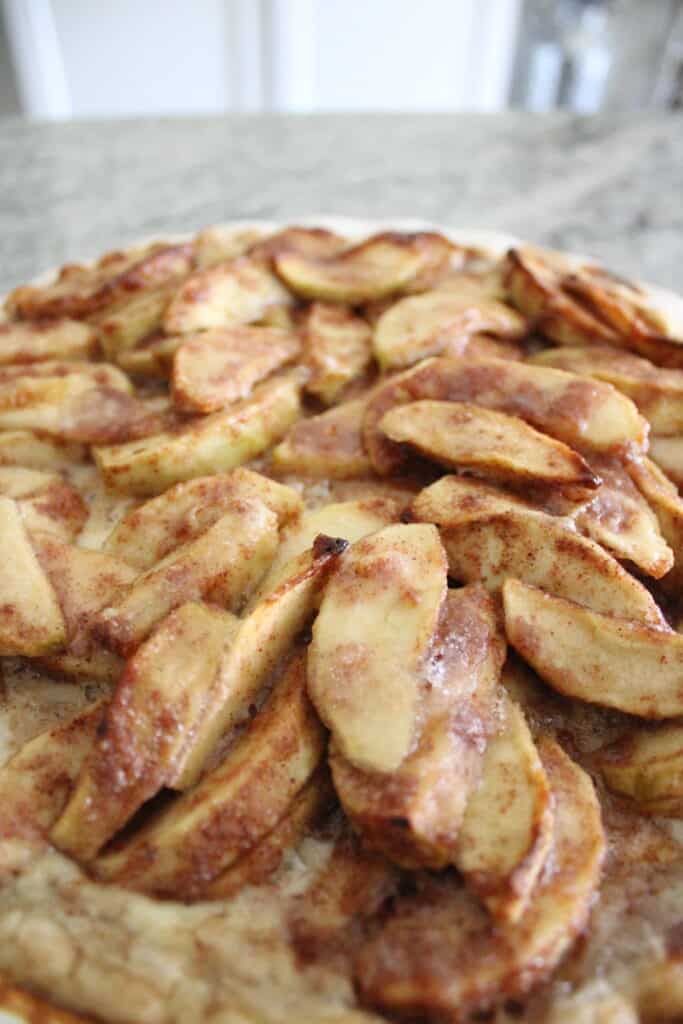 Enjoy Your German Apple Pie!
I hope you try this recipe out and love it just as much as I did! It's definitely a different take on the traditional apple pie that I am used to, but I loved it! I think this is perfect for the late summer time, since you serve this pie cold!
And then when it starts to cool down outside, I will make a warm apple pie too! But I will say, this one is definitely being added to my favorite recipes for sure!
If you make this pie too, let me know what you think of it!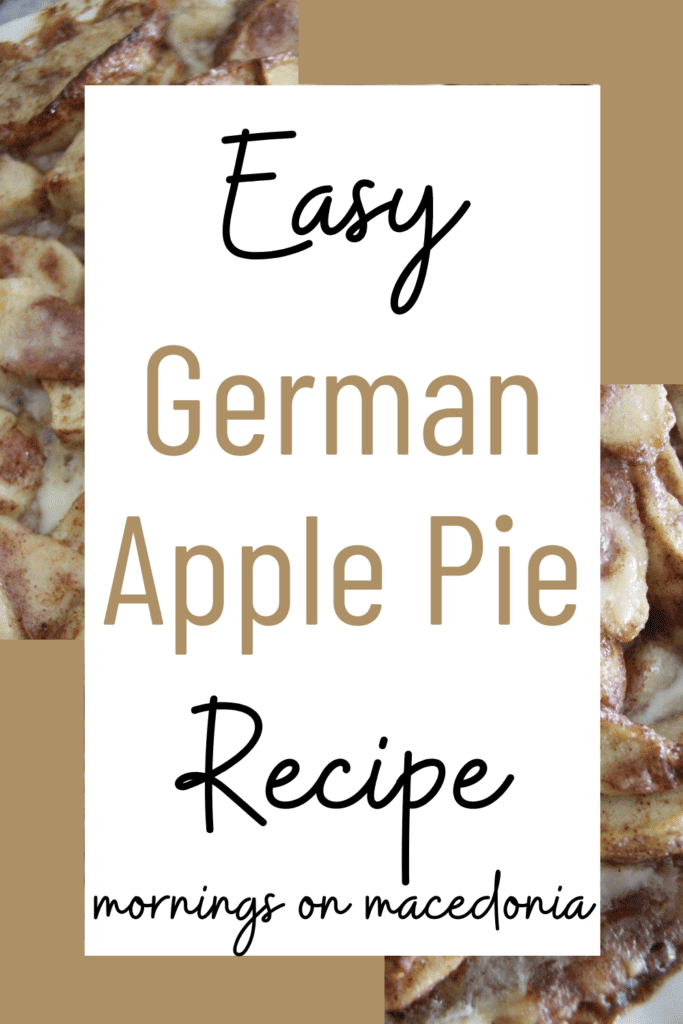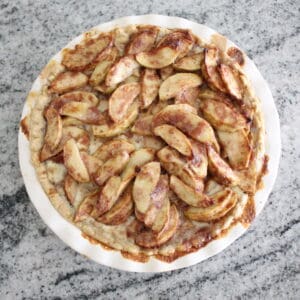 Easy German Apple Pie
Ingredients
1

Prepared Pie Crust

1

Juice of a small lemon

3

lbs

Granny Smith Apples

1

cup

Sugar

plus two tablespoons, divided

1/4

cup

All Purpose Flour

2

tsp

Ground Cinnamon

1/2

tsp

Cloves

3/4

tsp

Salt

1

cup

Heavy Cream

1

tbsp

Vanilla Extract
Instructions
Roll out pie crust (if you are making from scratch) and place inside a pie plate.

Preheat oven to 450 degrees.

Pour lemon juice into a large bowl. Peel, core, and slice all apples and place them in bowl with lemon juice. Lemon juice will help prevent them from browning too quickly.

Add 1 cup of the sugar, flour, cinnamon, cloves, and salt to a bowl and whisk together. Pour this mixture over the sliced apples and stir to combine.

Dump all the apple slices into the pie crust, pressing down to ensure they all fit inside the crust.

Mix in the vanilla to the heavy cream and then pour the mixture on top of all the apples.

Sprinkle the remaining 2 tablespoons of sugar on top of the apples.

Place the pie on a baking sheet covered in aluminum foil or parchment paper to collect ant drips. Place in preheated oven at 450 degrees for 15 minutes.

Reduce oven heat to 350 degrees and bake for 55-65 minutes. You want the pie to be a little jiggly, but not sloshing around when done.

Remove pie from oven and let cool to room temperature. Then, place in refrigerator for at least 6 hours before serving. Pie is best served cold. Enjoy with a scoop of vanilla ice cream or whipped cream!!