If you've been around here long enough, then you know I am all about decorating every part of my home for the seasons. Especially Fall and Christmas since they are my favorite time of year. So today I am going to show you just how to decorate your kitchen for fall.
I love adding in a few warm, fall touches here in there, even in my kitchen. And of course, this is my favorite spot in my house- my coffee bar! Which is a prime example of kitchen fall decor right there!
So if you're struggling for ideas on how to decorate your kitchen for fall this year, I have you covered! Keep on reading for some of my simple ideas and tricks to get your kitchen fall ready!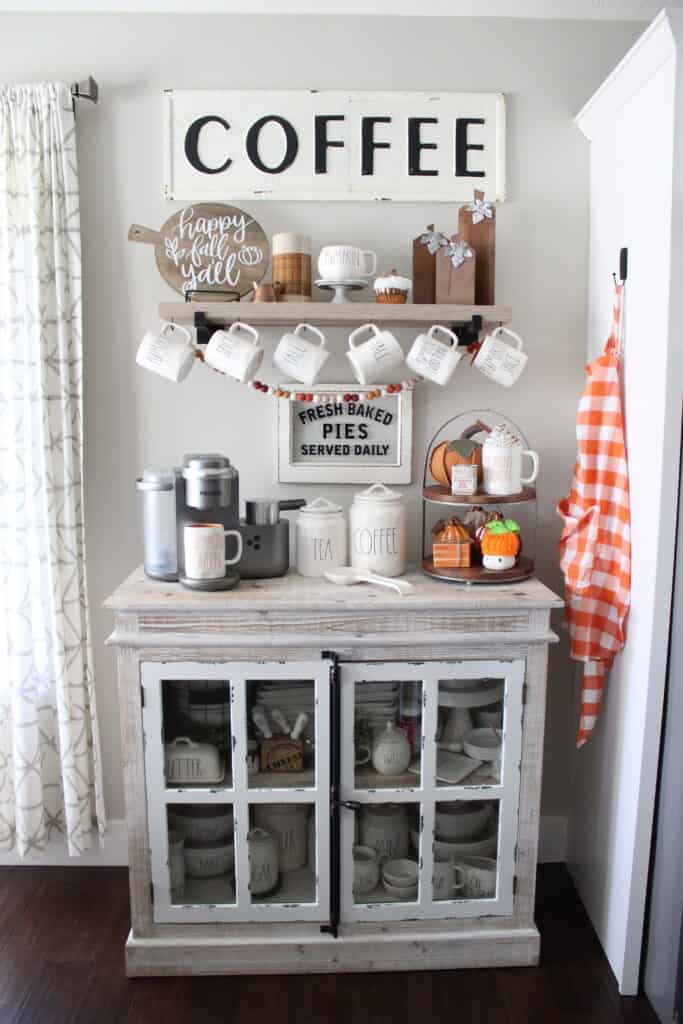 This post contains affiliate links. Click here to read my privacy policy.
Fall Coffee Bar in Kitchen
Let's go ahead and talk about what I mentioned above- my fall coffee bar! The best thing to decorate during the fall season in my opinion! I love having all my fall themed mugs hanging on a hook for display. Or for quick access when I want a delicious cup of coffee!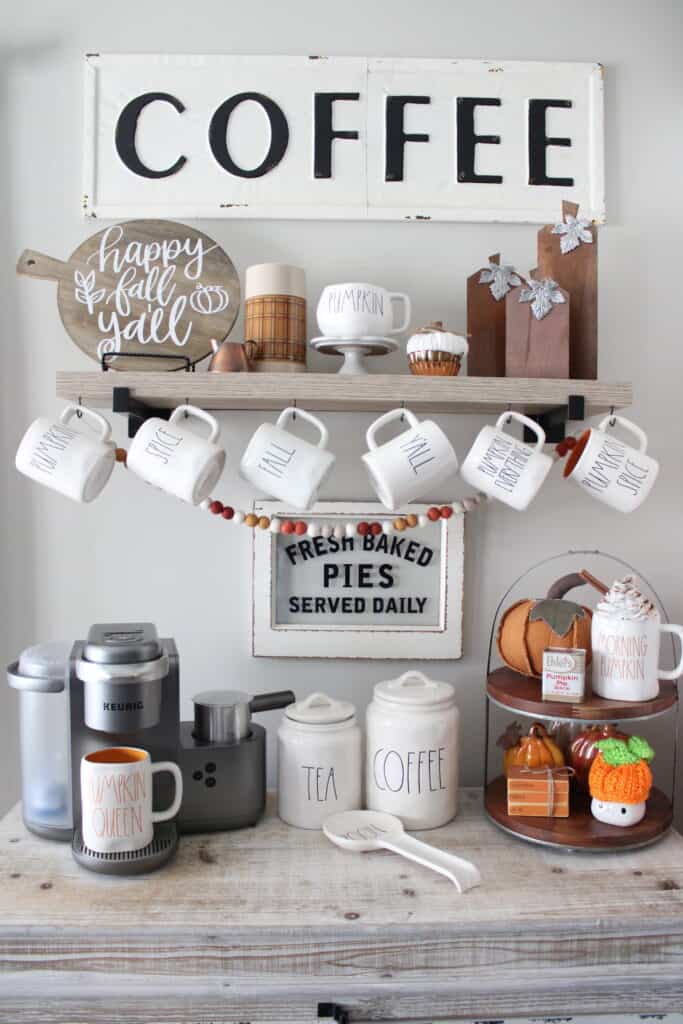 I know they say that the kitchen is the heart of the home, but I think my coffee bar is the heart of our home! And I mean, it is in the kitchen, so that makes sense, right?! But, we love our coffee and decor around here so it kinda goes hand in hand!
I love using warm fall colors such as a deep, burnt orange as the main accent color for my coffee bar. I have an orange apron hanging on a hook by the bar, as well several mugs with that color too.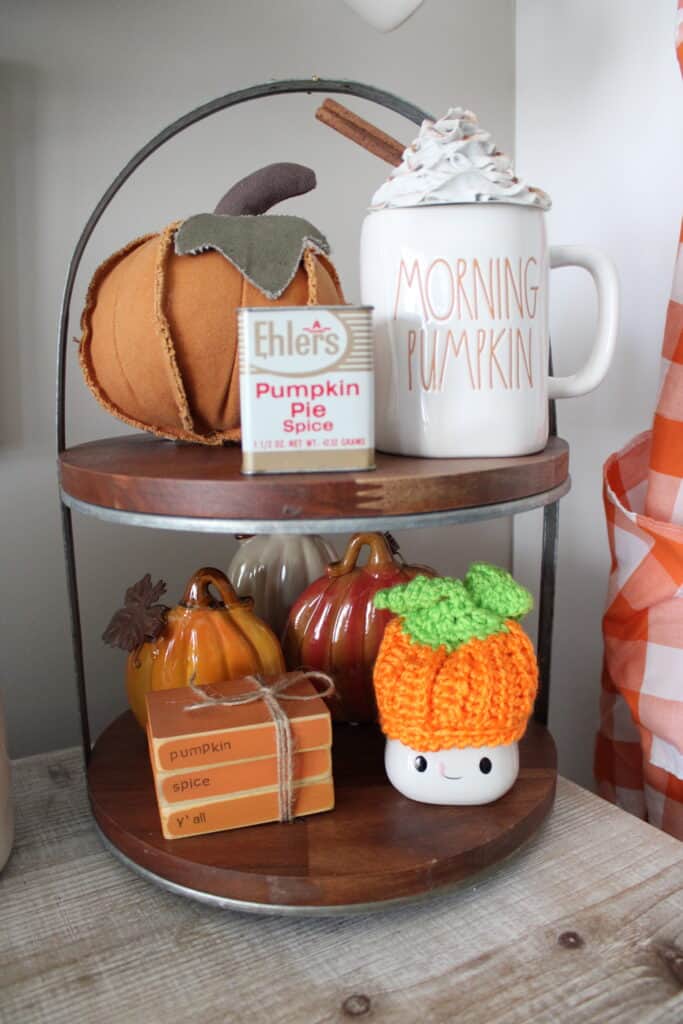 The coffee bar is also right beside our dining room, and I like to carry over that color over there too. On the coffee bar open shelf, I like to display some of my Fall DIY Decorations I have done in the past, such as this fall cutting board.
You could even turn your coffee bar into a more serious fall themed bar and do an apple cider bar instead. Especially if you are having a party or get together. How fun would that be?!
Fall Dining Room
As I mentioned above, my dining room is located right next to my coffee bar too. So I love to carry in the same color scheme over there too. I have decorated our dining room a few different ways in the past for fall over the years.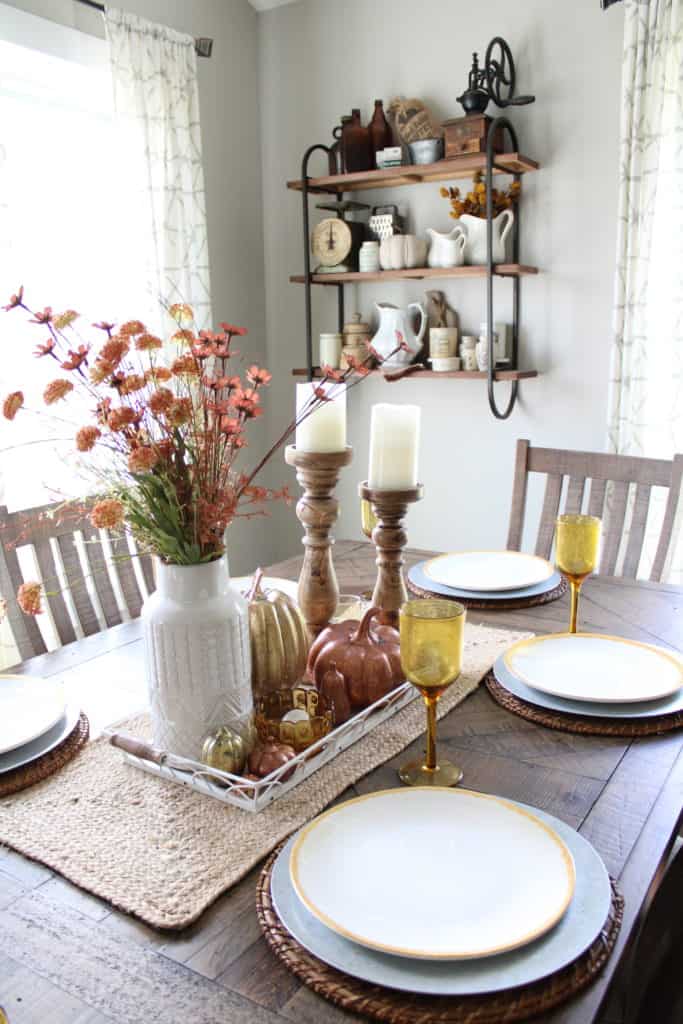 The way I used to decorate our kitchen table was with a dough bowl full of small pumpkins I painted. That was super popular and I loved the look of it. However, when we got our entryway table for the living room a few years ago, I decided to move the dough bowl over there instead of the dining table.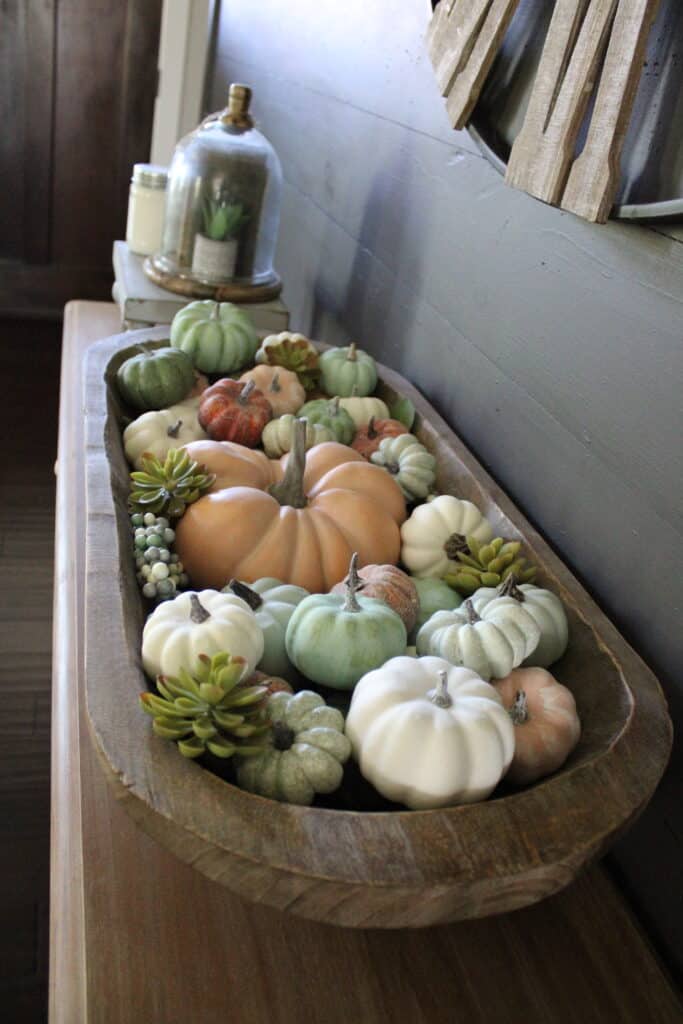 Now, I love to create a fall centerpiece using fall flowers and faux pumpkins for the table instead. You may actually remember my DIY of mercury glass pumpkins I made last year, which are proudly on display on my centerpiece still.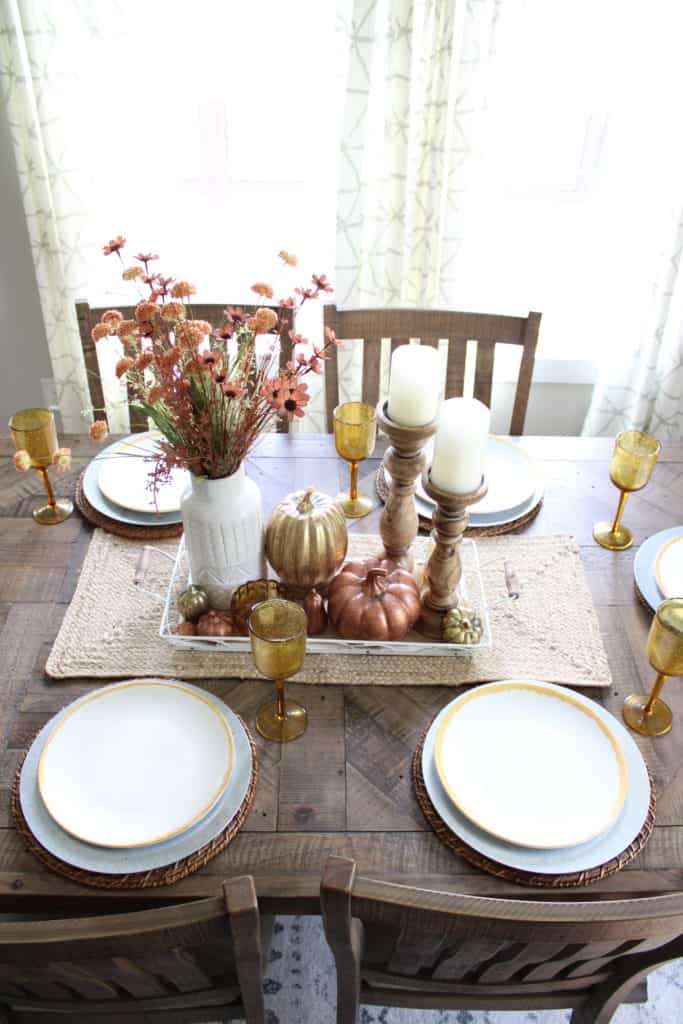 They are the perfect Pottery Barn dupe, and look so expensive, even though I just got the pumpkins from the Dollar Tree! I have the arrangement of mini pumpkins scattered all over my tray for the centerpiece. And with the color palette of deep copper and gold, altogether it is the perfect fall coziness vibe here!
The faux flowers in the vase also have the same deep copper/rust color so it all matches perfectly together! If you're looking for more simple fall touches for your dining room, then you could easily just find a bowl and fill it with pine cones or white pumpkins instead.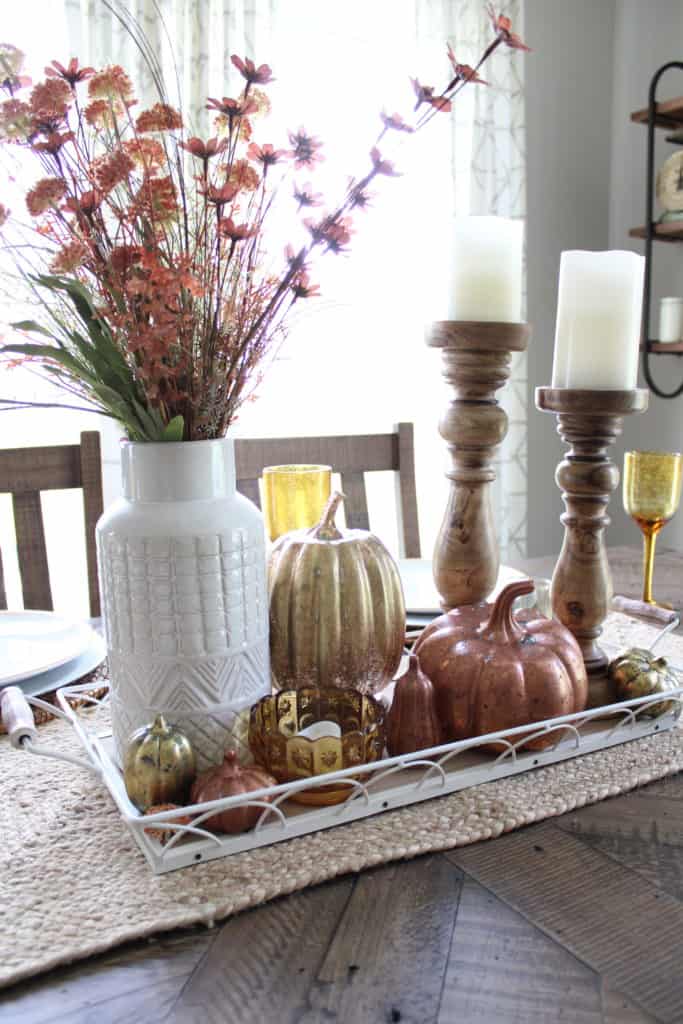 You could also just use a plaid scarf you have laying around as a table cloth or table runner too. That is an easy addition that doesn't require much work or planning to your decor! You definitely don't have to go all out like I do, I'm just here to give you as many ideas as I can!
Fall Dining Room Open Shelves
In our dining area, we also have open shelves, which of course I love to add in some fall kitchen decor ideas here too! Open shelves are an easy way to display a few fall goodies! I like to use a mix of both old and new fall decorations here.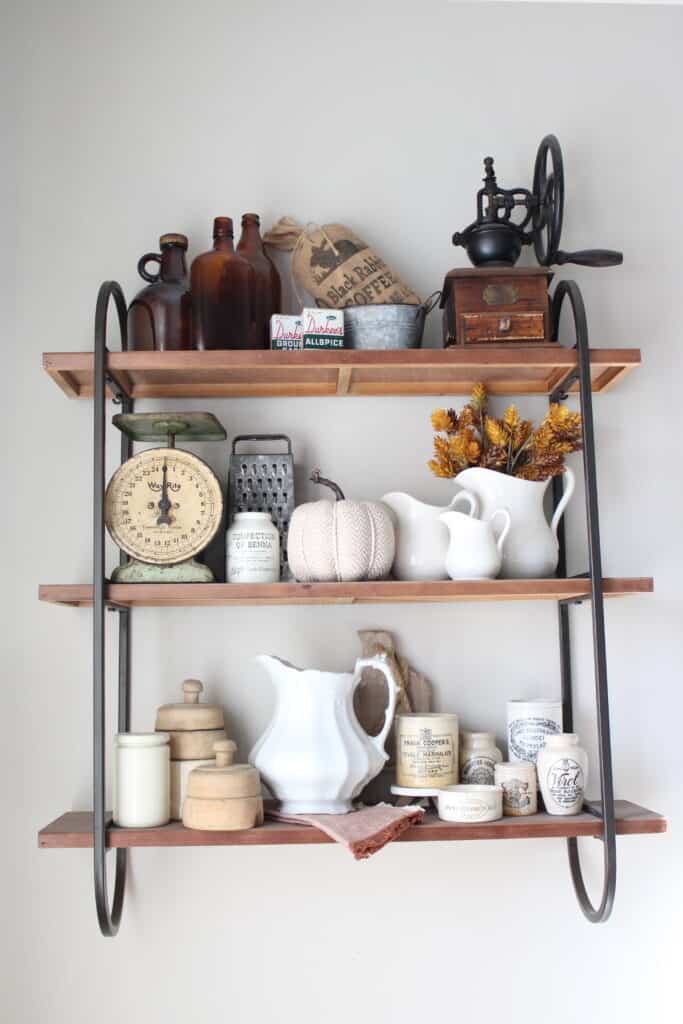 I have my usual display of all my vintage pieces that I have found from thrift stores and antique stores over the years. But I also like to add in a few new fall elements to them as well. For example, in my vintage white ironstone pitchers, I love to add in some faux flowers in them to give it more of a fall feel. And I just add a few things here and there with Autumn colors on the shelves as well. 
Fall Kitchen Island Countertop
I also don't leave out my kitchen countertop when it comes to fall decor! I have a few things I like to do here. Such as a tiered tray. Tiered trays are such a great way to add in a little fall kitchen counter decor!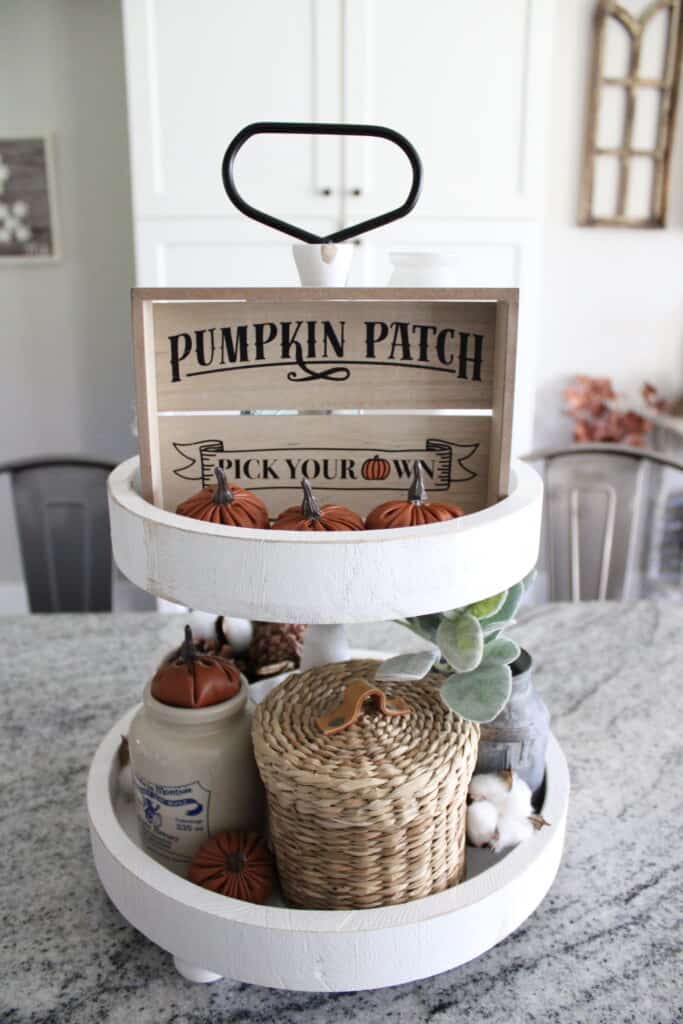 And if that's all you want to do, it makes for the perfect simple fall kitchen as well. It's enough to to make you say, "that's a fall kitchen right there!" without going over the top or taking a lot of time to decorate.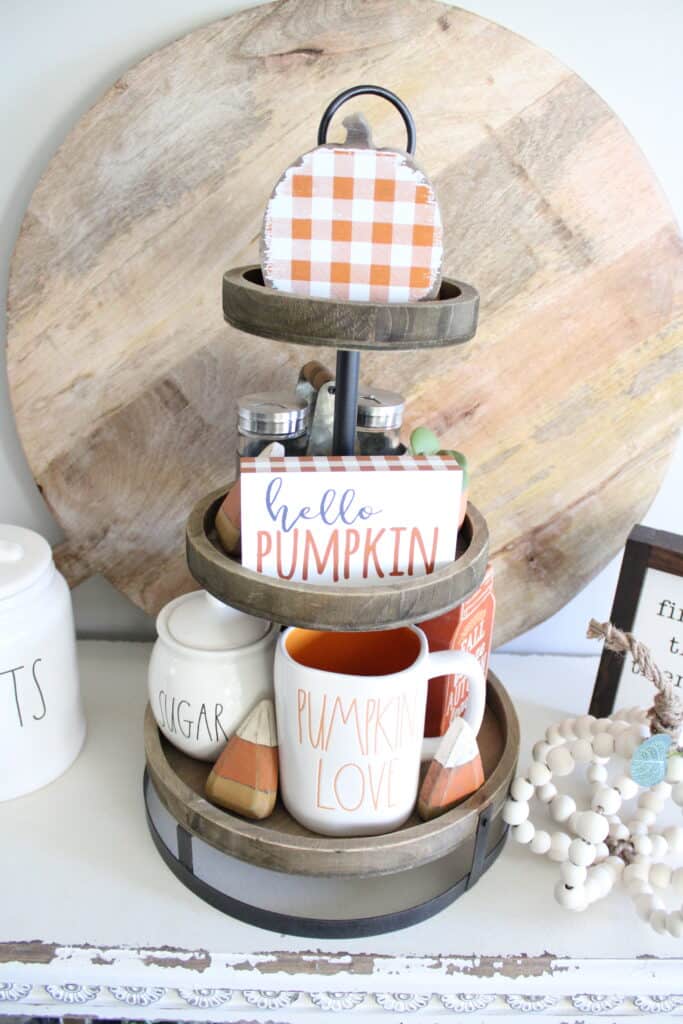 Just get little fall decor pieces from TJ Maxx, Home Goods, or Hobby Lobby and start filling your tiered tray with them! If you're stuck on how to style a tiered tray for fall too, don't worry! I have you covered with that as well! I shared all my tips and tricks on how to do that a few years ago, so be sure to go check that post out if you need help! 
Fall Candles
I couldn't think of a better way to have a cozy kitchen this fall than to have some fall candles burning! Of course y'all know I am obsessed with Antique Candle Co. candles, so I had to throw this in here. If you're wondering how to decorate your kitchen for fall easily, just add in some fall candles here and there!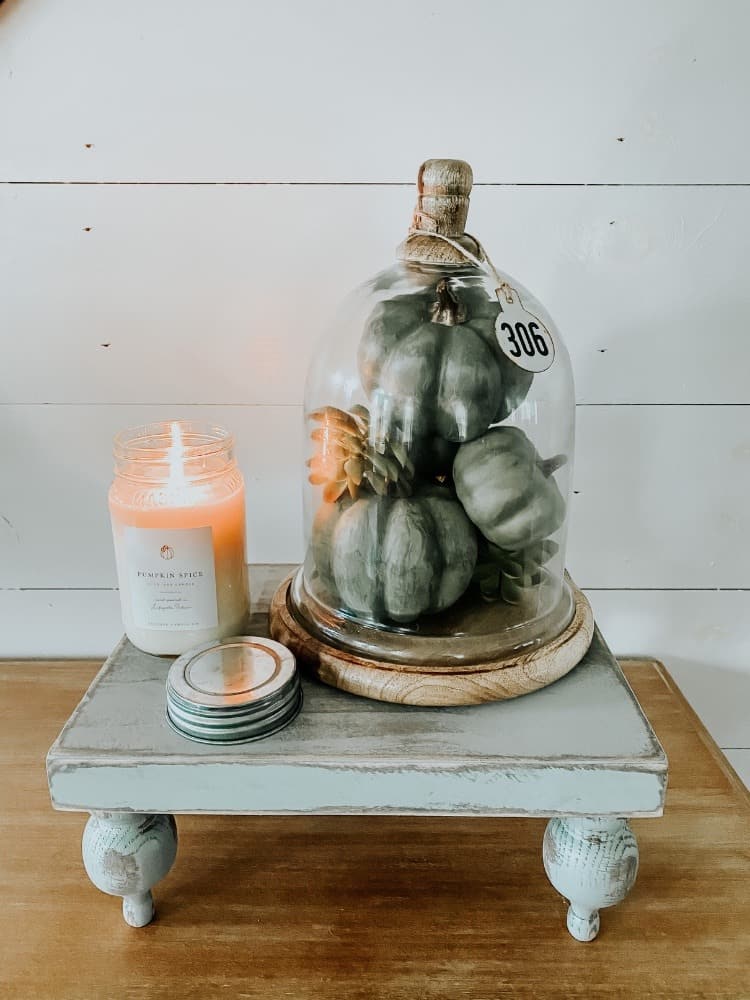 Your kitchen will be so cozy with the scents of Autumn burning through the air! Whether you want it to smell like fresh pumpkins, or like you're baking up a cozy treat, a fall-scented candle will definitely do the trick. And I am here to tell you that Antique Candle Co. literally has the best fall scents ever!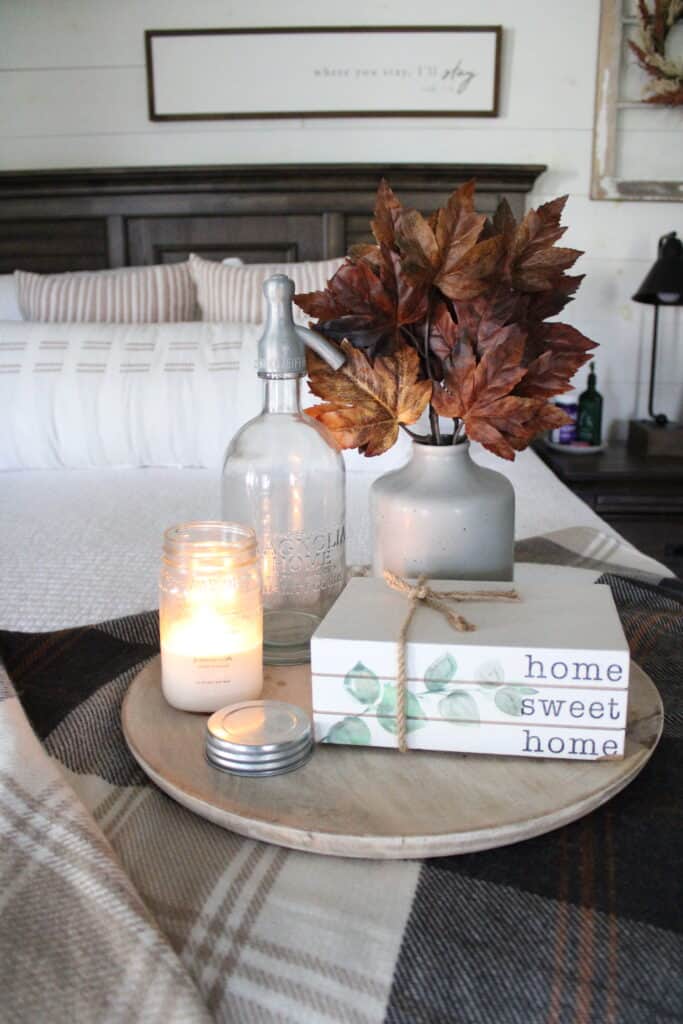 I love Autumn Woods, Fall Harvest, Warm Caramel Crumble, Pumpkin Spice, Apple Butter, just to name a few! If you want to try them out too, you can use my code "MACEDONIA20" to save 20% off as well! And if you do try them out, let me know what you think about them too! I know you're going to love them just as much as I do!
Enjoy Your Fall Kitchen
I hope you came here today wondering just how to decorate your kitchen for fall, and came out with a ton of ideas and inspiration! As you can tell, I have a great time decorating not only my kitchen, but my whole house for fall too!
If you want to see just how I decorate everywhere in my home, be sure to check out my Fall Home Tour too. Where I walk you around my whole home and show you all my fall decor ideas! Not only just the kitchen!
Do you decorate your kitchen for fall too?! And if so, when do you start in the Autumn months to do so? Late September or right now like me? I always love to start filling my home with fall's vibrant colors as early as I can! Especially since I start decorating for Christmas early too! Let me know your thoughts below!