A few weeks ago we visited our favorite apple orchard, Justus Orchard. And of course I got a ton of fresh apples there. So naturally, I had to come home and bake something! I've been making this fresh apple walnut cake with caramel glaze for several years now and it is always a hit.
Plus, its the perfect thing to bake after spending the day at the orchard too. I got the recipe from Trisha Yearwood originally and it is so worth the work of baking it! It's the perfect fall treat and you won't be disappointed that you made it!
It also pairs so nicely with a cup of coffee too. I even eat a little at breakfast as well. I think it can pass for a coffee cake too! Or maybe that's just my reasoning to justify eating cake early in the morning!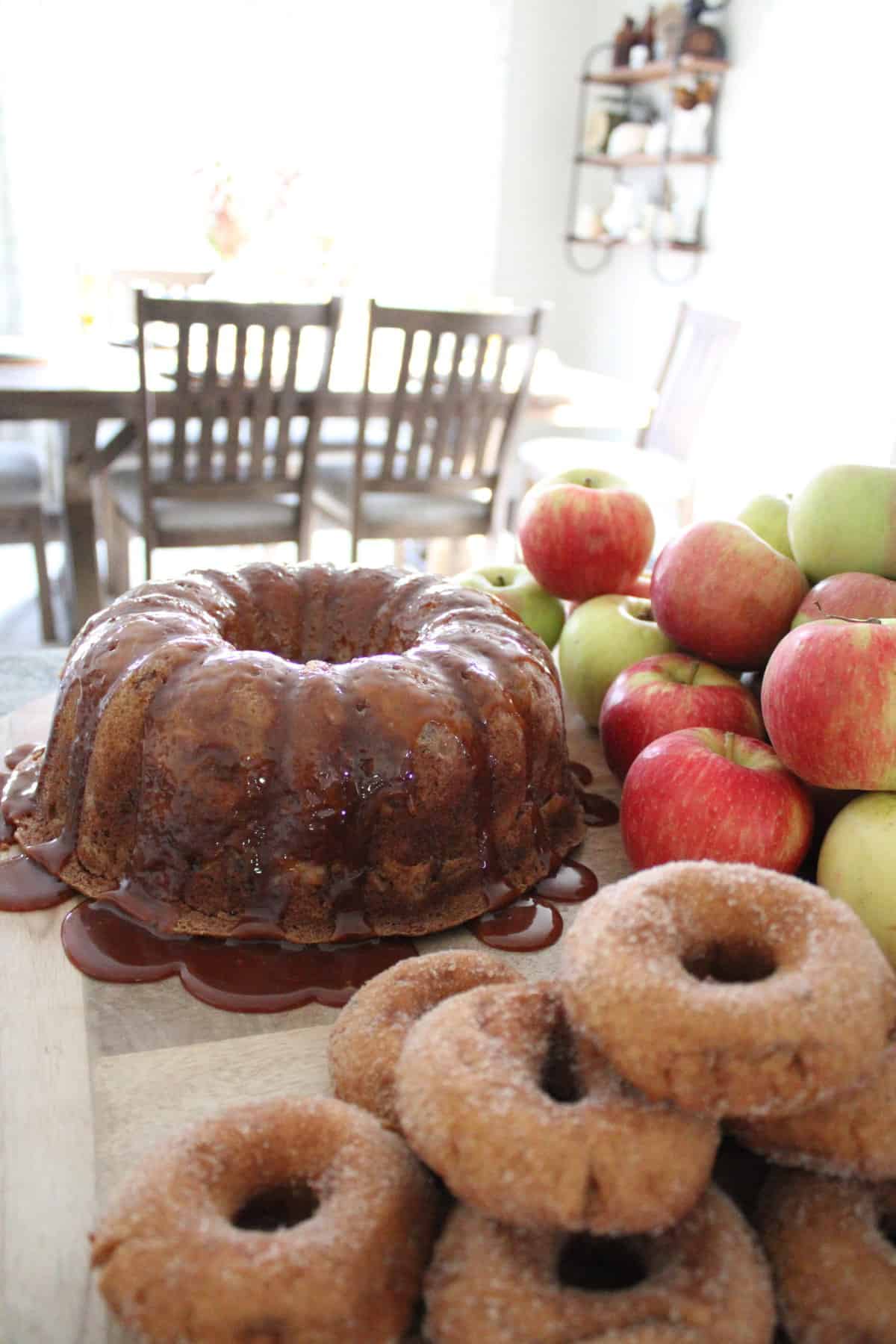 This post contains affiliate links. Click here to read my disclosure policy.
Ingredients Needed for Fresh Apple Cake:
2 cups sugar
3 eggs
1 1/2 cups vegetable oil
1/2 cup orange juice
3 cups all purpose flour
1/2 tsp salt
1 tsp baking soda
1/2 tsp ground cinnamon
1 tsp vanilla extract (I used my homemade vanilla extract for this recipe as well)
1 cup walnuts
2 1/2 cups fresh apples, diced from about 4 medium sized apples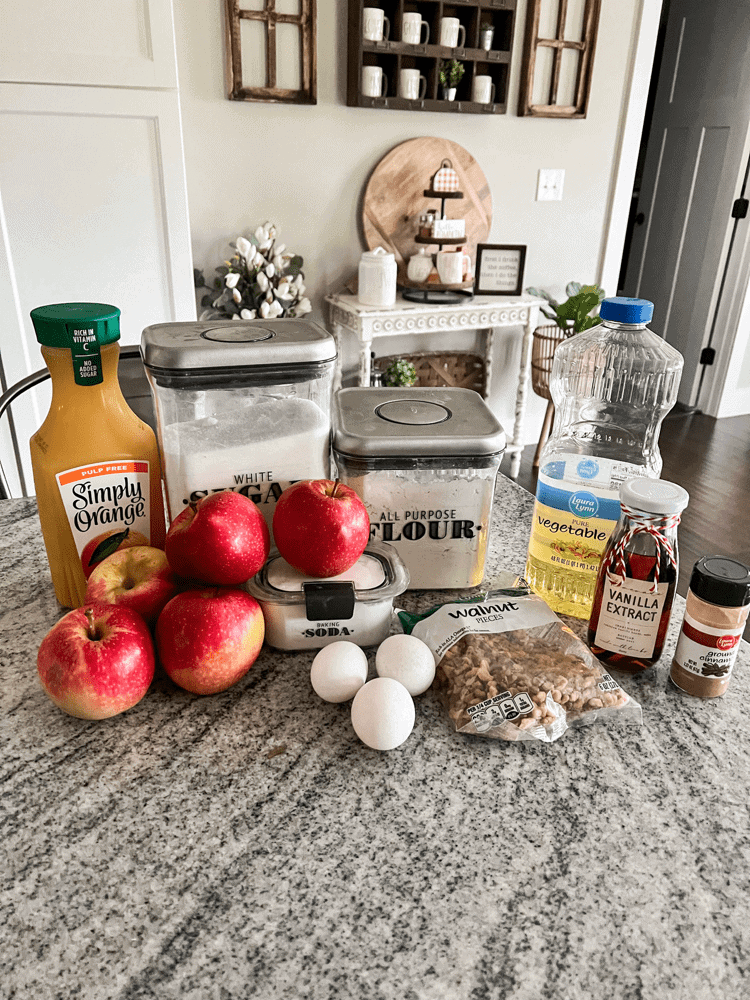 Ingredients Needed for Caramel Glaze:
6 tbsp butter
3/4 cup sugar
1/2 tsp baking soda
1/3 cup buttermilk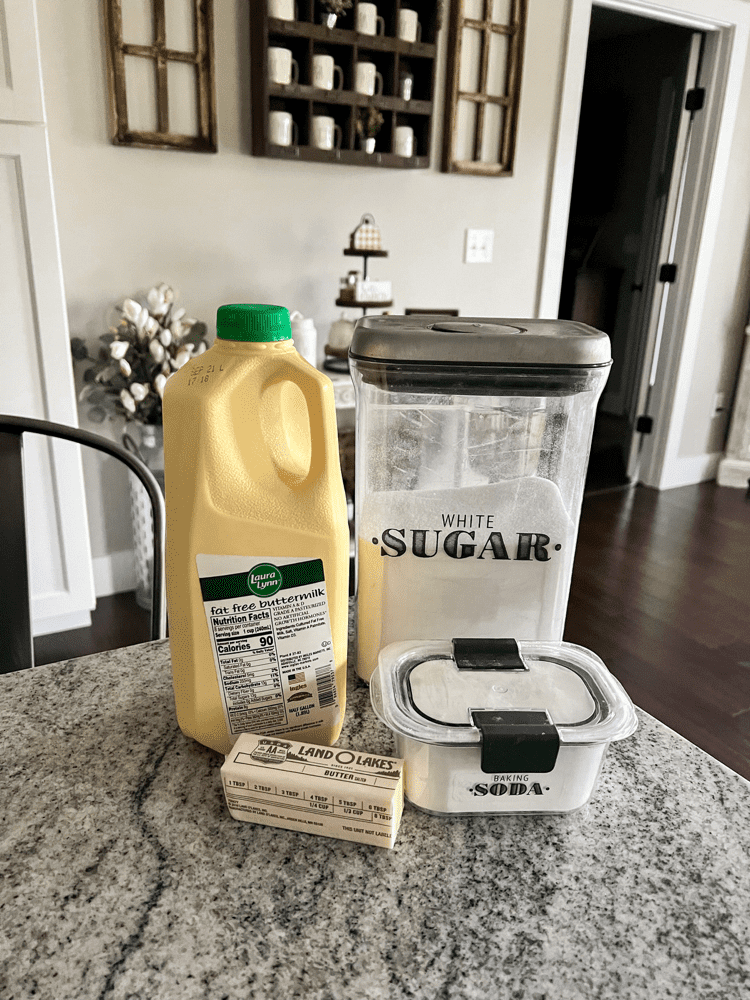 Tips and Tricks for Making this Fresh Apple Walnut Cake
You can get the full recipe below, but I just wanted to give you a few tips and tricks beforehand. I think one of the most important things is to be sure to grease your bundt cake pan throughly!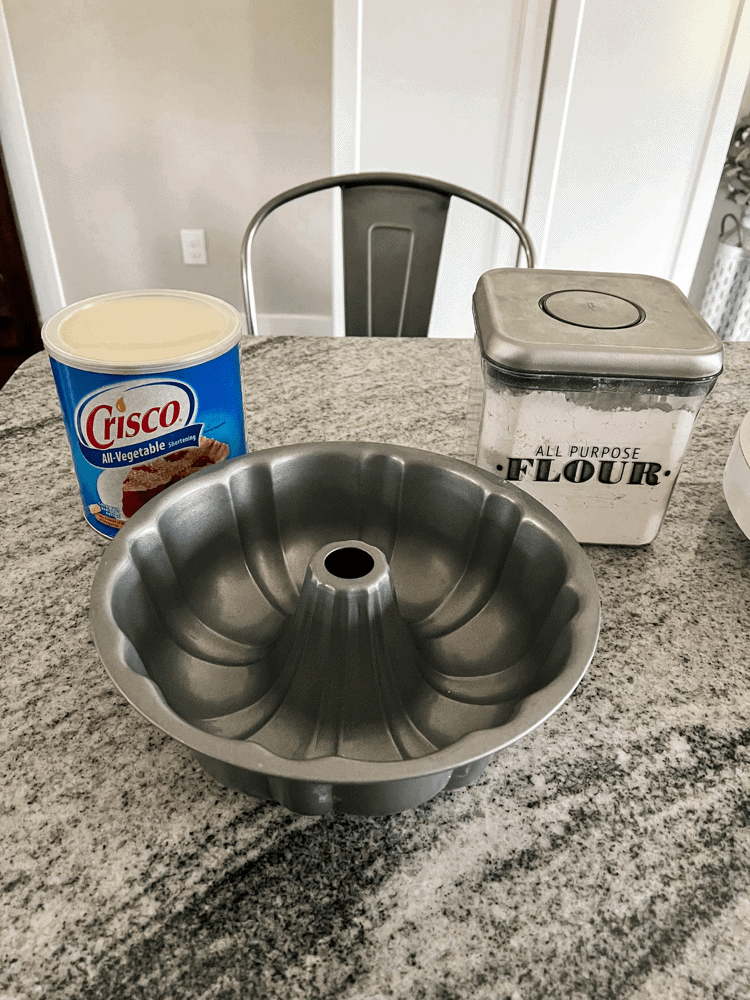 You can use Crisco and flour to do so. I just rubbed some Crisco around the pan with a paper towel, and then lightly dusted flour on top of it as well.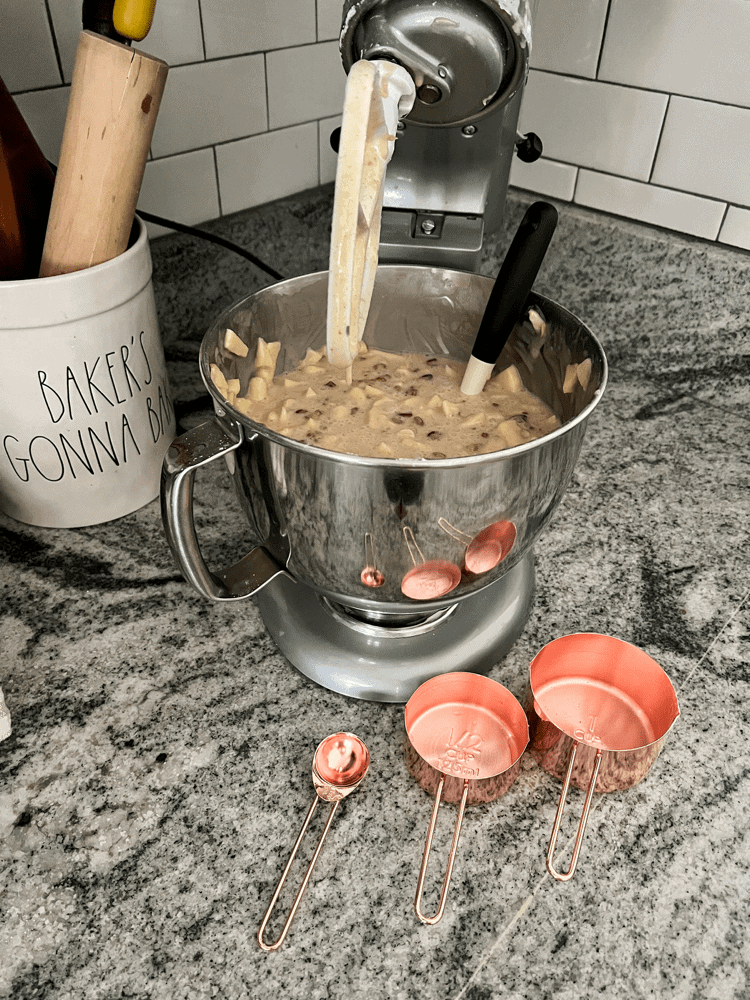 You don't want to skip this step. It is essential to do it, that way the cake doesn't stick to the pan.
Another important step is to be sure to sift the flour before adding it into the batter. This helps get rid of any clumps and will give it a nice smooth texture as well.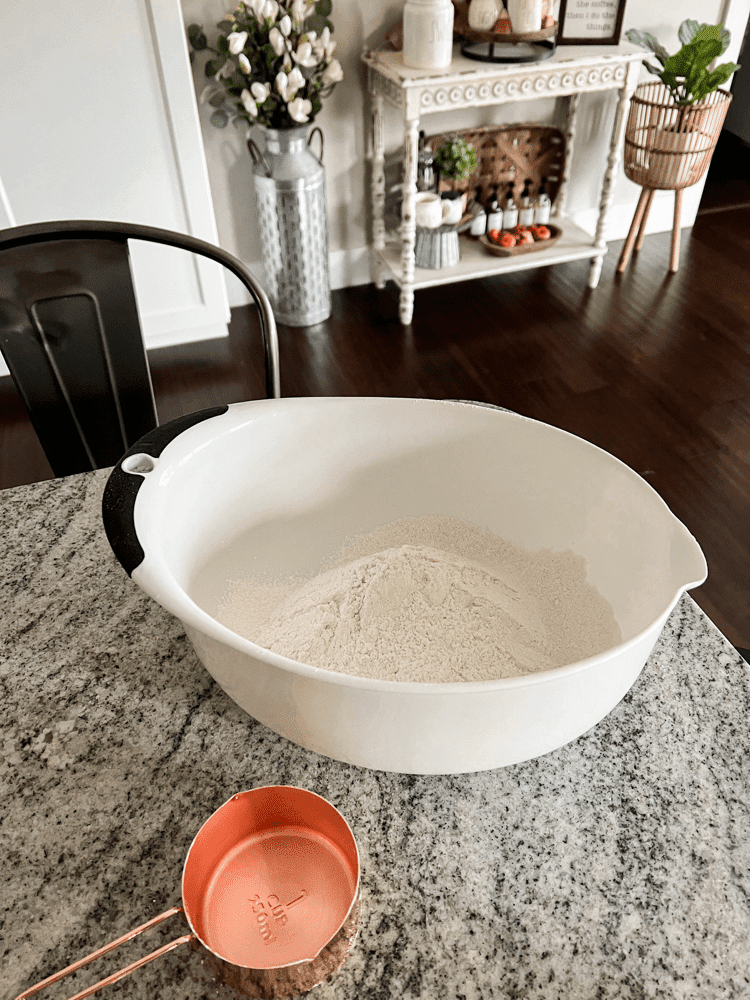 Tips for Baking the Cake
Another important aspect in creating this fresh apple walnut cake with caramel glaze is to be sure to let the cake cool for the correct amount of time. You want to let it sit in the pan for about 15 minutes first.
And then carefully, lift it out of the pan and set it out to cool some more. I left mine out for maybe 15 more minutes before adding the caramel glaze on top. You want the cake to be fully set before pouring on the glaze.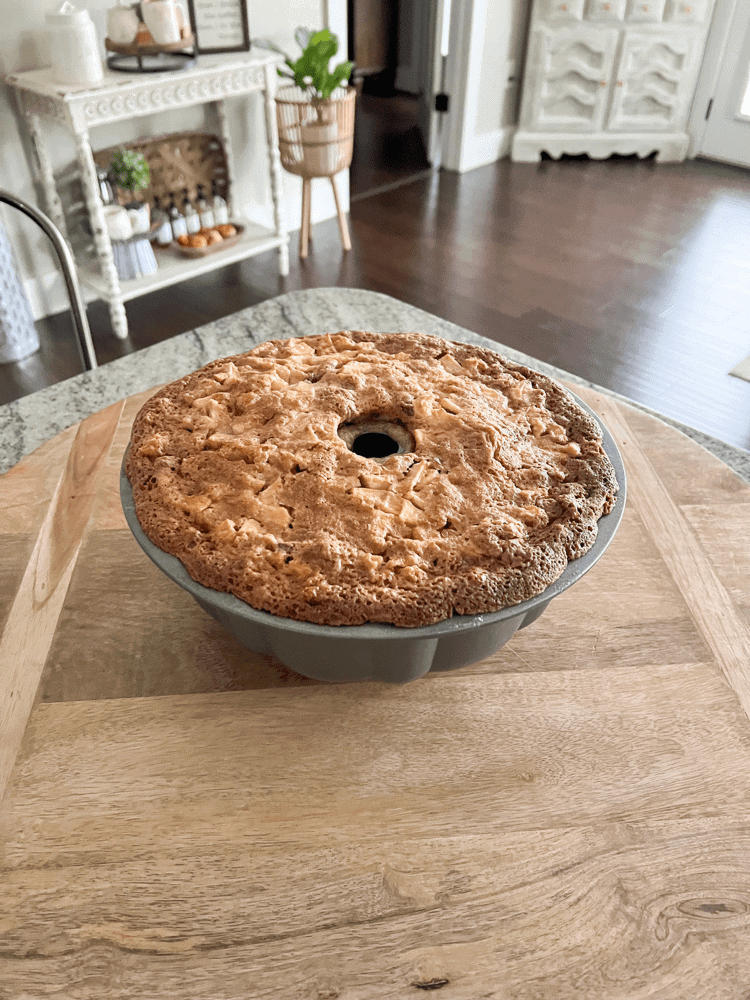 And to make sure the cake is fully cooked through, be sure to insert a toothpick before taking the cake out of the pan. You don't want to see any crumbs sticking to the toothpick. You want it to come out clean, that's how you know it is completely done.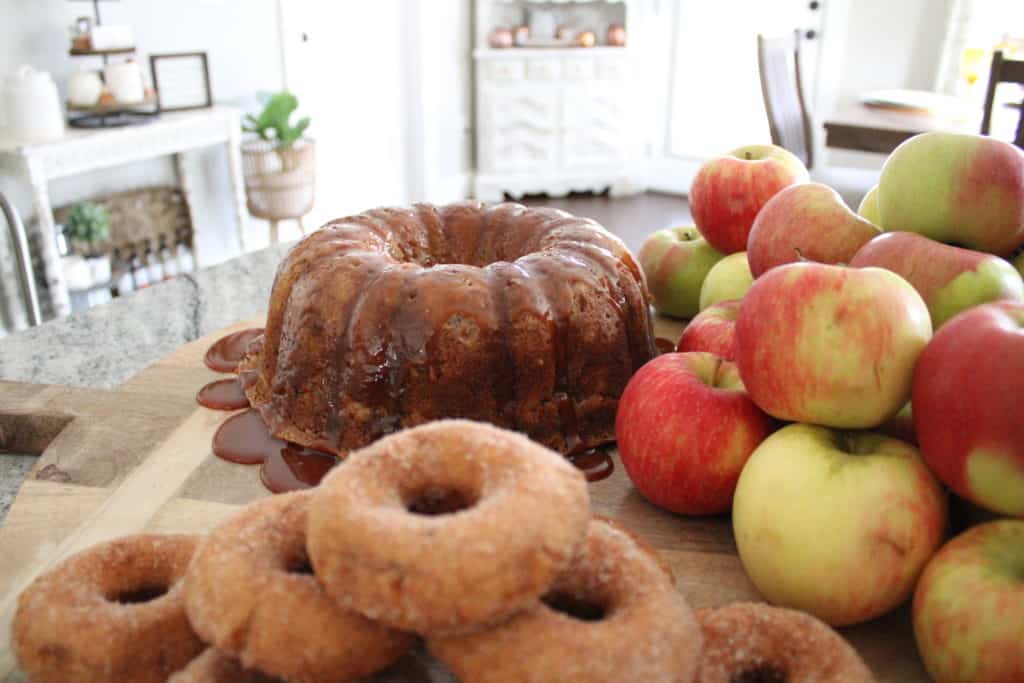 I wish I baked mine about 10 minutes longer or so because when I pulled the cake out of the pan, it was slightly doughy in the middle. Although, I don't mind some doughiness, it just wasn't perfect. So be sure to check it throughly, especially if you want to serve for guests.
Making the Caramel Glaze
Making the caramel glaze for this fresh walnut cake is easy. Simply, combine all the ingredients and bring them to a boil.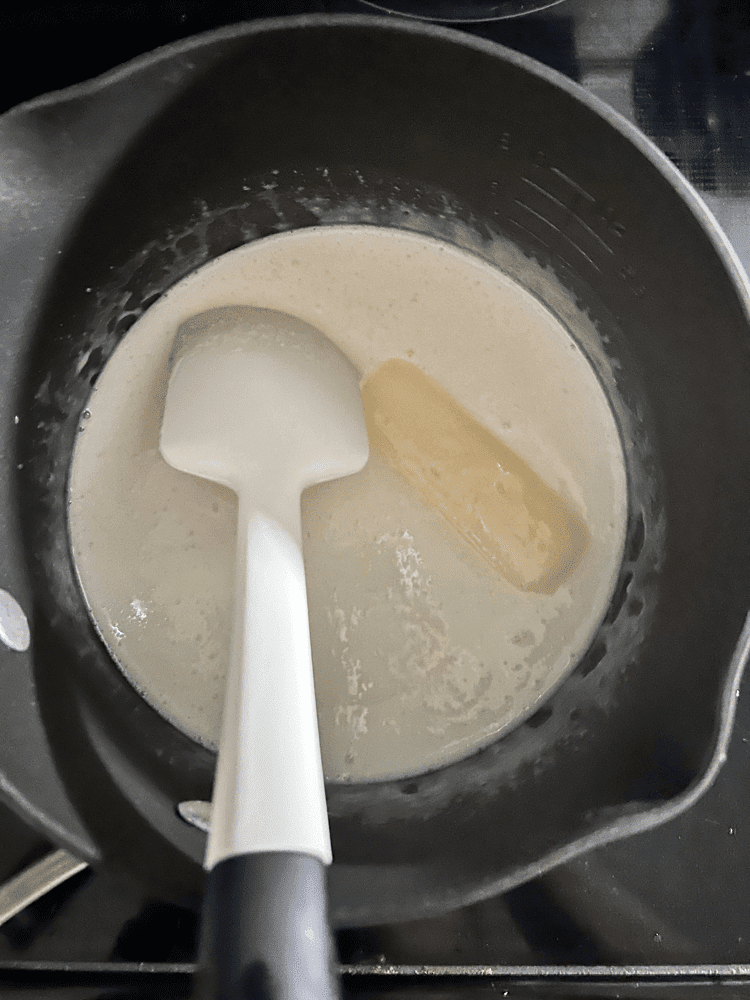 Then, be sure to continue to mix it well for 5-10 minutes. You will notice it will start to turn a golden brown color when done. That's how you know it's ready.
Before you pour the caramel glaze on top of the cake, be sure to poke several holes on top with a toothpick as well. That way, the glaze runs down into the cake too. So yummy!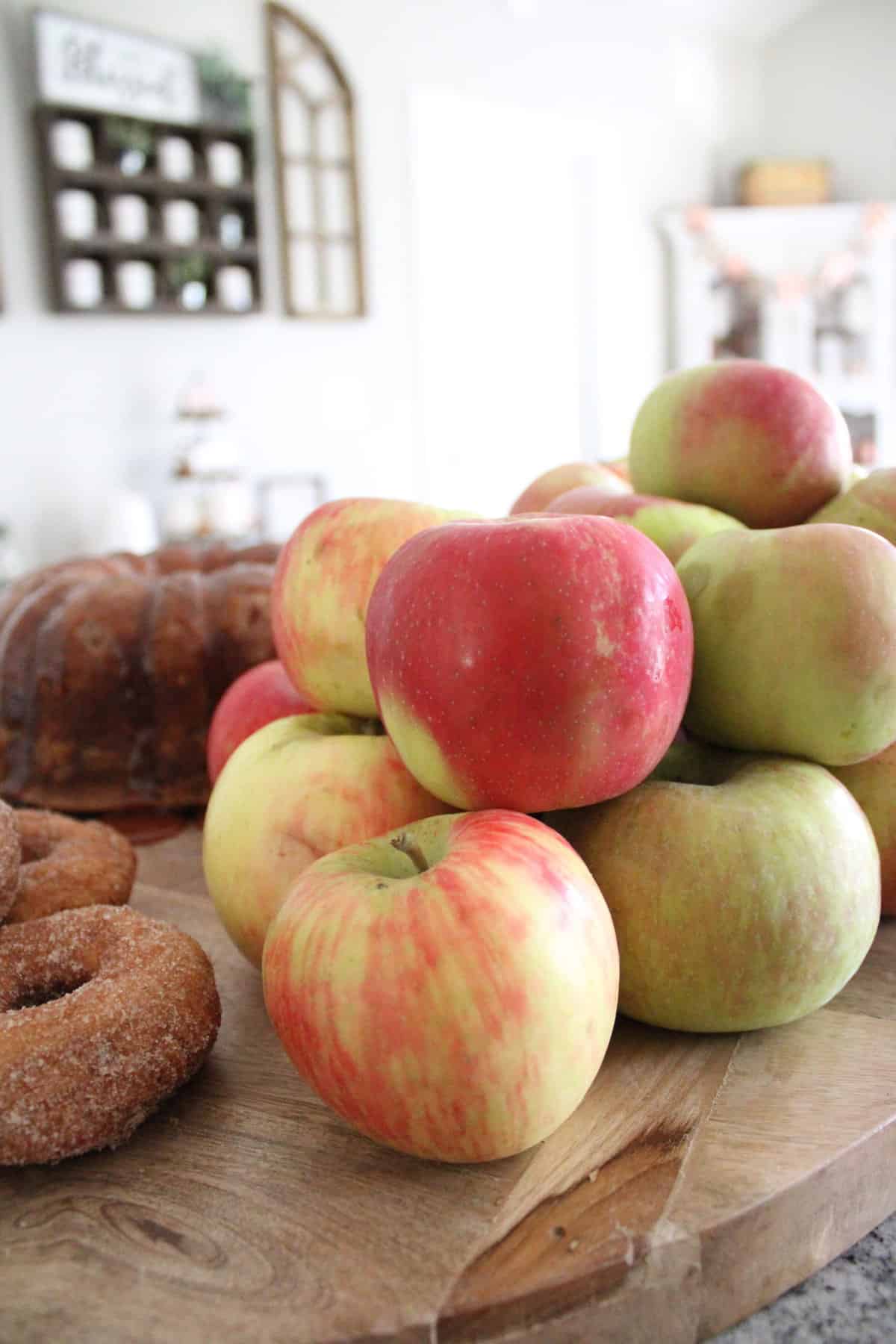 Well, I hope you enjoy this fresh apple walnut cake with caramel glaze just as much as we did! It truly is a showstopper and the perfect cake to make after visiting the orchard. As you can see, not only did we get some more fresh apples too, but the famous apple cider doughnuts as well!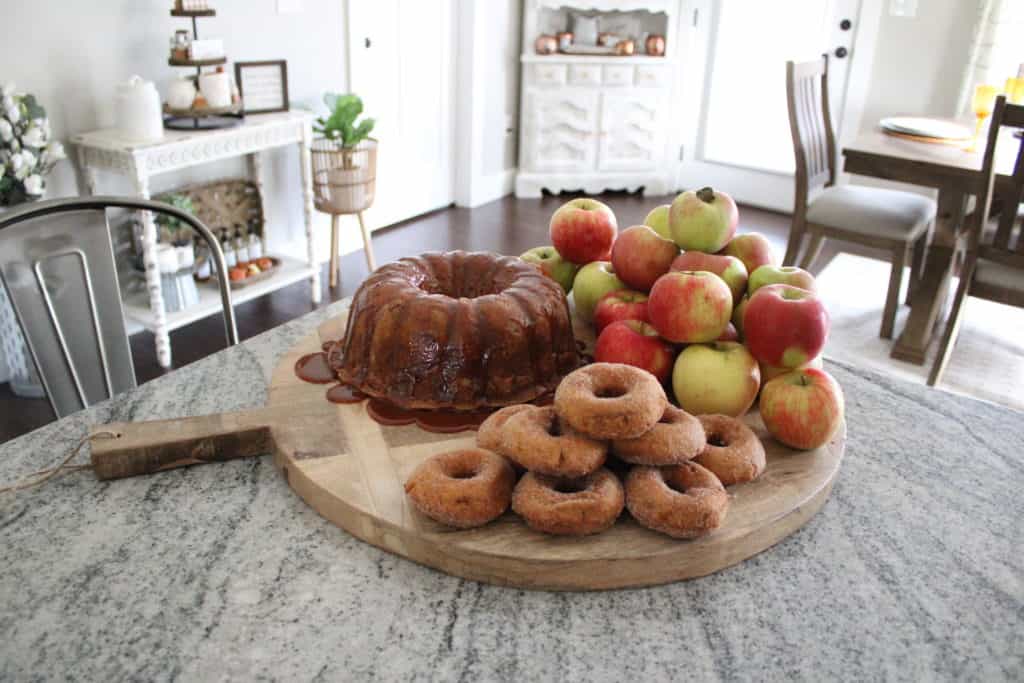 Do y'all love those too?! I am obsessed! Nothing like those hot fresh doughnuts! And although the trip to the orchard was so much fun, it obviously wasn't good for my waistline LOL.
I may need to stop all my baking activities for awhile! Especially since I just made some of that pumpkin bread with cinnamon sugar topping too! But oh well, tis the season for baking all the cozy goodies, right??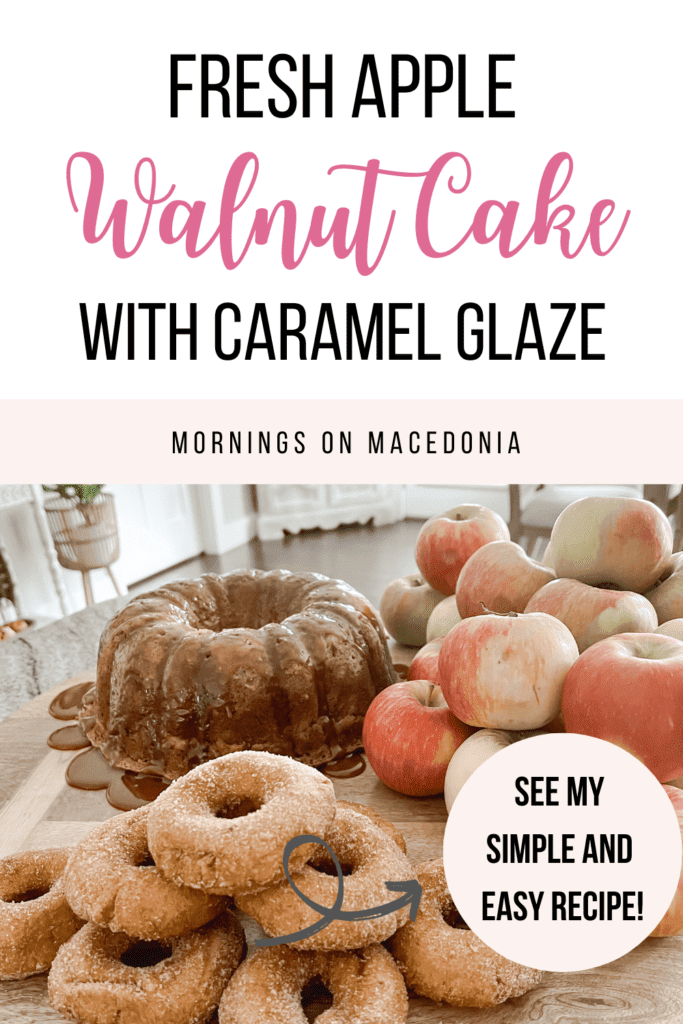 If you make this fresh apple walnut cake too, let me know below! I would love to hear all about how it turned out for you too!
And be sure to follow me over on Pinterest and save this idea pin below for easy future reference back to this delicious apple cake recipe!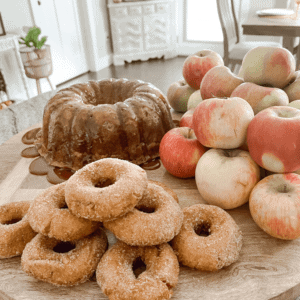 Fresh Apple Walnut Cake With Caramel Glaze
Ingredients
For the Cake:
2

cups

sugar

3

eggs

1 1/2

cups

vegetable oil

1/2

cup

orange juice

3

cups

all purpose flour

1/2

tsp

salt

1

tsp

baking soda

1/2

tsp

ground cinnamon

1

tsp

vanilla extract

1

cup

walnuts

2 1/2

cups

fresh apples, diced

from about 4 medium sized apples
For the Caramel Glaze:
6

tbsp

butter

3/4

cup

sugar

1/2

tsp

baking soda

1/3

cup

buttermilk
Instructions
For the Cake:
Preheat oven to 325 degrees. Grease a bundt pan with Crisco and flour.

Beat the eggs, sugar, and oil until smooth. Add in the orange juice and mix well.

Sift the flour, salt, baking soda, and cinnamon together. Add this flour mixture into the sugar mixture and beat well.

Add in the vanilla and stir in the apples and walnuts.

Pour batter into greased bundt pan. Bake for 90-85 minutes or until a toothpick inserted into the cake comes out clean.

Let cake cool for 15 minutes before removing from bundt pan.
For the Caramel Glaze:
Combine the butter, sugar, baking soda and buttermilk in a saucepan. Bring to a boil.

Boil mixture for 5-10 minutes or until it turns a light brown color. Take off heat.

Poke holes on top of the cake all over with a toothpick. Then, pour the caramel glaze on top of the cake.

Let the cake cool and set before serving and enjoy!