Are you ready for a rich and decadent fall cake?? Then, be sure to check out this recipe for Paula Deen's Ooey Pumpkin Butter Cake!! So yummy and delicious! And also, super easy to make!
I remember my mom making this when I was younger and I was absolutely obsessed with it! I love all things doughy and gooey, so if you're like that too, you will love this cake!
Like I'd much rather have cookie dough straight than the actual cookie baked itself. And please let me lick the beater after mixing up anything sweet! That's my favorite part about baking.
And with this ooey gooey recipe, you don't even have to worry about salmonella poisoning, because even after you bake it, it's still supposed to be doughy and delicious!
Be sure to keep on reading to see just how to make this easy and yummy recipe. It's absolutely perfect for fall and I know you will enjoy it too!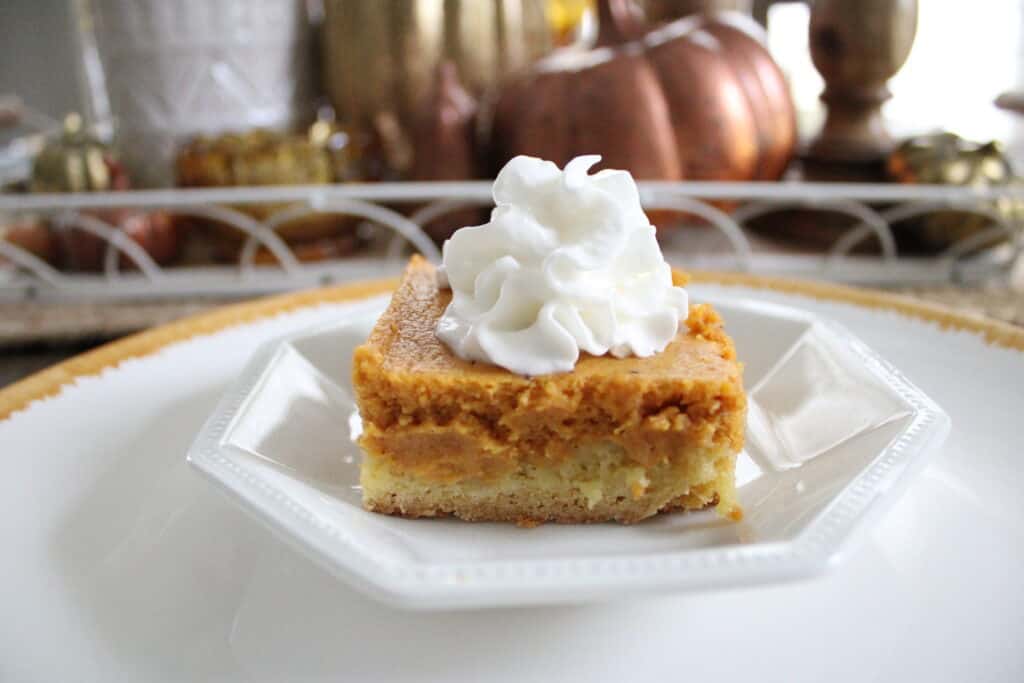 Ingredients Needed for Ooey Pumpkin Butter Cake:
For The Crust:

Yellow Cake Mix
2 Large Eggs
3/4 Cup Butter, Melted

For The Filling:

8 oz Cream Cheese, Softened
3 Large Eggs
1 Can of Pumpkin Puree
3 1/2 Cups Powdered Sugar
1 Tsp Vanilla (I used my Homemade Vanilla Extract)
1/4 Cup Butter, Melted and Cooled
1 Tsp Cinnamon
1 Tsp Nutmeg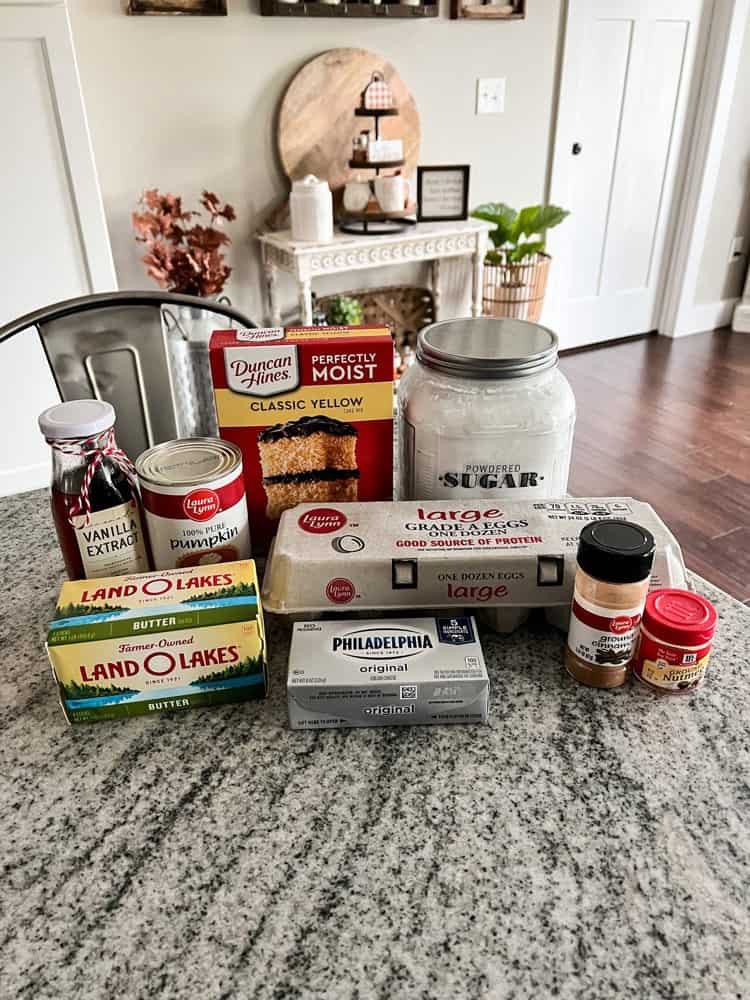 Make The Crust
The first step of making this ooey pumpkin butter cake is to make the crust. Just combine all the ingredients listed for the crust together with an electric mixer.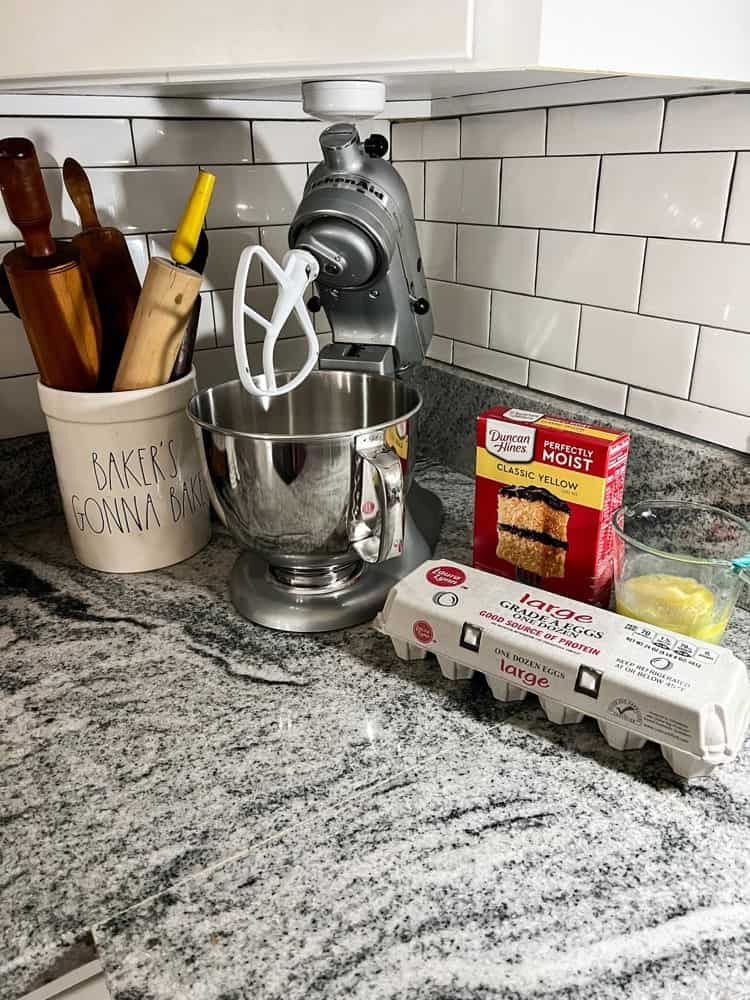 And then add the mixture to a greased 9×13 baking dish. It will be very thick so just do the best you can to place it in the baking dish.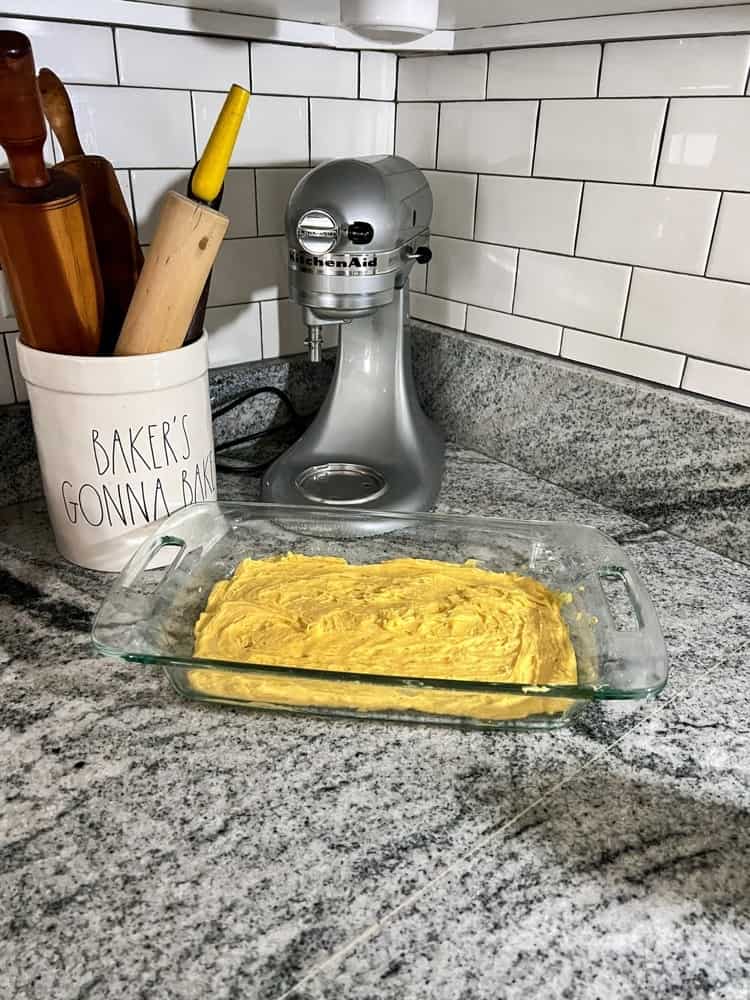 Making The Pumpkin Filling
After you have the crust made, now is the time to make the pumpkin filling! Just mix together all the ingredients for the filling using an electric mixer again.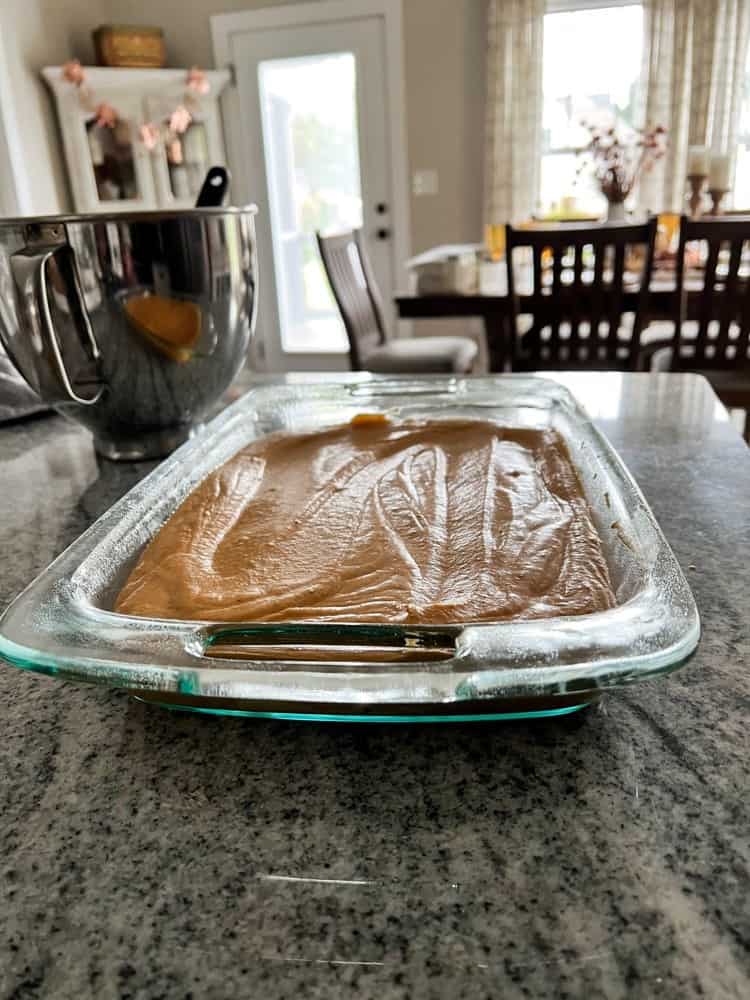 Once everything is mixed throughly together, pour the mixture over the crust in the greased baking dish.
Then, smooth the top over with a spatula and place in the preheated oven!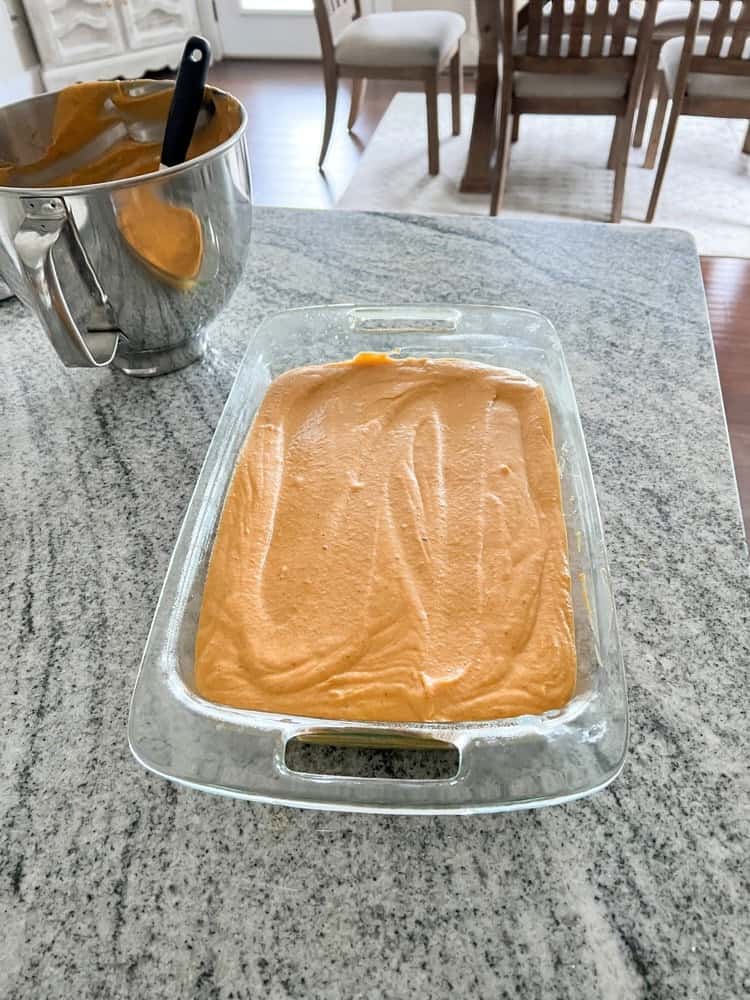 After you've poured the pumpkin filling on top of the crust, you can now place it int the preheated oven and bake it. The original recipe calls to bake it for 40-45 minutes. But I actually baked it for a total of 50 minutes.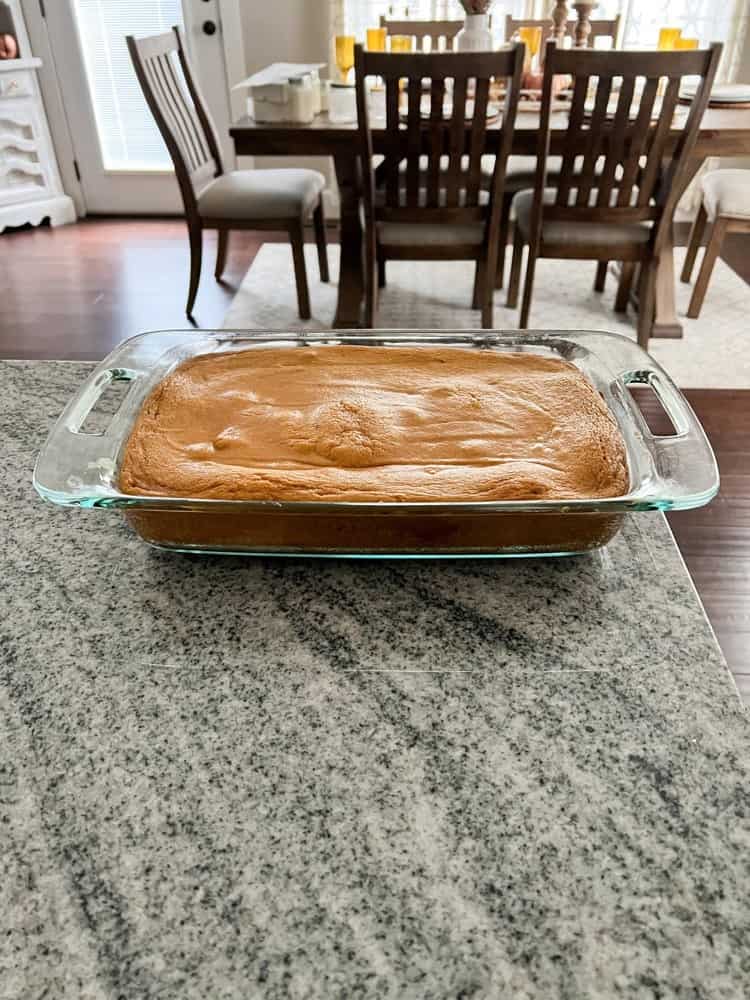 My husband isn't really a fan of doughy things like I am, so I baked it an extra 5 minutes. He loved it, but honestly it was a little too done for me.
So just know your audience, who you're baking for, and then go from there. I love it at just 40 minutes, but again, I love things that are doughy and gooey!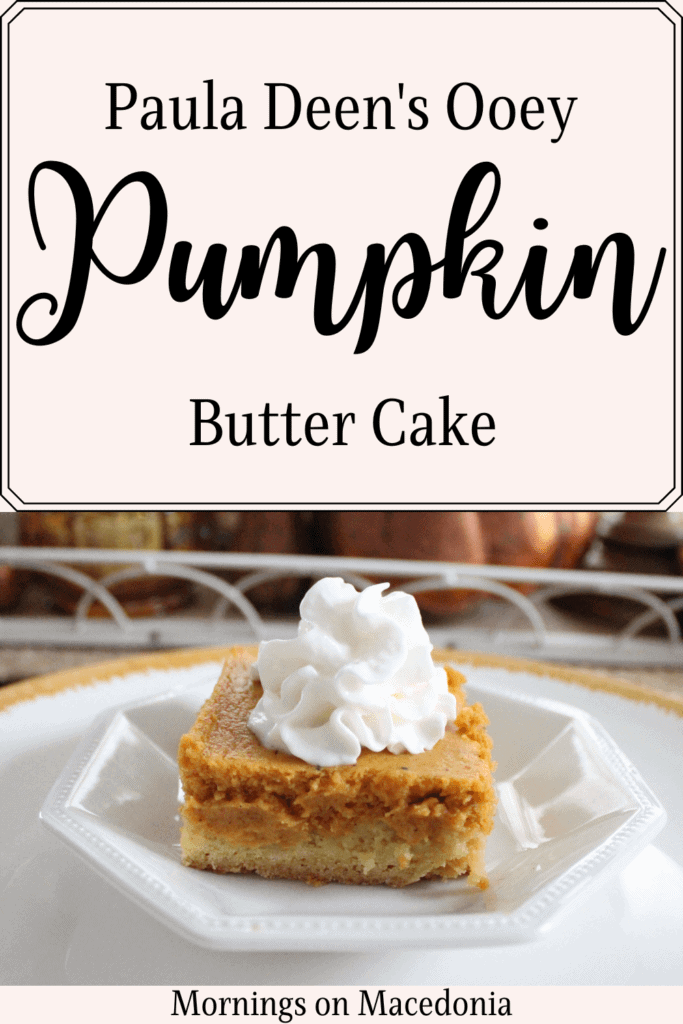 And keep in mind, this cake is very decadent so a little goes a long way! And it is perfect to serve with a dollop of whipped cream too!
Let me know if you make this cake too and how it turned out for you as well. I hope you love it just as much as I do!
Also, be sure to follow me on Pinterest and save this idea pin on how to make the cake for future reference too: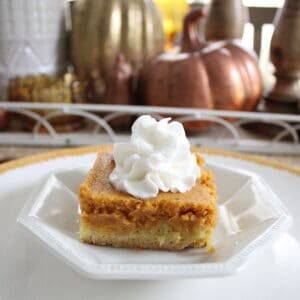 Paula Deen's Ooey Pumpkin Butter Cake
Ingredients
For The Crust:
1

Package

Yellow Cake Mix

2

Eggs

Large

3/4

Cup

Butter

Melted
For The Filling:
8

Oz

Cream Cheese

Softened

3

Eggs

Large

1

Can

Pumpkin Puree

3 1/2

Cups

Powdered Sugar

1

Tsp

Vanilla

1/4

Cup

Butter

Melted and Cooled

1

Tsp

Cinnamon

1

Tsp

Nutmeg
Instructions
Preheat the oven to 350 degrees.

Combine the cake mix, eggs, and butter with a handheld mixer until fully combined.

Press mixture into a fully greased 9×13 baking pan.

In another bowl, beat the softened cream cheese until smooth.

Add pumpkin puree and beat again until smooth.

Add the eggs, vanilla, and butter and beat together.

Then, add in powdered sugar, cinnamon, nutmeg and mix well.

Spread the pumpkin filling mixture on top of the crust mixture in the greased baking dish.

Bake the cake for 40-45 minutes. The center should be a little doughy, even when it is done.

Allow to cool for an hour.

Serve with a dollop of whipped cream and enjoy!
Be sure to check out more ideas on what to cook here too!