If you're looking for a sweet and easy Halloween treat, then check out these delicious buttercream ghost cupcakes! It's an elevated box cake recipe and it turned out to be not only cute and festive, but delicious as well!
I originally got the recipe and idea from The Pioneer Woman, and you guys know how much I already love her. I've shared plenty of her recipes before on here, like my top 3 favorite freezer meals to make.
But, once again, she has not let me down! And these cute ghost cupcakes are proof of that. Plus, they were pretty simple to make too. Keep on scrolling for the recipe!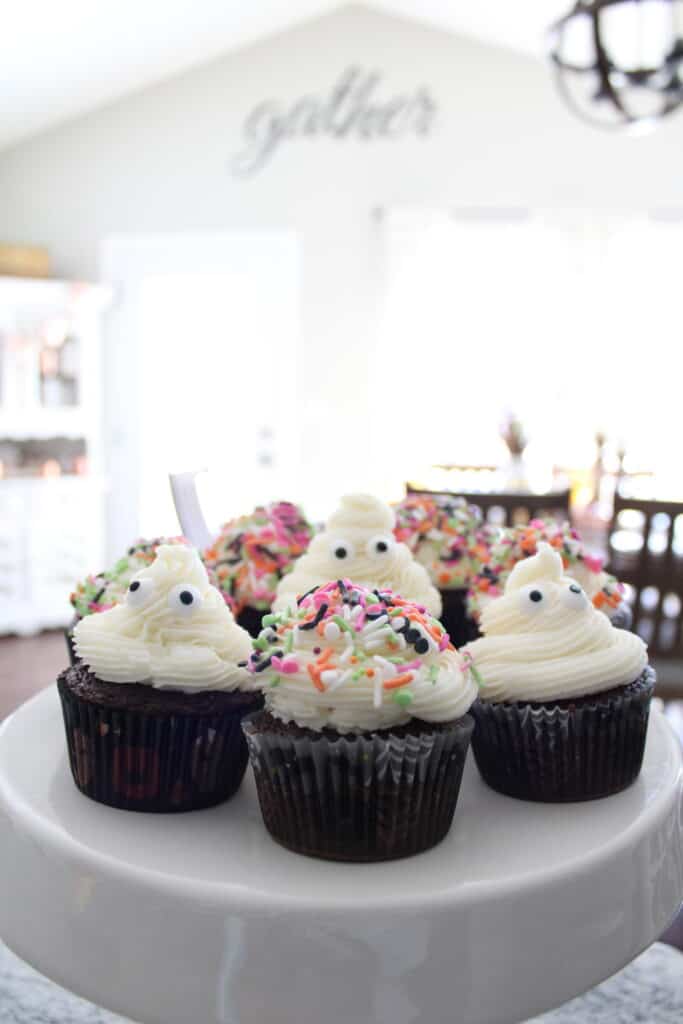 This post contains affiliate links. Click here to read my disclosure policy.
Ingredients Needed for Ghost Cupcakes:
For the Cupcakes:
1 15.25 oz. box devil's food cake mix
1 1/4 c. brewed coffee, cooled
1/2 c. salted butter, melted and cooled slightly
3 large eggs
1/2 c. mini chocolate chips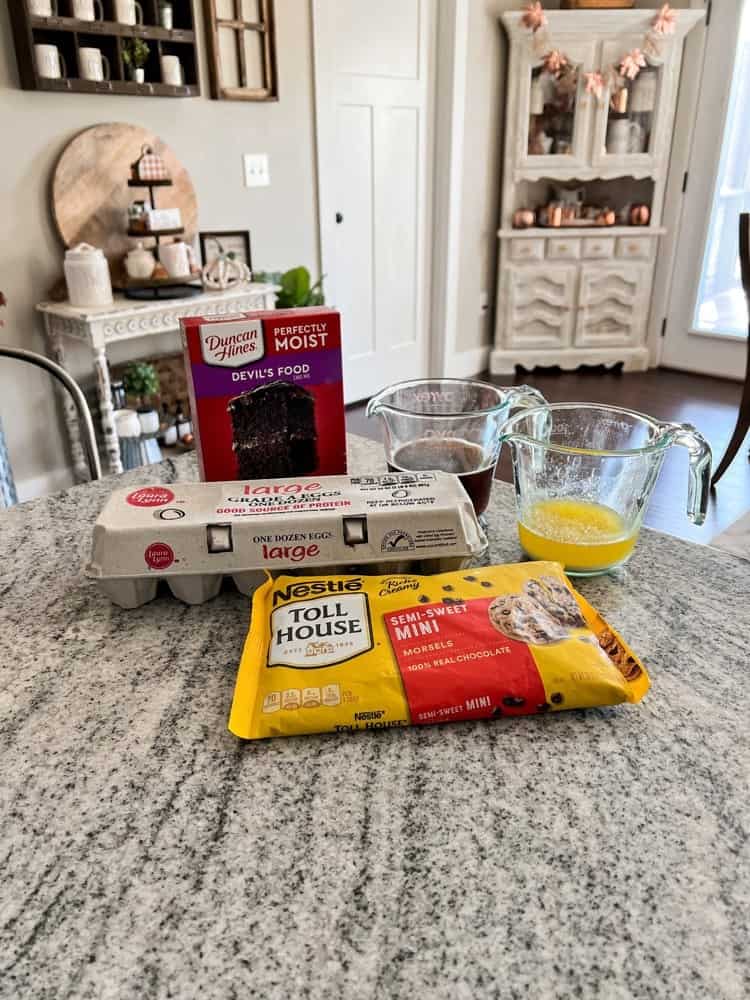 For the Buttercream Frosting:
1 lb. salted butter, slightly softened
7 c. powdered sugar (1 lb. 12 oz.)
1 tbsp. vanilla extract
2 tbsp. heavy cream
Candy Eyes and Halloween Sprinkles, for decorating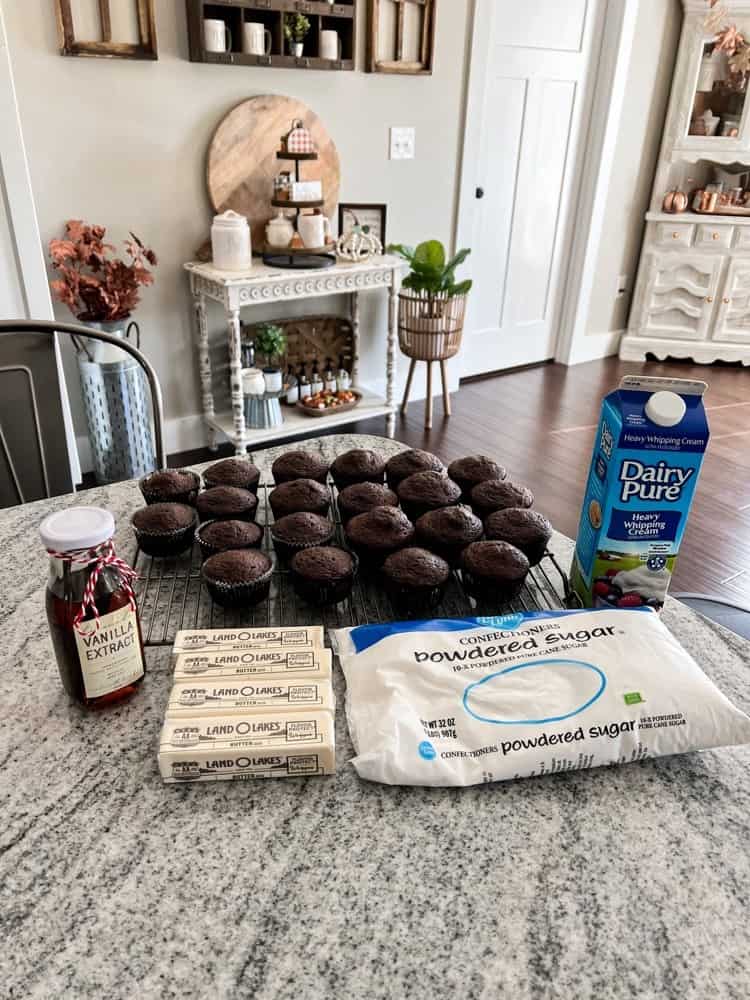 Making the Cupcakes
I love the idea of making the cupcakes from a box cake mix, but elevating it to make it more like bakery cupcakes. This recipe does this by adding in the coffee, butter, and mini chocolate chips.
Of course, if you wanted to keep it super simple, you could simply just follow the instructions on the box cake mix and leave it there.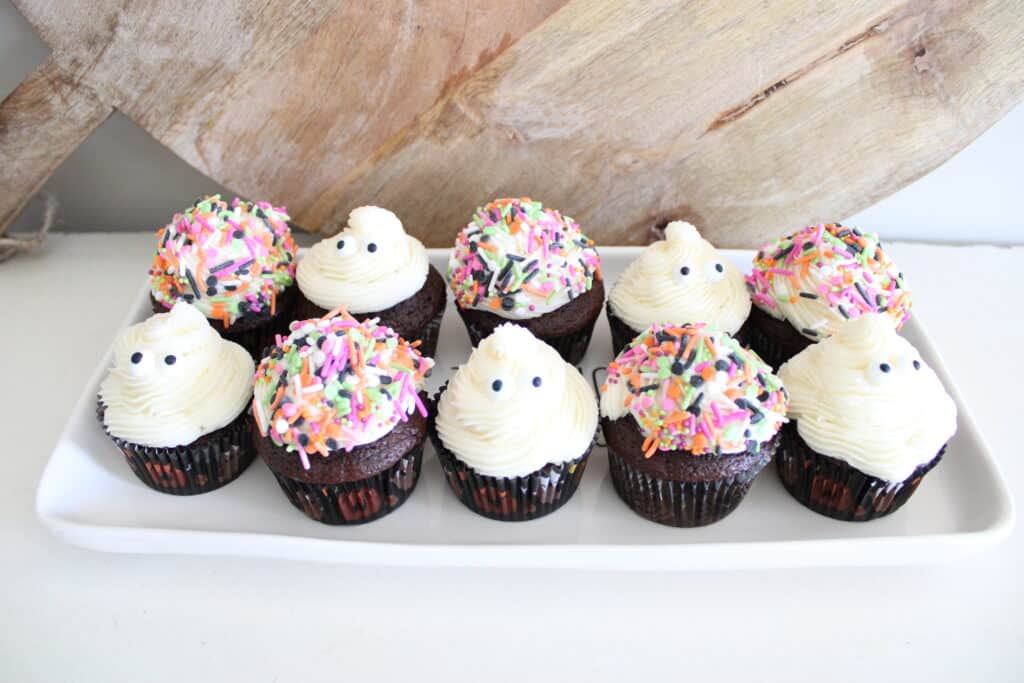 But, adding in these extra ingredients really didn't make it that much harder to make, in my opinion. I think the frosting took a little more effort, but it was totally worth it. Because who doesn't love a good homemade buttercream frosting?!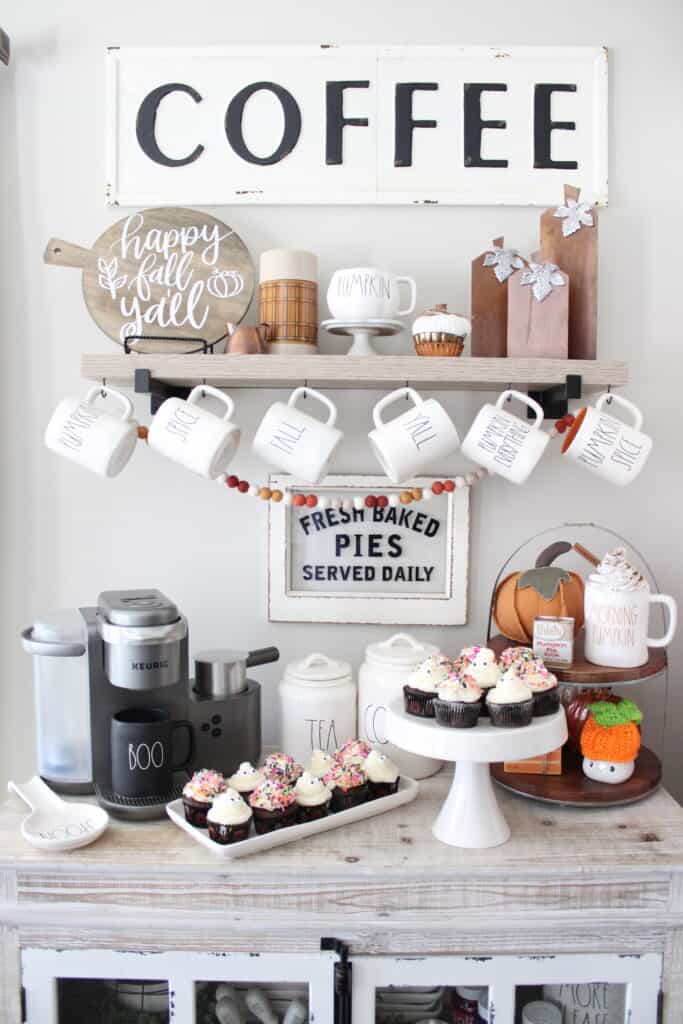 Making the Buttercream Frosting
Like I mentioned above, making the frosting is slightly more challenging than making the actual cupcakes, but definitely worth the work. Adding the extra ingredients to the box cake mix is the start of elevating these ghost cupcakes.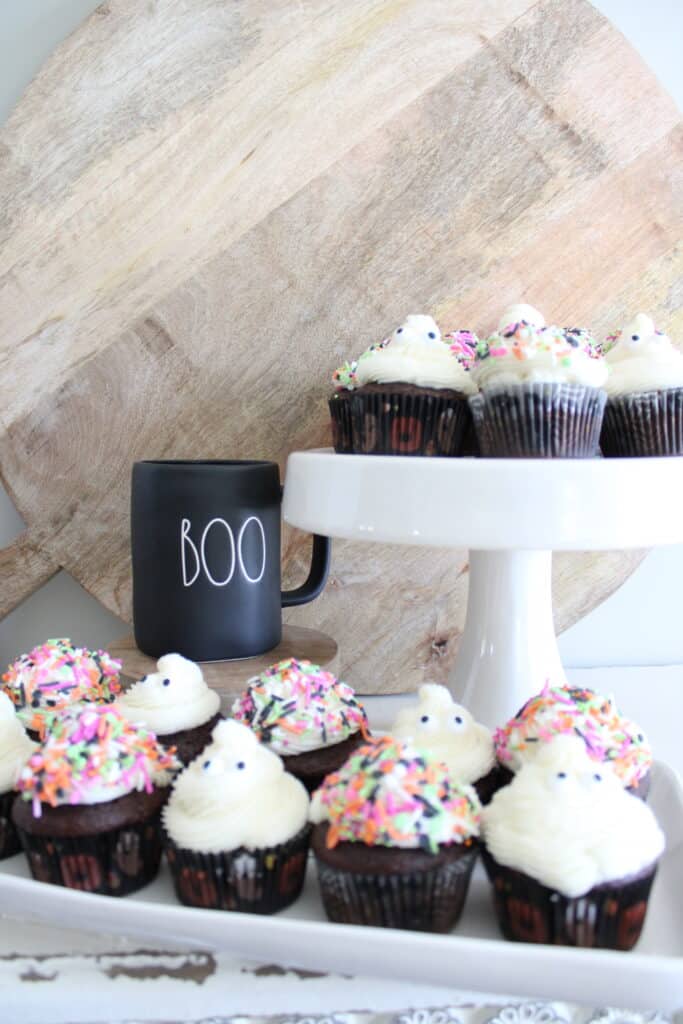 But, finishing them with the homemade buttercream frosting is definitely the icing on the cake, pun intended! It's a rich and thick frosting, which is great because it helps hold up the ghost shape.
The original recipe called for just 1 tablespoon of vanilla extract and 2 tablespoons of heavy whipping cream, but I ended up increasing this. I used about 2 tablespoons of vanilla and 5 tablespoons heavy whipping cream.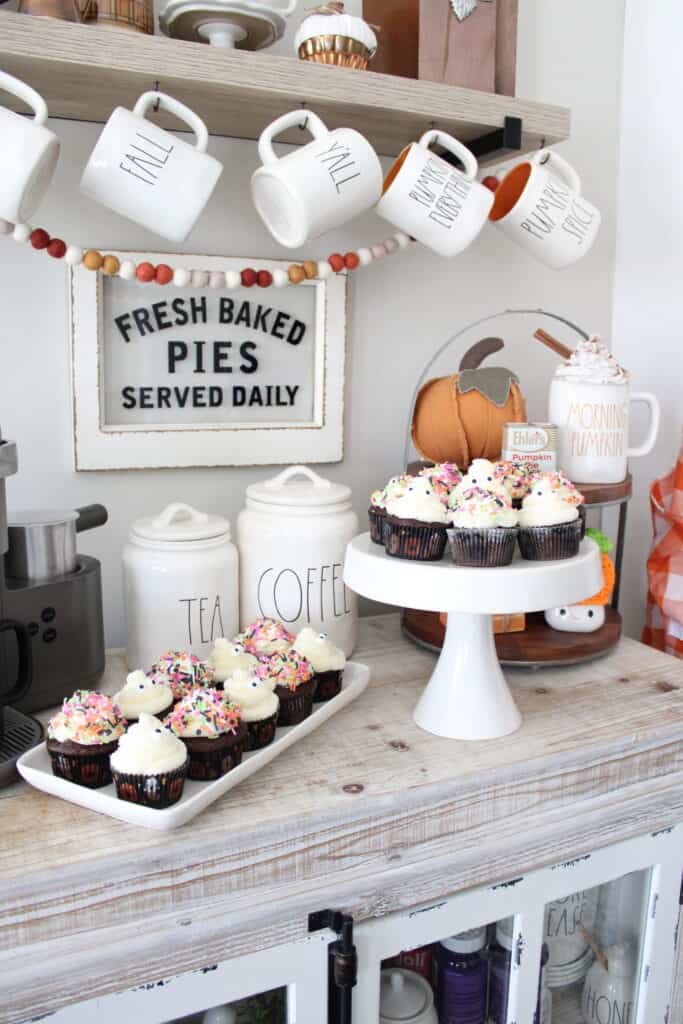 I found the frosting to be way too thick with just the original measurements. And I thought it would be a nightmare to try to pipe it out onto the cupcake with it being that thick. So I just kind of added a little more here and there until I got the right consistency.
You may need to do the same or add more or less depending on how your frosting turns out. But don't be afraid to add a little more if you need to. Although, keep in mind, homemade buttercream frosting is intended to be a little thick.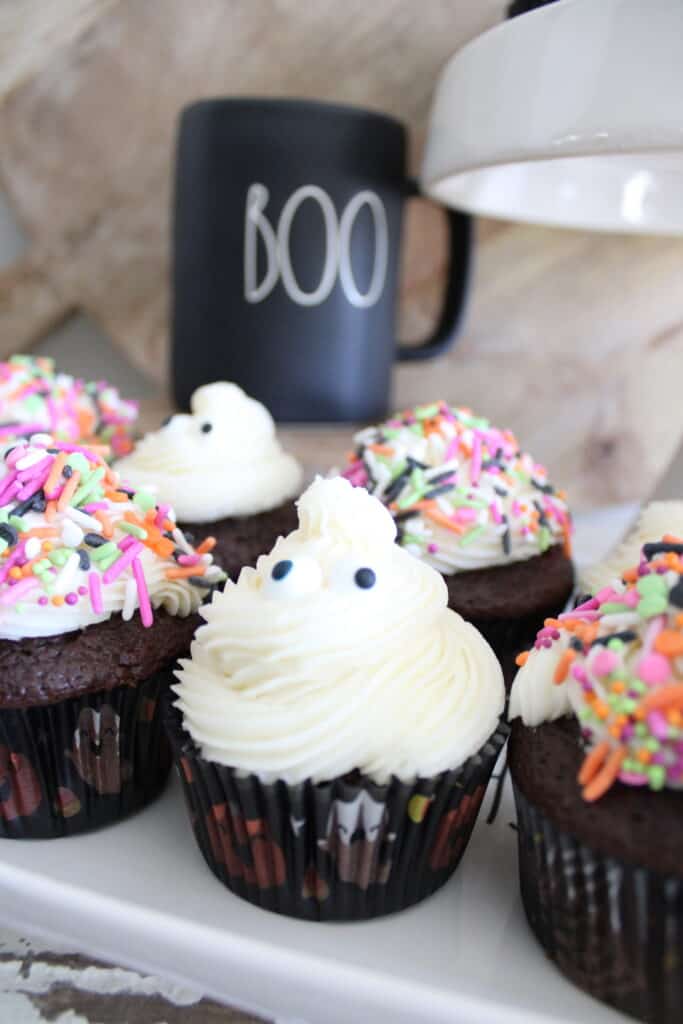 Assembling the Ghost Cupcakes
Now that the cupcakes are cooled and you have your buttercream frosting, let's make some cute ghost cupcakes! The original recipe calls to use a piping bag for the frosting with a large, round piping tip.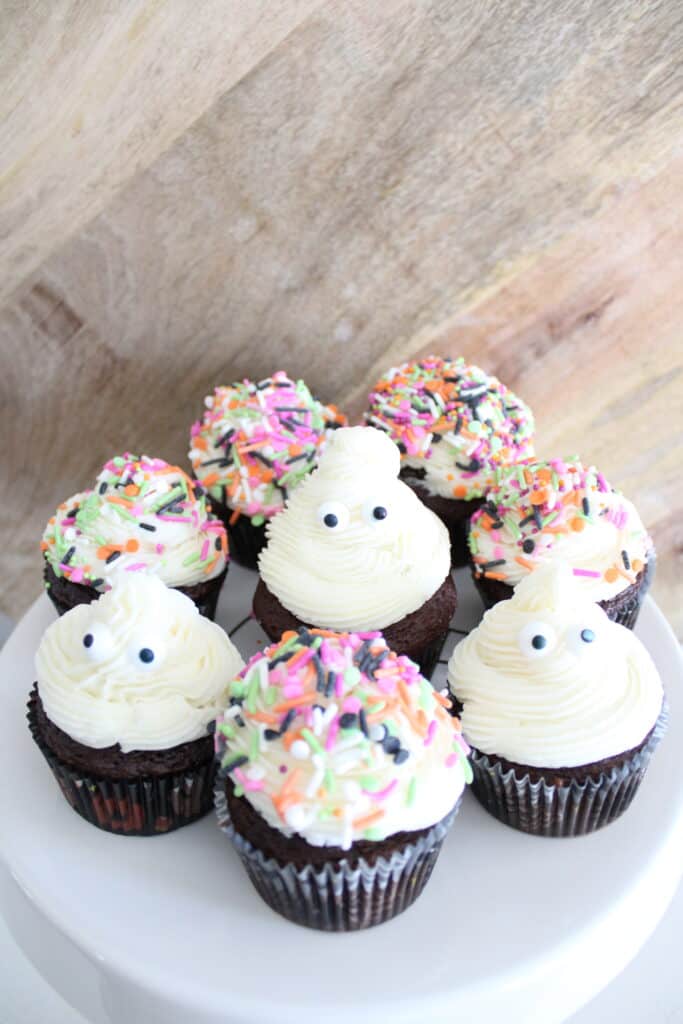 I actually have a piping gun that I use for cupcakes, cookies, and cakes and I ended up using that instead. I absolutely love this little thing and use it often for my baking needs.
If you love baking like me, you should definitely consider getting one! I will link a similar one below so you can check it out too!

And don't fret if you don't have either option. You could totally just add the frosting into a sandwich bag and cut off a little corner piece and pipe it onto the cupcake that way instead!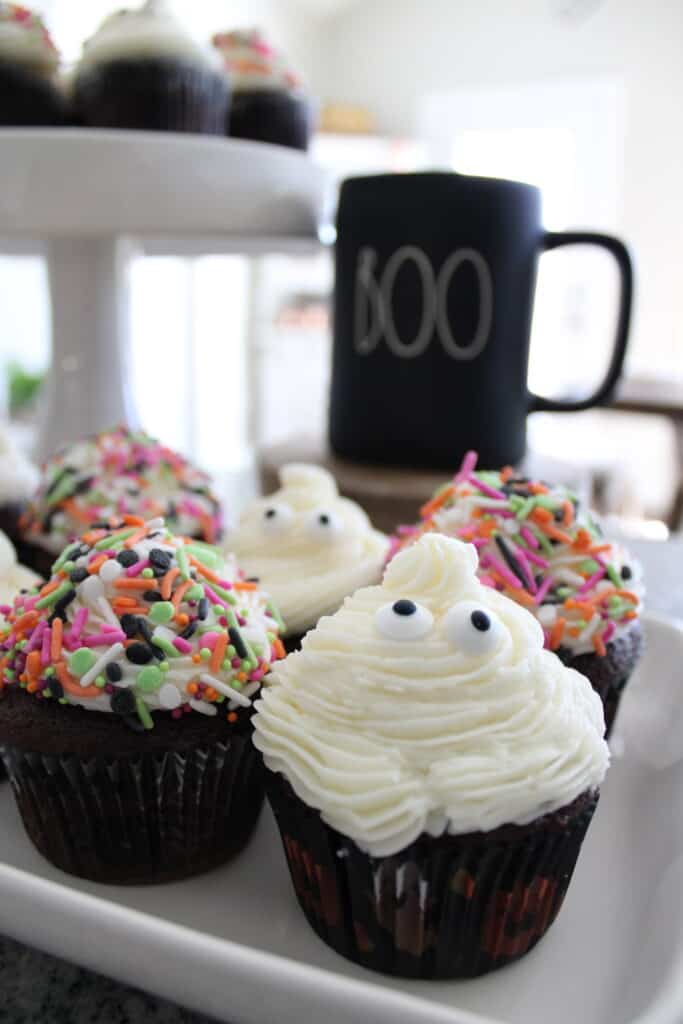 After you have the frosting all piped onto the cupcakes, now is the time to decorate them! I used candy eye sprinkles to make them look exactly like ghost cupcakes.
But I also wanted to make some look fun and festive and colorful as well. So I used a Halloween sprinkle mix. So Those turned out to be more of a buttercream Halloween cupcake, but still super cute and went along with my ghost cupcakes perfectly!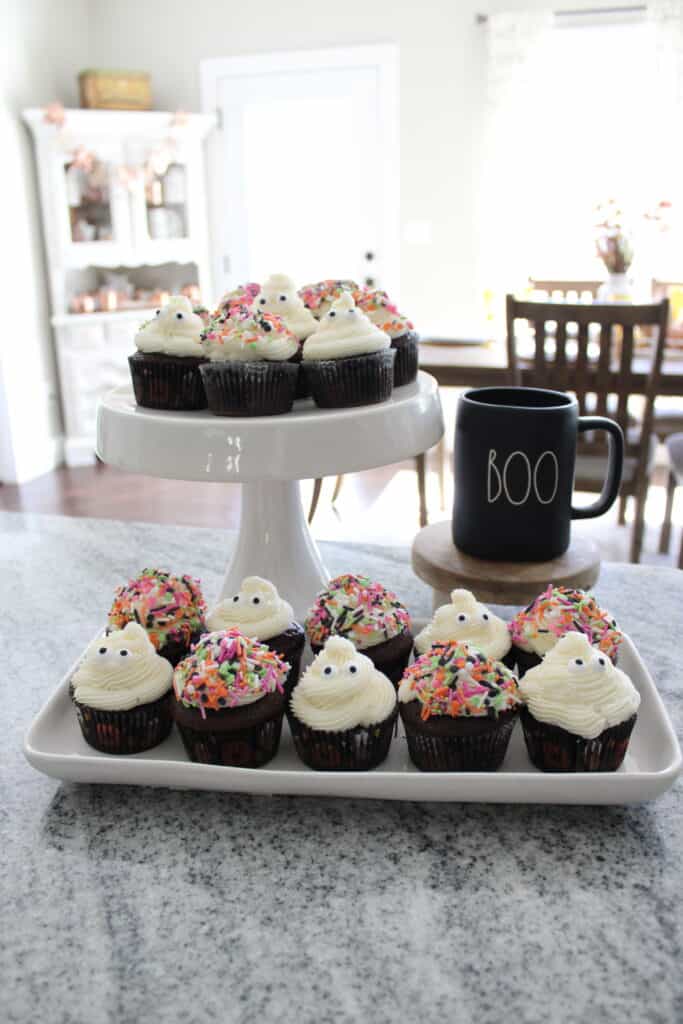 The original recipe also called for just using mini chocolate chips for the eyes of the ghosts. So you could definitely do that as well if you can't find any of the candy eye sprinkles.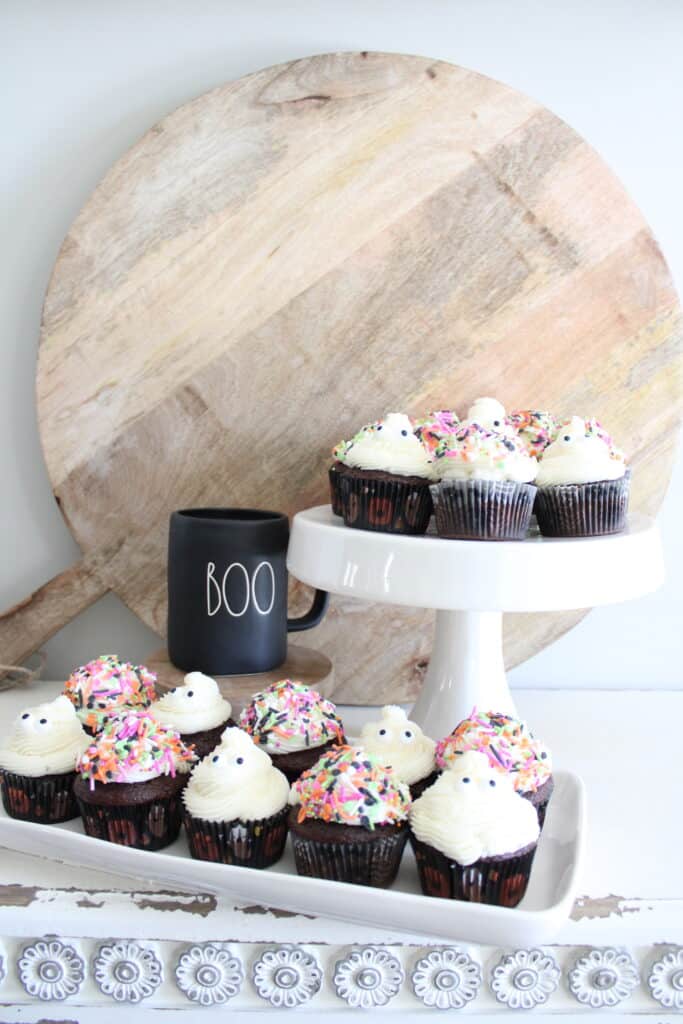 Eat and Enjoy!
Well, I hope you guys enjoyed this little Halloween ghost cupcake recipe! I told you, it was easy and festive!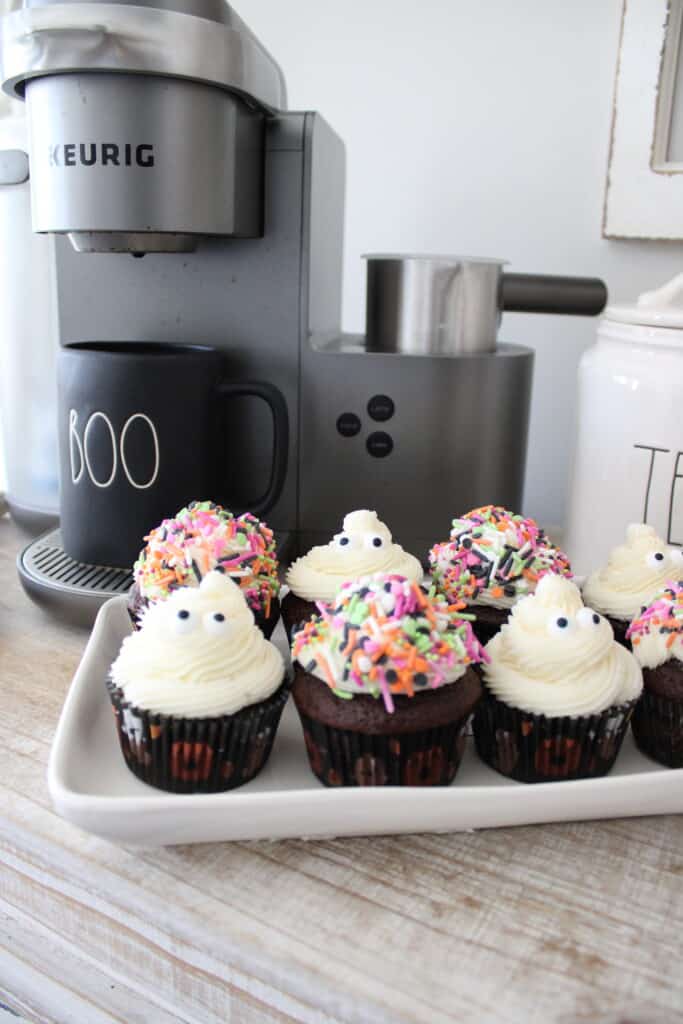 How fun would these be for a Halloween party?! Or if you're looking for more Halloween party ideas, check out my Fall Dessert Charcuterie Board too.
Even if you're not going anywhere for Halloween, these would still be perfect for a fun night in with the family. If you make them too, let me know how they turn out for you as well!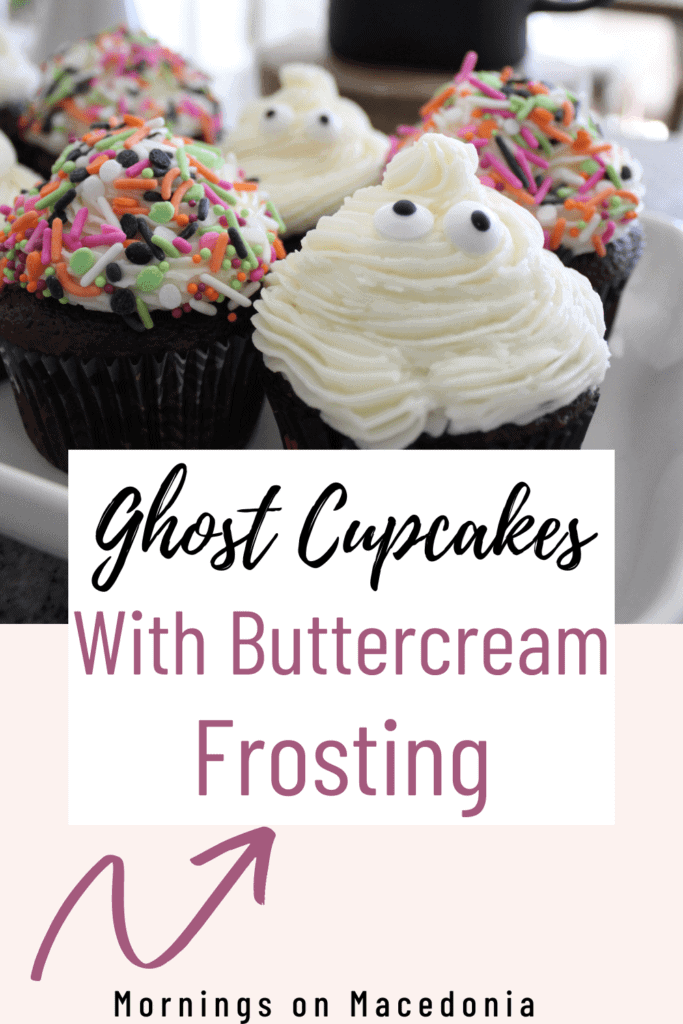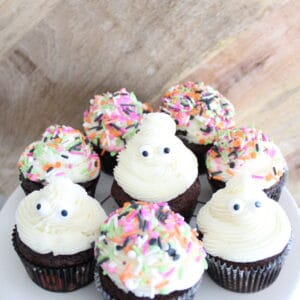 Ghost Cupcakes
Ingredients
For the Cupcakes:
1

box

Devil's Food Cake Mix

15.25 oz

1 1/4

cup

Brewed Coffee

cooled

1/2

cup

Salted Butter

cooled

3

Eggs

1/2

cup

Mini Chocolate Chips
For the Buttercream Frosting:
1

lb.

Salted Butter

4 sticks total

1

bag

Powdered Sugar

32 oz

2

TBSP

Vanilla Extract

5

TBSP

Heavy Whipping Cream
Instructions
For the Cupcakes:
Preheat oven to 350 degrees and line 24 muffin cups with paper liners.

Combine all the cupcake ingredients (Devil's Food Cake Mix, Butter, Coffee, Eggs) in a mixer until combined. Add in the mini chocolate chips.

Spoon cupcake mixture into paper liners. Don't overfill.

Bake until cupcakes come out clean when a toothpick is inserted in them. About 18-20 minutes.

Move to wire racks and let them cool completely.
For the Buttercream Frosting:
Beat the butter in a mixer at medium speed for about 2 minutes, or until creamy.

Gradually beat in the powdered sugar at low speed.

Increase speed and continue to beat until mixture is light and fluffy.

Gradually beat in heavy whipping cream on low speed.

Increase speed and beat until frosting is light and fluffy again, about 1 minute.

Spread the frosting into a pastry bag and pipe it onto the cooled cupcakes. Decorate cupcakes with candy eyes to make them ghost cupcakes, or Halloween sprinkles as well.