If y'all remember, I did a cute DIY Herb Garden last spring. I loved it so much I decided to do it again this year! But, I wanted to make some cute plant labels for it so I would remember where exactly I planted everything. So that gave me an idea to create these easy DIY plant labels!
They turned out so cute and I am so happy with how they look in my little herb garden. Keep on reading to see all the materials you will need and how to do this easy project!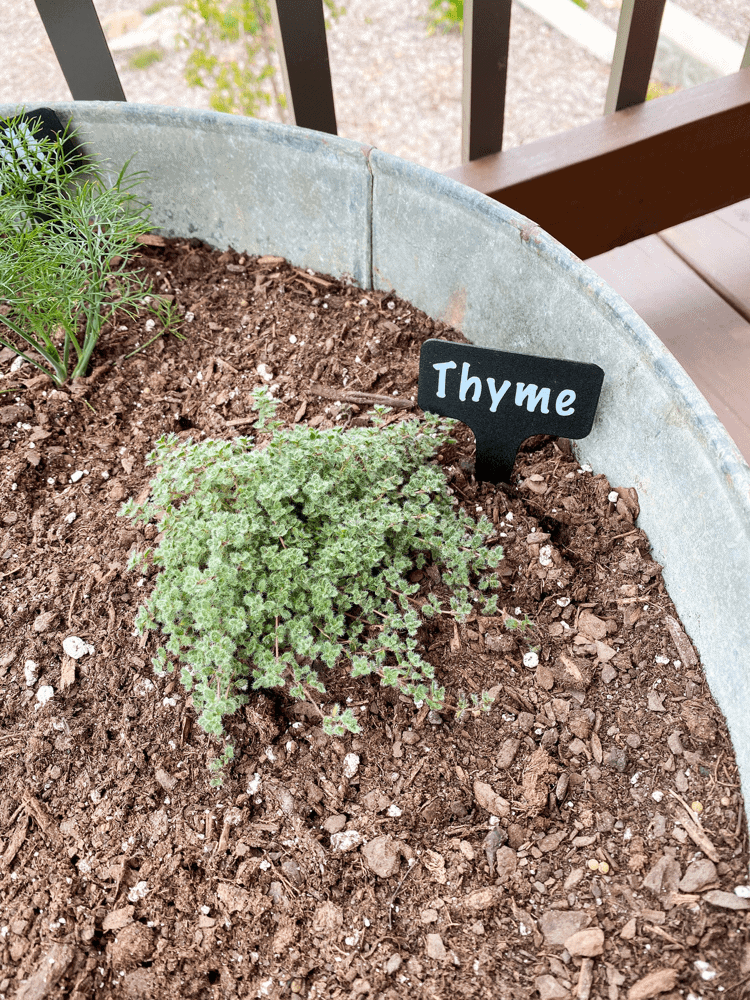 AD This post contains affiliate links. Click here to read my disclosure policy. I was also gifted this Cricut Explore Air 2 Machine and some materials. All opinions about this product are my own.
Materials Needed for Plant Labels: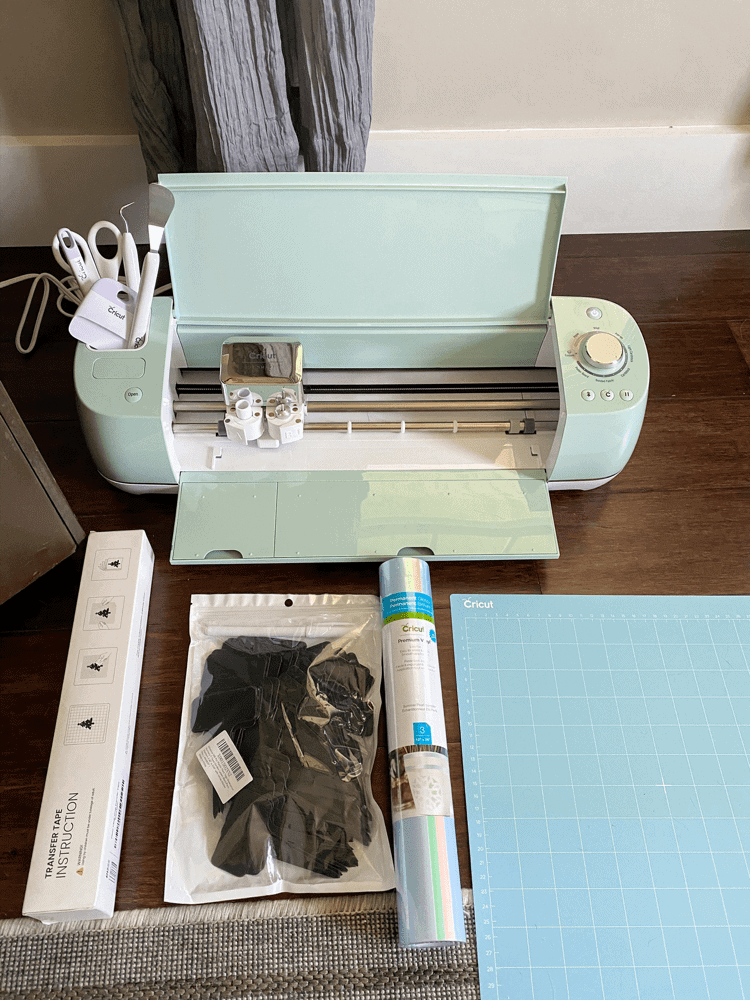 Start Designing Your Plant Labels
Once you have all the materials needed, you can start designing! I just opened up my Cricut Design Space and did a new project.
Then I just used the "Marker Felt" text and started typing up all the different herbs that I had already planted. I was sure to get the measurements of my plant markers first.
That way I knew how large I could make the labels. After I had it all typed up, I was ready to print them out. Be sure to choose the "Vinyl" option on your Cricut machine before printing.
I also used the standard grip machine mat with the vinyl as well.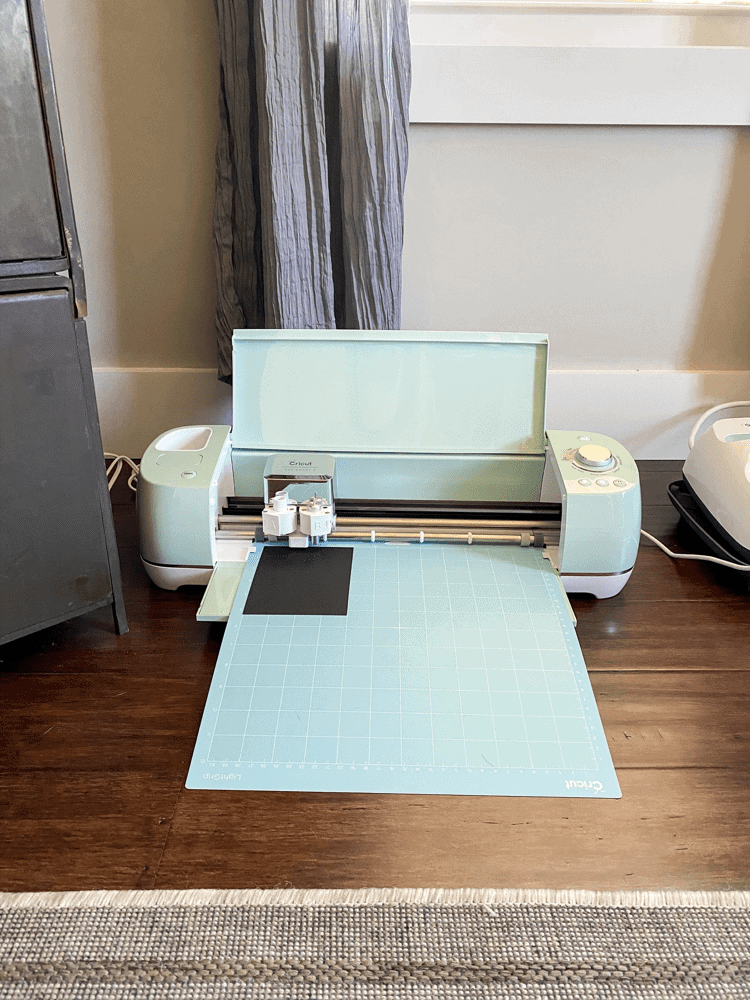 Here's a little tip too- If you aren't sure about cutting your vinyl out just yet, then cut it out with cardstock first to see how it does!
This was my very first time using my Cricut machine so I wanted to be sure I knew what I was doing before cutting into my vinyl.
That's why I decided to play around with some cardstock first. I'm glad I did that because it gave me more of a feel for the machine and how everything works on it too.
Also, if you're unsure of the size, this is a great way to see if it will fit first before printing out the vinyl.
Place Your Plant Labels on the Markers
Now that you got them all designed and ready to go, now is the time to print them out and place them on the plant markers.
This part may seem intimidating to you if you haven't ever used vinyl or a Cricut machine before. But I am here to tell you that the process went by very quickly and easily once I knew what I was doing.
I think just like with all things, it just takes practice!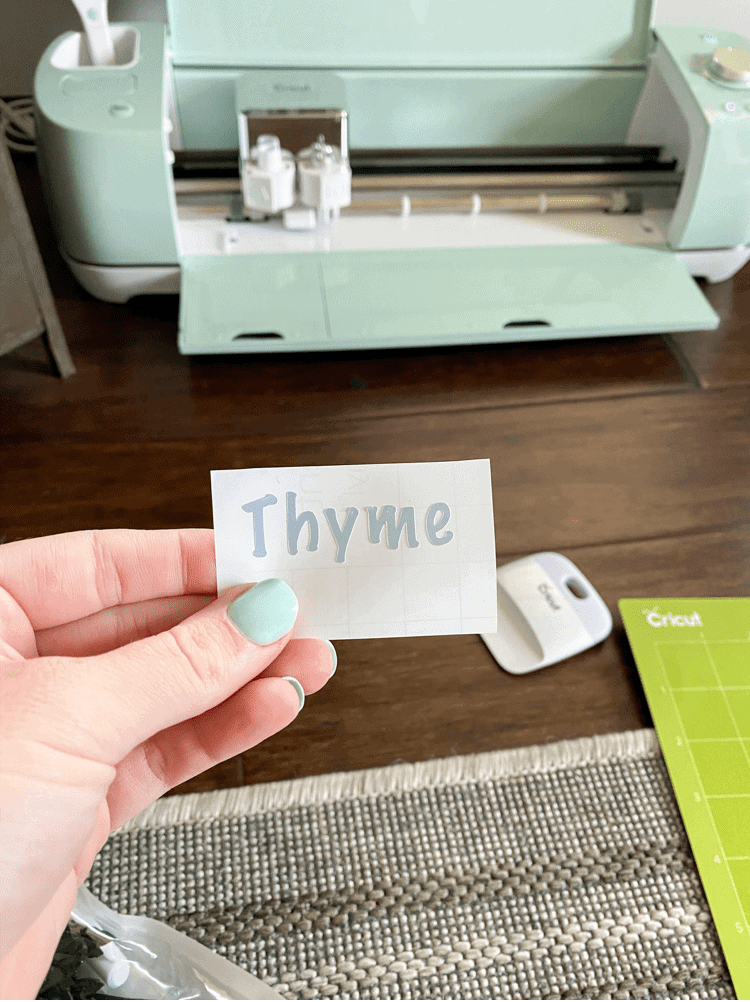 The first thing you need to do after printing out your vinyl label is use the Cricut weeder tool to remove the excess vinyl.
This was the trickiest part for me because I wasn't used to doing it. But, after doing it on a few other labels, I quickly got the hang of it and then the process started to go much easier from there.
After you weed out the excess vinyl, your label should look like mine pictured above, with just the letters on the backing.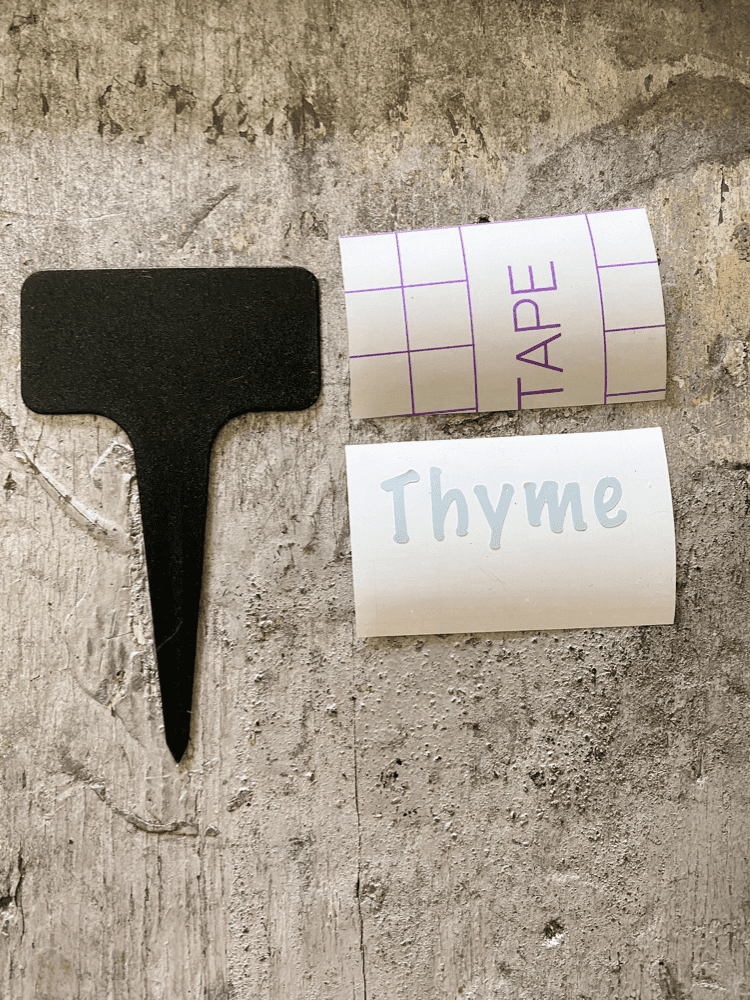 After you have your vinyl ready, now you need to cut off the same sized piece of transfer tape.
Then you will place the transfer tape right on top of the vinyl letters.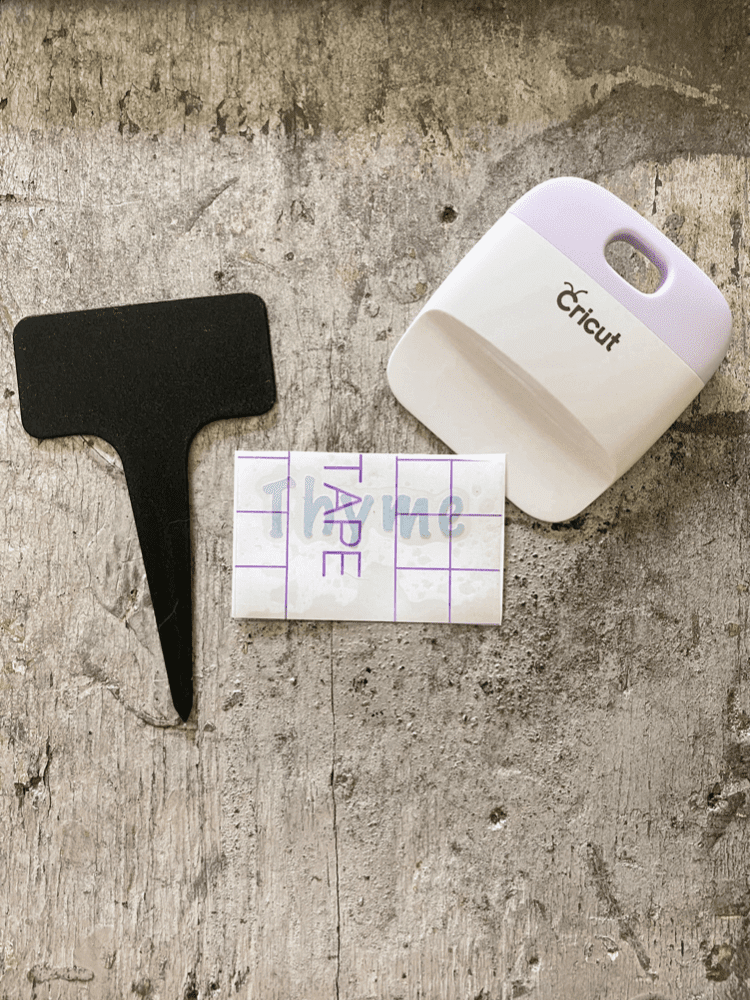 Then, you just need to use the Cricut Scraper tool to smooth over the transfer tape.
This ensures it has a good grip on all the letters.
If you do not have the scraper tool, a credit card could work for this part as well.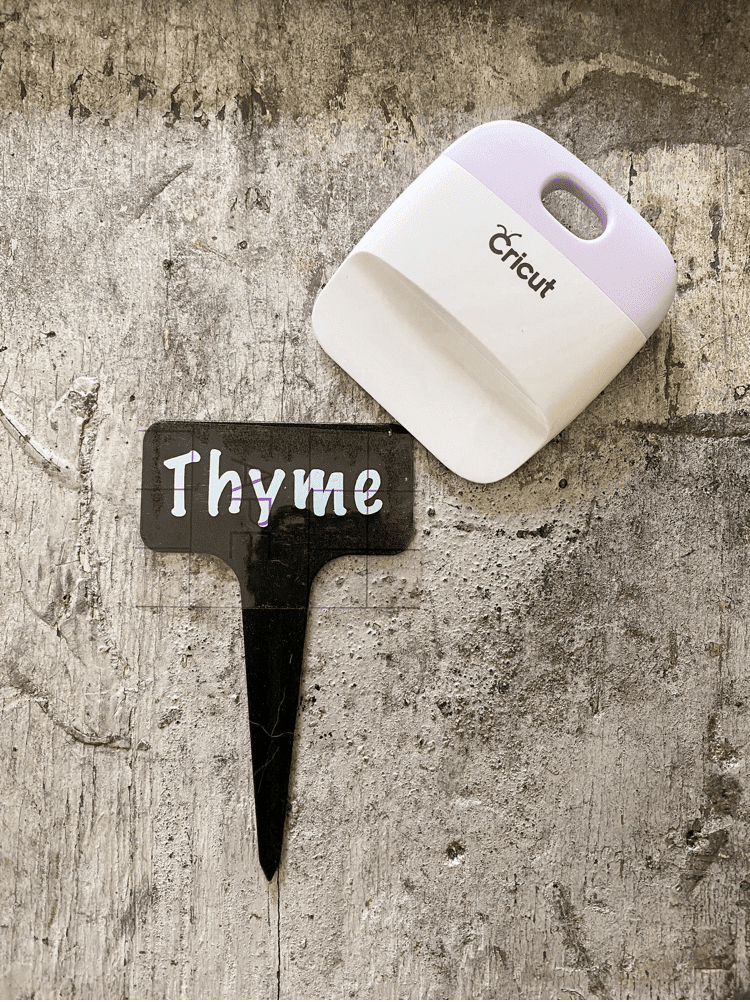 Now you can peel the transfer tape off the vinyl backing and the letters should come right up off on the transfer tape!
Then, using the tape, place it right on your plant marker. And again, use the scraper tool to vigorously smooth over the vinyl.
You really want to use a lot of pressure here to make sure the vinyl adheres to the plant marker. After smoothing it, you can then carefully peel off the transfer tape.
I did this very slowly and at an angle. Sometimes, some of the letters would start to come off with the tape.
When that happened, I would just place the tape back down and use the scraper tool again to get it to sick better. As long as you go slow during this process, it will turn out just fine!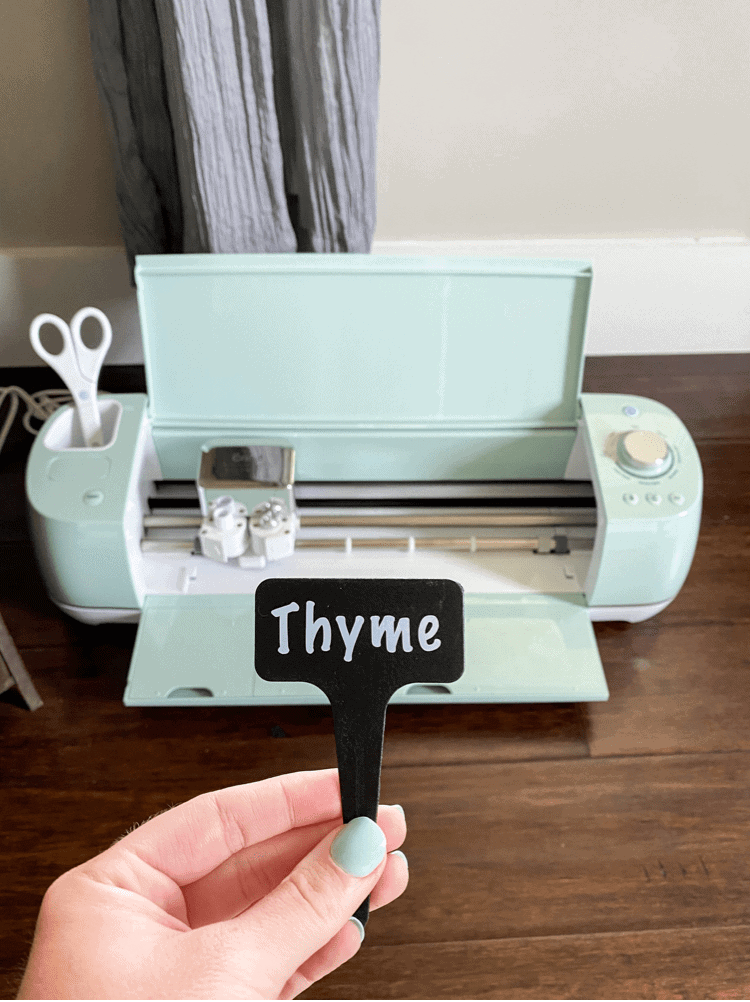 Finishing the Plant Labels
So I just repeated the whole process listed above for all my herbs. I made the following: Thyme, Mint, Oregano, Chives, Basil, Chives, and Dill.
You can easily personalize or change this to whatever herbs or plants you have on hand. I even ended up printing out some vegetable markers the same way too for a friend of mine.
I love how you can customize this for whatever you have on hand!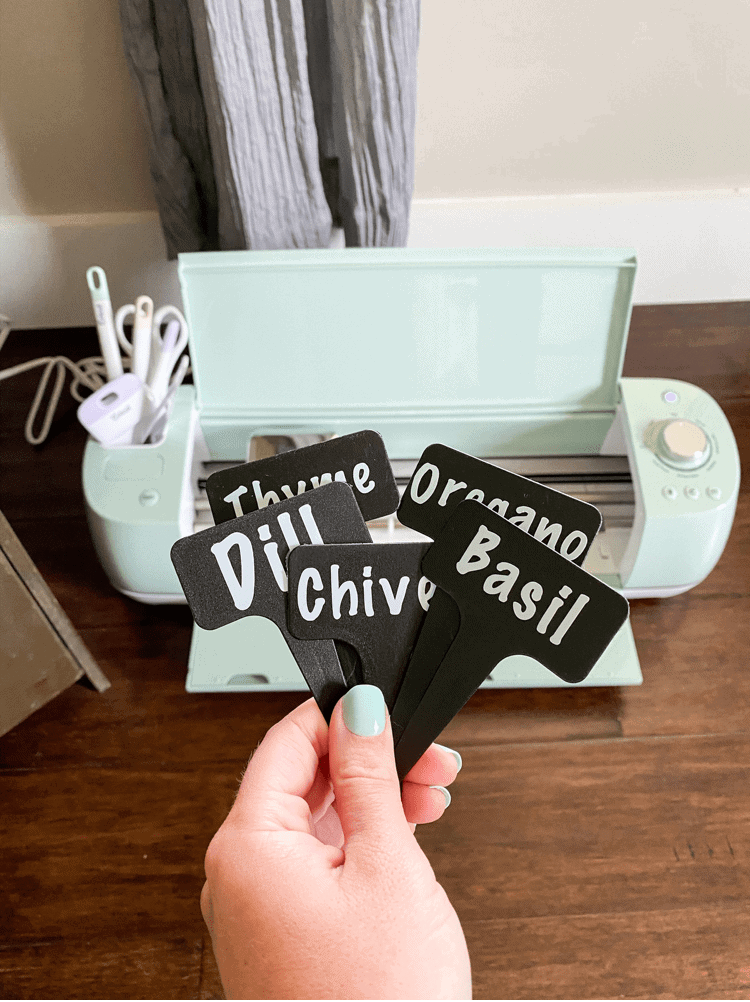 Once I had them all printed out, it was time to add them into my herb garden. Most of my herbs are all planted in a big antique container.
But I do have a few planted separately because some herbs don't grow well with others. Like mint and rosemary for example need to be planted by themselves, otherwise they will take over the whole garden!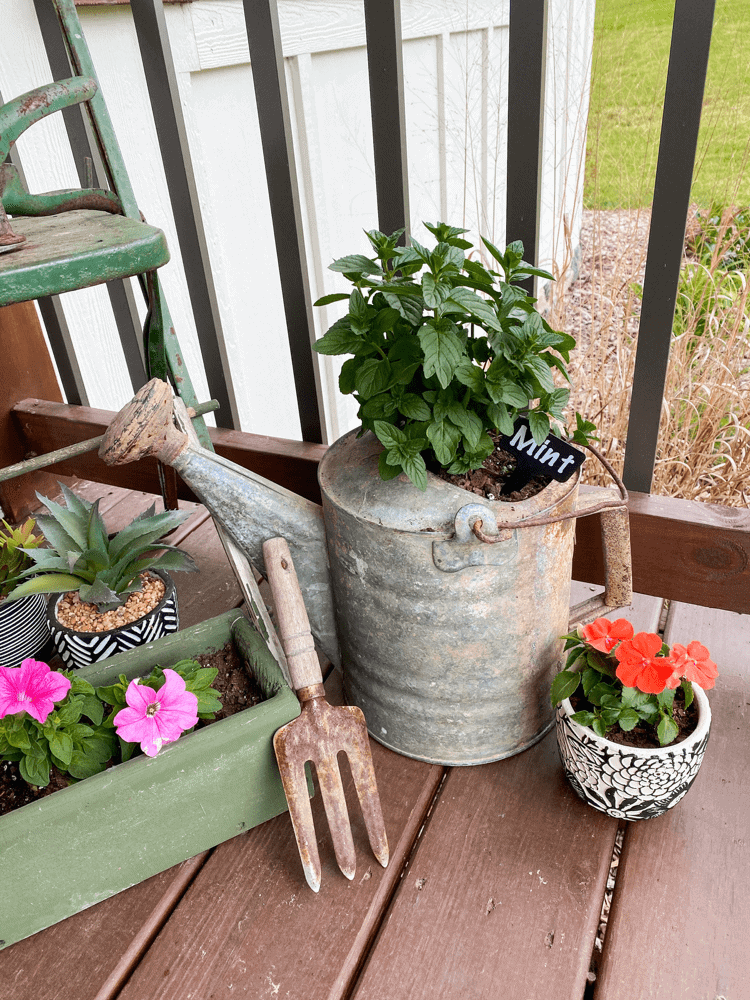 Well I hope you enjoyed this easy project of DIY plant labels. As you can see, they turned out so cute and they are the perfect little addition to an herb garden!
Thanks to my Cricut machine, they were a breeze to do and I am looking forward to many more projects where I can use my machine as well.
Be on the lookout because now after my first experience, I am craving more! So I have plenty more easy DIY project ideas to share with you all coming up!