Now that Christmas is over, I haven't been as crafty here lately. But, I was itching to make some kind of wintery craft, that wasn't too Christmasy. So I thought I would try out these DIY snowy mason jars.
And I have to say, I am very pleased with the results! It's the perfect winter craft, and you could technically even do it for Christmas too if you wanted.
But like I mentioned above, I wanted to keep it neutral for winter time so that's exactly what I did! And the best part is, this craft is super easy and only took a matter of hours to complete.
However, the end result looks like you spent hours on it. Or bought it at a fancy store! So keep on reading to see just how to create this cute winter mason jar yourself too!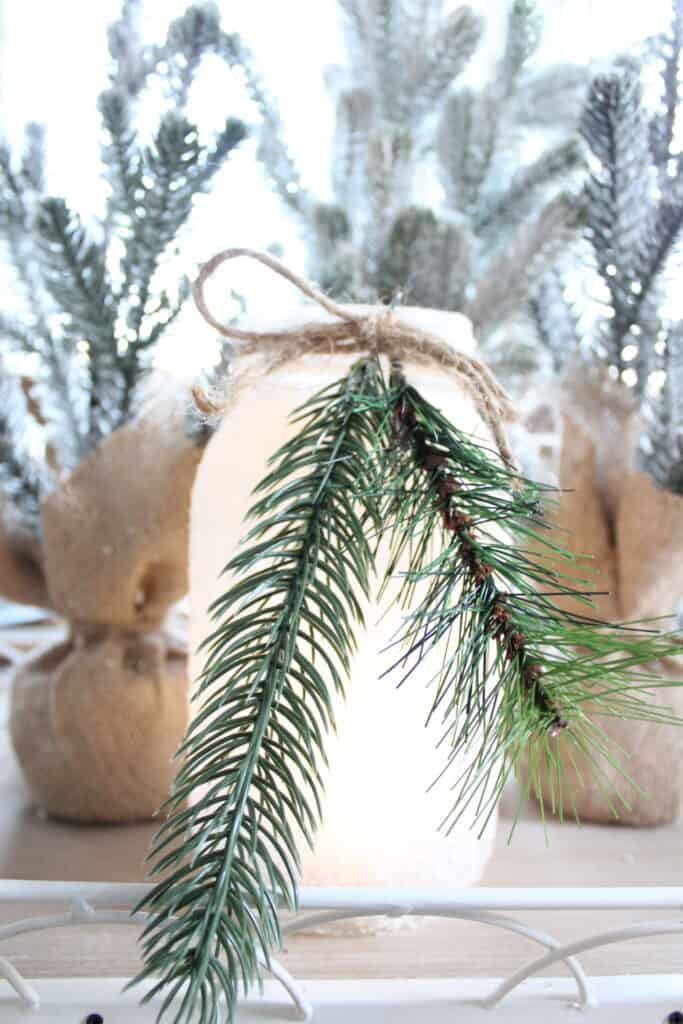 This post contains affiliate links. Click here to read my disclosure policy.
What Do You Need to Make Snowy Mason Jars?
Mason Jars
Mod Podge
Foam Brush
Epsom Salt
Glitter (White or Clear)
Flex Seal
Twine or Ribbon
Greenery
Battery Operated Tea Lights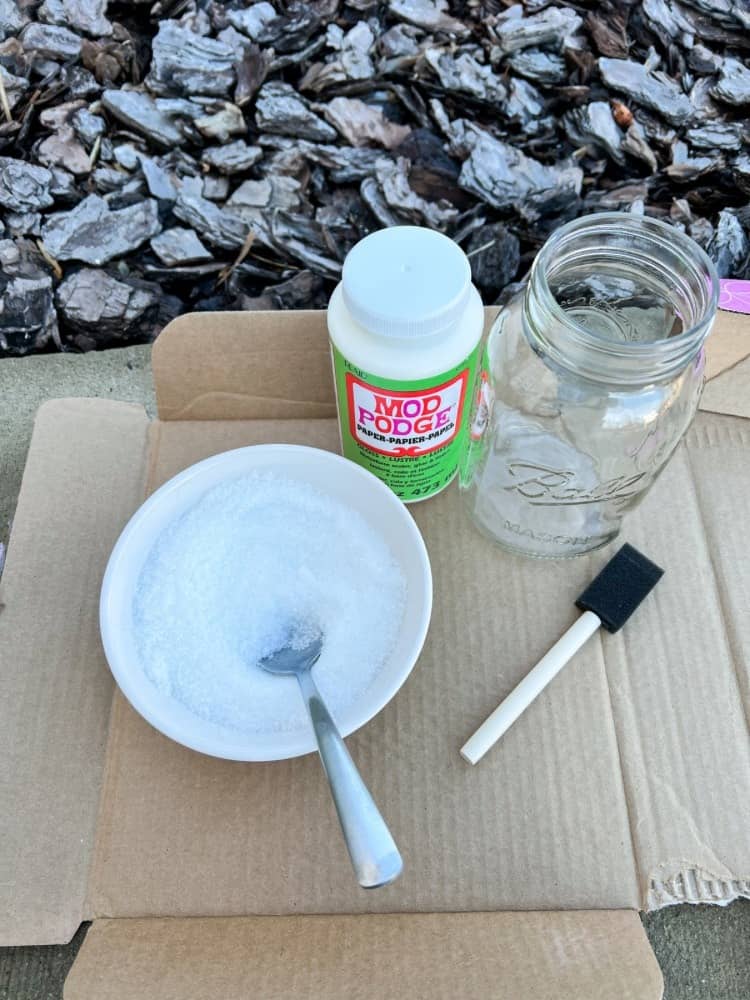 I will link everything you need to make these jars below:
What Can I Use For Fake Snow?
The trick to these snowy mason jars, is to obviously make them look snowy. Which brings the question, what can I use for fake snow? And the answer is really simple!
Just combine a mixture of 1 cup of the epsom salt and 1 tbsp of the glitter together. This mixture definitely creates a beautiful snow effect on glass. I also recommend doing this outside like I did.
Because who wants to be cleaning up glitter for weeks inside your house?? Am I right or am I right? Glitter is literally impossible to clean up!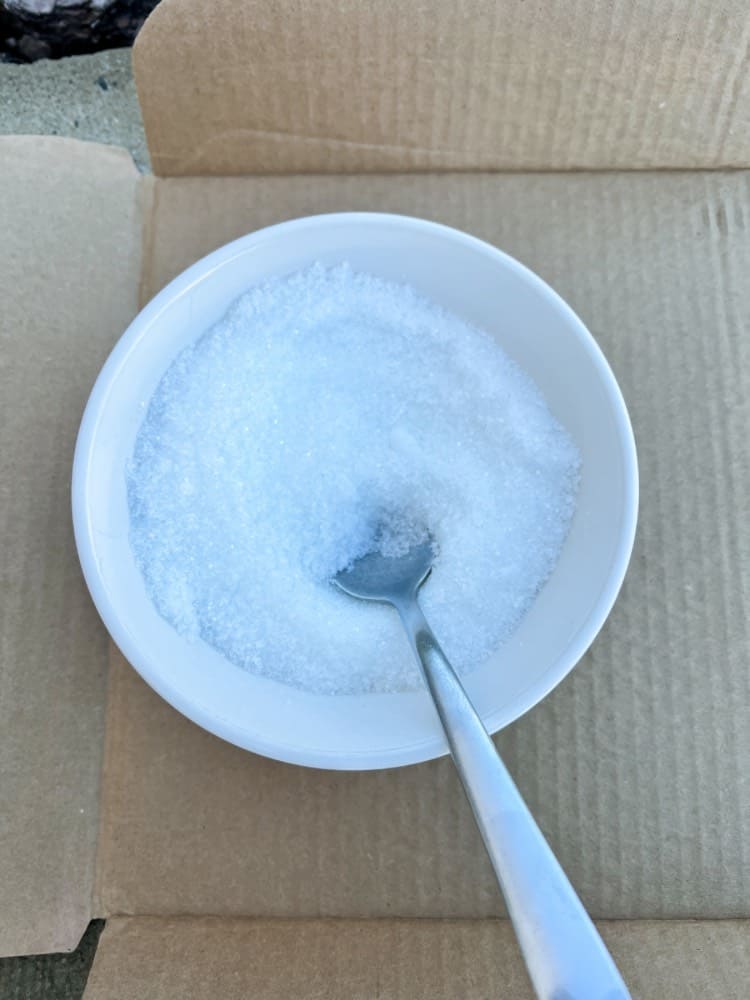 I love the fact that you can use Epsom Salt to create this frosted look. I used the lavender scented one too, so bonus points that it actually smells good as well.
And I am glad I can use the rest for soaking in a nice, hot bath at the end of the day! I am a sucker for epsom salt and any other bath product like that!
Making The Snowy Jars
Once you have your fake snow all mixed up and ready to go, you can now create the jars. All you need to do is apply a very thin layer of Mod Podge to the mason jar using a foam brush.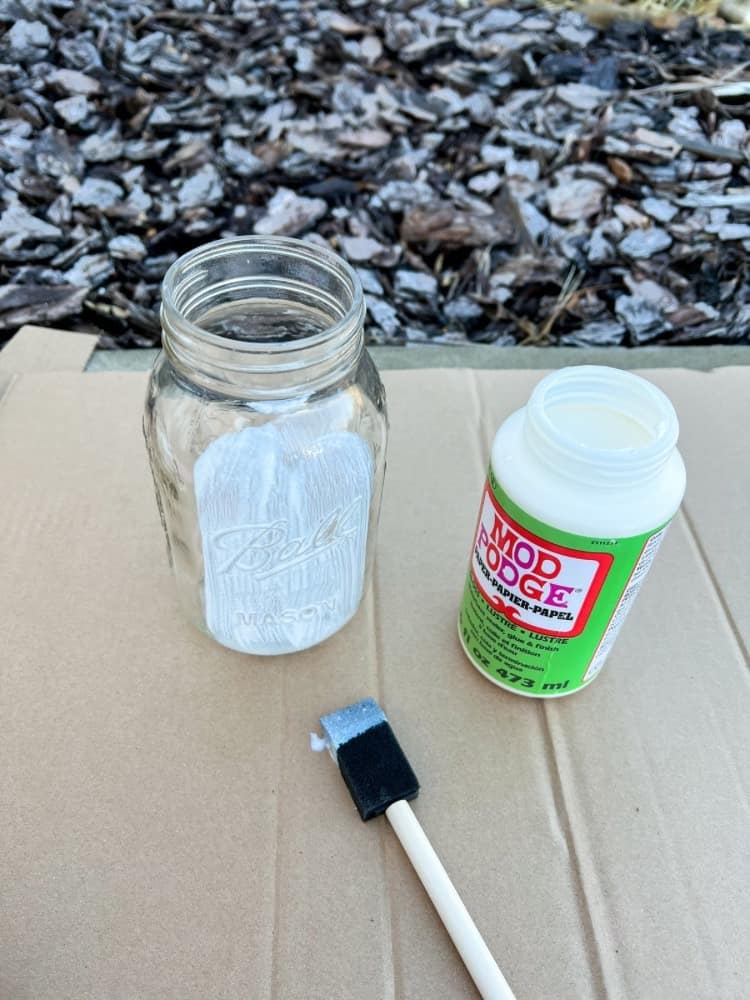 I applied it all of the jar and then I immediately sprinkled some of the fake snow all of the jar too.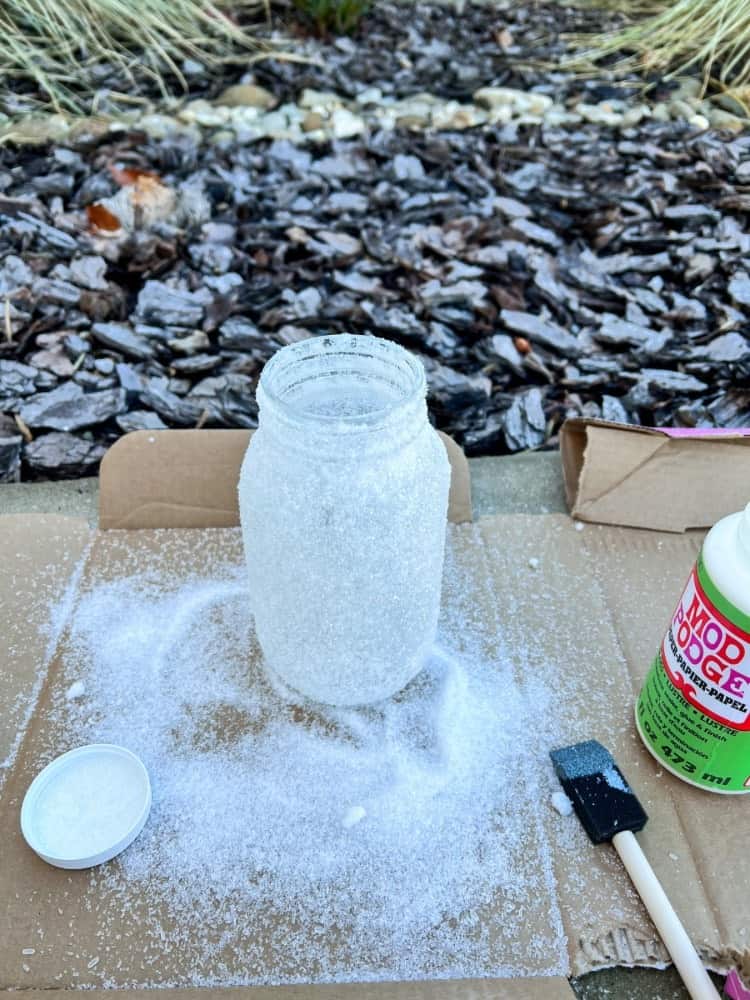 This mixture gave me enough to cover 2 mason jars fully and I didn't skimp out on the snow. I applied a lot and just let the extra fall down onto the cardboard piece I was using too.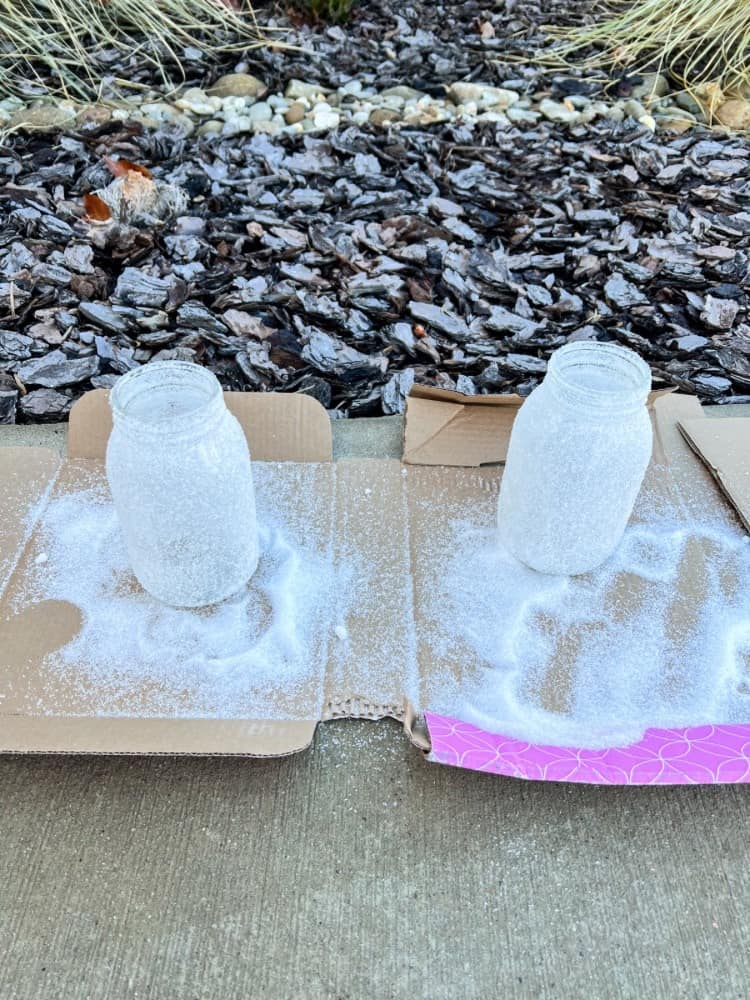 In order to keep the fake snow adhered to the jar and not falling everywhere, I used some Flex Seal. I got to thinking that if I didn't use it, the glitter and everything would be all in my house anyways, which was what I was trying to avoid to begin with!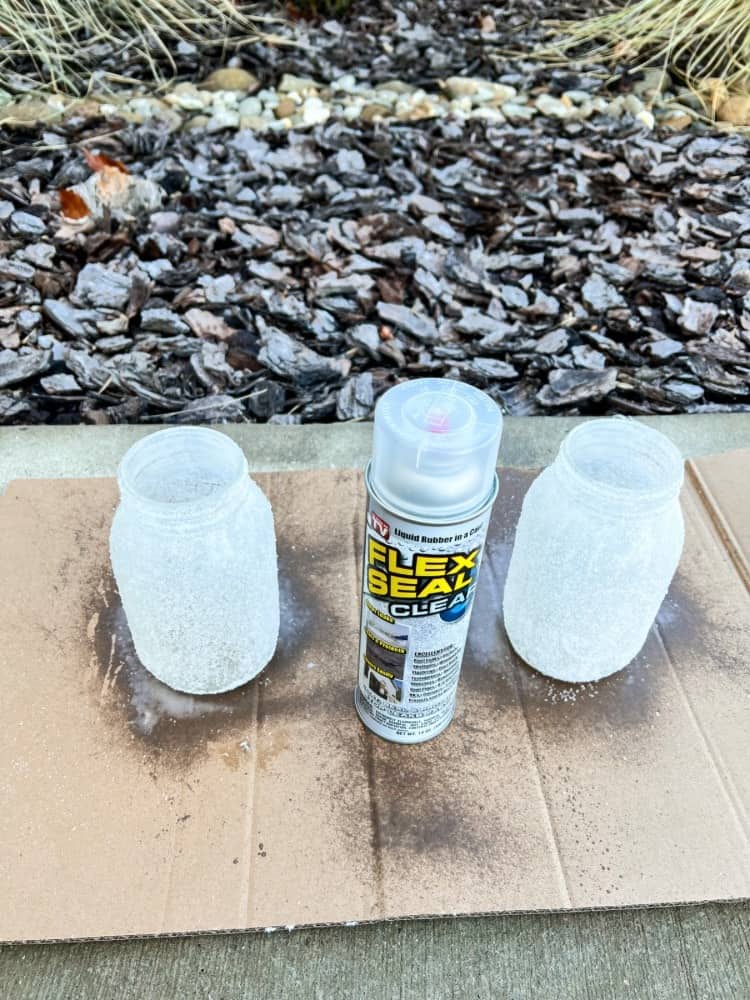 I used the Flex Seal in Clear because I didn't want it to affect the look of the fake snow. And thankfully, it did not.
It just looked a little wet when I first sprayed it on. But, I let it dry for about an hour or so outside and after that it was completely fine!
Finishing Up The Snowy Mason Jar
The last step to this incredible easy winter DIY craft, is to add in some twine or ribbon to the top of the jar.
I just used some regular old twine to keep it neutral. But like I was saying above, if you wanted to make this for Christmas, you could definitely use some Christmas ribbon here too!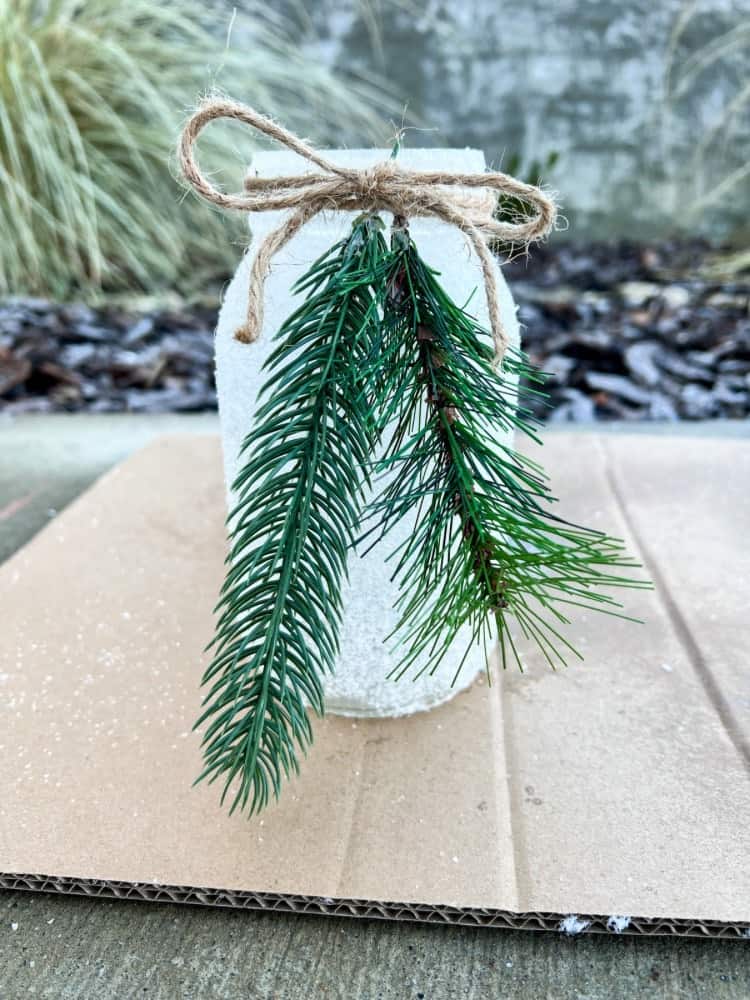 Also, when adding the twine, add a piece of winter greenery too. I actually just found a few pieces from a wreath that fell apart.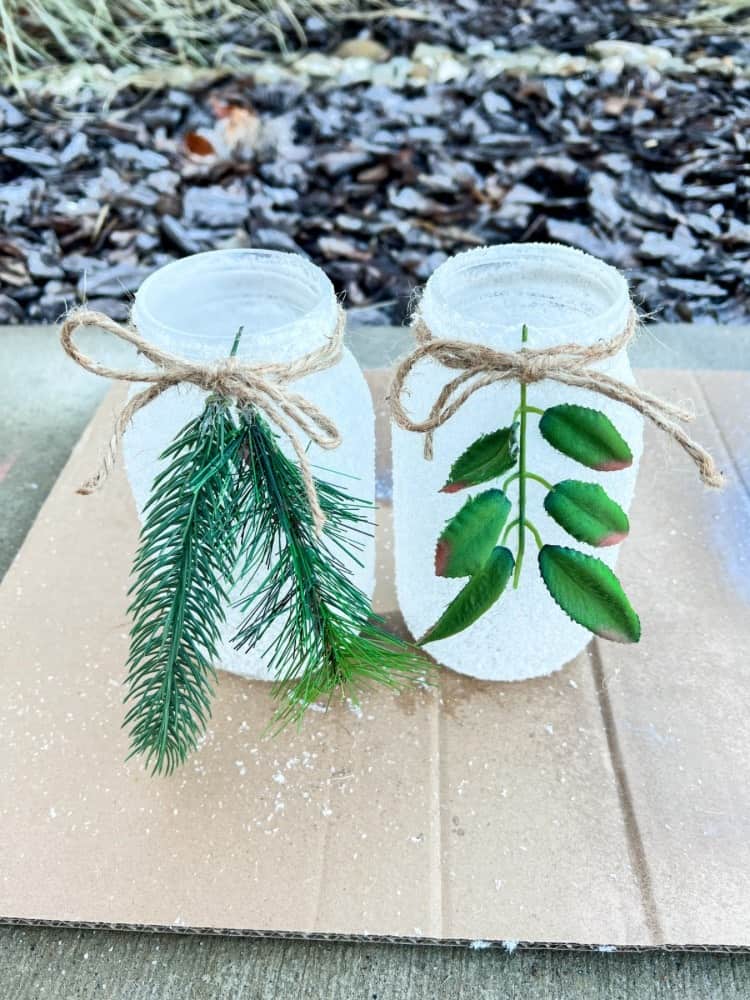 But, you can easily find some greenery pieces in stores or online as well. After that, pop in a little battery operated tea light for a beautiful magical glow!
Enjoy Your Frosted Mason Jar
Well, I hope you all enjoyed this easy tutorial on how to make a snowy mason jar! As you can see, it is so simple and easy to make!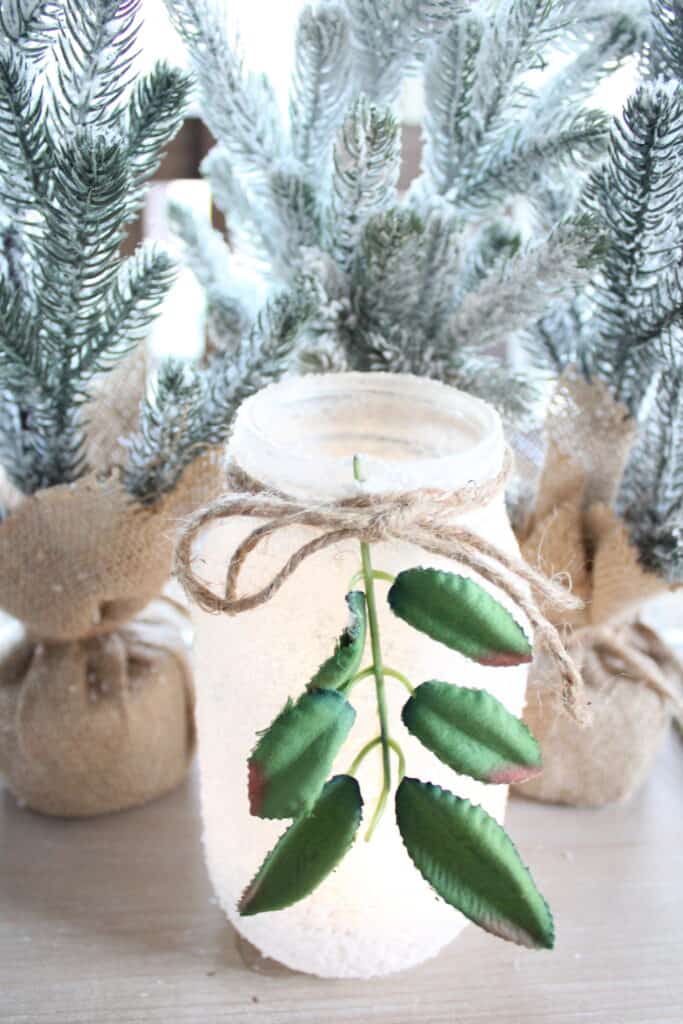 And it makes for the perfect winter centerpiece. Or a beautiful statement piece on a tiered tray. See, you can still have a nice warm and cozy glow in the winter even after Christmas is over!
If you make these too, let me know how they go for you as well! I would love to hear all about it! And if you're looking for more winter home inspiration, be sure to check out my post all about how to decorate your home for winter too!