Y'all know I love to decorate for every little holiday around my home. Although, I don't go all out like I do at Christmas with all the Christmas decorations for every holiday. Like Valentine's Day for example. I do like to add in a few touches here and there for my home office valentines day decor.
That's why I thought I would share with you all how to decorate your home office for Valentine's Day today. And I am just using a few simple ideas, nothing too crazy. So you could easily do it too if you have a home office.
Or apply these ideas to your dining room or living room instead if you don't have a home office either. If you're looking for a little inspiration like that, you have definitely come to the right place for it!
I love little Valentine's Day decorations everywhere I can put them! So keep on reading to see just how to decorate your office with a little more personal touch of Valentines decor!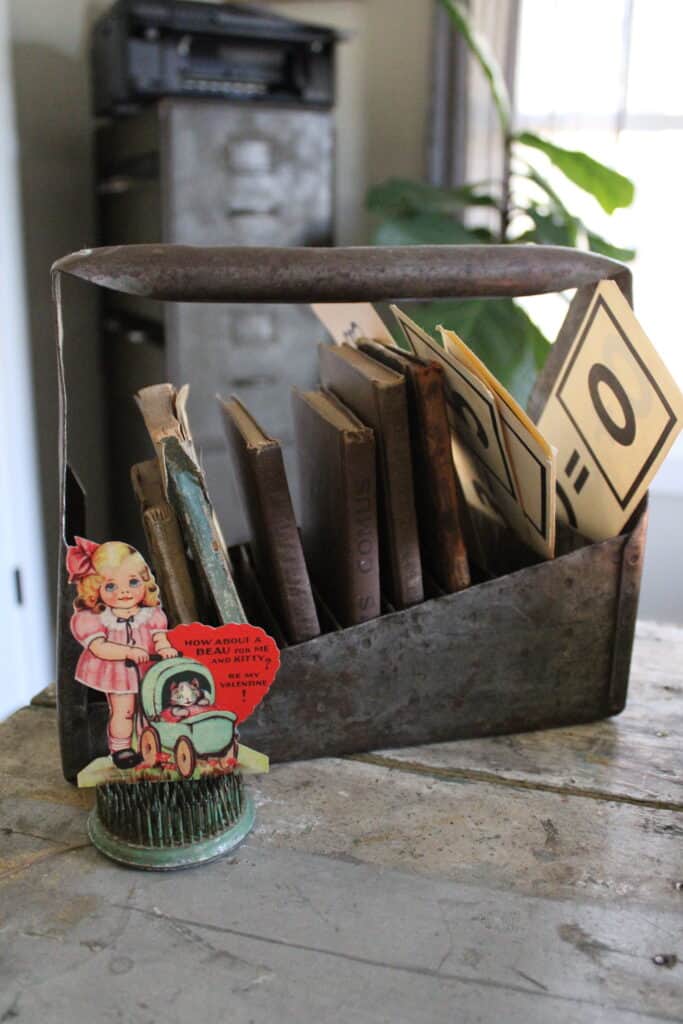 This post contains affiliate links. Click here to read my disclosure policy.
Valentine's Day Wreath
One of the easiest ways to transition seasonal decor is just by changing up the wreaths in your home. You know I had a flocked, lighted wreath in here for Christmas, so I needed to change it for Valentine's day.
My sweet mother-in-law actually made me this wreath for my birthday last year and I think it's perfect for Valentines Day. Especially since it has the traditional red and pink colors in it. I also love how it has the vintage cards on it too.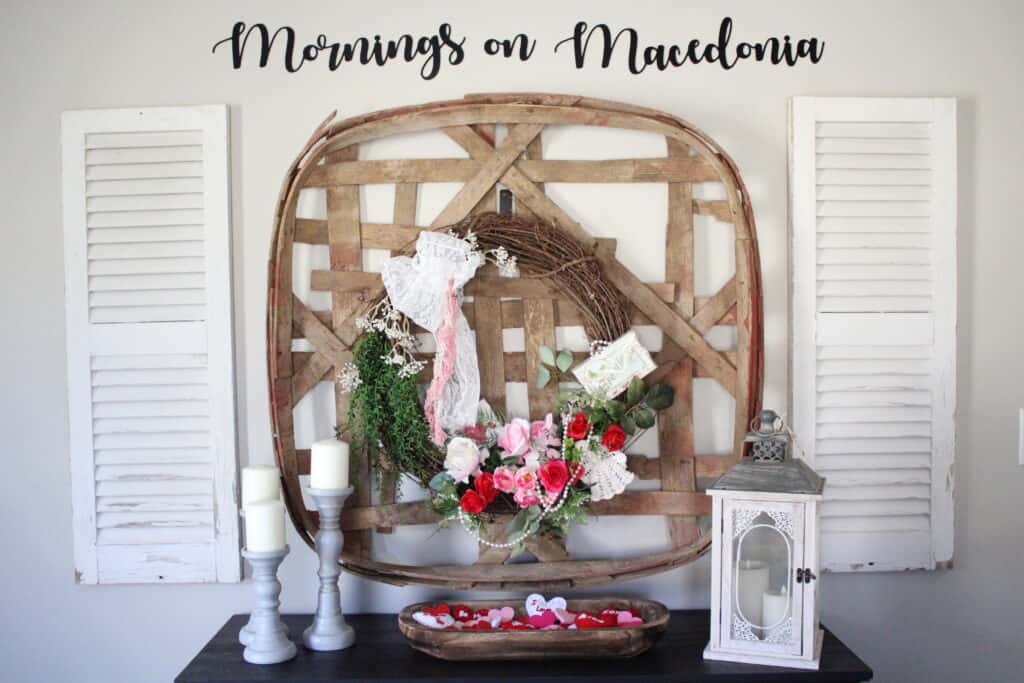 She knows me well! Considering my whole home office is vintage themed too. So this wreath fits perfectly between Valentine's Day and vintage as well. You could also make your own seasonal wreath as well.
It makes for the perfect wall art too because I have it layered in front of my tobacco basket hanging on the wall too. It definitely provides a lot of texture and visual interest to the space. Wreaths are no longer just for a front door in my opinion!
And if you're looking for some cheap DIY ideas for that, be sure to check out my wood bead heart wreath tutorial I shared last week. That's a great way to create a wreath without breaking the bank!
Heart Filled Dough Bowl
Another easy way to add in some simple home office valentines day decor is to fill up a dough bowl with hearts. I got a box full of felt hearts from Michaels and they are the perfect addition to my dough bowl. I like how the red heart is bigger and has sayings written on it as well.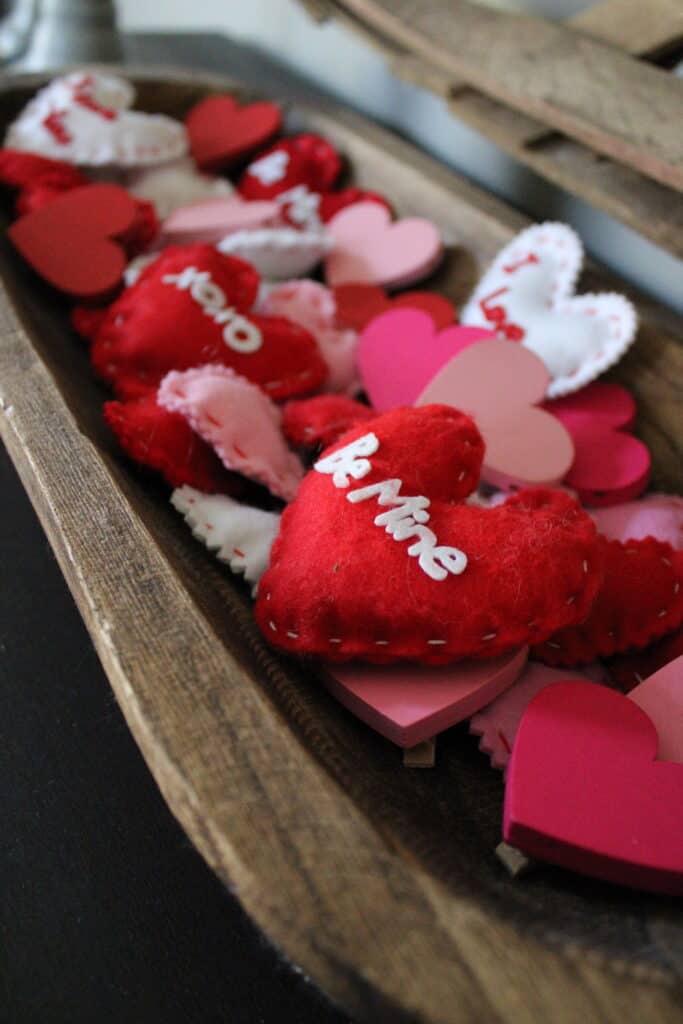 This dough bowl is sitting above my little electric fireplace in my office too. I decorate the top of it kind of like a Valentine's Day mantel. I have some candlesticks on one side of the dough bowl and a farmhouse style lantern on the other side.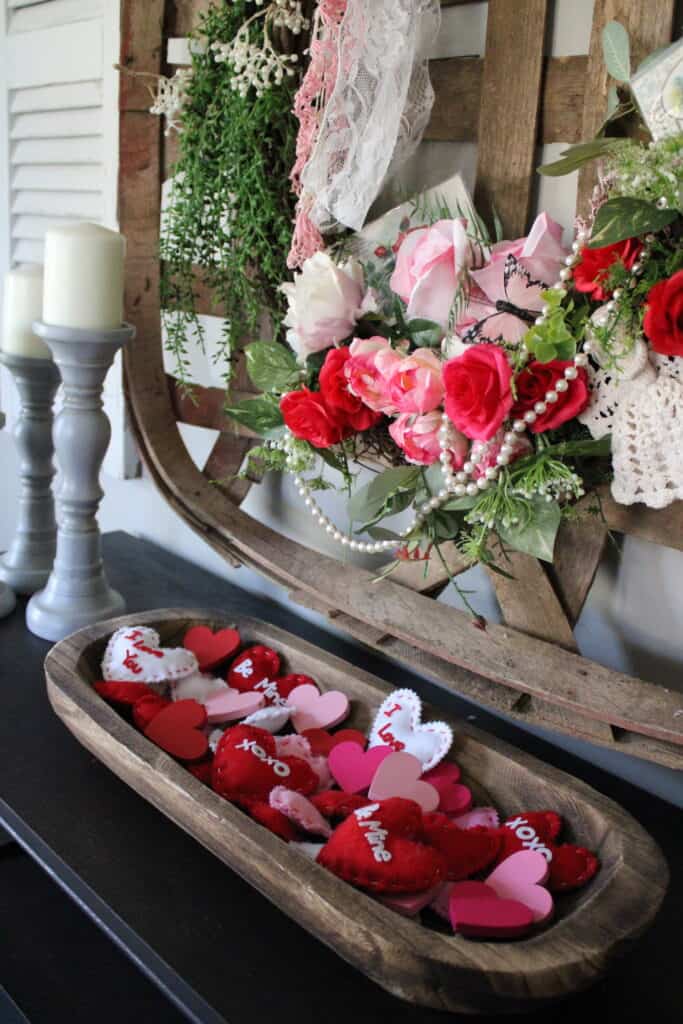 But there is definitely enough room to add some festive table decorations on it, which is always an easy way to add in some office valentines day decor.
Valentine's Day Reading Nook
One of my favorite home office valentines day decor spots is my reading nook area. You may remember some of my valentine's day crafts that I shared a few years ago, where I made some garland out of paper hearts.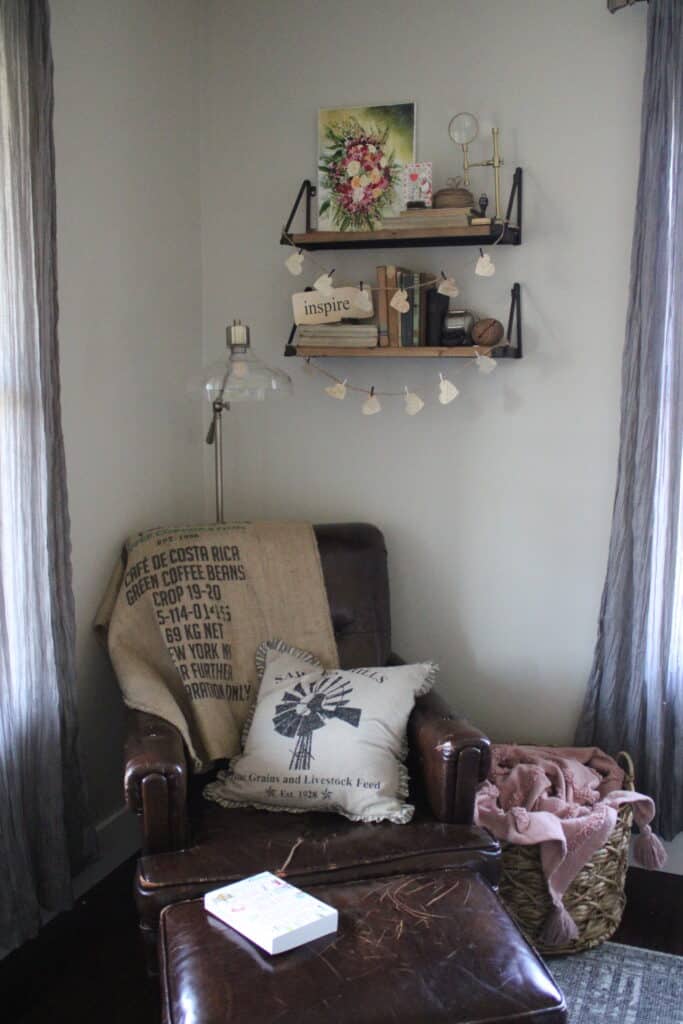 It was super easy to do, I just used a lever punch in a heart shape to create it. And I stained my own book pages as well to give it a more antiqued look. But, I have been reusing this banner year after year and it always provides the perfect amount of valentine's day decoration wherever you place it.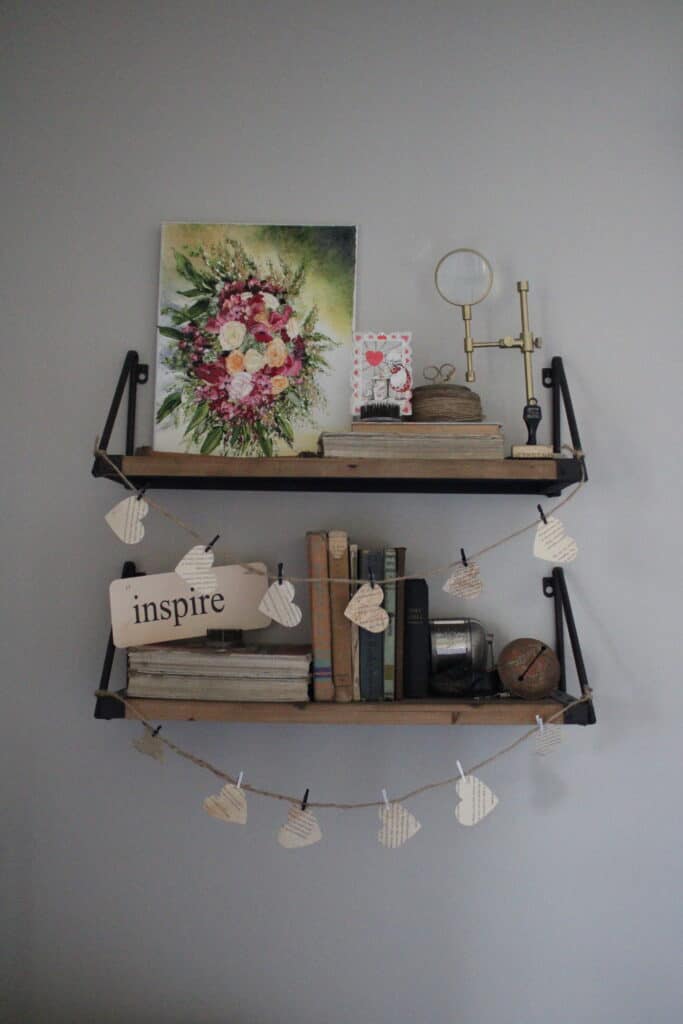 I decided to hang them around my reading nook shelves this year. And the lengths of twine on the heart garland are the perfect size for these shelves. You could even make this garland with some red twine to make it even more seasonally appropriate too!
I also use a few extra paper hearts on my dining table as well. It's a super easy DIY project that can definitely go a long way!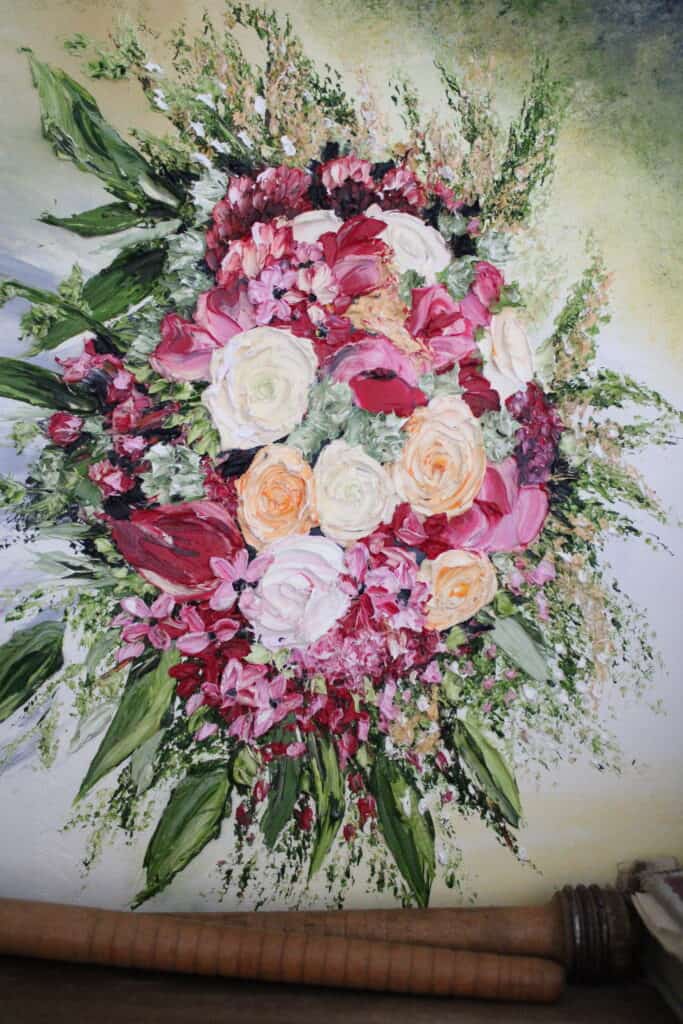 You will also notice on my shelves, a hand painted portrait of my wedding bouquet! I thought that was definitely appropriate for some home office valentines day decor! It's both sentimental and beautiful I think!
Another thing I love to use to decorate this space is vintage valentine cards displayed on an old flower frog. Such a cute way to display an old card!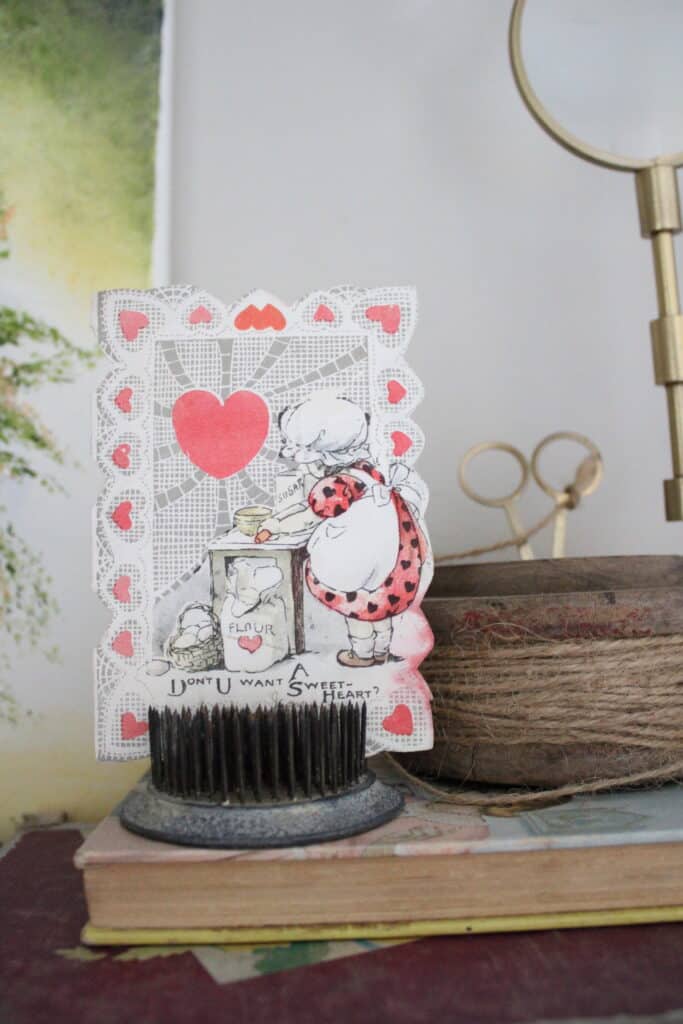 And of course, you can't have a reading nook without a good book. I have Love & Other Words by Christina Lauren on display here since it is a great book for the season as well.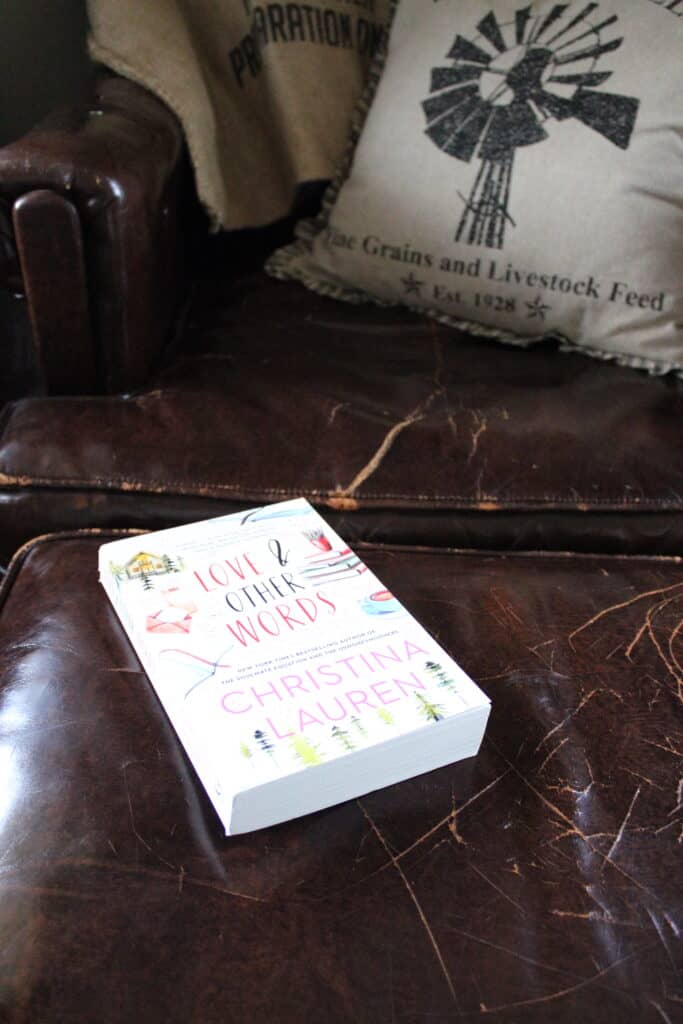 The last thing I have in my reading nook for valentine's day decor is this beautiful blush colored throw in my basket. That's another easy way to add in some seasonal decor to your space. Just switch out your blankets, throws, pillows, etc. to a more seasonal color as well!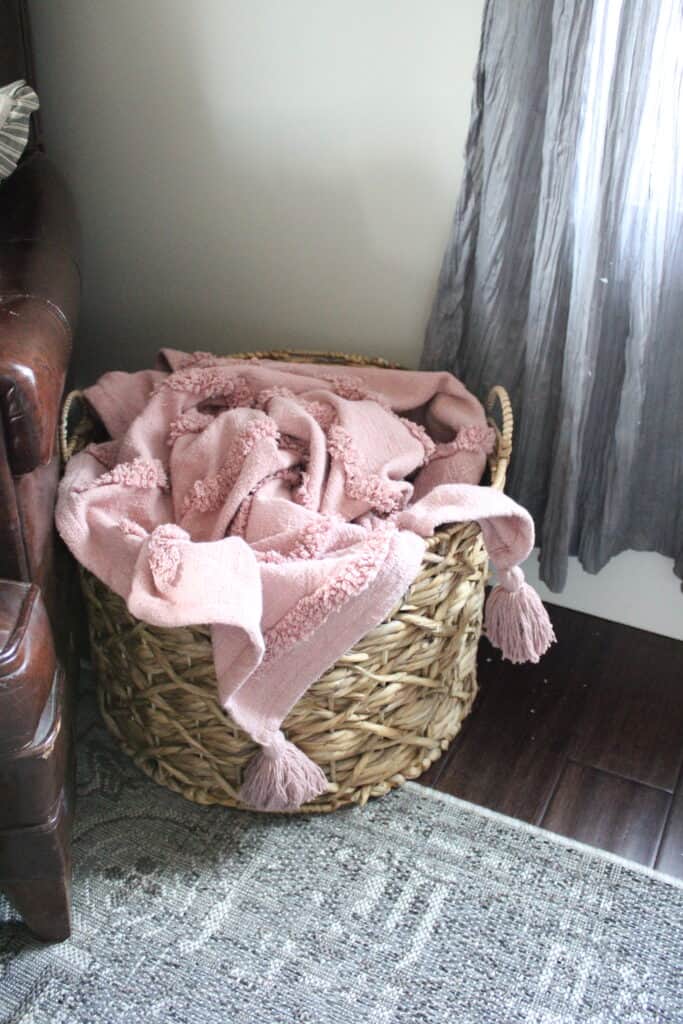 Vintage Valentine's Day Cards
I mentioned this above how I have some vintage valentine's day cards displayed on the reading nook shelves. But another fun way to display them is using magnets and placing them on my vintage locker in the corner of my office!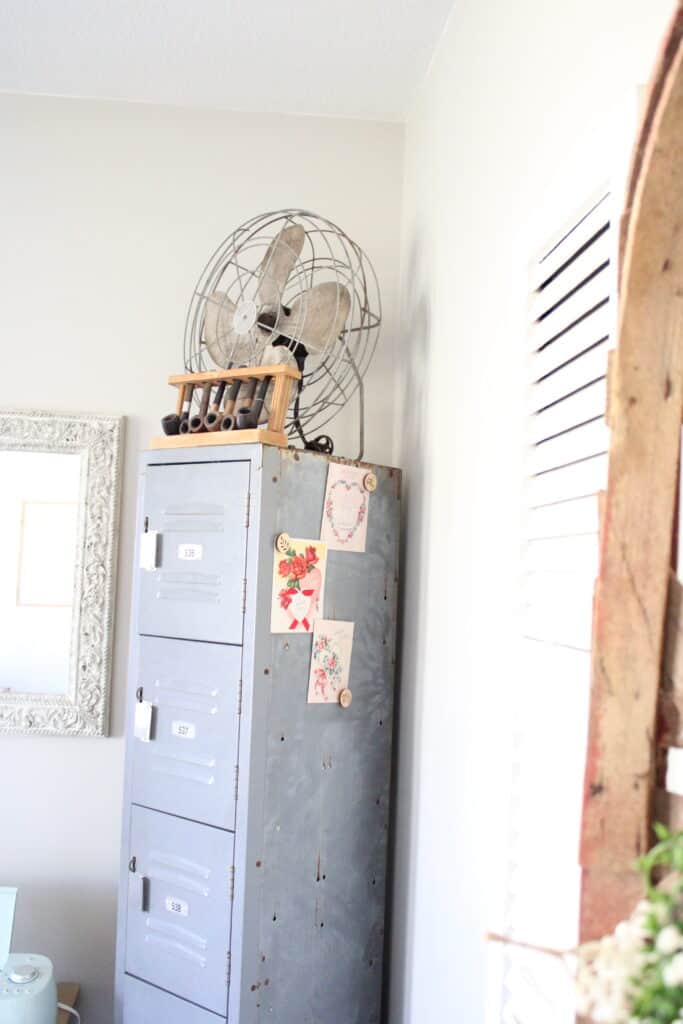 And if you didn't have any vintage valentines day cards laying around, you could always just display a favorite photo like this instead! Bonus points if it's valentines day related as well!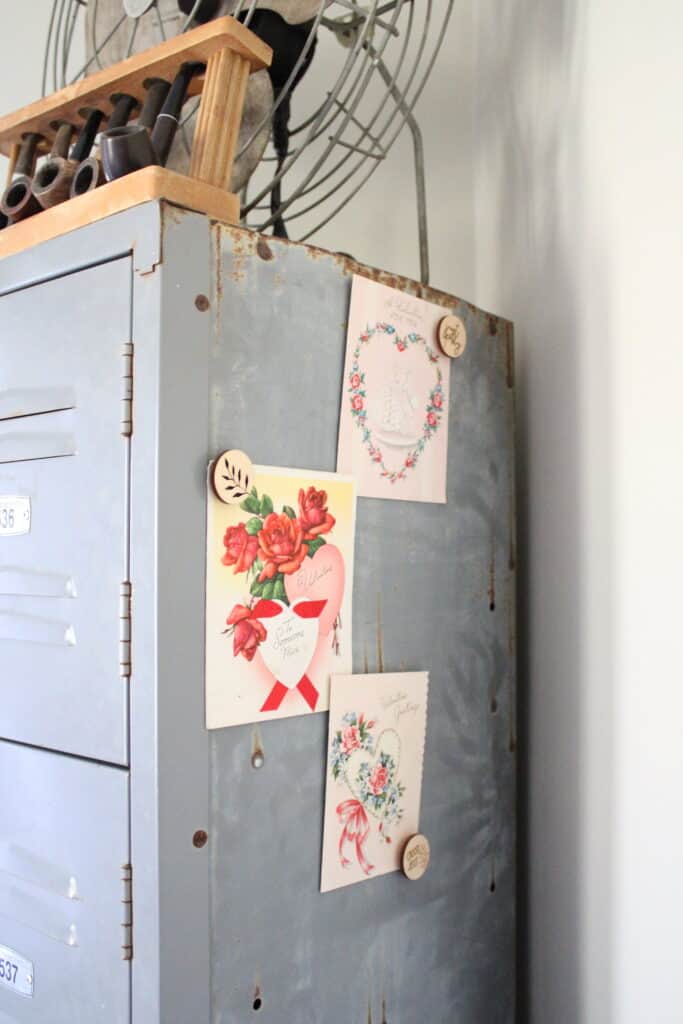 Valentine Desk Decor
The last view of my home office valentines day decor is my desk. This is where I am constantly working on all my blog posts, so I definitely needed to make it festive! You know I always have some scented candles burning on here, which of course those are always from Antique Candle Co.!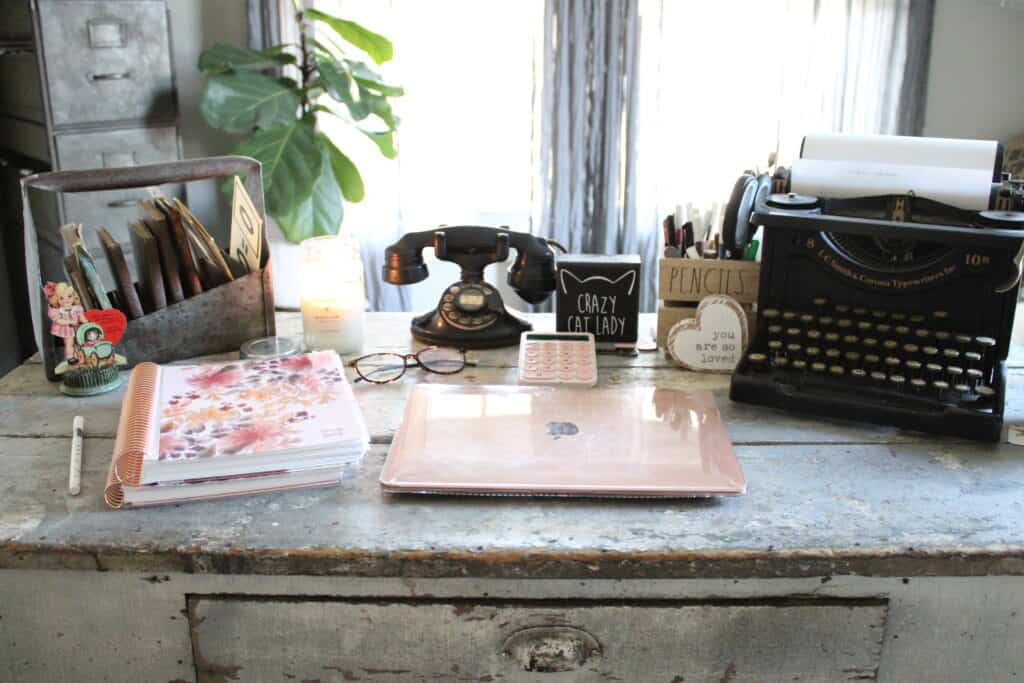 And I also included a little tabletop heart to add in a little love on my desk as well. And even just having my pink Erin Condren Planner and calculator on display as well makes for the perfect valentine's decorations too. Especially since they are the perfect color and even match my MacBook too!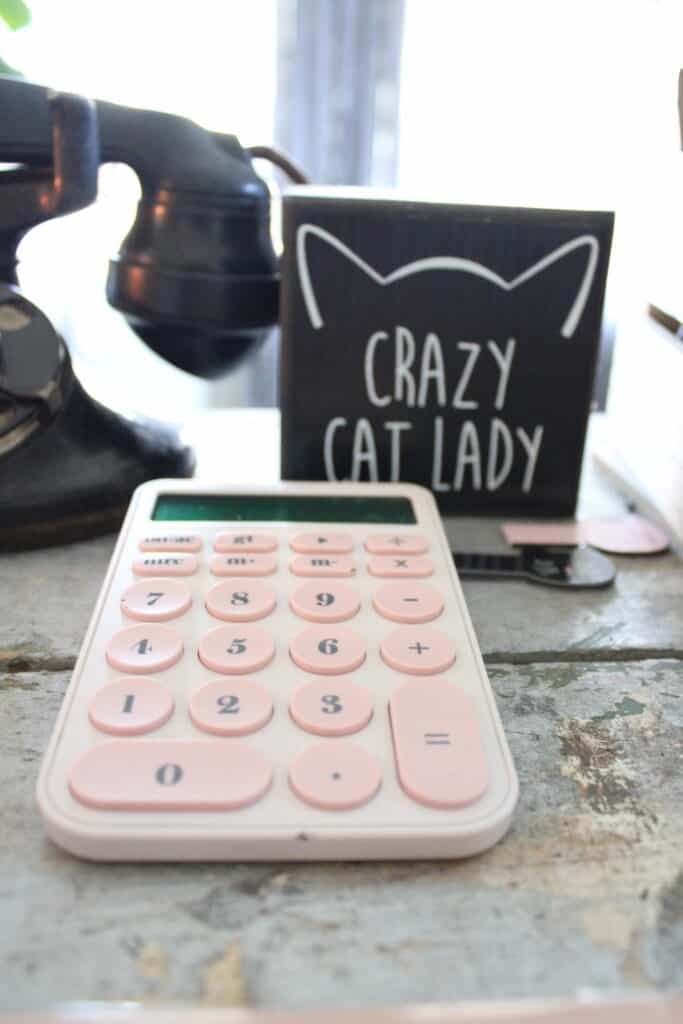 And again, I included another vintage valentines day card on a flower frog to display on my desk too. Those really make for the best valentine decor because they are usually so cheap to get, and can be displayed in so many ways as I have shown you above!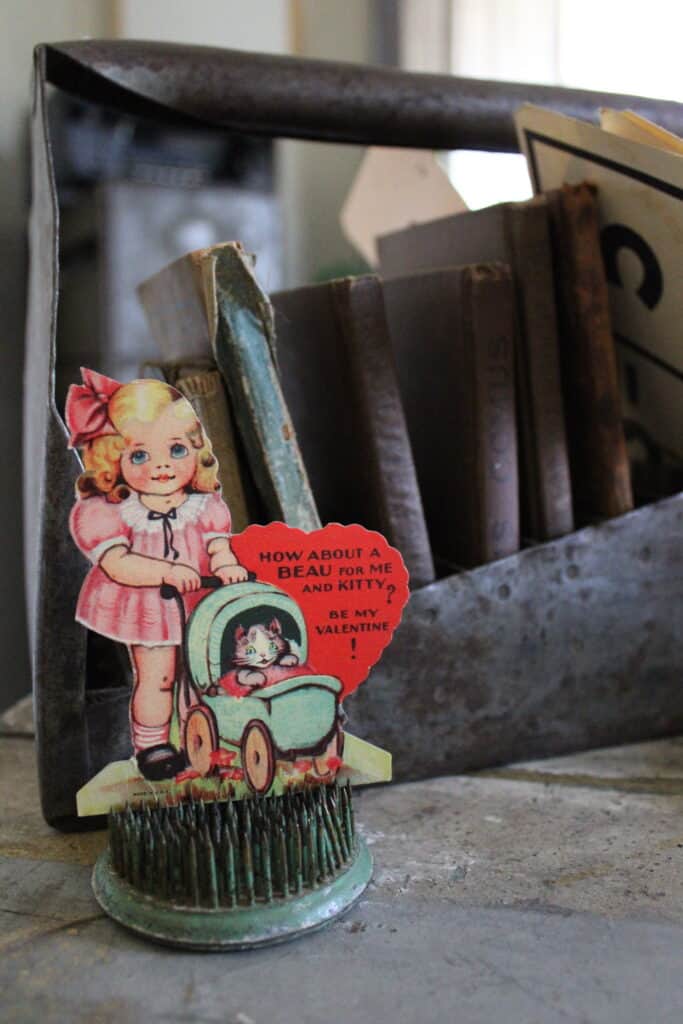 Well, I hope you all enjoyed this little home office Valentine's Day decor tour. This was just a quick view of my office to give you a creative idea on how to decorate for the holiday as well! I hope it showed you how to decorate your home office for valentine's day too by using these quick and easy ideas.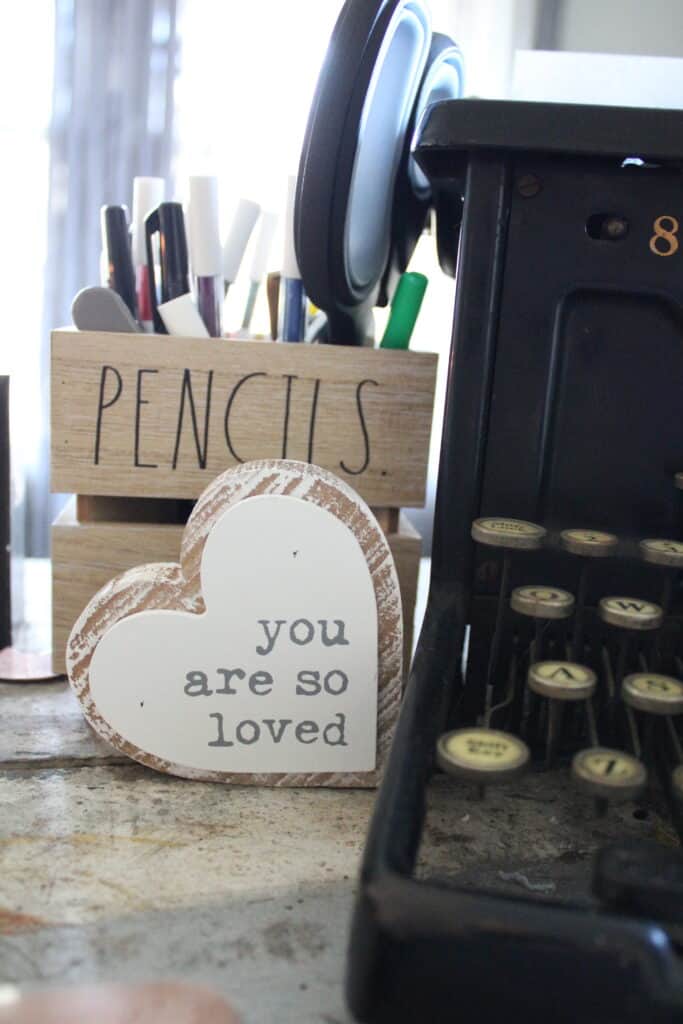 If you decorate your office for different seasons too, I would love to know! And if you're looking for more inspiration, be sure to check out my post on Easy Valentine's Day Decor Ideas as well! I hope you all have a great day and thanks so much for stopping by! Have a wonderful Valentine's Day my friends!