In October last year, we celebrated our 5 year wedding anniversary in Charleston, SC. And we had an absolute blast! So I thought it would be fun to share all the fun and romantic things to do in Charleston for couples in case you ever get a chance to visit as well.
The city is full of history and beautiful architecture so there really is something for everyone! We loved it so much we actually went twice this year. We went for a couple of days before going into Myrtle Beach this summer and then again for our anniversary! Downtown Charleston is one of our favorite places to stay, and honestly one of the best places for a romantic getaway!
Whether this is your first visit, or you're a seasoned tourist like we are, there are plenty of romantic things to do in Charleston with your loved one! I will highlight some of our favorites below.
However, I am a little late in sharing this post. Originally, I meant to share shortly after our trip so everything was fresh on my mind. But life happened, and I kept forgetting so finally, here it is! I hope you enjoy it!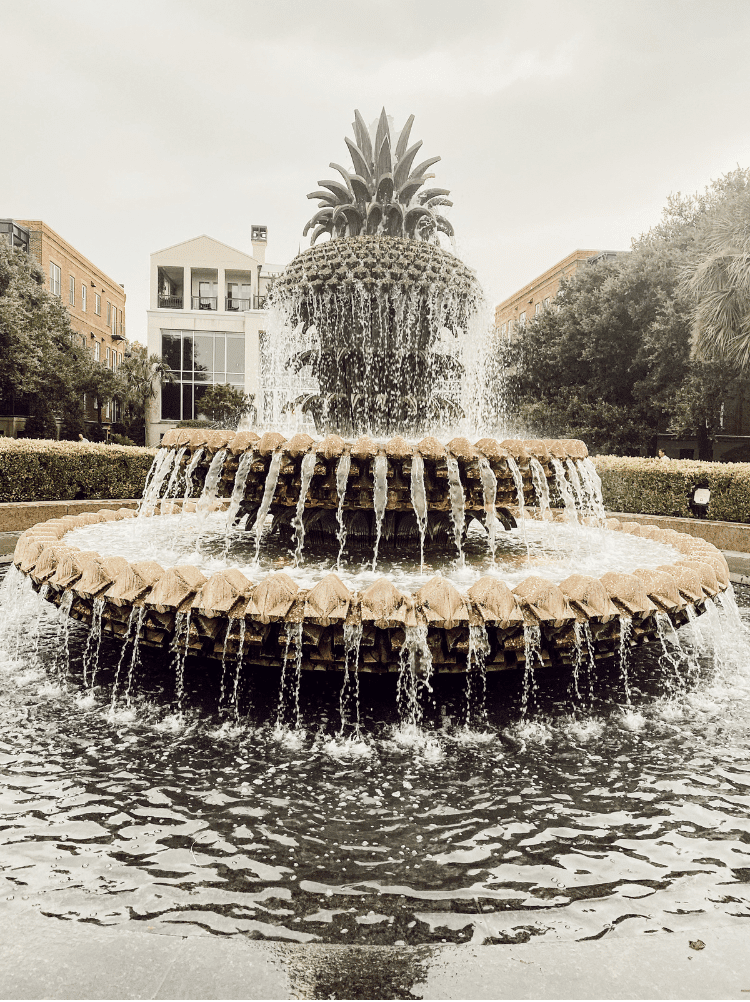 This post contains affiliate links. Click here to read my disclosure policy.
Tours Around The City
There are so many different tours to choose from in the city. Be sure to do your research beforehand and book some before your vacation so they don't sell out.
But touring the city is one of the most romantic things to do in Charleston I think. That way you get to see the sights, but also hear a background into the rich history as well. I will share some of my favorite tours that we did below.
Charleston Harbor Cruise
This Charleston Harbor Cruise was a great tour to see the city from the shoreline. Plus, it was super hot the day we did this so it was nice to be on a boat in the shade instead of walking around in the sweltering sun. 
You leave from a dock right beside the South Carolina Aquarium too so you could definitely plan on doing both the aquarium and this tour all in the same day if you wanted to!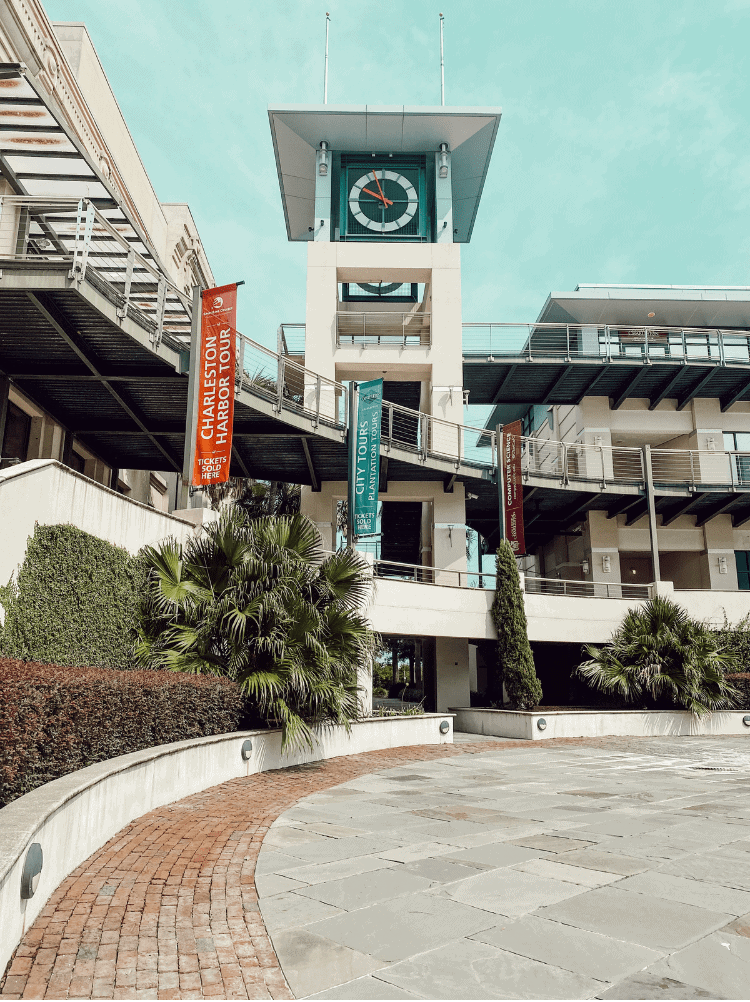 Fort Sumter National Monument Tour
You can see Fort Sumter from the Charleston Harbor Cruise, but you need to take another tour if you want to actually go there. We were one of the last groups to go tour Fort Sumter that day. 
You can also see Fort Moultrie from this cruise too. Unfortunately, you can't tour that fort though. Although, they do talk a little about it's history too since you can see it from the boat.
It was definitely a cool experience because they take down the flag every day and we got to see that. You for sure need to put this historic site on your list of things to do while visiting Charleston SC!
You will also notice a line on the flagpole below. That's actually how tall Fort Sumter was before it got destroyed. This is definitely a must to do in Charleston if you are big history buffs!
It was so cool to see everything inside instead of from far away like the other tour. If you liked this national historic landmark, then be sure to check out the maritime museum too! That's another great way to view some of the city's history as well.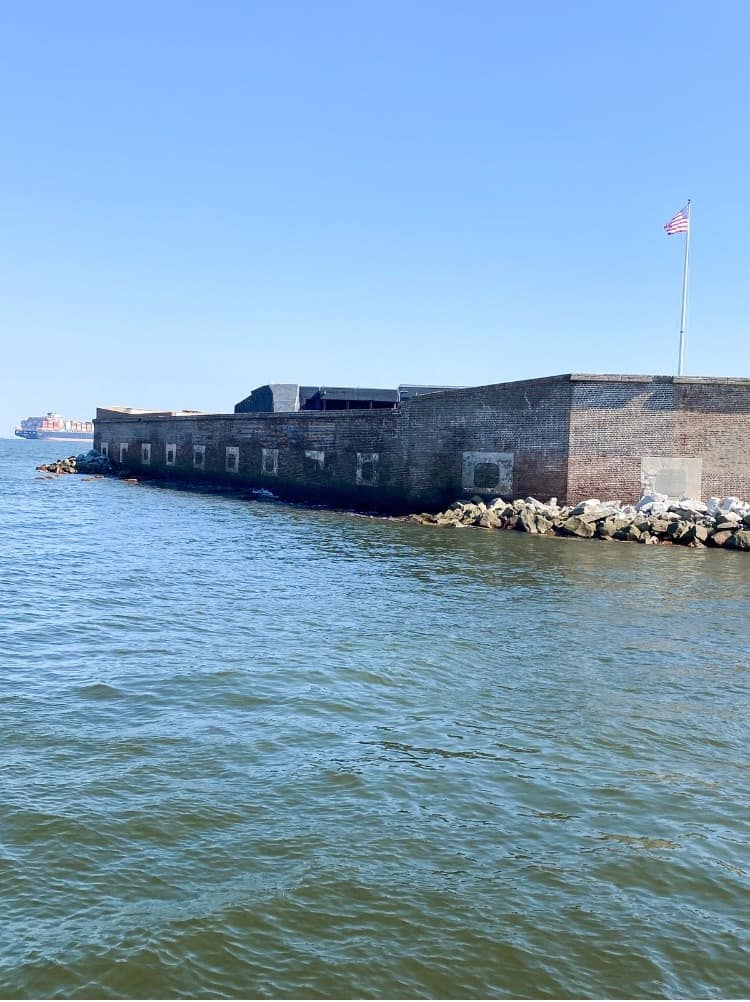 Carriage Tour Around The City
This is another fun tour if your big into history. The Old South Carriage Co. takes around the historic parts of Charleston in a romantic horse-drawn carriage. 
The tour guides are both funny and knowledgeable when it comes to talking about the town, so even though you are learning a lot, it is very entertaining too!
Plus, you're able to see a lot more of the city in the carriage versus than walking around. It could take you several hours to see all the sights walking, but with this tour, you are able to see most of them within an hour!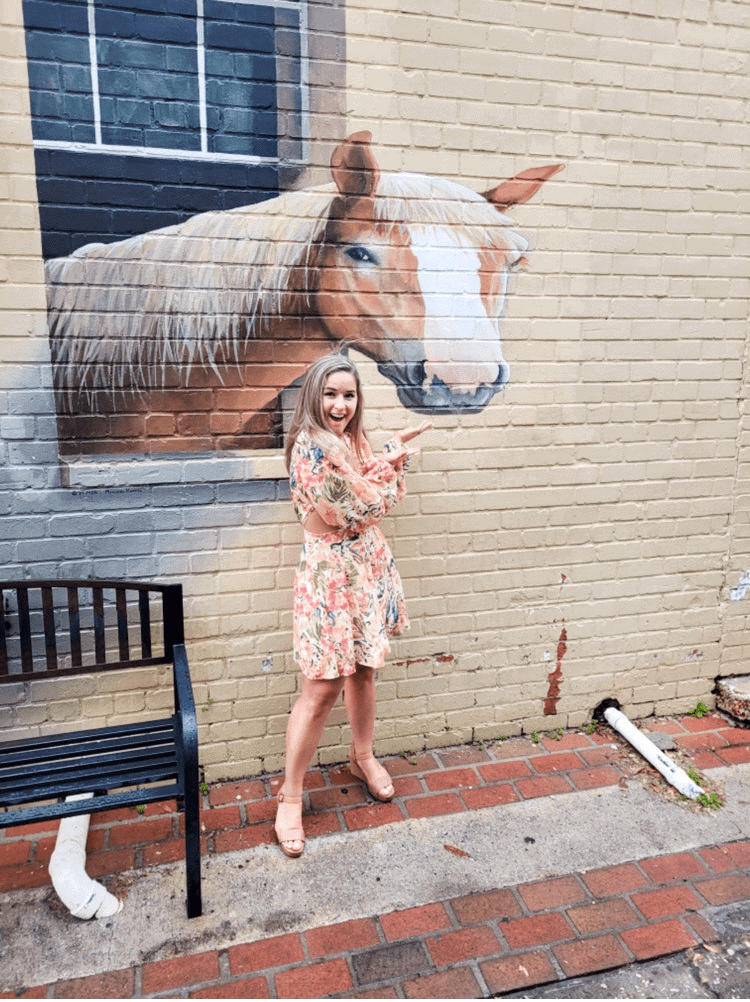 Ghost Tour At Night
This was probably one of my favorite tours. You started off at a bookshop at night and then walked around to all of the city's most haunted spots. And I of course had to get a few books while we were waiting for the tour to begin.
This should definitely be high on your list of things to do in Charleston for sure! We even looked into doing it another night too, but it was all sold out.
It is a walking tour though, so be sure you are dressed appropriately for the weather and wear comfy shoes! The tour guide takes you to many haunted places throughout this historic city and it is both entertaining and informative!
I learned a lot about the local history here from doing one of these tours. And since this was a big place for the civil war, you can imagine there are plenty of ghosts and haunted places around.
There are a lot of options out there but we chose to the Ghosts of Charleston tour and it was so much fun!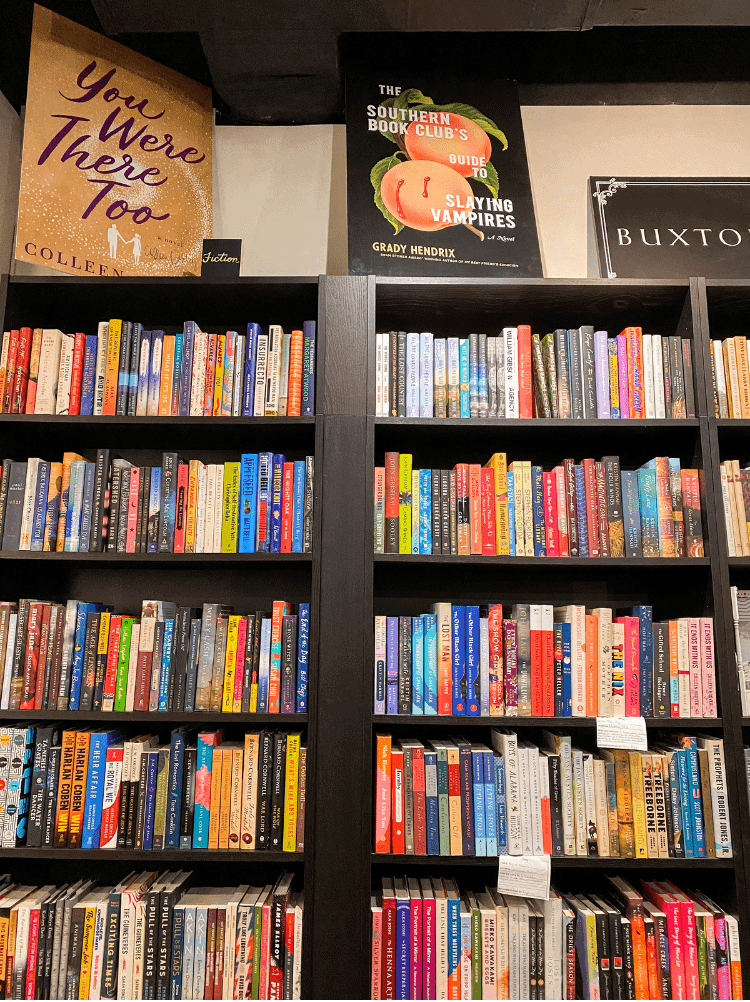 Outer Banks Tour
If you are fans of the Netflix hit, Outer Banks, then you probably already know that it was filmed in Charleston. So naturally, you can take an Outer Banks tour where they show you all the spots that the show was filmed at!
It was a very cool experience. The local guide was actually an extra on the show, so she really did know a lot of background information!
I think my favorite spot was seeing where they filmed Ward Cameron's house at, which you can see below too.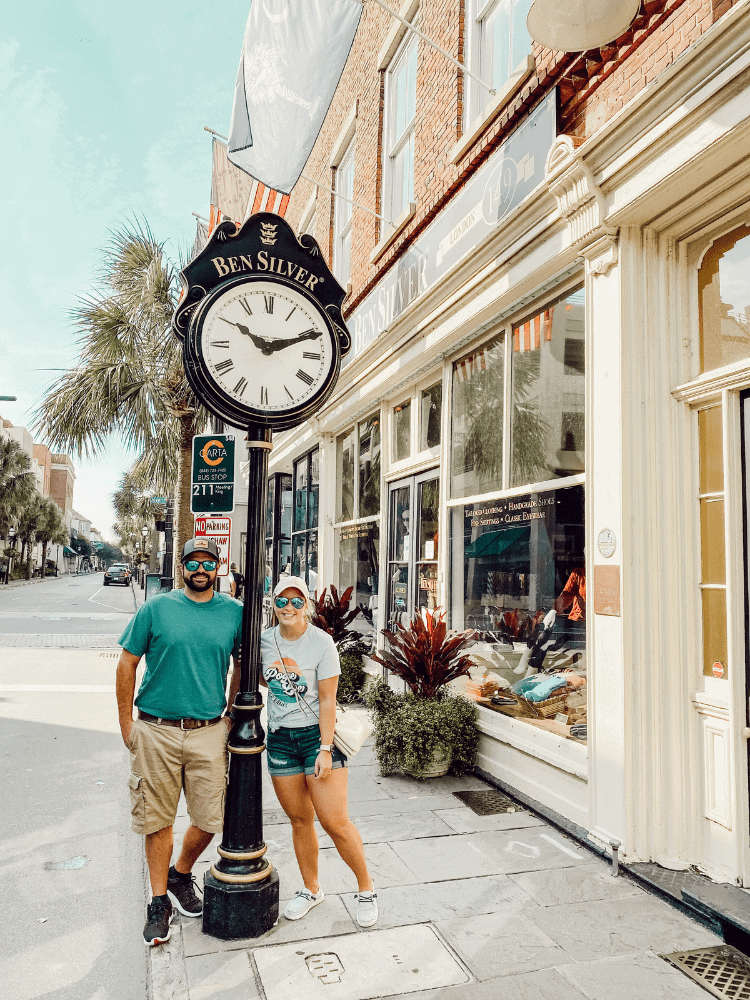 Places to Eat in Charleston
If you've heard of Charleston before, then you probably already know that their food here is incredible. One of the best things to do in Charleston is to just eat around! There's places with live music, upscale, fancy restaurants, laid back joints, you name it!
I think one of the best ways to try as much as possible during your stay is to split your order together. That way, you aren't too full and miserable and are eager to try out the next restaurant!
I honestly wish we were staying a whole week just so I could try out all the best restaurants that were recommended to me! I will share the ones we ate at and what we thought of them honestly for you.
Amen Street
We went to Amen Street for our anniversary before dinner. We got kinda lucky because we just stumbled upon it and didn't have any reservations. For our anniversary dinner, we originally had reservations at High Cotton, but that place is very FANCY.
We walked by and it was men in suits and women in gowns, so obviously we didn't have any attire like that packed with us.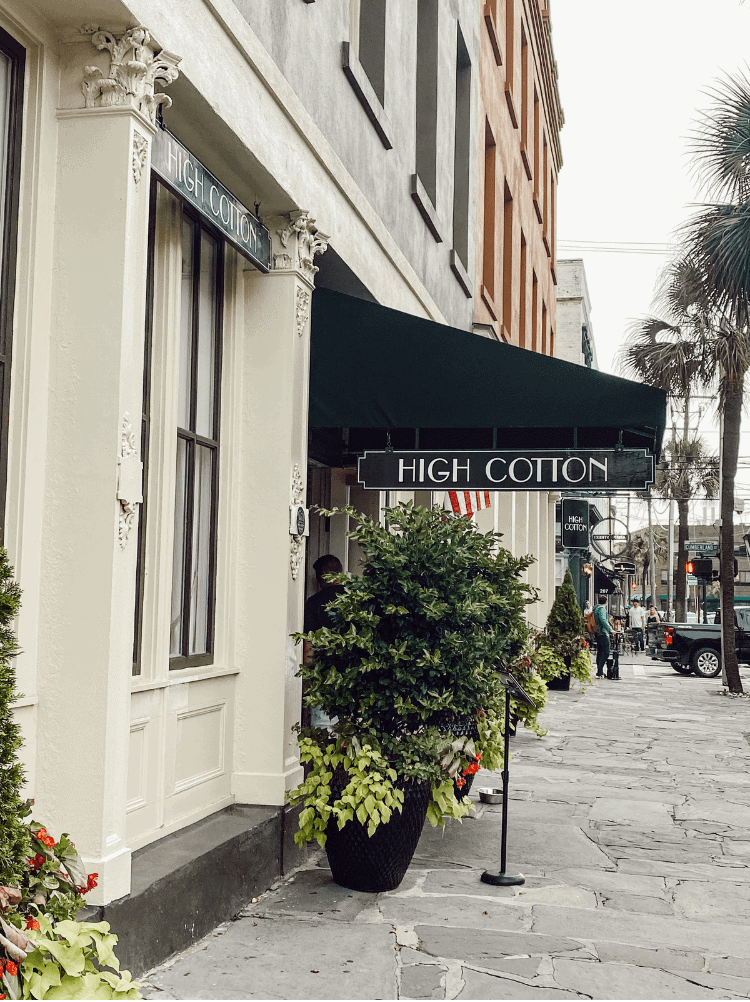 I believe we would have been a little out of place if we had gone there. I am sure it is very good too, but if you wanna go, I would definitely dress up for it.
We had been wanting to try oysters the whole time we were down there and we saw that this place had some good reviews.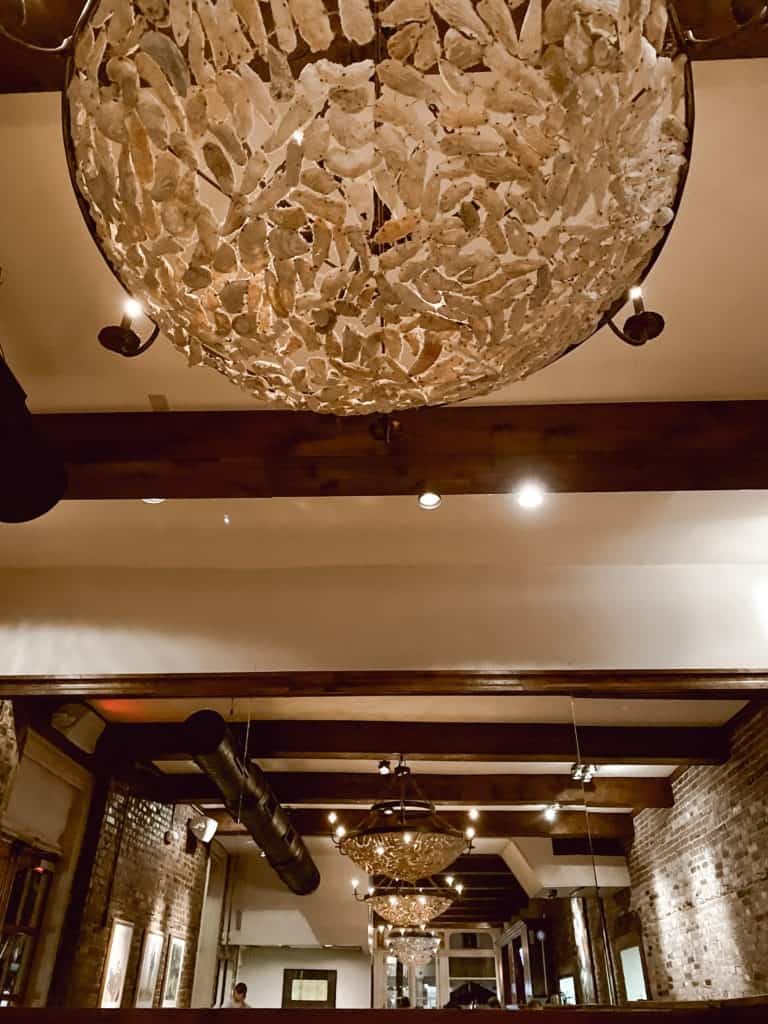 So we walked right in and were able to try out a few oysters before our actual anniversary dinner! And I am surprised to say that I actually enjoyed them! It's not something I would eat everyday, but when you're on vacation in Charleston, why not?!
Another place that is supposed to be incredible for oysters in Charleston is 167 Raw Bar. We were told by a few locals that they loved that place and it is the best for fresh oysters.
However, it is very hard to get a table there. Unless you want to wait for a few hours!
Husk
Husk is where we actually ate our anniversary dinner at. This was definitely our favorite restaurant that we tried while we were down there!
It was the perfect date night for a special romantic occasion like an anniversary! We ended up splitting a meal since we just had a few oysters before and it was perfect! They even halved it for us in the kitchen before bringing it out to us.
Their menu changes all the time too based on what fresh ingredients they have. So even if you go there a lot, you can still try several new things.
We tried their pickled pimento cheese on crackers as a starter and it was incredible. And the fish we got as our main was very fresh and tasty too!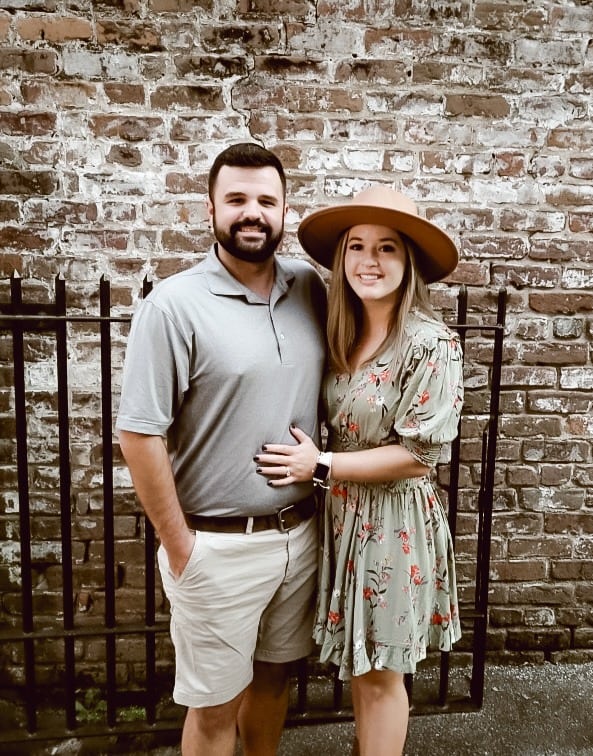 The restaurant is in an old house and it is just so cute and cozy. We ended up eating outside on the porch and absolutely loved it! They also serve a delicious brunch on Saturday and Sunday mornings too!
Funny story- we also ran into another couple that was celebrating their 5th wedding anniversary that night too!
Poogan's Porch
Like Husk, Poogan's Porch is also inside an old house and is located right beside it actually. We went there for our anniversary brunch. And it was good, but a little overpriced for what you get in my opinion.
It was fun to sit out on the porch and look out, but the food wasn't my favorite if I am being honest. We both got the Monte Cristo sandwiches and it was kind of like something I could just make at home so I wasn't too impressed.
Maybe if we ordered something different though, I would have been!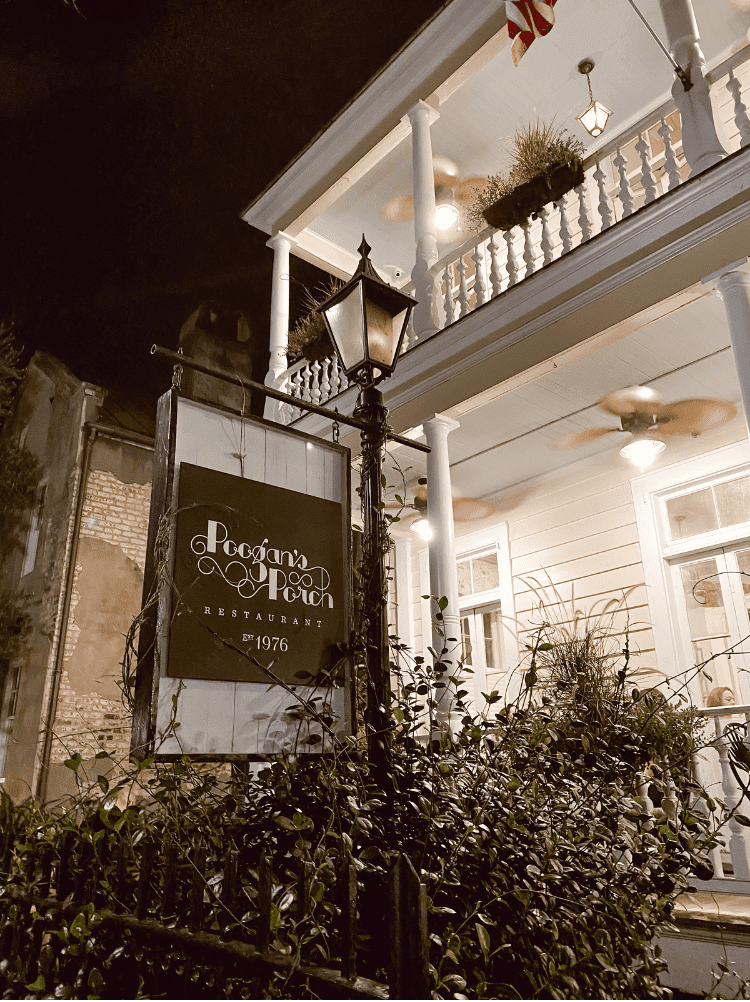 Charleston Crab House
I really liked the Charleston Crab House when we went. We had to wait awhile for dinner, but the good thing is they just text you when they have a table ready. And it's located in the Charleston city market area so there was plenty to do while waiting.
So you can walk around and do other things while you wait. They also have other locations like on Shem's Creek and James Island too.
My hubs got their fired fish and I got their shrimp and grits. Both meals were incredibly fresh and delicious too! I highly recommend going here if you are ever in Charleston.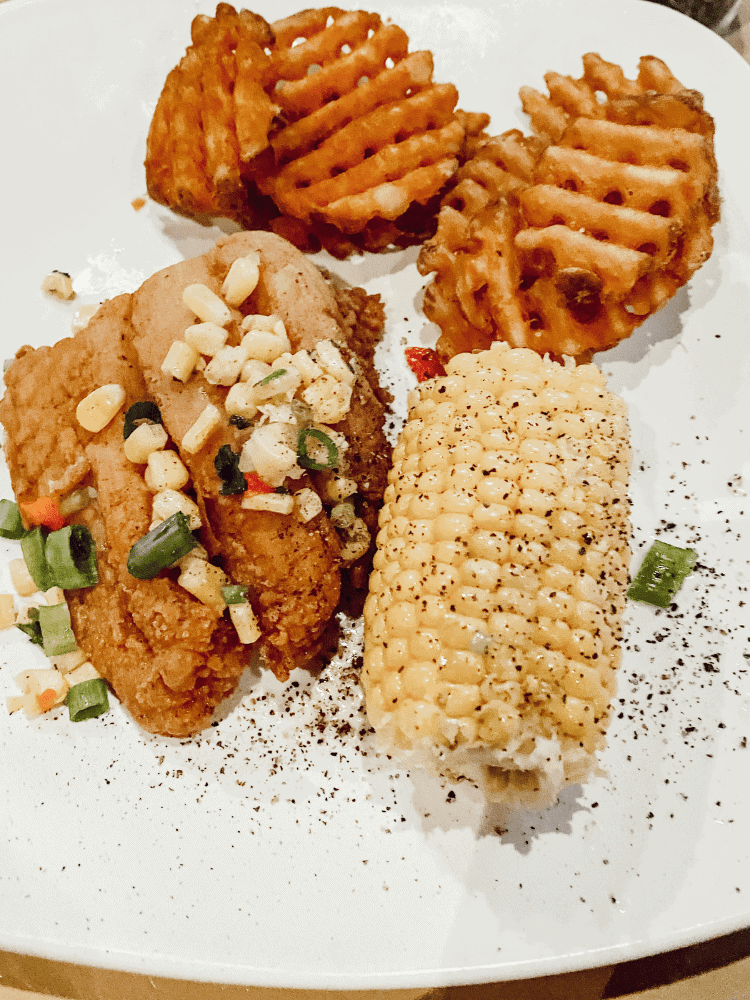 Fleet Landing
Fleet Landing was another one of our favorites. We ate here on our first night down and it did not disappoint! Plus, the view is incredible too. We sat outside on the water and it was perfect. It's definitely a nice, romantic view for a date night!
If you go here, you gotta get their pimento cheese grits as a side! It's to die for!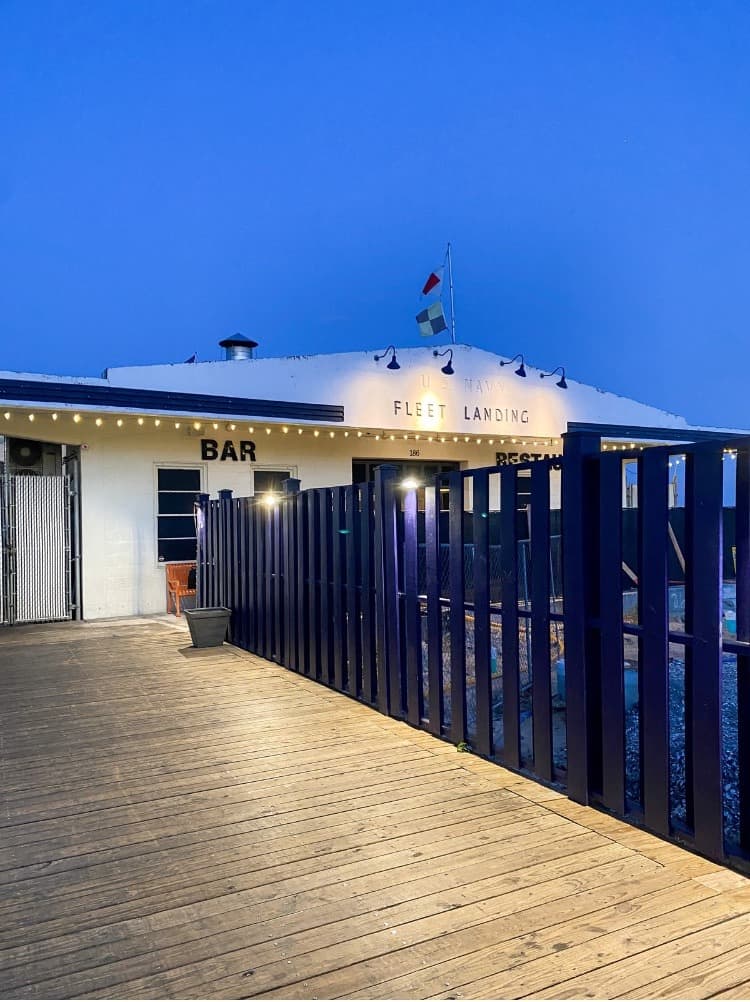 Other Places to Eat in Charleston
I will also give you a quick summary of all the other places we ate at too. One night we went to Poogan's Smokehouse and it was absolutely incredible. Perfect if you are craving some good barbecue. The meat literally fell off the ribs!
A great place for brunch is called Toast All Day if you want to have a quick little stop before lunch. I've also heard that Miller's All Day is incredible for brunch. But we unfortunately never made it there on this trip.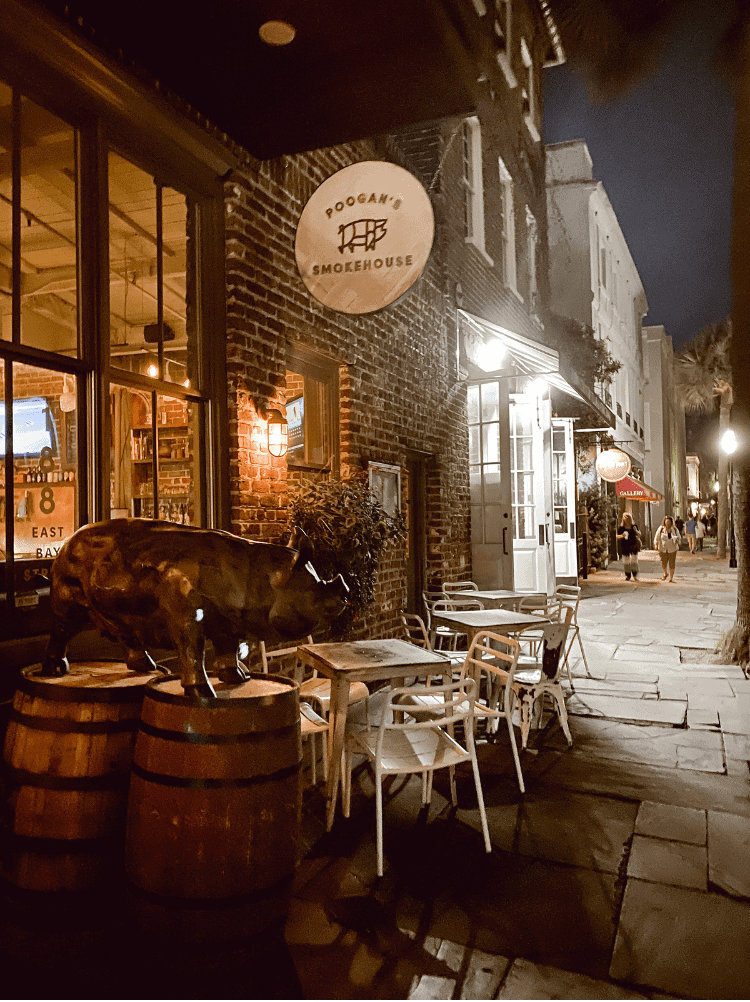 And if you have a sweet tooth like me, then you MUST go to Carmella's Cafe and Dessert Bar! They had the best little cakes (pictured above) and they were so tasty.
We got a peanut butter one and a cannoli one and they were both to die for. I would literally go here every night for dessert if I could!
Another place that is perfect for a quick bite and a view is The Rooftop at Vendue. Even if you're not that hungry, you got to come up here for just the view alone! It's such a pretty view of the city and we ended up just splitting a flatbread appetizer while taking it all in!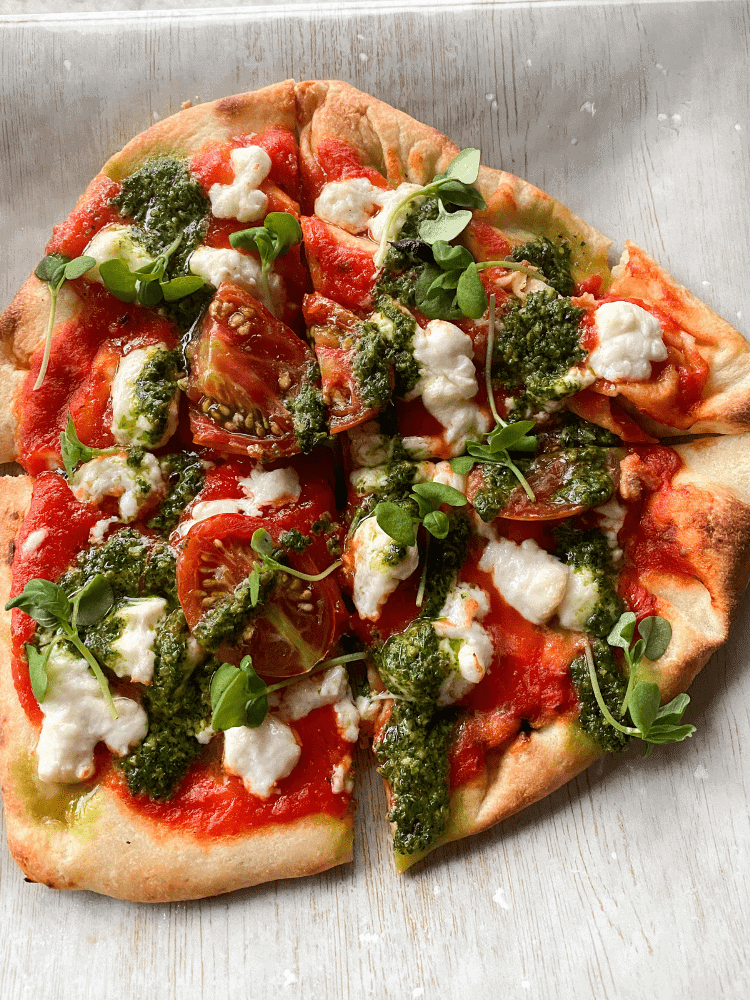 We also love to go to Five Church, which I believe is now call Church and Union. The restaurant is located inside an old church so it is pretty cool to look at.
We split a fried chicken and pimento cheese sandwich while we were there for lunch and it was incredible. Perfectly fried and they had a great brunch menu there as well!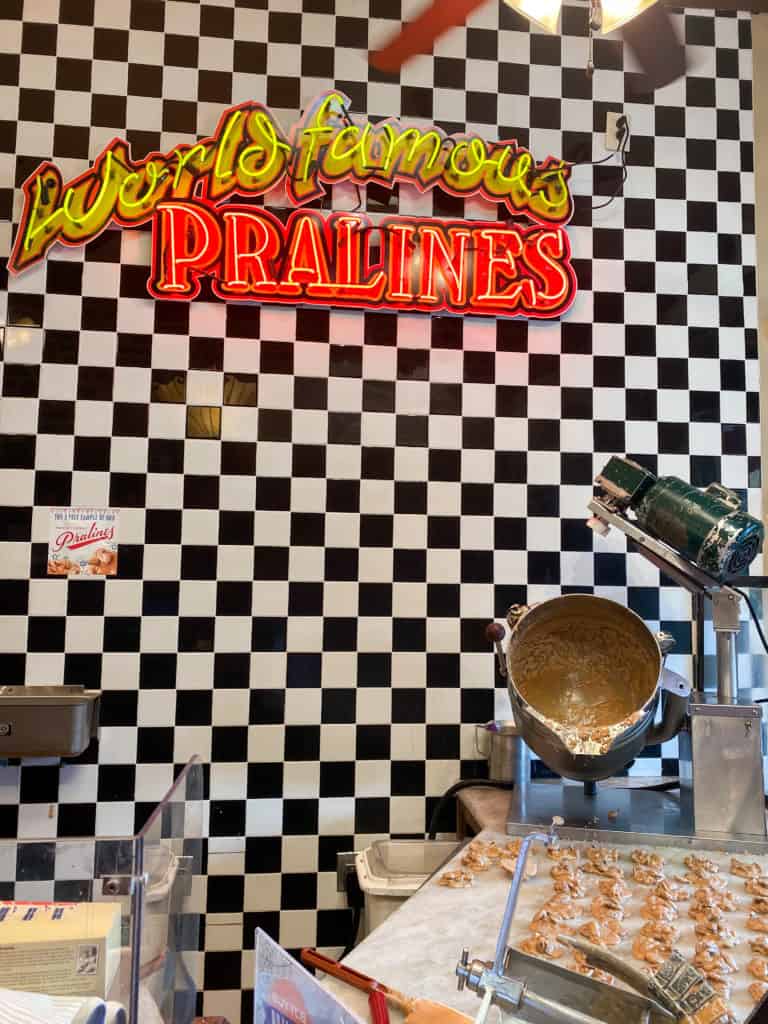 Hank's Seafood is another popular place to eat. We went there a few years ago when we first visited Charleston as well. I would like to go back sometime and try it out again!
Shopping on King Street
Another fun thing to do in Charleston is to just shop around. There are plenty of shops located on King's Street. Some well known and some that are just cute, small boutiques.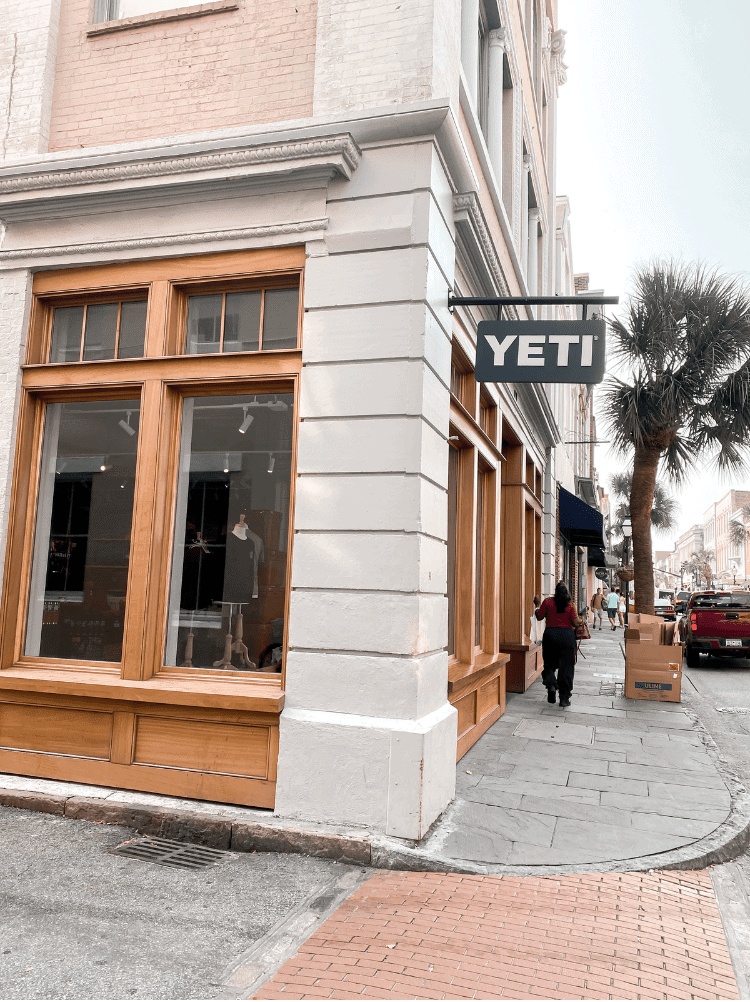 My husband's favorite store was of course the YETI store. He is a tad obsessed with them! But the store inside was pretty cool, I have to admit. I haven't ever seen that many YETIs before in one place!
Another cool thing about all the stores were the architecture of them. So many were in historic buildings so it made shopping around even more fun!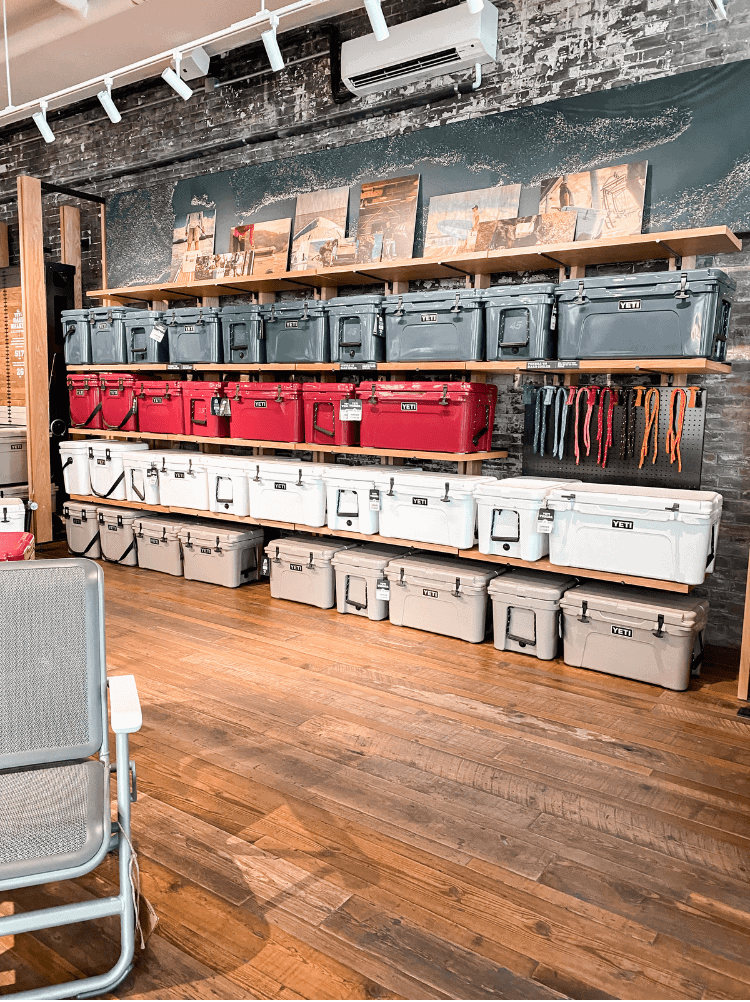 My favorite store was Sewing Down South. Which this should come as no surprise to you if you are a BRAVO fan like me. I love the show Southern Charm and Craig from the show is the one who started this store.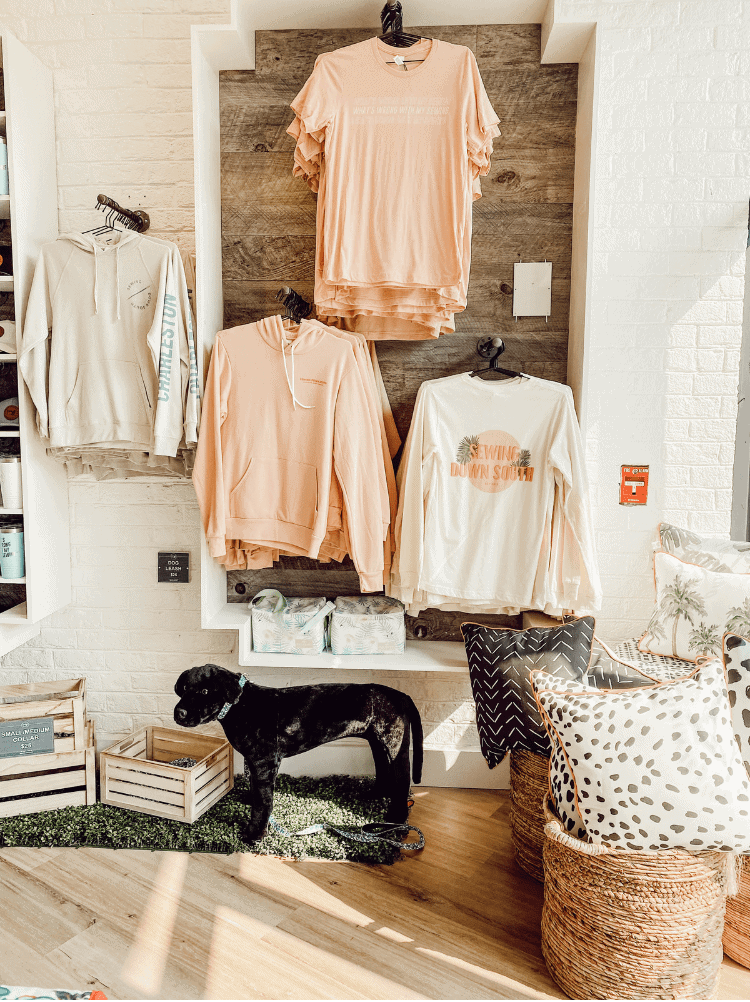 And I got really lucky because on our very last day there, I actually got to meet him! He was doing a signing at the store and he was so nice to actually talk to us for awhile and take pictures!
That definitely made the whole trip worth it because I was secretly hoping to bump into him or another cast member while I was down there!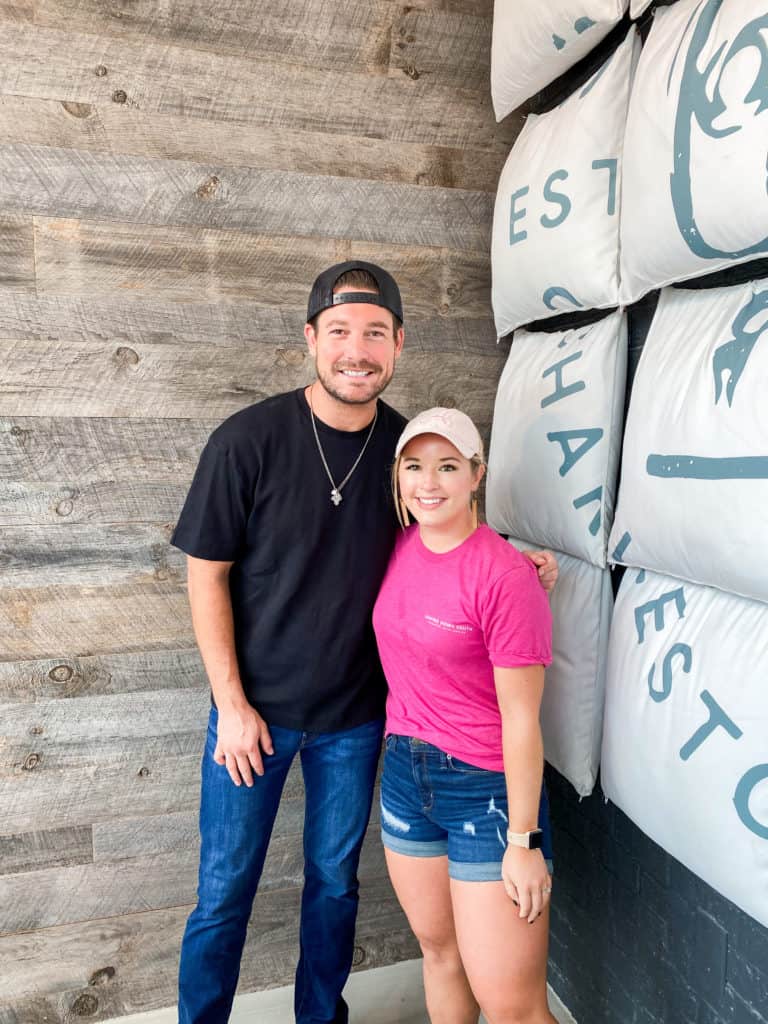 Other Fun Things to Do In Charleston
Besides tours, eating, and shopping, there are still plenty of other fun things to do in Charleston as well. For example, just walk around downtown for a romantic stroll in the evening and I am sure you will find plenty to do. 
From the beautiful gardens to cobblestone streets, an evening stroll is really one of the most romantic things you can do here!
Just looking at all the beautiful, historic homes can take up most of your day too! We always like to go through a street and pick out our favorite historic house.
One of the things we haven't done yet in Charleston, is tour the famous Boone Hall Plantation. I really want to do this sometime when we go back as well as see the famous angel oak tree as well.
Touring the Churches
Looking at all the old and historical churches is pretty fun too. They call it the holy city for a reason and there are plenty of churches that are open to the public. The architecture inside them really is incredible.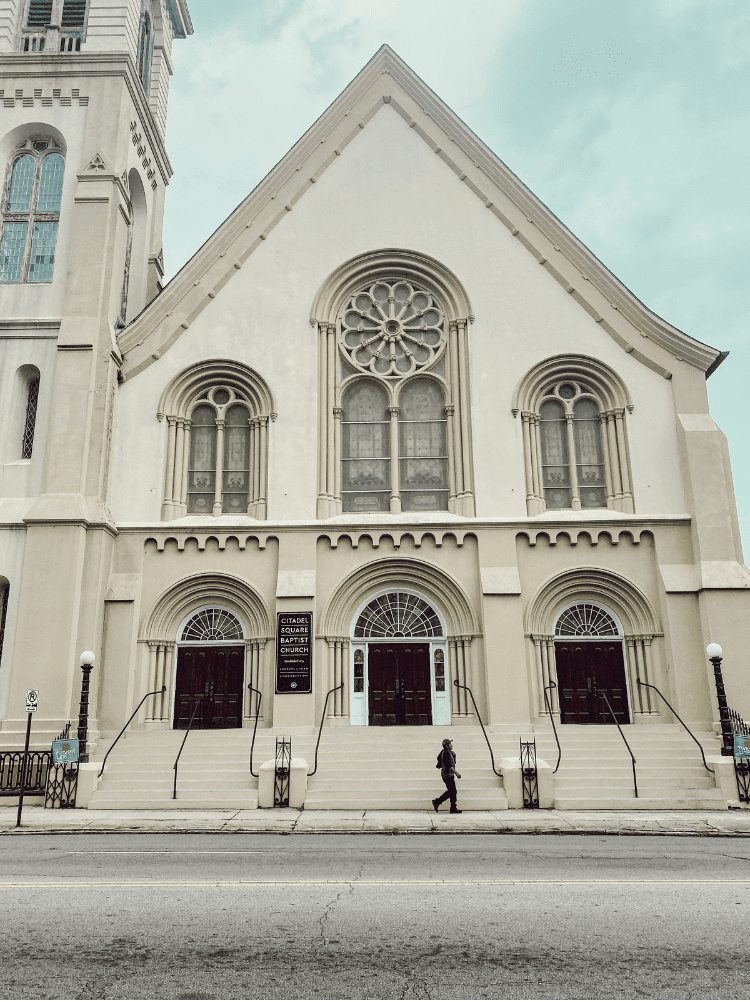 You definitely want to go to Rainbow Row when you are in Charleston too just to see all the beautify colored homes on the block!
Such a cute and quaint area! I loved looking at how all the colors complimented each other as well!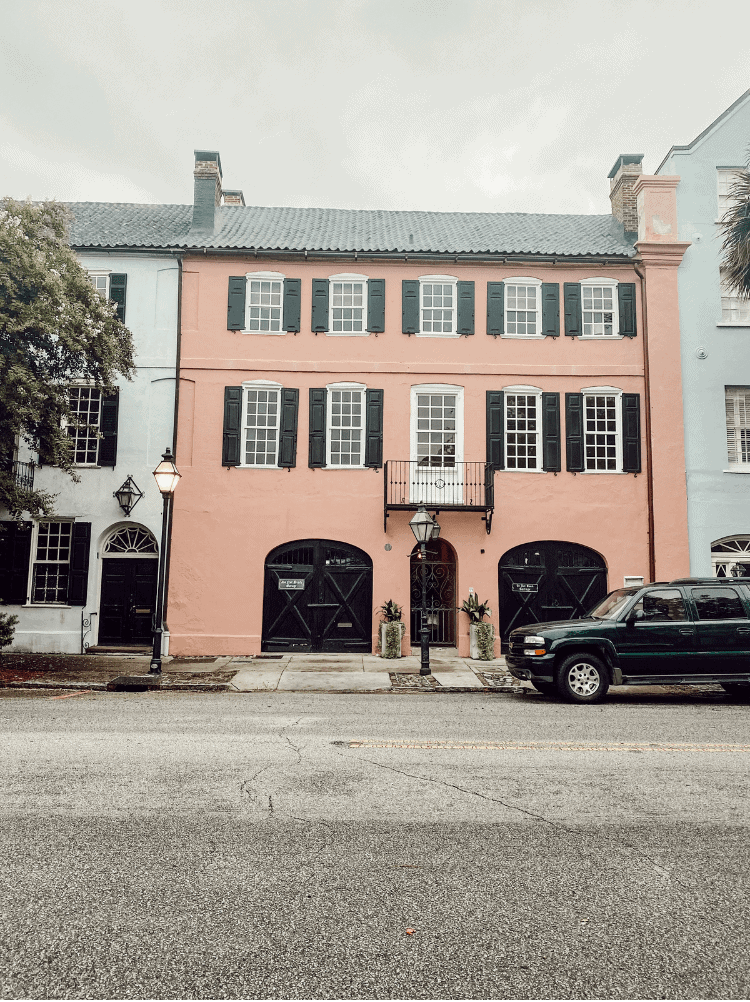 And not to mention, just the other homes around the area are magnificent too!
The architecture just blows me away so it is really fun to just go for some walks around the surrounding neighborhoods just to see all the homes.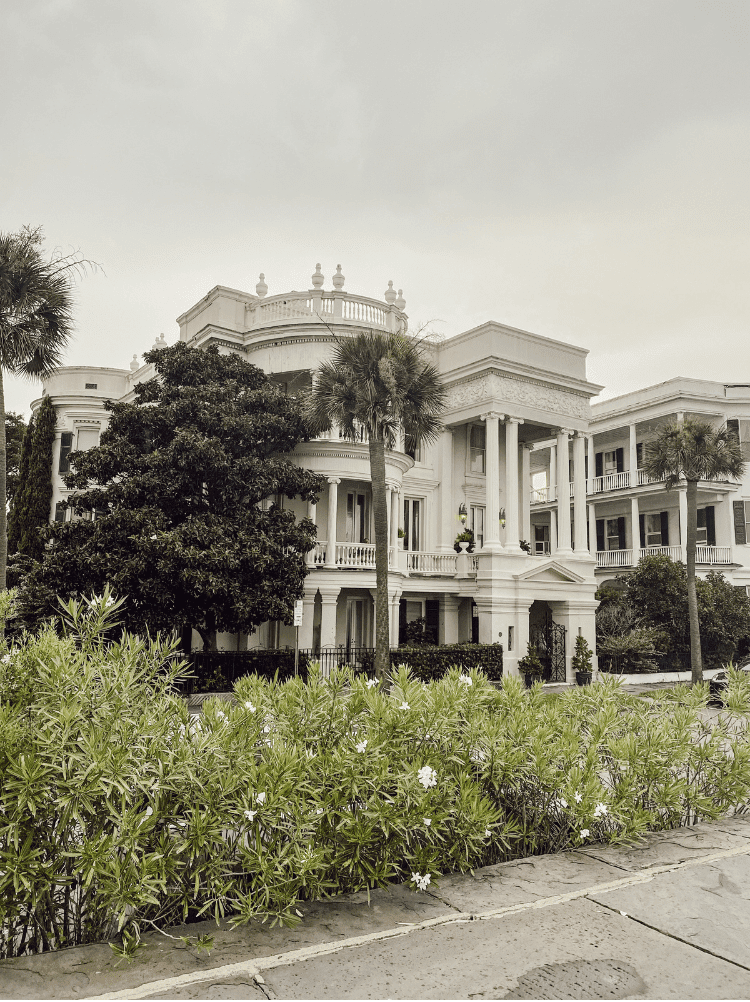 Visit the Beach
Charleston is within close driving distance to several beaches. There isn't a beach located in the city, unfortunately, but you can be at one within 30 minutes!
We always like to drive over to Folly Beach, Mount Pleasant, or Sullivan's Island. There is also Kiawah Island that is close by too. Plus, there are a lot of other restaurants and things to do in those areas as well!
We've stayed in Mount Pleasant before too, and it was also an incredible time there as well!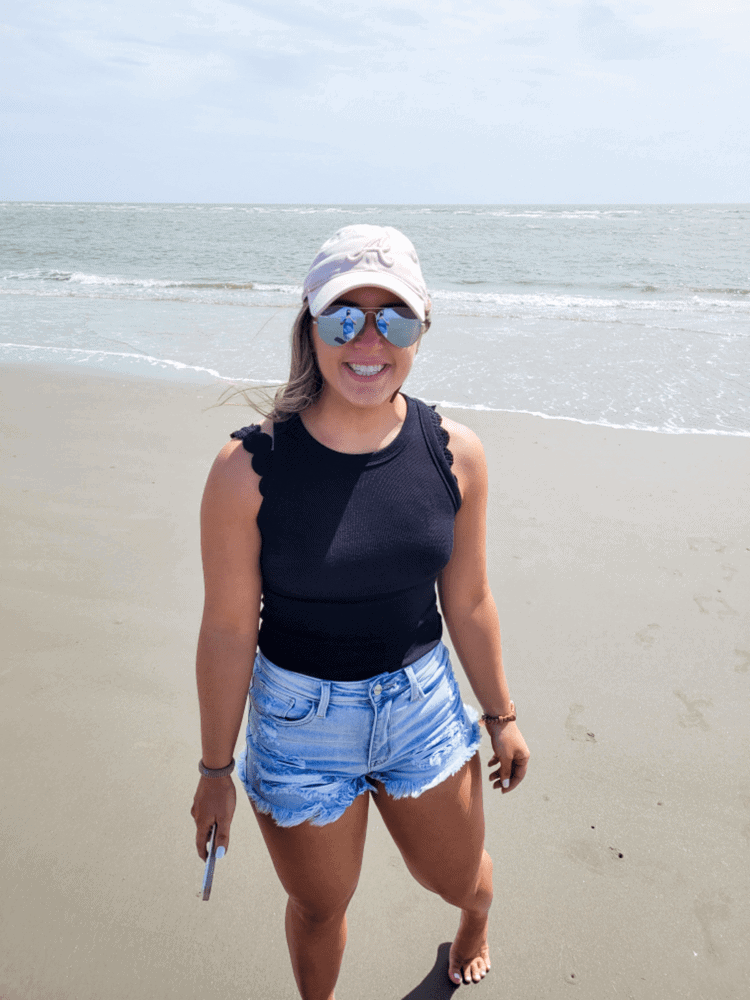 Pounce Cat Cafe
Also, if you know me, then you know I am cat obsessed. And Charleston has their very own cat cafe! I wanted to go there so bad while we were down there, but you need to make reservations ahead of time.
I plan on going there sometime in the future when we go back though! You get to enjoy a drink and cuddle a cat at the same time! How purrfect is that?!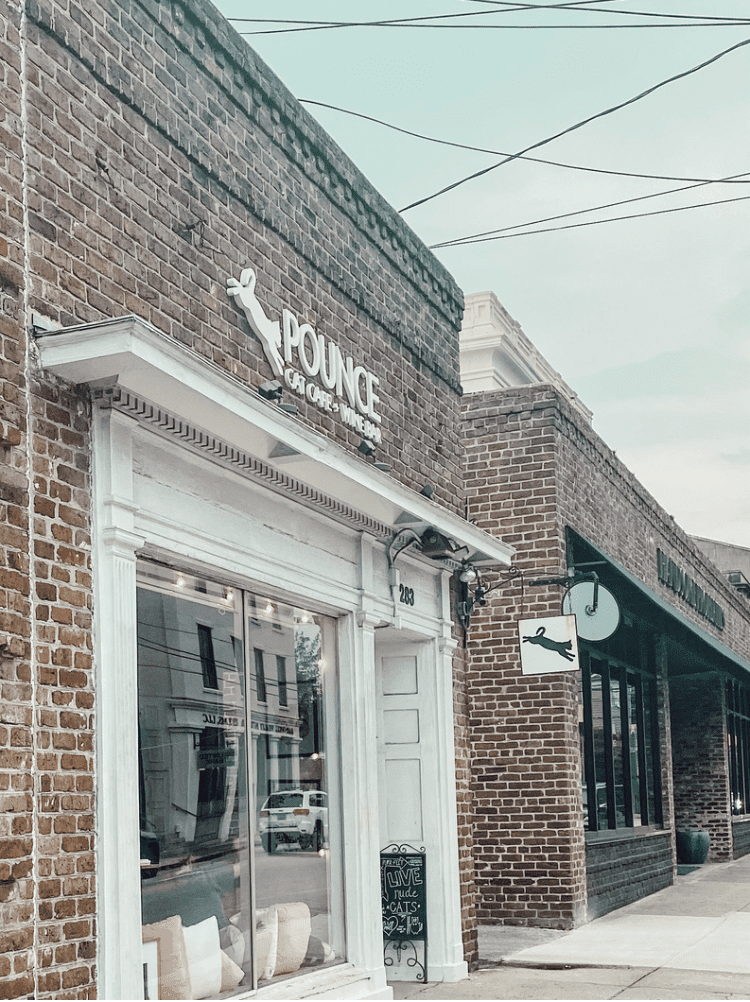 UPDATE: We did go back to Charleston in March and I was able to go to the Cat Cafe! And was it as PURRFECT as I thought it would be?! You bet!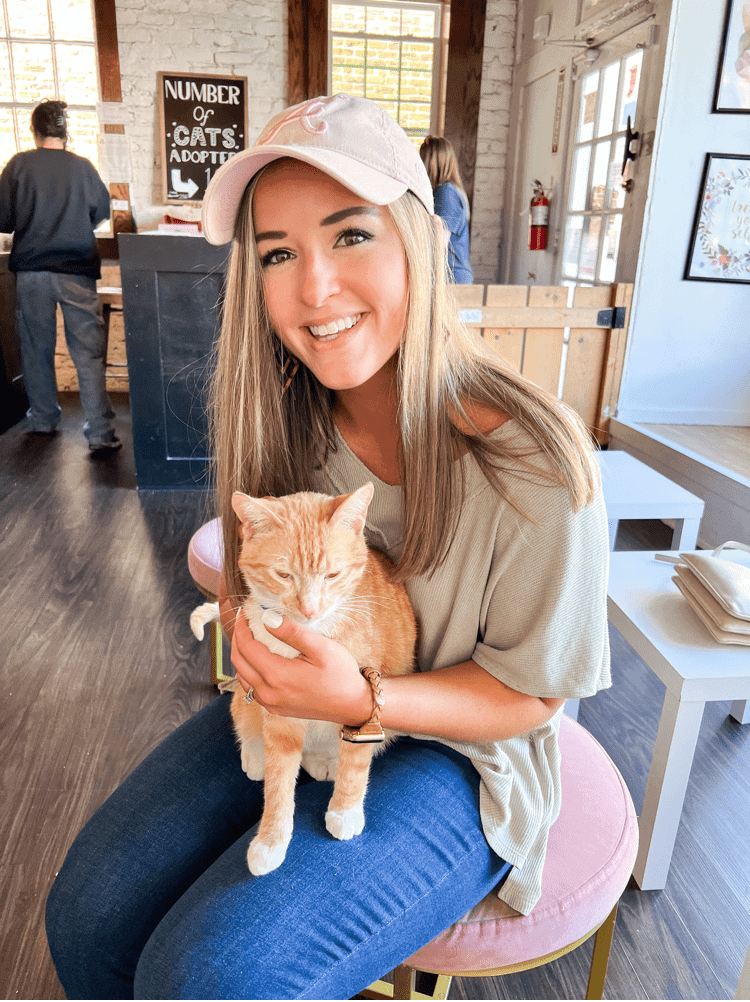 And if you want to view a little recap about my trip there, take a look over on my Instagram:
Waterfront Park
You've gotta go to the waterfront park in Charleston if you go. The famous pineapple fountain is located here. It's the perfect picturesque spot.
Plus, you can walk right along the waterway. This is a great place to go for a morning stroll.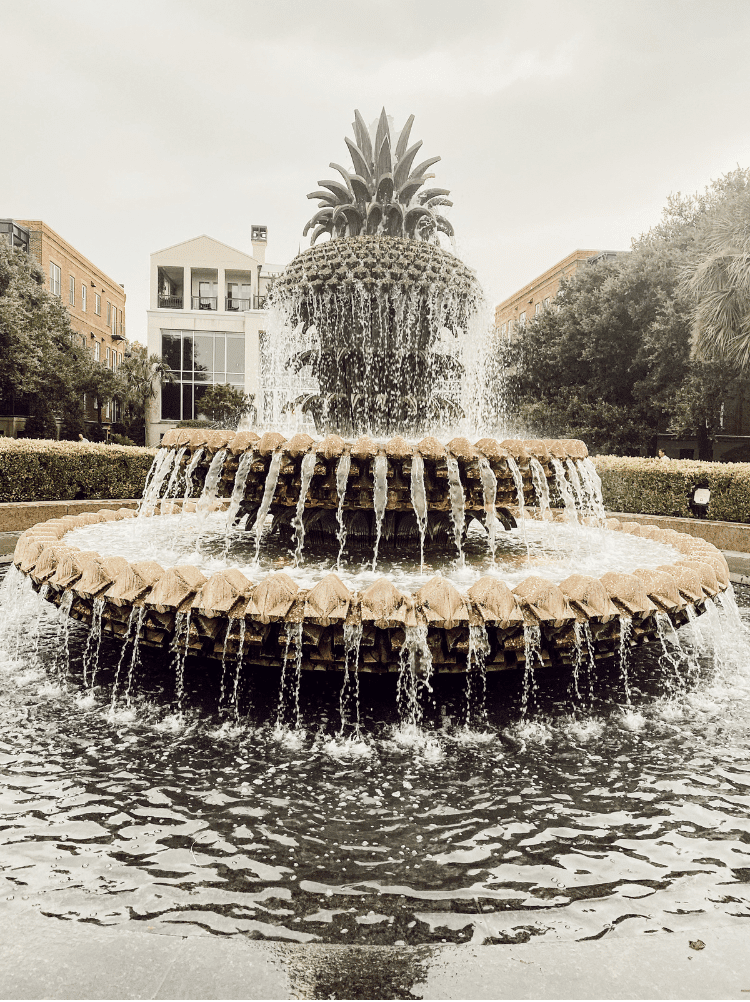 Places to Stay in Charleston
The past few times we went, we stayed in hotels that were further away because they were so much cheaper. But it is kind of a pain to walk so far back and forth from your hotel.
So the last night of our stay we decided to try something different and stay at Embassy Suites by Hilton in Charleston.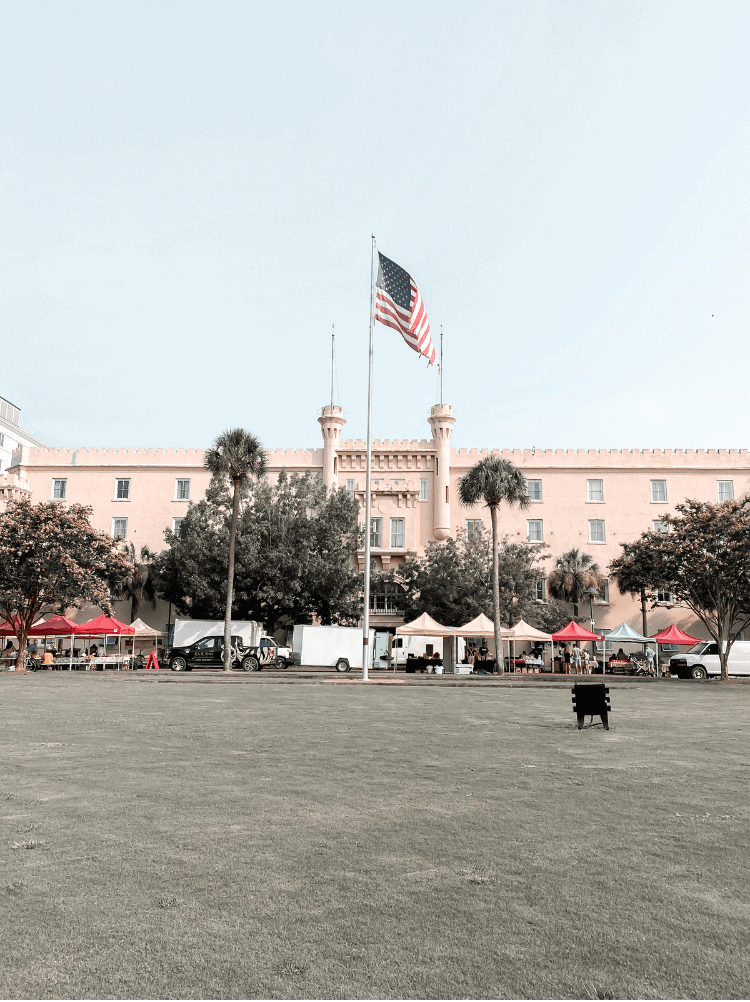 I highly recommend this hotel. It's within short walking distance to everything in the city. Plus, I loved it even more because it is so historic.
You could even see the gun ports in our room in the exposed brick wall. Again, if you're a history buff, you would love staying here.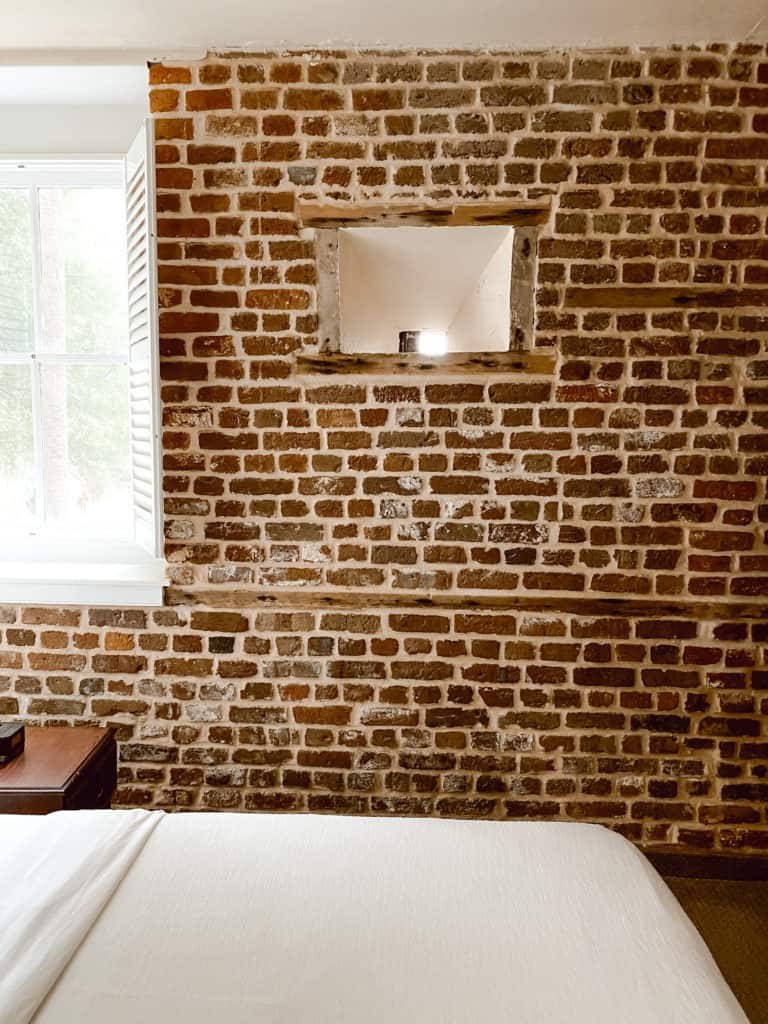 Their breakfast was not only complimentary, but phenomenal as well. They can even make you a custom omelet if you wanted.
I wish we had stayed here the whole time because it was a much better hotel than the one we were staying at previously.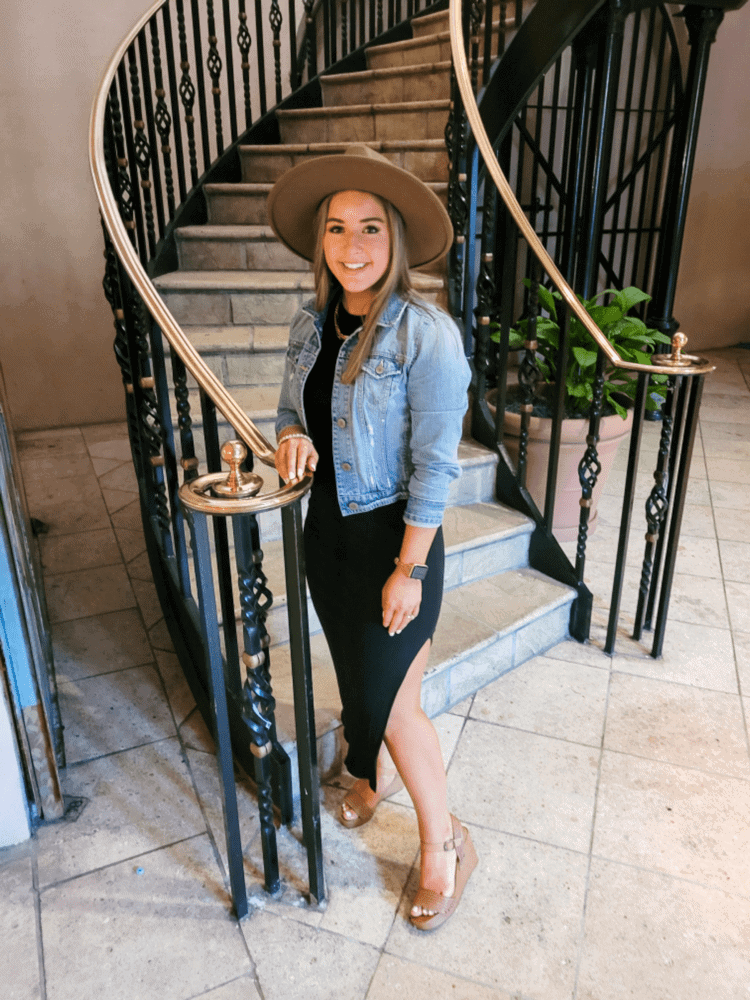 The Most Romantic City Getaway
As you can see above, there are A TON of things to do in Charleston South Carolina. The rich history here is abundant and it is definitely such a beautiful place for a romantic getaway!
Based on everything I have listed above, Charleston truly is one of the most romantic cities in the world!
I have to practically make myself stop writing because I could go on and on and on about it.
We had such an incredible time and I really can't wait to go back and visit it again this year. I am sure we will discover even more fun spots around the city too!