Is there anything better than sitting around a fire roasting marshmallows on a nice summer evening?? I think not! So that's why I thought I would share with you all today this super easy and simple DIY Fire Pit we created at our house.
I say "we" lightly because my hubby did a majority of the work. But I was there for moral support!
This is one of our top outdoor spaces that we use often and I just love how it turned out. It's the perfect place to entertain and enjoy with family and friends.
It's also very relaxing and peaceful as well. So if you're looking for some ideas on how to create your own DIY fire pit, look no further!
This post contains affiliate links. Click here to read my privacy policy.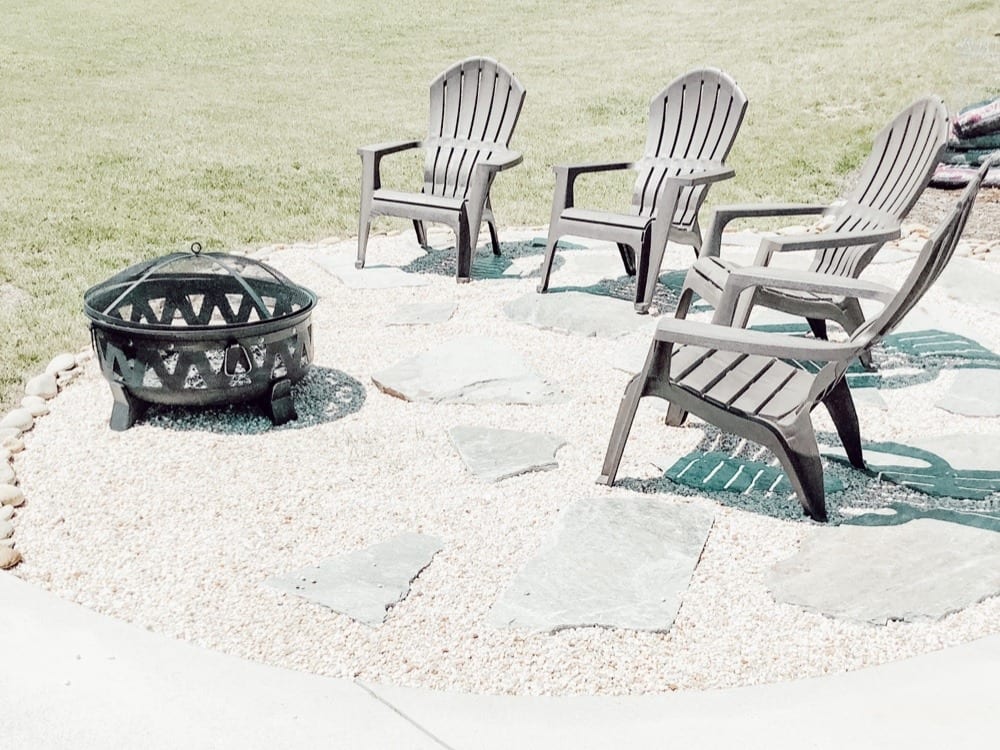 What You Will Need for DIY Fire Pit:
Instructions:
The first thing you need to do is mark off the space where you want to create your DIY Fire Pit! Once you have it outlined, then apply the weed and grass killer in that area (if necessary).
If you already have concrete space to place your fire pit in, that's even better and easier!
After my hubby killed the grass in the area, he then applied a lot of pea gravel to the space and placed the large paver rocks on top. I love the way this turned out and it was much cheaper than pouring up some new concrete for this space.
He also placed some river rock around the border of the fire pit area to make it look better.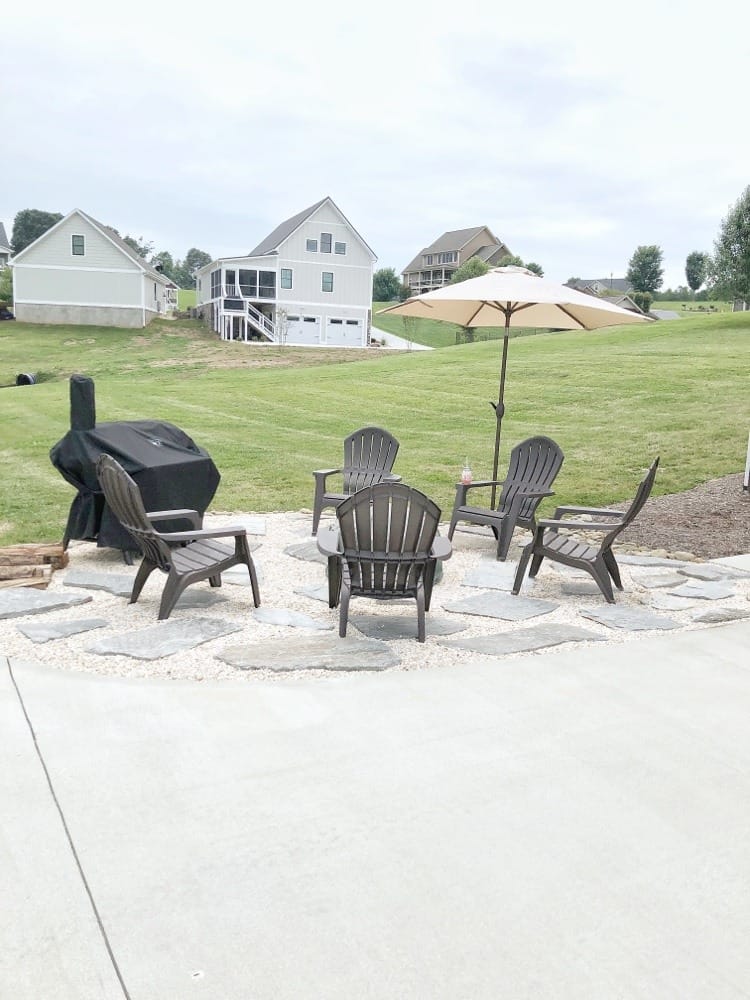 Setting Up the Fire Pit Area:
Once you have your base of the area all set up, now it's time for the fun part- styling it! I personally love adirondack chairs because they look so sleek, but they are also very practical for the space.
And of course you obviously need a fire pit too. You can find some great ones online or in Lowe's or Home Depot as well.

We also chose to place our smoker down here as well. I like having it down here better than on our deck because it frees up a lot of our deck space.
We wouldn't have much room if we had both our grill and our smoker on our deck so this is the perfect option.
I also like to add our umbrella down here sometimes as well. It can get kind of hot sometimes because it is in direct sunlight and doesn't have much shade here. So if I am sitting down here in the middle of the day, I like to have some shade.
This and the smoker is of course optional, but that's the fun part. You can style your DIY fire pit area any way you want to and whatever would be best for you!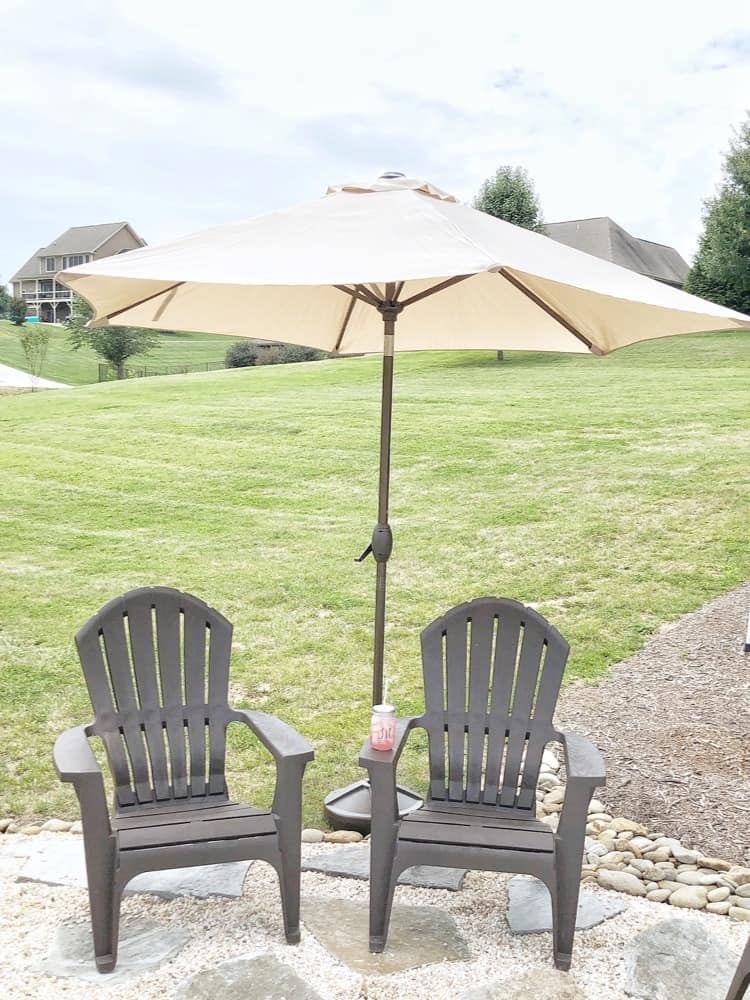 Conclusion:
As you can see, creating your own DIY fire pit is so super simple and can be done in just one afternoon if you have all the supplies ready and available!
I am very pleased with how this all turned out and it really improves our outdoor living space.
I love having multiple places outside to enjoy (see my front porch and my screened in porch posts too in case you missed those as well).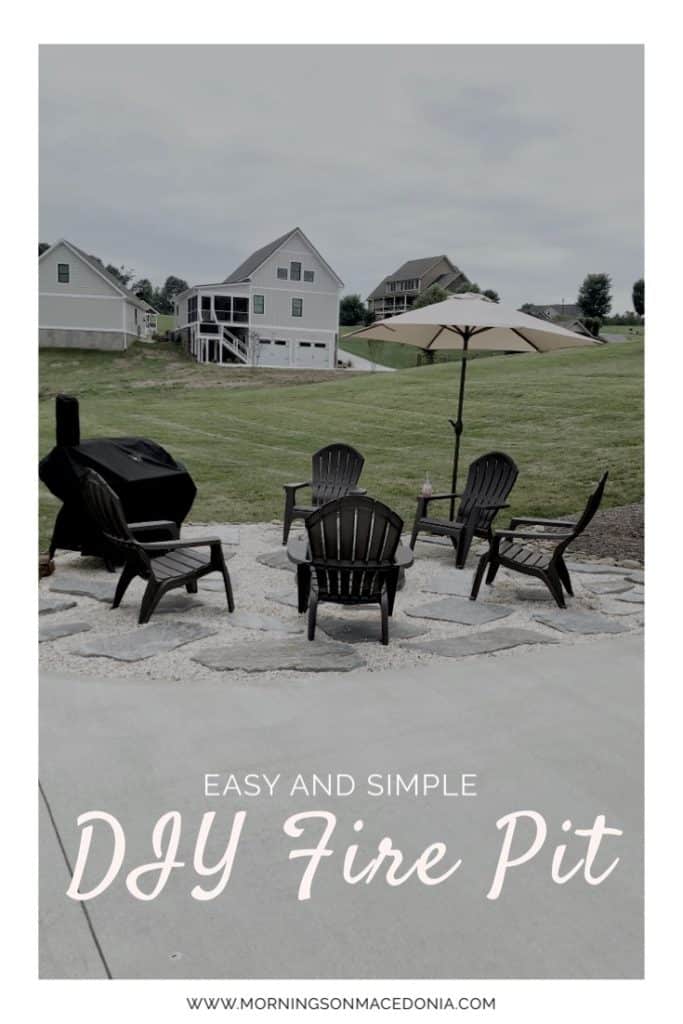 Do you have a fire pit area in your home? If so, I would love to hear about it! What do you like to put there to style it? Let me know below and have a wonderful day my friends!