If you have been keeping up with me here lately, then you know that we are in the process of making a cat room for our fur baby, Toby. We've already done a shiplap wall and wallpaper in this space.
So now it is time for my favorite part- decorating and styling it! And even if you don't have a cat, this could easily be done for a dog too!
I thought it would just be fun to show y'all the final product and how it turned out for us.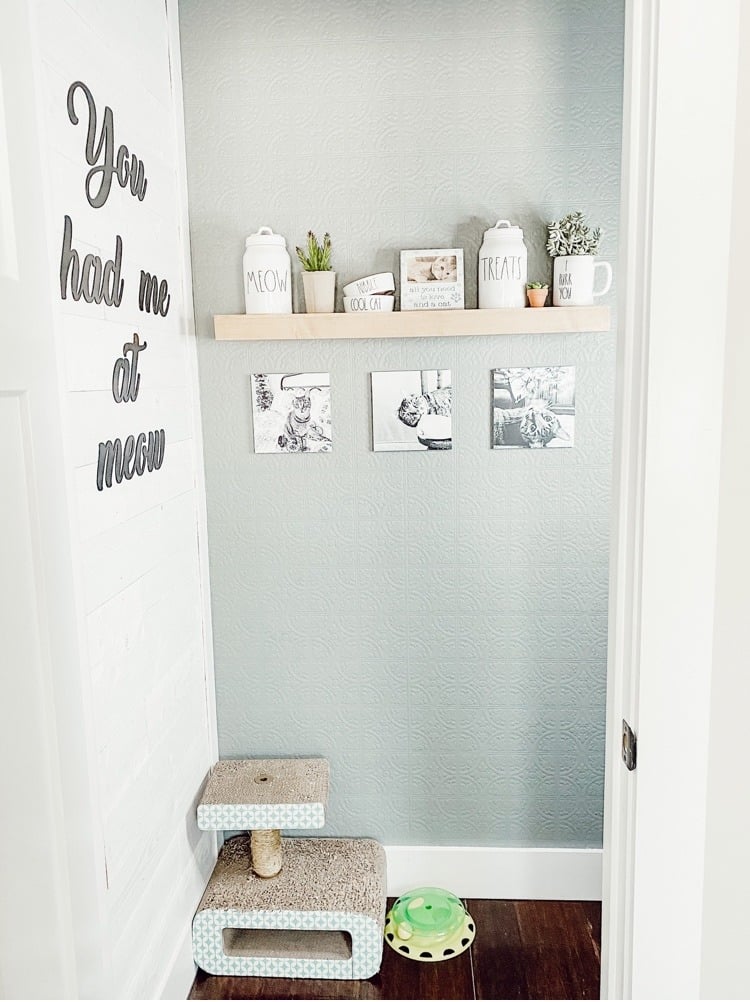 This post contains affiliate links. Click here to read my disclosure policy.
Before Styling the Cat Room
Here is a little snapshot of how the space looked like before I started styling everything.
And the in process photos of the shiplap we installed here. And also the wallpaper and the paint!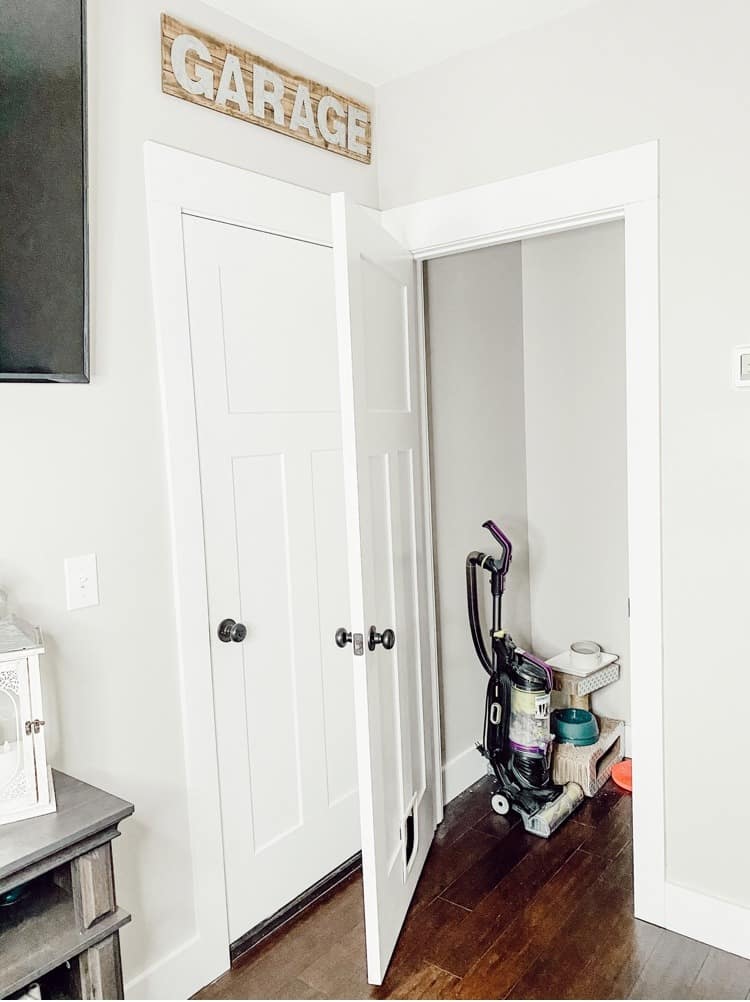 Install A Cat Door
As I mentioned in my previous posts, this cat room is the space underneath our stairs. We have a door that leads into this space and we always thought it would be the perfect place to have Toby's litter box in.
However, we wanted to be able to actually shut the door that way it can cut down on the smell. To do this, we ordered a cat door off of Amazon.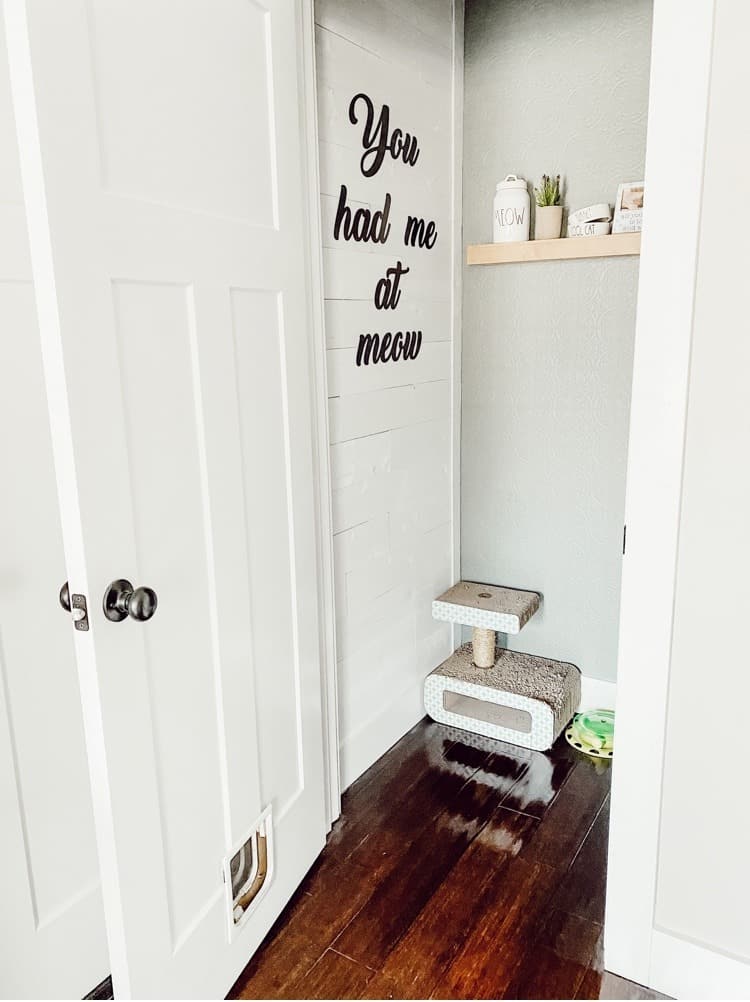 My hubby then took the door off and cut a hole big enough for the cat door.
This has helped out so much because it allows Toby to come and go as he pleases without worrying about him getting stuck in there if the door shuts.
You can also lock the cat door if you ever needed to, but we just leave it open and let him roam!

We also ended up ordering a brand new litter box for him to have in his new room too. We got it off Amazon as well and it has been a huge lifesaver too!
You can just pull a lever and it empties out all the dirty litter into a bag below while saving the clean litter! I am so impressed with it, I had to link it and share it with y'all in case you need one for your cat too!
In my opinion, it is totally worth the money!

Add Fun Metal Word Art
The first thing I did to style this space was to add in some pretty metal word art. I knew I wanted to use the phrase "You had me at meow" because I already had a Rae Dunn mug with that saying as well.
So I reached out to one of my favorite small shop owners, Vintage Metal Co, and they were nice enough to collaborate with me on this project!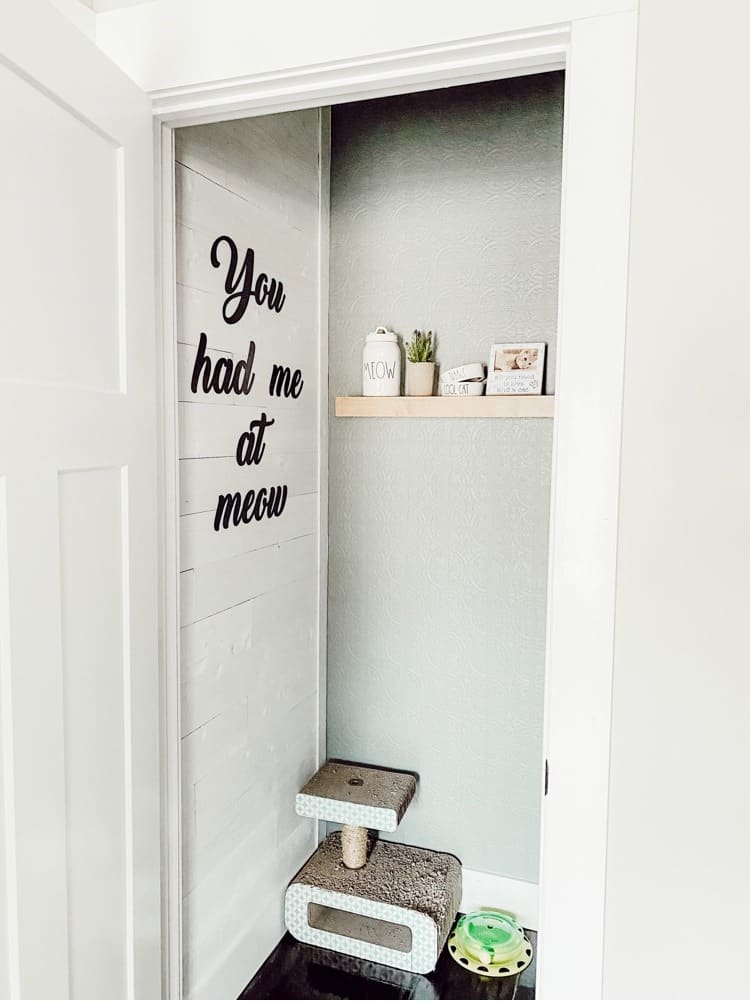 I love their metal art because it is so easy to hang. I have several pieces in my home already. There is a big "Gather" sign in my dining room from them and I have my office sign from them as well.
The heavier signs such as the gather one has pre cut holes to drill into when hanging them. However, the lighter ones such as my office sign and this sign for Toby is much easier to hang.
All you need is some command strips and that's it. I just attached them to the back of the metal wording and then I hung it on the shiplap wall!
I love the contrast of black and white there and it really pops!

Add a Shelf and Some Decor
The next thing I did to style this cat room was to install an open shelf. I always love styling open shelves and knew I needed one in here too.
I have a ton of Rae Dunn cat related pieces so I knew this would be the perfect spot to display them. The faux greenery I added in also helps to balance everything out too.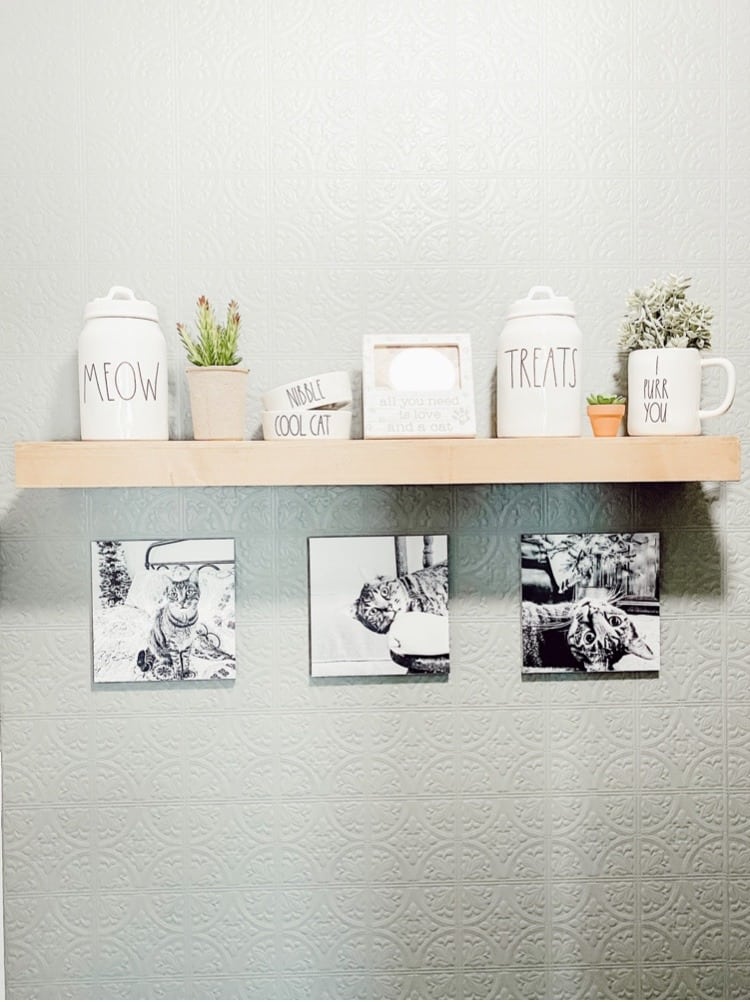 Also, below the shelf I added in some pictures I have taken of Toby throughout the years. He is quite the model and I think I may need to order more pictures!
It was hard to just pick three out of the many I have! I got these cool picture tiles from a company called MixPix and they are the easiest things ever to hang!
They include a magnet that you stick on the back of the picture tile and then to the wall. This makes it easy to attach and move around.
You could also easily change out your picture tiles this way too! I think they are the perfect personalized addition to the cat room!
Conclusion
So yes, I may be a crazy cat lady, but I am so happy with how this space ended up turning out! And this is just what happens when you don't have kids.
You want your fur babies to be as happy as they can be! Plus, it also motivates me to keep this room super clean and tidy just like any other spot in the house.
Before we put all this work into the cat room, I had a tendency to neglect it and not clean it as much. But now, I want it to be clean and pretty at all times!
Have you ever created a cat room or a pet room before?? If so, let me know! I would love to hear how yours turned out as well!