If you remember from my last post, I shared all about the DIY Shiplap Wall we did for Toby's room. So now I am going to share with you all about my first time using wallpaper.
We decided that next to the shiplap wall, we wanted to do something fun and different there.
At the time, wallpaper seemed like a good idea. But y'all, I gotta tell you, this was probably the hardest project we have ever done together! Wallpaper is no joke!
I think it may be because we ended up getting the pre-pasted kind and not the peel and stick kind. But more on that later. At least the end result turned out okay!
I figured it would be fun to share the process with you and go more in depth with everything. In case you are thinking about using wallpaper for the first time too!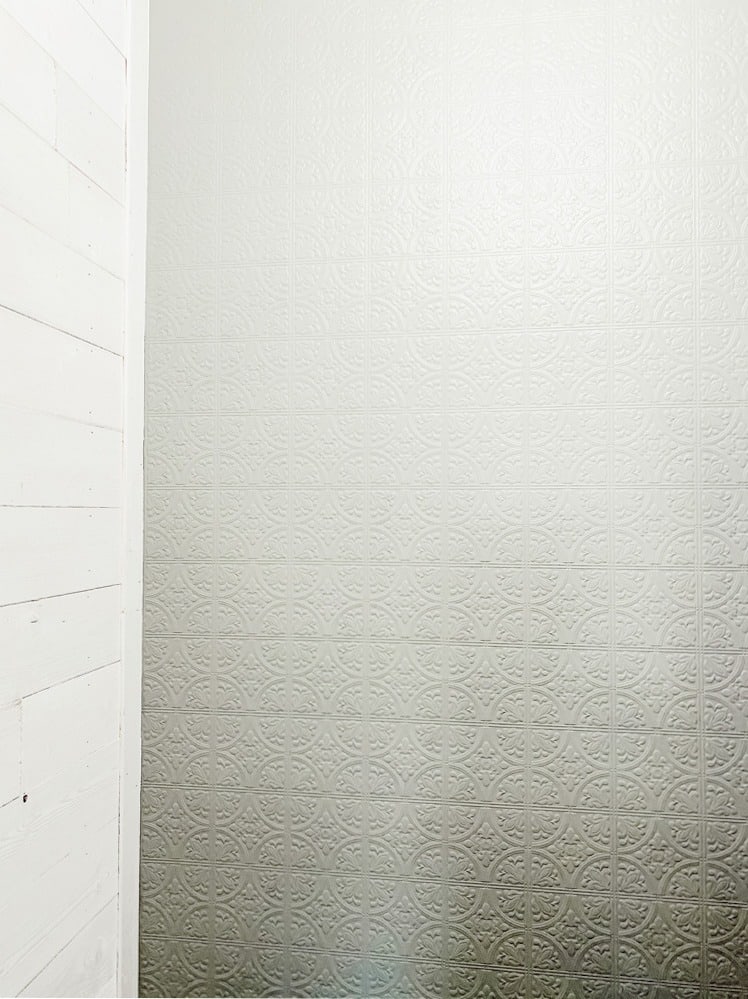 This post contains affiliate links. Click here to read my disclosure policy.
Supplies Needed:
Wallpaper (I used a textured, paintable wallpaper option)
Sharp knife to cut wallpaper
Sponge for applying water to the back of the wallpaper
Spray bottle to wet the wall before applying wallpaper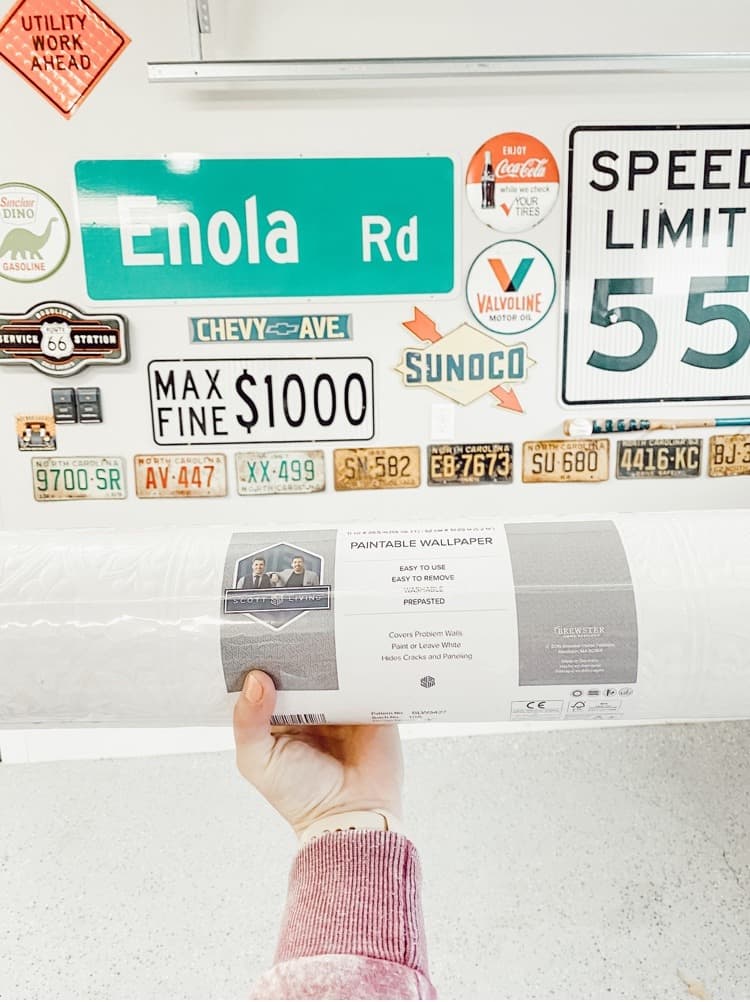 Measure and Cut
Once you have gathered all your supplies, now's the time to measure the wall and begin to cut out the wallpaper.
We used a tape measure to get the right height for the wall. Then we placed the tap measure right onto the wallpaper and traced a line on the back so we knew where to cut it.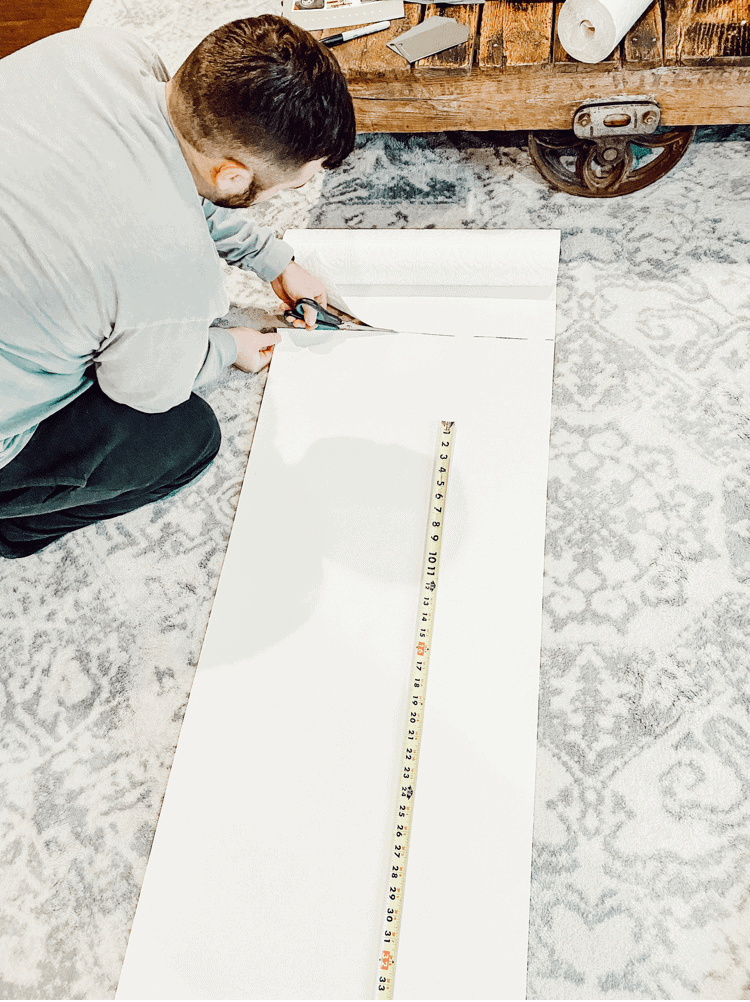 You definitely want to overbuy on your wallpaper. We ended up getting plenty of extra rolls just in case we had some mess ups.
Especially, since this was our first time using wallpaper. And boy, did we have some mess ups during this process!
But thankfully, we still had two full rolls leftover and we were able to return them and get some money back too which is always nice!
Applying the Wallpaper to the Wall
So the cutting and measuring was super simple and easy compared to this next part. We ended up trying two different methods of applying the wallpaper to the wall.
Both weren't exactly easy, but we ended up figuring it out enough to make it work.
I will go in to the pros and cons for each method below that way you can decide what you would want to do in this situation.
As I mentioned earlier, this wallpaper was pre-pasted. That means you have to apply water to the back of the paper to activate the paste.
As you can imagine, this is messy and tedious. I believe with peel and stick wallpaper, you do not have to do this.
Although, I cannot say for sure because again, this is my first time using wallpaper of any kind. But, from what I've seen, I think peel and stick may be an easier option for sure.
Method 1: Activate Wallpaper Paste With Sponge
With this method, we ended up getting a bucket full of water and a sponge. Then, we would lay out our already measured strips of wallpaper and activate the paste by using the wet sponge on the back.
This was messy and time consuming, but it seemed to work out okay. Before we would attach it to the wall, we also sprayed down the wall with water as well.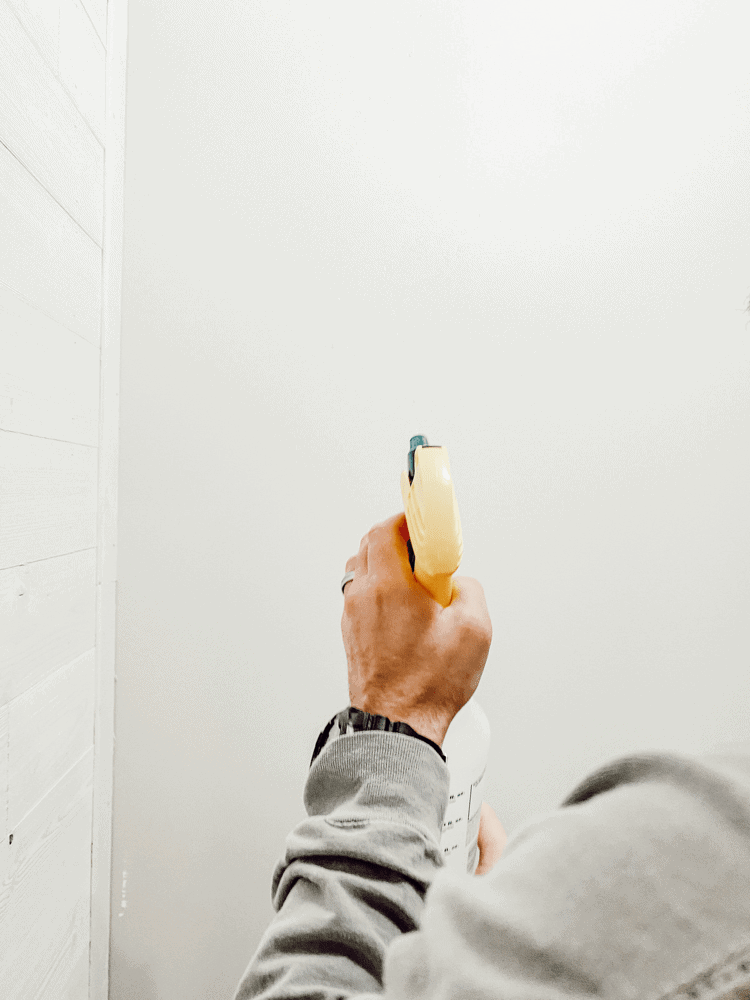 I will say by doing this method, it didn't seem to really activate the paste all the way. I felt like we couldn't get it wet enough and therefore it wasn't really sticky enough to adhere perfectly to the wall.
We noticed a few bubbles even after smoothing the wallpaper down.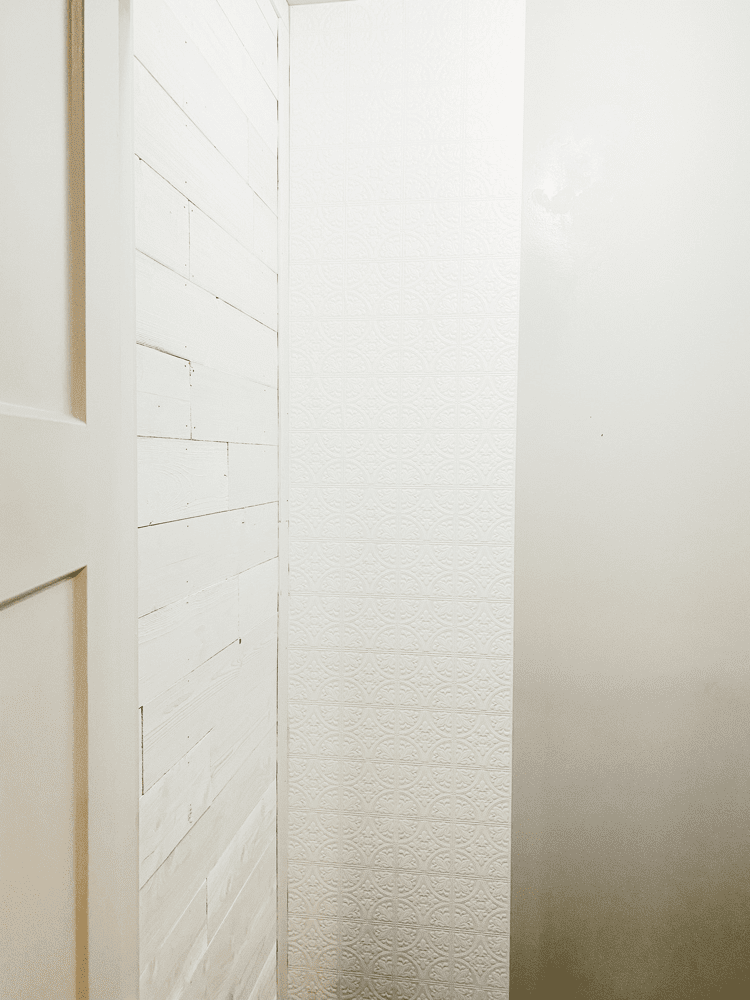 Method 2: Soak Wallpaper in Bin to Activate Paste
I feel like we had the least success with this other method that we tried. We thought since it wasn't getting wet enough from the sponge, that maybe we should just soak it for a few minutes.
I got a big storage container and filled it with water. Then, we placed a strip of wallpaper in it until it was fully submerged.
We let it soak for about 5 minutes and then pulled it out. Now, if you thought the other method was messy, this was way worse!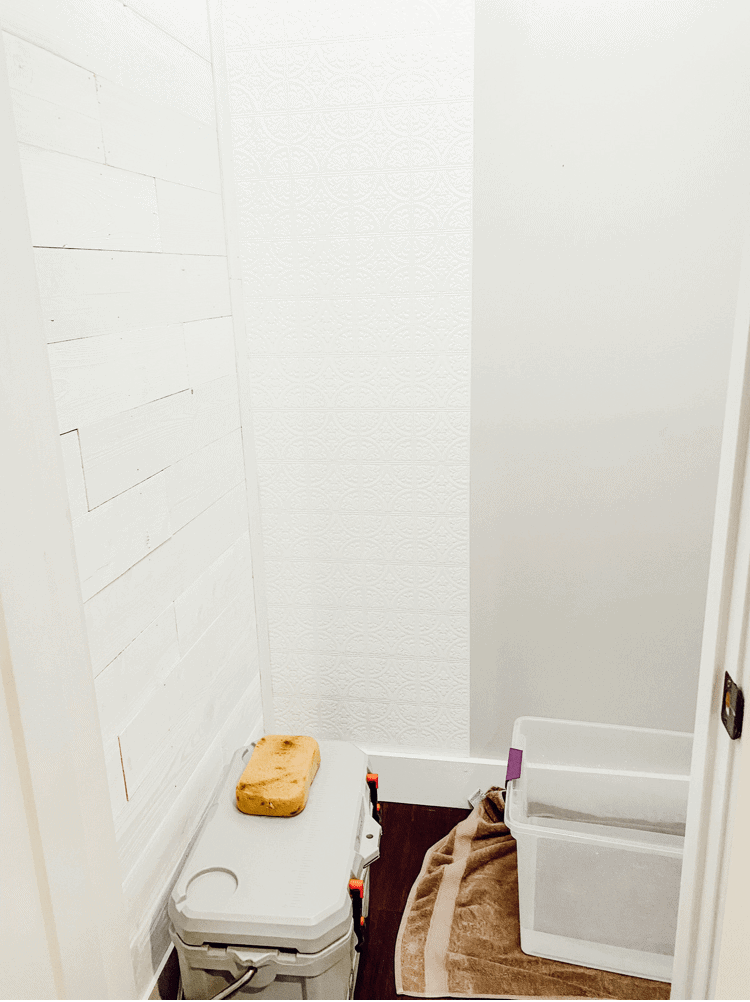 By doing it this way, we ended up losing a few strips of wallpaper too. It got too wet and then when we would try to adhere it to the wall, it would rip.
I think we only got one strip on after doing it this way. And then after two more failed attempts, we ditched this method and went back to the first one.
Tips and Tricks for Your First Time Using Wallpaper
As I mentioned above, we ended up going back to the first method we tried. It worked for the rest of the wall but here are some things I wish that I knew beforehand:
Really get the back of the wallpaper wet with the sponge. Don't be afraid to get it too wet with this method. I think that's where we went wrong the first couple of times since we didn't get it wet enough.

Also, really wet the wall good too. The spray bottle wasn't really enough, so we ended up using the sponge to wet the wall too before applying the wallpaper.
Cut the strips a little longer than you actually need them for. Because when you line them up on the wall, you want them to match up. You can always use a knife to trim off the excess as well.
Take a break when you need to and be patient. This process was pretty difficult for us to do. It was honestly probably one of the harder DIYs we have tackled. So obviously, we got a little frustrated and confused since we have never done this before. When you are feeling overwhelmed, it's important to take a step back and relax!
When smoothing the wallpaper out, use medium pressure. If you're too aggressive with it, the wallpaper could tear or rip. And not putting enough pressure on it will cause it not to adhere well to the wall. We ended up using the wet sponge again too to help smooth everything out and make it stick a little better.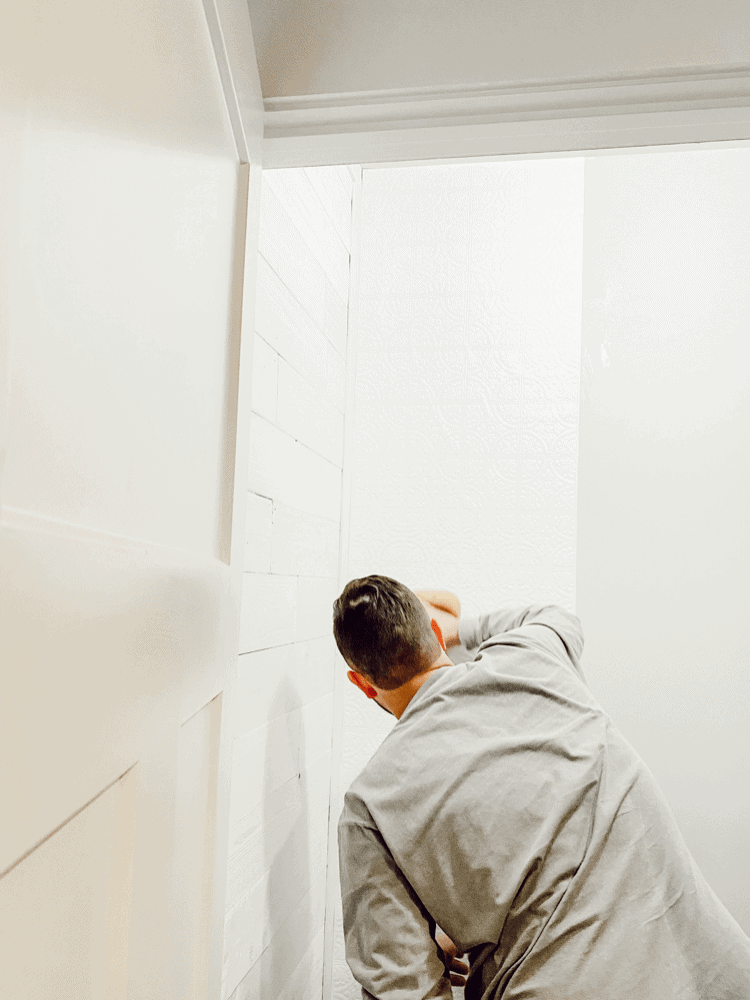 Also, don't worry if your wallpaper doesn't match up perfectly on the top or bottom. As you can see in the picture below, it's definitely not centered on the top. But, we ended up adding some trim to it and now you can't even tell. Plus, the trim really made the wallpaper pop!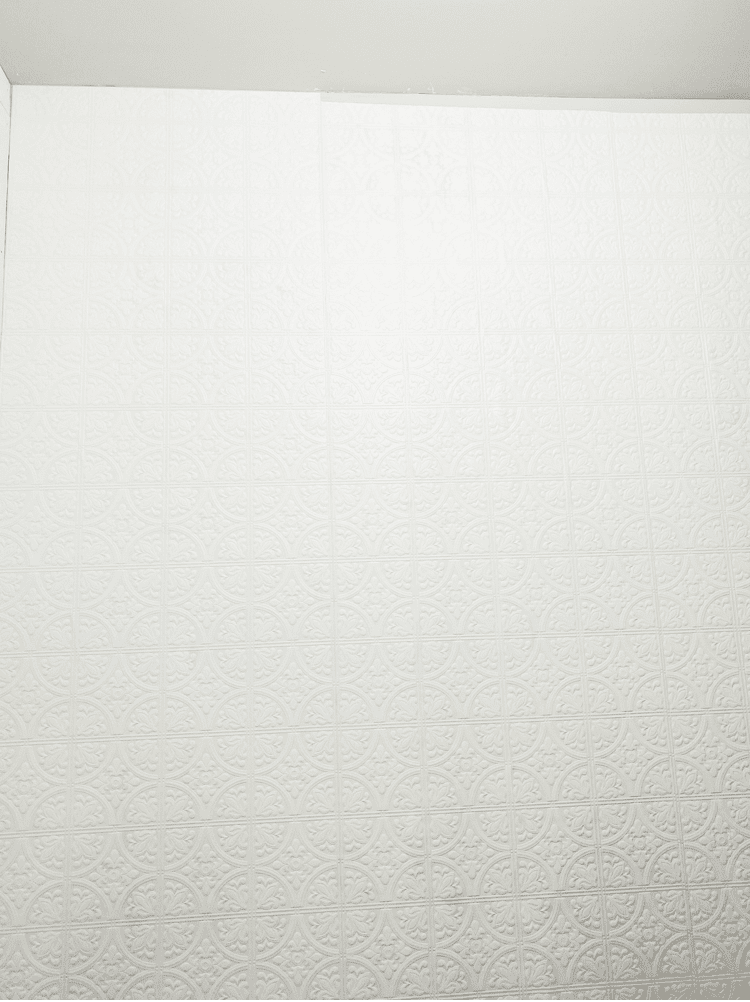 Paint the Wallpaper
Now, this part is totally optional. And especially if you are using a peel and stick kind of wallpaper, you probably don't need to paint it.
This wallpaper is paintable and I knew that going into it. I thought it would be fun to paint it once it was all done. Again, I was wrong!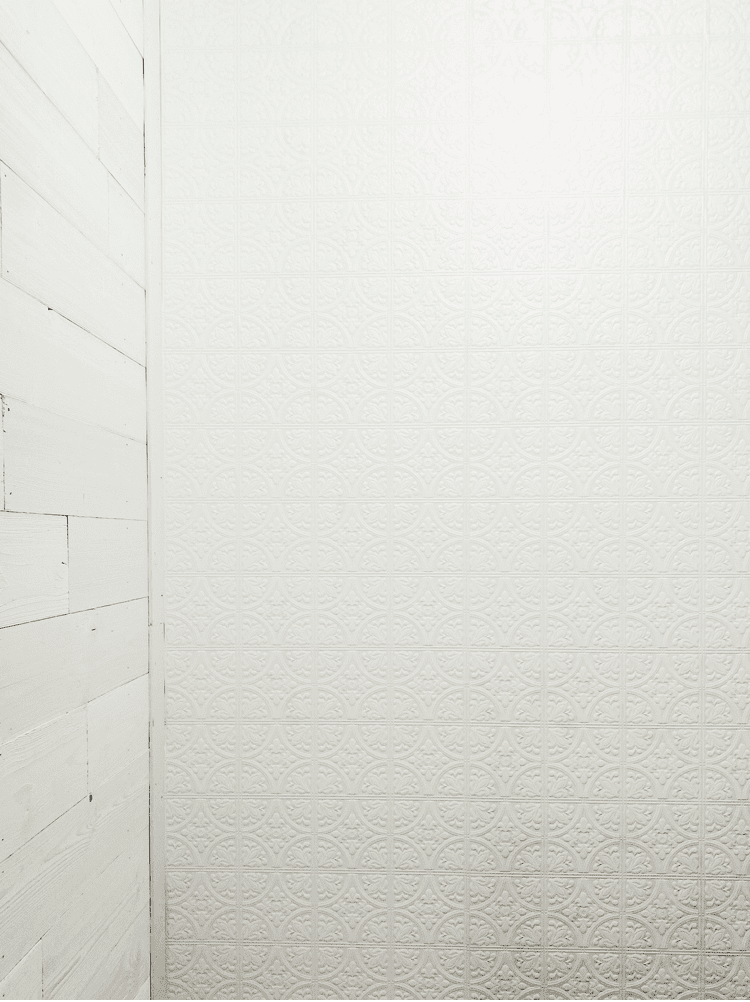 I probably would have kept it the original white if it wasn't beside the white shiplap wall. But I wanted a contrast so I decided to go ahead and paint it.
The only problem with painting this wallpaper was that you couldn't use a roller. It's textured and 3D so I had to use a paintbrush and really get into all the nooks and crannies of the wallpaper.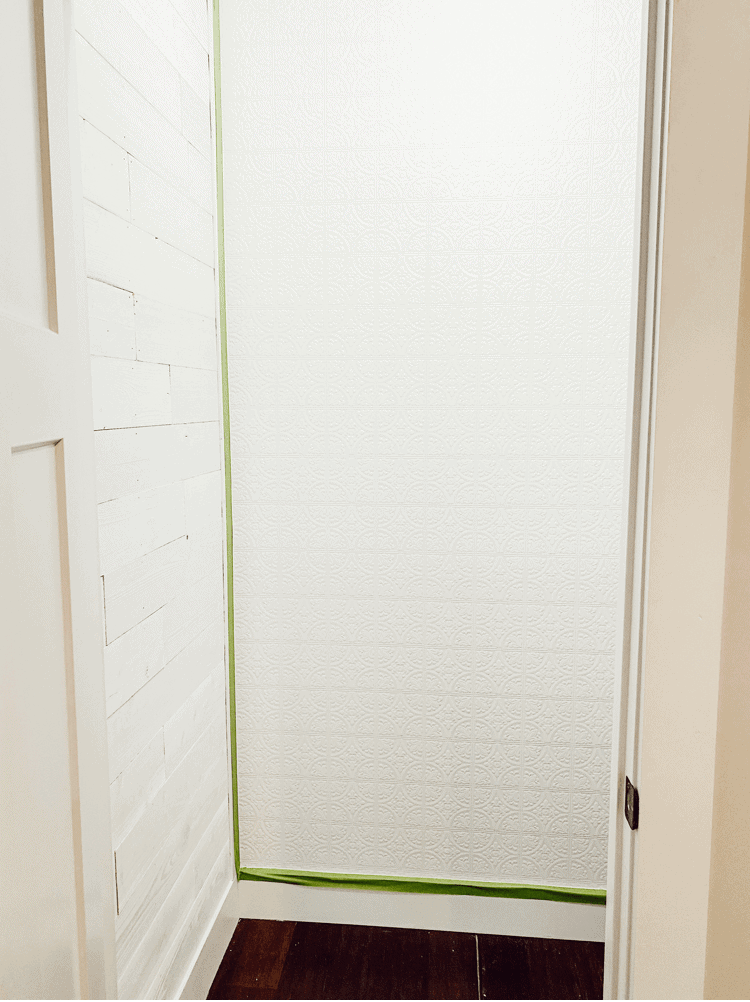 My first thought about color was to paint it black to make it really stand out against the shiplap wall. Although I was worried that it would be too dark and really make the space feel small.
And this is already such a small space, I didn't want that. I ended up having some leftover wallpaper and I decided to cut out a few squares of it to test paint on.
I had some leftover paint already too and wanted to use what I had on hand to keep cost down.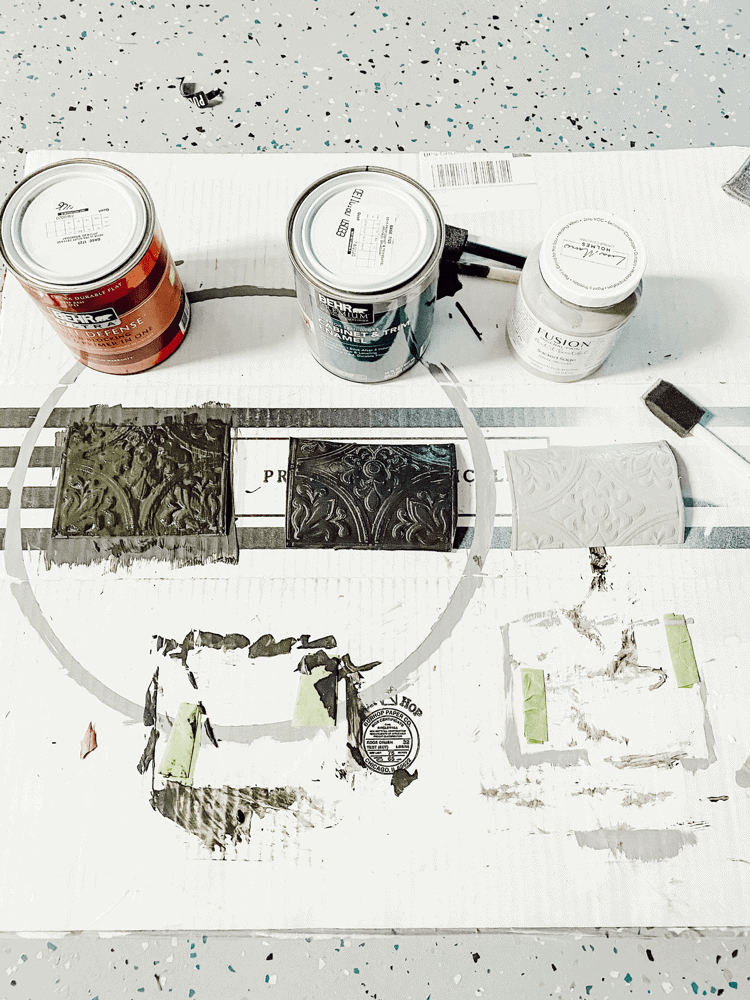 I ended up liking Fusion Mineral Paint in Sacred Sage the best. If you remember, I shared all about Fusion Mineral Paint last year and even re-did a mirror with it as well too.
It's honestly one of the better paint brands in my opinion and goes on so smooth! But for this wall, with all of the texture, it ended up taking me a total of three coats to fully finish it.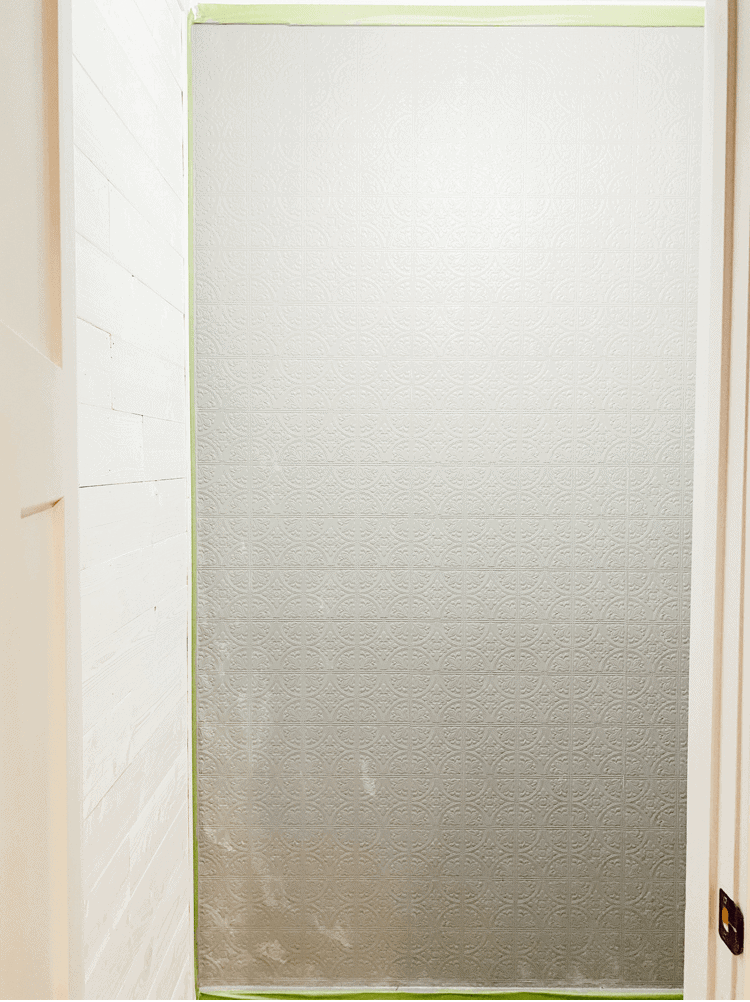 First Time Painting Wallpaper Tips:
When we placed the wallpaper on the wall, we noticed there were a few spots of bubbling. We didn't think too much of it because it was past the door where you didn't see it much. However, after I painted it and let it fully dry, the bubbles went away! I don't really have the answer as to why it did this, but I was so relieved. I did notice that the bubbles got worse as I painted over them, but then when it dried overnight, they were all gone!
If you do end up getting a few air bubbles and they don't come out after painting them, don't fret! You can order a wallpaper repair kit from Amazon. That's what we did at first too, but ended up sending it back after we realized the bubbling had disappeared.

To repair it, all you would need to do is get some wallpaper seam glue and some syringes. You would then fill the syringes up with glue and poke it into the bubbled area and release the glue. Then you would just smooth it out. There are several Youtube videos on this too that you can reference. I will link what we ordered though in case you're curious too:

Conclusion
Well, I hope you enjoyed this post about my first time using wallpaper. I am glad we did it to say that we did it, but will we ever do it again? If I am being honest, probably not.
At least not the pre-pasted kind. I would be interested in trying the peel and stick kind to see how that differs. But that one was more expensive too so that's another reason why we chose pre-pasted for this project. I am also very glad we did it in a small space and not some huge wall.
I would definitely recommend starting in a smaller space too if it is your first time using wallpaper as well.
All in all, I am happy that this part of the project is complete. And now we are one step closer to finishing Toby's room! I don't think he cares though about all the hard work that we have put into it so far!
Have y'all ever tried out wallpaper before? If so, what was your experience like? Did you love it or hate it? Let me know, I'm dying to hear!