If you're wondering how to create an easy basket wall for your home, then this post is for you! I am sure you have seen one of the newest home decor trends on Instagram or Pinterest: a basket wall.
I am not sure who started the trend and who thought it would be a great idea to hang random baskets on the wall, but I gotta say I LOVE it.
I decided to do an easy basket wall in our bedroom and I am so happy with how it turned out. It literally only took a few minutes and it makes such a statement on our wall.
I am so happy with how it turned out! If you're wondering how to achieve this look in one of your rooms at home, then keep on reading to see just how easy it is and how it transforms a space!
This post contains affiliate links. Click here to read my disclosure policy.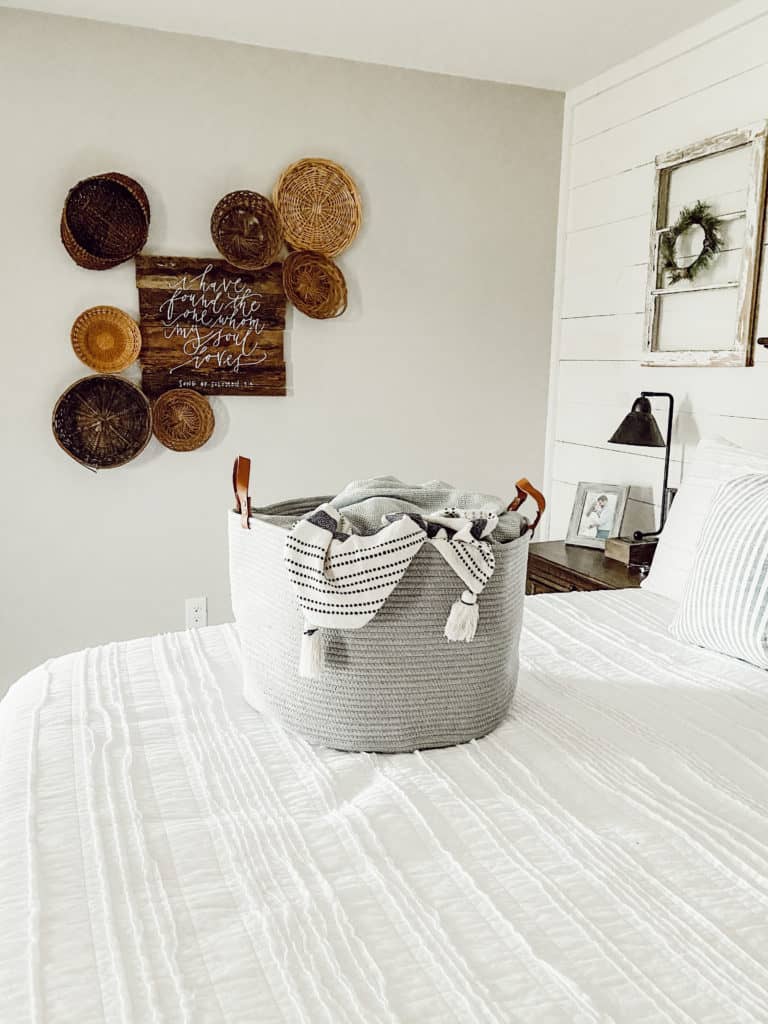 Coming Up With A Gameplan
I decided to do my basket wall a little differently. I wanted to have that beautiful, handmade reclaimed barn wood sign as the center to it.
I've seen many amazing basket walls that just have baskets placed on the wall and no signs with them, but I wanted mine to have a little bit of a different look to it.
I originally had that sign hanging above our bed, but I wasn't happy with it's location there. It was too small of sign for it to be the focal point above our bed.
But, it is the perfect size to be a focal point for my basket wall, which is on the wall to the left side of our bed. So I was still able to incorporate that sign in our bedroom, which is what I wanted all along.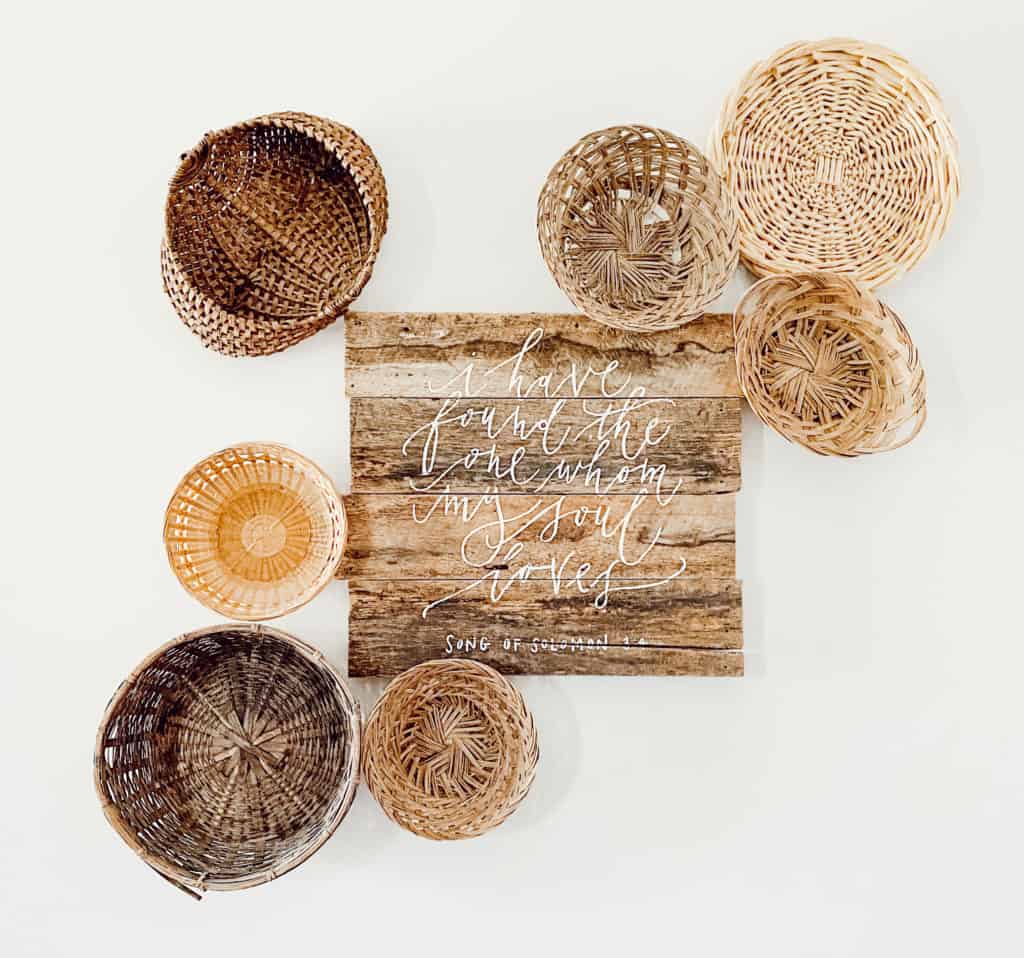 Where To Start To Create Your Easy Basket Wall
To start your own basket wall, you have to be on the hunt for random sized baskets. I started collecting them a few months before we actually made the basket wall.
I wanted to be sure I had enough before we hung them on the wall. I had no rhyme or reason to picking them out. If I saw one I liked, I would simply just buy it.
I like the way the baskets look when they are all random shapes, sizes, and colors.
Some great places to find baskets at:
Antique Stores
Thrift Stores
Facebook Marketplace
Goodwill
Amazon
Kirkland's (these may be a little more pricey, but you can find a matching set more easily at a big box store like this)
If you're wanting to stick with a similar style of basket for your wall, then it may take a little longer to find them all. But don't give up your vision!
Even though I didn't have a specific style of basket I was looking for, it still took about 6 months to find them all and hang them all up.
However, I wasn't looking all the time either. I would just occasionally pick up one or two when I saw them at a store.
The good news is you can find these baskets pretty cheap so it is a great way to cover up wall space without spending a fortune!
I think most of the baskets I got were only like $2 and the most expensive one I got was maybe like $10, and it is the biggest one on the wall. So it definitely isn't hard to invest in a basket wall!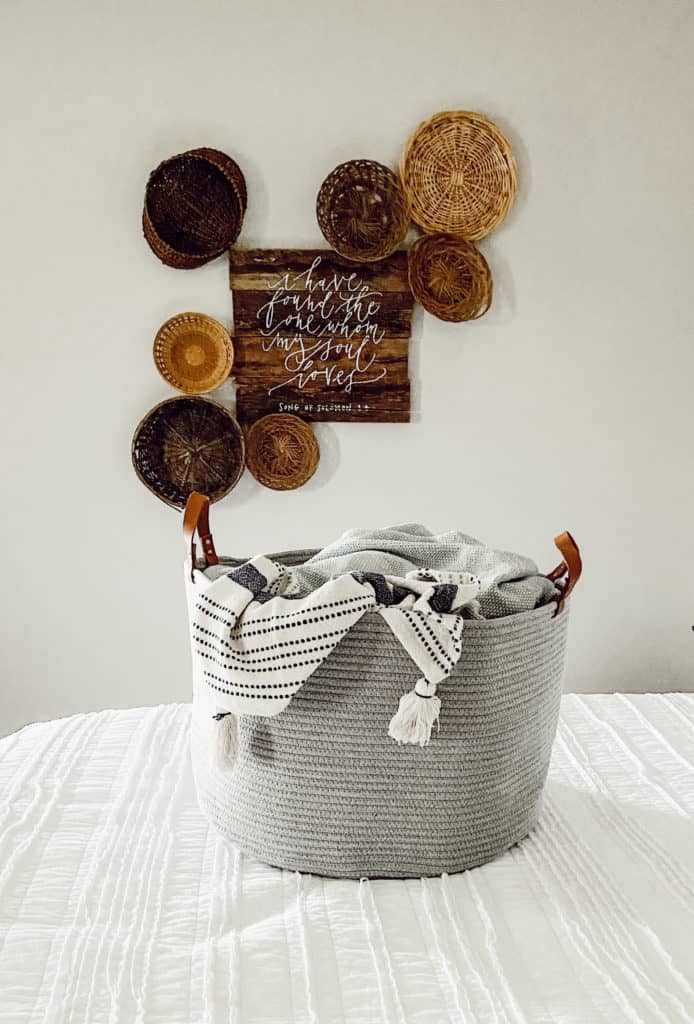 How To Hang The Baskets On The Wall Easily
I didn't really have a set way that I wanted to hang the baskets up. I just knew I wanted to have the sign in the middle of the wall and somehow place the baskets around it in a pleasing pattern.
So basically all I did to achieve that was lay it all out how I wanted in the floor and then took a picture of it so I could remember where to put each basket.
Then, I just had my hubby help me hang everything where I wanted it. We just put one nail through the center of each basket and it was enough to hold them up since they weren't very heavy.
If you have bigger and heavier baskets, you may want to secure it more with another nail but that's totally up to you!
There wasn't a specific science to the way I hung them up. If you wanted to be more precise, you definitely can.
You could always trace the size of the baskets out with kraft paper and arrange the paper pieces on the wall with painters tape the way you like them.
And then, you can hang each basket up after you take the paper down one by one.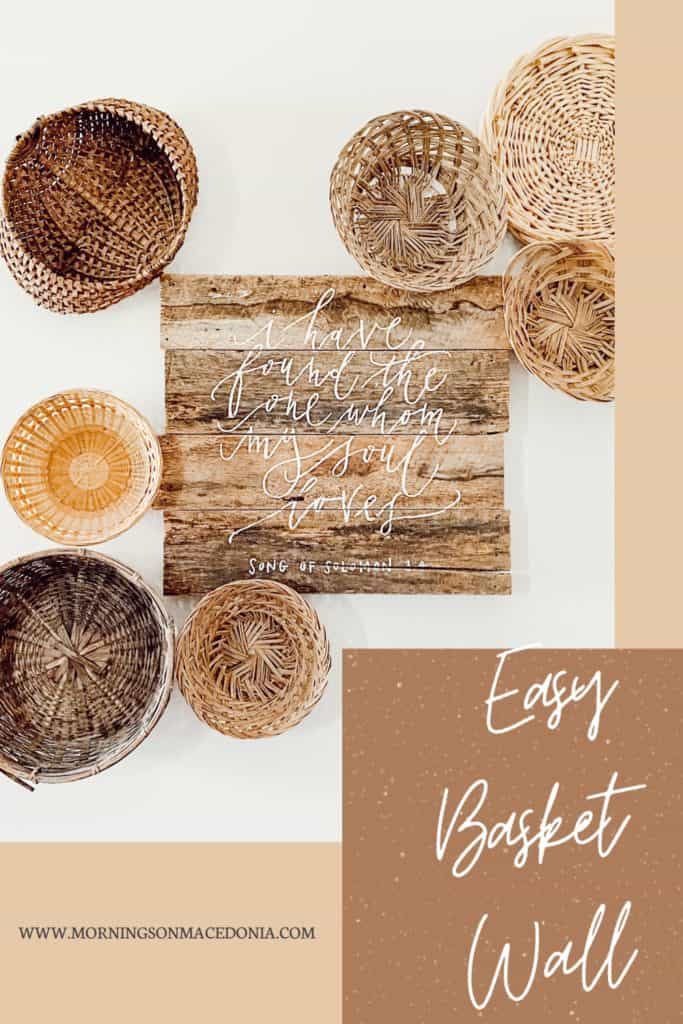 Conclusion
However you want to hang up your basket wall is totally up to you! I didn't want to bother with all those extra steps of hanging up kraft paper and then having to take it down.
I say the less steps, the more easier it is to come up with your basket wall. I think the way we did it- just by eyeballing it- turned out just fine!
So there you have it! That's literally all you have to do in order to create your own basket wall! It was such an easy DIY project but it has such a great outcome.
If you're looking for another easy DIY project, then check out my painted terra cotta pots too!
I love all the texture it adds to our bedroom and it really fills up that wall space so well! Have you all ever done a basket wall before? If so, I would love to hear about it! And if not, you should definitely try it out!