I am so excited to share with y'all the first of a mini series of blog posts! I will be sharing them throughout the next few weeks. I am a crazy cat mom and we have decided to re-do Toby's room downstairs! Yes, my Toby has his own room!
It's just a little room underneath the stairs. Instead of having our contractor close that space up, we decided it would be good for storage. We asked him to leave it open and include a door there. This was done even before we got Toby. So when we got him, we always just placed his litter box there.
We didn't really think too much about the room ever since. But, I thought this would be a good space to practice some of our bigger DIY projects. For example, doing a DIY shiplap wall here.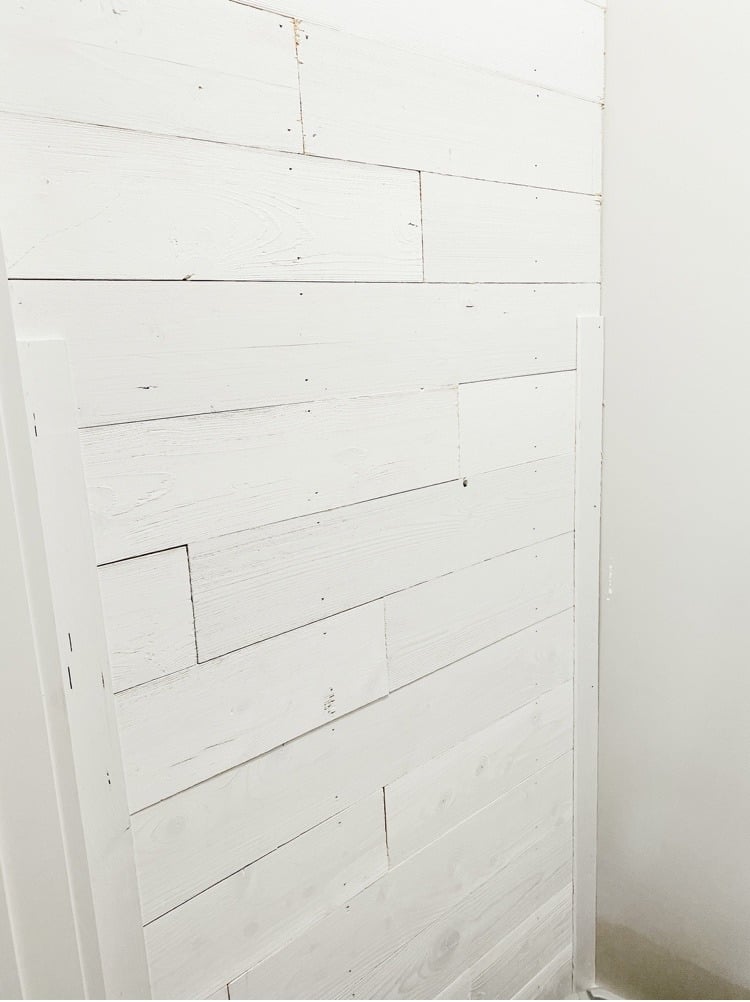 This way, if we mess up, we can easily hide the space! This was actually apart of my Valentine's Day present from my sweet hubby.
I have been begging him to do some kind of DIY shiplap wall downstairs so this was a perfect compromise. And I am so happy to report that it actually went very well and wasn't too hard to do!
We aren't just doing shiplap either, we will be doing a number of different things in here too. That's why I thought I would break it up into different posts so I could over everything in more detail about each step.
And that way I won't have just one really, really long blog post about it.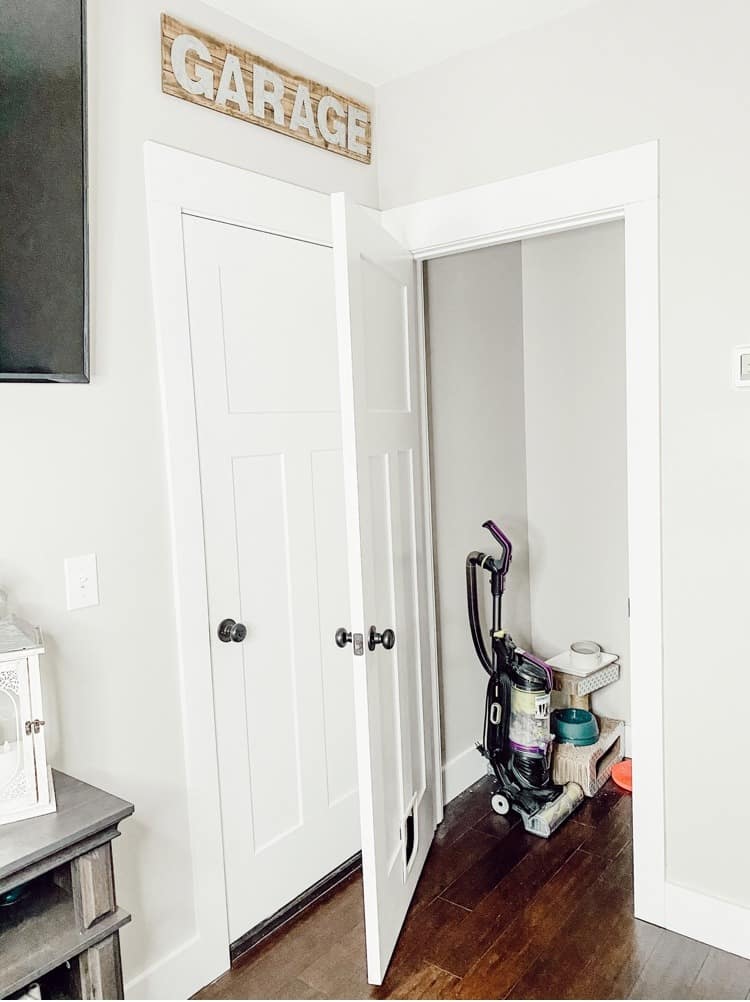 This post contains affiliate links. Click here to read my disclosure policy.
Materials Needed for DIY Shiplap Wall: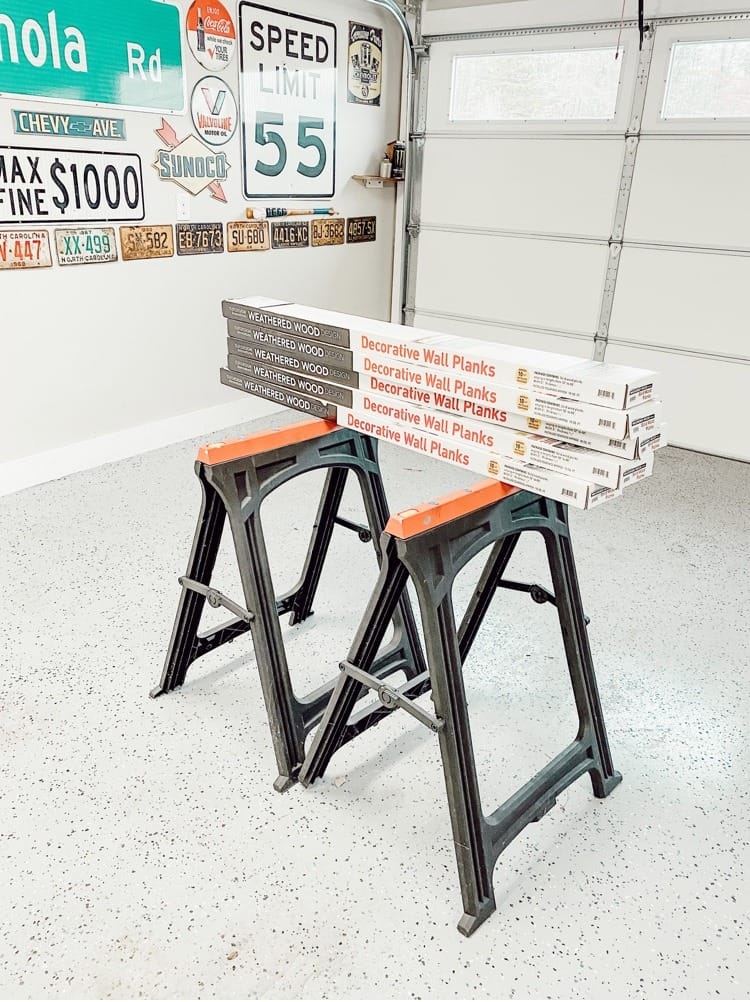 Find the Studs in the Wall
The first step in this project is to find all the studs in the wall you are going to shiplap. My hubby used his stud finder and then when he located where the studs were, he drew a line with a sharpie up the wall.
This way he can know exactly where to insert the nails with the nail gun. The planks will be more supported if you attach them straight to a stud in the wall.
Also, drawing a line on the wall isn't a big deal because we are going to be shiplapping right over it so you won't see it at all.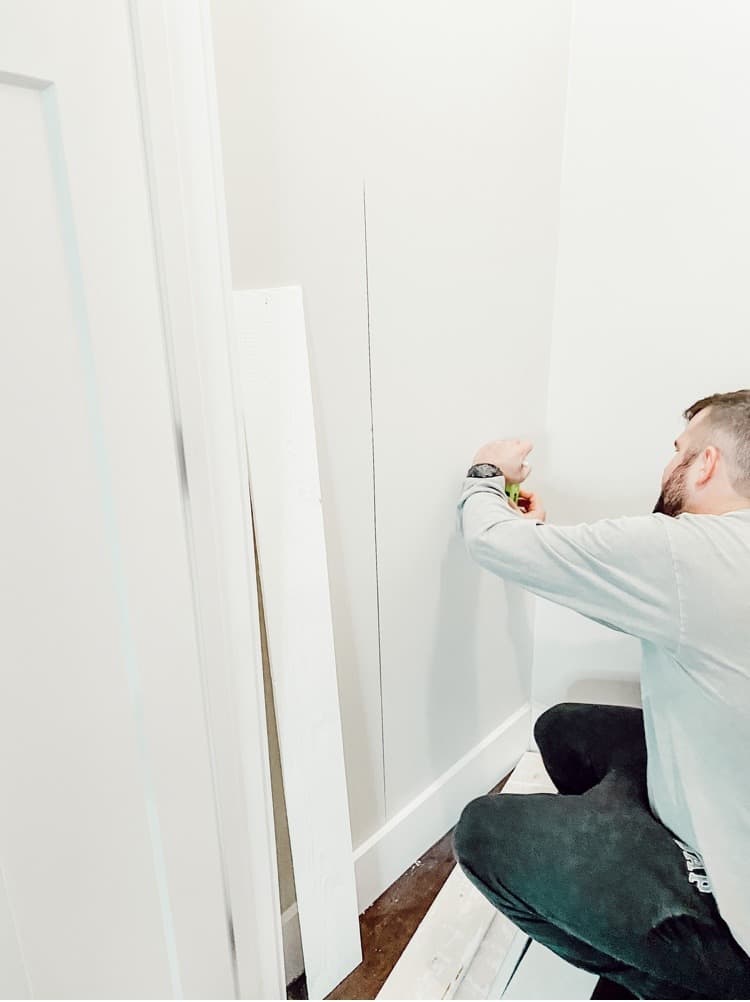 Cut the Shiplap
Now once you know where the studs are, you can start cutting the wall planks. But of course be sure to measure your wall first to make sure you have enough material.
This wall is extremely small, about 8′ by 3′. This was definitely a great wall to practice on because we are wanting to do more shiplap in the future on bigger walls downstairs.
To attach them to the wall, we just kind of did long and short pieces here and there. It gives it texture and dimension and makes the wall planks look more like real shiplap.
My hubby did mainly all of this himself and just kind of judged how the pieces should fit together. So you can basically just eyeball it and do what looks good to you.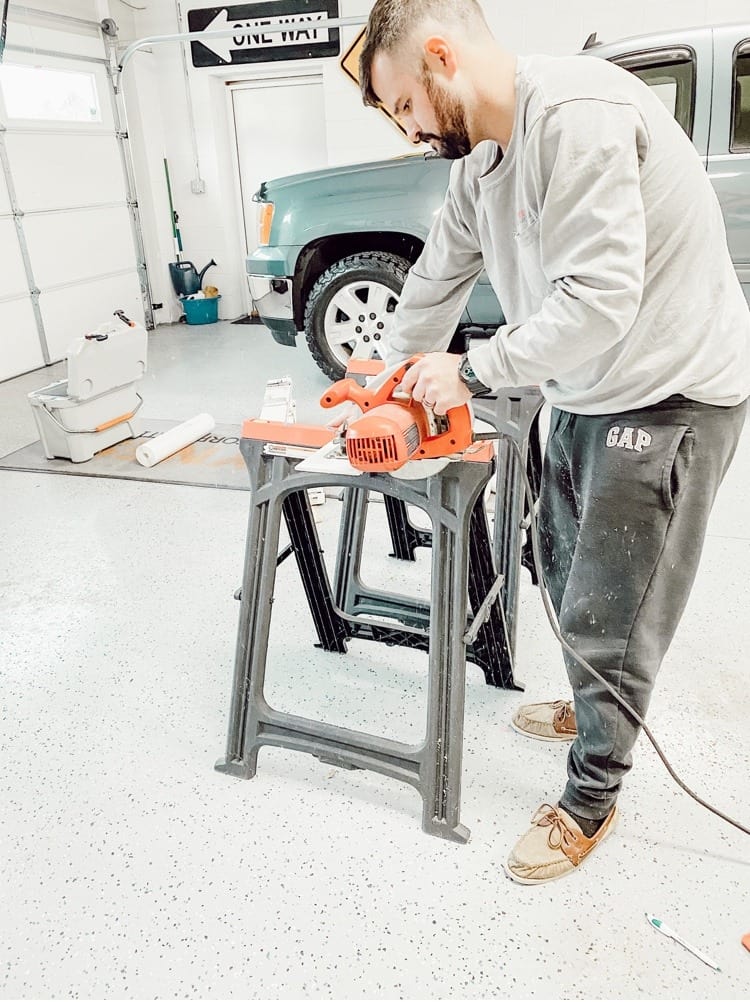 Attach the Wood Planks to the Wall
Once you have everything cut and sized, you are ready to attach them to the DIY shiplap wall! We didn't have a nail gun so we ordered a cheap one off of Amazon.
And y'all that thing works perfectly! The best part is, it was only $35 as well.
So really all in all, this project wasn't too expensive even though we needed to purchase more supplies for it. Obviously though if we were doing a bigger wall we would have needed many more wall planks.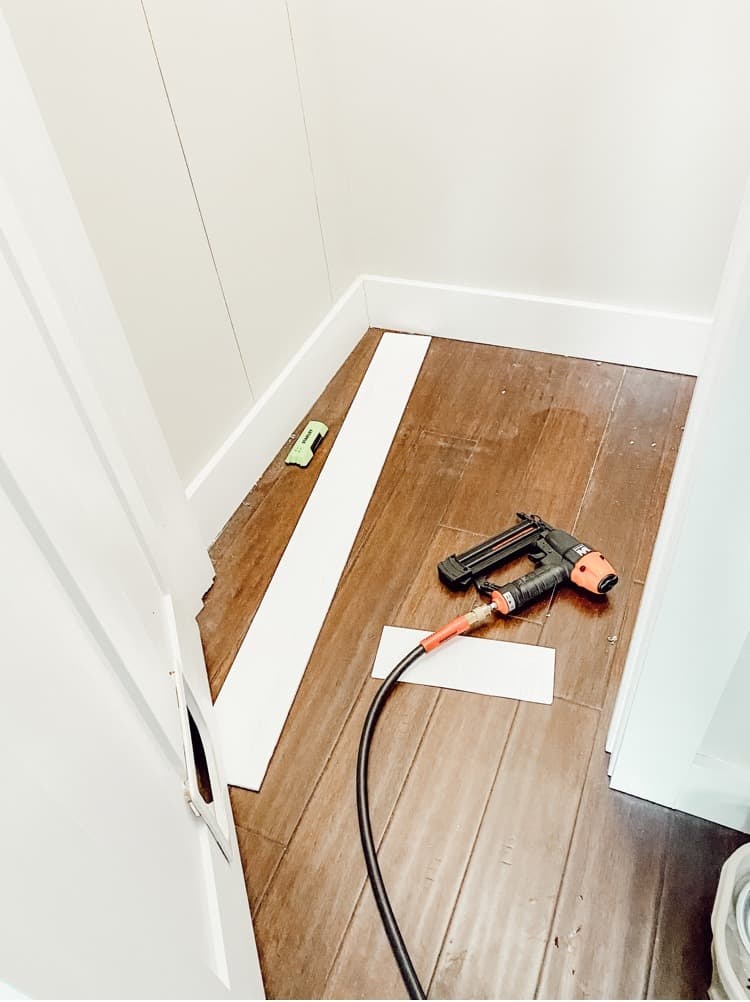 The only downside to this particular nail gun is that it is not cordless. But hey, for $35, you can't really complain too much.
We were both very satisfied with it and it worked like a charm!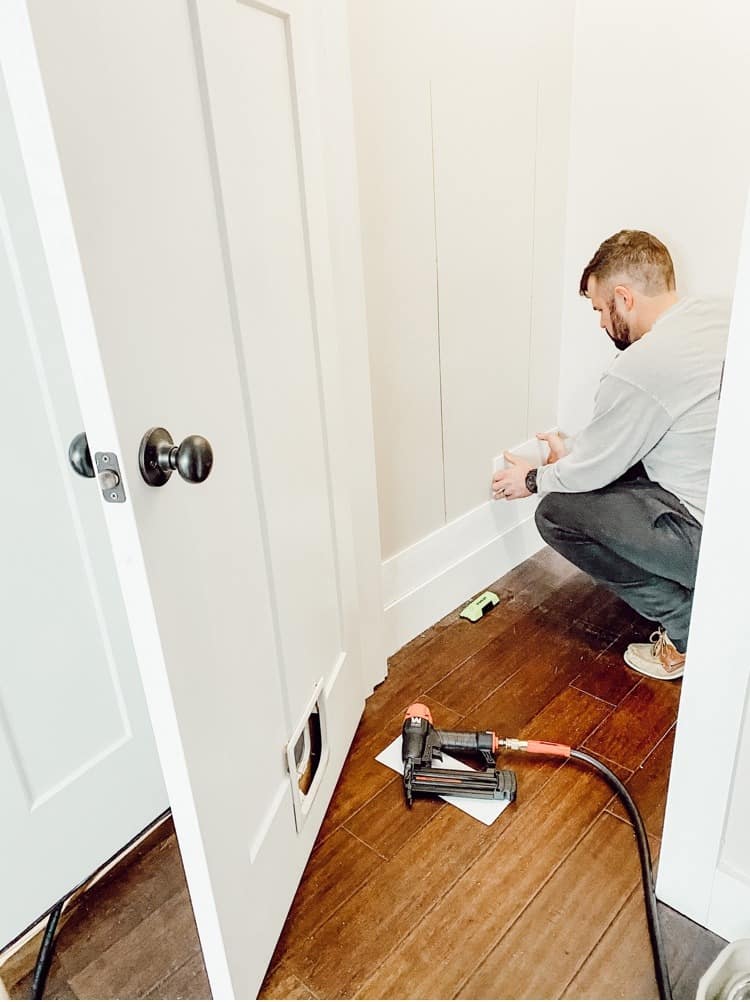 Add Trim to the Shiplap Wall
Once you are all done shiplapping, then you can add some trim around the wall. This gives it a more polished look. Now you can buy actual pieces of trim for this part or the project or be thrifty like us.
We had some leftover wood planks so we just measured how wide the trim should be and then used the saw to cut the trim pieces out.
It turned out just fine and saved us a little bit of money doing it that way instead. We also went back and caulked around the trim to give it a more finished look.
Conclusion
This part of the project was actually really easy and simple to do! I enjoyed it and I love the way it turned out! If you want to do a DIY shiplap wall too, then I highly recommend it.
This was a baby step for us moving onto bigger DIY projects. As you know, I like to keep things simple and easy around here (like just up cycling some furniture) so I haven't done too many big projects like wall treatments.
The next step in this journey is all about our first time doing wallpaper in this room too. And let me tell you, that was not as easy! It was much harder than anticipated so be sure to stay tuned for my next blog post about it.
I will be giving you all the tips and tricks that we learned along the way!