We recently just got back from a trip to the beach and I wanted to share with you guys all the best places to eat in Myrtle Beach! We definitely stuffed ourselves full so I would say we are pretty experienced in this area!
And plus, we come to the North Myrtle Beach area quite often. This is actually our second time coming here this year alone.
So take a look at this list if you are planning a trip there soon too and you want all the details of the best places around to eat!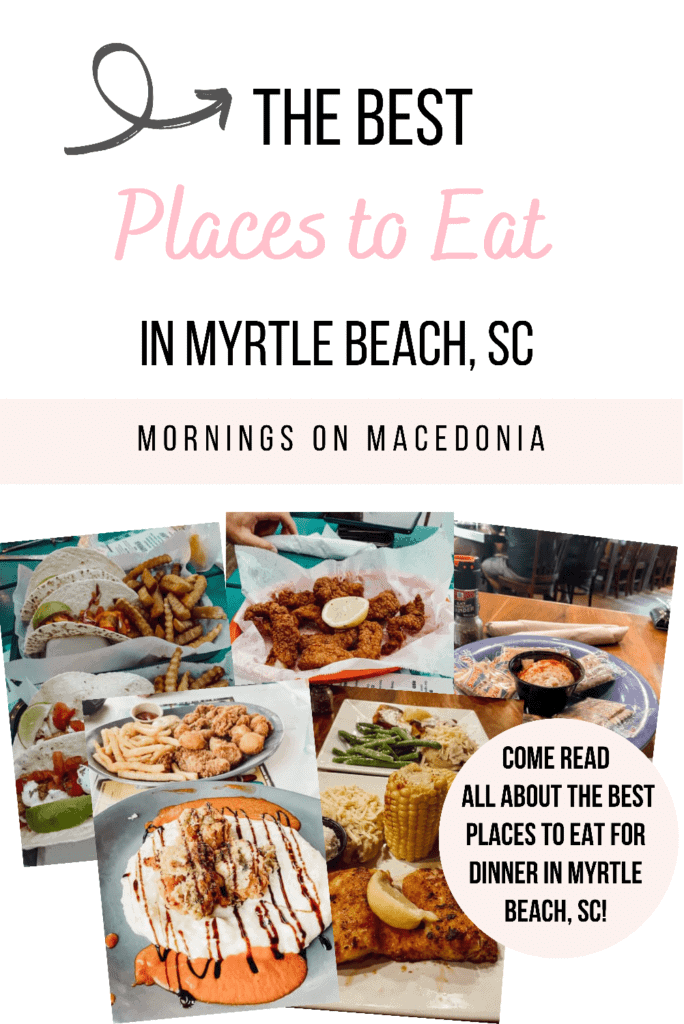 Flying Fish Market
I would say hands down Flying Fish Market is the best place to eat in Myrtle Beach. We absolutely love this place and try to eat there every time we come down.
They first bring you out a delicious Smoked Mahi Mahi dip (for FREE!) while you read over the menu and decide what you want.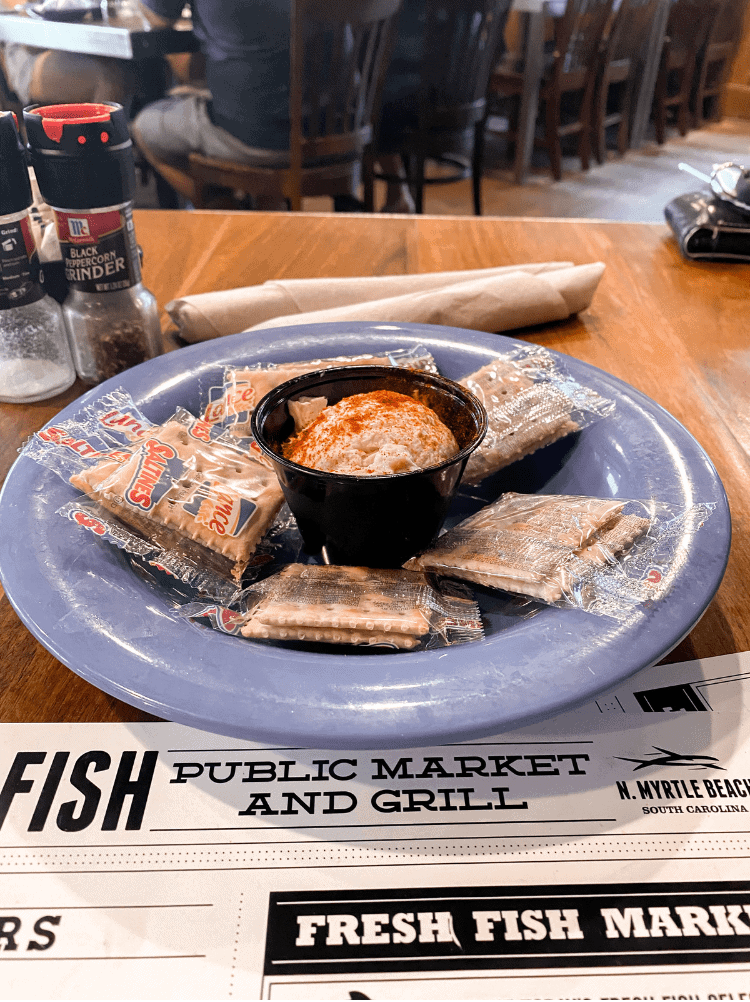 I would recommend that you get the fresh catch of the day. Or what they call it, the fresh fish market. They have several different fish to choose from.
Then, you get to decided how you want it seasoned or breaded and what kind of sauce to go on it.
My husband and I both got the fresh Mahi Mahi and I got it breaded with honey lime butter on top. The breading they used is made with jalapeño goldfish and let me tell you, it was delicious!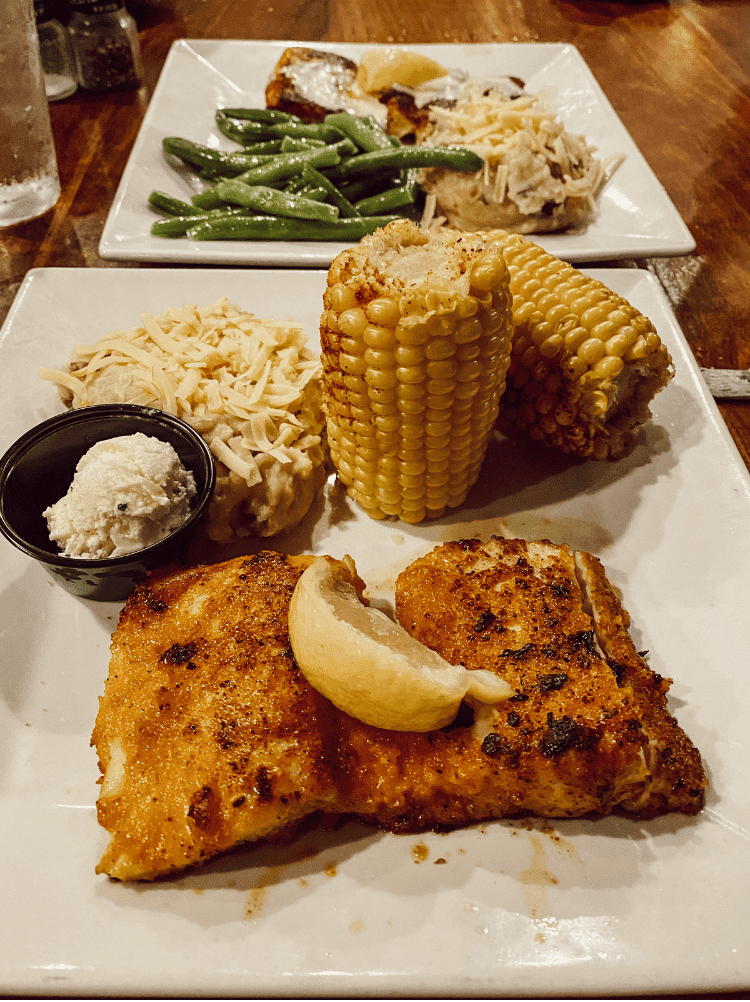 Oh and also, their gouda smashed potatoes are the bomb! You must get those as one of your sides if you go. Their vegetable sides are also really delicious as well.
The corn and green beans are nice and fresh. And if you like Old Bay seasoning, then the corn is for you since that is what they season it with!
So as you can see there are plenty of reasons why I think Flying Fish Market is the best place to eat in Myrtle Beach!
Bummz Beach Cafe
This cute little place is a little off the beating path in Myrtle Beach. It's actually pretty easy to miss because it is so small.
And it is located between two tall hotels, so if you aren't looking for it, you may miss it! But, you definitely don't want to!
As an appetizer, we got their fried "groupa fingers" and they did not disappoint. They come with a selection of sauces too. Cocktail, Tartar, and their special seasoning sauce (which was the best one in our opinion!).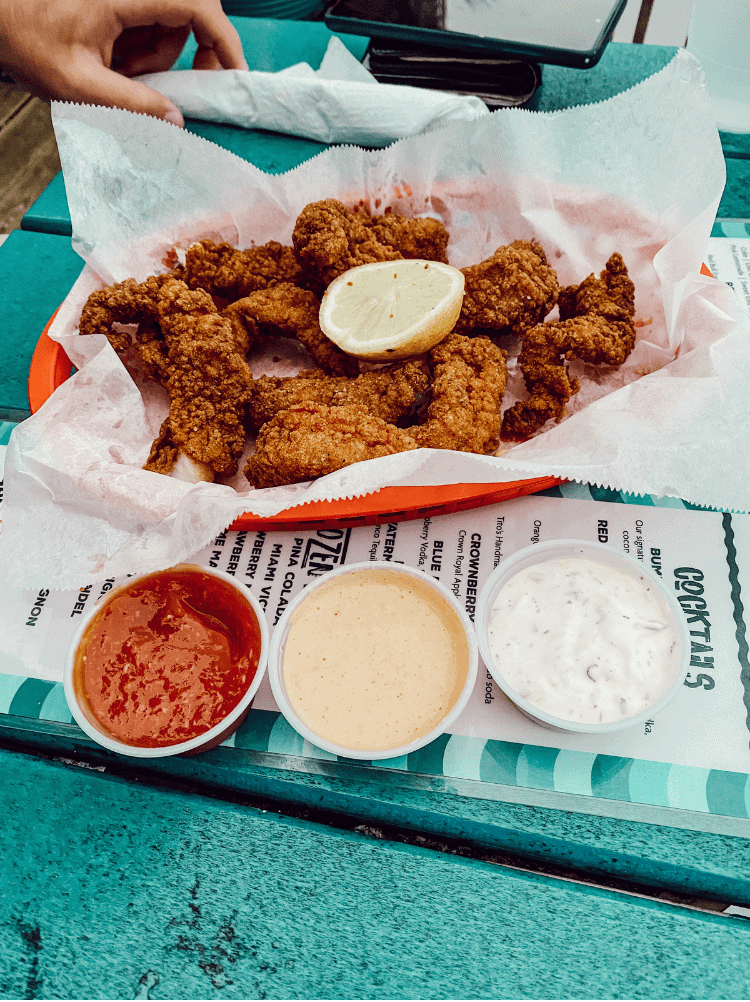 For dinner, we ended up getting fish tacos and boom boom shrimp tacos. We split them and had one of each flavor, and both were fantastic!
Their special seasoning is what they put on the shrimp tacos too and I highly recommend!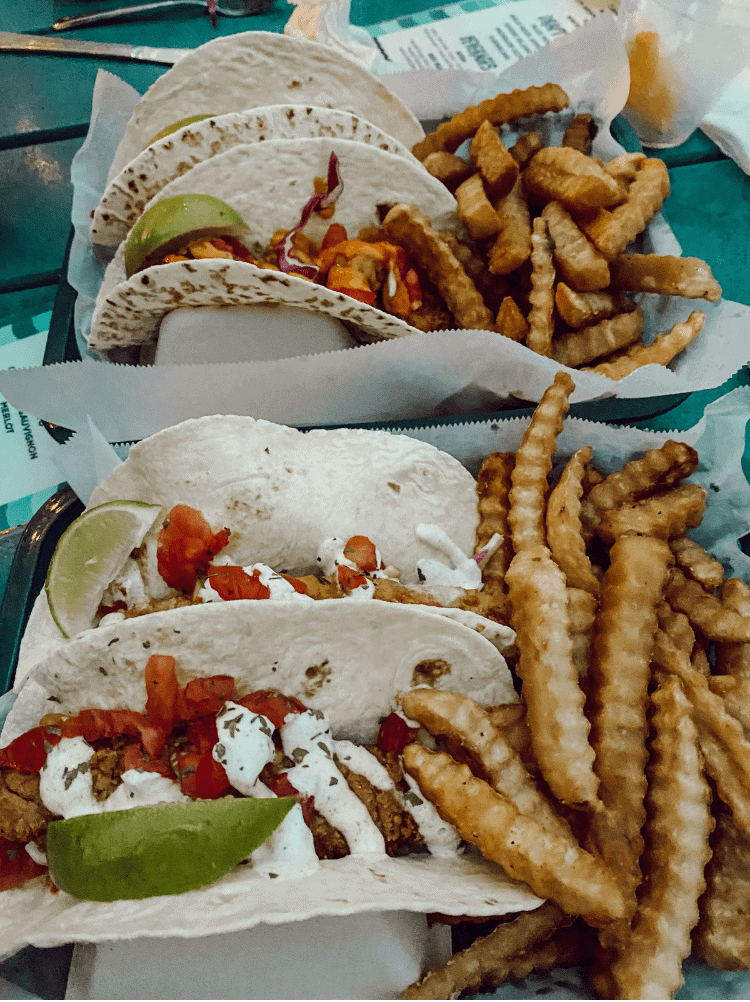 Some other reasons why Bummz is one of the best places to eat in Myrtle beach is the atmosphere! They have a band playing live music nightly and it is oceanfront!
We were able to eat outside and enjoy the waves rolling in. They are also very reasonably priced as well. The tacos ranged from $12-$13.50 and that included the fries too.
So definitely check this one out if you have the time for it! But, be sure to check their hours when you go too. They closed kinda early for Myrtle Beach, 9:00 pm when we were there.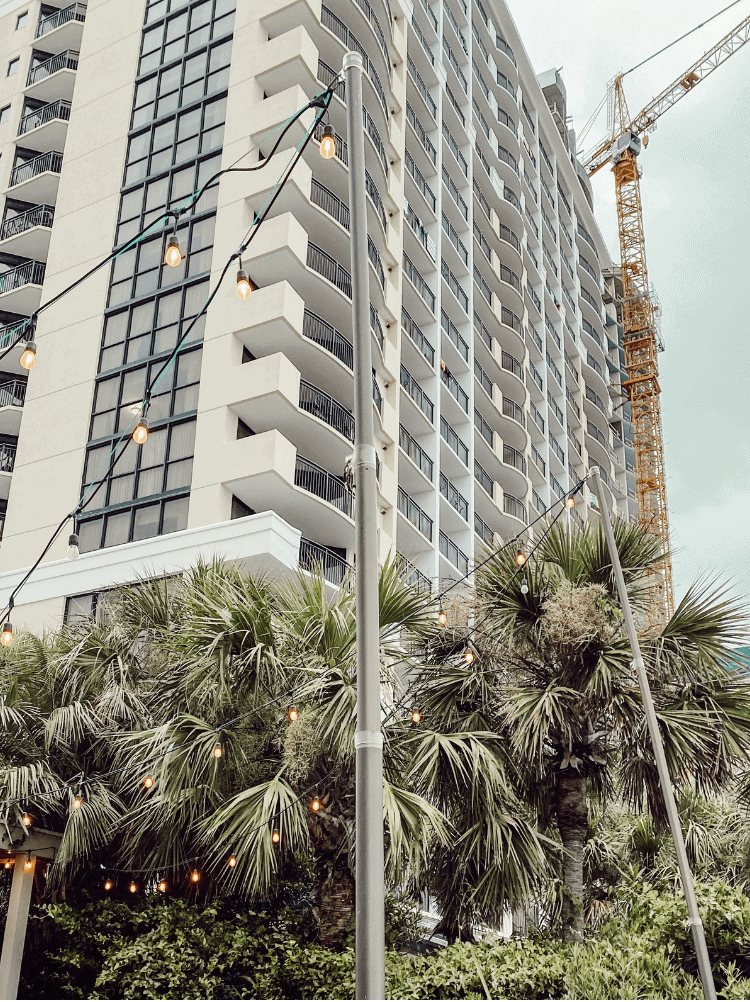 Wicked Tuna
Another great place to eat is Wicked Tuna. We have been here a few times as well and have really enjoyed it. They have two locations too.
One right on the pier in Myrtle Beach and one located a little further away in Murells Inlet. I will say I think I prefer the one in Murells Inlet just because the atmosphere seemed a little better there.
Also, the service at the Myrtle Beach one this time was extremely slow. I think it was because of COVID, but still just giving you a heads up in case you want to try this place out too.
But, when we went, they were out of tuna. Ironic right?! Lol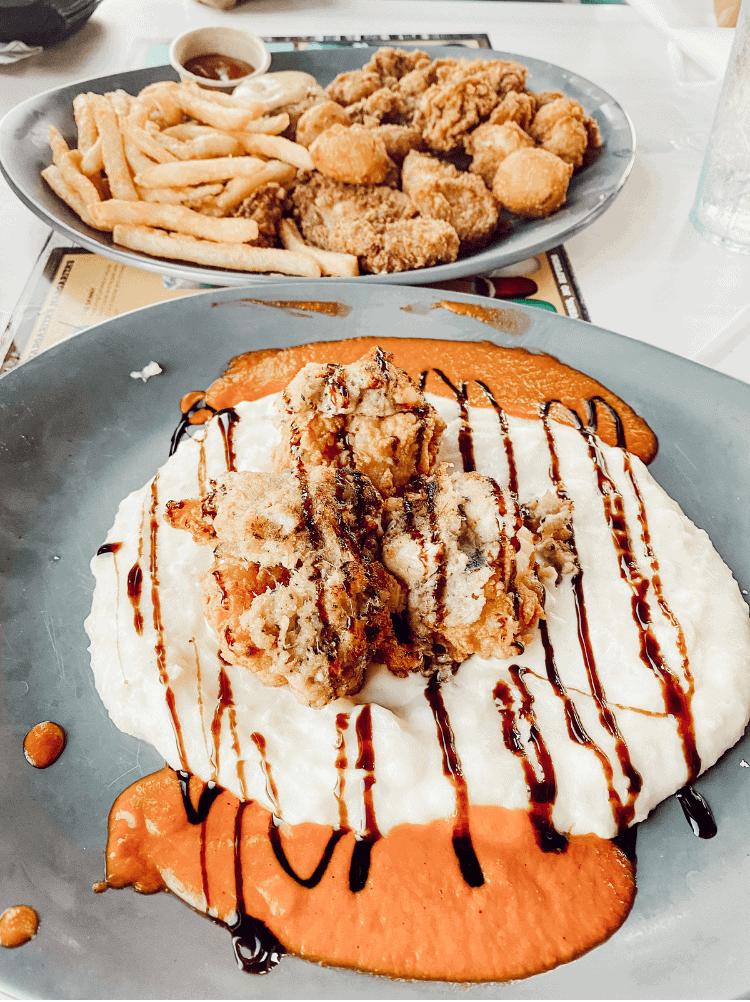 I ended up getting the jumbo shrimp stuffed with crab meat on top of mashed potatoes. This is actually the same thing I got the last time we went to Wicked Tuna a few years ago.
I remembered it all this time because it was literally that delicious! This meal is a little pricey and well worth it in my opinion.
The sauce underneath the mashed potatoes is incredible. This is a meal I know I could never make myself at home and that's why I enjoy it so much!
Taco Mundo
I normally don't like to eat anything but seafood at the beach. But I would definitely consider Taco Mundo to be one of the best places to eat in Myrtle Beach as well!
Especially if you don't like seafood and are craving Mexican food. We definitely were towards the end of the week so this was a perfect option for us for dinner.
It was so delicious and the view was incredible! It's located at Barefoot Landing, which is another fun place to explore while in Myrtle Beach too.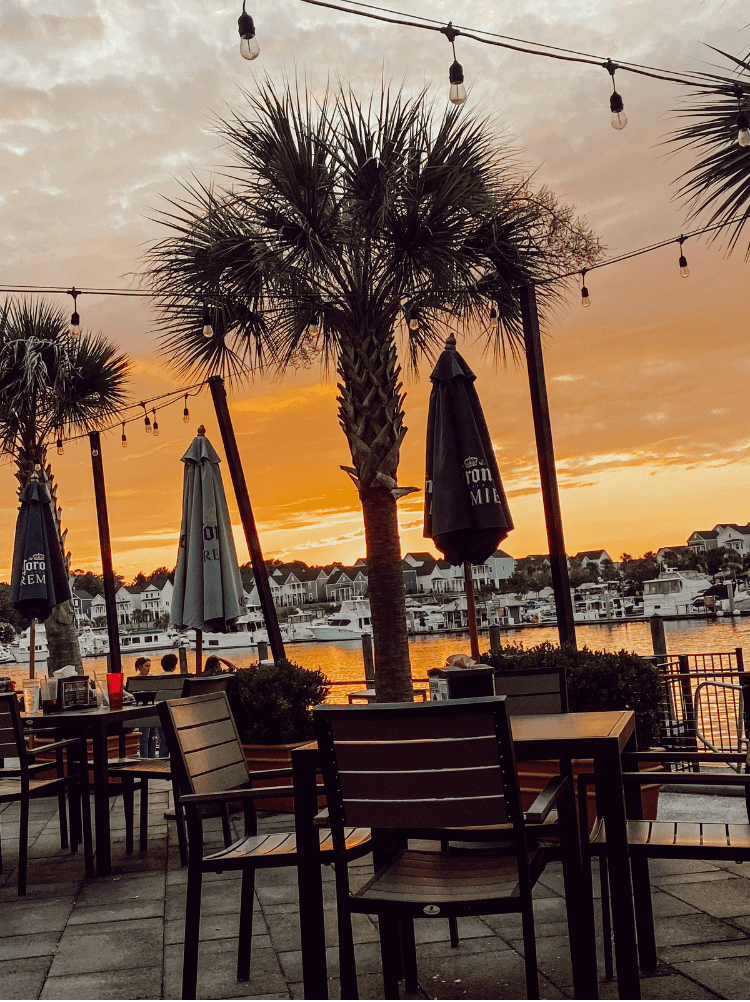 They bring you out chips and salsa (of course) and the salsa was very fresh and tasty. I did end up getting the fish taco (I just couldn't completely stay away from seafood lol) and the Kimchi Beef taco as well.
I surprisingly loved the beef taco! The seasoning was on point. My hubby also loved his Hawaiian chicken taco too.
You really can't go wrong with whatever taco you decide on here! We will definitely come back here in the future!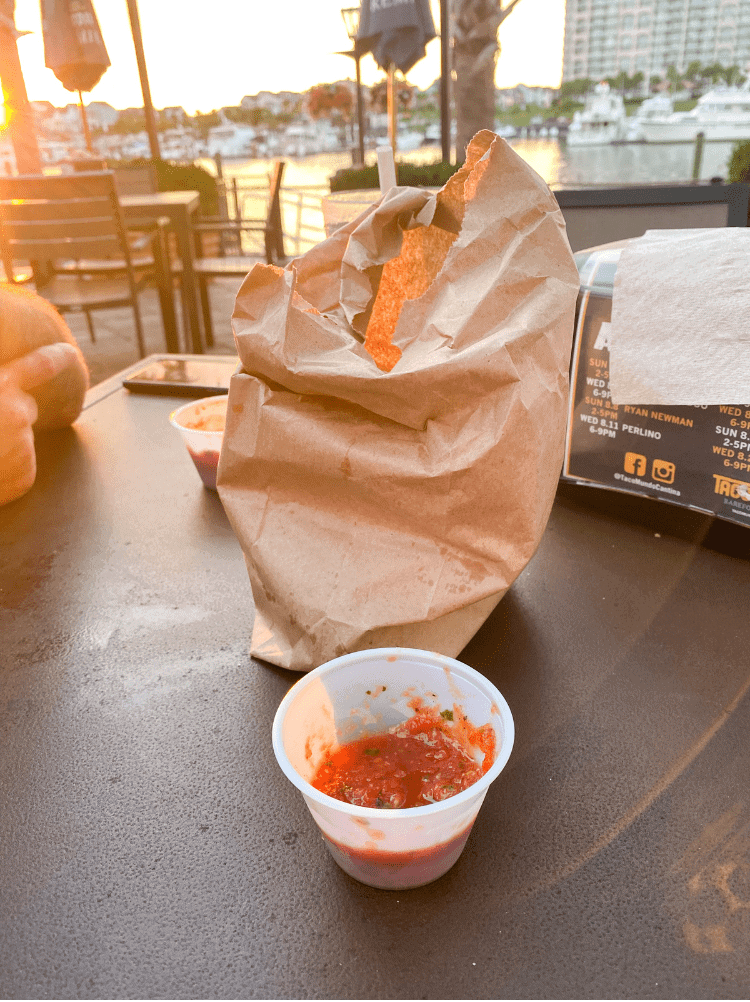 Snooky's Oceanfront
The last time we came here in June, we ate at Snooky's not just once, but twice! So I would say it is definitely one of the best places to eat in Myrtle Beach for sure.
This restaurant is closer to the northern end of Myrtle. Where we stayed at last time, Avista Resort, was only 2 miles from it. Their crab cakes were amazing and so were their fish tacos.
The firecracker shrimp appetizer was so good we got it both times too! They also had seating on the rooftop so you could see the ocean clearly.
I highly recommend trying them out if you are staying out close that way.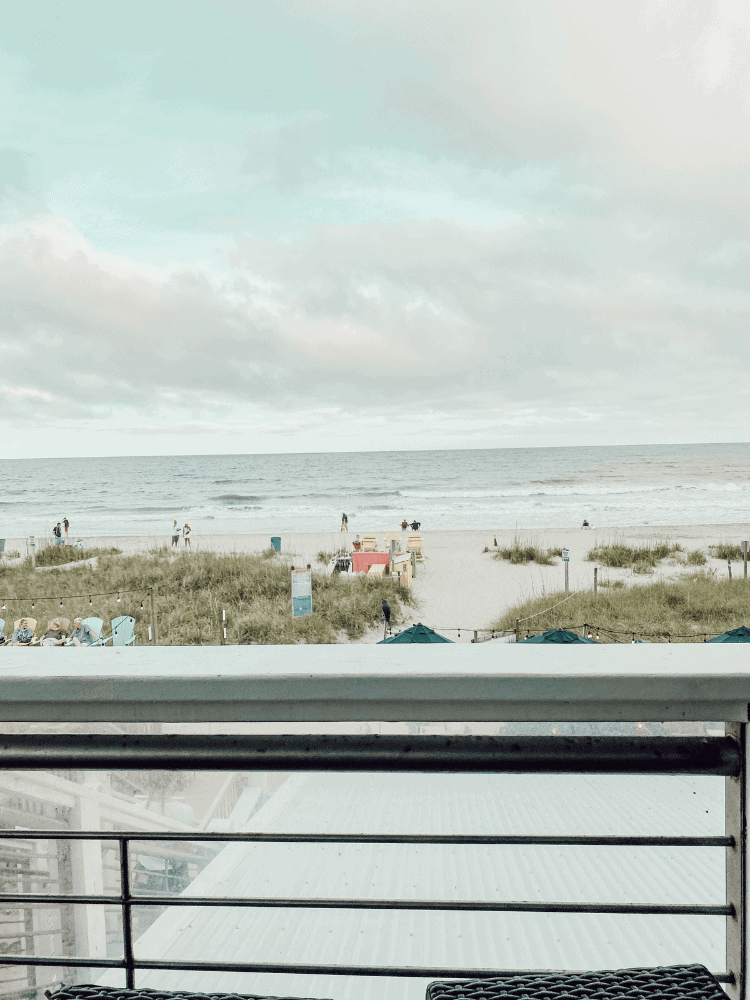 Landry's Seafood House
Another place we ate it was Landry's Seafood House. I wouldn't necessarily say it is one of the best places to eat in Myrtle Beach, but it is pretty good.
We didn't really have a plan for dinner the night we came here. We were at Broadway at the Beach and it was pouring the rain.
It was honestly miserable and we just wanted to get in somewhere to stay dry! So happened to come across Landry's. It is a nice restaurant but they weren't accepting any reservations or walk ins, so we had to sit at the bar.
Thankfully, there was some seats available though so we could miss out on the rain!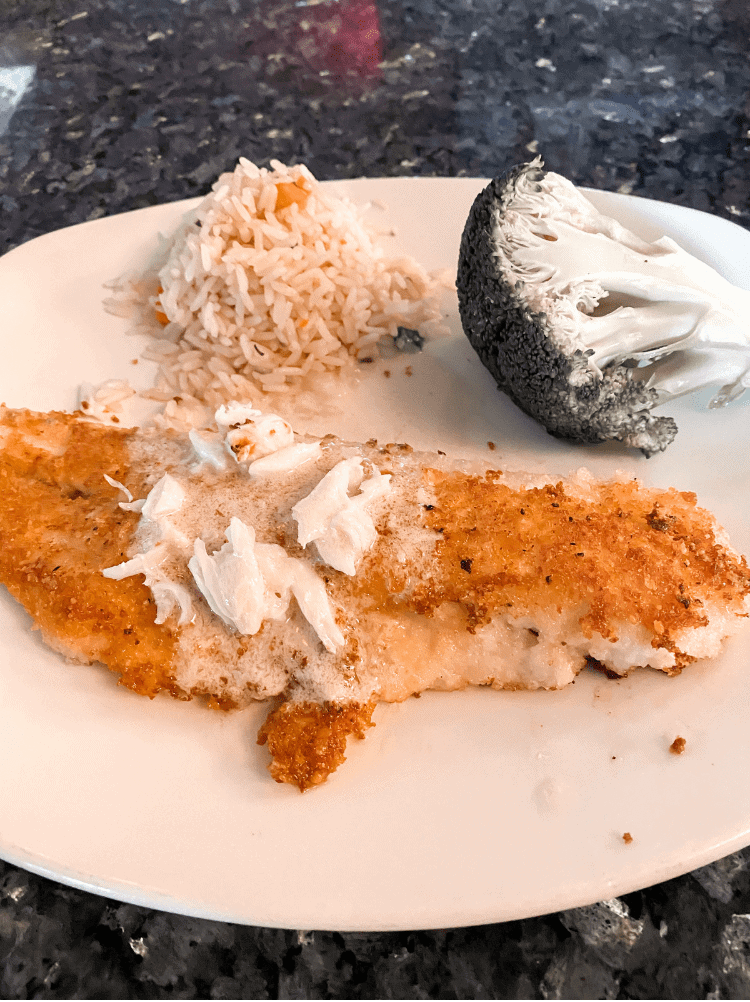 I got the Snapper Hemingway dish and the fish itself was really good. It was also topped with crab meat, which I always love. However, the sides were just kinda mediocre and nothing special.
Definitely nothing compared to the Flying Fish's gouda smashed potatoes! So because of that, I wouldn't necessarily say this dish was worth the price.
However, I did see many people there ordering the crab legs and they looked absolutely delicious! They bring it to you in a big, steaming pot with lots of drawn butter.
So I wouldn't mind coming back here to try that out sometime.
Conclusion
I hope you enjoyed my list of some of the best places to eat in Myrtle Beach.
Have you ever been here before too? If so, where are some of your favorite places to eat at?
I always want as much seafood as possible whenever I am by the ocean and this week did not disappoint.
I definitely got my belly full of delicious seafood!