Y'all know I love my herb garden I made for the past two summers. It's been so nice to just go out on the porch and pick out some fresh herbs to cook with. But, I was thinking, how nice it would be to still have fresh herbs all winter long too?! Thankfully, one of my sweet patients at work gave me a great tip. Did you know you can freeze fresh herbs?! Then, you can just thaw them out whenever you need them in the winter! What a genius idea! And also, why have I never thought of that before?! Today, I am going to show you just how easy it is to have fresh herbs all winter long!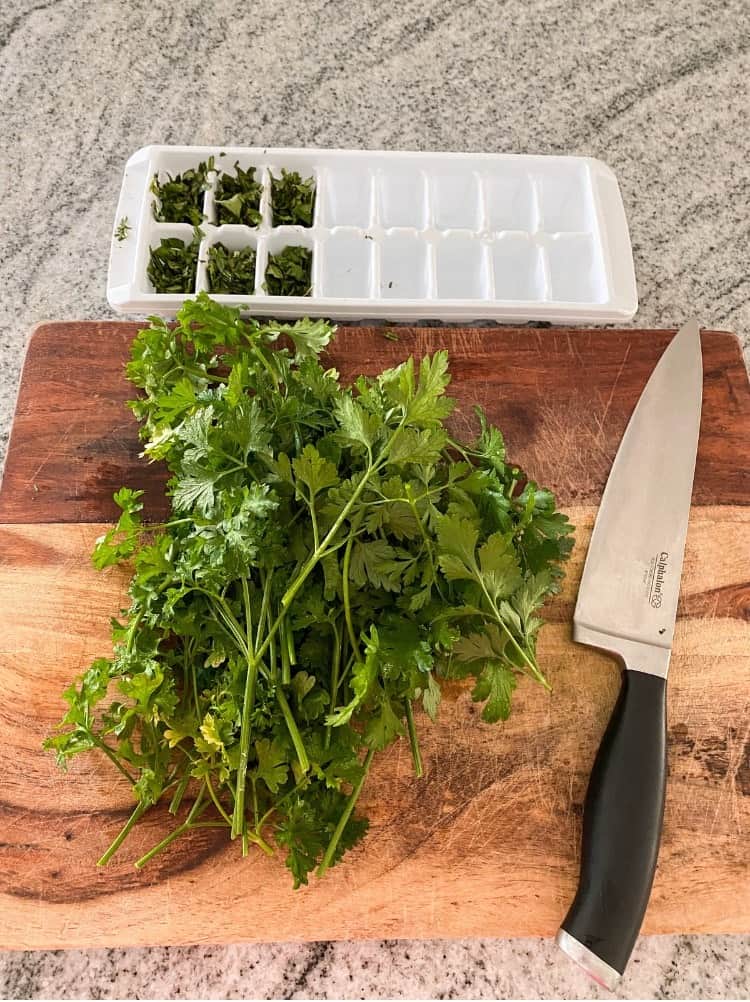 This post contains affiliate links. Click here to view my disclosure policy.
Materials Needed:
Fresh herbs of your choice
Cutting board
Ice Cube Trays (I didn't have any Ice Cube Trays at home, so I had to order some off of Amazon. I will link them below. I feel like hardly anyone has ice trays anymore since all the refrigerators come with an ice maker now lol)
Freezer Bags

The first thing you need to do is to just chop up whatever fresh herbs you have on hand. My dill was overtaking my little garden so I started there.
I was also getting an abundance of parsley too. I simply just cut a handful of each herb and brought it back inside to chop it up. I made sure to chop each herb real fine.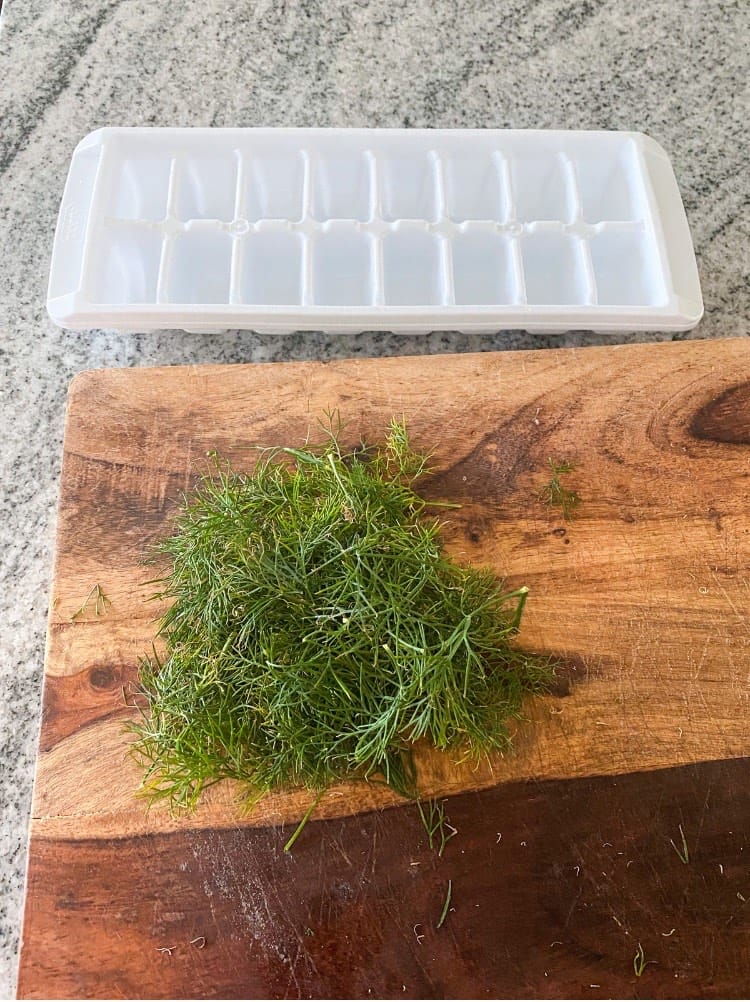 I have found that for the most part, after cutting from my garden, most of the herbs thrive after. My parsley keeps on growing more and more, as does my basil.
The only plant that didn't really do well after I cut it was my dill. Which is confusing since it was overtaking the garden. I thought that by cutting it back, it would continue to keep producing, but for some reason half of it died.
I have no idea why, but I guess this is part of the fun with having a little garden like this. You learn as you go! I'll have to do more research about the proper way to harvest dill I guess.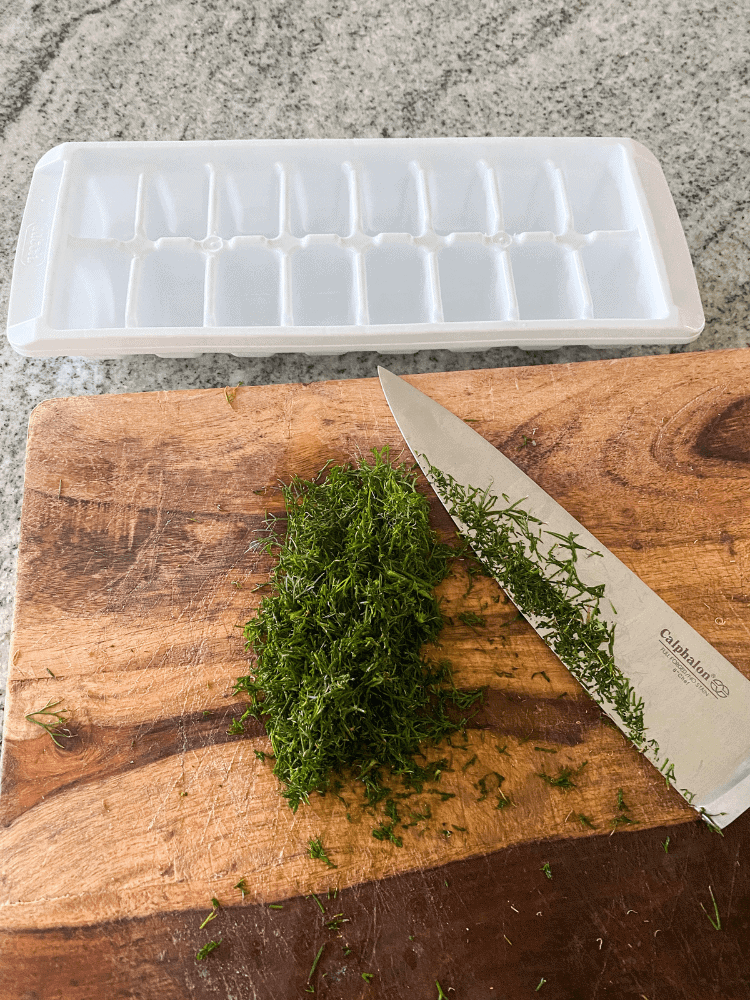 Freezing the Fresh Herbs
Once you have your herbs chopped up, now it is time to freeze them. That way you have fresh herbs all winter long! And here is the trick to freezing them, just put them in ice cube trays!
Simply place the chopped up herbs in the trays and then cover with water. This is important because they won't dry out on you in water obviously.
Be very careful when pouring the water in the tray though. You don't want too much water pressure on where it will overflow and cause the herbs to fall out of the tray.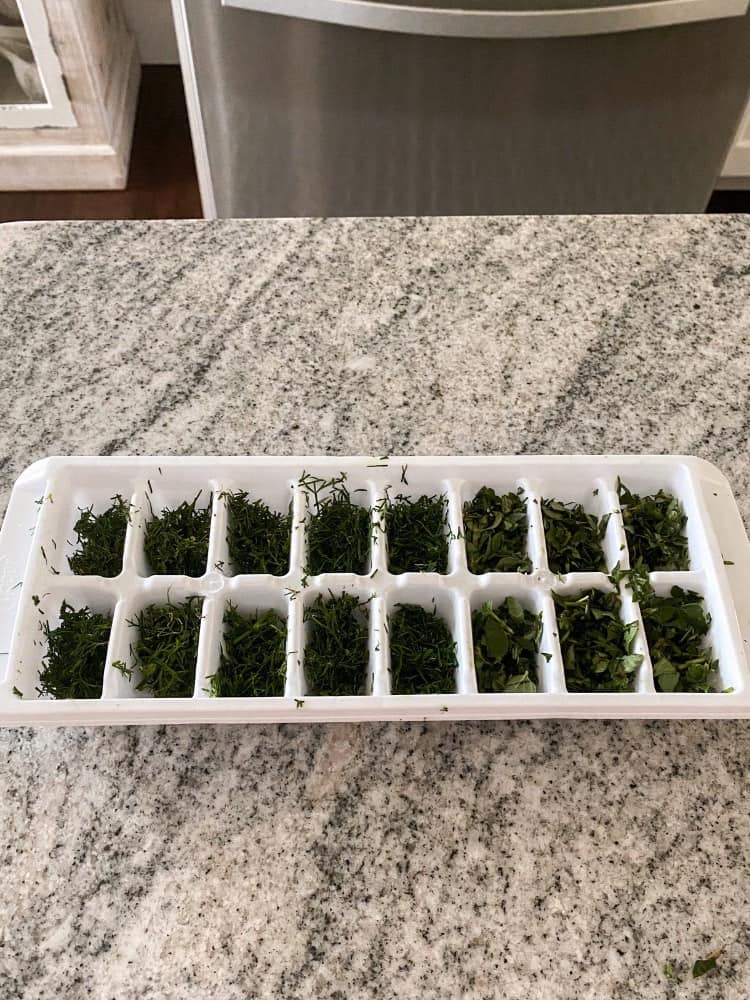 After you trays are filled, it's time to freeze them! I let them freeze overnight and then popped them out in the morning. So super easy and simple.
I did mix and match the herbs in the trays because sometimes I didn't have enough herbs to fully fill the tray.
Storing the Frozen Herbs
After the fresh herbs are nice and frozen in their little cube, I put them in little quart sized freezer bags. I labeled each one and put the date I froze them on there as well.
My patient told me that these frozen herbs should last quite a long time, as long as your freezer doesn't tend to dry things out completely.
So we will see how it goes and how long they last! But I am so excited because I know I will have some yummy, fresh herbs all winter long this year.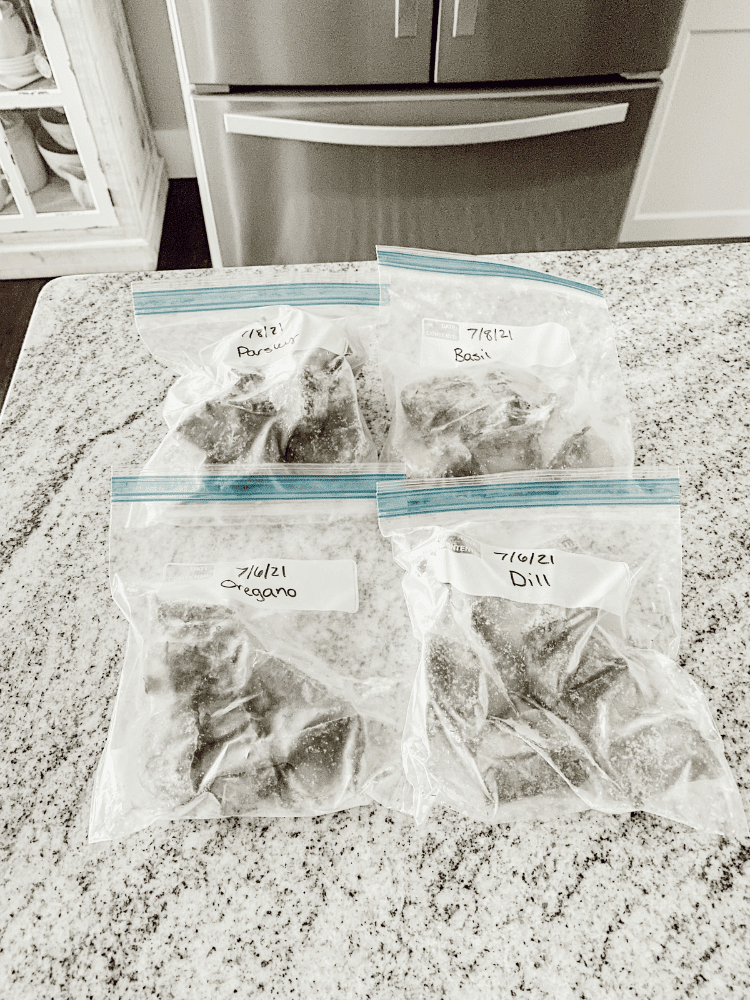 To use the frozen herbs, I just place a few cubes out and let them thaw. I just lay out however much I need on a little plate with some paper towels to absorb the water when it thaws.
So usually just a few hours before I am ready to make dinner is enough time for them to thaw out!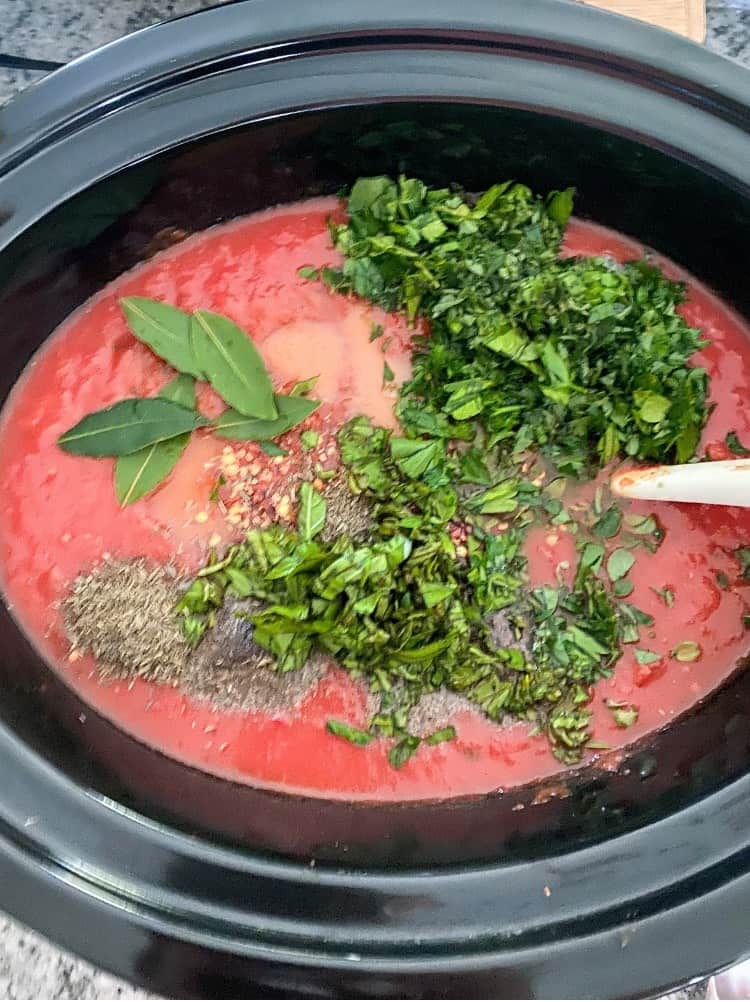 How cool is that?! I love to cook so having fresh herbs on hand during the winter will definitely help me out! Making homemade spaghetti sauce is always one of my favorite meals (I talked about this more over on my Top 3 Favorite Freezer Meals).
And when you make it with fresh herbs, it's even better! Have you ever tried to freeze herbs before too? If so, how did it go for you? I'd love to hear all about it!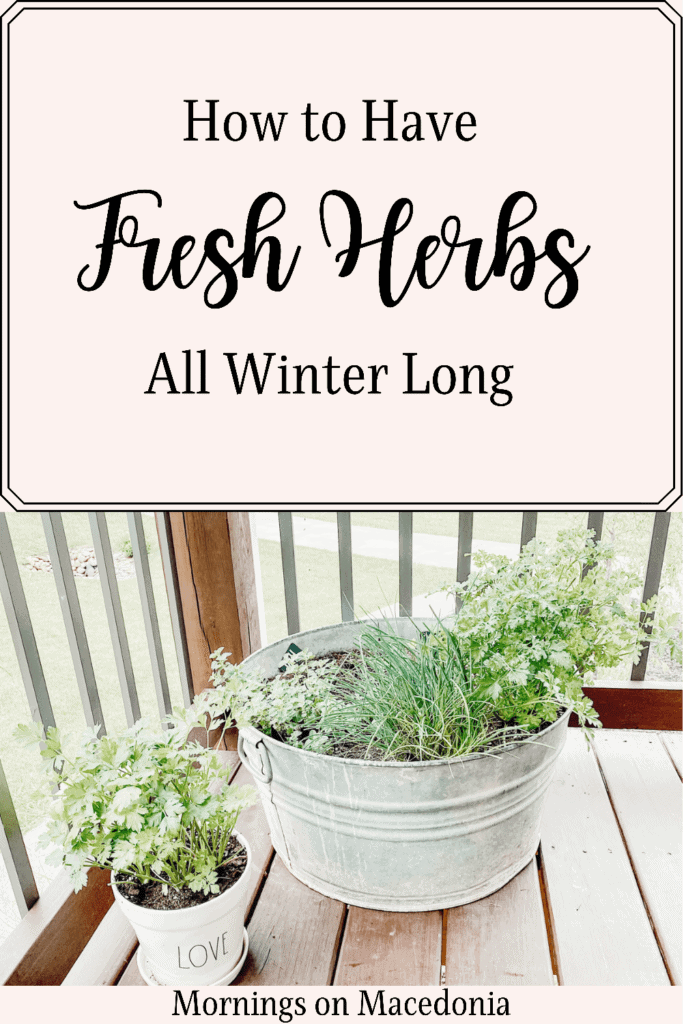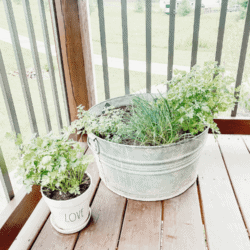 Frozen Herbs
If you're looking for a way to save your fresh herbs this summer all winter long, then check this easy recipe hack out!
Ingredients
1

bunch

Fresh Herbs of your Choice

1

cup

Water
Instructions
Chop up your fresh herbs.

Place chopped up herbs in ice cube tray.

Slowly and carefully fill ice cube tray up with water.

Set in the freezer for 8 hours or overnight. Basically until the cubes are frozen solid.

Pop frozen herbs out of the tray and place into freezer safe bags.

Store in freezer bags until ready to use.

Let ice cube thaw out on a paper towel lined plate when ready to use for cooking!