Okay so spoiler alert- I am not going back to school. BUT, I am a total nerd and I absolutely LOVE stationary, planners, new pens, the whole nine yards! And I've recently partnered up with Erin Condren to share the best back to school essentials ever.
And, just like me, you don't have to be going back to school to use them. Going back to school is no longer just for kids and this brand new collection is proof of that! It comes with everything you need to refresh your desk or office space.
Not only is everything fun, but functional too! We're talking brand new stationary, writing tools, and organizing must-haves that are also designed to bring you joy by their pretty appearance.
Y'all already know what a huge Erin Condren fan I am. I've already shared that they make the best life planners around! So If you're a nerd like me, be sure to check out this brand new and fun collection too!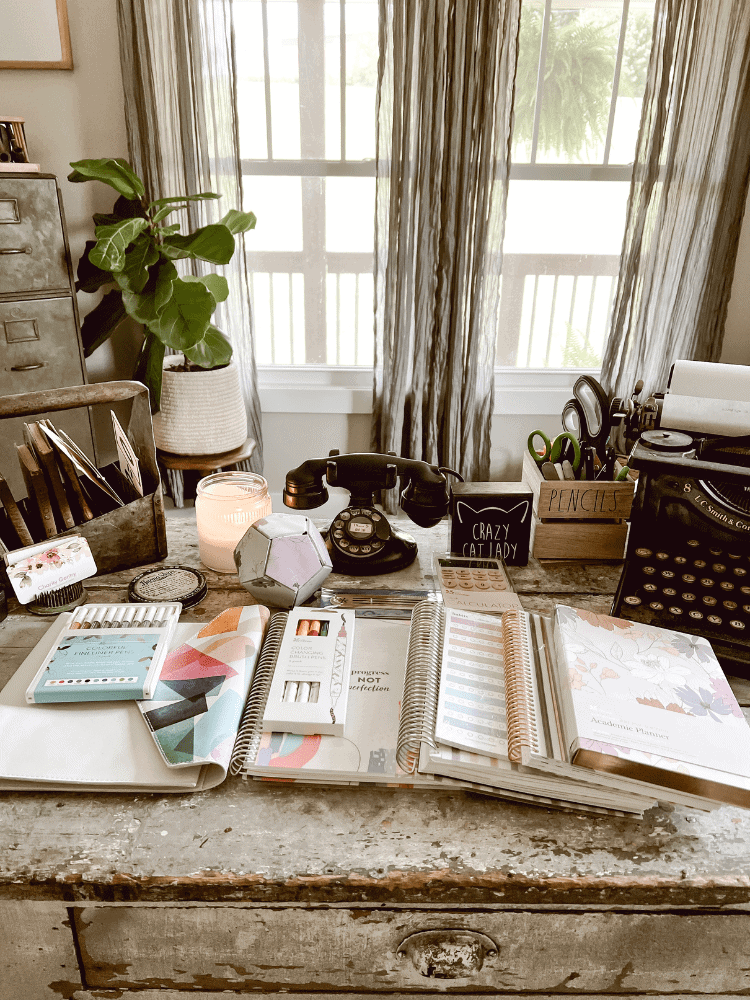 This post contains affiliate links. Click here to read my disclosure policy.
What Are the Back to School Essentials?
So now I am going to highlight everything that came in my back to school collection box. I'm not gonna lie y'all, this is so much fun for me! I used to love going back to school shopping (both for clothes and supplies) and there is nothing like some brand new pens and pretty folders.
Because of that, I am greatly enjoying myself testing out all the new goodies and sharing them with you. I may not be going back to school, but I do use a lot of these products in my daily life. I am old school and love to write down appointments and everything in a planner.
And I like to brainstorm blogging ideas in an actual paper notebook. As I mentioned in my Haven Conference recap, I love to actually take notes too whenever I am in a class. I feel like I learn even better when I write things down.
Daily Routine and Ritual Notebook
This notebook is brand new and literally just launched on August 10th. So it is just a few days old! Get your hands on this notebook to start discovering what your daily routines and rituals are.
I am excited to jot some of mine down from day to day and see which ones I am more prone to. And which ones I actually stick with and like.

In Bloom Academic Planner
Okay, an academic planner is obviously a must for some back to school essentials. I feel like if you really are a student, you gotta have one! Definitely helps you stay organized with all your upcoming classes and/or assignments as well.

Weekly Habits Sticky Notepad
This one kind of goes along with the daily routine and ritual notebook. But it's in sticky pad form which is even easier to write down a few notes for it!

Color Change Pen Set 6pk
Um, excuse me?? Color changing pens?! Sign me up please because how fun is that?! Make your note taking go to the next level with these fun pens!

Student Weekly Schedule Deskpad
This is another back to school essential if you truly are a student. This would be perfect to keep on your desk to help you be able to quickly organize everything with just a glance!

Sticky Note Ball
Okay, I'm sorry, a sticky note ball?! Again, how much fun is that?! Why weren't these cute things around back when I was in school?

Vegan Leather Folio
I definitely geeked out on this beautiful leather folio. It can hold so many things since there are so many different sized pockets and everything in it.
I immediately thought that it can hold some of my business cards and things like that. So if you're a blogger too, then you definitely should invest in one of these. Plus, the vegan leather is so soft and buttery!

Blush Calculator
I mean you gotta have a calculator on your desk right? And not just any old calculator, but a cute blush one obviously!

Gold Bookmark Ruler
Same thing goes for rulers too, right? It needs to be gold and shiny and pretty! I also love how this one doubles as a bookmark too! Bonus points!

Lined 3 Subject Notebook
These are my favorite notebooks and the ones I use to brainstorm all my blog ideas. Plus, it's definitely another back to school essential for students for sure! You can't really go to school without notebooks, can you?
And can they be any cuter? Erin Condren has so many beautiful designs to choose from. There is literally something for everyone on their site!

Heading Back to School
Well, whether you're heading back to school or just to your office, I hope this post gave you some great ideas on cute and functional back to school essentials! Have you ever used any Erin Condren products before too?!
If so, which ones are your favorites? I would love to know! Let me know in the comments below and thank you so much for stopping by my friends!