You may remember that a couple of weeks ago I attended my first ever blogging conference called Haven. I did an online Haven conference back in 2020, but I've gotta say, going to one in person is SO MUCH BETTER! Today, I thought I would share with you all what to bring to a blogging conference and everything I learned by attending one in person.
It can definitely be a little overwhelming going to a blogging conference like this one. But I am here to share all my tips and tricks I learned to make the process a little easier for you.
I am definitely an introverted person, so attending this was a huge step for me. However, I am so glad I went and so proud of myself for taking the plunge to go! And now I am so excited for the next one next year!
This post contains affiliate links. Click here to read my disclosure policy.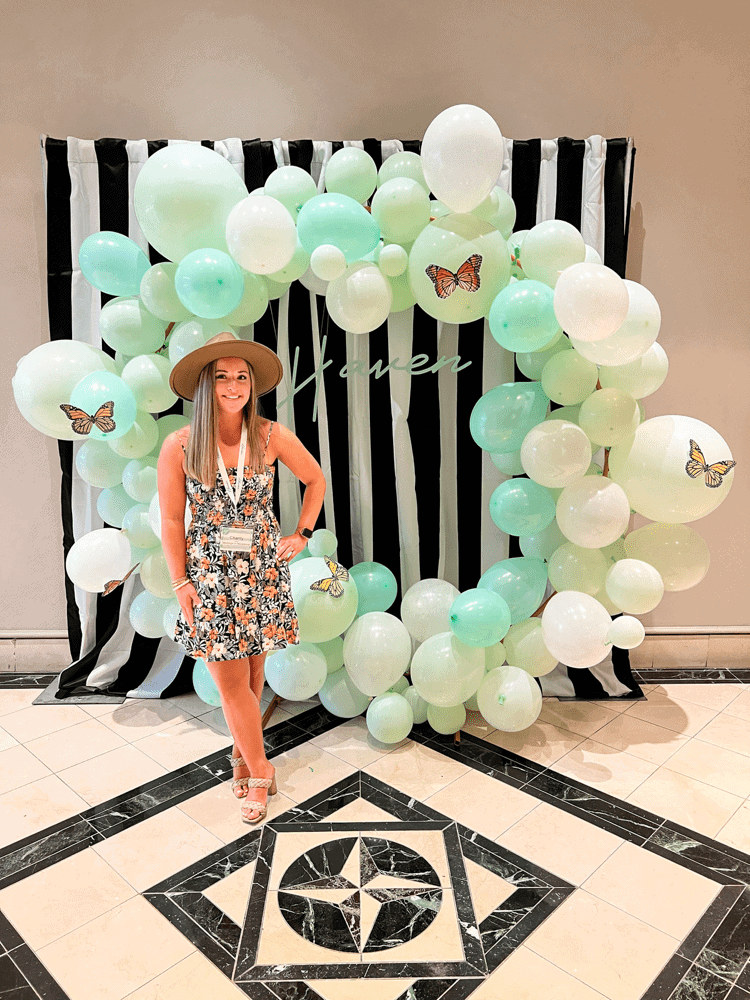 What is the Haven Conference?
I guess a good place to start this blog post would be to explain what is the Haven conference in a little more detail. Basically, this conference is for anyone who is in the home decor or DIY niche.
And technically, you don't even have to be a blogger to attend. You could just be a social media influencer without a blog because there were several people just like that.
The Haven Conference is located in Atlanta, Georgia and usually runs from Thursday night to Saturday night. With a big going away party on Saturday night. In between, you are trying to cram in as many classes as you can and learn as much as possible.
However, my main focus by going to this conference was to improve my blog and learn as much as I can. So I took a majority of the blogging classes they offered.
They had several other Instagram classes there, which I was interested in too, but ultimately decided to just stick on course with the blogging classes.
That was the only downside. You had to choose what classes were the most important to you because a lot of them didn't repeat over the weekend.
Also, I am sure a lot of you are wondering how much does it cost too? Haven offered early bird pricing where if you purchased your ticket before a certain time, you received a $100 off. So the total for me was $479 and that included all the classes and two breakfasts and lunches as well.
What to Bring to Blogging Conference?
Okay now that I shared a little background into what Haven is, now it's time for the main question, what to bring to a blogging conference?
Laptop/Phone/Camera
Alright, this one is a little obvious. But, whatever you use to create content, I would definitely bring it. I brought my laptop with me to every class I attended, but I technically didn't use it in class.
However, I was glad to have it back in my hotel room because I could definitely implement what I learned from class back into my blog in between sessions. Also, be sure to bring all the chargers that goes with everything too!
And, if there is classes on photography offered, it would be a good idea to bring the actual camera you use. That way you can have some hands on experience during the session.
There was a photography class offered, but unfortunately I wasn't able to attend seeing as how it was at the same time as another class I wanted to take. But, I did bring my camera just in case.
Verb Energy Bars
Okay, Y'all already know my love for Verb Energy Bars if you've been around here awhile. Bringing these energy bars were an essential for me for this conference.
I needed lots of caffeine to power through and these bars definitely helped with that. There is a ton of information flowing from all the classes you take all weekend.
So it can easily feel overwhelming and make you feel tired. Plan ahead by bringing these bars, or something that will help you out when you hit the afternoon slump!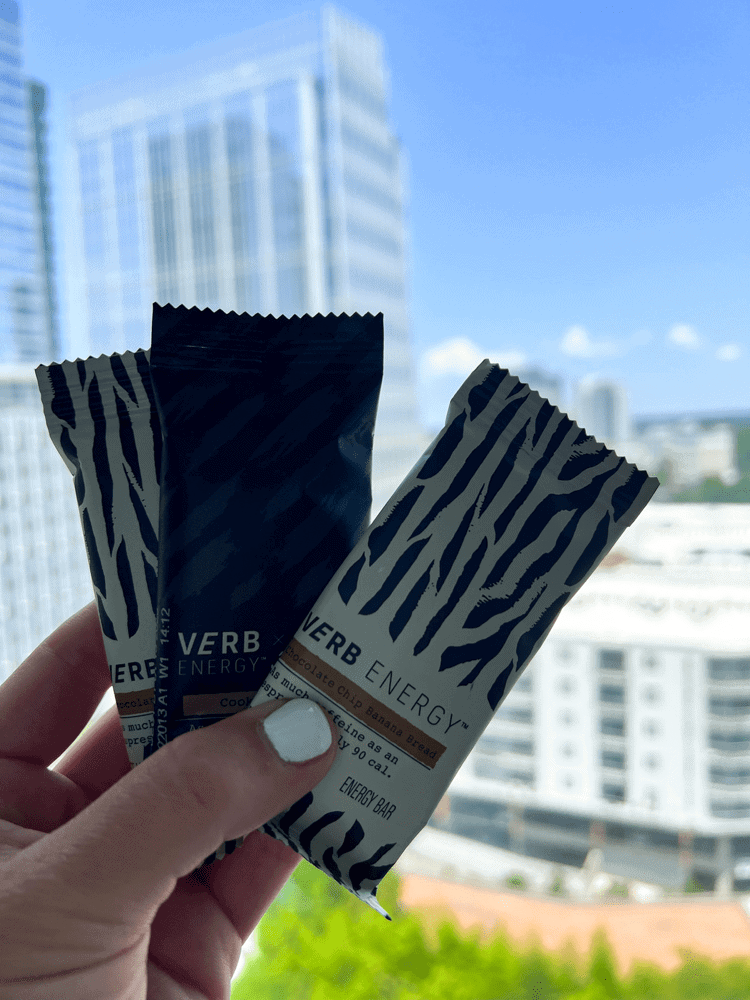 Snacks/Drinks
This kind of goes along with my VERB energy bars, but be sure you pack lots of extra snacks and drinks for a blogging conference as well. I really wish I had packed some Coke for my room to enjoy and bring for classes.
But, I forgot and had to spend a fortune at the hotel lobby for some! So it's best to be prepared and bring all your favorites that you can easily pack with you for a busy day of classes.
Thankfully, we had breakfast and lunch provided for us everyday. But, the classes lasted until after 6:00 pm so you definitely needed some fuel to hold you over until dinnertime.
Notebooks/Pens
I am old school and I LOVE stationary. In fact, I even ordered a special notebook for the Haven conference from one of my favorite stationary brands, Erin Condren. I even had it personalized to say "Mornings on Macedonia".

A lot of people were just taking pictures of the slides of the presentation with their phones. But, I feel like I learn better when I physically write things down.
So if you're like me in that way, you are definitely going to want to invest in a good quality notebook so you can take all the notes you need!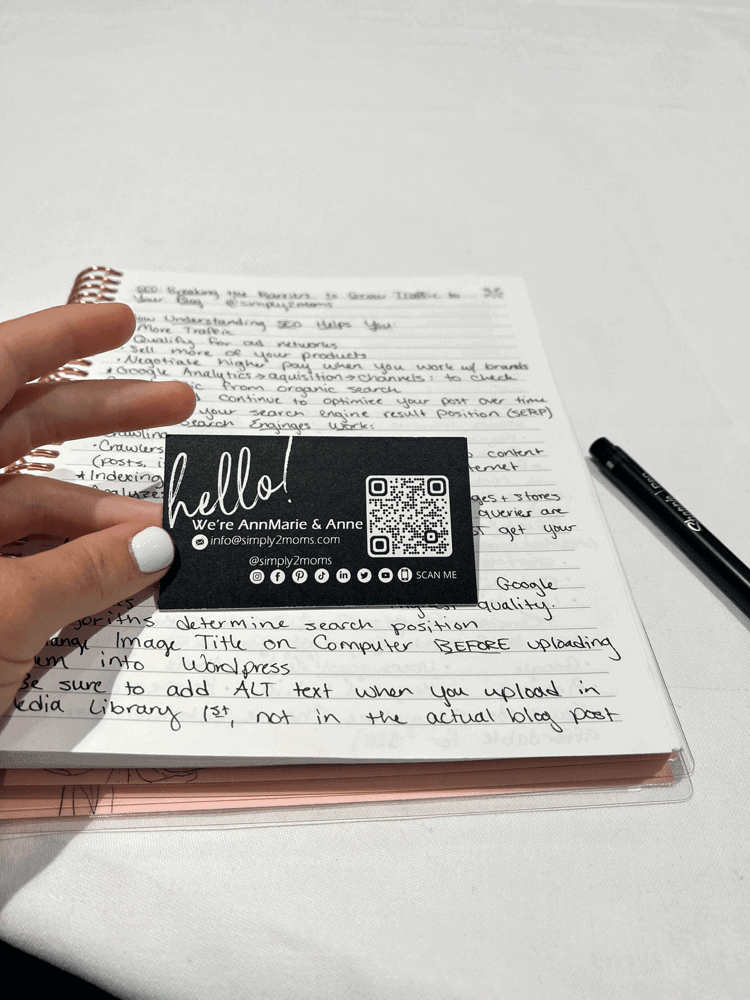 Business Cards
This one is definitely one of the most important things in what to bring to a blogging conference. Make sure you have some business cards printed out with all your information on them! Otherwise, how are brands and all the new friends you meet at the conference going to find you?!
I learned a few things from being at the conference about business cards too. Apparently, it is wise to have your picture printed on the business card as well. That way, brands can easily remember you.
And if you have a QR code, have that on your card too. I learned all this a little too late because my business cards were already printed out without those things on it. But, oh well, at least know I know for next year!
Branded Tote Bag
I also got a branded tote bag with "Mornings on Macedonia" printed on it. I used this to carry all my notebooks, pens, laptop, etc. to and from classes.
It's really important to have as many branded things with your logo as you can when going to a blogging conference such as this. That way, brands can easily identify you and remember you better if you are wearing something with your blog name on it.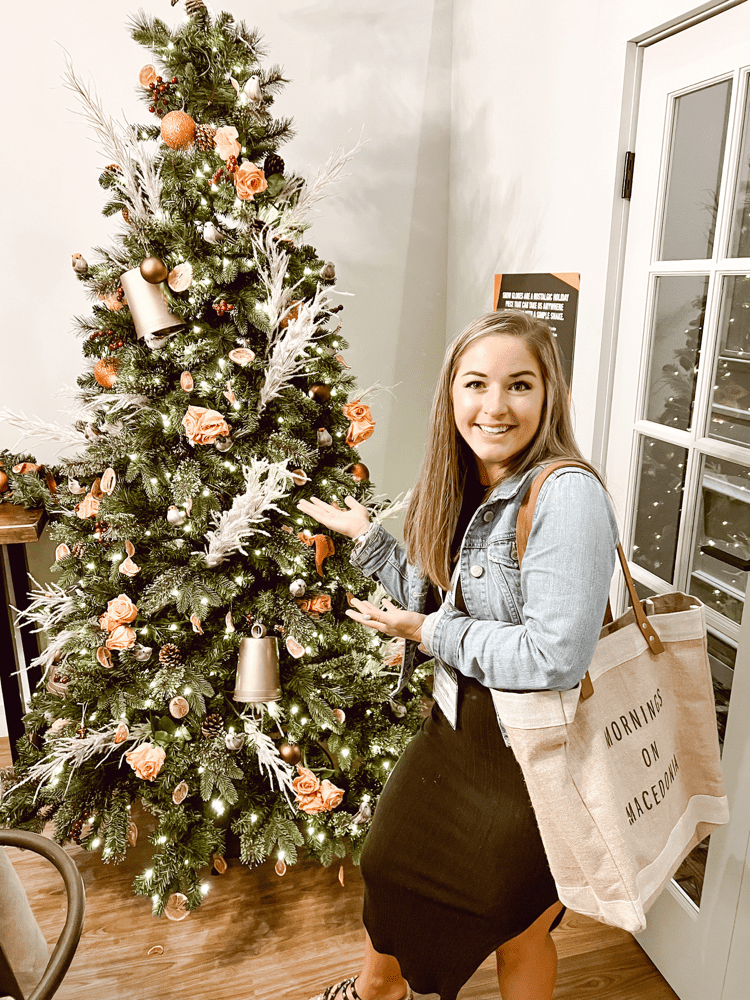 Outfits
I think the outfits are always a big question on what to bring to a blogging conference too. I didn't really know what to pack considering this was my very first in person conference. However, Haven was really good about sending out emails prior to the conference to let everyone know what to pack.
Themed Outfits
Like I mentioned above, they did a big farewell party on Saturday night that was 90s dance party themed. So I needed to pack an outfit for that. You may remember one of my last posts about how to cut jeans, I mentioned the 90s dance party there.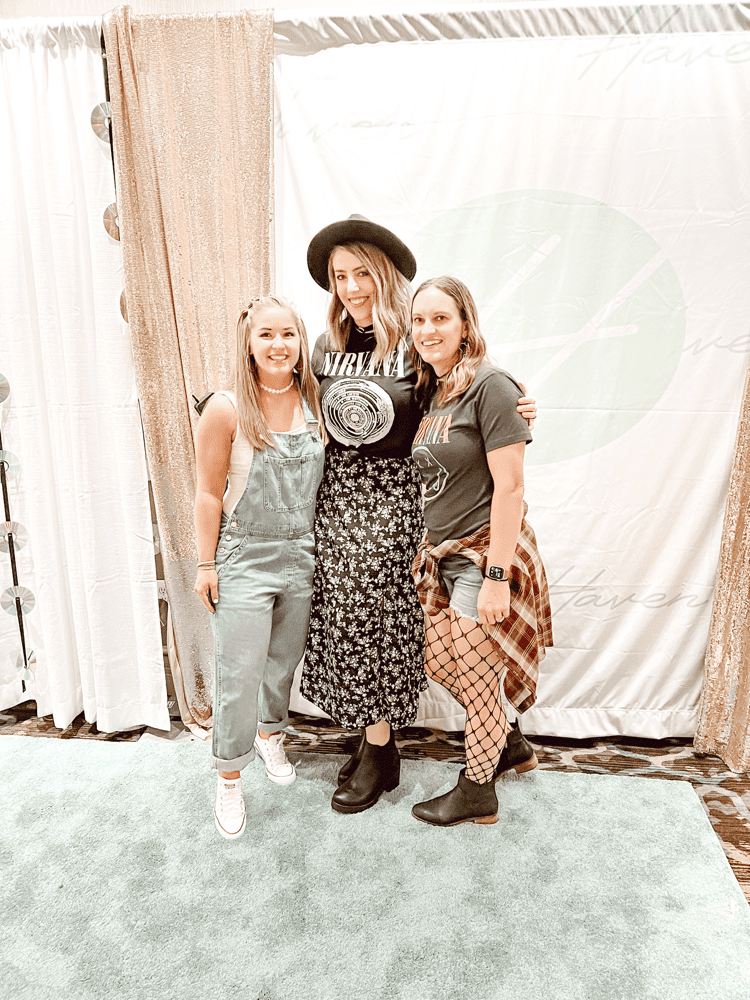 This dance party was definitely one of the highlights of the trip. It was so much fun and I am glad I went with my denim overalls and Converse sneakers. I was very comfortable and able to dance the night away without having to worry about heels or being too dressed up!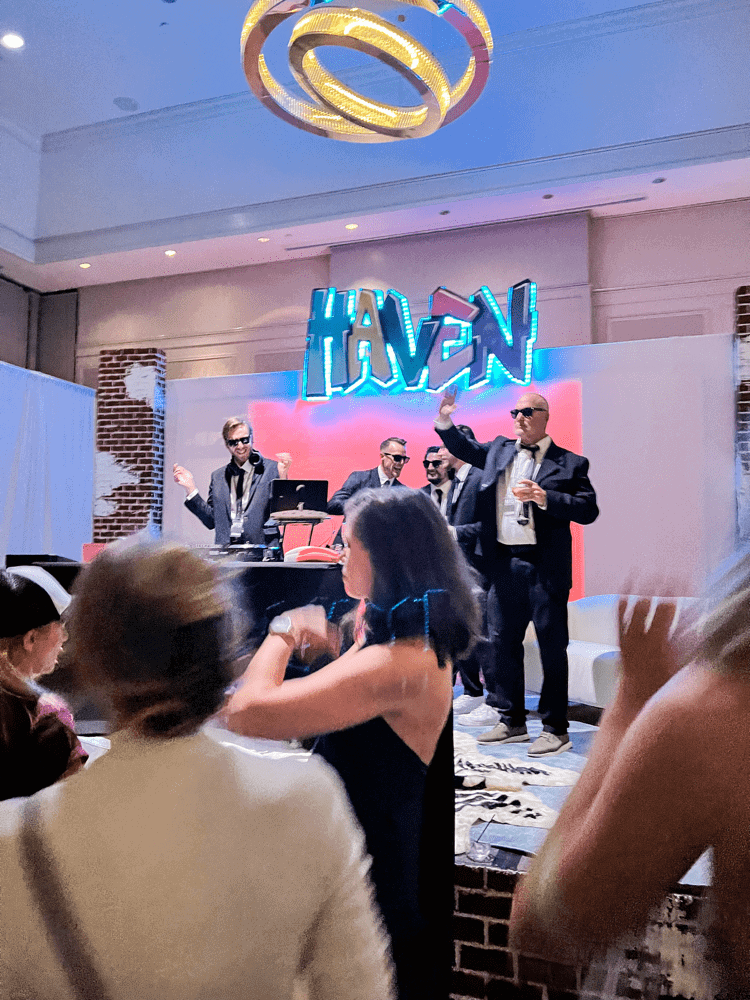 Outfits for Classes
As for all the other outfits I packed, I went for a "dressy casual" look during the day. I wanted to look professional while attending classes, but also be comfortable as well.
This olive green jumpsuit was very comfortable to wear and I paired it with a denim jacket. Outside in Atlanta, of course it is smoking hot in the middle of summer. But inside, where all the classes were, it was very chilly. So I would definitely recommend bringing a jacket of some kind.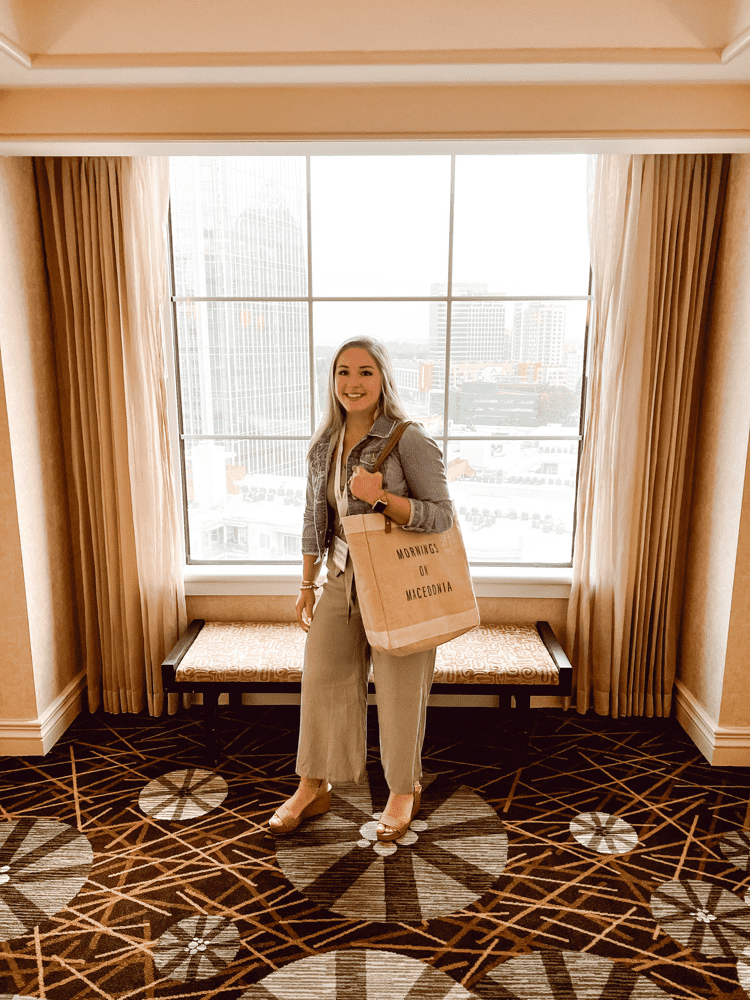 I also wore one of my comfortable midi dress paired with a jean jacket again. I didn't want to wear shorts or anything for the classes because I knew my legs would be freezing in the air conditioning.
Dinner Outfits
And last but not least, I packed a few more casual outfits for when we went out for dinner at night. I didn't really want to dress up for that and I wanted something that was comfy.
I love these olive green pull on shorts. They are definitely comfy and lightweight. Perfect for the Atlanta heat!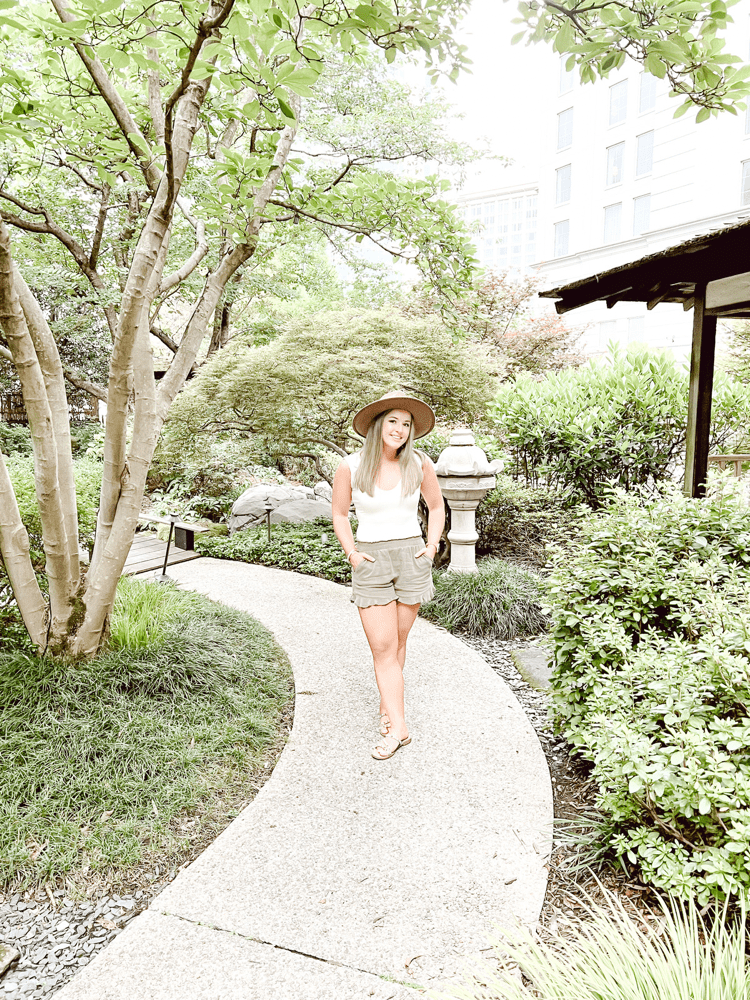 Expert Tips and Tricks for Attending a Blogging Conference
I will say I am definitely no expert, but I did learn a thing or two from some of the seasoned conference attendees. So I figured I would share them with you here!
Take a Breather if You Need One
As I mentioned before, I am extremely introverted. So going to a blogging conference such as this was very intimidating to me.
In order to keep my cool and not feel overwhelmed, I simply would just retreat to my hotel room for a few minutes and soak in the peace and quiet.
I enjoy meeting new people and all the brands, but it a lot when you aren't used to introducing and "selling yourself" to so many different people and personalities.
Don't feel bad if you need a breather. Take one and regroup and then get back out there! We as bloggers and content creators often do our best work behind the camera and not in person so it can easily be overwhelming for sure!
Talk to All the Brands
Again, it's super hard for me to put myself out there and go for it. But, I am so proud that I did! I tried to talk to every single brand possible at their booths.
And you definitely should put this on the top of your list if you're attending a blogging conference too. Brands are prepared and want to meet you, so don't be shy!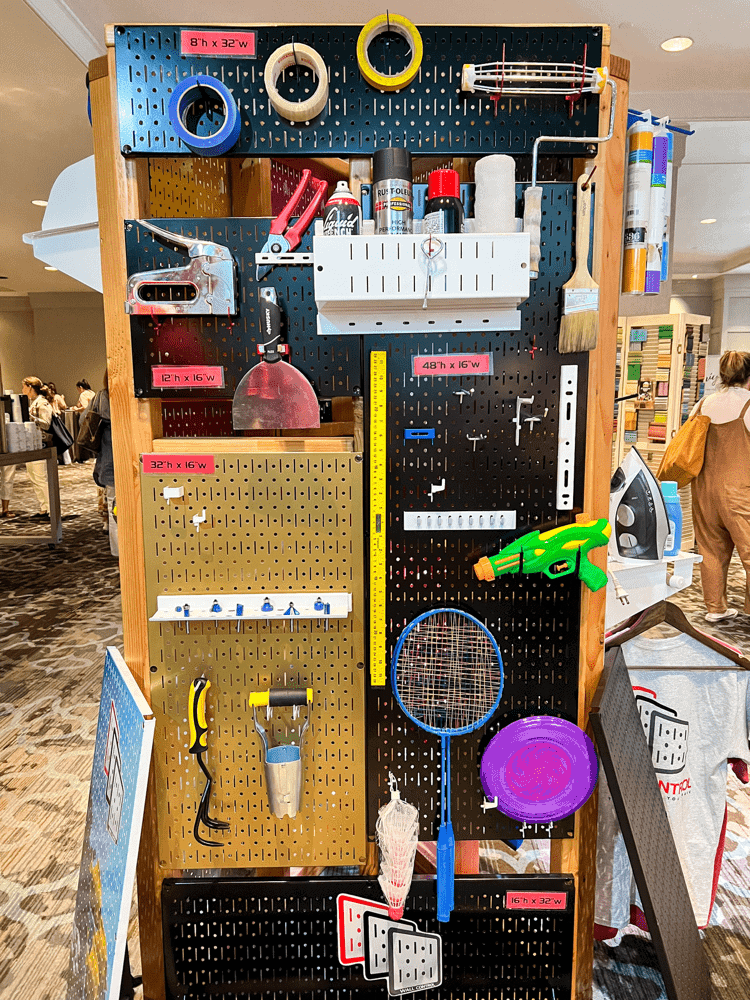 You never know where your next opportunity may come from. And even if it's not a brand you are entirely interested in working with currently. Don't skip them. You may find you have a future opportunity that would be perfect.
A lot of times they will also give you their business card with a personal email attached to it, that way you can always contact them later if something arises.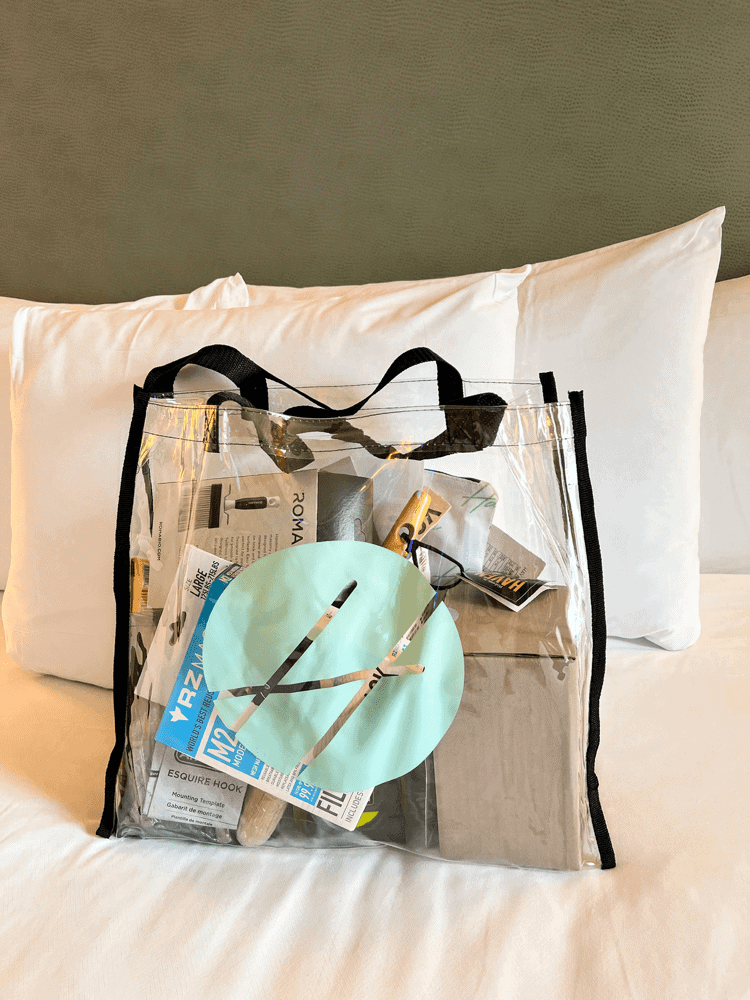 Should You Attend a Blogging Conference too??
If you've been on the fence about attending a blogging conference, then the short answer is go for it! I am so glad I went, although it was a little out of my comfort zone.
I learned so much and met so many incredible friends, it was definitely worth it in my opinion. And now after reading this post, you should be all prepared and know exactly what to bring to a blogging conference too!