If you're southern like me, then I am sure you have heard about and love Cheerwine just as much as I do. Growing up, I remember my mom making Cheerwine Holiday Punch every Christmas and it was amazing. So I figured why not share a few Christmas Cheerwine Mocktail Recipes with you all this season too.
You can make the Cheerwine Holiday Punch with regular Cheerwine, and I will share that below. But, did you know that Cheerwine came out with a new, limited edition holiday soft drink actually called Cheerwine Holiday Punch which resembles the homemade punch! And it can make for some perfect non-alcoholic Christmas drinks as well!
So now you can conveniently and easily enjoy it without a ton of work! You don't even need a cocktail shaker or any special equipment to make these fun party drinks!
I am sharing a delicious mocktail idea so if you're looking for some non-alcoholic cocktails this season, I have you covered! That way you have plenty of fun options when it comes to enjoying Cheerwine! Keep on reading for all my Christmas mocktail ideas below!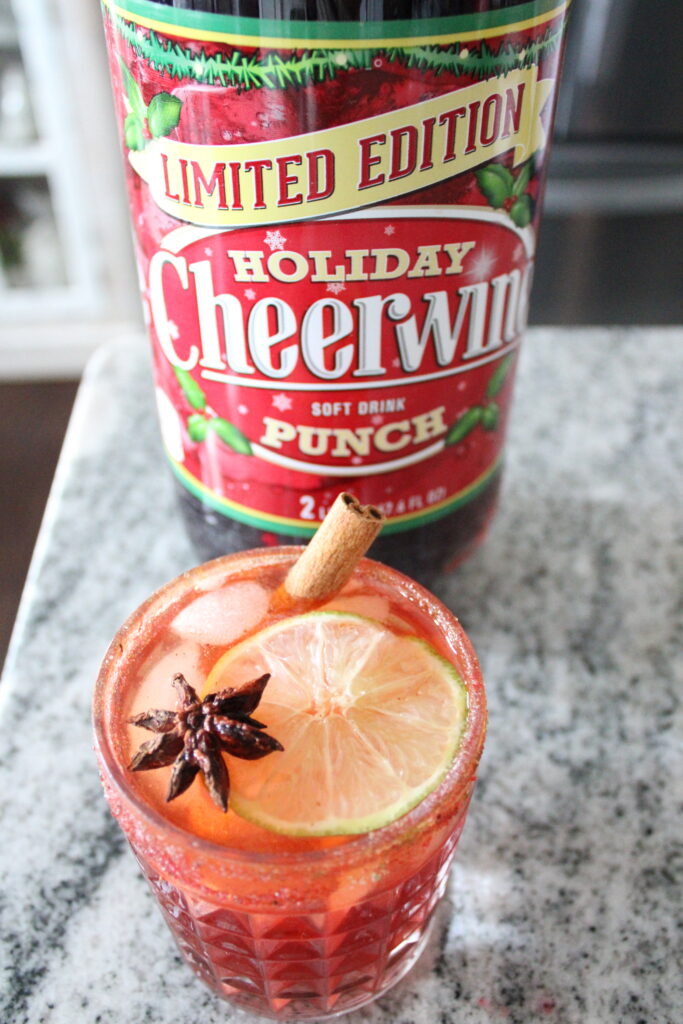 This post also contains affiliate links, which means I make a small commission off anything you purchase through here, at no additional cost to you. Please read my full disclosure policy for more details.
Ingredients Needed For Traditional Cheerwine Holiday Punch
If you're looking for some great non-alcoholic drinks for the holiday season, this traditional Cheerwine Christmas punch recipe is always a hit! And so easy to make too! It will definitely be a crowd favorite and would be ideal for your next holiday party!
2 (2 liter) bottles of Cheerwine
1 (2 liter) bottle of Ginger Ale
​2 (46 ounce) cans unsweetened pineapple juice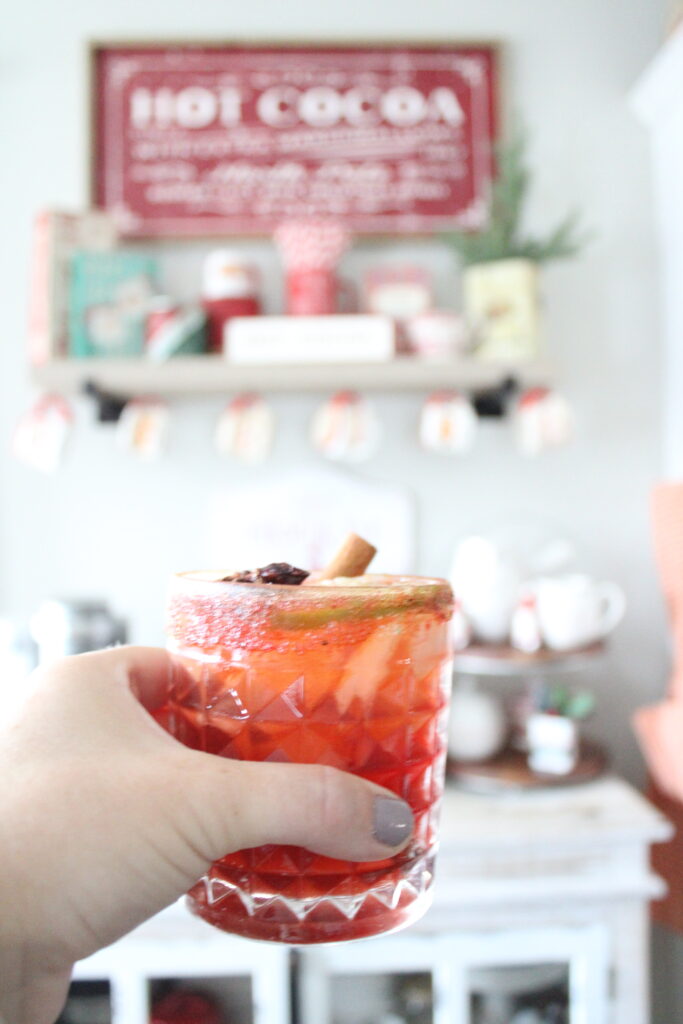 How Do You Make Non-Alcoholic Christmas Punch?
Chill the Cheerwine, Ginger Ale, and unsweetened pineapple juice thoroughly. It's best if you let them chill overnight so your punch will be nice and cold. Then, using a large punch bowl, combine all the ingredients listed above.
For best results, serve immediately. If you want your punch bowl to look a little more festive, you could definitely add in some fresh cranberries, orange slices, sprig of rosemary, or pomegranate seeds.
What Is Cheerwine Holiday Punch?
I mentioned it above, but I will go into more detail about this delicious soft drink here. In case you didn't know Cheerwine is the iconic 106 year old family owned soft drink company. It started right in Salisbury, North Carolina, which is why it's sold mainly in NC and SC.
But, no worries, you can purchase it online from now until December 31st too. So if you don't have one local to you, you can still enjoy it! This seasonal soft drink is the perfect blend of Cheerwine, tangy pineapple juice, and delicious, bubbly Ginger Ale!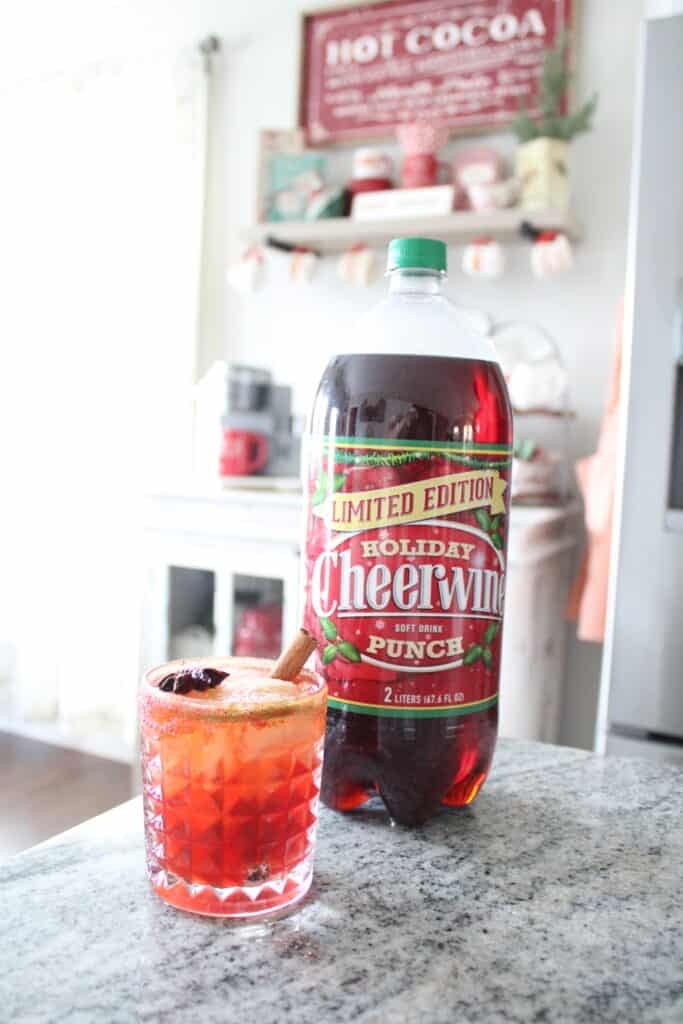 Ingredients Needed for Cheerwine Holiday Punch Mocktail
Now that you know how to make the traditional Cheerwine Holiday Punch, let's save a step and just get a 2 liter bottle of it already made! And all the other ingredients can easily be found at your local grocery store too! Here are all the ingredients you need to make this merry mocktail:
For the rim of the glass:
¼ cup sugar
2 tsp cinnamon
½ tsp nutmeg
Red and green sprinkles
Lime slice
For the mocktail:
8 oz (1 liquid cup) Limited Edition Holiday Cheerwine
1 tsp lime juice
1 tbsp pineapple juice
1 cinnamon stick
2-3 anise stars
1-2 lime slices
Sprinkle of cinnamon and nutmeg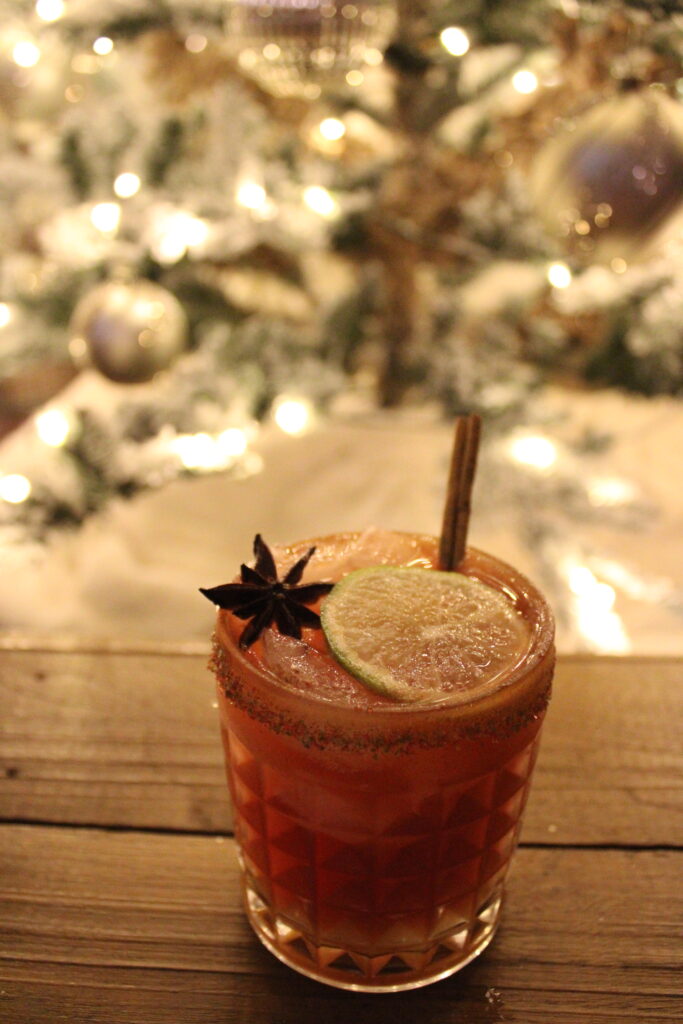 Cheerwine Christmas Mocktail Recipe
First, you need to make the sugar rim mixture for your glass. Combine all the ingredients listed above in a small, shallow bowl. Mix together throughly. Then, grab a highball glass and using a slice of lime, run it all around the edges.
This will make your sugar mixture stick well to your glass. You could also use honey for this as well. After applying the lime juice to the rim, place the glass upside down in the sugar mixture.
Now, to make this easy mocktail, Add some ice into your glass and pour in the lime juice and the pineapple juice. Top with the Holiday Cheerwine Punch until glass is full. Using a spoon, mix well.
To garnish this delicious drink, add in a cinnamon stick and 2-3 anise stars to give it a real festive look! You can also add a dash of cinnamon and nutmeg too!
This is our favorite easy holiday mocktail recipe, and it makes for a killer festive holiday drink. You could even serve this at a New Year's Eve party, if you're looking for more winter drinks too!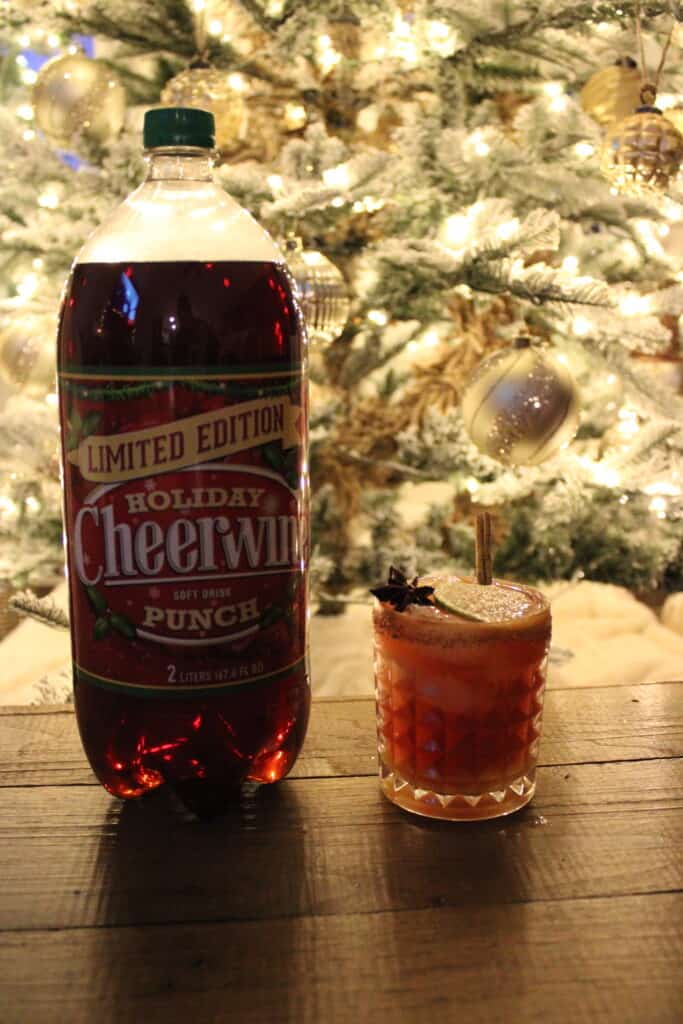 Enjoy Your Christmas Mocktail Recipes!
No matter which recipe you decide to do, both drinks will definitely put you in the holiday spirit! And it's a step up from the traditional sparkling white grape juice I always used to have growing up.
Sometimes, it's just fun to create a festive mocktail to sip on by the Christmas lights! They are a great non-alcoholic alternative if you are hosting a party or get together this year too.
Give me all the festive drinks for this festive season! I think anything tastes more festive by the Christmas tree, am I right?! So enjoy your perfect mocktail and relax and enjoy this special holiday season! This would go great with Christmas dinner, Christmas eve, or anytime really during this party season!
Also, If you're looking for more festive ideas when it comes to drinks this holiday season, I have a few other recipes you might like too! Especially if you're a coffee lover like I am!
Starbucks Copycat Peppermint Mocha
Starbucks Copycat Gingerbread Latte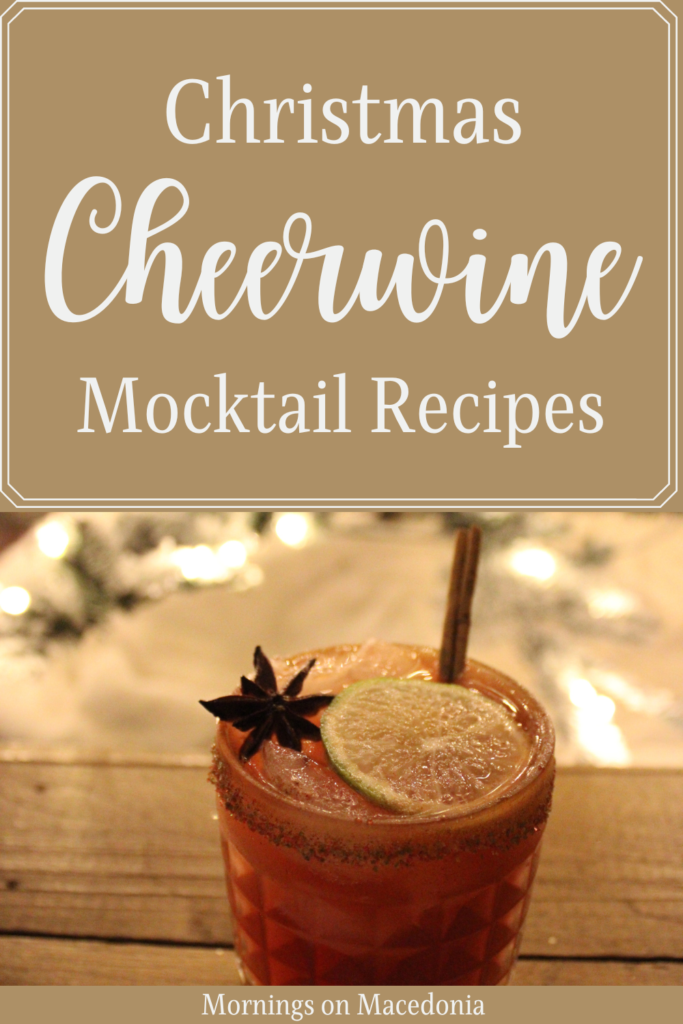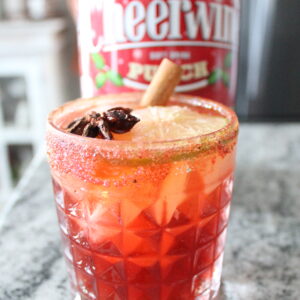 Cheerwine Christmas Mocktail
Ingredients
For The Rim of The Glass:
1/4

cup

sugar

2

tsp

cinnamon

1/2

tsp

nutmeg

1

tbsp

red and green sprinkles

1

lime slice
For The Mocktail:
1

cup

Limited Edition Holiday Cheerwine

1

tsp

lime juice

1

tbsp

pineapple juice

1

cinnamon stick

2-3

star anise

sprinkle of cinnamon and nutmeg

2

lime slices
Instructions
To create the mocktail rim, mix all the ingredients (except the lime slice) listed above in a shallow bowl.

Grab a glass and run the lime slice around the rim. This will make the sugar mixture stick to the glass easily.

Place the glass upside down into the sugar mixture and coat the rim of the glass thoroughly.

Add ice into your glass and pour your lime juice and pineapple juice in it. Top with the Cheerwine Holiday Punch and mix well.

To garnish the drink, add in a cinnamon stick, lime slices, and a couple of star anises! You can also sprinkle with additional cinnamon and nutmeg if desired. Enjoy!