One of my favorite ways to enjoy the holiday season is to get a peppermint mocha at Starbucks. Especially while strolling the aisles of Target. It also just tastes better in their red cups too. Anyone else feel the same way??
The peppermint mocha is hands down my favorite beverage there, although the chestnut praline latte comes in a close second. And I do enjoy the occasional toasted white chocolate mocha, gingerbread latte, and eggnog latte to name a few. Okay, basically I love all of Starbucks holiday drinks.
But I don't love the calorie count and all the sugar added into them. So I thought I would share today how to make a healthier version of a Starbucks peppermint mocha at home. I am all about enjoying some holiday beverages with fewer calories!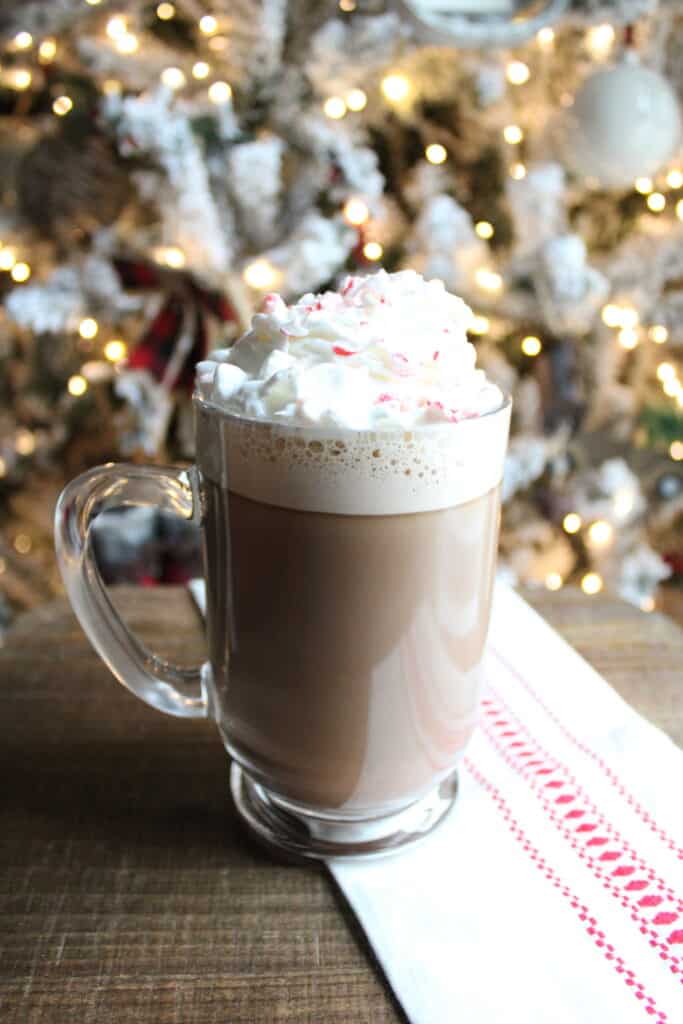 Please note, I am not a registered dietitian and should not be consulted for anything weight loss related. I am just sharing how I like to make my holiday drinks at home a little better for me. This post also contains affiliate links. Click here to read my privacy policy.
What Does Starbucks Put in Their Peppermint Mocha?
In order to effectively make Starbucks peppermint mochas at home, you need to understand what all they actually put in their mochas in store. From what I've researched, they have a rich espresso that has a bittersweet mocha sauce.
They also add peppermint syrup and steamed milk. Then, they top it with some whipped cream and some festive red sprinkles. All of these ingredients we will be using as well to create our at home mocha version. However, ours will be slightly healthier for you too!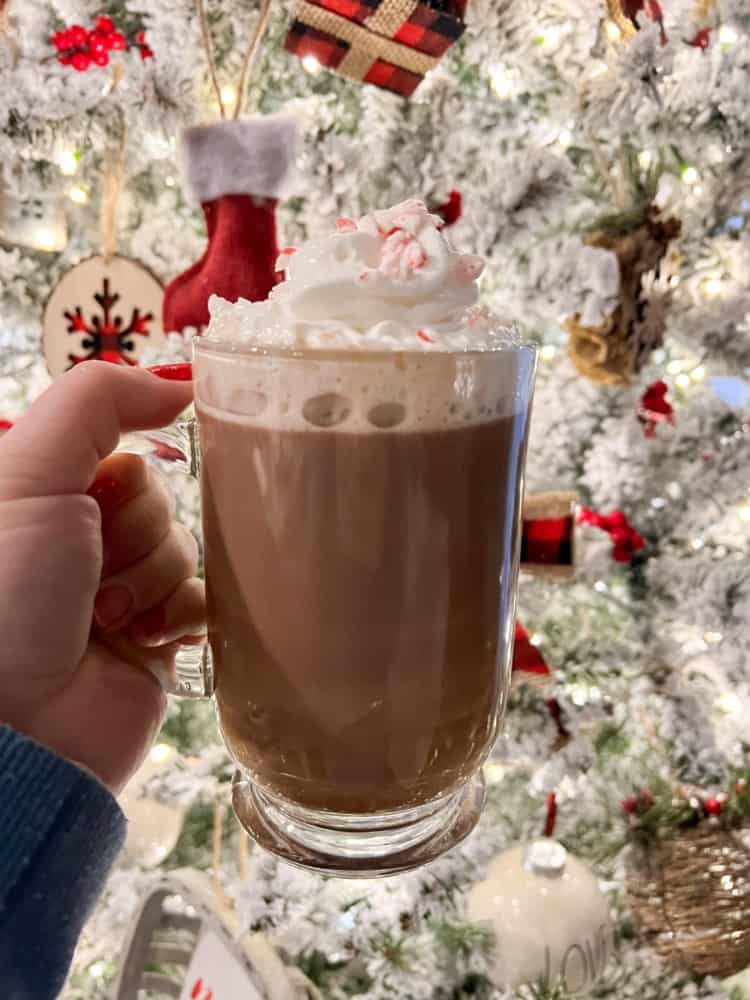 How Many Peppermint Pumps are in a Peppermint Mocha at Starbucks?
Starbucks puts a total of 4 pumps in their mochas. Which each pump is about 20 calories, or 5 grams of added simple sugars.
So just in the peppermint syrup alone, you are looking at 80 calories right there with 20 grams of sugar. Yikes! The sugar content in their peppermint mochas are unreal. I'm going to try to make this a little more healthier for us to enjoy!
Nutritional Information for Starbucks Peppermint Mocha
For a regular, or Grande, serving size which is 16 fluid ounces, a peppermint mocha contains 440 calories. As well as 16 grams of total fat, 140 mg of sodium, 63 grams of total carbohydrates, 54 grams of sugar, and 175 mg of caffeine.
Oh man, after seeing those numbers, I regret every single peppermint mocha I have had in store from Starbucks! If you don't believe me, you can look for it yourself over at Starbucks Nutrition's Page. I'd hate to see how much a Venti is, wouldn't you?!
How Can You Make the Peppermint Mocha Healthier For You?
One of the easiest ways to cut back both the calories and the sugar is to use a sugar-free syrup. And trust me, they are not bad at all! They taste great and you don't even notice that they are sugar free.
One of my favorite brands to use is Jordan's Skinny Syrups. They have a huge variety to chose from and have so many different flavors. I used the peppermint bark syrup for this recipe and it was perfect! And a little goes a long way too.
I only used about 1/2 a teaspoon in my recipe. Or basically one little pump peppermint syrup compared to Starbucks whopping 4 pumps.
Another way to make the holiday drinks more healthy is depending on what milk you use. Typically, Starbucks uses whole milk in their recipes because it froths up the best. I have made my recipe with both whole milk and nonfat milk before and honestly I can't really tell a difference.
I've also used one percent milk for it too. I haven't tried it with oat milk or skim milk yet, but basically you could use whatever kind of milk you want.
I also like to sweeten my Starbucks drinks using Stevia instead of a lot of teaspoons of sugar. As you can see just a few simple swaps like this can definitely make a more healthy Starbucks beverage.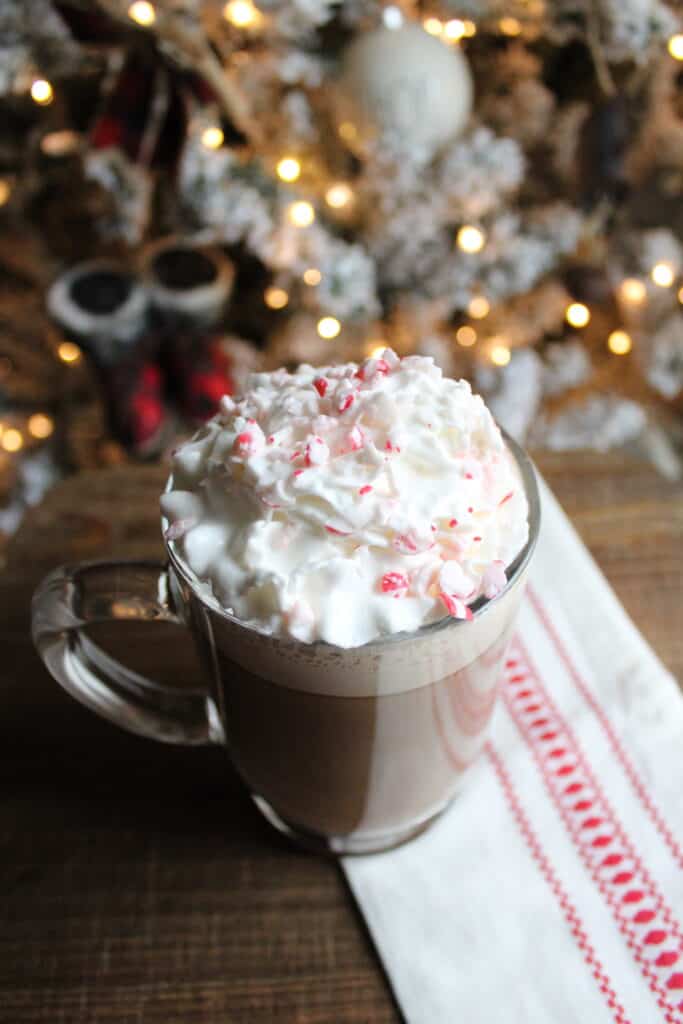 Starbucks Peppermint Mocha At Home Ingredients
(Makes 1 peppermint mocha)
3/4 cup milk of your choice
3 tablespoons Stevia (or sugar substitute of your choice)
1 tablespoon unsweetened cocoa powder
3/4 cup brewed espresso (or hot, strong coffee)
1/4 teaspoon of Jordan's Skinny Syrups- Peppermint Bark
1/4 teaspoon vanilla extract (You can use my homemade vanilla extract recipe too!)
Whipped cream, optional
Crushed candy canes, or peppermint sprinkles, optional
Nutritional Benefit for Starbucks Peppermint Mocha At Home
Using the above ingredients, it comes out to be only around 164 calories! That's much better than the 440! It also has 1.8 grams of fat, 8.1 grams of protein, 55.9 grams of carbohydrates, and 127.6 mg of sodium. It also contains 22.9% calcium, 4.3% iron, 291 mg of potassium, 7.5% Vitamin A, and 3.6% Vitamin C.
While it isn't an absolute health drink, it is much better than the in store option. And it helps when you have a sweet tooth and just want a seasonal sip of some festive drinks! Like I said above, it will definitely put you in the holiday spirit.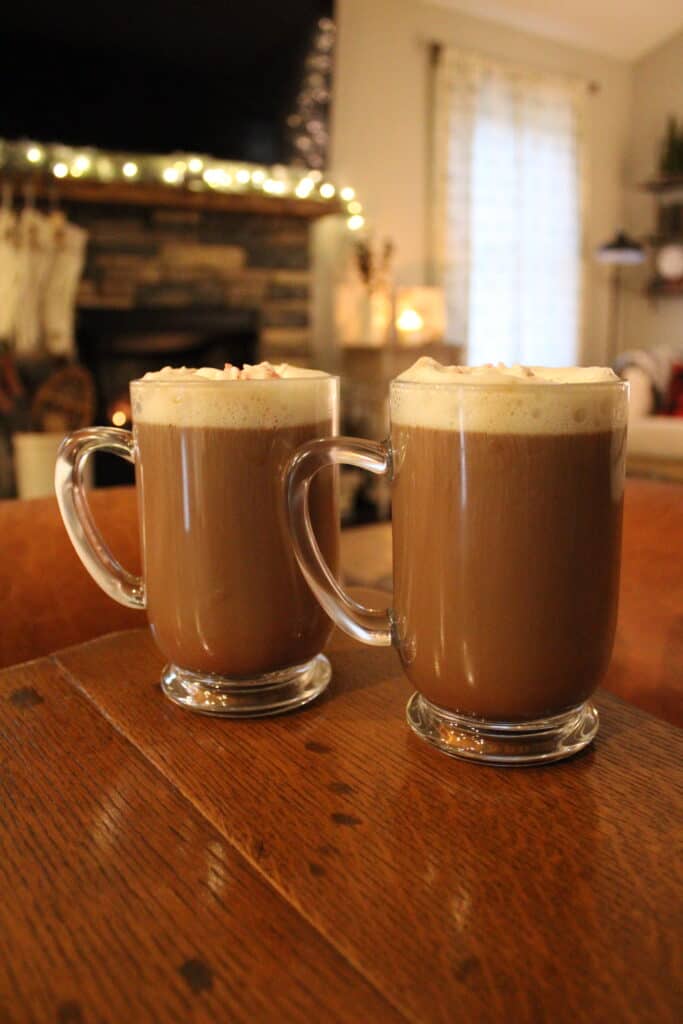 Making Espresso At Home
Side note, I got a Nespresso machine over Black Friday and I am obsessed! I can't believe I've gone this long without one, considering how much I love Starbucks holiday drink menu. This definitely helps me make them at home more easier!
And yes, they have Starbuck peppermint mocha K Cups and ground coffee that you could use too for this recipe, but I really recommend brewed espresso. It makes all the difference in the world! I promise you, your coffee drinks at home will be top level and taste just like you got it from some fancy coffee shops!
How to a Make Peppermint Mocha at Home
Okay, now we got all the background info out of the way, let's make a peppermint mocha at home! It's a super easy recipe and once you've made it a few times, you could probably memorize it and not need the recipe!
I also love to double this recipe and make enough for both my husband and I to enjoy on the weekends. It's a great way to start the day in my opinion!
To make it, first you need to combine the milk, stevia (or whatever sugar substitute you are using), and cocoa in a saucepan. Heat until all the sugar and cocoa powder is dissolved and small bubble begin to form.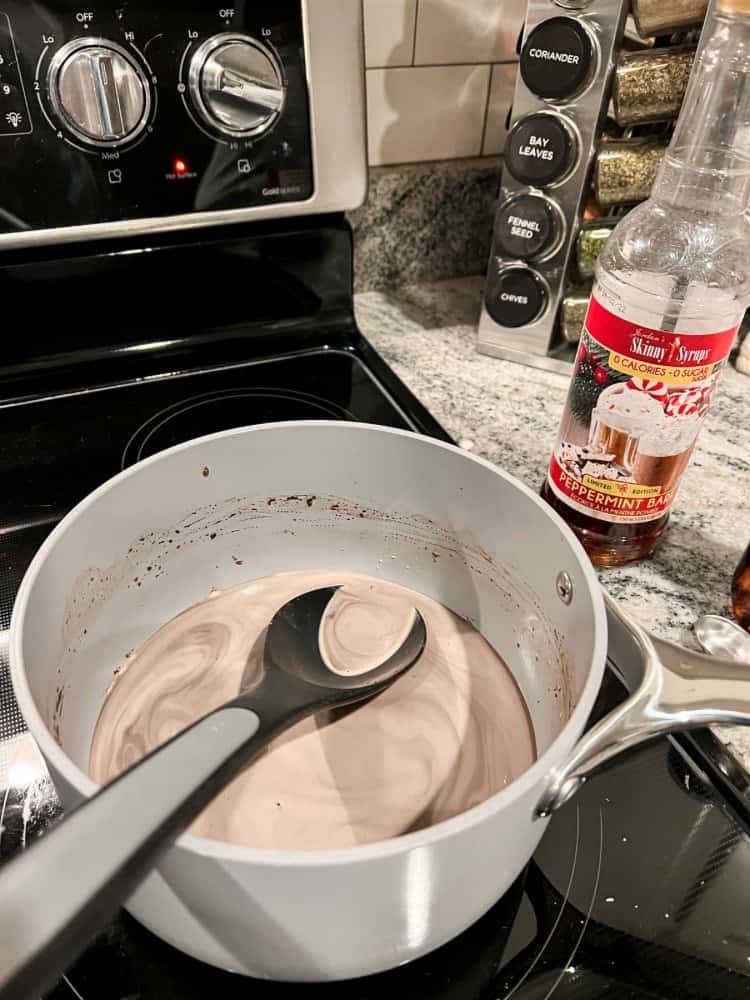 While doing this, brew some espresso in your Nespresso machine. Again, you could use really strong coffee here too if you do not have a Nespresso or espresso machine. I just use 1 pod for 1 mocha and then use 2 pods if I am making 2.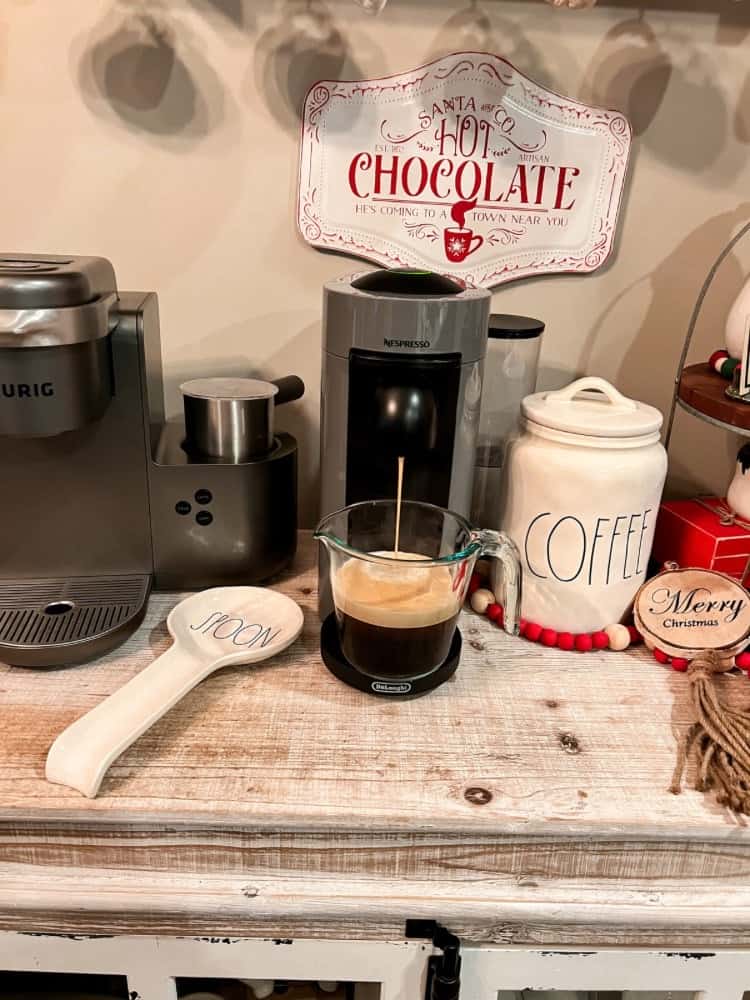 Then, stir in your brewed espresso, vanilla extract, and peppermint bark syrup.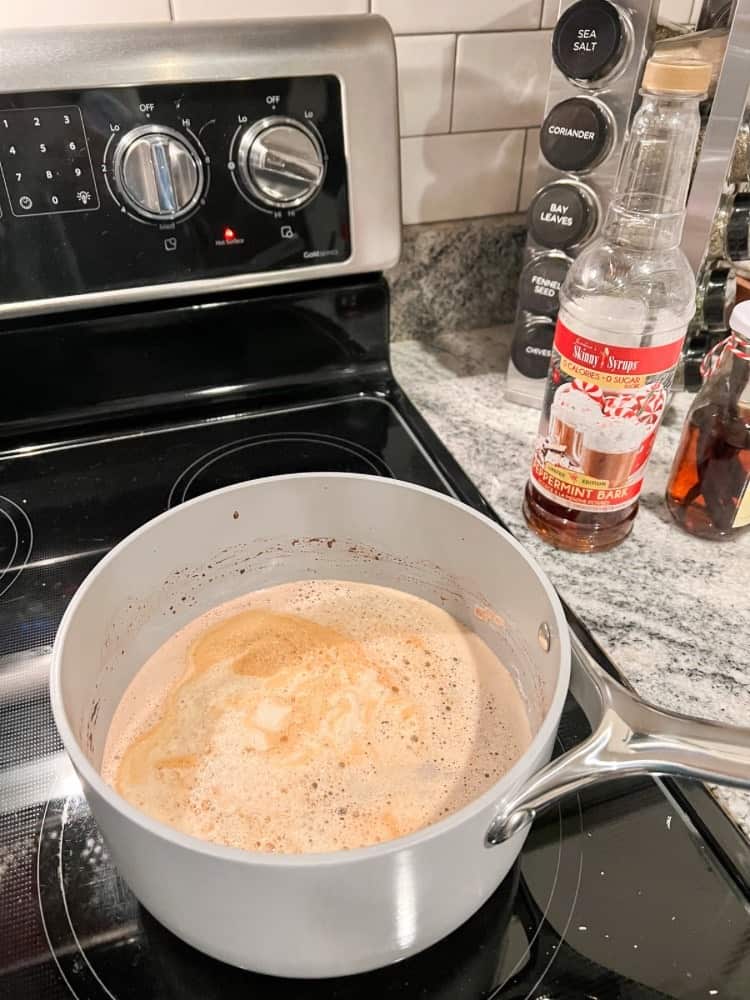 Remove from heat and pour into a mug. Top with whipped cream and peppermint sprinkles or crushed candy canes if desired. You could even top it too with dark chocolate curls or mocha drizzle as well if you have them on hand to make it even more decadent! And enjoy this delicious drink without all the guilt!
Enjoy Your Peppermint Mocha
I hope you enjoyed this Starbucks Peppermint Mocha Copycat recipe! Now, I want to try to make more drinks at home from the Starbucks holiday menu too. Especially since this turned out so tasty!
I love being able to have a tasty treat like this without much sugar and calories. And it also saves me some money since I am not visiting my local Starbucks so much this time of year too!
What is your favorite holiday-themed latte from Starbucks? Let me know in the comments below and maybe I'll try to recreate that one next at home too! As always, thanks for stopping by my blog and I hope you all have a very Merry Christmas! And enjoy it by sipping on a peppermint mocha at home too!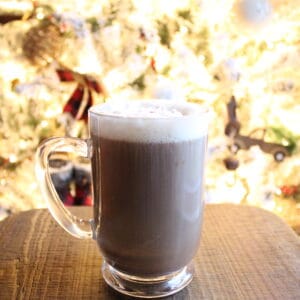 Healthier Starbucks Peppermint Mocha Recipe
Ingredients
3/4

cup

milk of your choice

3

tbsp

Stevia (or your favorite sugar substitute)

1

tbsp

unsweetened cocoa powder

3/4

cup

brewed espresso

1/4

tsp

Jordan's Skinny Syrup in Peppermint Bark

1/4

tsp

vanilla extract

2

tbsp

whipped cream

optional

1

tbsp

peppermint sprinkles
Instructions
In a saucepan, combine milk, sugar, and cocoa powder. Heat until small bubbles have formed and all the sugar has dissolved.

Stir in espresso, peppermint bark syrup, and vanilla. Remove from heat.

Serve in a large mug and top with whipped cream and peppermint sprinkles, if desired.
If you're looking for more Starbucks copycat recipes, check out my Cranberry Bliss Bars and my Pumpkin Scones recipes as well!